November, 23, 2011
11/23/11
4:23
PM ET

By Kevin Arnovitz
ESPN.com
Archive
November, 1, 2011
11/01/11
4:09
PM ET

By Kevin Arnovitz
ESPN.com
Archive
November, 24, 2010
11/24/10
3:37
AM ET
By ESPN Stats & Info
ESPN.com
Archive
Playing for the first time in the Wizards last five games, rookie
John Wall
scored all 25 of his points in the third and fourth quarters as the
Washington Wizards
erased 17- and 15-point deficits to beat the
Philadelphia 76ers
in overtime, 116-114.
From the Elias Sports Bureau:
Wall is the first rookie to score at least 25 second-half points after being held scoreless in the first half since
Adam Morrison
on Feb. 21, 2007. Morrison scored 26 points in the second half in a win over the
Minnesota Timberwolves
.
Wall took a season-high seven three-pointers and made a season-best three.
The 76ers lost despite having a 15-point lead in the fourth quarter (92-77 with less than eight minutes to play).
From the Elias Sports Bureau:
It's the first time since Dec. 17, 2004 that Philadelphia blew a lead of at least 15 points in the fourth quarter. As for the Wizards, it was their first win when trailing by at least 15 points in the fourth since Jan. 30, 2004 against the Suns.
Around the rest of the NBA …
Shannon Brown
tied a season-high with 21 points, making a career-high five three-pointers, as the Lakers beat the Bulls 98-91. Los Angeles has now won seven straight games overall against the Bulls. That ties the Lakers longest streak against the Bulls; also done from 1971-73.
This season's Lakers are the sixth Phil Jackson-led team to win 13 or more games before losing for the third time. In each of the previous five seasons Jackson's teams have gotten off to that hot of a start, his team has gone on to win the NBA title (1991-92, 1995-96 and 1996-97 with the Bulls and 2001-02 and 2008-09 with the Lakers).

Rose
Derrick Rose
had another big game for the Bulls in defeat with 30 points and 8 assists.
From the Elias Sports Bureau:
Derrick Rose has 307 points and 101 assists in Chicago's 12 games this season. Rose is the ninth different player in NBA history with at least 300 points and 100 assists in his team's first 12 games of a season. Oscar Robertson did it five times, Dave Bing (1968-69), Jerry West (1970-71), Nate Archibald (1972-73), Isiah Thomas (1984-85),
Michael Adams
(1991-92),
Gary Payton
(2000-01) and
Allen Iverson
(2005-06).
September, 23, 2009
9/23/09
11:42
AM ET
Posted by Kevin Arnovitz
Yesterday, we made mention of Brett Hainline's swap machine, which uses a player's offensive and defensive efficiency ratings to determine how swapping one player out for another would improve your team's overall performance.
Once Hainline went live with it, I immediately did what any Los Angeles Clippers fan would do -- nixed the uniquely inefficient Al Thornton from the starting lineup. To fill Thornton's place at small forward, I opted for efficiency poster boy Shane Battier.
It's important to keep in mind that with salary cap restraints, such a trade would be impossible in the real world, but I was more interested in approximating how much better would the Clippers be with a player of Battier's mold on the wing.
The results were fascinating. Queen City Hoops estimates that the Clippers would be 10 games better with Battier in Thornton's place. Here's QCH's breakdown:
For a larger image of this chart, click here.

To better understand how the Clippers pick up those additional 10 wins, I asked Hainline to walk me through what all this stuff means:
We are looking at both ends of the small forward spectrum: Al Thornton is a high-volume yet inefficient scorer who plays little defense. Shane Battier is regarded as one of the league's best defenders while being an ancillary player offensively, taking few shots but converting them at a high rate. My fascination with Allen Iverson aside, it frustrates me to see players recognized as being great when all they are really doing is shooting a lot (remember Adam Morrison making the All-Rookie team?). That pet peeve of mine makes this opportunity all the sweeter -- this is a chance to show what kind of impact those players really make.

The first table shows actual statistics from last season. The efficiencies shown are for their respective teams: When Al is on the court for the Clippers, they had a net efficiency of -10.5, but with him off the court, they actually improved to -7.4. The reverse was true in Houston, as Shane helped the Rockets to a +4.9 mark, but that number dipped to +2.8 when Shane was on the pine. The last four columns are individual statistics.

From those numbers, we can estimate how another player would impact a team by replacing someone. By taking the on court efficiencies of the Clippers, and the respective numbers for Al and Shane, we get the numbers you see in the first row of the second table. Notice a significant boost on both sides of the ball, as their offensive efficiency is predicted to rise by 2.4 points and their defensive efficiency is expected to decline by 2.6. Here is how we got there:

Offensively, Al Thornton used a large chunk of his team's possessions, but was using them at a rate below that of his teammates - his 23.4 points from 23.1 possessions works out to an efficiency of 101.3, meaning his teammates were the ones boosting that offensive work.
Shane was a low usage player in Houston, but if he replaced a player in a higher usage position, he might be called on to take some more scoring load. That is what the final term in the second equation is estimating: The difference in possessions used between the two players (23.1 - 9.7) is multiplied by the efficiency of Thornton's remaining teammates [(101.8 - 23.4) divided by (100 - 23.1) = 102.0] averaged with Battier's scoring efficiency [(11.2 / 9.7) = 115.5].
Defensively, we something similar, but this time the players are nearly identical in the possessions used category, so the improvement in defensive efficiency is almost entirely attributable to the improvement Shane represents.

That gives us an estimate of what to expect with Shane on the court for the Clippers -- a 27 win team. It's not great, but it's 10 more games than when Thornton was lacing them up for them.

But what about when Shane is not on the court? With injuries and age being a concern, we should account for the fact that Shane played over 600 minutes less than Thornton did last season, and that is what the final three rows look at. They're estimates of the team's overall efficiencies, including time with Shane on and off the court -- their whole season in other words.

The initial row projects Shane to just use up all of Thornton's minutes, meaning the now less efficient off-court numbers are used the same amount as they were last season for the Clippers. Given the estimated improvement the Clippers could see with Shane on the court replacing Al, and the same amount of minutes going to the "bench," a weighted average of the on court and off court numbers puts the Clippers with an overall net efficiency of -6.1, good for 25 wins, which is still significantly better than their actual numbers from last year.

However, what if Shane really does need to play fewer minutes? Due to age and injuries, he may be good for 2000 and no more. Well, the bench picks up those minutes, so instead of 1300 minutes going to a -7.4 efficiency group, they get 1900 minutes. 1900 minutes to a -7.4, 2000 to a -5.5, and the Clippers project to an overall efficiency of -6.4, dropping another win from total.

The final row describes the case where the Clippers need more minutes from Shane than he could provide in Houston, and he obliges, but his knees still won't let him get all the way to Al's minutes. So, we say 2300 minutes with Shane on, 1600 with him off, and we get a -6.3 efficiency for the Clippers on the season, and they get back to 25 wins.
The notion of a replacement player will always be far dicier in basketball than it is in a sport like baseball, where a variable such as "plate appearance" is relatively easy to isolate. As Hainline explains, comparing two players is far more complicated than handing one guy's minutes to another. No two players' minutes are alike. The instant you place Battier on the floor for Thornton, you immediately increase the offensive roles of Eric Gordon, Baron Davis and Chris Kaman, to say nothing about the team's increased reliance on its bench because Thornton, for all his failings, is a more durable player than Battier.
For an infinite supply of amusement, go to Queen City Hoops and assume the role of basketball Zeus.
July, 17, 2009
7/17/09
12:25
AM ET
Posted by Kevin Arnovitz
Joe Alexander, as much as anyone on the Bucks' roster, will benefit from Brandon Jennings' fluency at running the break. Alexander can run the floor well for a combo forward, and knows how to fill the lane in transition. Thursday, he also harnessed his athleticism and got points driving to the hole with authority against some slower Toronto defenders. He also ran the pick-and-roll as the ball man effectively. All in all, another good outing for Alexander.
DeMar DeRozan: moving well off the ball. In the second quarter against the Bucks, he made a beautiful back door cut to the hole from the weak side the instant he recognized that the defense was sloughing off him a bit. The result? A perfect lob pass from Quincy Douby, and a vicious slam by DeRozan. He was also undeterred by tight coverage from Jodie Meeks at about 15 feet off the left block. Even with Meeks on top of him, DeRozan managed to get remarkable separation and elevation on his jumper under pressure. Coming hard off screens, DeRozan easily got free from Jodie Meeks. More on DeRozan from Holly MacKenzie here.

Chase Budinger: Averaging 17.8 point per game on 68% shooting.
(Garrett Ellwood/NBA via Getty Images)

Speaking of Meeks, he's still primarily a spot-up threat, which limits his ability to get to the line (23 attempts from the floor, but only one from the line), so it was nice to see him take it to the hole on occasion ... and finish.

Meeks and Jennings had great chemistry on Thursday, especially in the third quarter. On a high pick-and-roll for Jennings, the rookie point guard beat the trap. When the help sloughed off Meeks, Jennings kicked a perfect pass to his shooter, and Meeks drained the shot. Meeks' next two buckets from Jennings came in transition. On both breaks, Jennings waited patiently for Meeks to spot up, then perfectly timed his pass to Meeks, hitting him in rhythm. Both shots fell. On a crucial possession in the game's final minute, Jennings found Meeks again on the drive-and-kick, for a 3-pointer that put the Bucks ahead a point. Meeks finished the game with 29 points, including 4-for-8 from beyond the arc.
Brandon Jennings was really aggressive off screens when he split the trap and recognized that the back line rotation was slow. As a result, he forced fewer bad shots and had an easier time finishing at the cup.

Apart from Adam Morrison, the Lakers have few recognizable names on their Summer League roster. Morrison didn't play Thursday, which left some additional shots for David Monds. The journeyman forward took full advantage of the opportunities, nailing a slew of mid-range jumpers on his way to 14 points and 6 rebounds -- may not sound like a lot, but the Lakers' summer league team is a little impoverished.
Chase Budinger put up the best line of the day outside of Anthony Morrow: 25 points on 13 possessions. The forward out of Arizona might have the sweetest stroke in town. The challenge for most pure shooters in the NBA, of course, is finding good looks. This week, Budinger hasn't had any trouble. "He has a knack for getting open," Rockets' assistant Eltson Turner said. "He moves well without the basketball, and you can't leave him. That fits our style."
On the day he signed a 4-year, $3.8 million contract, DeJuan Blair gave the Spurs a good look at their investment against the Thunder, scoring 20 points on 13 possessions. Blair battled underneath all afternoon, muscling up for putbacks. But there was more to Blair's repertoire, including some wily dribble moves from the top of the key. "They shouldn't have passed on me," Blair said of the Thunder.
Thunder general manager Sam Presti is collecting versatile pieces to round out an increasingly mature Oklahoma City roster. To that end, Kyle Weaver's game is hard not to like. He wasn't the Thunder's top scorer Thursday, but he gave his team a reliable handle, solid on-ball defense for most of the night on George Hill, and some timely shooting. The Thunder's backcourt is standing room only, but in Weaver, Scott Brooks has a guy who knows his way around the court. For more on Weaver, check out Darnell Mayberry's profile in the Oklahoman.

In the first half of the Clippers-Grizzlies game, Blake Griffin (No. 1 overall) goes for 12 points and 11 boards, while Hasheem Thabeet (No. 2 overall) goes for 4 points (0 field goals) and 1 rebound. David Thorpe at halftime: "Griffin played as if he was an undrafted player from Bulgaria trying to impress everyone in the place, in search of a job next year. Thabeet jogged around, bumped a few people, and generally seemed uninterested. Passion is a talent."
Tarence Kinsey wins the Kevin Martin Award: 20 points on two field goals ... but 16-for-18 from the stripe.

July, 15, 2009
7/15/09
1:49
AM ET
Posted by Kevin Arnovitz
Five days down, five to go at Las Vegas Summer League. Some teams are nearly through with their schedule, while others are just rolling into town. Since we're halfway through, it's a good moment to take inventory of what we've seen so far, and hand out some early awards.
Keep in mind that some teams have played only a single game and some stellar performances might not be acknowledged (read: Jerryd Bayless):
All-Rookie Team
Tyreke Evans (SAC): Evans' one-on-one power game has produced a sick line. In three games, Evans has averaged 24.7 points and 7.7 rebounds per game. Most impressively, Evans has attempted 41 free throws in three games. His transition to point guard is a work in progress, but he'll be a scoring machine no matter where he plays on the floor.

Tyreke Evans has shown the ability to score points at will.
(Garrett Ellwood/NBA via Getty Images)

Blake Griffin (LAC): Griffin followed up his momentous 27-point, 12-rebound debut Monday night with a hum-drum 16-point, 9-rebound, 5-assist performance. Griffin directs traffic on both ends of the floor, and has been a pleasant surprise on pick-and-roll defense -- something he didn't encounter a whole lot at the college level.
Darren Collison (NOH): The Hornets' first-round pick has brought the discipline and patience of his UCLA pedigree to the pro game. He matched George Hill mano-a-mano in his first game, then came back Tuesday night with 23 points. He's also a perfect 16-for-16 from the stripe in his two games.
Roddy Beaubois (DAL): Before the Mavericks' rookie point guard took a scary spill Monday night in his third outing, he was electrifying crowds in Cox Pavilion with his combination of speed and range. He ran up 34 points against the Rockets Saturday night, including 7-for-12 from beyond the arc.
Jodie Meeks (MIL): The second-round pick out of Kentucky might not be one of the more athletic two-guards here, but he has lit it up from midrange, averaging 16.7 points per game on 60 percent shooting. The Bucks' brass is said to be very, very pleased.
All-Sophomore Team
Anthony Randolph (GSW): Quite simply, the most dominant, skilled, devastating player in town. On Tuesday, his 42 points tied a Summer League record. His current averages through four games: 26.8 points, 8.5 rebounds, 3.0 blocks on 60.9 percent shooting from the field.
George Hill (SAS): Hill has demonstrated a complete command of the Spurs offense. He has picked his spots offensively, and finished -- unlike last year, when he shot eight percent from the field in Summer League action. He's averaging 20.5 points per game and getting to the line at will.

Eric Gordon (LAC): In his two games, the Clippers' second-year guard has muscled his way to the hole for 21 and 22 points, respectively. His 21-for-22 totals from the free-throw line demonstrate that strategy is working well.
Robin Lopez (PHX): The question surrounding Lopez has been one of resolve, but Lopez looked fierce in his first Summer League game, racking up 24 points, 16 boards, and a couple of blocks.

DeAndre Jordan (LAC): Jordan's athletic attributes have never been in question. Whether he could package it all together into a coherent low-post game was another matter. So far, Jordan has dominated the interior for the Clippers. He's shooting 15-for-19 from the field. He's shown sharp recognition in the post and is winning every race to the basket.
All-Vets & Journeymen Team
Quincy Douby (TOR): Douby has been working hard on his game, and his effort is paying off in Las Vegas. He's shooting the ball efficiently from distance, racking up assists, and keeping turnovers to a minimum. Toronto may not have room for him in their backcourt, but his 19 points per game on 61.1 percent shooting should catch someone's attention.
Nick Young (WAS): The Wizards haven't even unpacked, but Nick Young's first game Tuesday night was a revelation. The third-year guard went insane, running up 36 points on 13-for-19 shooting, against the Cavs' hapless perimeter defenders.
Adam Morrison (LAL): It might not be the most efficient stat line of the week, but Morrison has put together a nice series of games. He's scored from distance, off cuts, and by putting the ball on the deck. It's a long road back for Morrison, but this week has served as a solid stepping stone back to respectability.
David Monds (LAL): The forward spent last summer in the D-League, and has been a solid contributor to the Lakers' 3-1 Summer League record thus far. He's averaging 14 points and five rebounds, and only 0.5 turnovers per game. He's also shooting an efficient 64.1 percent from the field.

Walker Russell, Jr. (D-League Select): A sentimental choice off the D-League Select roster, Russell is a creative, pass-first point guard. He sees the floor with an uncanny awareness of exactly where his teammates are, and where they want the ball. His pinpoint passes were the highlight of the Select team's victory over the Timberwolves.
All-The-Week-Isn't-Working-Out-So-Far Team
David Thorpe shares his thoughts about who's had a disappointing week in Vegas:
Curry has struggled with his shooting touch, while Randolph can't seem to miss.
(Garrett Ellwood/NBA via Getty Images)

Stephen Curry (GSW): The good news for Curry is that he's been able to get shots -- largely because the ball has been in his hand. He's picking his opportunities. Unfortunately, he's picking far too many of them. Although he's averaging 19.5 points per game, he's doing it on only 31.4 percent shooting. His assist/turnover ratio? 4.5 to 3.75.
Donte Greene (SAC): Greene is a bit of collateral damage playing next to Tyreke Evans. He needs the ball in the right spots, and Evans can't deliver those passes yet. So Greene is struggling to score efficiently, shooting only 8-for-27 over three games.
Mike Taylor (LAC): Taylor can shoot, is lightning quick, and plays with spirit. But he's not been able to put it together and doesn't look like a rotation point guard.
Bobby Brown (MIN): Sorry to break fellow Titan Marc Stein's heart, but for a team that just drafted two rookie PGs, Brown hoped to show this week that he could be part of the Timberwolves' backcourt rotation. That's looking unlikely. He's shooting 35.7 percent from the field, and not giving the 'Wolves much else.
Luc Mbah a Moute (MIL): Mbah a Moute has already proved he's a rotation player in this league. He was hoping to show that he can be more than just a tough defender. Thus far, that hasn't happen
ed.

LeBron James and Gregg Popovich need a little more help from their role players. Phil Jackson knows exactly what he needs from his. The TrueHoop Network understands its role, and explains: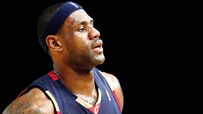 John Krolik of Cavs the Blog: "I'd love to give you some genius, sportswriter-y contrarian overlooked bit of brilliance as to how this box score reflects something other than a great player playing absolutely phenomenal basketball while his supporting cast robbed him up a win by playing 48 minutes with their thumbs squarely in inconvenient locations. But that's just not how it went down. LeBron was the brilliant eye of a storm of suck.

Not only was LeBron hitting his jumpers tonight, his stroke actually looked markedly better than it has -- he was elevating with balance instead of flying or shooting a set shot, he was holding his release with both hands, and he wasn't flying forward at all. All these things happened spontaneously in game 50 of the season. It's an odd player we've found our hopes thrown behind."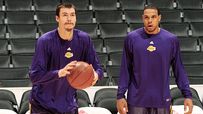 Kurt Helin of Forum Blue & Gold: "If there is one guy Adam Morrison should be excited about playing for, it is Phil Jackson. ...He is the kind of guy Jackson and his system can really help find a niche. Through it all, everyone still thinks Morrison could be a good NBA shooter. What he needs is confidence, the confidence that comes with success in the game. Jackson (and this is what Radmanovic never grasped) asks role players to fit in very tightly-defined roles for the team - but within that role is where you can succeed. The Lakers don't want Sasha Vujacic as a playmaking PG - that's not what he does well. But as an energy defender and guy who can spot up the three, he is good. So stick to those things you're good at. That is how the Lakers got decent production out of Smush Parker and Kwame Brown - tightly defined roles. Jackson will eventually ask Morrison to do just what he is good at, but that may be something useful."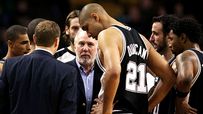 Timothy Varner of 48 Minutes of Hell: "The Spurs are allowing nearly 3 more points per 100 possessions than their next worst season–by said measure–of the Popovich era...Coach Pop likes to rail against his team's defense, painting them as lackluster in comparison to past squads. I have a hard time disagreeing with him. This is not to say they are awful. Far from it. They're a good defensive team with a few noticeable chinks in the armor. But they're the sort of chinks that need to improve as part of the Spurs usual mid-season transformation."

THE FINAL WORD
Knickerblogger: A Zapruder-like frame-by-frame look of the Knicks' defensive breakdown in Portland. The follow-up webisode is here.
By the Horns: There wasn't a dry eye in the house, as the Bulls honored Johnny "Red" Kerr.
Valley of the Suns: A more empirical look at Amare Stoudemire's defense and work on the glass.


(Photos by Nick Laham, Andrew D. Bernstein, Elsa/NBAE via Getty Images)
Do fans in Phoenix have it all wrong? Are there things Kobe gets that LeBron doesn't? Have the Hornets learned to cope without Chris Paul? Nothing is "untouchable" at the TrueHoop Network.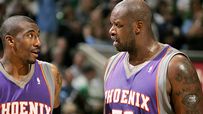 Matt Moore of Hardwood Paroxysm: "Stoudemire has had a 300 pound loudmouth move into his apartment, eat all his cheezewhiz, hang up on all his calls when he's on the other line, take up the DVR, drink all his Sunny D, and hit on his girlfriend. The acquisition of Shaq was supposed to create a dominant twin towers in the post. But in those combinations, one player is always the primary scorer alpha dog. And if Shaq is in your paint, he's the alpha dog.

I'm not saying it's Shaq's fault.

Wait, yes I am.

It's exactly Shaq's fault. What's more infuriating is that Phoenix fans have actually fallen for it. They truly believe that Shaq's little resurgence, which has been conspicuously absent against playoff teams, I might add, will be what takes them deeper into the playoffs (deeper than multiple conference championship appearances and several six game series against the eventual champions, but hey, they act like they never got past the first round with D'Antoni). But let's make this real simple. If you're relying on a 37 year old center with conditioning issues who has trouble going in back to back games to lead you to a championship?"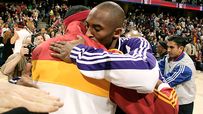 John Krolik of Cavs the Blog: "Fairly quiet night for that Mamba fella, as apparently he was battling a touch of the flu and, more importantly, Lamar Odom and Pau Gasol were having an absolute hammer party down low, with Lamar shooting 13-19 from the field and Pau, who looks worlds better when Bynum doesn't play, directing traffic and getting 6 assists.

Kobe's off-ball movement in the first quarter to get low catches was an absolute thing of beauty, as were his little mini-jumpers to get the buckets. I think one reason why so many people go with Kobe over LeBron, despite the evidence to the contrary, is that Kobe's solved a lot of the problems LeBron has, and the difference is evident, while the things LeBron does better than Kobe are either more subtle or a result of pure athletic talent -- he just seems like he's at a further point on his development curve. And that turnaround to end the game was absolutely ridiculous."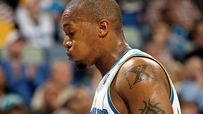 Ryan Schwan of Hornets247: "[G]ive it up to Byron Scott, folks. The vaunted ball movement you were all hollering for? It was in full effect tonight. They opened the game cutting and moving, with Peja setting down screens for Daniels and Butler before fading high for open shots off of picks by West or Bowen. You'll also notice that of the 13 possessions David West had tonight, only three were in a basic low post situation. All the rest involved his cutting back to the free throw line, receiving the ball, looking for open shooters, and if nothing opened up, driving into the paint against Jefferson, who couldn't move fast enough to keep up with him. Peja and Butler were rolling off of curls all night, and though Devin brought back the old Pick-and Roll offense when he was on the floor, there was still a lot more moving around as he drove to get open."
THE FINAL WORD
Queen City Hoops: A smart comparison of Vladimir Radmanovic and Adam Morrison's defensive shortcomings (with charts!).
Valley of the Suns: Why Steve Nash is "untouchable."
Hardwood Paroxysm: 20 things Anderson Varejao should never do.


(Photos by Melissa Majchrzak, David Liam Kyle, Chris Graythen/NBAE via Getty Images)
Who's Better, Who's Best? Vladimir Radmanovic v. Adam Morrison? Carmelo Anthony v. Kevin Durant? Ray Allen v. Mo Williams? Vote early, vote often at the TrueHoop Network: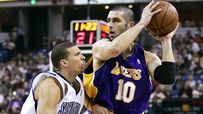 Matt Moore of Hardwood Paroxysm: "First, the Bobcats aren't rebuilding.

To say they are rebuilding is like stating that taking a large pile of dirt, 2x4s, and a big metal sheet is a house. Sure, you have parts of a house. But I'm still walking down to the 7-11 to use the restroom, you know?

Second, let's talk about 2010. Charlotte is not on the list. It's just not. And I'm a small market guy, people. But Charlotte, by even their own fans' admission, is not going to be on the list for the Free Agent Class of Doom. So if you're not playing for 2010, why on earth would you concern yourself with clearing cap space? Don't you want big contracts for medium players you can parlay into cap space when you can use it? Don't you want veteran players that you don't have to sign to long term extensions for max deals? They have enough good players where they're not going to get a top five pick. Isn't it better to put some wins together so your team, doesn't, you know, dissolve?

it's not like Larry Brown's going to ask him to run point. Radmanovic won't be asked to defend Kobe Bryant or LeBron James. He needs to knock down shots and not do stupid things. And worst case, he's gone in 2011, when everyone else will have already blown their payroll the summer before. Radmanovic doesn't create any demands for playing time, or attention from the media. As long as he doesn't go snowboarding, they're good. Yeah, it's six million. But it's six million for one guy versus four million for several guys who will just frustrate you."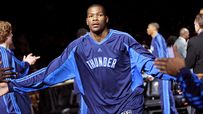 Joe Newell of Daily Thunder: "If Carmelo is the sole Western Conference small forward worthy of All Star consideration, you would expect him to be having the best season among them right? Take a look here at a head to head comparison of Carmelo Anthony and Kevin Durant...Durant is shooting the ball much better than Carmelo any which way you look. He's got a better field goal percentage, better 3fg percentage and better free throw percentage (KD is actually 18th in the entire league in 3fg% at this time). There's no denying Durant is shooting well, significantly better than Carmelo.

...Carmelo has some points in his favor. He is a better rebounder than Durant. Carmelo is also better at distributing the rock to his teammates and he gets to the line more frequently than Durant...However, Durant is a better shot blocker, turns the ball over less, and draws fewer fouls. Also consider that Durant spent the first 13 games of the season out of position at the shooting guard position. You will probably notice that Carmelo actually scores 4/10ths of a point more per 36 minutes of play, but also notice that he uses more than an extra field goal attempt to do it in. Durant is a more efficient scorer than Carmelo.

...Durant does more with each possession, and uses fewer of them."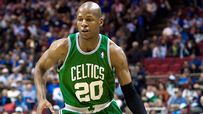 John Krolik of Cavs the Blog: "I can't really sum up any righteous anger over Ray Allen getting the injury-replacement all-star spot over Mo Williams, mostly because Allen was a huge snub the first time around; he's been Boston's best offensive player, he's shooting a career-high 63.2% TS to lead all guards while scoring 18 a game. I'd actually put him in there instead of Pierce. I think Rashard Lewis was an EXTREMELY questionable choice over Mo, and there's certainly a strong case for Mo over Devin Harris, but this actually wasn't all that bad."
THE FINAL WORD
Hardwood Paroxysm: Rob Mahoney offers a counter-point on the Morrison/Radmanovic deal.
Hoopinion: A rough night in Atlanta.
Valley of the Suns: How is the Amare buzz playing in Phoenix?

(Photos by Rich Pedroncelli/Associated Press, Rocky Widner/NBAE via Getty Images, Chris Livingston/Icon SMI via Getty Images)
October, 14, 2008
10/14/08
4:30
PM ET
A lot of Portland fans will deny this happened.
But in the days leading up to the 2006 NBA draft, Portlanders rallied in the streets.
The scuttlebutt in the paper was that the team was on the fence, choosing between semi-local star Brandon Roy, and semi-local star Adam Morrison.
Those people on those streets ... they wanted Morrison. They wanted him badly, and they told that to the Blazer suits every which way they could -- with banners, with bullhorns, on talk radio, in blog comments, by calling the team's switchboard, and by pasting on little fake mustaches.
Little did they know that the Blazer braintrust was, thankfully, about eight steps ahead of them, and was about to forever change the direction of the franchise by turning one high draft pick and some loose change into two of the very best players in the draft, Roy and LaMarcus Aldridge.
Morrison, drafted by the Charlotte Bobcats, went on to face a torn ACL -- one of the worst injuries a basketball player can endure. But before he tore that ACL, he played a season. (Did you forget?) In his rookie year, ESPN's David Thorpe wrote:
Morrison averages 13.3 points per game, which leads all rookies by a wide margin -- but he is putting up 13.7 field-goal attempts per game and is shooting just 36.8 percent from the field. He's collecting only 2.8 rebounds per game, despite his 6-8 frame, and he is averaging just 2.0 assists per game, despite handling the ball often.

His player efficiency rating, which measures a player's overall contributions per minute, is 7.29 (the average PER is 15.00), which ranks Morrison last in the NBA by far among all players averaging 30 or more minutes. The NBA's only starter with a lower PER is defensive specialist Jason Collins of New Jersey, while Morrison is a disaster on defense. So, while harsh, it is fair to call Adam Morrison the worst regular in the NBA according to the stats -- at least so far this season.
Here's the good news: But for the diabetes that he swears has never slowed him down, he's healthy again, at last. (I just double-checked that today with the Bobcats.) Morrison has been quoted recently saying his knee is just about all the way better.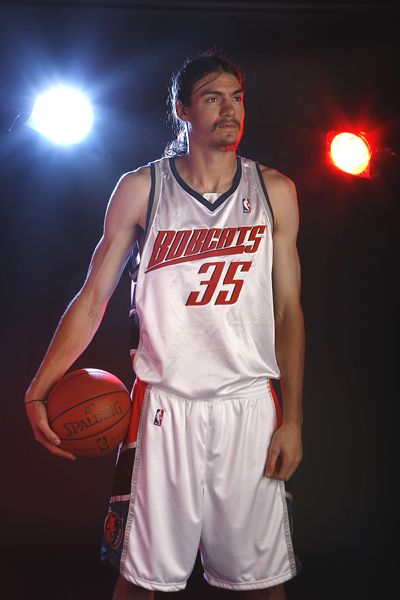 So, this pre-season might be a nice time for new coach Larry Brown to figure out what he has, right? Maybe see what he can do to make Michael Jordan, NBA executive, look a little better for taking the man they used to call "Ammo" fourth overall?
The multi-faceted scorer who led the NCAA in points per game, and stars in countless highlight tapes, can surely help this undermanned NBA team.
Maybe not.
I got an e-mail from TrueHoop reader Stephen, who writes: "I noticed Adam didn't play at all last night, and his PT has been limited in their preseason games so far. Is he still rehabbing, or just ... not that good? I liked the guy in college and hope his career pans out ok."
Thorpe has pointed out that in college, Morrison was taller than his defenders, and could score unmolested. Now that he has long NBA athletes in his grill, however, his shooting percentage has plummeted. He has shied from attacking the hoop where he has an array of floaters, and has instead been shooting jumpers with hands in his face. And it's no secret that he struggles to guard people at this level.
Fatal flaws? Is he as bad as it appears he might be? Is a guy who has some things to address like every young player, or is it possible he's not really cut out to play at this level?
Too soon, to tell, for sure. He has only been healthy again for a heartbeat.
But the early returns are not indicative of a reborn player. In Charlotte's first two preseason games, Morrison saw 45 combined minutes of playing time, during which he did not all that much. He hit half of his eight shots (he missed his two 3-pointers), made one of four free throws, had five rebounds, two assists, three fouls, two turnovers, and a grand total of nine points.
Remember, box score statistics unduly favor players who score well and are poor defenders. But even those numbers don't love him.
It's not hard to see why he got a "DNP-CD" (Did Not Play -- Coach's Decision" in Charlotte's most recent pre-season game.
Perhaps it's too early to start thinking that Morrison is fighting for his NBA life. But if things don't pick up for him quickly, that time is coming soon.
(Photo by Kent Smith/NBAE via Getty Images)