February, 22, 2011
2/22/11
4:01
AM ET
By ESPN Stats & Info
ESPN.com
Archive

Anthony
After weeks of trade talk,
Carmelo Anthony
has apparently found a new home in the Big Apple. The Nuggets traded the star forward to the Knicks on Monday along with guard
Chauncey Billups
, forward
Shelden Williams
, guard
Anthony Carter
and forward
Renaldo Balkman
.
In return, the Knicks sent forward
Wilson Chandler
, guard
Raymond Felton
, forward
Danilo Gallinari
and center
Timofey Mozgov
to Denver. The Nuggets will also get the Knicks' 2014 1st-round pick, the Warriors' 2012 and 2013 2nd-round picks and $3 million cash.
ESPN's Chris Broussard reports the Knicks will also receive
Corey Brewer
from the Timberwolves and send center
Eddy Curry
and forward
Anthony Randolph
to Minnesota. The 12-player trade (not including draft picks) is tied for the second-largest trade in NBA history.
Chandler, Felton, Gallinari and Mozgov combined for 53.4 points per game this season (50.3 percent of total team scoring). The Knicks acquired a combined 50.9 points per game in the five players that they received from the Nuggets, 47.3 percent of the points that Denver had scored this season.
The Knicks gave up an awful lot to bring Anthony to town, especially when it comes to outside shooting. New York ranked among the league's best in spot-up shooting metrics, including 25.3 points per game. Chandler, Felton, Gallinari and Mozgov contributed 13.1 of those points.
In the last five minutes of games in which the score is within five points, Raymond Felton (32.4), Danilo Gallinari (30.8), and Wilson Chandler (24.0) have the three lowest FG percentages among Knick players who have attempted a shot.
Conversely, Billups and Anthony have shot a combined 43.6 percent in those situations, slightly above the league average of 41.8 percent.
When you are a scorer, you need to find different ways to provide your team with points. For Carmelo Anthony, the leak out play has been a key cog in his arsenal. He is the only NBA player who has had more than 100 leak out plays during the past five seasons (133).
March, 16, 2010
3/16/10
10:50
AM ET

By Henry Abbott
ESPN.com
Archive
Holy cow, what a game. Denver's hoping to catch the Lakers for the West's top spot, while the Rockets are in "one game at a time" mode, praying to sneak in as the eighth seed. Everything was high octane.
John Hollinger's Playoff Odds give the Rockets
a 4.9 percent chance of making the playoffs
, and there were moments of this game where victory seemed about as attainable.
Things appeared a little hopeless for Houston; for instance, when they were down 11 points about three minutes into the fourth quarter and suddenly seemed unable to make a field goal. If you ignore a goaltend, their first real bucket of the fourth quarter came with 8:33 left.
I also felt it might have been Denver's game when the Rockets were up five and Trevor Ariza did a Ron Artest maneuver: Having not done much to help his team for a spell, he decided to "pitch in" by taking an ill-advised shot. With his team down five and less than a minute-and-a-half to go, Ariza clearly felt he had to earn his contract. Instead of running the offense, he nearly turned the ball over, then pulled up for the 3 that
Carmelo Anthony invited him to take
. He's a 32 percent 3-point shooter, and most players shoot that shot better off the catch or when they're wide open, not on the move and off the dribble. As the ball was airborne, the Nuggets must have felt good. But fortune smiled on the Rockets in this game, as they hope it will in the playoff hunt.
The highlights demonstrate the mastery of high-scorers Aaron Brooks and Carmelo Anthony (although they miss his best play, when he took every inch the defense gave and dunked to tie the game before Houston's game-winner) in this game. But there were other stories. Consider
a series of Denver defensive miscues
, including one that led to a Luis Scola three-point play in the final minute. And the game's many other heroes:
I don't know if there's such a thing as a defensive player getting "in the zone." But if there is, Anthony Carter was there early in the fourth quarter. With the Nuggets up five, Carter stole the ball from Brooks, blocked Scola from behind and poked the ball away from Kevin Martin. Remember, forced turnovers like that are far rarer than made shots -- three shots in quick succession is considered tremendous. Three live-ball turnovers ... that's ridiculous. All the while, Carmelo Anthony kept scoring, and the Nuggets built a lead that it seemed they might never relinquish. Eventually, the Nuggets cooled off, Chauncey Billups returned for Carter and the Rockets snuck back into the game. Carter sat through the meat of the fourth quarter, coming off the bench only to check Brooks on the final play after Billups fouled out. As I watched, I thought to myself: I bet Carter has a good plus/minus in this game, and sure enough, he led the Nuggets at plus-eight.
With about 35 seconds left in a game the Rockets led by two, Nene got great position in the lane against Scola. But he missed the shot and there was a scramble for the rebound. Nene was there, but it was mainly Scola and J.R. Smith. Scola, however, left no doubt that he wanted it more than anybody, and came up with the biggest board of the game.
Just as the Nuggets had a productive guard on the bench in crunch time, so did the Rockets. The Rockets essentially couldn't score at all for a period. Then Scola broke the ice, and Shane Battier got his first points of the game on two quick, huge 3-pointers. Then the Nuggets adjusted to Battier, and the Rockets looked lost for a moment, until Kyle Lowry went to work. Lowry is as tenacious a player as there is in the NBA, and in addition to hounding Billups on defense, he powered his way to the rim for two straight buckets to reinvigorate the Rocket offense, and keep the Nuggets within shouting distance. Brooks replaced Lowry with about four minutes left and keyed the win, but credit Lowry with making big plays at both ends, while keeping Brooks fresh for crunch time.
June, 30, 2009
6/30/09
11:52
AM ET
Is having Michael Jordan as owner-operator in Charlotte more than just a conflict of interest? Speaking of Carolina guards -- does the acquisition of Ty Lawson mean the end of Anthony Carter's days in Denver? And what does organized chaos on the court look like at the junior high level?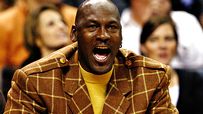 Rob Mahoney of Hardwood Paroxysm: "In spite of all of [Michael] Jordan's reasonable success in the recent past, having him as the head of an ownership group is not only ill-advised, but flat-out irresponsible. He's the head of basketball ops in Charlotte, and elevating him to the majority shareholder in the team bears one flaw of cataclysmic proportions: No matter how terrible of an executive Jordan is or ever will be, he holds his own purse strings. That means Jordan himself would have to be resigned to stepping down from his duties if that time ever came, which is not exactly the kind of thing you'd like to bank on. Jordan, as a player and a person, is renowned for his passion for the game, his refusal to quit, and his must-win mentality. On the court, those things are an asset. But in the case of an executive with a seriously blemished record, confidence becomes arrogance, resolve becomes stubbornness, and desire becomes insanity. The Bobcats can live with Jordan right where he is: just tasting the power of ownership but without the ball in his hands at all times. MJ is going to keep calling for that power and that responsibility as long as he's a manager in this league, but sometimes a person just needs to be told, 'No.'"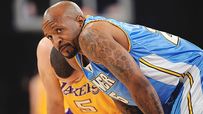 Jeremy Wagner of Roundball Mining Company: "[W]hy do so many Nuggets fans love to hate Anthony Carter? Maybe it is because he reminds us all a little too much of ourselves. We watch the NBA to see world-class athletes do things that we could never dream of doing. When we see Carter, he rarely does anything fancy and he always seems to be a heartbeat away from getting embarrassed. Maybe watching him play is a little too personal for many of us. Not only does Carter get the job done, but his real value is that he is a real value. It is amazing that Carter does what he does for the league minimum. That makes Carter almost invaluable for a team that has very little wiggle room when it comes to finances. With the presence of Ty Lawson next season Carter's place on the Nuggets roster could be in jeopardy. I thought there was a very telling quote ... where Chauncey [Billups] said that with Lawson on board maybe he can play fewer minutes. That was a pretty big condemnation of Carter ... [T]he primary area of concern with Lawson is his defense. If he cannot get the job done on the defensive end the Nuggets are going to have to have another option ... Until we see what Ty Lawson can do, I think it is a no-brainer that the Nuggets bring Carter back for next season and there are few players that bring as much value as Carter."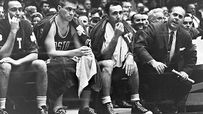 Zach Harper of Hardwood Paroxysm: "I started assistantly coaching junior varsity basketball for a local high school ... It didn't just find a place in my life. It didn't just become part of my schedule. It became my schedule ... I was so hooked after my first practice with this group of 10 high school freshmen and one eighth-grade child that I realized an even deeper love and appreciation for the game of basketball. We traipsed through the first couple of weeks of our summer league by learning the correct ways to play basketball and by learning the strengths and weaknesses of our team. We figured that our team wasn't very big or athletic but we had a lot of basketball skill from our best player to our 11th best player. We played our first game four weeks ago and in that game, we learned everything we needed to know about our team for the rest of the summer. We were good. Check that. We were REALLY good. We were chaos masked in peach fuzz, braces and XBOX Live handles. We were a running, pressing team that played harder than anybody we faced and more hectic than Don Nelson's brand of basketball could ever dream of being. And we won. A lot."
THE FINAL WORD
Warriors World: An interview with Anthony Randolph's high school coach.
Knickerblogger: A new Similarity Score for measuring players.
48 Minutes of Hell: The value of George Hill.
(Photos by Streeter Lecka, Kevork Djansezian, Robert Riger/NBAE via Getty Images)
April, 23, 2009
4/23/09
12:22
PM ET
Atlanta did what it wanted defensively against Miami...and lost. The Magic didn't get what they wanted offensively against Philadelphia...and won. Meanwhile, Chris Paul doesn't look like Chris Paul. The TrueHoop Network sorts out the contradictions: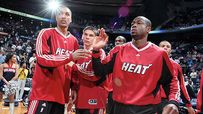 Bret LaGree of Hoopinion: "A sound defensive strategy doesn't guarantee the result you desire. As in Game 1, the Hawks, in Game 2, made the Heat a jump shooting team, kept Dwyane Wade ... off the free throw line, and controlled the defensive glass ... I think the Hawks tip their cap to the Heat and dare them to do it again. Miami isn't more likely to shoot 66% from the floor again than they were likely again to shoot under 40% from the floor after Game 1. Some nights you just get beat and if you get beat with Dwyane Wade on the bench with five fouls and Udonis Haslem knocking down back-to-back 18' jump shots inside the final five minutes of a five-point game before Wade puts the game out of reach with a banked-in three-pointer (his 10th three-point attempt of the game) as the shot clock expires, I think a degree of equanimity and long-term thinking is useful. Not that Jermaine O'Neal's general improvement, Haslem's work on the defensive glass, and Michael Beasley ... realizing that Josh Smith cannot guard him if he alternates spot-up jump shots with dribble penetration shouldn't give the Hawks a clue that winning the series will be more difficult than it appeared following Game 1."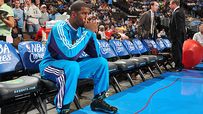 Rob Mahoney of Hardwood Paroxysm: "I have never seen a team completely frustrate Chris Paul so consistently over the course of two games. I was willing to give CP a pass for Game 1; the playoffs are a completely different ball game, and it can take time to adjust. But in Game 2, I saw a virtual repeat of one of the most frustrating defenses in these playoffs ... What I've been impressed with most is the discipline. [The Nuggets], for two games against the Hornets, has played tremendous team defense. We knew that Carmelo [Anthony] was a much improved defender, and we've seen Chauncey [Billups]'s body of work when it comes to locking down point guards. What we didn't know was that this roster, from Melo to Anthony Carter, was ready to suckerpunch New Orleans with all the Popovichian fury that it could muster. It's a well-oiled machine that was oiled an extra time just for good measure, but the results are as organically beautiful as I ever could have imagined. Each Nugget has done their homework and is executing to perfection."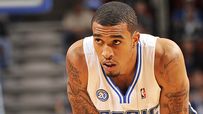 Zach McCann of Orlando Magic Daily: "We're definitely seeing the evolution of Courtney Lee. He's out there for defense, where he's making some electrifying plays and really getting the Magic going in the fastbreak game. On offense, he's stealing the show from Hedo Turkoglu and Rashard Lewis. Lee is asserting himself more than ever, and the crowd's energy begins to rise whenever Lee gets the ball in a scoring situation. It's Turkoglu and Lewis' job to score –- but they're not getting the job done, and Lee is picking up the slack. The rookie scored 22 points and carried the Magic through a second and third-quarter stretch when they weren't getting much production from anyone else."
THE FINAL WORD
The Painted Area: Shooting in the NBA -- better than ever.
Ball in Europe: The financial crisis hits pro ball in Europe.
Celtics Hub: The Great Glen Davis Debate.
48 Minutes of Hell: Reminding us that Tony Parker is only 26.

(Photos by Scott Cunningham, Garrett Ellwood, Fernando Medina/NBAE via Getty Images)