March, 12, 2009
3/12/09
12:15
PM ET
The Mavericks still have it, tired legs and all. So does Bruce Bowen, at age 37. Old is new again at the TrueHoop Network.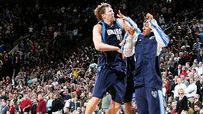 Rob Mahoney of The Two Man Game: "Part of me wants to cheapen this win. The voice in my head is telling me 'Well pffft, any team can win if they make their jumpshots and play half-decent defense.' This is entirely true, and the Mavs haven't had much trouble winning when they actually do those two things. Unfortunately, the defense tends to come and go with the shooting. But you know what? This one counts, and it counts big. The Mavs weren't killing the Blazers' playoff chances like they did to the Suns the night before, but they also implode when faced with adversity and low expectations. Myself and countless others hoped for a win in Portland, but generally resigned ourselves to the fact that the Mavs might go out and lay an egg. It was the second night of a back-to-back, they played an awfully good Portland team that has been ridiculously good at home lately, and when the Blazers offered some resistance in the second half, the Mavs had every reason to fold. They were on tired legs, and again, no one was scoring outside of Dirk and Terry. But they stood their ground, and as a team the Mavs came up huge. Dirk and JET took and made all the big shots, but the impact of players like Erick Dampier, Antoine Wright, and whoever invented the zone defense cannot be discounted.

So much of what the Mavs were able to accomplish in this game hinged on their play in the first and third quarters, which have been the most troublesome all season. They started things off well, and though they were down one at the end of the first, it was evident that this was the Mavs' game. The Blazers made their runs and had their chances, but it was a Maverick world and they were just temporarily leasing in it. The third quarter, in which the Mavs typically implode on their way to a double-digit loss, instead had the Mavs standing their ground against a Blazer resurgence. The storm was weathered, the Mavs bounced back, and the day was won. Huzzah!"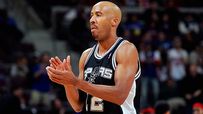 Graydon Gordian of 48 Minutes of Hell: "At 37 years old, Bowen is undoubtedly in the winter of his career. Since joining the Spurs in the 01-02 season, Bowen started in every game in which he played before this year. During the Spurs' early season struggles, Popovich moved Bowen to the bench and decreased his minutes significantly ... Given Popovich's preference for veteran players (a tendency that has led him to continue to utilize several players far past their prime), Pop's decreased utilization of Bowen suggests Bruce must really have slid a peg or two.

But plenty of data (as well as the plain old tactic of trusting one's eyes) suggests otherwise. Bowen is most often used in the 4th most common 5-man unit deployed by Popovich. The four other men he most often plays with are Matt Bonner, Michael Finley, Tim Duncan and Tony Parker. It's important to note that of the other four, two are generally regarded as defensive liabilities, particularly for the Spurs' standards. Of the five most common units, this group of players has the strongest defensive efficiency rating: 87.3 ... To put that rating in perspective, the best defensive team in the NBA, the Cleveland Cavaliers, has a defensive efficiency rating of 98.4.

The fact of the matter is, Matt Bonner and Michael Finley aren't lockdown defenders. And although Duncan and Parker are both known as good defenders (Duncan is more accurately described as a 'great' defender), they can be found on the Spurs unit with the worst defensive efficiency as well. Like it or not, Bowen's presence on the court remains a (if not the) key factor in the Spurs having a good defense versus having a great defense."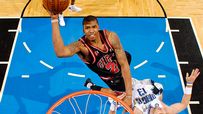 Matt McHale of By the Horns: "I've tried to be patient with [Tyrus Thomas]. I've tried to defend him. I've tried to embrace the notion that he is part of The Future in Chicago. I've pleaded with Vinny Del Negro to give him minutes, to work with him, to focus on his development. But I've got to tell you: Tyrus is driving me nuts. He took 13 shots against the Magic. Two of them were attempted within his range (i.e., at the rim) while 11 of them were jumpers. Quick quiz: Is Tyrus Thomas a jump shooter? Quick answer: NOOOOOOOO! ... Why is he so quick to chuck it up from the outside? Dwight Howard was in foul trouble for most of the first half, but instead of taking it to Howard and trying to get him off the floor, Tyrus was content to just let 'em fly.

A lot of people hold Vinny responsible for Tyrus' lack of development as a player this season. But I can't believe that Ty's love affair with the jump shot is Del Negro's fault. I sincerely doubt he's instructing Tyrus to concentrate on his outside shooting. And if he is, I want him run out of Chicago on a rail.

Ty's coverage on pick and rolls was almost as awful as his shot selection. His lackadaisical help on the pick and roll led to three wide open layups for Rafer Alston during that killer third quarter. Tyrus honestly looked like he had no idea what to do in that situation. He didn't crash the offensive boards either. He finished with a measly 5 rebounds in 37 minutes. It was a lifeless performance."
THE FINAL WORD
Roundball Mining Company: A smart look at Denver's offensive woes (last night notwithstanding).
Hoopinion: Acie Law IV -- serviceable NBA point guard.
Raptors Republic: Toronto circles the drain.

(Photos by Sam Forencich, D. Lippitt/Einstein, Barry Gossage/NBAE via Getty Images)
March, 6, 2009
3/06/09
9:03
AM ET
Nate Robinson and David Lee put Eddy Curry and Jamal Crawford to shame. Chris Paul makes J.J. Barea look bad, and Nenad Krstic is making Sam Presti look good. Appearances matter at the TrueHoop Network.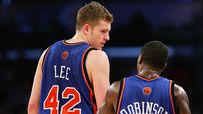 Mike Kurylo of Knickerblogger: "What I want to talk about is the siren song of the NBA - the creative scorer. As a fan who watches many games, it's easy to understand the lure of the volume scorer. The average fan focuses on the guy with the ball, and the scorer tends to have the ball in his hands more often than his teammates. Additionally he is able to create the shot by his own ability, independent of his teammates. It's easy for the fan to see the benefit of the scorer's efforts, since it connects directly to the main goal of the team: Points. Rebounds don't change the point totals on the scoreboard. When the news covers the game, usually you hear something like 'Robinson led the Knicks with 29 points, while Duhon and Hughes chipped in 19 each.' You don't hear about the other stats unless it's a phenomenal number (20 rebounds). And the players listed are in point order, even if they score 19 points on 20 shots.

...I'll agree that the double-double is an overrated stat, but is it that much more overrated than points per game? Or even the ability to create your own shot? This final component seems especially important for the average fan who plays basketball. At the level of the average fan, being able to create your own shot is more important than many other attributes. In other words your neighborhood version of Al Harrington is worth more at the park than the NBA's version is to his team. In the Hawks game thread, a game that Robinson missed due to injury, 'ess-dog' commented, 'Now this is the kind of game that makes me wonder if Nate's scoring and penetrating is overrated.'

During Isiah's tenure New York was stuck with two players that could create their own shot, but do little else. Crawford & Curry seemed to divide Knick fans between creationists who worshiped their ability to make shot attempts, and those that covered their ears to the siren song of YouTube highlights. This year the team has traded one and marginalized the other, and their record is on track to improve by 10 games. It's no coincidence that this improvement has occurred by replacing the inefficient ex-Bulls' minutes with the more efficient Robinson and Lee. Additionally the latter pair gives the team more than just field goal attempts. Lee provides rebounding, while Robinson sprinkles the stat line with rebounding, assists, and steals.

As advanced statisticians already know, at the highest levels of basketball shooting is the most important factor with regards to a team's chances of winning. But it's not shooting volume that we use to measure it, but rather shooting efficiency."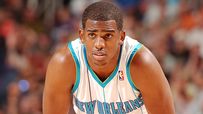 Ryan Schwan of Hornets247: "I felt bad for Dallas back-up point guard J.J. Barea. He and Antoine Wright got most of the defensive duties against Paul all game, and Paul was treating him the way eighth graders do fifth graders on the playground. He was smacking Barea's hand away, going right at him, and treated him multiple times to a contemptuous stare that looked right through Barea like he wasn't even on the floor. Defensively, Paul was even more disrespectful of poor J.J. I counted four possessions where Paul left Barea open on the perimeter -- and never came back. He simply walked away and helped out elsewhere, showing no concern about Barea at all. It was so egregious that I re-watched Barea's second stint in the game, and I figured out why. Neither Dirk nor Kidd pass to him. Paul kept close to Barea for a few possessions and then cheated towards Dirk three times. Not once did the ball skip out to Barea, even when he was left wide open. So Paul abandoned him -- and it led to some nice defensive possessions. (Oh yeah, Paul had 27 points on 18 shots, 15 assists, 4 rebounds, a steal and a pair of turnovers. Nice)"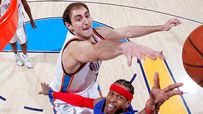 Royce Young of Daily Thunder
: "It's probably more coincidental than anything else, but since Krstic officially became a Thunder-er Dec. 31, the team is 13-16 (though he didn't actually play a game until Jan. 7 against Minnesota in a huge blowout loss). He averaged 8.8 points per game and 5.5 rebounds per game in about 22 minutes per game in January. In February, his minutes went up to 26 per game and he averaged 8.3 ppg and 5.4 rpg. But so far in March (two games albeit), he's averaging 22 points and 5.0 rebounds per game and has led the Thunder in scoring the last two.
...[F]rom what I can tell, he's not doing anything that much different. He's still taking a majority of jump shots, but now he's making a really high percentage of them...He catches, sets and shoots. No thinking and no second guessing. Just swish.
...I don't think we should get used to 20-point nights from Krstic, but he's really settling in and is a candidate to put up solid offensive numbers every night...He's not going to be the Tyson Chandler enforcer in the paint and block shots and change games on the inside. That's not his game. We still definitely need that, but he's a more than competent defender with good footwork and long arms and a potentially deadly offensive weapon.
And for just $3 million a year, I think Presti worked some magic again with this guy. Maybe it's a coincidence that the Thunder's playing better with Krstic in a Thunder uniform and maybe it's not. Regardless of that, the team got much stronger with him and the future got brighter."
THE FINAL WORD
Roundball Mining Company: Carmelo Anthony roars back.
Hoopinion: Take Josh Smith for the block.
Raptors Republic: Jermaine O'Neal and Jamario Moon return to Toronto.

(Photos by Lisa Blumenfeld, Barry Gossage, Layne Murdoch/NBAE via Getty Images)