November, 26, 2013
11/26/13
11:58
AM ET
By Kevin Draper
Special to ESPN.com
Archive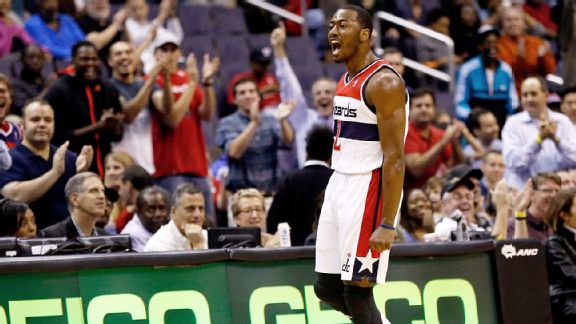 Geoff Burke/USA TODAY SportsDid the Wizards rush their rebuild? It won't matter if John Wall continues his rise in Washington.
The nadir of the modern
Washington Wizards
lasted for two brutal months across the winter of 2009–10, but it was a long time coming. The once-entertaining core of Gilbert Arenas,
Caron Butler
and
Antawn Jamison
aged into an injured and overpaid mess, and instead of injecting the team with youth, management traded away a top-five draft pick for
Mike Miller
and
Randy Foye
. A month into the season, beloved owner Abe Pollin died, and on Christmas Eve, Arenas and teammate
Javaris Crittenton
pulled guns on each other in the locker room. The fallout led to Arenas pleading guilty to a felony, but not before staging a horrifically ill-conceived
pregame huddle
.
There is no playbook for dealing with that kind of turmoil, but the Wizards eventually followed the game plan of the early-aughts Portland "Jail Blazers" and "
Malice at the Palace
"
Indiana Pacers
: clean house. The locker room full of players whose character was described as "questionable" -- Arenas, Crittenton,
JaVale McGee
,
Andray Blatche
,
Nick Young
-- has been disbanded, Blatche the last to go when he was amnestied in the summer of 2012. Less than four years after that fateful Christmas Eve,
John Wall
and
Bradley Beal
are firmly situated in the backcourt as new franchise cornerstones. As their rate of maturation accelerates, the playoffs are not a mere hope but an expectation.
[+] Enlarge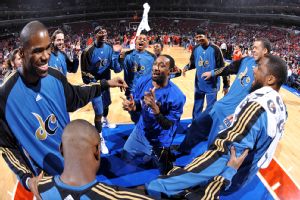 Jesse D. Garrabrant/Getty ImagesGilbert Arenas' 50-game suspension in 2009-10 led to a whole new era for the Wizards franchise.
Given this lofty promise, the start of the season hasn't been very encouraging for the 5-8 Wizards. They have already conducted the dreaded "players-only" meeting, and veteran Nene
publicly called out
the team's young players. While locker room misbehavior has generally given way to veteran accountability -- the team is 3-1 since the players talked things out -- this isn't exactly what the Wizards had in mind for their new era. And things will only get more thorny in the immediate future with Beal set to miss at least two weeks with a
stress injury in his right leg
.
The team does seem to be improving, though, and the catalyst for that turnaround is the scintillating play of Wall. In the Wizards' 98-89 win over the
New York Knicks
on Saturday night, there were two max players on the court, and one of them was decisively better. It wasn't
Carmelo Anthony
.
When Wall has his midrange game working, he is nearly impossible to guard. Crouching in the triple-threat position, there's nary a defender in the league quick enough to stick with him on his drives, let alone contest jumpers. It now seems likely Wall, who is averaging 18.6 points and 8.9 assists per game with a 19.96 PER, will justify the maximum extension he signed during the offseason.
Wall may be making a lot of noise on his rise to the league's upper echelon, but it doesn't sound like the fan base is listening, at least not yet. Washington is a basketball city, home to more than 10 current NBA players and the celebrated
Goodman League
. Two major college basketball programs, the Maryland Terrapins and Georgetown Hoyas, are also local. But in the ranks of the city's professional teams, the Wizards are a distant third -- fourth on days when Stephen Strasburg is pitching.
Saturday night's game against a high-profile and hated opponent drew 18,089 fans, the best total of the young season but still 2,000 short of the Verizon Center's capacity. Worse yet, it seemed like half of them were Knicks fans.
In Wall (23 years old) and Beal (20) the Wizards seem to have the type of young, dynamic talents needed to keep the team competitive well into the future and, ultimately, make the city care. But Washington hasn't had much had much luck with first-rounders otherwise --
Jan Vesely
,
Chris Singleton
,
Kevin Seraphin
and
Trevor Booker
have been busts. Sensing a need to surround Wall with the talent they couldn't find in the draft, Wizards management has made a series of short-term moves, taking on long-term money and giving away draft picks in order to build a roster that will probably top out with a first-round playoff loss this season.
Ultimately, the bifurcated and sloppy development model the Wizards have pursued over the past four years may not matter. The old adage is that the NBA is a stars league, and Wall is brightening into a shiny one. The Oklahoma City Thunder or
Miami Heat
models are rendered irrelevant if
Kevin Durant
doesn't develop or
LeBron James
suffers a devastating injury. The important moves aren't the shuffling of players on the periphery but acquiring and developing top-10 players.
The cherry on top of Wall's 31-point and seven-assist decimation of the Knicks came with 30 seconds left, as
Iman Shumpert
drove for a consolation bucket. Wall soared in from the weak side, and making full use of his 6-foot-4 frame he audibly spiked the ball into the stands. Postgame he was asked if it was a statement block. "Nah," he said, "we've seen the team score the ball at the end of the game on us before, and we didn't like it, we didn't want to give nobody an easy basket to end the game."
It was the safe answer -- the point guard's locker room persona is as quietly confident as his play on the court is in your face -- but if the Wizards are to overcome a bumpy rebuild, Wall will have to submit statement plays every night.
October, 30, 2012
10/30/12
11:38
AM ET

By Kevin Arnovitz
ESPN.com
Archive
July, 19, 2012
7/19/12
12:06
AM ET
By Sean Highkin, Hardwood Paroxysm
ESPN.com
Archive
July, 17, 2012
7/17/12
12:57
AM ET
By Sean Highkin, Hardwood Paroxysm
ESPN.com
Archive
Amin Vafa of Hardwood Paroxysm talked to Dion Waiters about the expectations the rookie faces after a disappointing start at Summer League.
Andrew McNeill of 48 Minutes of Hell writes that Kahwi Leonard's outstanding performance on Sunday evokes lessons from Chris Ballard's book The Art of a Beautiful Game: "We shouldn't want to see him dominate, for him to make it look easy. Mistakes are a good thing, so long as they're coming in ways that Leonard is unfamiliar with. As Sunday night's game developed, Leonard seemed to make adjustments and improvements on the fly. Where the driving lanes were clogged early, Kawhi figured out how to exploit them and get to the rim."
Some teams use Summer League as a means of getting particular guys acclimated to playing together, while others simply focus on giving players minutes. It would appear that the Celtics are in the latter category. First-round picks Jared Sullinger and Fab Melo both impressed in Boston's 87-69 victory over the Hawks, but they did not play together much. I asked Melo about this, and he didn't seem to think it was a predictor of the way the rookies would be used during the regular season: "We're just playing, having fun, and trying to play hard. We don't worry about rotations right now."
Sullinger's father instilled an appetite for rebounding in him from preschool, Sullinger tells CSNNE.com's Jessica Camerato.
If you watch only one video featuring the Warriors' Draymond Green getting coffee for Charles Jenkins, waxing philosophical about his love of R&B music, and riding through Las Vegas Aladdin-style on a magic carpet, make it this one.
Which NBA coach has the best sense of style? Alvin Gentry weighs in.
James Herbert of Hardwood Paroxysm sat next to Damian Lillard's mother, who was in the stands as the sixth-overall pick scored 25 points in his Summer League debut for Portland.
Hornets 247 has video interviews with Austin Rivers and Xavier Henry following the Hornets' loss to the Trail Blazers.
Blazers rookie Meyers Leonard throws down a dunk in practice and celebrates with a cartwheel, no small feat for a seven-footer. (via OregonLive.com)
Chris Bosh shares the most impressive meal he's ever cooked, and rates himself as a dancer.
Charlie Yao of Roundball Mining Company interviews ESPN's own David Thorpe about Chukwudiebere Maduabum, the Nuggets' 2011 second-round draft choice who was prevented from entering the league due to visa problems.
Mike Prada of SB Nation is impressed not only with Bradley Beal's talent but also his coachability.
Kyle Weidie of Truth About It points to Wizards guard Earl Calloway as a standout performance from Washington's loss to the D-League squad whose impact won't necessarily be reflected in the box score.
June, 26, 2012
6/26/12
1:43
PM ET
By Ryan Feldman, ESPN Stats & Information
ESPN.com

Brad Mills/US PresswireThe Wizards need help in the backcourt, where John Wall ranked last in the NBA in points per play.

The
Washington Wizards
didn't win three games in a row all season before ending with a six-game win streak. With positive momentum on their side, the Wizards have an opportunity to improve on the perimeter in the NBA Draft.
SHOOTING
The Wizards were among the worst outside shooting teams in the NBA. They shot 32 percent on 3-point attempts, which ranked third-worst in the league.
Despite relying on spot-up jumpers more than any other play type, the Wizards were the third-worst spot-up team. They averaged 0.88 points per spot-up play and shot 36 percent on those shot attempts. Only the
Charlotte Bobcats
and
Sacramento Kings
shot worse and were more inefficient on spot-up plays.
PICK-AND-ROLL BALL-HANDLERS
Only four teams averaged fewer points per play this season on pick-and-roll ball-handler plays. The Wizards averaged just 0.72 points per play and shot 37 percent when the ball-handler held onto the ball in pick-and-roll situations.
The Wizards relied on
John Wall
as their primary ball-handler with over 30 percent of his offense coming from the pick-and-roll. Wall averaged 0.69 points per play and shot 36 percent as the pick-and-roll ball-handler, both of which ranked last in the NBA (min. 200 plays).
INEFFICIENT BACKCOURT
The Wizards backcourt wasn't just inefficient in pick-and-roll situations. Among the 40 players with at least 1,000 plays this season,
Jordan Crawford
ranked 38th and Wall ranked 40th in points per play.
The Wizards also had the third-worst assist-to-turnover ratio in the NBA this season and the fourth-lowest percentage of assisted field goals.
TOP DRAFT TARGETS
Based on their statistical weaknesses, the Wizards should focus on improving their backcourt in the NBA Draft. The top guard prospect is Bradley Beal, who wasn't incredibly efficient as a freshman. But Beal improved in the NCAA Tournament.
Beal averaged 1.15 points per play during the NCAA Tournament, which would have ranked in the top-3 percentile during the regular season. His adjusted field-goal percentage of 71 percent would have ranked best in the country during the regular season.
The other top backcourt option would be Weber State's Damian Lillard, the fourth-most efficient scorer in college basketball this season among the 174 players with at least 500 plays.
Lillard could especially help the Wizards in the pick-and-roll, where he averaged the fifth-most points per play in the country (min. 100 plays). But would the Wizards want to pair Lillard, a 6-foot-2 point guard, with Wall, their franchise point guard drafted No. 1 overall in 2010?
The Wizards could also improve at small forward, where
Chris Singleton
and
Jan Vesely
both ranked in the bottom 50 percent of the NBA in points per play. The top options could be North Carolina's Harrison Barnes and Kentucky's Michael Kidd-Gilchrist, neither of which ranked in the top-25 percentile this season in points per play.
Statistical support for this story from NBA.com.
Get the information you need to be ready for the draft and follow the action Thursday night @ESPNStatsInfo.
June, 25, 2012
6/25/12
11:31
AM ET
By Ryan Feldman, ESPN Stats & Information
ESPN.com

Getty ImagesThe Bobcats could really use a good spot-up shooter to improve their offense.

It's obvious the
Charlotte Bobcats
were a bad team, but why were so historically awful? And how can they address their flaws in the NBA Draft?
PICK-AND-ROLL BALL-HANDLERS
The two most utilized offensive play types for the Bobcats were spot-up jumpers and transition offense, which made up a third of their offense. They were very inefficient when using those plays, ranking 30th and 29th, respectively, in points per play.
However, they were the 12th-most efficient team in pick-and-roll ball-handler plays. But they only ran the pick-and-roll on 15 percent of their plays, less often than all but six teams.
Their success in the pick-and-roll was largely thanks to guards
Gerald Henderson
and
Kemba Walker
. Henderson ranked 7th in points per play and (min. 50 plays), and Walker had the 17th-most points in the league as the pick-and-roll ball-handler.
PICK-AND-ROLL BIG MEN
Though the Bobcats' ball-handlers were efficient in the pick-and-roll, their big men were not. The Bobcats ranked last in points per play by pick-and-roll roll men.
Bismack Biyombo
ranked dead last in points per play (min. 20 plays), and the team had no players among the top 75 percent in the league.
REBOUNDING
The Bobcats ranked 29th in the league this season in rebounding percentage, ahead of only the
Golden State Warriors
. Not a single Bobcat ranked in the top 90 of the league in rebounding percentage. Their best rebounder was Biyombo, who ranked 91st at 14.3 percent.
PERIMETER SHOOTING
Twenty percent of the Bobcats' offense came from spot-up jumpers, but they ranked dead last in points per spot-up play. They shot 34.2 percent on spot-up jumpers and 29.5 percent on 3-point attempts, both of which also ranked last in the NBA.
TOP DRAFT TARGETS
Based on their statistical weaknesses, the Bobcats should be targeting a big man in the NBA Draft who can be an effective pick-and-roll player and rebounder.
Of course, the ideal player would be Kentucky's Anthony Davis, who had the seventh-most points in the country as the pick-and-roll roll man this season and averaged more than 10 boards per game.
With Davis likely going No. 1, Kansas' Thomas Robinson would the best choice for Charlotte. Robinson scored the 14th-most points in the country as the roll man, ranked second in rebounds per game, and led the nation in defensive rebounding percentage.
If the Bobcats opt for a shooter with their first pick, the top choices would likely include Florida's Bradley Beal and North Carolina's Harrison Barnes, both of whom shot about 36 percent on spot-up jumpers.
If they wait to draft a shooter with the No. 31 pick, they could select Kentucky's Doron Lamb or Vanderbilt's John Jenkins, both of whom ranked in the top 20 nationally in spot-up points and shot nearly 50 percent on spot-up jumpers this season. Lamb also shot 46.6 percent on 3-pointers (17th nationally) and Jenkins led the nation in 3-pointers made (134).
Statistical support for this story from NBA.com.