TrueHoop:

Brendan Haywood
December, 31, 2012
12/31/12
11:16
AM ET
Most of us have been taught that, through repetition, we can achieve proficiency at something. There's a good deal of reassurance to the idea that if you work long enough and hard enough at an activity you'll become good at it. Seems only fair.
There are entire fields of study dedicated to understanding muscle memory and motor learning. There's some difference of opinion about the extent to which motor skills are a product of other factors such as musculature, genetics, neurology , but "reps," as we call them in sports, are essential to mastering a task. If you're a good free throw shooter, chances are you worked hard at it, so it should come as no surprise that the majority of players wh0 have remained in the NBA for a decade have improved their free throw shooting over the tenure in the league.
But in Monday's Wall Street Journal,
Chris Herring examines a different subgroup
,"players who have inexplicably lost the ability to shoot free throws." Herring spoke to veterans like Marcus Camby and Brendan Haywood and retired big man Olden Polynice, whose free throw percentage dropped to 26.2 percent during his final NBA season.
Herring also talked with some specialists, including former Golden State Warrior shooting coach Buzz Braman, who worked with Andres Biedrins. Braman worked with Biedrins on mechanics, but also enlisted the Warriors' broadcast crew for one particularly unorthodox approach:
Specialists usually find themselves working with a player's confidence just as much as his mechanics. Buzz Braman, a former shooting coach with the Golden State Warriors, said he asked the camera crew that televised the team's games to find pretty women in the crowd and display shots of them if and when struggling shooter Andris Biedrins made a free throw.

The way Braman saw it, Biedrins—who shot 30.6% from the line in 2005—would see the women during film study, and garner positive reinforcement from their reaction to seeing his shot go down.

"I know fixing mechanics is important," said Braman, who helped get Biedrins up to 62% by 2008, "but if a guy doesn't believe in himself, do mechanics really matter?"
March, 21, 2012
3/21/12
1:44
PM ET
---

PG Jason Kidd | SG Vince Carter | SF Shawn Marion | PF Dirk Nowitzki | C Brendan Haywood
Minutes Played
: 154
Offensive Rating
: 107.4 points per 100 possessions
Defensive Rating
: 84.6 points per 100 possessions
How it works offensively
It would be insulting to call the Mavericks' offense rudimentary, but when you cue up the tape and watch a stream of possessions with this group of guys, one thing is so readily apparent:
They make basketball easy.
There's rarely a wasted movement or pass, and each time this Dallas unit crosses the time line, it has a singular purpose: It wants to extend your defense -- and it's going to use Dirk Nowitzki to do it.
It all starts with feeding Nowitzki at his favorite spot on the right side of the floor. Ever since Karl Malone retired, we've heard coaches and analysts refer to the "Karl Malone area" just off the mid-left post. Pretty soon, the "Dirk spot" off the right elbow will become commonplace for basketball commentators and geographers.
Most nights, the Mavs have a matchup advantage with Nowitzki, and they'll get him the ball promptly with either a quick entry pass or a pick-and-pop. Against more advanced defenses -- or just to switch things up -- Kidd will run a little misdirection on the left side (maybe with Shawn Marion), while Brendan Haywood frees up Nowitzki by pinning his defender with a down screen.
Once Nowitzki has the ball in his hands, he can feast on a shorter or less-capable defender. He'll bounce off his left foot, kick with his right and drain fadeaways from that spot all night.
Send a double-team at Dirk, and the gamesmanship begins. Nowitzki is 7 feet tall and he's been doing this basketball thing for a while now, so an extra defender doesn't faze him. Send that guy from the top of the floor, and Nowitzki will find Vince Carter or Kidd.
The Vinsanity ended a long time ago, but Carter is still capable of hitting a wide-open shot or attacking a rotating defender. As for Kidd, whose long-range shot is just beginning to reappear after its prolonged absence, he'll either attempt an open jumper or, more often, quickly identify where there's an opportunity.
Marion is the wild card on the floor for this lineup. After many seasons as a freakishly athletic curio with a wonky release on his shot, something interesting has happened -- Marion has become one of the more indispensable two-way players in the game in the half court. When Nowitzki creates defensive chaos for opponents, Marion is often the guy who will read the floor and exploit an opening. Sometimes, it's a backdoor cut along the baseline to the rim, where Kidd, Carter or Nowitzki will find him. Other times, Marion will rub his defender off a teammate at the left elbow, catch the ball on the move and finish.
There are plenty of other reliable options for this unit in the half court. They like to use a pick-and-roll on the left side between Kidd and Haywood, with Carter as a post option against smaller defenders. Haywood gets a few duck-ins because teams are often forced to rotate to Dirk from the baseline, or just choose to take their chances by playing off the center.
This unit still hasn't played 200 minutes together, as Haywood's playing time varies. Ian Mahinmi continues to develop, while Haywood has coped with a series of nagging injuries (he's currently suffering from a mild knee sprain).
How it works defensively
Just so we understand -- the best defensive unit in basketball includes a 38-year-old point guard, an aging Carter (who, even in his prime, never cared all that much about D) and Nowitzki?
Crazy as it sounds, that's right -- there isn't a lineup in the NBA that has played more minutes and given up fewer points per possession than this five-man unit.
So how does this work exactly?
Step 1: Assign Marion to the opponent's most important offensive facilitator -- whether that person is a point guard, slasher, sharpshooter or multitalented power forward. Marion is a lanky and intuitive defender who's hyperaware of where you want to go and how you want to get there. Those long arms shrink passing lanes to the size of a coffee stirrer and he's difficult to post up.
The luxury of matching up Marion one-on-one against the most dynamic player on the floor allows the rest of the Mavericks to stay at home as base defenders. This isn't a fast group, so there's not a lot of gambling and you'll rarely see a lot of aggressive fronting. What this unit does exceptionally well is communicate. Kidd is constantly scanning the floor for potential problem areas and will shout out instructions to Haywood the instant there's penetration.
Carter is an underrated post defender in the half court, and he's more than capable of bodying up against most wings. Size doesn't slump, so while Nowitzki might not earn a lot of votes for the NBA's all-defensive team, he's taller than most of his counterparts at the 4-slot. And though he might never be Kevin Garnett, Nowitzki's pick-and-roll defense is smart and efficient. He doesn't overextend himself jumping out and he's always thinking recovery.
Haywood isn't the planet's most aggressive pick-and-roll defender -- rather than a hard show, the Mavs' coverages seem to have Haywood defending those actions "flat" -- but his big body and long arms buy Kidd, Carter and Marion plenty of time to get back into a play. Haywood is also a quality rim protector who slides along the baseline with relative ease.
This unit will throw the occasional zone at an offense to stifle penetration, but its most defining characteristic is collective smarts. This lineup doesn't make many mistakes. Despite a lack of speed, they rarely foul and manage to amass a ton of turnovers by simply anticipating where the offense wants to go with the ball. When shots go up, fewer than one-fifth of them are collected by the offense for second-chance opportunities.
Come April, we constantly hear how it's the veteran teams -- not the most athletic ones -- that win rings. This unit of oldsters illustrates why.
April, 20, 2011
4/20/11
2:13
AM ET
By ESPN Stats & Info
ESPN.com
Archive
With a 101 to 89 win over the
Portland Trail Blazers
in Game 2, the
Dallas Mavericks
are now 3-and-16 in playoff games officiated by Dan Crawford since 2001.
Taking a closer look at the game footage, Crawford called eight personal fouls against the Blazers on Tuesday, not including two three-second calls (one offensive and one defensive) and called just four fouls against the Mavericks. The Mavs had a net gain of six points off of the free throws on Crawford's calls.
All six of the shooting fouls Crawford called against the Blazers, including the defensive three second, sent
Dirk Nowitzki
to the line for the Mavericks. Nowitzki was 7-for-8 on those free throws.
In fact it appeared
Wesley Matthews
drew the ire of Crawford in Game 2. Matthews picked up half of the eight fouls Crawford called against the Blazers, with the other four coming from a different player each time.
When he called fouls against the Mavericks, Crawford hit
Brendan Haywood
with two and
Jose Juan Barea
and
Shawn Marion
with one apiece.
If Mavericks have any complaints about the officiating, they should be directed to Ed Malloy, who hit the Mavs with 11 personal fouls and one technical to
Tyson Chandler
. The Mavericks had a net loss of eight points on Malloy's calls.
April, 28, 2010
4/28/10
1:58
PM ET
The crew at Raptors Republic has built a great-looking, Raptocentric draft board. Toronto will most likely pick 13th, and Raptors Republic has its eyes on big men Ekpe Udoh and Hassan Whiteside. Butler small forward Gordon Hayward also makes the list. Pretty incredible that fewer than 10 months after Toronto signed Hedo Turkoglu, "SF is the Raptors' greatest need."
The Rio Grande Valley Vipers took the D-League crown on Tuesday night, sweeping their best-of-three series over the Tulsa 66ers. The Vipers are the Rockets' D-League affiliate, which might be evident from this description of their offense by Steve Weinman of D-League Digest: "I noted on a couple of occasions this year that RGV was the D-League's most watchable team because they shared the ball so well. The Vipers didn't spend a lot of time pounding the ball atop the circles waiting for teammates to clear out for isolation sets. The ball always seemed to be hopping off the hands of the guys in the red and white, finding a big sealing his man on the low block or a wing player spotting up for a good look at a jump shot at just the right times."
As of publishing, the cheapest pair of tickets in the Ford Center for Game 6 between the Thunder and Lakers will run you $238 on StubHub-- and that's jut to get into the building. If you want two seat together in the lower bowl, then you'll have to cough up in excess of $800 for the pair.
For those scratching their heads at Atlanta's lackluster performance against Milwaukee, there's a plausible explanation. As challenged as the Bucks may be offensively without Andrew Bogut, the Hawks are a mediocre defensive squad. Bret LaGree of Hoopinion: "The Hawks have but two good (two very good) defensive players, the Bucks have figured out how to neutralize the impact of those two players (at least as long as the Bucks make almost 60% of their shots), the Hawks may be over-compensating for their (admittedly numerous) poor defenders, and, underpinning all of these specific reasons: It is hard to play good team defense without good defensive players."
At Jazz shootaround in Denver on Wednesday, Andrei Kirilenko said that even though he's experienced no setbacks in the rehab of his strained left calf, his return for a potential Game 6 in Salt Lake City is "highly unlikely."
Chris Webber tells Petros & Money that Jerry Sloan is not the guy to ask, "You want some?!" (Hat Tip: Trey Kirby)
How do you turn the tables in a series that's slipping away? Switch up your game, as Caron Butler, Brendan Haywood and Rick Carlisle did last night for the Mavs.
The issue of rest vs. rust is one of those longstanding debates in sports that's rarely been answered to anyone's satisfaction. The Magic made quick work of the Bobcats and will now wait for the winner of the Hawks-Bucks series, which could extend into the weekend. At Magic Basketball, Eddy Rivera takes a stab at figuring out whether Orlando will benefit from a long wait.
Is controlling the pace all that important? A peek at the Phoenix-Portland series, being played at a pokey 89.8 possessions per game, suggests that the slow pace isn't bothering the Suns much.
The Lakers' blowout of the Thunder prompts Dan Filowitz to get a head start on recording The Disciples of Clyde podcast. Among other topics for debate: Can the Mavs really prosper by riding the successes and failures of Caron Butler?
December, 14, 2009
12/14/09
3:34
PM ET
By Henry Abbott
The Wizards center isn't scared to meet
Vince Carter
or
Carmelo Anthony
at the rim. But when it comes to internet commenters ... he'll pass.
In what he says will be his final blog post, at YardBarker,
Brendan Haywood writes
:
Gilbert Arenas told me that it would be like that when I first started blogging but I guess I had to see for myself. I was amazed at how people cold really misinterpret my words!
I did a blog about how Mike Vick should be given a second chance because he had paid his debt to society and I had people calling the Wizards asking why I supported dog fighting?! I couldn't understand how you read my blog and came to that conclusion.
After my last blog, which was definitely fiery and one of my favorite pieces, about how Elin Woods acted after the Tiger fiasco, we had people calling the Wizards saying that I supported cheating and violence towards women. Once again, this couldn't be the furthest thing from the truth! You never want management fielding those types of calls about you, especially in a contract year (lol).
August, 18, 2009
8/18/09
1:10
PM ET
I'm always skittish about calling attention to an episode like
Brendan Haywood's appearance on Hardcore Sports Radio
, in which he implied, rather explicitly, that the spiraling Stephon Marbury is gay:
On a given day -- even in the offseason -- there's so much insightful stuff out there to aggregate, highlight, and discuss. Why offer a platform to ill-informed commentary that does little, if anything, to advance the conversation?
Stephon Marbury is over-exposed, and the rubbernecking is becoming unseemly.
On a personal level, I have a steadfast desire to never become the designated "gay NBA blogger" who functions as a quasi-watchdog on this issue. Tribal and identity politics bore the hell out of me and, sadly, I'm always underwhelmed by the contributions of those who enter a cultural conversation with a grievance as their primary motivation. I'm in this business because I love the pro game. Some of my happiest moments come when I'm analyzing the on-court choreography of these incredibly talented athletes. I recognize that the socio-political features of the NBA can't be ignored, and often provide us a chance to discuss larger issues and we'd be remiss to pass up those opportunities. That being the case, I'll enter the fray when I think there's something valuable to add to the conversation that isn't being discussed.
Fortunately, there are enough eloquent voices making sense of this issue. To wit, if this interests you in the least, please read
Kelly Dwyer's piece over at Ball Don't Lie
. Dwyer first highlights Haywood's comments, which sadly, to fully understand the fracas, need to be processed:
"At first it was cool, but after a while it just became disturbing. He's on YouTube crying with no shirt on for no reason, sweating while his boy's rubbing his shoulders. What's that about? That's like gay porn. I don't understand it. He's dancing to a song called 'Barbie Doll', doing like stripper moves. I have no idea what's going on with the guy, it's almost like he's trying to end his own career. There's not a GM out there that would touch Marbury right now.

Have you seen the 'Barbie Doll' clip? Click on YouTube and go to Barbie Doll. There's no way any other professional athletes would wanna get dressed around this guy, because you gotta think something is a little, he's swinging from both sides of the fence."
Dwyer then goes to work:
... Haywood is freaked out. And because he's never had to think about this sort of thing, weird = gay. Different = gay. Shirtless = gay. Stephon = gay.

And it's pathetic. It's as sad and pointless as Marbury's ego-driven trip down Dementia Ave.

Brendan, guess what? You've likely had a gay teammate, at some level, dressing around you since you started playing basketball. More than likely. Even more assured is the absolute fact that you've had a gay member of the media in the locker room after the game while you dress.

And somehow - and I know this is shocking, but just try to hang with me here - they've managed to not jump your bones as you walk around in a towel, or less...

Somehow they've managed not to hit on you. Somehow they've managed to act ... well, like you would in a situation like that. You think a gay man dressing near you is some sort of threat? Why? Do you flip out and start dry humping women at the beach when they pass by you in string bikinis? Do you think that typical levels of restraint and tact and human dignity fly out the window just because a person's orientation is different than yours?

This is basic, almost numbing, stupid stuff. This is stuff I shouldn't have to type out in 2009, because it's so obvious. So plain. So ridiculously simple...

We can cheerfully think of a downright nauseating phrase like "no homo" as some sort of progress. Progress for troglodytes that we still keep needlessly making excuses for, perhaps, but hardly progress of any sort.

And we're still chuckling off Haywood's comments as a "boys will be boys" thing. Totally, bro.

The problem isn't that boys shouldn't be like that. Boys, in 2009, should be smart enough to know better. Boys, in 2009, should have people in their ear; not telling them what is politically correct enough for public consumption, but informing them. Educating them. Telling them that it's quite possible for an initial and incorrect assumption likely fostered sometime around the week when Haywood first developed underarm hair might not be the case, in reality. Telling them, bro, it's not like that. It really isn't.
I'm one of those gay members of the media Dwyer's referring to.
Over the past season, I've overheard a talented second-year player in a locker room, overwhelmed with amusement that cigarettes are referred to as fags in many Angolphonic countries, go on a Rain Man-ish recitation of the word.
"Fag, fag, fag, *laughter*, fag, fag, fag. *more laughter*"
What followed was a longer conversation -- one that included a superstar widely regarded as one of the NBA's most enlightened players -- ridiculing gay men and discussing how to avoid them ("stay away from San Francisco!"). All the while I waited five feet away for an interview.
It may come as a surprise, but I don't take a lot of umbrage at these incidents. It's par for the course. These are young guys who, by virtue of their preternatural talents, have existed in a bubble for the majority of their lives. Does that make their behavior acceptable? Of course not. Do I feel guilty for not being more offended? You have
no idea
. How do I attenuate that guilt? By hoping that, over time, my presence in those locker rooms and the work that comes out of it will do much more to educate these men than a public scolding would. Is that naive? Perhaps.
To this end, I invite Brendan Haywood, savvy, ambitious, cutting-edge media voice that he is, to join TrueHoop in a thoughtful discussion of these issues.
UPDATE
:
A nominal apology from Haywood on his blog
.
August, 11, 2009
8/11/09
10:29
AM ET
Leon Powe's outsized heart moves to Cleveland. Kurt Rambis brings his pedigree and eyewear to the Twin Cities. And Mike Miller stretches the boundaries of social media.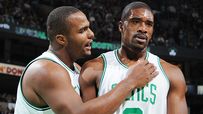 John Krolik of Cavs the Blog: "Leon Powe is about as good as an undersized, unathletic player with no range or ball skills to speak of can be. Yes, there's a definite ceiling in terms of how many ways he can impact a game. But as a pure banger, Leon Powe is just about as good as they come. Powe had the best offensive rebound rate of any power forward for the second consecutive year last season, and 9th in rebound rate overall. And offensively, Powe might not have any real jump shot whatsoever, but he knows his limitations and spends what time he has with the ball in the paint, shoving bodies around and trying to get the ball in the basket any way he can. 80% of Powe's shots came in the immediate basket area last year, and despite his dip in proficiency on layup-type shots from 07-08 to 08-09, his love of the dunk gave him a very respectable 60% mark on 'inside' shots ... For all Powe's strengths skill-wise, he still has major disadvantages athletically: He is much smaller than most centers and much slower than most power forwards. And he can't stretch the floor ... But overall, this is a great player and a great guy coming to the Cavaliers with very, very little financial risk involved, so my final position is that I congratulate the front office for getting yet another deal done, congratulate Mr. Powe for finding a team, and hope to see him on the floor reasonably soon."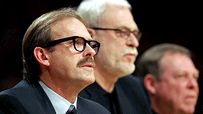 Patrick Hodgdon of Howlin' T-Wolf: "What I like about [Kurt] Rambis right off the bat is that he has always been surrounded by success in the NBA and owns seven championship rings, 4 as a player and 3 as a coach. He has played for Pat Riley alongside Magic and Kareem and has been an assistant under arguably the best coach in the NBA in Phil Jackson with whom he's coached Kobe and Shaq. The fact that success breeds success in the NBA is something I think that goes underrated. Sam Presti is doing a bang-up job in Oklahoma City because he learned it first in San Antonio. So is Kevin Pritchard in Portland. When you are around successful teams you learn how to emulate them and bring with you a blue-print for success. Rambis also brings actual coaching experience as an assistant for the Lakers for 10 years as well as experience from a short stint as head coach of the Lakers in 1999 during the lockout shortened season where he went 24-13 before being swept by the NBA champions Spurs in the second round that year. Something I also really like on his resume: he's been a coach with Kobe and Shaq on the team where he has seen the best at their best but more importantly at their worst, which is invaluable experience in the league ... "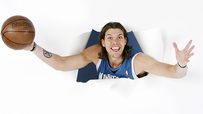 Kyle Weidie of Truth About It: "Mike Miller is for serious about his social networking. How serious? Damn serious enough to debut his new website with an inspirational Eminem 'song' that came out seven years ago. Miller also has a new blog entry, introduced by the 'frightening/sad/tough/crying on the inside/I'm from South Dakota/my fav rapper is Killer Mike/I'd eat a man's heart if it were legal and tasted like cheese wiz & beer' face you see above. Damn. That's serious enough to remove the 'r' from 'for' and make it a fo'. Mike Miller is fo' serious. Personally, I think Mike Miller is serious enough to drain more than 150 threes, drop more than 250 dimes, snag more than 350 boards, and shoot more than 42% from long distance this year. So if you're around, become a fan of Miller on FaceBook, follow his Twitter, or become a member at his website. Go give the guy they call 'White Mike' some support so that he and the Wizards can be working their hardest up to and through the 2009-10 season. After all, Brendan Haywood isn't the only guy playing for a contract this year."
THE FINAL WORD
Hoopinion: A comprehensive Rookie Guard Study from Bret LaGree.
Valley of the Suns: Dabbling in free agency counterfactuals from the Summer of '04.
Roundball Mining Company: The upside of losing Linas Kleiza.
(Photos by Steve Babineau, Lisa Blumenfeld, Joe Murphy/NBAE via Getty Images)
April, 22, 2008
4/22/08
4:16
PM ET
Wizards' Center Brendan Haywood -- who reportedly will not be suspended for fouling LeBron James -- from Dan Steinberg's DC Sports Bog:
You know, any time LeBron gets touched, Mike runs out there like LeBron got shot or something. Calm down Mike. It's not that serious. We're not trying to take him out. It's all within the confines of the game. I don't see how coaches should be running out on the court like that anyway. Isn't there a coach's box? Since we're talking about the confines of the league rules, he shouldn't be out of the box.

You [Ivan Carter] have been covering me for how many years? I mean, it's not like I'm a guy that takes guys out. I've been criticized normally for NOT fouling, right? This is actually different ground for me. That's one of those things that was really bang-bang, I didn't see him till the last minute, and I was just trying to make a play on the ball. ...

If you go out and try to foul him lightly, he's gonna score the basketball. There was nothing malicious. Actually I apologized to LeBron James. I didn't mean to hurt him. It's not one of those type of things. It's one of those things, I've been instructed to give him hard fouls so he's not to get highlight dunks in the half-court, so I've got to do what my coaching staff tells me to do if I'm gonna stay out there on the court.