February, 21, 2013
2/21/13
3:01
AM ET

By Marc Stein
ESPN.com
Archive
The
Atlanta Hawks
inched closer to Thursday's 3 p.m. trade deadline more determined than ever to trade
Josh Smith
, according to sources with knowledge of the Hawks' thinking.
They still have to find a suitable trade partner, though.
The consistent word circulating in front-office circles late Wednesday was that Atlanta has yet to find a deal it likes for Smith in a down market despite the determined pursuit of the
Brooklyn Nets
and consistent (but conditional) interest from Milwaukee and Boston.
The Nets, sources say, will continue Thursday to search for a third team to help facilitate a deal for Smith, since Atlanta has made it clear that it wants no part of
Kris Humphries
.
Milwaukee would appear to be the most likely destination for Smith entering deadline day, but it remains to seen whether the Bucks will ultimately be willing to part with guard
Monta Ellis
, whom Atlanta has targeted as the primary player it wants from them.
As for Boston: Including
Paul Pierce
or
Rajon Rondo
in any deal with the Hawks is presumed to be the only way for the Celtics to land Smith, which is problematic for the Celts for a number of reasons. Focusing on just two of them: (1) Trading Pierce somewhere he doesn't want to go isn't nearly as easy as it sounds given what PP's stature is in his city and with that franchise; (2) Boston's chances of getting Atlanta's unrestricted free agent-to-be to sign for the long term there would almost certainly be damaged if Rondo, one of Smith's best friends, weren't still there to team up with him.
As of late Wednesday, sources close to the situation said Atlanta hadn't yet found a deal it particularly liked and was still holding out hope that offers would improve or that previously uninterested teams, such as Houston, would change their minds in the final hours of trade season.
Yet sources stressed that the Hawks
do
remain eager to part with Smith and went into Thursday expecting to move him by day's end to the team offering the best deal that won't hurt their long-term financial flexibility. Atlanta, of course, is determined not to let any trade it makes Thursday affect its planned pursuit of
Dwight Howard
in free agency in July.
The Hawks, as a result, figure to attract more attention than anyone else on deadline day. Especially with most rival teams increasingly expecting the Clippers and Jazz to stand pat no matter how much we've talked about
Eric Bledsoe
,
Paul Millsap
and
Al Jefferson
possibly moving.
Similar pessimism about Phoenix -- long considered one of the teams expected to be busy leading up to the 2012 deadline -- moving center
Marcin Gortat
was also in abundance Wednesday.
January, 16, 2013
1/16/13
1:39
PM ET
By Ernest Tolden, ESPN Stats & Information
ESPN.com

Jesse D. Garrabrant/Getty Images
Deron Williams (right) has improved his play since P.J. Carlesimo took over.
With their 113-106 win Tuesday over the
Toronto Raptors
, the
Brooklyn Nets
, winners of a season-high seven straight and nine of 10, continue their climb up the standings and are within two games of the top spot in the Eastern Conference. At 23-15, the Nets are a season-high eight games over .500, a mark they haven't reached since finishing the 2005-06 season 49-33.
This recent surge came on the heels of the December 27 coaching change, when Avery Johnson was dismissed and replaced with interim coach P.J. Carlesimo.
Carlesimo's 9-1 start on Brooklyn's sidelines marks the second-best 10-game start by a Nets head coach. Lawrence Frank began 10-0 after replacing Byron Scott during the 2003-04 season.
Brooklyn is also the only undefeated NBA team in the new year, with each win during their current seven-game win streak coming since January 1.
OFFENSE
The Nets' improvement has primarily been on the offensive end, averaging 102.9 points in 10 games under Carlesimo. In 28 games under Johnson they averaged just 94.5 points and ranked 19th in field-goal percentage (43.8) in that span.
Brooklyn is first in the league offensive efficiency since Carlesimo took over, averaging 111.2 points per 100 possessions.
Six of the team's 13 100-point games have come during Carlesimo's 10-game tenure, including a season-high 115 points in a win against the Wizards on Janaury 4.
REBOUNDING
Another weak spot that Brooklyn has turned into a strength is its work on the boards. The Nets have become one of the best rebounding teams in the NBA, outrebounding opponents in six of their past seven games.
Under Carlesimo, the Nets have outrebounded their opponents by an average of 5.6 per game -- only the Pacers, Pistons and Hornets have posted better rebound differentials in that span. They've also grabbed more than 53 percent of available rebounds, the fourth-highest mark in that time frame.
DERON WILLIAMS
Point guard
Deron Williams
has seen his offensive numbers improve under Carlesimo, mainly his jump shooting.
Williams struggled to start the season, shooting just 39.8 percent from the field and under 30 percent from beyond the arc in his first 27 games.
Since then, the three-time All-Star is shooting just under 45 percent and better than 42 percent from three-point range, and his Player Efficiency Rating is more than five points higher than it was under Johnson.
The Nets will aim for their eighth consecutive win Wednesday in Atlanta against the Hawks -- they can tie the Grizzlies for the third-longest win streak in the NBA this season.
December, 27, 2012
12/27/12
5:24
PM ET
By ESPN Stats & Info
ESPN.com
Archive
Mike Ehrmann/Getty Images
Avery Johnson, Deron Williams and the Nets were just .500 when Johnson was fired as head coach.
A promising November gave way to a disastrous December for the
Brooklyn Nets
, as not only did the team go 3-10, but its three wins all came against teams with losing records. The net result was Avery Johnson losing his job, but the underlying statistical reasons for the Nets disappointing start are many and encompass all facets of the game -- offense, defense and personnel.
The recent narrative for the Nets has been a lack of offensive execution, as both
Deron Williams
and
Gerald Wallace
have voiced concerns with the offense. The team does rank second-to-last in the NBA in pace but its true shooting percentage stayed consistent -- 52.5 percent in November, 52.6 percent in December.
The biggest change has come on the defensive end -- the team was ninth in opponents points per 100 possessions in November (100.0) and 28th in December (108.6).
The offense isn't completely off the hook, though. Under Johnson, the Nets experienced the biggest drop-off in offensive efficiency, field goal percentage and rebound percentage between the first and second half of any team in the NBA this season. They've lost a league-leading six games this season in which they led by at least 13 points.
But the real issue with this team might not be coaching or offensive philosophy, but rather the personnel on the court. The Nets invested heavily in the Williams-
Joe Johnson
-
Brook Lopez
-Wallace core, and it simply has not lived up to its billing this season.
Williams, the franchise cornerstone, is putting up his lowest Player Efficiency Rating (17.1) and lowest assist-per-40-minutes marks (8.7) since his rookie season of 2005-06, and his field goal percentage (39.8) would be the lowest of his career.
Of the 151 players who are averaging at least 25 minutes per game this season, Williams (52nd), Lopez (74th), Johnson (83rd) and Wallace (87th) all rank outside the top 50 in Win Shares. Lopez has missed seven of the team's 28 games, including six in December during which the Nets went 1-5. Meanwhile, Wallace has scored in single digits more times (10) than he's scored 20 or more (2).
Is it possible this isn't just a bad system fit or small sample size, but rather players in decline? Joe Johnson's current PER of 13.6 is nearly five points lower than his mark last season and would be his lowest since 2002-03. Wallace's PER is on a much more sustained nosedive, going from 18.6 to 18.3 to 16.2 to 15.9 to 14.6 since the 2008-09 season.
But perhaps most alarming of all is the multi-season shooting decline from Williams, who has seen his true shooting percentage drop from 59.5 in 2007-08 – which ranked tied for 29th in the NBA that season – to 51.6 this season, good for T-188th.
December, 20, 2012
12/20/12
12:34
AM ET
By ESPN Stats & Information
ESPN.com
Archive
Nathaniel S. Butler/NBAE/Getty ImagesCarmelo Anthony scored a game-high 31 points in Wednesday's win against the Brooklyn Nets.
Carmelo Anthony
returned after a two-game absence and the
New York Knicks
continued their winning ways at home, taking the lead (for now) in the New York crosstown rivalry with a 100-86 win against the
Brooklyn Nets
.
Anthony scored a game-high 31 points on 12-for-22 from the field. He's averaged 37 points in three meetings against the Nets this season. The Knicks improved to 11-1 at Madison Square Garden this season, and are 22-2 under Mike Woodson since he took over as head coach.
As has been the case all season for Anthony, he was locked in from 3-point range, making four of eight.
Against the Nets, he's made 12 of his 20 3-point attempts. For the season, he's made almost 46 percent of his 3-point attempts (55-for-120), which would be a career high.
Off the bench,
J.R. Smith
chipped in with 19 points on 7-for-11 from the field. The Knicks outscored the Nets by 24 with him on the court.
New York committed just eight turnovers, and has committed the fewest turnovers per game (10.7) this season. When the Knicks commit fewer than 10 turnovers, they are 13-0.
The Nets dropped their third straight and have lost eight of their last 10 overall. The Knicks and Nets meet for the final time this season on January 21.
SMALL FORWARD, BIG NIGHT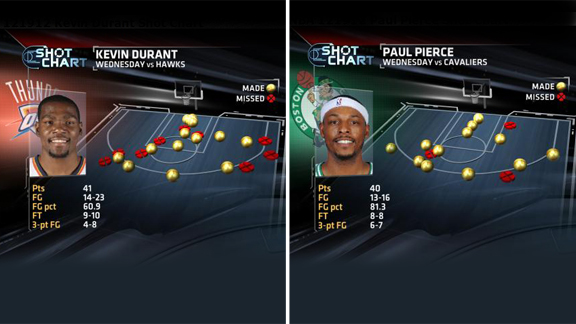 ESPN Stats & InformationKevin Durant (41) scored one more point than Paul Pierce on Wednesday, but Pierce was more efficient from the field. Both made shots from all over the floor.
KEVIN DURANT
Durant (41 points, 13 rebounds) recorded his 10th career game with at least 40 points and 10 rebounds, and his first this season. Only
LeBron James
(12) has had more such games since Durant entered the league.
The Thunder also won their 12th straight game, the longest by the franchise since November 1982 (12).
PAUL PIERCE
Pierce
scored a season-high 40 points against the Cavaliers. Pierce, who turned 35 in October, became the second Celtic in history to score at least 40 points at age 35 or older.
Back on March 15, 1992, a 35-year-old Larry Bird scored 49 in a double-overtime win against the Trail Blazers.
November, 27, 2012
11/27/12
1:10
AM ET
By ESPN Stats & Information
ESPN.com
Archive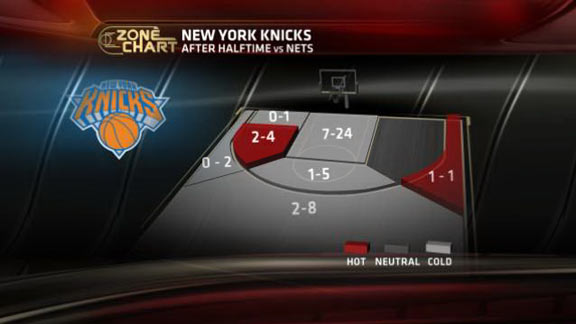 One of the statistical points of interest from the
Brooklyn Nets
win over the
New York Knicks
on Monday night was its defense against the Knicks in the paint.
The Knicks were 13-for-21 in the paint in the first half and had shot 59 percent on their shots in the paint over the previous three games.
But in the last 29 minutes, the Knicks ability to score inside completely changed. Finishing in the paint became almost impossible. The Nets outscored them 30-14 in that span, including 18-2 in the third quarter
As you can see in the image above, the Knicks shot 7-for-24 in the paint in the second half.
Carmelo Anthony
, who was 4-for-6 in the paint in the first half, was 1-for-5 in it in the second half.
Raymond Felton
missed all 10 of his shots in the paint for the game, an area in which he entered having made half of his shots (37-for-74) this season.
Five of those misses came in the second half, including two, sandwiched around a turnover, in a 90-second span with just under seven minutes remaining.
He was partly absolved of blame because the Knicks scored on both of his missed opportunities.
But he then airballed an 11-footer that would have put the Knicks up three with less than 90 seconds left.
Rasheed Wallace
, who entered a 68 percent paint-based shooter for the season (17-for-25) was 0-for-4 for the game as well.
The Nets got shredded for 63 percent shooting in the paint by the
Los Angeles Lakers
and
Golden State Warriors
in the final two games of their West Coast swing.
But since returning home, they've held their last two opponents to 45 percent shooting in the lane, including the Knicks' 20-for-45.