May, 2, 2010
5/02/10
9:05
PM ET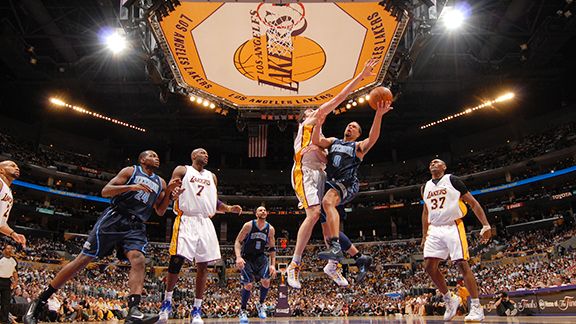 Andrew D. Bernstein/NBAE/Getty Images
Seeing the forest for the trees won't be easy for the Jazz.
LOS ANGELES -- If you saw Utah dismantle Denver during the first round of the postseason then you have a good idea of how efficient the Jazz's offensive system is when it's running on all cylinders. Against the Nuggets, the ball breezed around the court. Every pass, screen and cut seemed to produce a high-percentage shot for the Jazz against a Nuggets defense that spent two weeks with its head on a swivel.
Utah's execution-oriented offense should be able to withstand just about any defense it confronts, at least theoretically. But in each of the past two postseasons, the Los Angeles Lakers have quickly dispatched the Jazz. In both instances, the Lakers' "length" was cited as a key factor. Needless to say, the Lakers' roster isn't any longer when playing the Jazz versus any other team, so what is it about the Lakers' length that specifically gives the Jazz fits?
To start, Jerry Sloan's system is predicated on continuity. For many NBA teams, scoring is a matter of finding the best one-and-one mismatch on the floor, then exploiting it, but that's not the case for the Jazz. They flow into their offense by moving the ball in a pattern. The system relies on crisp passes to players who dart off screens away from the ball, and often on entry passes into Carlos Boozer or Paul Millsap from the wings. Against an undisciplined, average-sized team like Denver, swinging the ball around the court is child's play. But the Lakers make that task extremely difficult.
"Those passes you usually see Wes [Matthews], Kyle [Korver] and I make from the wings? It's hard to zip those passes because you have three 7-footers with their arms out," Jazz forward C.J. Miles said.
The success of Utah's scheme depends on fluid motion, which means the Jazz can't afford any hesitation or else the offense stalls. Since the Jazz don't have many shot-creators who can burn the defense in isolation, the ball must keep moving, something that doesn't come without risk against the Lakers' battalion of big men.
"Even if you could've gotten [the pass] to the post, you're timid just because they have their hands up," Miles said. "You don't want to turn it over and they make it tough."
For players who thrive on knowing that a good shot will materialize if they execute properly, that's a serious adjustment. A simple baseline pass to a cutter, a kickout from the low block or an entry pass into the post becomes a lot more complicated. Take the possession at the 4:12 mark of the first quarter. Rookie guard Wesley Matthews held the rock on the left wing with Boozer calling for the ball on the left block a few feet away.
Simple, right?
Not with Pau Gasol harassing Boozer. Matthews tried to lob the ball into Boozer, but Gasol got in front of the pass and knocked it away, resulting in an easy two for the Lakers on the other end.
"It's length -- those extra inches that they take up on the court," Matthews said. "They get their hands on the ball. It makes things difficult. We have to be crisper and we have to be more sure."
That length isn't just about clogging passing lanes. There are ancillary benefits that come with having big guys who can deflect passes and block shots. For instance, the Lakers' guards have the luxury of defending with more freedom.
"Fish, Kobe and Ron do a great job pressuring the ball because they know there are three 7-footers waiting back there," Miles said, referring to Derek Fisher, Kobe Bryant and Ron Artest.
In other words, playing a lethal guard like Deron Williams more aggressively is less risky because if he beats you, there's a back line that can clean up the mess. After averaging 11.3 assists per game in six games against Denver, Williams managed only eight assists in Game 1 against the Lakers. Meanwhile, Gasol recorded five blocked shots and Lamar Odom swatted away a pair.
"Gasol is a tremendous player," Sloan said. "He's very long, and they're very long for us to deal with. He's so big and long and that's where he hurt us. Obviously, his ability to block shots keeps us off the basket."
Then, of course, there are the offensive benefits that come with that length, illustrated by Gasol's 25-point afternoon on 9-for-15 shooting from the field. The Lakers' big man had his way in the post against both Boozer and Millsap, the latter of whom gives up four inches to Gasol. Eight of Gasol's nine field goals came inside of eight feet, some of those buckets against active double-teams down low by Utah.
Gasol's offensive exhibition aside, there was no better demonstration of the Lakers' advantage than Odom's rebound of a Kobe Bryant miss in the game's final minute -- one of five offensive boards for Odom on the day. Odom squeezed his way inside the tangle of bodies beneath the Lakers' basket and elevated above the scrum for the putback to give the Lakers a 3-point lead with 48 seconds to play.
How do the Jazz combat this length? They must move the ball briskly East to West and inside out to keep the Lakers' defenders from smothering the strong side. Apart from that, there are no easy solutions, save a delivery of
Magic Grow
to the Jazz's hotel tonight.
"Unless I grow another three inches before tomorrow, there's nothing we can do about it," Williams said.
April, 30, 2010
4/30/10
12:02
AM ET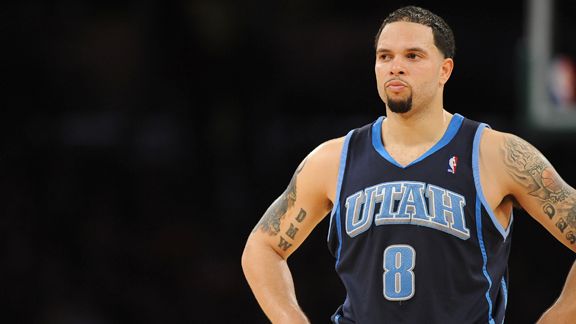 Noah Graham/NBAE/Getty Images
Deron Williams: Too good to be an underdog?
SALT LAKE CITY -- When the Utah Jazz greet the media at their practice facility in Salt Lake City, each player (and the head coach) stakes out a familiar spot in the gym where he addresses the scrum. Andrei Kirilenko, Kyle Korver and Wesley Matthews take questions in the middle of the court. Carlos Boozer fields questions along the far baseline beneath the basket. The peripatetic C.J. Miles roams freely, while Jerry Sloan stands stoically in front of the plastic purple bleachers. Once the camera crews from local affiliates are gathered, there will be a moment of deferential silence as the reporters make sure Sloan is ready, at which point he blurts out, "Whattaya got?"
Where can you find Deron Williams? The Jazz point guard is in the far corner of the gym, slouched on a training table leaning back against the wall. That's his spot, away from the busy flow of the gym. Williams had a reputation of being truculent with the media during his first couple of seasons, but now in his fifth year, he accepts the spotlight with a fairly polite tolerance, though he's still a somewhat reluctant participant. More than anything, he's
still
-- legs stretched out in front of him, head tilted back, a dozen voice recorders in his face. As he's peppered with questions, Williams barely moves from that position.
On the court, it's an entirely different story. Williams never stops moving. He's not hyperkinetic like Steve Nash or Chris Paul. It's a more orderly velocity, a good kind of reactive. Williams rarely lets the defense dictate where he's going, but he uses every piece of information to make snap decisions with an impressive change of speed. Where are the other nine guys on the floor? What does the system demand of my talents at this instant? Can I counter-program and get to the hole off the dribble?
The answer to each of these questions usually produces a foray into the paint, where the Jazz are getting anything they want against Denver thanks to Williams' orchestration of the offense. Williams is averaging 28.2 points and 11.6 assists in the series with a player efficiency rating (PER) of 28.19. He's the first player in NBA history to have five consecutive 20-point, 10-assist games within a single postseason series. Williams is both statistically and operatively the best player on the floor in this series, which prompts the question:
Despite the absence of Kirilenko and Mehmet Okur and the presence of an undrafted rookie and a project big man in the starting lineup, can a team with a supernova like Williams controlling the action truly be called an underdog?
When Okur went down, conventional wisdom deemed the Jazz a long shot, present company included. Even the Jazz's success in taking a 3-1 games lead headed back to Denver was framed as a triumph of discipline over combustion, the achievement of a cohesive team over a disparate collection of talent. After all, the Nuggets extended the Lakers to six games in a grueling conference finals last season, earning the mantel of the team most capable of dethroning the Lakers if the champs were to falter. Denver features Carmelo Anthony, one of the preeminent shot creators in the game. The Jazz? High I.Q. players, but no competition for the Nuggets' athletes.
Now that we've been living with this series for the better part of two weeks, the matchup has a different quality to it, in large part because of Williams' influence. Anthony has undoubtedly produced over the five games, but Williams has dominated. The execution of the Utah system held in such high regard isn't merely a product of whiteboard magic -- it's a direct result of Williams' leadership and court vision.
"He's as good as it gets,'' Nuggets point guard Chauncey Billups said at shootaround prior to Game 5 in Denver. "He can do everything. He really doesn't have any weaknesses. I think that's the ultimate compliment that you can pay to a player is to say that he doesn't have any weaknesses, and I think he's reached that point now.''
Williams doesn't merely ignite an effective transition or choreograph the Jazz's motion offense, he's also become a knockdown shooter from long distance, hitting at a 54.2 percent rate in the series from beyond the arc. He's also Utah's second-best option behind Carlos Boozer in the post, where he can score and wreak havoc with brilliant kickouts. In this series, he's doing stellar work off the ball and on the defensive end. But Williams' defining quality might be, more than any point guard in the league, his unwillingness to waste a possession.
Singling out Williams shouldn't discount the synchronicity carried out by each of the Jazz players in Sloan's offensive scheme, but the old construct of this series as a battle between a system and an individual talent is no longer relevant. The Jazz have their individual performer in Williams. They also have Boozer, the best big man in the series (something that was true before Nene went down with a sprained left knee), and reserve Paul Millsap, whose 24.08 PER ranks him 10th in the postseason among players who have logged more than 15 minutes per game.
Denver notched a much-needed victory at the Pepsi Center on Wednesday night, a feat it accomplished by moving the basketball and running a coherent offense for the first time this postseason. But in reassessing this series headed into Game 6 -- a possible clincher for Utah on its home court -- it's time to bury the idea that the Nuggets have considerably more talent than the Jazz. Denver might have a decisive edge in athleticism (less so now that Nene is out), but Williams' repertoire of skills should give us pause about the long odds originally assigned to Utah after Game 1.
It might spoil the storybook narrative, but we're now learning that Deron Williams is simply too good to be an underdog.
April, 27, 2010
4/27/10
5:55
PM ET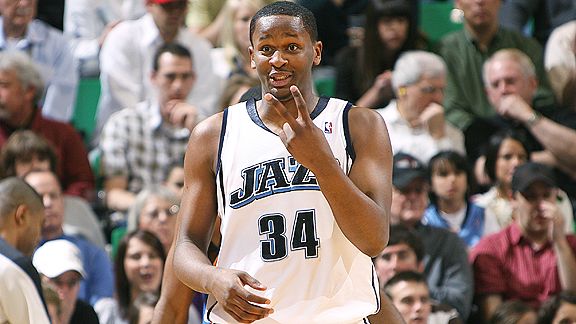 Melissa Majchrzak/NBAE/Getty Images
C.J. Miles is starting to figure things out -- and the timing couldn't be better for Utah.
DENVER -- On November 1, 2006, all was well in C.J. Miles' world. He had split his rookie season between the big club in Salt Lake City and Albuquerque of the D-League. Now, in his second year, he was making his first career start on opening night against Houston. Miles came out on fire, scoring 12 points in Utah's 35-point first quarter. "I was in a zone. I was in a focus. My mind was set that I was going to play hard and play well. Now I've just got to keep it up,"
Miles told the Deseret News after the game
.
For Jazz head coach Jerry Sloan, though, Miles' first-quarter exploits only underscored how the 19 year old failed to sustain his intensity for 48 minutes. Sloan is notoriously tough on younger players and his critique of Miles after the game was especially pointed.
"When he came out in the second half, he didn't have any energy. You can say, 'Well, he's young.' But if he's going to be a man, he's got to step up again tomorrow and get after it and get in better shape so that he can finish it up," Sloan said.
A couple of nights later, after a comeback win for the Jazz over Phoenix in which Miles shot only 1-for-5 and played some iffy defense, Sloan was downright rough.
"He came out kind of soft,"
Sloan told the Deseret News
. "I mean, I don't care if he's 19 or 30. If he's going to be on the floor in the NBA, he's got to be able to step up and get after it. We can't put diapers on him one night, and a jockstrap the next night. It's just the way it is."
Miles knew it wasn't a marquee performance. On repeated occasions, he was taken out of plays by Suns' big man Kurt Thomas and got completely lost on a few of Phoenix's high pick-and-rolls. Still, the comments stung.
"It was tough for me," Miles said. "You know Coach Sloan's reputation coming in, so you expect it a little bit. I was extremely young. I was 18 when I got here. There was a lot I had to learn."
The learning process for a guy like Miles at Utah is twofold. First, there's the NBA game -- in particular, the exacting nature of Jerry Sloan's offensive and defensive schemes.
The second lesson might be even more difficult: Miles had to arrive at the realization that, for the first time in his life, he wasn't the best player on the floor. Not even close.
At Skyline High School in Dallas, Miles was a star. The southpaw had signed to play for Rick Barnes at the University of Texas. Kansas, North Carolina and Georgia Tech had also come calling, which was no surprise when you examine Miles' prep résumé: 23/10/5 as a senior at Skyline. McDonald's All-American, Dallas Morning News' Player of the Year.
The praise was so resounding that Miles decided to skip college altogether and enter the 2005 Draft. He slipped to the second round, where Utah plucked him with the 34th overall pick -- not exactly the way he envisioned draft day unfolding.
"It hit me hard at the beginning," Miles said. "At one point I thought maybe I shouldn't have went [into the draft].But then I was kind of like, 'Forget about it. You're here now. There's nothing you can really do about it.'"
For a few years, Miles was of marginal use to the Jazz. He had trouble maintaining his endurance and attention on the defensive end, and continued to struggle with the demands of an offense in which every player on the floor is required to perform every offensive function.
"I never had to set a screen in high school, because
I
was the one getting the ball," Miles said with a grin. "As a young guy coming in, you want to run, you want to
go
, especially athletic guys who can get up and down the floor."
You can see why this might conflict with Sloan, right? It wasn't as if Miles acted out. By every account, he was a diligent student of the offense. He studied Andrei Kirilenko's defensive tendencies, Derek Fisher's professionalism and the way the Jazz move in sync on both ends of the floor. But in high school, Miles was never asked to do the things that supporting wing players need to do in the NBA. When Miles made defensive plays, it was because he was bigger, longer -- and just
better
-- than the other kid. Nobody called those
stops
at Skyline
.
They were just there for the taking.
"In high school, when you're the biggest, fastest most athletic guy on the court, you basically just float around, try to gamble for steals and block shots," Miles said. "You never really had to guard anybody. And I was the tallest person on my team, so it wasn't like I was guarding guards. Then I got here and everybody was my size. The most talented guys were at my position."
Think about this for a second: For 18 years, basketball was played under a very uniform set of conditions for Miles, the first of which was "I'm better than everyone." That isn't an expression of arrogance or glibness. There simply weren't more than a half dozen kids in the Dallas area who could compete with Miles. For him, getting to that point required countless hours, but the actual floor time in high school? That was easy. There was you, the ball and the hoop. There were no back picks to set, or Tracy McGradys to defend, or Kurt Thomases to dodge.
And there certainly wasn't a Jerry Sloan -- a coach who demands precision if you want minutes in his system. An inability to master the fine points of that system can earn you a public lashing.
"We had conversations where we've sat down in his office after practice or before practice and talked about some of the things we're trying to do to help me move forward and he would do everything he could to help me," Miles said of Sloan. "When he's
not
saying anything, that's when you should be worried."
Six weeks after Miles exploded in the first quarter of the win over Houston on opening night, he was placed on the inactive list.
"It drove me nuts," Miles said. "It wasn't about not being 'the guy.' It was about not even being on the floor. I was sitting behind itching, with a suit on -- and I
hate
wearing suits -- watching guys play. I just tried to soak up as much as I could."
A few days after New Years 2007, Miles was sent down to the D-League for a second time -- an assignment he now considers a blessing. Call it the
royal jelly, oxygen
, or just burn, but playing time is the most vital component for a young player's development. At Boise with the Idaho Stampede, Miles made quick work of the competition: A Player Efficiency Rating of 20, a true shooting percentage of 62.9 percent and an offensive/defensive rating of 116/102. For the first time since his senior year at Skyline, Miles was once again the very best player on the floor.
"I think it was great," Miles said of his time in the D-League. "You've been sitting up here and you haven't really gotten much playing time. So to go down there and play 28-30 minutes in a real game -- there's nothing like game experience. You can practice as hard as you want, but there's nothing like game experience."
The story from there is by no means a linear path to success. By many metrics, Miles has compiled a disappointing five-year career. His shooting improved enough in his third season to be the show starter for Utah in 2008-09, but there was still an incomplete quality to Miles' game. Maybe the contrast to Kirilenko at the small forward was too distinct, but until very recently Miles continued to be a liability for the Jazz on the defensive end -- particularly as a help defender on the wing. Neither of Utah's two most productive lineups in 2008-09 included Miles, with the most striking feature being defense, where the Jazz were far more effective with either Kirilenko or Kyle Korver at the 3. This season has been a mixed bag. After starting every one of his 72 games in 2008-09, Miles has mostly come off the bench this season, stepping into the lineup if Kirilenko was unavailable. Miles' defense improved this season, though his advanced offensive stats were eerily similar to his 2008-09 output.
When Kirilenko strained his calf prior to Utah's first round meeting with Denver, Miles was put on the spot. The Jazz just happened to draw one of the two Western Conference playoff teams that features a dominant small forward as the focal point of its offense. The Nuggets' Carmelo Anthony is an assignment for Kirilenko or the quasi-retired Matt Harpring. Denver acting head coach Adrian Dantley even said as much both before and after Anthony exploded for 42 points in the Nuggets' Game 1 victory.
Anthony had a less efficient outing in Game 2 against a far more physical Miles, hitting only 9 of 25 shot from the field en route to 32 points. More notable, however, was Miles' performance on the offensive end. Know what Miles looked like? The quintessential starting wing in Jerry Sloan's flex offense. There were the pretty interior passes on the move to Kyrylo Fesenko and Carlos Boozer on cuts -- two of his six assists. There were the two crucial layups off smart basket dives along the baseline in the game's final four minutes with the Jazz trailing by three points. Miles says that those weren't plays he would've instinctively made two years ago.
"It's a matter of growing, being on the floor, getting playing time and maturing as a player," Miles said. "You see things and you see them quicker, then you begin to see them before they happen. You see how they trap Deron off the pick-and-roll, and my standing here [on the wing] is not helping. So what do I need to do the next possession? I saw guys turning heads toward Deron, so I cut to where Deron can see me, and I was able to make the play a couple times in a row."
Apart from his rebounding and 3-point shooting -- he's a lowly 5-for-21 from beyond the arc in the series -- Miles has been an important piece for the Jazz in their four games against Denver. He hit eight shots from the floor on Sunday night as part of a 21-point effort, including three huge buckets in the opening two minutes of the second half. Though Miles isn't stopping Anthony -- few can -- he's doing his part as the fulcrum of a defensive scheme that's denying Denver consistent ball movement. He now understands that the best way to keep Anthony even remotely off-balanced is to show the scorer a variety of looks.
"I try to play him different ways the whole game," Miles said. "He made fade-aways, step-backs, and all those moves [in Game 1], so I've been trying to make everything a second move, not just one move and to the basket, or one move and a shot. I tried to make him spin off me and not get into too much of a rhythm."
If Denver is able to extend the series with a win on Wednesday night, speculation will begin to surface about Kirilenko's ability to achieve his stated goal of coming back for a Game 6 in Salt Lake City on Friday. When Kirilenko was asked about his timetable a week ago, the subtext was that
if
the Jazz could desperately hang with Denver for five games, then Kirilenko could provide both an emotional and defensive lift for the Jazz to write a storybook ending to the series. Kirilenko would still be a welcome sight for the Jazz if they're forced to a Game 6, but thanks in part to C.J. Miles, Kirilenko's return is now more of a luxury than a necessity for Utah.
April, 26, 2010
4/26/10
1:53
AM ET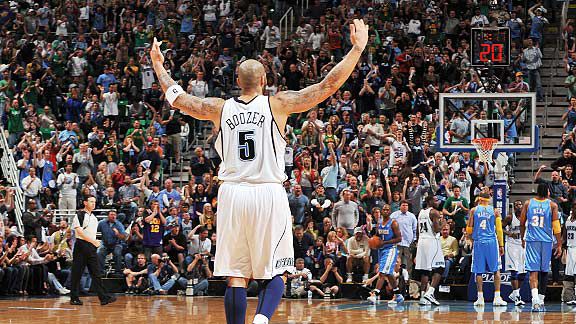 Garrett Ellwood/NBAE/Getty Images
Utah's mood: It's up ... and it's good.
SALT LAKE CITY -- "Fun" is not exactly a high usage word in Jazz head coach Jerry Sloan's vocabulary, but on Sunday prior to Game 4 between the Jazz and the Nuggets, the plain-spoken Sloan was unusually sunny about his team's resiliency in this series.
"It's fun to watch what they're trying to accomplish," Sloan said. "If we can run our offense and execute it, and set screens to help each other, I think we can score every time -- if we can make the shot."
On Sunday night, the Jazz didn't make
every
shot, but they finished the night 53.2 percent from the floor, en route to a 117-106 win over the Nuggets to take a 3-1 series lead back to Denver.
"We execute," Jazz forward Carlos Boozer said. "We're doing a good job of spacing. We've got shooters at a couple of different positions."
Not unlike Game 3, a hyped-up Jazz squad needed some throat-clearing in the opening minutes. But once they settled in, the Jazz smoothly ran Sloan's offense against a disjointed Denver team that has yet to come up with answers on the defensive end of the floor. The Jazz turned an early seven-point deficit into a double-digit lead in a flash, and did it by playing with unparalleled energy and poise, and by assembling a full sampler of their greatest offensive hits.
Take the textbook fast break Deron Williams orchestrated to pull the Jazz even toward the end of the first quarter. With Wesley Matthews running up the right sideline C.J. Miles sprinting a length or two behind on the left side, Williams steamrolled down the middle of the floor against two converging Nugget defenders. Just as Miles caught up to the play and appeared in Williams' peripheral vision, the Jazz' superstar point guard dished the ball off to Miles in perfect flow -- a layup and one.
"You run harder when you know a guy can get you the ball," Miles said. "Deron has confidence in us that we will finish that break. It's great watching him run. The stuff he does is amazing -- sometimes you even get caught off-balanced. It's fun playing with a guy like that."
If Williams wasn't igniting the Jazz in transition, then Boozer was owning the Nuggets' big men inside off the pick-and-roll or with his face-up slingshot at the foul line. Boozer led the Jazz with 31 points and 13 rebounds, his best game of the series. If Boozer didn't have a path to the rim or an open jumper, then Utah's athletic wings were cutting along to the basket the baseline for easy layups, or spotting up for clean looks along the perimeter. Miles had 21 points on a steady diet of open shots coming off flex screens and diving along the baseline toward the hoop.
What do all these opportunities have in common? They're products of Denver defender who can't protect the paint, and find themselves a step behind their Jazz counterparts who are in perpetual motion.
"We preach about it all the time, not to give up layups that come off curls." Nuggets acting head coach Adrian Dantley said. "We just have to do a better job. We'll keep watching film. We show them every game."
However the Jazz scored the ball, there was one constant to their offensive exhibition: Deron Williams. Though he didn't have his best shooting night of the series -- 24 points, 6-for-14 from the field -- he once again controlled the action. He notched 13 assists, now giving him 48 for the series.
"Tonight was a night my teammates were helping out," Williams said. "I'm at a point where I don't have to score every game for this team to be successful. We have enough guys who can score. We rely on our system to get us good shots."
Utah's proficiency with the ball is no secret. They entered action today as the postseason's most efficient offensive team. But a Jazz team that hemorrhaged points to the Nuggets in Denver has buckled down defensively in Salt Lake City, even without their strongest perimeter and weak side defender, Andrei Kirilenko. Only one Nugget shot over 50 percent from the field -- Nene, who had two field goals on a meager three shot attempts (though he went 6-for-12 from the stripe).
Earlier in the day, Boozer claimed that his team's stated intention was to make the Nuggets see bodies. Until Denver's rally in the fourth quarter, that's precisely what the Nuggets confronted. Utah's guards were quick to recover on ball screens while the base defense held its ground along the perimeter. When the Nuggets went into Anthony in isolation at the right elbow, the help -- usually a Jazz big man -- was prompt, with the remaining three defenders doing a good job locking down the rest of the floor.
"I thought our big guys did a a much better job trying to help us inside and not let them get on top of the basket all the time," Sloan said. "It seems like we've made a commitment to be a better defensive team. That's individual effort and when everybody does it and tries to stay on the same page, you have a chance."
Anthony finished the night with 39 points and 11 rebounds, but he was harassed throughout the game. With nine turnovers, Anthony came precariously close to a dubious triple-double. Meanwhile, the Nuggets' guards were virtual no-shows until the fourth quarter, and Denver didn't record its 10
th
assist until there was 5:50 remaining in the game.
Only a week ago, the Jazz were regarded as a troop of wounded warriors -- noble in their pursuit, but on a terminal course to defeat against a healthier, more powerful opponent. Despite the injuries and adversity, Utah now travels back to Denver with a chance to close out the Nuggets. That fatalism has now been replaced by a steely resolve.
"You can either do two things," Boozer said. "You can crumble when you have a couple of stars on your team out or you can come together and fight."
April, 24, 2010
4/24/10
4:47
PM ET
SALT LAKE CITY -- A few themes that emerged Saturday as the Jazz and Nuggets practiced for Game 4:
System vs. Soloists


The Jazz play a very programmatic brand of basketball. "We run a great system that Coach Sloan and Coach Johnson put in…uhhh…30 years ago?" Carlos Boozer said. That date is debatable (there were cave drawings of "auto" sets dating back to the 7th century found in caves near Zion National Park), but it's indisputable that the Jazz have taken a 2-1 series lead by applying their system against a team of superior, but less efficient, athletes. "[The Nuggets] run plays, but most of their stuff is one-on-one isolations," Deron Williams said. "They only had 12 assists, so there's not much ball movement going on." For the Jazz, necessity is the mother of invention. Denver would like to turn this series into a YMCA-style romp that would maximize their strengths. "They have a great team," Williams said. "Talent-wise, there aren't many teams better. But what I think we have is a bunch of guys who have bought into a system, who understand what we have to do to win. We're not a one-on-one team. We go one-on-one every now and then, but for the most part, we're a team that relies on our passing and our system and playing defense."
Nuggets acting head coach Adrian Dantley readily acknowledged that the Nuggets' DNA renders them a one-on-one team not suited to playing in a more structured offense. "Coach Karl always said we can't play that type of system," Dantley said. "We're more random basketball." For Chauncey Billups, the fact that the Nuggets play a lot of one-on-one ball isn't an issue, per se. After all, the Nuggets finished the season ranked fifth in offensive efficiency. "The problem with the isolation is not the actual isolation," Billups said. "It's the lack of movement." According to Billups, the Nuggets need to do a better job off the ball to help maximize the one-on-one advantages they have against Utah. "A lack of [movement] just lets one guy play against three or four."
Effort Deficiency


Carmelo Anthony vocally called out the Nuggets' effort following Game 3, and conversation continued today. "That was the main thing we talked about this morning in the locker room," Anthony said. "We've got to get out of our own heads. Last night I didn't see it in us. The body language wasn't there. People didn't seem focused throughout the game. As far as X's and O's, we know what they're going to do and they know what we're going to do. We just have to want it more than them." This line of reasoning was less persuasive to Dantley, who shrugged when asked about the Nuggets' effort Friday night. "Whenever you lose, you're always going to say 'lack of effort,'" Dantley said. "You just have to come with better effort and match their energy." Dantley joked that to amp his guys up, he was going to find an old clip of a Woody Paige story that characterized Dantley as a dog when Dantley's Jazz team trailed the Nuggets in a postseason series. "We came back and won the series," Dantley said. "Maybe I'll bring that to them."
Be Physical ... But Don't Foul Carmelo
Playing aggressive defense without putting your opponent on the foul stripe is a difficult balance to achieve. Against Anthony, it's the finest of lines. In Game 1 of the series, Anthony went off for 42 points against a Jazz defense that made things far too easy. Anthony was able to roam freely and control the game from the foul-line extended. The Jazz responded with a more physical presence on Anthony. They were able to get 42 points down to 32, but Anthony notched 14 points at the line in 15 free throw attempts. "Most of the fouls come in isolation situations, one-on-ones, and transition," Matthews said. In Game 3, Utah's wing defenders might have found their equilibrium -- relatively speaking. Anthony still had 25 points on 21 shots from the field in Game 3, but only got to the line for four attempts. Anthony acknowledges that racking up points at the line is vital for being successful. "That's a big part of my game," Anthony said. "For me to go out there and shoot three free throws in 40 minutes is tough, especially when I'm not trying to settle for a jump shot. My game is to get to the hole and get to the line. Three free throws is not going to do it."
Matthews believes that a defender has to take stock of the game when formulating a defensive strategy against Anthony. "You have to be smart," Matthews said. "You have to know when to be physical and you also have to know how the refs are calling the game. If they're calling a tight game, then you can't be as physical at times. But if they're kind of letting the game go, then you can be a little bit more physical." Miles, who has carried the bulk of the assignment against Anthony, feels that a defender has to show Anthony a variety of looks. "I try to play him different ways the whole game," Miles said. "One time he comes down, I'll just crowd him. Maybe the next time, he tries to post and I crowd him, but when he turns around to face me, I'll back up – maybe give him a step, jump back and fake at him ... If he's making a lot of jump shots, then I can't play off him as much as I'd like to. If he's getting to the basket or getting fouled, then maybe I give him a step
."
Energy is a Solution for the Jazz
Asked about his first home playoff game, rookie Wes Matthews eyes lit up. "It was amazing," Matthews said with a big smile. "I can't wait for tomorrow." Naturally, Sloan dismisses any notion that playing at home should give a team a lift. Prior to Game 3, he performed his best Gene Hackman imitation when asked if his team would benefit from returning to their home court at Energy Solutions Arena. "I don't know," Sloan responded. "It's the same length as the one over in Denver. It's 94 feet. If you have to rely on that to get you going, you're really in bad shape." Court dimensions aside, playing in Salt Lake City made a difference for Matthews. "We were feeding off the crowd," Matthews said. "We were doing some of the same stuff in Denver, but you don't get that same effect because, of course, they're boos rather than cheers."
April, 22, 2010
4/22/10
5:46
PM ET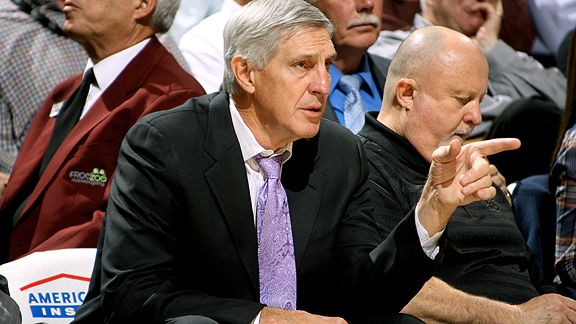 Melissa Majchrzak/NBAE/Getty Images
What's the secret?
SALT LAKE CITY -- It's something you hear frequently when talking to people inside the Utah Jazz organization and opponents around the league:
Jerry Sloan has been running the same stuff for more than 20 years, yet most defenses seem powerless to stop it.
"You know flex in high school," Jazz point guard Deron Williams said last month. "Wisconsin ran the heck out of flex when I was in college. You play at any level, you're used to it."
The most basic description of the flex is a five-man motion offense that relies on a series of back screens, hard cuts and other off-ball actions. If the defense responds well to the initial actions, there are natural counters built into the system. Ever notice how Utah gets a disproportionate number of really good looks late in the shot clock? That's because Jazz players are so well-versed in what those late options are --
what Carlos Boozer referred to yesterday as "C, D, and E."
C.J. Miles describes this feature well:
We're making basketball plays -- plays made off screens or made off cuts. Maybe this time it's not a back door cut this way. Or, if I set the screen, then the play should work because if they overplay the screen, there's something that's going to happen as a consequence to every reaction. If you trail Kyle Korver off a screen, then he's going to make the shot. If you shoot the gap, then you throw the ball into the post. There's always something that can be done off whatever the defense counters with.
Call it the Malcolm Gladwell theory or the Stockton-and-Malone maxim, but Sloan maintains that one of the reason the system has worked so well for so long in Utah is repetition:
You react to situations you've seen over and over again. That's why we're very repetitive in what we do and try to make it so guys can get an idea of what's going on in the game instead of throwing them loose and letting them play and run all over the place. I think that teaches them how to take advantage of those situations.
Sloan doesn't champion structure for structure's sake. Rather, he advocates repetition as a means to achieve fluency. There are a bunch of teams that run elements of the flex around the league. Chicago's hasn't been terribly successful over the past couple of seasons, nor has New Jersey's (though both the Celtics and Spurs incorporate smart flex sets to get the ball to the wing). Jazz sniper Kyle Korver's feels, as Sloan does, that you have to go in whole hog with the flex to get the results the Jazz have:
It's kind of like a full-court press. If you don't believe in the press and you don't go do it 100 percent, it's never going to work. Most teams that run a flex will run it two or three times a game…Here, we know we're going to run the flex a whole ton, and we know if we run it right, I know that I may not get the ball the first five times. But the sixth or seventh time, I know I will.
Since coming over from Philadelphia, Korver has completely bought in. He says that if he decides to coach, he'll fully implement the flex. Boozer also subscribes to the value of repetition in the team's mastery of the system:
We run things over and over and over again, so when we see it during the course of a game as it's happening, we know what to do right away…Your reactions are quicker. And when your reactions are quicker, you usually have more success.
In some sense, the Jazz
have
to be fluent in the system. As both Korver and Boozer imply, every team in the league knows that the Jazz are going to set up in their 1-4, then go to work. Unlike Denver, which runs a very unstructured offense, Utah operates predictably -- at least in its early actions. The Jazz also don't have many guys who can create shots for themselves. So, as Boozer points out, unless their reactions are quick, the Jazz have the potential to stagnate on offense. Fortunately for them, they've worked through these scenarios a zillion times in both practice and live games. As Miles mentions above, the Jazz offense knows how to read every defensive response and has something ready to execute accordingly. Miles also attributes the success of the system to the relative stability of the Utah roster over the years:
Repetition is definitely a positive. You don't see a lot of trades made. We're a younger team, but we've been together for four years now. Everybody knowing each other's games, knowing our offense so well, knowing where guys like to be.
With the exception of their cap-conscious exports this season, Utah doesn't swap players in and out of their organization very often. The Jazz build around a core group of young players -- often second-round picks and castoffs -- and invest a great deal of training and expertise in those players. It's one thing to run these sets over and over again to achieve full command of the offense, but quite another to do it with the same core of personnel.
Given the Jazz's success over the past two decades, it's surprising more organizations haven't committed to the flex and sought out players whose talents can be cultivated to maximize the system. Then again, it's not what you do, it's how you do it -- and, more often than not, who's doing it for you.
April, 19, 2010
4/19/10
2:59
PM ET
The Wounded Animal
The loss of Mehmet Okur to a ruptured left achilles tendon has exacted both an emotional toll on the Jazz and left them with young third-year big man Kyrylo Fesenko as their starting center in Game 2. "Wounded animal" was a characterization used more than once in the circuit of interviews at the Pepsi Center on Monday morning. "A wounded animal is a dangerous animal," Nuggets guard Chauncey Billups said. "[The Jazz] still have some players who can beat you. They have some players who really weren't getting an opportunity to play and now they will get that opportunity, and they're going to be hungry." "They're backed up into a bit of a corner," Nuggets guard J.R. Smith said.
Adjustments on Anthony
The understanding from both squads is that Utah will combat Carmelo Anthony much more physically. "They're try to get me frustrated, try to beat me up a little bit," Anthony said. "I know it's coming. I just want to get ready for it and stay composed, not let them try to get in my head, which I know they'll try to do." C.J. Miles will assume the bulk of the defensive work against Anthony. "We can't let him be the initiator every time," Miles said. "Wesley and I sat down and talked about yesterday before practice about how we want to play him -- just try to get up and force him further out on the floor. He likes that mid-range area. He made a lot of jump shots last game and we want to make him take longer shots. We want to be up on him and make him take more than one or two dribbles to get into his moves and his shots." On a different note, Adrian Dantley made reference both on Sunday and today that, in some respect, Anthony has caught a break in this series by not having to face off against Andrei Kirilenko. Asked to comment on his coach's assessment, Anthony replied, "Next question."
Meet Kyrylo Fesenko, Starting Center


The 23-year-old big man has played a total of 408 minutes in the 2009-10 season. By virtue of Mehmet Okur's season-ending injury, Fesenko has been thrust into Utah's starting lineup. Opportunity or liability? Fesenko was a bit reticent, clearly nervous, but cautiously excited about the chance to play. As he began his response to the first question, Fesenko quickly excused himself to spit out his gum. "Just trying to be respectful," he said sheepishly. He then spoke about the huge chance he has to contribute to a team that desperately needs a defensive presence in the middle. "It means a lot to me," Fesenko said of the opportunity. "It means that coach really trusts me. I don't know, I'm speechless." Fesenko will have the daunting task of trying to contain Nene defensively. "The biggest challenge is that he's very quick," Fesenko said. "All his spin moves. That's going to be very tough for me. I've played against him and I fouled out in about 10 minutes." Fesenko also appreciates that he's not alone. He doesn't need to match Okur's offensive output and his primary responsibility will be helping to wall off the paint from a Denver team that destroyed the Jazz inside in Game 1. "I think I'm ready," Fesenko said. "I feel very confident about tonight's game. I might not score 45 points, but I know that I'll bust my ass on defense." Jazz coach Jerry Sloan said that Fesenko should embrace the starting role. "That's what you hope for as a player," Sloan said. "This is about as good a setting as you would want to have an opportunity to play and play well."
April, 19, 2010
4/19/10
9:47
AM ET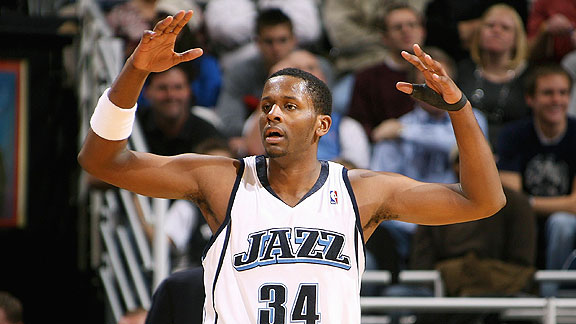 Melissa Majchrzak/NBAE/Getty Images
Care to trade places with this guy for the next week or so?
DENVER -- Saturday night should've been a coming out party for Jazz forward C.J. Miles. The former second-round pick, who was drafted straight out of high school, has had a tumultuous five-year journey to the Jazz's starting lineup in this series. During that stint, Miles has spent time in Jerry Sloan's doghouse (kennel?), been shuttled back and forth from the D-League to the big club and fought mightily for playing time.
The first half of the seesaw Game 1 affair between Denver and Utah was the culmination of Miles' long path. The lanky southpaw matched Carmelo Anthony shot for shot. Miles attacked Denver off the dribble, and got to the stripe five times in the game's first five minutes. He followed that series with a smooth 3-point bomb in transition. Miles tallied 13 points in the first quarter, and 17 for the half -- two more than Anthony.
Miles was smoking hot, but about a minute into the second half, he collided with Chauncey Billups and left the game with a woozy case of nausea. At that point, Wes Matthews took over the assignment of guarding Anthony. Matthews' trip to this moment was every bit as improbable as Miles'. Ten months ago, Matthews, undrafted in 2009, was toiling in Summer League, trying to claw his way on Utah's roster. He succeeded. With the departure of 2-guard Ronnie Brewer to Memphis at the trade deadline, Matthews inherited Brewer's starting slot in the Jazz lineup and played a key role in the Jazz's torrid March.
Anthony, however, finished Game 1 with 42 points, most of them at the expense of Miles and Matthews. When a scorer as lethal as Anthony goes off to the extent he did, it's unfair to lay the entire blame on his defenders. But with Mehmet Okur now done for the series with a torn left Achilles tendon, the Jazz simply can't afford to give up points at the rate they did in Game 1 and have a chance to take the series. It will now be up to Miles and Matthews to check Anthony. They don't have to shut him down -- there is only so much mere mortals can do to combat certain forces of nature -- but the young tandem must make some adjustments.
Anthony will inevitably bury a few contested 18-footers from the right side of the floor, but he was able to post-up then face up on the right block far too easily on Saturday. When Anthony got an early pick-and-roll from Nene, the Jazz defenders were helpless to fight over or around the screen. And when Anthony was roaming off the ball, Miles and Matthews were far too passive.
In Jerry Sloan's perfect universe, veteran defensive ace Matt Harpring would be the man charged with challenging Anthony -- and Sloan said as much prior to Game 1 (Andrei Kirilenko -- out with a strained calf -- would be choice No. 2). Harpring is a perimeter scorer's worst nightmare, but chronic knee and ankle injuries have forced the veteran into semi-retirement.
When you see Harpring at practice playing the role of onlooker, you can't help but wonder how things might have played out differently had he been on the Pepsi Center floor Saturday night. "When you guard a player like Carmelo who has size and strength that he's got, you have to get him outside of his game," Harpring says. "When he crosses the 3-point line, you start bodying him up right away."
Harpring's point is dead on.
Take a possession in the third quarter, with the game tied 73-73. Billups works up top before he swings the ball left to Arron Afflalo on the left side. Where's Anthony? He's lurking on the weak side along the 3-point line. As Anthony begins to cut toward the paint, Matthews is a good 10 feet off him. Afflalo returns the ball to Billups as Anthony darts to the stripe unimpeded. Billups feeds him at a spot
inside the foul line
(Anthony still hasn't been touched by a Jazz defender).
A single dribble, then a lay-in. That's all it takes.
"Off the ball, my goal is to constantly touch him, constantly put my body on him, wear him down throughout the game," Harpring says. "As a bonus, you get him frustrated, or talking to the refs, or worrying about you rather than worrying about his game. [Saturday] night, he was just in rhythm all game. There was no disruption to his rhythm -- open jump shots -- it was just too easy for him."
Miles acknowledges the ease with which Anthony was burying jumpers and smiling on the return trip down the court, although Miles still concedes that Anthony was going to get his, irrespective of the defense.
"We're definitely going to make some adjustments, but he's going to score," Miles says. "He's too good and will get too many looks at the basket not to score. We just want to limit some of the easy baskets."
Doing that means denying Anthony ownership of the floor, something he took for granted in Game 1. He set up wherever he wanted to, whenever he wanted to.
"We can't just let him walk to the spots he wants to be in and spots he's comfortable in," Miles says. "We need to take away some of those easy 14- and 15-foot jump shots. He made shots everywhere [Saturday] night, but we have to try to make it harder on him."
Are Miles and Matthews too youthful, too green and too nice? When asked what he saw in Anthony's eyes on Saturday night, Nuggets acting head coach Adrian Dantley chuckles.
"He probably didn't see Kirilenko, that helps," Dantley says. "When you have a rookie on you, a guy like Matthews ... it's difficult, his first game ... and CJ Miles, that makes [Anthony's] job easier."
Dantley is no Phil Jackson. His intention isn't to get inside the heads of Miles or Matthews, but his honest assessment of the matchup can't be dismissed. Dantley is essentially saying that neither Miles nor Matthews fully grasp the craft of defending a beast like Anthony, and that cuts Anthony a break. Dantley adds the same disclaimer that Miles expresses.
"But the bottom line was that Melo was hitting the shots," Dantley says.
Harpring doesn't deny that Anthony will fill up the box score, but he also maintains that disrupting a guy like Anthony requires more vigilantism than most young players realize.
"When a guy gets going like that, you got to make a hard foul, you've got to do something to get him out of his rhythm," Harpring says. "If you want Carmelo smiling in the fourth quarter after he makes a couple of shots, then that's on you. That's a pride thing, when you're guarding someone. If it's me, I'm fouling out before that happens. You don't go out without fighthing."
Matthews has been watching film of Anthony's exploits in Game 1. While examining the way he played Anthony, he noticed something about his performance that he plans to take into Game 2 on Monday night.
"When you
think
you're playing physically, you're not as much as you could be," Matthews says.
For the Jazz to get out of Denver with a win, they must ratchet up their instincts. And though nobody will say it aloud, they might even have to play Anthony a
little -- gasp -- dirty
.