July, 12, 2012
7/12/12
12:59
AM ET
By Ryan Feldman & Gregg Found, ESPN Stats & Info
ESPN.com

US PresswireWould the current U.S. Olympic team have a chance against the Dream Team?
Kobe Bryant
believes the 2012 U.S. Olympic team would beat the 1992 Olympic team. Is he correct?
According to AccuScore, which ran 10,000 computer simulations, the 1992 team would win 53.1 percent of the time and by an average margin of one point per game.
No one will ever know the true answer, but let's take a look at the Next Level analytical facts about the rosters at each point of their careers to help make the case either way.
REBOUNDING AND DEFENSE
Much has been made about the current team's weak frontcourt. The 1992 team had four players who grabbed at least 15 percent of available rebounds in 1991-92 (
Charles Barkley
,
Patrick Ewing
,
Karl Malone
,
David Robinson
). The current team has three players at that rebound rate last season (
Tyson Chandler
,
Blake Griffin
,
Kevin Love
).
The 1992 team had two players (Ewing, Robinson) who blocked at least 5 percent of the shot attempts they faced in 1991-92. No 2012 player had a block percentage higher than 3.4 last season (Chandler).
SHOOTING
Four current members had a true shooting percentage (a measure of shooting efficiency that takes into account 2-pointers, 3-pointers and free throws) of at least 60 last season (Chandler,
Kevin Durant
,
James Harden
,
LeBron James
). Chandler (70.8 in 2011-12) led the NBA each of the past two seasons. Only one of the 1992 members had a 60 true shooting percentage (Barkley), although three others fell just short of that threshold in 1991-92 (Malone, Robinson,
John Stockton
).
PASSING
Five Dream Team members assisted on at least 25 percent of their teammates' field goals in 1991-92 (Larry Bird,
Clyde Drexler
,
Michael Jordan
,
Scottie Pippen
, Stockton), plus Magic Johnson had a 49.3 assist percentage in his most recent NBA season (1990-91). LeBron,
Chris Paul
,
Russell Westbrook
and
Deron Williams
had a 25 assist percentage or better last season, but none were as high as Stockton (53.7), who was in the midst of leading the league in assist percentage for 10 straight seasons.
AGE, EXPERIENCE AND CHAMPIONSHIPS
The 1992 team was about 2½ years older on average (28.8-26.2). Other than Bird and Magic, every Dream Team member was 30 years old or younger. Every member of the current team is 29 or younger, other than Kobe, who is 33.
But the NBA experience level is about the same. The 1992 team had, on average, 7.3 years of experience per player. This year's team has 7.1.
As far as NBA titles, give the edge to the 1992 team. Its players had a combined 12 championships as they entered the Olympics -- five by Magic, three by Bird and two each from Jordan and Pippen.
The 2012 version has seven championships among them, carried by Kobe's five. LeBron and Chandler each have one. The current team has members of each of the past four NBA champions, while the 1992 team had members of the then-past two champions.
PLAYER VALUE/EFFICIENCY
Using average win shares per 48 minutes in their previous NBA seasons, (including Magic's 1990-91 season and not including
Christian Laettner
), the 1992 squad's average is higher by 9 percent (.215-.198). Prefer player efficiency rating to win shares? The Dream Team's PER was 3 percent higher (23.8-23.0).
IN THEIR PRIME?
Other than Laettner, all 11 Dream Team members are Hall of Famers. And only two could be considered in the twilight of their careers. Bird had just finished his last NBA season, while Magic had retired the previous year, although he made a brief comeback in 1995-96. As for this edition, one could make the case that all but the 33-year-old Kobe on the roster could appear on another Olympic team again.
The 2012 team gets under way with an exhibition game Thursday against the Dominican Republic on ESPN at 9 p.m. ET. Only time will tell whether this team is the modern-day Dream Team.
April, 3, 2010
4/03/10
3:06
PM ET

By Chris Sheridan
ESPN.com
Archive
Donnie Walsh will not be in Indianapolis tonight, much to the dismay of
his two 125-pound dogs
, Jack and Murph, but he will be pulling for the Butler Bulldogs in their NCAA Final Four game against Michigan State.
"I love Butler, and I'll tell you why," Walsh said. "I was there when they brought in a coach, and he was great. Then he went somewhere else, and they brought another coach in, and he was great, then they brought in a coach that became the AD. I'm telling you, every time they hire a coach the guy is a great coach. And they get real great players from the area, and they are always good. They are
always
good. I think they got a great program, and they don't get enough attention."
Walsh actually incorporated elements of the Butler Fieldhouse and the old Madison Square Garden (where he once played, representing Fordham Prep in a High School All-Star Game) into the design of Conseco Fieldhouse, something you can read more about in
a blog item I have posted on the ESPNNewYork site
.
Go ahead and
give it a click
. You'll even glean a little nugget of information regarding the job security of the person Chris Mullin would presumably replace 14 1/2 months from now if Walsh truly wants to groom Mullin as his successor.
March, 14, 2009
3/14/09
2:49
PM ET
Watching the Thunder without Durant has been a revelation. Watching Paul Pierce is crunch time something to behold. Just don't try watching a Celtics game in a Philly sports bar. Watch and learn at the TrueHoop Network.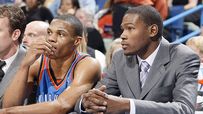 Royce Young of Daily Thunder: "I don't deny that something's changed without Durant in the lineup. Some very, very good things have happened. The team has worked together and focused on all the details and little things. They knew in order to win, there couldn't be any room for error. There would be no 'Pass it to Durant, stand back and watch.' It was five working as one on both ends of the floor. Guys like Kyle Weaver and Nenad Krstic picked up their offensive games. Russell Westbrook was making everybody better around him. Thabo Sefolosha was a bear defensively and a smooth operator offensively. And when Durant steps back on the floor ... things should be better for him because he'll have a group of guys playing with more confidence and a better understand of their role...
One thing to remember is that Durant hasn't really has the chance to play with Thabo yet. KD hasn't been able to reap the benefits of a teammate that can wreak havoc and entirely change a game by himself on the defensive end. Thabo can pull off and help with the best of them. And he's also a better offensive player than people give him credit for. He plays smart, takes good shots, makes solid cuts, moves well without the ball and is a solid passer ... So Durant and Thabo really haven't had a ton of burn together. And Thabo is clearly a very important key to winning some of these games...

Playing without Durant has been a great thing for the team. Everybody has had to elevate themselves and play better ... Hopefully with this solid stretch without him, the team has realized that they are a major part of this success. It's not Kevin Durant and four other guys. It's five guys and one of them happens to be Kevin Durant."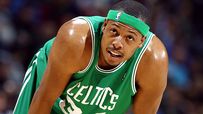 Zach Lowe of Celtics Hub: "Paul Pierce has taken ONE HUNDRED freaking free throws in crunch time. 100!

... That is a remarkable number. Pierce has shot 445 free throws this year, meaning a full 22 percent of his free throw attempts have come in 30 fourth quarters and three overtimes–a span that makes up just 12 percent of the season so far. Read another way, Pierce has gotten to the line twice as often in 'clutch' fourth quarters as his normal FTA rate suggests he should have. Pierce has taken 26.7 percent of the Celtics 1,666 free throws overall this season; he's taken 37.5 percent of the free throws in my 'clutch' sample.

There's one obvious caveat here: About one-quarter (maybe a little bit less) of these 'clutch' foul shots came in end-of-game scenarios where the other team fouled Pierce to stop the clock. Even with this in mind, the number of FTAs is still enormous. And it's a hugely important skill. Jump shots go hot and cold, ingenious plays break down, but Pierce's will to attack the rim never wavers. Pierce at the foul line is probably the C's best late-game weapon -- even better than a Pierce jumper.

The Celtics also rely heavily on that. Pierce's 97 total two-point 'clutch' FGAs make up 22.5 percent of the Celtics 'clutch' total. Overall this season, Pierce has taken 17.7 percent of the team's two-point field-goal attempts. Clearly, the team leans on the Truth when games get close."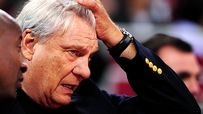 Rob Mahoney of Hardwood Paroxysm: "[Don Nelson] is the 'mad scientist.' the offensive wizard, and the cooky, unconventional coach who escapes to Maui in the offseason. His coaching style appears whimsical, and so he appears whimsical. But now, more than ever, we need to realize that he, as a person, is not. His basketball mind is a unique one, and he's done plenty of things that make me smile and think about the game in new ways. But time and time again, he has angered everyone around him, and split town with more enemies than friends. Mullin had a good gig going before The Whimsical One waltzed into town, and though his performance was poor, his job never seemed to be in jeopardy. One Don Nelson later, Mullin seems to be the one packing his bags while Nellie coasts through the end of the season, laughing maniacally on that extended flight to the islands. Nellie might be doing us all a favor by getting rid of Mullin, but is a good move for all the wrong reasons still a good move?"
THE FINAL WORD
The Painted Area: A smart assortment of basketball book notes.
Hornets247: Tyson Chandler is coming along.
Celtics Hub: "This is Philly. You're not getting the [flippin'] Celtics game on in here."

(Photos by Layne Murdoch, Garrett Ellwood, Frederic J. Brown/NBAE via Getty Images)