TrueHoop:

Christian Laettner
July, 12, 2012
7/12/12
12:59
AM ET
By Ryan Feldman & Gregg Found, ESPN Stats & Info
ESPN.com

US PresswireWould the current U.S. Olympic team have a chance against the Dream Team?
Kobe Bryant
believes the 2012 U.S. Olympic team would beat the 1992 Olympic team. Is he correct?
According to AccuScore, which ran 10,000 computer simulations, the 1992 team would win 53.1 percent of the time and by an average margin of one point per game.
No one will ever know the true answer, but let's take a look at the Next Level analytical facts about the rosters at each point of their careers to help make the case either way.
REBOUNDING AND DEFENSE
Much has been made about the current team's weak frontcourt. The 1992 team had four players who grabbed at least 15 percent of available rebounds in 1991-92 (
Charles Barkley
,
Patrick Ewing
,
Karl Malone
,
David Robinson
). The current team has three players at that rebound rate last season (
Tyson Chandler
,
Blake Griffin
,
Kevin Love
).
The 1992 team had two players (Ewing, Robinson) who blocked at least 5 percent of the shot attempts they faced in 1991-92. No 2012 player had a block percentage higher than 3.4 last season (Chandler).
SHOOTING
Four current members had a true shooting percentage (a measure of shooting efficiency that takes into account 2-pointers, 3-pointers and free throws) of at least 60 last season (Chandler,
Kevin Durant
,
James Harden
,
LeBron James
). Chandler (70.8 in 2011-12) led the NBA each of the past two seasons. Only one of the 1992 members had a 60 true shooting percentage (Barkley), although three others fell just short of that threshold in 1991-92 (Malone, Robinson,
John Stockton
).
PASSING
Five Dream Team members assisted on at least 25 percent of their teammates' field goals in 1991-92 (Larry Bird,
Clyde Drexler
,
Michael Jordan
,
Scottie Pippen
, Stockton), plus Magic Johnson had a 49.3 assist percentage in his most recent NBA season (1990-91). LeBron,
Chris Paul
,
Russell Westbrook
and
Deron Williams
had a 25 assist percentage or better last season, but none were as high as Stockton (53.7), who was in the midst of leading the league in assist percentage for 10 straight seasons.
AGE, EXPERIENCE AND CHAMPIONSHIPS
The 1992 team was about 2½ years older on average (28.8-26.2). Other than Bird and Magic, every Dream Team member was 30 years old or younger. Every member of the current team is 29 or younger, other than Kobe, who is 33.
But the NBA experience level is about the same. The 1992 team had, on average, 7.3 years of experience per player. This year's team has 7.1.
As far as NBA titles, give the edge to the 1992 team. Its players had a combined 12 championships as they entered the Olympics -- five by Magic, three by Bird and two each from Jordan and Pippen.
The 2012 version has seven championships among them, carried by Kobe's five. LeBron and Chandler each have one. The current team has members of each of the past four NBA champions, while the 1992 team had members of the then-past two champions.
PLAYER VALUE/EFFICIENCY
Using average win shares per 48 minutes in their previous NBA seasons, (including Magic's 1990-91 season and not including
Christian Laettner
), the 1992 squad's average is higher by 9 percent (.215-.198). Prefer player efficiency rating to win shares? The Dream Team's PER was 3 percent higher (23.8-23.0).
IN THEIR PRIME?
Other than Laettner, all 11 Dream Team members are Hall of Famers. And only two could be considered in the twilight of their careers. Bird had just finished his last NBA season, while Magic had retired the previous year, although he made a brief comeback in 1995-96. As for this edition, one could make the case that all but the 33-year-old Kobe on the roster could appear on another Olympic team again.
The 2012 team gets under way with an exhibition game Thursday against the Dominican Republic on ESPN at 9 p.m. ET. Only time will tell whether this team is the modern-day Dream Team.
March, 24, 2009
3/24/09
3:29
PM ET
Should the Spurs rest Tim Duncan down the stretch and trust they can win playoff games on the road? Can the Celtics trust Rajon Rondo to nail shots from mid-range? Do Raptors fans still trust Bryan Colangelo to assemble a winner in Toronto? Take it on trust at the TrueHoop Network.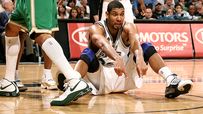 Timothy Varner of 48 Minutes of Hell: "The issue before [Gregg] Popovich is whether or not he should give [Tim] Duncan some rest prior to the playoffs. From where I sit, the answer is an unqualified 'yes, please.' At a minimum, I'd like to see Duncan sit out one game apiece of the remaining three back-to-backs, but I suspect Popovich already intends to make this move. If that's the case, the Spurs should be more aggressive. They should look for opportunity to accomplish two objectives at once: to provide Drew Gooden with meaningful minutes and give Duncan time on the shelf. The Spurs play the Warriors, Hawks and Clippers this week. That's the easiest remaining 3 game stretch of the season. Perhaps, Coach Popovich should make a go of it sans Duncan and [Manu] Ginobili. Maybe they only go 1-2 in those games and squander an opportunity of winning back the 1/2 game they just gave up to the Rockets. But that's better than entering the playoffs with a partial Duncan."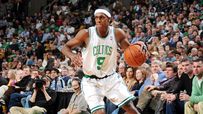 Zach Lowe of Celtics Hub: "Read that again: Ray Allen penetrated and kicked to Rajon Rondo for a jump shot.

This doesn't have to be an isolated incident; I've written before about Ray Allen's ability to create off the dribble because of the way defenders have to rush out at him in a panic ... I'm not saying Rajon Rondo has turned into Ray Allen or even that he could do so in his wildest dreams. I'm saying that Rondo has developed a serviceable jump shot, and that he's come a long way from the player the Knicks completely ignored in a defensive strategy that was (justifiably) touted at the time as one way to successfully defend Boston. Some team will probably try that again, and it might work. But I'm guessing it won't. And if that guess is right, the Celtics will go into the playoffs with four elite offensive players, not three."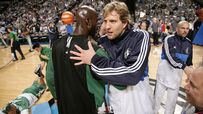 Rob Mahoney of Hardwood Paroxysm: "The greatest moments in NCAA history are great tournament moments (or great team moments), not great Michael Jordan moments or Christian Laettner moments or Carmelo Anthony moments. Because the NBA at the very least creates the illusion of consistency and longevity ... the focus is on the players, who are an establishment unto themselves ... Kevin Garnett and Dirk Nowitzki, two players who never enrolled in one of America's fine collegiate institutions, revolutionized the power forward position forever. MJ redefined greatness not because of the system-imposed limits at North Carolina, but because of his sustained greatness in Chicago. Shaquille O'Neal and Wilt Chamberlain forced the game (and its rules) to change to specifically address their dominance at the pro level, not in college arenas. The most significant basketball change has and will always take place in the professional sphere. If not simply because the players are bigger, stronger, and outright better than their college counterparts, then because the ability to remain relevant for more than a few years allows players the proper avenue to demonstrate their brilliance."
THE FINAL WORD
Raptors Republic: A blueprint for recovery.
Knickerblogger: Actually, the Knicks have improved.
Hornets247: Rasual Butler -- proving reluctant bloggers wrong.

(Photos by Brian Babineau, Nathaniel S. Butler, Glenn James/NBAE via Getty Images)