January, 4, 2012
1/04/12
10:28
AM ET

By Kevin Arnovitz
ESPN.com
Archive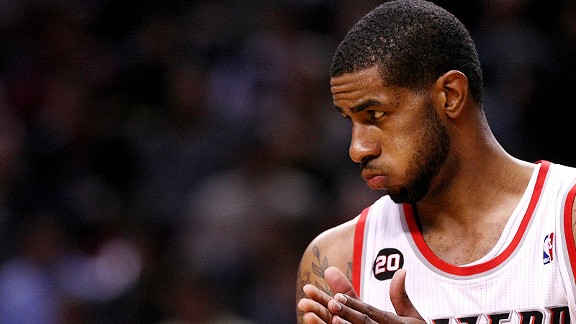 Jonathan Ferrey/NBAE/Getty Images
LaMarcus Aldridge on the joys of working with Andre Miller, "It's crazy playing with him!"
Being a big man in the NBA is an exercise in problem solving.
A defender is fronting you and preventing an easy entry pass from your point guard? Problem. You're getting double-teamed the instant you catch a pass down low? Another problem. The defense is rotating along the baseline before you can get into your move? That's a problem too.
For most of LaMarcus Aldridge's career in high school and college, the solution to most of these problems was pretty simple. Aldridge would get the ball just off the left block, then bang his man into submission with his left shoulder. A couple of dribbles, rise and release -- sometimes with a right hook, at other times with a turnaround jumper.
Finding his shot wasn't all that difficult because he never had to look very hard for it. But NBA defenses have a way of complicating that process. They'll send ridiculously big guys on a one-way fare from the weak side baseline to your left shoulder before you even catch the ball. And banging your primary defender isn't nearly as much fun when he's got 25 pounds on you, which many of Aldridge's counterparts did.
Aldridge was still effective over his first few seasons in Portland, but there were nights when he'd allow a more rugged defender or a targeted defensive game plan to frustrate him. If his shot wasn't there, it wasn't there. And there wasn't much he could do about it, he thought.
But last season, Aldridge's game blossomed. It wasn't just that he became more comfortable challenging defenders one-on-one in the low post. Aldridge started to find shots in places he never bothered to look. He began the process of problem-solving.
On Tuesday night, Aldridge dominated the Thunder during Portland's big road win in Oklahoma City. He scored 30 points on 10 for 19 shooting from the field, and a 10-for-12 effort at the stripe.
Was it effortless? No. Aldridge worked for those points. When Nick Collison stood his ground, absorbing every one of those left shoulder bumps as Aldridge tried to back him in, the ball was kicked back up top to Raymond Felton. Then, before the Thunder's ball-side defense could regroup, Aldridge laid out a screen for Felton on Russell Westbrook, then spun on his right foot and took off for the hoop. Easy pocket pass, then a nifty reverse finish for Aldridge after sealing off the baseline against Nazr Mohammad.
Throughout the early season, we've seen Aldridge kill opponents with 'Plan Bs.' Take the game at Sacramento last week, when a defiant Chuck Hayes kept pushing Aldridge off his favorite spot on the left side. What did Aldridge do? He flashed to the foul line, where Felton fed him for some easy face-up jump shots. Problem solved.
If you ask Aldridge why it seems as if he's having an easier time identifying opportunities he might not have seen a couple years back, he'll tell you it's a process of maturation.
"It's growth," Aldridge said on Sunday night in Los Angeles. "I know I have to get touches and I know I have to score. So if they're double-teaming me, I know that, if I duck in, I can get my jump hook more easily."
Reps matter, as does playing alongside a vet like Marcus Camby, whom Aldridge credits for helping him understands the intricacies of the Big Man Arts. But Aldridge reserves his most generous praise for former Portland point guard Andre Miller.
When Aldridge would encounter impossible situations on the floor, Miller would address him during a timeout with specific directions out of the bog.
"He not only knows where to find you, he'll tell you where to go," Aldridge said.
Miller doesn't like to talk, which Aldridge said made those instructions even more consequential. If Miller felt strongly enough to offer counsel, it was for a reason.
"Teams are fronting me or double-teaming me…he was like, 'Don't fight it. Just go to the rim, I'll find you,'" Aldridge said. "And I was like, 'I can't even see you,' And he said, 'Just go to the rim. I'll throw it there.'"
That little bit of advice helped Aldridge perfect his crafty spin move to the rim, where he catches a lob, then throws it down.
"There was a game at home -- I think against Orlando. I was getting double-teamed on the catch and I had, like, zero shots going into the second quarter. Andre said, 'This time don't even fight. Just go to the rim.' So I slipped to the rim and ..."
Aldridge had a big smile on his face as he punctuated the sequence. He then shook his head.
"It's crazy playing with [Miller]," Aldridge said.
Early on, Aldridge has been pleased with Felton, Miller's replacement -- particularly in pick-and-roll play. But Aldridge recognizes that it will take some time before the two cultivate the kind of chemistry he had with Miller.
When told that Miller consistently ranks at the top of the list of guards who rack up quality assists and improve the field goal percentage of his teammates, Aldridge wasn't the least bit surprised. These are rarified stats that don't pop up in box scores -- very few casual observers know this stuff. Most players probably don't even know it.
"But the big knows it!" Aldridge said. "I know it!"
March, 24, 2011
3/24/11
3:13
AM ET
By ESPN Stats & Info
ESPN.com
Archive
Blake Griffin
posted his first career triple-double in the
Los Angeles Clippers
127-119 double-overtime win over the
Washington Wizards
. He had a career-high 10 assists, was one shy of a career high with 17 rebounds, and his 33 points were the fourth-most of his career. He also fouled out, making him the first player to foul out with a triple-double since
Lamar Odom
in April 2007.

Griffin
With the Clippers winning at home in double overtime a day after the
Los Angeles Lakers
won at the Staples Center in triple overtime, the Elias Sports Bureau reports that the last time there were back-to-back multi-overtime games in the same arena was March 1984, at the HemisFair Arena in San Antonio. The
San Antonio Spurs
beat the
Dallas Mavericks
in two overtimes on March 13 and then beat the Hawks in three overtimes seven days later.
Overshadowed in defeat,
John Wall
set a career high with 32 points, topping his previous best of 29, against the
Philadelphia 76ers
in November.

In other triple-double news,
Chuck Hayes
and
Kyle Lowry
are evoking memories of
Clyde Drexler
,
Charles Barkley
and
Hakeem Olajuwon
. Maybe that's an exaggeration, but Hayes' triple-double on Wednesday (13 points, 14 rebounds, 11 assists) makes him the second Rocket with a triple-double in as many games, joining Lowry, who did it Sunday against Utah. The last time Houston had multiple players with a triple-double in the same season was 1996-97, by Drexler (2), Barkley and Olajuwon.
Perhaps more impressively, Elias says that the last team to have triple-doubles from different players in consecutive games was the
New Jersey Nets
in March 1996, by the vastly dissimilar
Shawn Bradley
and
Chris Childs
.
Speaking of New Jersey,
Kris Humphries
had 18 points and 23 rebounds in the Nets overtime win over the
Cleveland Cavaliers
on Wednesday. The last Nets player with at least 23 rebounds was Michigan State alum
Jamie Feick
, who had 25 boards on Jan. 20, 2000 vs Detroit.
Although the
Boston Celtics
lost to the
Memphis Grizzlies
at home,
Kevin Garnett
made a bit of history. With his 10 points, Garnett passed Adrian Dantley for 20th place on the NBA's all-time scoring list. Next on the list is former Celtic great
Robert Parish
. At his current pace of 15.0 points per game this season, and assuming he plays every game, Garnett would pass Parish in the season's penultimate game, against Washington on April 11.
March, 4, 2010
3/04/10
4:59
PM ET

By Henry Abbott
ESPN.com
Archive
Here's a little theory of mine which I like, even though I'm not sure it's true: When players know each other really well, that helps the defense more than it helps the offense.
The reason is because offense's biggest advantage is getting to decide what's going to happen. ("I'll take you to the left block, then use my spin move to get into the lane.") Through whatever the offense does, the defense mainly just has to react. The offense has a lot going for it, including an element of surprise.
But in the playoffs, for instance, when teams play each so much, they learn every little bit of each other's games. And the more they learn, the less an offense can do much of anything to surprise. Your pet spin move may still beat me, but by Game 7, I'm sure not going to be surprised if that's what you do.
Which brings us to Chuck Hayes and Carl Landry. Teammates in Houston for years, they played against each other last night. Landry's Kings won the game, and Landry had the most impressive stat line in the game.
But this little
video examination reveals that when Hayes got to guard Landry
, the wily defender smothered moves Landry uses to great effect against most of the League.
Hayes was not surprised even one little tiny bit by anything Landry did.
Some of that, no doubt, is because Hayes is an elite post defender. But some of it, I like to think, is because in addition to contempt, as the saying goes, familiarity might also breed defense.
November, 6, 2009
11/06/09
12:34
PM ET
By Henry Abbott
Chuck Hayes is starting in place of Yao Ming, and the Rockets are 3-2 out of the gates, which makes them just one of 10 NBA teams with a winning record. They've beaten Golden State, Portland and Utah, and lost to the Lakers by a single point. Tonight they play the Thunder, which will be the first time all season Houston has been favored to win.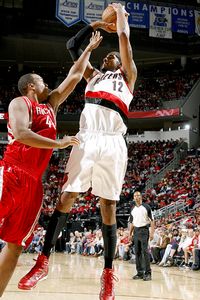 "If I'm guarding, say, LaMarcus Aldridge and I make him shoot a bad percentage, then I hope they pay attention to that. I just wish there was a stat for keeping your man to the lowest field goal percentage."
(Bill Baptist/NBAE/Getty Images)
How have they had this surprising starless success? At 6-6, Chuck Hayes is tiny for an NBA center, but he's a huge part of the reason.
Jason Friedman of Rockets.com
is kicking off a campaign to get Chuck Hayes on the NBA's All-Defense team. I'll second that. Friedman writes:
"I may not be top in the league in blocks but if I'm guarding, say, LaMarcus Aldridge and I make him shoot a bad percentage, then I hope they pay attention to that," says Hayes. "I just wish there was a stat for keeping your man to the lowest field goal percentage."
Well guess what, Chuck? You just so happen to work for the most number-crunching team in the league. Of course there's a stat for that!
Consider these numbers (courtesy of the Rockets' Basketball Operations department):
Steals: Hayes ranks 2nd (out of 303 players; behind only Rajon Rondo) in the entire league in Steal% (Steals per defensive possession). Keep in mind, the top spots in this category are typically reserved for point guards and wings, as illustrated by the fact that Hayes currently is the only big in the Top 10.
Lest you think his lofty status is simply a byproduct of a small sample size, since 2007, Hayes ranks 14th in the entire league in Stl% and is by far the best big (1st out of 127). No other post player is even in the top 35.
Charges: (Offensive Fouls Drawn per defensive possession) Since 2008 Hayes is top 10 (6th out of 265) in the entire league in drawing offensive fouls.
Team Defense: Since 2005, Hayes has the best Defensive Efficiency Rating (Based on team points allowed per defensive possession while the player is on the floor) regardless of position in the entire league.
July, 11, 2009
7/11/09
11:19
PM ET
Posted by Kevin Arnovitz
The construction of an NBA Summer League roster follows a certain blueprint: Start with draft picks and most of the second-year guys under contract. Throw in an undrafted rookie or two, some D-Leaguers, then the journeymen who've been bouncing around or playing overseas.
But how do organizations actually choose among the hundreds -- maybe even thousands -- of players who exist in this talent pool?
We sat down with Sam Hinkie, the Rockets' vice president of basketball operations, to better understand how Houston's Summer League roster was put together.
"Gersson Rosas [the Rockets' director of player personnel] handles the heavy lifting in putting the team together," Hinkie said. "The rest of us weigh in heavily, but Gersson does most of the legwork."
The primary goal for a team?
"Figuring out who you want to learn about. Who can be an NBA player? That's the key," Hinkie said. "All of these players have some skill or something that's shown up somewhere that's caused us to say, 'There's a reason that guy can be in the NBA.'"
Winning is way down on the list of goals for the Rockets in Summer League play in Las Vegas.
"We want players who want to win," Hinkie said. "We want players who will lead to winning and they ought to impact winning on this level too, but winning
here
is the least of our concerns."
With that, we went through the Rockets' Summer League roster name by name, with Hinkie explaining the organization's rationale for each invitation: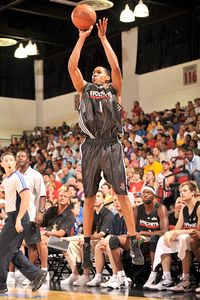 Garrett Temple: Will there be an NBA roster spot in his future? (Fernando Medina/NBA via Getty Images)
Garrett Temple

Hinkie: "He's a perfect example. He's a two-position, maybe three-position, defender. He's a massive winner. He's caught between positions."
For a big, combo guard like Temple who didn't work in the most generous system for his talents at LSU, Summer League offers the perfect laboratory to see what he can do at the point.
Hinkie: "It might take him a month. It might take him a few years in Europe. But if he can make that transition, he's an NBA player."
Wherever Temple ends us next year, the Rockets will continue to watch him.
Rod Benson
Hinkie: "He's
killed
in the D-League. That gets you a look. Guys who kill in the D-League end up on the Rockets' radar."

Jermaine Taylor
The Rockets drafted Taylor with the 32nd pick in this year's NBA draft out of Central Florida. The Rockets are curious to see what he can do against superior competition.

Brad Newley
The Rockets' drafted the Aussie swingman with the 54th overall pick in the 2007 draft. Newley has played in Greece each of the past two seasons.
Hinkie: "He's played well and is making big strides. He's one of our properties, so learning about him is important."
James White
Hinkie: "He's important to us. We invested in him last year, and he's got a chance to make our roster this year."
Aside from Tracy McGrady, the Rockets have only three wings at the moment -- Trevor Ariza, Shane Battier, and Brent Barry. Given the team's familiarity with White's game and, as Hinkie said, its previous investment in him, White will get a strong look.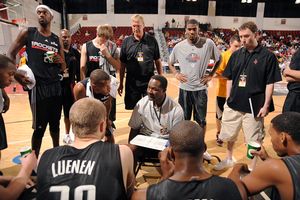 "Who can be an NBA player? That's the key," Sam Hinkie said. (Garrett Ellwood/NBA via Getty Images)
Mike Green
Hinkie: "A backup one who we've always been interested in. I think he'll be good for us here. Tough guy, winner, can rebound, can draw fouls, can create his own shots, but is also a pure point guard. He's a decent defender and can pressure the ball. Those are qualities we like and he's earned the right to be evaluated in an environment like this."
Chase Budinger
The Rockets drafted the Arizona forward with the 44th pick in this year's draft.
Will Conroy
Hinkie: "He killed in the D-League, and he was a legitimate one in college and is becoming more legitimate by the day. He's backup one ready and a guy who's a logical 10-day call-up."
To that end, Hinkie emphasized that it's important to be familiar with a player before you pick him up mid-season.
"When we put a guy on our roster, I don't want that to be our first look at him," Hinkie said. "Why not be in position where not only our staff weighs in, but our coaching staff can weigh in and say, 'He was good at this, or he struggled at this?' It gives us a chance to perform more due diligence."
Joey Dorsey
The Rockets selected Dorsey 33rd overall in the 2008 draft.
Maarty Leunen
Houston took Leunen with the 54th overall pick in the 2008 draft. He played last season in Turkey.
Charles Gaines
Hinkie had said that, as a general rule, the younger the player, the better in Summer League. Given that Gaines will be 28 before the year is up, I asked him why the team made an allowance in Gaines' case.
Hinkie: "He earned his way. He played really well in Europe. He came in a make-good Summer League situation. Even though we have a roster of guys with his sorts of skills, he's the kind of player we love -- rebounds his tail off, plays hard, is undersized and doesn't care."
Hinkie's answer sounded uncharacteristically sentimental for a Rockets' organization that bases every decision on empirical fact. I asked him if, in Gaines' case, the Rockets bowed to their love of his grit.
"The only sentimentality to Gaines is that he does the things we know are empirically valuable," Hinkie responded. "He just rolls hard. He just sets good screens. He just bodies guys at the elbow when they come down. He just tries to get every single rebound."
Hinkie draws a comparison between Chuck Hayes and Gaines. Like Hayes, Gaines knows his offensive limitations, so he resists shooting, making him a more efficient player.
"Gaines is a Houston Rocket," Hinkie concluded. " We might not have room for him, but he's earned his way."
Darryl Watkins
With Yao almost certain to miss the entire 2009-10 season, the Rockets are in need of size.
Hinkie: "He fits that need. He's young and getting better -- and we want to see how much better, and how quickly."
Posted by Kevin Arnovitz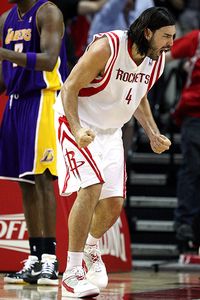 Why is this man clinching his fists and howling? He just gave Houston a 17-1 lead (Ronald Martinez/NBAE via Getty Images)

In the Rockets' first round series against Portland, Luis Scola was the primary beneficiary of Nate McMillan's strategy to double-team Yao Ming. With Scola's primary defender, LaMarcus Aldridge, devoting much of his attention to Yao down on the low block, Scola drifted out to 15-20 feet, where he punished the Blazers. Scola averaged 16.2 points in 33.3 minutes over the six games against Portland.
The Lakers have been more attentive to Scola. Over the first three games of the conference semifinal series, they sent Lamar Odom to help on Yao. But their weak side defenders did a better job than Portland's depriving Scola space, while the their ball side defenders cut off angles to Scola. The result was far fewer open jumpers and driving lanes for Scola, who shifted his focus to the glass, where he's done solid work against the Lakers.
Once Yao was lost and Chuck Hayes became the Rockets' starting center, the halcyon days of The Open Luis Scola 18-Foot Jumper figured to be history. The Lakers' center would undoubtedly slough off Hayes and make life tougher for Scola and the Rockets' other scorers.
Scola had unremarkable Games 4 and 5, but Thursday night, he fueled the Rockets' jackrabbit start with a 14-point first quarter:
Lakers Breakdowns [1st Quarter, 10:59; 1st Quarter, 10:30] Some of Scola's success can be attributed to a disoriented Lakers defense. Twice the Lakers' strong-side pressure leaves Scola with nothing but open space around him, and on both possessions, the Lakers pay more attention to Chuck Hayes off the ball than they do to Scola. The first instance results in an open elbow jumper, while the second yields a baseline drive that earns Scola a trip to the line (this was the play where Pau Gasol lectures Andrew Bynum after the whistle). Though both shots come courtesy of a lax Lakers defense, the four points still require Scola to hit from mid-range and make a play for himself.
The Hook [1st Quarter, 9:59; 1st Quarter, 5:33] Scola has a soft touch on his jump hook, both off the pivot and when he's sweeping across the lane from the left block. It's not a particularly good-looking shot, but Scola has made it a centerpiece of his repertoire. He hits the first hook as he backs in from the right side with Bynum's forearm pressed against his upper back. The second is sweet, as Scola deploys a fake spin to buy himself space from Gasol, then elevates for the shot.

Elbow Jumper [1st Quarter, 10:59; 1st Quarter, 1:08] The first shot is cross-referenced on "Lakers Breakdowns," and this one is close to falling under that rubric, too. Gasol makes a poor decision to follow Ron Artest -- who is already being trailed closely by Trevor Ariza -- as Artest picks up a handoff at the pinch post from Scola. Artest has his moments in Game 6, but generally plays a less selfish game. When he spins back to the middle on his drive and sees that Gasol has chosen to drop off Scola, Artest immediately shuttles the ball Scola's way. Scola drains the jumper.

The "Dream Shake" [1st Quarter 7:05] At least that's what the broadcast team calls it. On the right side of the basket, Odom shades Scola's left shoulder, sending him middle. After his second dribble, Scola spins baseline for his third dribble, before faking back middle, getting Odom to commit. Scola then pivots baseline, steps up and under for a layup, and gives the Rockets a 15-1 lead. Comparing Scola to Hakeem Olajuwon seems unfair. To the extent the parallel exists, it speaks to Scola's footwork, which is incredibly good and makes Scola seem quicker than most of his defenders anticipate. While they're being disarmed, Scola is finding his way to the basket.
The Power Drive [1st Quarter, 6:35] Soft touch, but hard drives. Against Gasol, Scola's back is to the basket off the left block. He waits for Artest to clear, then takes two dribbles with his right while barreling into the lane with his left shoulder. Gasol offers little resistance and almost steps aside for Luke Walton and Odom, neither of whom can deny Scola as he lunges up for a right-handed toss off the glass. And the foul (missed FTA).
Scola was the pacesetter in Game 6. His absence for the game's final 8:48 gives you an idea of the kind of fourth quarter Carl Landry had for Houston. Landry scored eight points and grabbed seven rebounds, one on a mad scramble which sent him crashing to the floor where he gobbled up the ball and called timeout while sprawled on the hardwood [4th Quarter, 3:56]. Scola will be back in the lineup to start Game 7 on Sunday afternoon at Staples Center, where the Rockets will try to record one of the more improbable series upsets in recent memory. If they beat the Lakers, it'll be because they got lockdown perimeter defense from their wings, post defense and solid screens from their center whose most profound asset is a "low center of gravity," dynamic play from their impish point guard, and the full breadth of Luis Scola's arsenal.
Scola's adaptability has been a constant throughout the Rockets' incredible run. When Portland's double-teams demanded a spot-up shooter, Scola set up at 18 feet. When it was imperative to find Aaron Brooks some daylight, Scola pancaked Derek Fisher (occasionally vice versa) and any other pursuers. When Houston needed a big man to create his own shots down low to have any chance of survival, Scola made it happen.
May, 13, 2009
5/13/09
12:22
PM ET
Posted by Kevin Arnovitz
What little symmetry that exists between the Los Angeles Lakers and Houston Rockets in their Western Conference Semifinal series can be summed up by a desperate call to pound the ball inside! That's what Rockets fans were screaming after Yao Ming managed only four field goal attempts in Houston's Game 2 loss. Once Yao's fractured foot left the Rockets with one of the smallest starting postseason lineups in modern NBA history in Game 4, the Lakers' inability to exploit their size advantage down low left their fans exasperated.

Though Lakers big man Pau Gasol scored 30 points on Sunday afternoon in Houston, 18 of them came in garbage time, and he was thrown off balance in the first half against Chuck Hayes, a defender six inches shorter than him. Meanwhile, a search party was dispatched for Andrew Bynum after the Lakers' 21-year-old center put up a goose egg in only 12 minutes of action.

Though the Lakers' problems Sunday were more tactical than physical, the thrashing at the hands of the Rockets prompted renewed questions about the Lakers' toughness -- fair or not. When such frustrations are aired, Gasol and Bynum are convenient targets. For critics, it isn't enough that Gasol is the best passing big man in the game, a shooter with a soft touch, or a proficient rebounder. When he's being outplayed in the post by Hayes, Gasol is a dreaded finesse player. Bynum might have all the physical gifts in the universe, but when he's scoring only 14 points in four games -- MCL tear in his right knee be damned -- he's callow and unprepared for the rigors of postseason basketball.

Tuesday night, Gasol and Bynum wrested control of the paint -- and the series -- from the Rockets, and it was a cooperative effort from the start. After making a strong cut to the hoop, Bynum was rewarded with the first bucket of the game at close range courtesy of a pretty interior pass from Gasol.

"The two of those big guys play well together and off each other," Lakers coach Phil Jackson said. "Pau looks for Andrew and helps get him going."

Bynum scored the Lakers' first six points en route to his most productive game of the playoffs. Five times on Tuesday night, Bynum unleashed his combination of size and athleticism to finish near the basket with authority. He scored 14 points (5-6 from the field) and grabbed rebounds in 20 minutes. More important, though, was Bynum's recognition that against an undersized Rockets front line, he's the big dog on the block.

"He looked energized," Lakers guard Kobe Bryant said. "He played with the kind of spirit we like to see from him."

If the first quarter marked Bynum's resurgence, then Gasol re-asserted his dominance in the second. Matched up against an inferior frontcourt defender in Brian Cook, Gasol immediately went to work. First, Gasol unfurled a gorgeous dribble move, spin, and left-handed hook, then followed it up on the next possession by beating Cook again down low, earning a trip to the line.

Gasol wasn't done. On possession number three, Gasol dropped a pass over Cook's head to a cutting Lamar Odom, earning his teammate a couple of free throws. Finally, Gasol ignited the Lakers' fast break with a nifty outlet pass to Sasha Vujacic. In a blink of an eye, an 11-point Lakers lead ballooned to 19, and the Rockets would never recover.

"We have guys who are big we can throw over the top to," Jackson said. "You don't have to use penetration off the dribble when you have that kind of size."

Gasol didn't put up gaudy, eye-popping numbers -- 16 points, 13 rebounds, three assists, and three blocks, but in 1:46 basketball to start the second quarter, he tipped the series the Lakers' way. He did it by heeding Jackson's call. The Lakers' versatile big man used his size and skill to exploit space in the frontcourt -- sometimes for himself, sometimes for teammates.

"We got our big men really deep position," Lakers forward Lamar Odom said. "We were able to do that early."

Odom, the third member of the Lakers frontcourt troika, was suffering from a back contusion. On Tuesday afternoon, it appeared as if he'd be a late scratch. But Odom went from dobutful to no doubt once he entered the game for Bynum with a little more than four minutes remaining in the first quarter. Though Odom attempted only three shots, his first -- a three-pointer in the closing minutes of the first period -- energized the Lakers after a rough-and-tumble first quarter.

With the game in hand in the fourth quarter, the Staples Center crowd called for Jackson to insert DJ Mbenga, the Lakers reserve center who hadn't yet seen postseason action. Jackson obliged. In Mbenga's six minutes of action, he grabbed two defensive rebounds -- the combined output of Rockets' big men Chuck Hayes and Carl Landry on the defensive glass.

It was that kind of night underneath for the Lakers' bigs.
May, 6, 2009
5/06/09
5:18
PM ET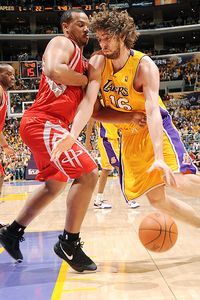 The Rockets' Chuck Hayes was quoted in J.A. Adande's Daily Dime story saying that he doesn't even look at the stat sheet because what he does is not captured in the box score.
Then Matthew Yglesias made a good and thoughtful post essentially saying buck up Chuck! You're a tremendous rebounder, and rebounds do show up in the box score!
But what I hear Chuck Hayes saying is the same thing the Houston front office says. It's also something I have seen with my own eyes: Chuck Hayes is a high priest of defending the post.
So, sure, some rebounds are nice, but the box score misses the point of Chuck Hayes.
Somebody somewhere has these stats, I'd imagine. If you post up Hayes' man, I'll bet you my laptop that man's offensive efficiency tends to be vastly lower than it is against the average defender.
The Lakers tried it for a stretch with Pau Gasol and Andrew Bynum. Nothing doing. Hayes is just too strong, too smart and too good getting low and using leverage to get the offensive player where he wants him.
If you were teaching post defense, you'd show your players video of Chuck Hayes, and they'd learn a lot. Show them a box score with Chuck Hayes' stats in it, though, and they wouldn't learn a thing.
(Photo by Andrew D. Bernstein/NBAE via Getty Images)