July, 17, 2008
7/17/08
5:00
PM ET
By Maurice Brooks
Afflalo Impresses
ESPN's David Thorpe says that Arron Afflalo has been one of the best players here at summer league. While I've been most impressed with Portland's Jerryd Bayless and Golden State's Marco Belinelli, Afflalo does deserve to be in the conversation.
Here are Thorpe's thoughts on Afflalo.
"Every team likes a backup player to either be solid or to bring a spark off the bench -- think Eddie House, think Jannero Pargo, those are spark guys as two guards. Afflalo is a solid guy. He always knows what to do and where to be. He doesn't waste dribbles or movements. He digs in on defense and makes the right play on offense. Out here he is showing a better ability to score because that's his role. Going forward, that is something we might see, that he is someone that can provide production on offense off the bench for the Pistons."
Wouldn't you know it, on the day I choose to hype "Double A", he goes 1-for-7 from the field for six points in the first half. The Pistons are trailing the Mavs by six.
In the first three games, Afflalo is averaging 19.3 points and 4.0 rebounds.
With Rodney Stuckey out of the lineup again because of his bad toe, Afflalo has taken on more of a playmaker role today. He leads everyone with six assists. It's almost like he's switched places Will Bynum, who got the start at point guard. Bynum is 6-for-8 for 14 points.
Call it the TrueHoop curse. Afflalo missed all six of his shot attempts after intermission, finishing with seven points and six assists. Walter Sharpe showed a nice touch from outside, making his first two treys. Overall, he finished with 16 points and even though he hung out on the perimeter a fair amount of time, was still able to get three offensive boards.
Gerald Green, who scored eight points, closed out Dallas' six-point win with a big dunk.
---
Leading the Pack
Here are the statistical leaders through day six:
Points
Donte Greene, Rockets: 28.5
Jerryd Bayless, Blazers: 27.0
Marco Belinelli, Warriors: 23.0
J.J. Hickson, Cavaliers: 22.0
Alando Tucker, Suns: 22.0
Rebounds
Kevin Love, Wolves: 15.0
Joey Dorsey, Rockets: 14.0
Elton Brown, Nuggets: 10.5
Shelden Williams, Kings: 10.5
Marreese Speights, Sixers: 10.0
Assists
Ramon Sessions, Bucks: 6.5
Bobby Brown, Hornets: 6.0
Aaron Brooks, Rockets: 5.5
Jamont Gordon, Sixers: 5.0
D.J. Strawberry, Suns: 5.0
Blocks
C.J. Giles, Raptors: 3.5
Pops Mensah-Bonsu, Wolves: 3.0
Javale McGee, Wizards: 2.5
Cheikh Samb, Pistons: 2.0
DeAndre Jordan, Clippers: 2.0
Steals
C.J. Watson, Warriors: 4.3
Quincy Douby, Kings: 3.3
Julian Wright, Hornets: 3.0
Donte Greene, Rockets: 2.0
Hassan Adams, Raptors: 2.0
---
Williams starring again
Clippers forward Marcus Williams went off for 23 points and 10 rebounds last night against the Grizzies. He is following that up today with another strong showing, dropping in 14 points on 5-of-6 shooting in the first half. The key for Williams is shot selection. While a lot of players in Vegas have forced shots, Williams seems to let the game come to him. He also has four rebounds.
Al Thornton (1-for-4 from the field) is having a quiet game for L.A. He seems to be willing to let his teammates do the shooting.
Hornets' forward Hilton Armstrong is in a groove. He has 15 points and five rebounds for New Orleans, which trails by nine going into the last period.
The Hornets won the game by four in overtime. Armstrong stayed hot, totaling 25 points and eight rebounds in easily his best game here. Julian Wright misfired to the tune of 4-for-13, while Bobby Brown helped build the brick house by going 7-for-18. He posted 17 points and six assists.
---
Jordan's Glass Work
Clippers' forward DeAndre Jordan plays with a lot of emotion. Although that can sometimes be a bad thing, it seems to be working for him -- I'll ignore the airball he just shot from the foul line. He has six points on 3-of-8 shooting and 11 rebounds.
Here is Thorpe's take on the big man.
"If he was a stock on the market, you could pick him up at a pretty low price right now. I just don't think his future looks bright as a second-round pick because they don't have a lot of incentive to invest time with him. His 11 rebounds look great, but most of them came right to him. I don't think that he has got any rebounds out of area. It doesn't impress me that he jumps straight up in his spot and grabs rebounds. He doesn't play with great energy or intelligence and his emotional IQ is very low. He is a young man and he wouldn't be the first to change his career path. It doesn't happen very often."
---
Late Is Better Than Early
Once again, it seems like the better games are scheduled later. No, Tim Duncan and Steve Nash aren't here, but I'm sure the Suns will get out and run, making their game against the Spurs at 5:30 p.m. PT interesting.
At 7, the closest thing there is to a must-see game at summer league will take place between Jerryd Bayless' Blazers and Kevin Love's Wolves.
Looking ahead to tomorrow, Mike D'Antoni's old team plays his new team at 1.
---
Strawberry and Lopez
I just got done watching a half of the game between the Spurs and Suns. What can't D.J. Strawberry do? He used his explosive first step to get into the lane at will and once there he caused havoc on San Antonio. Sometimes he drove and kicked it out to open teammates for jumpers. Other times he went to the bucket hard. He seemed to be playing at a different speed than everyone else. What was refreshing is that he gave the same kind of effort on the defensive side of the floor. Completing my observation of him was how he embraced his leadership role. After a busted play between himself and Jared Jordan, he took 20 seconds to explain what he was thinking and where he wanted Jordan to be on the floor.
Strawberry had 11 points and three rebounds at the half for the Suns, who led by eight.
With his three brothers watching, Robin Lopez put on quite a performance. He followed up one miss with a thunderous dunk. He tipped in another miss. He caught a pass on the break and made a gorgeous feed to Strawberry in stride for a jam. And most importantly, he was a force on the glass, grabbing seven boards to go with his 10 points.
After going 0-for-10 and 0-for-6 from the field in his last two games, respectively, San Antonio's George Hill won't hit a shot tonight either. The San Antonio coaching staff gave him the night off.
---
Philly's Gordon to the rescue
The Sixers ended their time here in Sin City with three straight wins after starting 0-2. Jamont Gordon hit a reverse layup off a feed from Marreese Speights with 0.6 showing on the clock to give Philly an 87-85 win.
Speights had another double-double, posting 15 points and 11 rebounds while blocking four shots. Jason Smith had 12 and 12 and Thaddeus Young led all scorers with 21 points.
C.J. Giles continued to throw his body around, tallying 13 points, 12 boards and three blocked shots for Toronto.
I've noticed the same spectator alternating rooting and heckling at every game since summer league began. He has been rewarded for showing up. After the Wolves' game the other day, he asked Corey Brewer for his handband. Brewer responded
by tossing it to him -- sweat dripping off it and all.
Just now he begged Speights for his jersey. Although it is way too big for him, I bet it will be a nice addition to his collection.
---
Wolves vs. Blazers
Unlike during the regular season, the officials at summer league don't have numbers on the back of their jerseys. Portland's Jerryd Bayless appeared to get bumped going to the basket, but the ref on the baseline didn't make a call. This prompted a fan in the front row to yell, "You'll never get a number on your back blowing calls like that."
Funny.
Kevin Love just pleased the crowd with a dunk and is off to a great start. He has scored seven of Minnesota's first 14 points, while Bayless has seven of Portland's first 15.
Once Bayless gets the rock, you know he's going to attack the basket, hence he has already attempted seven more free throws today. I would like to see him knock down a few jumpers and improve on his assist total (he has zero), but it's hard to argue with the way he is playing. He has 11 points and the always steady Petteri Koponen has 10 for the Blazers, who trail 40-36 at halftime.
Love has 13 points and five rebounds, but has missed a couple of shots from close range. He is 3-for-11 from the field.
How about that, Bayless just hit a step-back jumper and threw a no-look pass to Josh Davis for a bucket. As I'm typing, he drained another jumper to cap his 12-point period. He leads everyone with 23 points and at last, he got an assist.
Love has done more than his part, posting 20 points and seven rebounds en route to leading the Wolves to a double-digit lead heading into the fourth.
Portland's Brandon Robinson sat on the bench for three quarters before finally entering the game so obviously he was a little cold. Still, does that explain the long-sleeve shirt under his jersey? He is the second player in seven days to rock that look.
In the Love vs. Bayless matchup, Love came out the winner. For starters, his team won by 10. He went 7-for-20 from the field, 12-for-14 from the line, grabbed 15 rebounds (10 offensive) and had two assists (official stats say one, but there is no way the outlet pass he threw to Pooh Jeter for the and-1 wasn't a dime, even if he didn't receive credit for it).
Bayless, who had a heating pad on his back and ice on both knees after the game (maybe he was sore after crashing into press row and almost sending my computer into my lap), wasn't a slouch. He had 29 points on 8-for-15 from the floor, 13-of-16 from the line (that's 55 attempts in three games), gave out two assists and grabbed six boards.
When it came time to vote for the MVP of summer league last year, I put New York's Nate Robinson at the top of my ballot for two reasons -- he was playing outstanding and the Knicks were undefeated.
Since Portland and Minnesota both have 1-2 records, I may have to change my way of thinking. With apologies to the fans in Golden State (Marco Belinelli is hot, team is 3-0), Bayless and Love are the two best players after seven days in Vegas regardless of what their team's records are.
Maurice Brooks is an NBA editor for ESPN.com. He can be reached at mbrooksnba@gmail.com.
Steve Bulpett of the Boston Herald: "Danny Ainge is the reigning NBA Executive of the Year. And if the Celtics are to win another championship this season, the director of basketball operations will have to come up with a performance worthy of a repeat. There is more than one way to knit a championship banner, but replacing James Posey will be difficult. ... In the end, the Celtics believed Posey's outside shooting was his biggest tangible contribution and that they can get that from other sources for less money. They believed they would have been tying their hands down the line. Are they correct? Ask that question again in 11 months. In the meantime, Ainge has once again shown he won't take the easy way if he doesn't believe it's the right way. In altering a successful formula, he's clearly put himself on the line, kind of like Posey so willingly stepping behind the 3-point arc late in games."
Chris Tomasson of the Rocky Mountain News: "Realistically, though, the Nuggets probably will be luxury tax payers next season. If J.R. Smith comes back for the qualifying offer, their payroll could be around $75 million. If he gets $5 million for next season, it could be around $77 million. So Stan Kroenke might not really be a happy man until 2009-10, after Allen Iverson's contract comes off the books. By then, he has a very good chance of not being a tax payer. How good his team will be remains to be seen."
Mike Wells of The Indianapolis Star: "T.J. Ford lives for the postseason. He lives for the national television exposure, the hope of winning an NBA title and having 14 other Eastern Conference teams sitting on their couches, eating popcorn, watching him play. Ford wants those same things to happen with the Indiana Pacers. 'I'm familiar with that playoff taste and I'm not ready to give that taste up,' said Ford, who has been to the playoffs in three of his four NBA seasons. 'That's the challenge and the goal, to show people we are contenders in the East.'"
John Rohde of The Oklahoman: "According to Christopher Arena, the NBA's vice president for apparel, sporting goods and partnerships, 'It's usually a 22-month process' to approve a new nickname, color scheme and whatever else is involved. Twenty two months? So, if this relocation process started roughly the same time Rhett Bomar got booted off the Oklahoma football team two summers ago, we'd be on the cusp of learning the nickname of our new NBA team? Twenty two months? Two months short of two years is too darn long to wait. Perhaps this explains why the Jazz never changed nicknames when they moved from New Orleans to Utah, ditto for the Grizzlies from Vancouver to Memphis, the Lakers from Minneapolis to Los Angeles, et al. They didn't want to wait on all the NBA paperwork. We realize there are a lot of i's to dot and t's to cross in a project like this, but 22 months' worth?"
Sekou Smith of The Atlanta Journal-Constitution: "As far as calculated risks go, Speedy Claxton is taking a major one. The Hawks' oft-injured point guard is currently taking part in the Hawks' free-agent minicamp. He will also play summer league, which starts Friday in Salt Lake City. ... He requested the opportunity to join the youngsters and free-agent hopefuls who were on the Hawks' practice floor Wednesday. He needs to know if he can still do this, and do it the way he's been able. 'I'm not worried about what anybody else thinks and who might be out there gunning for me,' said Claxton, a seven-year veteran who already has an NBA title on his resume. 'I'm doing this for me, trying to check and see how my knee feels and how I can play and how I can do on consecutive days. I haven't been out here in a long time.'"
John Smallwood of the Philadelphia Daily News: "The players can only hope that management still feels as good about them now as it did last summer. The odds are the Sixers will come to Iguodala with a suitable contract offer -- probably similar to the one he originally rejected. They know what he brings to the table and want to keep him happy. They didn't sign Brand simply to create another problem by having to replace Iguodala. The plan is for Brand and Iguodala to take the Sixers to the next level. Thanks to the Clippers and Denver Nuggets, that should now be a bit easier to accomplish."
Raphael Bartholomew of The New York Times: "For N.B.A. players making their first visit to the Philippines, the adoration of fans can be flattering and startling. 'They make you feel like you're a god,' said Gilbert Arenas, who recently spent three days promoting his new line of sneakers. 'When my N.B.A. career is done, I have to play here one year just to feel that.' Arenas, 26, sometimes jokes that being the Washington Wizards' franchise player makes him 'the black president.' Sure enough, this tour gave him a taste of presidential life."
Kurt Kragthorpe of The Salt Lake Tribune: "If Larry Miller's extended hospital stay illustrates anything, it is that the hardest-working Utahn of us all is mortal, and that he's not going to be making all the big decisions about the Jazz forever. Not even his son could say Wednesday exactly what the division of labor or the time table for transition will be, such as who will represent the team among the owners on the NBA Board of Governors. Yet he knows that somebody in the organization has to be the one ultimately making decisions about player contracts, luxury taxes and other issues. At some point, obviously, he will be the guy. That will require some adjustment. 'I would consider myself to be a big Jazz fan. I don't think it would be accurate to say I'm as interested as Larry is,' Greg Miller said. 'The fact is, I don't have as much at stake at the moment as Larry does.'Someday, that will be the case.'"
Dwight Jaynes of The Portland Tribune: "Take it easy, Blazer fans. Jerryd Bayless could set the Vegas Summer League on fire this week, but it wouldn't mean a whole heck of a lot. Let's back up and add a little perspective before getting carried away with this talent. Success in the summer league doesn't exactly mean you're going to be a consistent NBA player when the regular season starts. Who was the most valuable player in Las Vegas last summer? Nate Robinson of the New York Knicks, who started a grand total of 17 games last season for the Knicks. And who won the MVP the year prior to that? Well, it was Minnesota's Randy Foye, who may or may not someday be a pretty decent NBA player."
July, 16, 2008
7/16/08
2:31
PM ET
By Maurice Brooks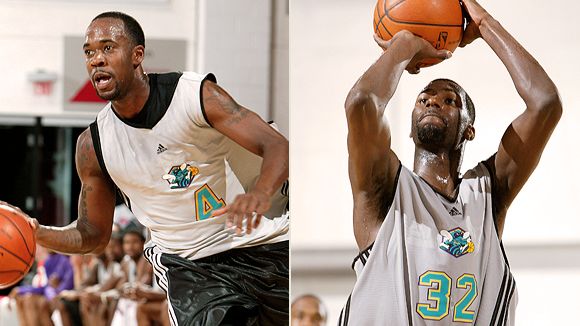 The Hornets' Bobby Brown (left) and Julian Wright have created some buzz with their summer-league play. (Getty Images)
A lot of general managers, coaches and fans are hoping that what happens in Vegas, doesn't really stay in Vegas when it comes to the performances of their players at NBA Summer League. They want some of the experiences and lessons learned to carry over to October when the basketballs get rolled out for real -- that goes for the positive experiences and the negative ones, too.
Since we are at the midway point of the 10-day, 53-game extravaganza, let's take a quick look at some of the best and worst so far.
MOST VALUABLE PLAYER: Jerryd Bayless, Blazers
In both of the games he has played, he has been the best player on the court and it hasn't been close. Using his speed and exceptional handle to set up defenders, the combo guard has made a living at the charity stripe, attempting a two-game total of 39 freebies (making 31). He followed up his 28-point, four-rebound debut against the Wizards by hanging 26 and six on the Kings.
BEST SINGLE-GAME PERFORMANCE: Donte' Greene, Rockets
His 40-point outburst against the Suns may have been the greatest game in NBA Summer League history. How can you argue? In 36 minutes, he didn't commit a turnover, needed only 20 shots to get his 40, drained 50 percent of his 10 3-point attempts and added three rebounds, three assists and two steals. And his team won.
WORST SINGLE-GAME PERFORMANCE: George Hill, Spurs, and Julian Wright, Hornets
When training camps open, nobody will remember, but for now it's hard to forget Hill missing all 10 of his shots against the Hornets from both close range and afar. Throw in the fact that he was floored by a Hilton Armstrong pick and it just wasn't a good night.
Wright's opening day line of 12 points on 4-for-17 shooting with 11 turnovers was as ugly as the numbers seem.
BIGGEST SURPRISE: Bobby Brown, Hornets
He has faced the Grizzlies' Mike Conley, the Bobcats' D.J. Augustin and the Spurs' George Hill and come out as the best point guard on the floor each time. The unheralded playmaker is good not only at dialing up his own number -- scoring 46 points on just under 50 percent shooting -- but also at getting good looks for his teammates (18 assists).
BEST REBOUNDER: Kevin Love, Timberwolves
Houston fans may have beef with me on this selection since Mike Harris is tied with Love for the rebounding lead -- although they have played only one game each. But Love gets the nod because I watched him fight for every ball that came off the glass/rim like his life depended on it and because Harris' numbers are inflated since they came in the how-quickly-can-we-shoot-game between Houston and Phoenix.
BEST PLAYMAKER: Ramon Sessions, Bucks
He is very good at changing up the speed of play, controlling the game and taking what the defense gives him. Against the Grizzlies, he took just four shots, but handed out a game-high nine assists. He was more shot-oriented yesterday against the Pistons, scoring 21 points on 6-for-11 from the field, but still found time to give out four helpers, while reducing his turnovers from seven to two.
BEST DEFENDER: Julian Wright, Hornets
On offense, he has been turnover prone. Luckily, he has a tendency for making up for his miscues on the other end of the floor. He has thrived at jumping into passing lanes and picking up loose balls. Through three games, he is averaging 1.3 blocks and 3.0 steals per outing.
BEST INJURED PLAYER: Eric Gordon, Clippers
Although he didn't shoot well, Gordon gave L.A. fans a glimpse of the future, averaging 19 points and 6.5 rebounds in two games before shutting it down with a strained left hamstring.
BEST DUNK: O.J. Mayo, Grizzlies
Here is some friendly advice to the Hornets' Hilton Armstrong. Next time get out of the way. Watch
BEST BUZZER BEATER: O.J. Mayo, Grizzlies
Proof that practice does make perfect, the third pick made a 69-foot heave at the buzzer against the Spurs.
Watch
"I thought it wasn't going to make it to the rim," Mayo said. "I was surprised. After practices recently, we have been practicing half-court shots. I made a few there."
Maurice Brooks is an NBA editor for ESPN.com. He can be reached at mbrooksnba@gmail.com.
Woody Paige of The Denver Post: "Camby for Gumby? Actually, the Nuggets got ... get this: the right to exchange second-round draft choices with the Clippers in 2010. Uh. A blipping second-round draft-pick swap. Duh. They'd been better off acquiring a lovable, green clay figure with a horse named Pokey. The Nuggets got clipped. ... They call that outrageous deal a plan to win a playoff series? They call that ridiculous move a way to improve the defense? They call that nonsensical decision the solution to the Nuggets' problems? They should call that the 9-1-1 deal."
Chris Tomasson of the Rocky Mountain News: "Mark Warkentien was asked if he's concerned about the public-relations implications of getting nothing immediate for Camby, who averaged 9.1 points, 13.1 rebounds and an NBA-high 3.61 blocked shots last season. 'It's not a checkers move,' he said. 'It's a chess move. Chess is a tougher game to understand. You've got to wait longer to see the results of the move.' Rick Kaplan said Camby was 'shocked.' He said Camby, who played six Nuggets seasons, was most concerned about his charity endeavors in Denver."
Steve Springer of the Los Angeles Times: "It's the biggest rebound of the year for the Clippers. And, arguably, the most dramatic in their tortured history. One week after the heart and soul of their team, their most skilled, most respected and most beloved player, Elton Brand, walked out on them, along with Corey Maggette, their leading scorer, the Clippers obtained an imposing substitute in 6-foot-11, 235-pound Marcus Camby."
Rick Bonnell of The Charlotte Observer: "Patience could pay off for the Charlotte Bobcats, in regard to Emeka Okafor, after the Los Angeles Clippers made a big trade Tuesday. The Clippers used up most of their room under the salary cap, absorbing the $11.2million salary of Denver Nuggets center Marcus Camby. The Nuggets, deep in luxury-tax territory, needed to reduce payroll, and accepted a second-round pick for Camby. The Clippers previously had about $12million under the cap, and were a threat to sign Okafor, a restricted free agent, to an offer sheet. 'It eliminates a scenario,' said Bobcats general manager Rod Higgins, while watching his team play a summer-league game against the Golden State Warriors. 'Still, it was just more speculation from our standpoint.'"
Scott Howard-Cooper of the Sacramento Bee: "One of the best and worst thing about the Maloofs as Kings owners is that they're fans and often lead with their emotions, and so they're as frustrated by the waves of nuttiness as you. But here's what they won't say, with any tone: It's their fault too. Not just Joe or Gavin or Mama Maloof, as Ron Artest calls Colleen, the family matriarch. Anyone in the organization that had a hand in trading for him. Anyone in the organization that has not seen to it that Artest has not been traded away. Anyone in the organization that has let him get away with it for the two years, 5 months and 19 days in the interim. Not that you're counting."
Jeff Rabjohns of The Indianapolis Star: "After leading the Big East regular-season champion Hoyas in scoring (13.4), rebounding (6.4) and blocked shots (2.2) as a senior, Roy Hibbert said Tuesday his immediate goal is 'jump in headfirst and make a splash.' ...'Obviously, being a defensive presence is one thing a big man has to make sure he does,' Hibbert said. "Shooting and scoring, that's one thing. But at the same time, I have to protect the basket, so I'm going to make sure I do that to the best of my ability. I know a lot is going to be asked of me, and I'm going to make sure to bring it every day.'"
Marcus Thompson II of the Contra Costa Times: "For all those who doubt Anthony Randolph, keep doubting. For all those who say he's too skinny, too raw, for the highest level of basketball, keep talking. He's listening. 'It's motivation,' Randolph said Tuesday. 'People always have their opinions. I have so much to prove.'"
Tim Buckley of the Deseret News: "Yaroslav Korolev returned in December to his native Russia and played instead for his hometown Moscow Dynamo, thinking the whole time about an eventual return to the NBA. And now he is a free agent in the Jazz's Rocky Mountain Revue camp, now just 21 and hoping to salvage what once was at his fingertips. 'It's the best league in the world, and everybody's trying to go here. Me, too,' Korolev said Tuesday. 'Especially at my age,' he added, 'I still have a lot of years in front of me, so I'm gonna do my best to get back here as early as I can.'"
Terry Foster of The Detroit News: "Jason Richardson is aware. He sees plant closings, struggling families and high crime rates. And he recognizes the power of his position as an NBA star. So Richardson, capitalizing on his status, is reaching out to children in his hometown of Saginaw. He said it's important for him to act now, while the kids still can see him dunking and hitting 3-point shots for the Charlotte Bobcats. On Friday, Richardson will host his third annual Man-up Forum in Saginaw Valley State University's Curtiss Hall Auditorium. This year's theme is 'bridging the gap between fathers and sons.' ... 'The expression 'man-up' means that men have to face what's in front of them -- responsibility, challenges, fears -- anything that needs addressing," Richardson says. 'That's what we're doing at the forum: addressing the common concerns we face as men of all ages and personal backgrounds.'"
July, 13, 2008
7/13/08
5:12
PM ET
By Maurice Brooks
In their first two games, the Hornets have been using forward Julian Wright as one of their primary playmakers. So far, the results haven't been very good. In their opening game against the Grizzlies, he turned the ball over an eye-popping 11 times. He also missed 13 of his 17 shots.
I was ready to simply chalk that up as a bad game until I watched him this afternoon. While he is playing with a lot of energy, he appears slightly out of control -- turning the ball over four more times in the first half. Not all Wright news has been negative. He does have a block and three steals.
If I were a Bobcats fan, I don't know if I would be happy or concerned with the way D.J. Augustin is playing. The speedy point guard has thrilled the crowd on more than one occasion with his drives to the hoop and hasn't had a problem creating for himself. That's the good. The bad is through six-plus quarters, he only has three assists. Maybe once he gets a little more comfortable with his new teammates, the dimes will come.
Hard to believe, but the best player on the court is New Orleans' Bobby Brown, who spent last season playing for German League champion Alba Berlin. The former Cal State Fullerton guard had one of the top missed dunks I've seen in a while, when he elevated on the break and tried to put Charlotte's Kyle Weaver on a poster. The ball bounced off the back of the rim, but Weaver was called for a foul on the play.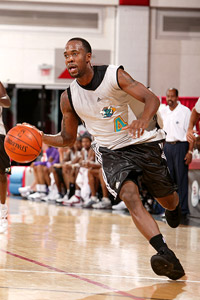 Brown showed off his all-around skills Sunday.
(David Dow/NBAE/Getty)
Anyway, Brown is doing a little bit of everything. He is attacking the rim -- ask Weaver -- he has knocked down a couple of jumpers, he's passing and rebounding well, too. I'm not saying Chris Paul should be worried about his playing time, but Brown is getting the job done today.
The Hornets hung on for a two-point win. Brown stuffed the box score to the tune of 20 points -- including what turned out to be the game-winner with 30 seconds left -- five assists and five rebounds. He also had a steal and turned the ball over just one time.
Wright put on quite a defensive performance, finishing with two blocks and five steals. He also had six turnovers bringing his two-day total to 17. He did shoot a little better, going 5 of 12 for 11 points.
Augustin scored a team-high 15. He finished with five turnovers and just two assists.
"I'm trying to get my teammates involved as much as possible," Augustin told me after the game. "We've had some tough misses, but I'm trying to get them open shots. We're still trying to get a better understanding of each other."
In Game 2, I'm anxious to see how Anthony Randolph follows up his huge opening-day performance. And in case you were wondering, C.J. Watson has taken the floor today without his long-sleeve shirt.
Marco Belinelli has the Warriors off and running in the second half. He just hit consecutive jumpers and threw a no-look pass that was so pretty, I found myself looking the wrong way as his teammate caught the ball and laid it in. Midway through the third, Golden State has a 15-point lead.
Belinelli has stayed hot in the fourth quarter and now has a total of 23 points. Randolph is not having a big offensive game, but he has still been effective, cracking double digits in points again.
James Singleton (17 points) has been the best player in a Mavericks uniform. He crashes the boards hard and has got into the lane for easy buckets.
Belinelli finished with 25 points, while Randolph (5-for-12) scored 11. Brandan Wright was the top big man in a Golden State uniform, pulling down seven boards to go with his 15 points.
From the "Did that really just happen department?", Coby Karl just blocked O.J. Mayo's jumper on one end of the floor and threw a perect alley-oop pass on the other end. I immediately looked into the stands to see his dad, George, softly clap his hands twice in approval. As I'm typing this, Karl just hit a near-impossible turnaround jumper.
It looks like playing three games in three nights is catching up to Mayo. He doesn't have his normal bounce. He has missed four of his first six shots and he has been sloppy with the ball, turning it over four times. Darrell Arthur is also struggling, hitting just 1 of 4 shots for two points, while committing five fouls.
It appears the Grizzlies have stopped calling plays and are just letting Mayo go to work in the the third quarter. He has been way more effective going one-on-one, scoring 10 points in the first seven minutes of the period on a combination of jumpers and drives.
I got a new-found respect for Karl. When a bully punches you in the mouth you can either just take it or fight back. He has chose to fight back. Karl, who has covered Mayo for most of the game, has responded to the challenge in the third quarter, firing in nine points of his own. He just went to the hole for two points prompting the P.A. announcer to scream, "Kobe Bryant." Not quite.
Midway through the fourth quarter, Mayo was toying with the dribble in front of L.A.'s Dwayne Mitchell. Mitchell made him pay, ripping Mayo at the top of the key and then racing up the court for a thunderous dunk.
Karl finished with 16 points, four rebounds and three assists as the Lakers toppled the Grizzlies 85-76.
Mayo ended the contest with 15 points, six fouls and six turnovers, while Arthur had three times as many fouls (9) as points (3).
In the last game of the night, the Pistons, who I can't see losing in Vegas, are taking on the Clippers.
Starting tomorrow, games will be held at both the Thomas & Mack Center and Cox Pavilion. The Knicks, Cavaliers, Wizards, Trail Blazers, Suns, Rockets and Spurs will all make their summer league debuts.
July, 13, 2008
7/13/08
4:25
PM ET
By Marc Stein
Just got word from the Los Angeles Clippers that lottery pick Eric Gordon, who has shown some nice flashes here in Vegas despite his struggles from the perimeter, will be sidelined for the remainder of the NBA Summer League with a strained left hamstring he suffered in Saturday's third quarter against the Charlotte Bobcats.
So we won't be getting what looked to be one of the better individual duels at UNLV: Gordon's scheduled showdown Wednesday with O.J. Mayo of the Memphis Grizzlies.
Gordon has missed 19-of-28 shots from the field in two games but has relied on his good strength, body control and undeniable confidence to get to the free-throw line 21 times (and making 16) in just under 60 minutes of court time, enabling him to average 19 points along with 6.5 rebounds.
Clippers summer-league coach Kim Hughes has been primarily playing Gordon at the two spot, where Gordon is likely to be deployed most as a rookie alongside Baron Davis, and told NBA.com: "I think once [Gordon] figures it out, he'll understand that he doesn't have to take the first available shot. When he uses the picks a little bit more, we'll send the ball to him weak side and he won't have to shoot the ball so quickly. I think he's got a good feel for the game, I think he can break his own guy down one-on-one and I think in transition he can be a monster."
Meanwhile ...
The Portland Trail Blazers play their first summer-league game Monday night against Washington, but Blazers front-office chief Kevin Pritchard has squelched any notion that Greg Oden might make a cameo in one or two of the Blazers' five games.
When we checked on Saturday night just to make sure, Pritchard said that Oden is far enough along in his recovery from September microfracture surgery on his right knee to return to the Cox Pavilion. That's the same building where we last saw Oden in uniform for two games last summer before he underwent a tonsillectomy, but the Blazers see no need or upside to hurry him back onto the floor.
And who can argue?
As much as we'd all enjoy a big-name cameo -- with this July's rookie contingent in Vegas lacking the buzz factor Oden and Kevin Durant generated in 2007 and now without Gordon it's not as if Oden needs a big summer to secure a spot in the Blazers' rotation. You can safely assume Oden is up there with Mayo on the list of favorites to win the 2008-09 NBA Rookie of the Year award, which Oden is eligible to win after sitting out his entire first season with the injury.
"We like him, Pritchard said with a smile.
July, 12, 2008
7/12/08
5:28
PM ET
Maurice Brooks
Day 2 is underway with the Raptors clinging to a small lead over the Kings. Toronto's Joey Graham (18 points) and Sacramento's Spencer Hawes (14) are slugging it out for game-high scoring honors midway through the third period.
On a side note, all that stuff about anything goes in Vegas is not entirely true. Last night I was denied entry -- to of all things, an NBA Summer League party -- at the Palms for wearing shorts. Sure I know you're supposed to wear pants to the club, but when it's 108 degrees outside, I thought that rule went out the window. Apparently not.
In the comments section of yesterday's live blog, someone wrote that Ron Artest had been traded to the Lakers. If that is the case, someone forgot to tell Ron-Ron because he's here hanging out with Kevin Martin sitting behind the Kings' bench.
I know it's only Day 2, but this has been the most entertaining game so far. Think pickup ball in the park -- complete with Quincy Douby cherry picking. Toronto's Jaycee Carroll (as I'm typing this, he fired up an airball) can really shoot it, and Hawes shoots and passes a lot better than I remember.
Graham is attacking the basket every time he gets a touch, and although he has eight fouls (you are allowed 10 before fouling out in summer league), he has 24 points.
The Kings earned the 93-86 victory over the Raptors thanks to Hawes and Douby combining to score 43 points. Patrick Ewing, Jr. got the start at forward for the Kings, missing all four of his shot attempts and finishing with zero points.
I'm looking forward to watching the Bobcats' D.J. Augustin and the Clippers' Eric Gordon in the next game. Although I didn't think Charlotte needed another point guard, I love the way Augustin gets up and down the floor.
Maybe I put the jinx on Augustin who hasn't done anything in the early going to distinguish himself. He finished the period with zero assists and no points. Just like last night, Gordon once again is showing that he is not shy. He squeezed off four shots, while playing the entire first period, but only connected on one.
For the second day in a row, the gym is full. I guess it's a hoop junkie's dream. For $20 you get to see four games featuring young hungry players, get closer to the NBA action than you normally would and you're in Las Vegas. I guess that is a winning formula.
At halftime, everyone in attendance got all of the proof needed that those who can't play, heckle. "Clipper Darrell", who has worn a homemade Clippers outfits to the arena the last two days and made life miserable for L.A. opponents, was chosen to participate in a shooting contest. Showing off form that even Bill Cartwright could make fun of, he only made one of his 10-plus shot attempts. Also, he got a taste of his own medicine -- the crowd booed.
Augustin has done a good job getting off his own shot, although he hasn't been in playmaker mode. Through three quarter he is 4-for-7 from the floor and 5-for-6 from the line for a total of 14 points. He has just one assist.
If I were on the Clippers' coaching staff, I'd sit Al Thornton. He doesn't need the extra work. He has 19 points and six boards and pretty much can do what he wants, when he wants. This will be the last summer that we will ever see him playing summer league ball.
Gordon's shaky shooting from the floor has apparently carried over to the foul line where he is a Shaq-like 3-for-7. That is almost as bad as his shooting from 3-point range (1 of 5).
It looks like Gordon has pulled his hamstring. He went to the hole and when he came down he immediately grabbed the back of his leg. The medical staff is taking a look.
Gordon limped off the court following the Clippers' 81-66 loss. This is what he had to say after the game.
"I hurt it pretty bad and don't know what is going to happen," Gordon said. "I'll see how it feels tomorrow."
Gordon, who finished with 15 points on 4-for-10 shooting, was pleased that he went to the free-throw line 10 times (making six).
"I pride myself on getting to the line, even if my shot isn't falling," Gordon said.
Gordon looks forward to playing with L.A.'s new point guard.
"Me and Baron [Davis] have similar styles," Gordon said. "We can both play the one and the two and I'm going to do anything I can to help the team."
Augustin didn't score any more points and finished with two assists. He was happy with how he performed once his nerves calmed down.
"In the beginning, I was a little shaky," Augustin said. "This was my first time out. I did better as the game went on and I was trying to get the ball to my teammates."
Augustin is looking forward to working with first-year Bobcats coach Larry Brown.
"Coach Brown likes to teach and I'm learning a lot," Augustin said. "I was a little surprised the Bobcats drafted me, but I'm happy to be here."
Andre Iguodala, J.R. Smith and Marcus Camby were all in the house to watch the Nuggets blow out the Sixers in Game 3.
Just like I don't want to see Thornton play for the Clippers, I think the Sixers should shut down Thaddeus Young for the rest of the Vegas trip. He followed up yesterday's monster game by posting 22 points, four rebounds, three assists and two steals. Anyone that is in their team's regular rotation, doesn't need to be here.
Marreese Speights played under more control today and finished all of his shots around the basket. The rookie missed just two of nine shots, scoring 14 and he grabbed five rebounds. The Sixers still need an outside shooter and nobody on the summer league roster appears ready to fill that void.
Watching how smooth Dahntay Jones plays, it is hard to believe that he has not had a better career. He has all of the tools. He paced the Nuggets with 21 points, hitting 8-for-15 from the floor.
The Bucks, who are playing their first game, are about to take the floor against the Grizzlies.
Milwaukee first-round pick Joe Alexander was active, but his numbers so far aren't pretty. Playing almost 18 minutes in the first half, he scored just five points and pulled down three rebounds. He missed six of his first seven attempts.
What a difference a night makes. Darrell Arthur couldn't miss on Friday, but he has made just 2 of 7 to start the game tonight. Meanwhile, one minute into the third period, O.J. Mayo has already taken the same amount of shots as he did all of yesterday. He is 4-for-10 from the floor for a game-high 12 points. Make or miss, there is no doubt his confidence is growing.
The Bucks keep leaving Mayo open in the corner and he keeps making them pay. He just hit back-to-back triples, giving him a game-high 23 points after three quarters.
Memphis' 88-79 win wraps up Day 2. Mayo tallied 26 points on 9-for-19 shooting (4 of 6 on 3s) and he cut his turnovers in half (4) from Friday.
Alexander made just 2 of 13 shots for a total of seven points.
July, 11, 2008
7/11/08
4:26
PM ET
By Maurice Brooks
The NBA Summer League is officially off and running with the Sixers and Warriors on the floor. This gives me a chance to get an up close and personal look at Philadelphia first-round pick Marreese Speights. His pro debut is off to a good start. He has been real active around the basket and after missing his first five shots, he has just rocked the rim three straight times as the Sixers have opened up a seven-point lead late in the second quarter.
Reminder, to those of you who can't make the trip to Las Vegas -- all of the games are being shown via webcast on NBA.com and 23 of the games can be seen on NBA TV.
Early observations from the opening game of the NBA Summer League:
Why is Golden State's C.J. Watson wearing a long-sleeve shirt under his jersey?
Maybe the Warriors should play all of their games at UNLV -- Marco Belinelli has already gotten a rise out of the fans by draining two long jumpers.
Although I don't have the official attendance numbers, there is a nice crowd in the building.
Bryon Russell -- yeah the one MJ shoved and the refs swallowed the whistle -- is in the crowd.
Halftime: Warriors 40, Sixers 38. Anthony Randolph is pacing Golden State with 16 points on 6-for-10 shooting, while Thaddeus Young has 11 on 4-of-7 for Philly.
Randolph is playing with a ton of confidence. He just knocked down a jumper he had no business making and he has pulled down four rebounds. Although he was just called for a charge, he has shown the ability to put the ball on the floor and get to the cup.

Randolph made 12 of 18 shots from the floor.
(Garrett Ellwood/NBAE/Getty)
With just over four minutes left to play and the Warriors up six, they may as well clear the floor and let Randolph and Young play one-on-one. Randolph just came down and fed his teammate for an easy basket. Young responded on the other end by attacking the basket and drawing a foul.
They are tied for game high honors in points with 24 each.
Game one of 53 is in the books. The Warriors, behind 30 points and eight rebounds from Randolph, stopped the Sixers 96-89. Brandan Wright was also a bundle of energy for the Warriors, blocking four shots to go with seven rebounds and 17 points.
Even though they lost, the Sixers have to be pleased with what they saw from Young, who finished with 27 points, and Speights, who went 7-for-19 from the floor, but had an impressive line of 22 points and 13 rebounds.
Here is what Young had to say after the game.
On Brand: "He is not only a good player, but he is a good person. With his addition, we'll be a much better half-court team. He is going to make it easier for everyone else."
On Speights: "I thought he did well and was very aggressive. We made a good pick."
Speights wasn't available to the media after the game.
Game 2 features the Hornets and Grizzlies. The arena is full and it is a safe assumption that the large crowd is here to see Memphis rookie O.J. Mayo.
Despite what some of the hecklers in the crowd are saying, Mayo is the goods. He is virtually impossible to stay in front of off the dribble and uses his body well to get his shot off. He scored 12 points on 4 of 5 shooting in the first half.
So far today there have been two signature moments and both involved Mayo. Mayo applied the finishing touches on a perfectly thrown lob pass from Michael Conley. The second was Mayo's made-for-tv right-hand jam on Hilton Armstrong's head. Not only did he draw the foul, it was almost like he announced to the rest of summer league that 'Hey, I can play well on this level.'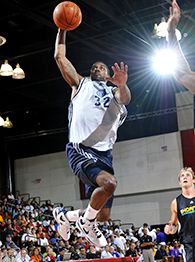 Mayo surprised some people with his solid defensive play.
(David Dow/NBAE/Getty)
Mayo isn't the only Memphis player having an outstanding pro debut. Darrell Arthur is showcasing the skills that will one day make him a starting power forward. The big man has demonstrated a nice outside shooting touch, scoring a game-high 16 points on 8 of 11 shooting.
Not that the winners or losers really matter at summer league, but the Grizzlies ran past the Hornets, 88-75. Arthur finished with 18 points, while Mayo scored 15 (5 of 10 from the field), gave out five dimes and grabbed three boards. The only negative on his outing were the eight turnovers.
Grizzlies coach Marc Iavaroni had nothing but good things to say about Arthur. "He was very efficient today," Iavaroni said. "He probably had the most impressive game of anyone."
Not a bad first game for a player that nobody seemed to want -- he was traded three times on draft night.
Meanwhile, the Hornets' Julian Wright probably wants to act like this game never happened. The second-year pro missed 13 of his 17 shot attempts and turned the ball over 11 times.
A quick glance at the rosters for the Lakers and Pistons told you all you needed to know about who was going to win. L.A. has a squad full of players who will be fighting to be invited to training camp, while Detroit's lineup features players who saw considerable time in the playoffs this past season.
Led by Rodney Stuckey, who starred at last year's summer league, the Pistons beat the Lakers 84-73. Stuckey didn't shoot well, missing nine of his 15 shots, but he finished with 21 points. Arron Afflalo added 15 and Amir Johnson had 12.
The Lakers were paced by Coby Karl's 14 points.
Finally, in the nightcap, the Clippers powered by NBA-ready Eric Gordon, have jumped out to a 12-4 advantage over the Mavericks. The Clippers easily have the biggest rooting section at summer league so far.
The Clippers have a 17-point lead at halftime despite the fact that Gordon is just 2-for-11 from the field. He has made 6 of 7 from the line and despite his poor shooting, stayed in attack mode.
Final: Clippers 86, Mavericks 69. Gordon shot it a little better in the second half, making 3 of 7 to finish 5 for 18. He led all scorers with 23 points, and also pulled down seven boards, but gave out just two assists. His numbers were saved by the fact he made 10 foul shots.