July, 12, 2010
7/12/10
12:25
AM ET

By Kevin Arnovitz
ESPN.com
Archive
John Wall's professional debut began with a little throat-clearing, but once the Washington Wizards point guard got into the flow of the game, he commandeered the court. We asked some of those in attendance for their impressions of Wall's 24-point, 8-assist, 8-turnover performance: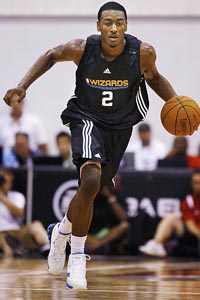 Garrett Ellwood/NBAE/Getty Images
John Wall: "A completely different kind of player."
Daniele Baiesi, former general manager Angelico Biella
When he picks up speed on the floor, he's unstoppable. He's a freak of nature for being 19-years-old. Today, there were a lot of expectations. The gym was packed, so everyone wanted to see the show. Whatever you see on the floor today won't be the exact truth. But whenever you see the kind of leadership skills he showed in his college year, you can expect him to lead an NBA franchise with no problem. He makes his teammates better because he puts them into a rhythm. He's a completely different kind of player. He also makes a huge defensive impact with his wingspan and athleticism.
David Blatt, Maccabi Tel Aviv and Russian national team head coach
Any player coming from college is going to have an adjustment period. Guys as talented as him will go through a shorter learning curve, even at his young age. I thought he did a pretty good job out here tonight, better than some of the first picks I've seen in the past. His future is very, very bright. For me as a coach, I like that he plays with his head up. He has a calm about him. He doesn't rush things. He makes mistakes but he doesn't allow the last play to bother the next play. I think that's very important, particularly for a player at his position. He has star quality. I think he's going to be a top-level player. It might take him longer than people think, but his talent is obvious.
Rick Carlisle, Dallas Mavericks head coach
He has fantastic ability and tremendous upside. He's a different version of Derrick Rose, a little different kind of player, a little different body type and a little different style of play. They both have a great ability to defend. As they learn more, they'll both get better and better. Wall is a little longer athletically and maybe a little more of a scorer.
DeMar DeRozan, Toronto Raports swingman
On the fast break, he's very effective. You see his speed, but you also see how strong he is. Once he gets more comfortable running an NBA team, I think he's going to be good. On defense, we haven't seen him guard anyone like Steve Nash or Chris Paul, so he's really going to get tested when the season starts.
Jimmy Goldstein, NBA superfan
It's pretty obvious he has such phenomenal speed. It's really exciting to see him dribble the ball down the court. His jump shot has a long way to go -- it's suspect at this point -- but he's such a phenomenal athlete, and I'm very excited about the prospect of watching him play.
Sam Hinkie, Houston Rockets vice president of basketball operations
So far, so good. You see the same kind of speed you saw in college. The advantage of that speed is only going to be amplified in the NBA with its spacing and his ability to get out in the open floor with even better finishers. Like any young player, there's a lot to work on, but you don't have to watch him very long to see how special he is for that position. Defensively, like most young players, he's better on the ball than off. There's no reason to believe he shouldn't be fine, and there's every reason to believe he should be very good.
Jarrett Jack, Toronto Raptors point guard
He started off a little shaky, but that's highly expected for his first NBA-style game. He played better as the game went on. He was able to be a little more aggressive and helped his team. He's best when he's in transition, so the best way to defend him is to try not to let him get a full head of steam and make him beat you from the perimeter.
Dean Oliver, Denver Nuggets director of quantitative analysis
The scouts were right. He's good. I thought it took him a little while to figure out the guys he was playing with, but that's not too much of a surprise. He's going to figure that out over the course of a season -- he figured it out over the course of a game. Defensively, I think he's going to be fine. He's got all the length and he can stay with guys. I'm not worried about any of that.
John Thompson, former Georgetown coach
I liked his attentiveness to the coaching staff. It goes without saying that he's faster than a speeding bullet. He's super-quick with the basketball, but he also showed poise. I think he's unlimited and a lot of it will depend on how much he continues to work and develop himself. But he's got special potential. This is the first time I've watched him this close. I was extremely impressed with how fast he was with the basketball. Also, a lot of players are offensively fast but defensively slow. But he's pretty quick defensively. There's something real special there.
Patty Mills brought a lot of life to the court for Portland. He filled up the box score with 12 points, nine assists, seven rebounds against only two turnovers. With a little space courtesy of a pair of early high screens, he was able to drain a couple of 3s in the first half. Throughout the game, he made smart decisions in transition, both finding seams for himself and directing traffic for his runners. In the third quarter, Mills sniffed out a pretty give-and-go with Dante Cunningham on the right side: perfect entry pass, perfect cut, perfect finis. The play earned a demonstrative fist pump by Cunningham on the return trip downcourt. Defensively, his quick hands wreaked havoc on the Rockets' ball handlers, as Mills racked up a bunch of deflections.
New Orleans first-round draft pick Craig Brackins struggled on Sunday, but the breadth of his game still holds appeal. He can do a little bit of everything which, judging from his indecisiveness on the floor, might be the problem here in Las Vegas. Because he was dealt from Oklahoma City -- a deal that wasn't official until last week -- Brackins had only one practice before taking the floor for the Hornets squad. "Craig has an NBA skill set as an offensive player: his ability to shoot the ball, his ability to face the basket and be effective, outstanding athletic ability, lateral mobility. These are all traits we think will allow him to be successful," Hornets general manager Jeff Bower said. "The thing with young players is, the quicker they can find a source of confidence in one aspect of their game, the quicker they become a factor." According to Bower, scoring the ball from mid-range and working the offensive glass are where Brackins can begin to build that confidence. "In these first experiences, focus on your strengths, get them established, feel good about them, understand your environment, then we'll address areas of the game we feel can be expanded."
David Thorpe on Portland rookie Luke Babbitt: "He's very comfortable as a scorer. He knows he has many option to choose from to get the ball in the bucket. He plays the game with a great pace -- not unlike James Harden. That allows him to let plays develop. He's going to be very effective in his shot-fake attack game."
Rob Mahoney on Denver's Coby Karl: "There's no real reason why Coby Karl wouldn't be able to compete on an NBA level, yet somehow, under guise of flawed skills and limited athleticism, he's doomed to the horrid middle ground between D-League stud and NBA role player. It's not a fun place to be, but there are so many capable wings that can technically do what Karl does. They just don't. Coby has the right skills and makes the right plays, with the perfect package for a complementary player. He doesn't step outside of himself and makes excellent decisions. For a guy vying for a spot on the back end of an NBA roster, that's huge."
Sebastian Pruiti offers up some video of Austin Daye's increasing confidence as a playmaker and scorer. Fearlessness is a trait developed over time for a young player, particularly one as slight of build as Daye was when he entered the league last season. Daye has bulked up -- both physically and mentally.
Jeremy Schmidt of Bucksketball catalogs the slew of Wisconsin Badgers present at summer league this year: "Those gritty Badgers with their swing offense and suffocating defense aren't thought of as an NBA factory the way Kentucky or North Carolina are. But that didn't serve as a deterrent to the franchises that added Marcus Landry (Knicks), Trevon Hughes (Rockets), Joe Krabbenhoft (Blazers), Brian Butch (Nuggets, though his summer league stint has ended prematurely due to injury) and Greg Stiemsma (T-Wolves) to their summer rosters."
Summer league fan uni watch: Jake Tsakalidis Grizzlies jersey (Hat Tip: Rob Mahoney)
July, 18, 2009
7/18/09
12:25
AM ET
Posted by Kevin Arnovitz
When Austin Daye was being sized up as a pro prospect, one of the first shortcomings mentioned by his naysayers was his lanky build. Watching him up close in Las Vegas, Daye seems wholly unintimidated by back-line defenders. He actually initiates contact off the dribble, and it rarely throws him off his drive. He's gotten to the line 16 times in the past two games. He also recorded a double-digit rebound total for the third consecutive game.
DaJuan Summers has the proverbial nose for the ball. When Pistons point guard Sean Singletary drove baseline, Summers made a hard basket cut down the lane to collect the pass. When his man left him alone on the weak side, he crashed the offensive glass. That's how you get 15 shot attempts even though your team isn't running stuff for you. Summers hit only five of those 15 shots in his final Summer League game, but helped himself as much as anyone over the course of the past week.


Jonny Flynn didn't start ... but finished frequently.
(Jack Arent/NBA via Getty Images)

After a silent first quarter against the Pistons, Cavs rookie Christian Eyenga got involved, did some nice work off the dribble against Daye, and worked hard defensively against the Pistons guards. Eyenga was the quickest guy on the floor when he was out there. The Cavs haven't been looking for him at all this week -- and he never calls for the ball -- so it's been hard to get a feel for the full range of his skills.

Jon Brockman is a hoss. Even though he looks like a tree trunk, he actually moves his feet well, has the makings of a good team defender, and did a nice job on a couple of Toney Douglas-Jordan Hill pick-and-rolls. There's no offensive game to speak of, but a good find by the Kings.

There's a good pick-and-pop player inside Jordan Hill, but it just hasn't materialized yet. Against the Kings, he demonstrated the mobility to work within Knicks coach Mike D'Antoni's system and get himself shots. "He's got a lot of offensive talents," D'Antoni said. "He just has to get a little stronger and get his jump shot down to where he's confident with it." Hill went only 3-for-11 from the field.

Jonny Flynn didn't start on Friday, but he took sole ownership of the game when he checked in at the start of the second quarter. Time and again, Flynn would get a hard screen from one of his bigs (both Garrett Siler and Adam Parada did good work), then exploded through the middle into daylight, absorbing any and all contact. In the fourth quarter, Flynn unleashed the theatrics: a behind-the-back pass to Parada, a two-handed dish over his head backward to a waiting shooter, a kickout to the arc while he was airborne in traffic. He finished with 21 points on 7-of-11 from the floor, and a perfect 7-for-7 from the stripe.

In eight days, James Harden has yet to take a truly questionable shot. He's the most measured rookie in his class on the court. Even his turnovers are of the "... but it was a good idea" variety.
James Johnson's game can be disjointed at times. It's not that he looks lost. It's just the opposite -- he's a small forward with too many choices. Johnson couldn't buy a shot Friday (2-for-11 from the field), but he made four or five beautiful plays for teammates -- including a pinpoint interior bounce pass in traffic between two defenders to find James Augustine for a layup. Johnson finished with seven assists.
There's one team out here playing at maximum effort: The D-League Select. On the pro squads, everyone has an individual agenda. A contracted, first-round stud is out there for an entirely different reason than the journeyman trying to catch the attention of a European scout. The D-Leaguers, some of whom had offers to warm the bench of an NBA Summer League roster but opted for DLS -- as they're known in abbreviation -- are collective underdogs.
David Thorpe on Ty Lawson: "When he has to be your best offensive player, he's going to look average. This is one of the reasons he didn't stand out in the pre-draft camp a year ago in Orlando. But give him four talented players around him, and he'll make that collective group better than most other point guards could -- especially if those players can run." Friday, Lawson was playing with Coby Karl, Sonny Weems, Ronald Dupree, and Cedric Simmons, so he stopped deferring. Lawson initiated the offense himself, keeping the ball off high screens to either drive or shoot. He poured in 26 points on 17 possessions.

Zag Alert! Swingman Micah Downs carried Phoenix on Friday. He hit from distance, slashed from the wing, posted up his smaller defenders, racked up five steals, and was key in transition en route to 19 points on 12 possessions.
July, 9, 2009
7/09/09
2:21
AM ET
Three years ago, Shaun Livingston embodied the hope of every cautiously optimistic Clippers fan. He was the 6-foot-7 point guard who was to deliver the franchise from its forlorn history. That was before a devastating injury. The Salt Lake Tribune's Ross Siler has more on Livingston's long road back, a route that goes through Orlando this week:
Shaun Livingston never has watched a replay of the breakaway that nearly ended his career, though the grotesque video from February 2007 of Livingston dislocating his knee and tearing three ligaments has been viewed more than 184,000 times on YouTube.

Livingston has no plans of watching it, either, at least not until his playing days are done. There are enough reminders already, from the brace on his left knee to his new position on the floor to his new home in Oklahoma City.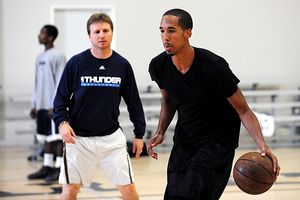 Scott Brooks is one of many rooting for Shaun Livingston's full recovery.
(Juan Ocampo/NBA via Getty Images)
"I felt I was so young at the time," said Livingston, the Clippers' former No. 4 overall pick out of high school. "You know, being 21, it's like some people, they're not even in the league at 21. They're not even 21-year-old rookies, so I felt like I still had a window open."
He missed all of 2007-08, but officially made it back to the NBA last season, playing in four games with Miami and eight with the Thunder. Ahead of his 24th birthday in September, Livingston already has enjoyed two more NBA careers than most.
That eight-game run with the Thunder included one milestone: Livingston logged 33 minutes in Oklahoma City's 41-point destruction of the Clippers to end the season, coming at Staples Center on the same floor in which Livingston blew out his knee.
"I think it made him realize that he's back, he's feeling good," Thunder coach Scott Brooks said. "He went through a tough injury and he battled back and fought through it and he's been terrific."
Having signed March 31, Livingston spent not even a full month with the Thunder, but he is in Orlando trying to build on the experience. The one limitation is that Livingston will not play back-to-back games either here or in Las Vegas, owing to his knee.
"My circumstances are different," Livingston said. "Even though I've been in the league five, six years, I haven't played five, six years. I'm trying to get my legs back from my injury and continue progressing."
He started for the Thunder in Wednesday's 94-82 victory over Boston, finishing with 10 points, six rebounds and two assists in 22 minutes. Livingston estimated he is 90 to 95 percent recovered, with his endurance and explosiveness the last things to return.
All the same, Livingston is in an admittedly different role from his days as the Clippers' point guard. The Thunder are playing the 6-foot-7 Livingston primarily as an off guard opposite Russell Westbrook, and at times as a small forward.
He played in one lineup alongside Westbrook and Kyle Weaver, and another with Westbrook and Alabama-Birmingham guard Robert Vaden. The Thunder had Westbrook, Weaver and No. 3 overall pick James Harden together in the fourth quarter.

"All of us have point guard and playmaking abilities," Livingston said. "So it allows us to all play together in unison. I think that's what the coaches and the executive staff, they're kind of experimenting out here and letting us play with each other and build chemistry."

Livingston did gain some experience as an off guard playing opposite Sam Cassell with the Clippers. He matched up for much of Wednesday's game against J.R. Giddens.

"I feel like my basketball IQ is high enough to where I can adapt," Livingston said. "I'm not necessarily a better scoring guard than I am a playmaker, but I feel like I can have the ability to create mismatches by having two point guards on the floor."

He had his moments against the summer Celtics, blocking Coby Karl's layup bid on the break, cutting for a basket as part of a three-point play and racing end to end in the final five seconds of the first half for a layup that was goaltended.

Of course, Livingston also tried to post up Bill Walker despite giving up nearly 40 pounds, but missed a fadeaway. Such are the lessons of summer league.

With Westbrook and Harden and so many others playing in Orlando, Livingston said of the summer league, "This is kind of like the start of our season." He added that he saw himself as one of the Thunder's building blocks, though his contract is only minimally guaranteed.

He's ditched the bulky brace that stretched from his thigh to his calf for a compression model, though his buzzword for the knee still is "security." And as much as he appreciates the NBA after being away, Livingston doesn't hold a championship parade every day just for making it back.

"I think that was a victory in itself, but it's not over," Livingston said. "In my eyes, I'm a competitor, I think I can still play at a high level, so it's definitely not over. That's just half the battle."