February, 14, 2012
2/14/12
6:28
PM ET
By Justin Havens, ESPN Stats & Info
ESPN.com

With their 15th consecutive loss on Monday night, the
Charlotte Bobcats
continue to march towards one of the worst seasons in NBA history. Through 28 games, the team sits at 3-25, on pace for the worst single-season win percentage in NBA history.
Charlotte has been held below 100 points in all 15 losses, tied for the fourth-longest such streak in NBA history. The Bobcats current win percentage is .107, lower than the 1972-73
Philadelphia 76ers
(.110), who set the all-time record for losses (9-73).
The Bobcats aren't a good offensive team struggling to defend or a good defensive team struggling to score. Instead, they are a team that both struggles to score and struggles to stop the other team from scoring.
Since the start of the 2001-02 season, only three teams have ranked in the bottom two in the league in both offensive and defensive efficiency. If the Bobcats maintain their current pace, they will be the fourth team on this list.
Through 28 games, they are being outscored by 14.4 points per game. That is on pace for the second-worst mark since the NBA-ABA merger.
Michael Jordan
was named minority owner of the Bobcats on June 15, 2006. As part of that agreement, he was given full control of the basketball operations side of the team. His primary draft selections since taking control of the basketball department have been decidedly unsuccessful.
Of eight first-round picks since 2006, only two have become above-average NBA players by Player Efficiencty Rating, and both (
Tobias Harris
and
Brandan Wright
) were traded before playing a game for Charlotte. Just three of the picks –
Kemba Walker
,
Gerald Henderson
and
D.J. Augustin
– are still on the roster.
Augustin leads the team in PER at 16.5. That is the worst mark for a team-leading PER in the NBA. The closest competition is
Roy Hibbert
, who leads the
Indiana Pacers
with an 18.6 PER. Only three players on the Bobcats roster exceed the league-average PER of 15.
Michael Jordan was the best player on the best team in NBA history - the 1995-96
Chicago Bulls
team that won 72 games. Jordan is now involved with a team that may end up as the worst team in NBA history.
The Bobcats are 3-25 through 28 games, on pace for the lowest single-season win percentage in NBA history. Their 3-25 record is the exact inverse of the 25-3 record the Bulls had through 28 games during the 1995-96 season.
July, 15, 2011
7/15/11
9:28
AM ET

By Zach Harper
ESPN.com
Archive
Sports are often a copycat type of endeavor. When a couple dozen teams watch one team rise to a championship level and end up with the end gain that everybody else is fighting for, they usually will look at what made the eventual champions successful.
Years ago, Isiah Thomas acquired Steve Francis to pair with Stephon Marbury. It was supposed to be a small but dynamic backcourt that provided a lot of firepower. Many people around the NBA scoffed at this decision because it just wasn't a traditional type of move. It had incredible drawbacks despite the talent of the two players in question.
Two years ago, David Kahn drafted Ricky Rubio and Jonny Flynn with back-to-back picks, claiming that he thought the two could play together in the same backcourt. The move was probably just an insurance policy for Rubio's difficult buyout and reluctance to come to Minnesota. And yet, it was spun as a way to change the conventional thinking around the league and try to play a more up-tempo style with two point guards on the court for extended minutes together.
This potential strategy was also met with harsh criticism and laughter. Although we had seen it many times on NBA courts before, playing two small players in the backcourt just doesn't match up with the idea and historic values of size dominating the NBA. We're always enamored with the big man ruling the paint. Also, teams just typically don't win championships with this style.
That is until a few months ago.
The Dallas Mavericks "got away" with playing three point guard-sized players on the court at the same time. Their best lineups included a backcourt pairing of JJ Barea and Jason Terry paired together or Jason Kidd paired with Terry. It worked for two reasons.
First, those three players are very productive offensively. Kidd is now a deadly outside shooter while also adept at setting up his teammates, Terry has been one of the best pick-and-roll and fourth-quarter scorers the last couple seasons, and Barea is great at getting into the paint and causing havoc for the opposing defense. The second reason is they usually had a lot of length behind them. Playing trios of interior players like Shawn Marion, Dirk Nowitzki and Tyson Chandler together allowed their overall team length to cover their smaller teammates defensively.
Also, we can't forget that Nowitzki was just impossibly good.
But the small backcourts worked. The Mavericks used ball movement and shooting to be a suffocating form of offense for the opposing team. They also switched up their defensive looks quite often and were the best team at playing zone for key stretches.
Well, undoubtedly, this strategy is going to be copied at some point, as are most title contending teams. Instead of trying to be ahead of the next curve in basketball strategy, struggling franchises can also just choose to bring in players to copy what's already worked in the NBA. It's unimaginative, but that doesn't mean it can't work.
Count the Charlotte Bobcats as one of those teams.
As you probably saw in First Cup this morning,
Rick Bonnell of the Charlotte Observer talked to Paul Silas about next season
. Silas alluded to (without naming names) the idea of playing incumbent point guard D.J. Augustin and first-round pick Kemba Walker on the floor at the same time:
"I'm going to have two little guys out there who I really think can hopefully play together. But it's going to be hard for (either of) them to guard a 2-guard.

But they can play a zone ... out-front, I think.''
I've never been much of an Augustin fan in terms of being a starting point guard in the NBA. He had a pretty good year last season with 14.4 points, 6.1 assists, and 1.9 turnovers in 33.1 minutes per game. I just don't know that his point-guard abilities are completely up to par with where you would want a full-time starter moving forward to be. However, as a scorer, he can be pretty deadly if surrounded by the right people.
The idea of playing him next to Walker while playing a zone is fairly intriguing. If Walker can be a legitimate starter in this league while giving a solid defensive effort, then playing him next to Augustin may be doable for extended stretches. I'd expect the Bobcats to toss out a lineup of Walker, Augustin, Corey Maggette, Tyrus Thomas and Bismack Biyombo when this happens.
The key to this lineup will be getting stellar defense from Thomas while playing alongside Biyombo, and having Maggette buy into something other than just worrying about his own scoring. Ideally, you'd like a much better shooter as the other wing or someone who has a lot of length and the ability to knock down open jumpers.
If Silas' plan of running a lot more with his team next season is able to happen consistently, then two quick guards like Augustin and Walker could definitely wreak some havoc. Of course, all of this is a best-case scenario type of situation. Ideally, they'd have Gerald Wallace as one of these wing players instead of Maggette, and they would try to win a lot of ugly games in the 85-84 range.
The Mavericks winning with a small backcourt surrounding their star and one of the best defensive systems in the NBA may not just be a single season perfect storm. We may see teams trend this way, rather than trying to go out and compile their own version of the Big Three.
June, 23, 2009
6/23/09
5:49
PM ET
Posted by Kevin Arnovitz
It seems like we're privy to more information on draft prospects than ever this year. Want to see how a player shoots the ball? That's simple -- just press play on any number of
workout videos
that are floating around the web. Is a draftee personable?
See for yourself
.
We're inundated with more stuff than ever, yet when it comes to raw data about a player's tendencies, there's still a lot that even most basketball junkies don't know.
Synergy Sports
is on it. They supply sortable video and data to NBA teams, and have been developing meticulous reports on this year's draft class. They were nice enough to send some samples of their research to TrueHoop. These are multiple-paged spreadsheets with evidence plucked straight from video. Here are some highlights of what the reports deliver: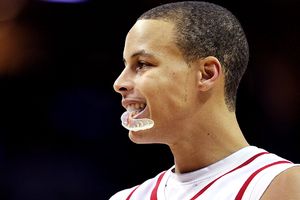 Sophisticated video analysis says: Stephen Curry's isolation skills will translate nicely to the NBA, but he has not proven mastery of the pick-and-roll.
(Streeter Lecka/Getty Images Sport)
Stephen Curry
Isolation plays accounted for 27% of Curry's offense -- more than any other category. Pro point guards who share this distinction include Chauncey Billups and Deron Williams. Curry's 0.95 points per possession in isolation is very strong. As the report points out, "This bodes well for Stephen ... Point guards have the ball most of the time anyway and so a strong isolation point guard is a real plus."
Transition opportunities constituted 24% of Curry's offensive possessions at Davidson. In transition, Curry generated 0.94 points per possession, which is lower than some 2008 prospects coming into the draft, such as Eric Gordon (1.27) and Jerryd Bayless (1.23). The Synergy report says that "this seems to be due to the high number of jump shots he takes in this situation."
Where does Curry need to improve? The pick-and-roll. Curry managed only 0.78 points per possessions -- though the pick-and-roll accounted for only 8% of his offensive possessions. In the 45 instances Synergy studied, Curry went 12-36 from the field, and turned the ball over about a sixth of the time. The pick-and-roll is the linchpin of most NBA offenses. In contrast to Curry, Gordon and D.J. Augustin came into the NBA as proficient pick-and-roll guys in college, which probably helped their rookie campaigns.
Curry was a very proficient as a spot-up shooter (1.19 points per possession), and coming off screens (1.3 points per possession). This presents an interesting dilemma. As a kid trying to morph into a point guard, there will be fewer opportunities for Curry to spot up and come off screens in the pro game.
Blake Griffin
The first thing that jumps off the page in Griffin's report is the percentage of his offense that comes from post-ups -- 44%. To put that in perspective, Al Horford came ouf of Florida with a 43% number, but you'd be hard-pressed to find many amateurs who get out of the 30s. Horford was a bit more efficient than Griffin on the block (1.11 vs. 1.00 points per possession), but Griffin's number is still very strong. As the Synergy report states, "Blake's proficiency in this area will not only produce a high percentage shots for his team when he goes to work on the block, it will also create open shots for his teammates when players are forced to leave their men to help defend Blake's post-ups."
Baron Davis, take note: Griffin's numbers indicate that he moves as well off the ball as any big man we've seen in recent years. He recorded a whopping 1.5 points per possession on cuts. The reports says it all, "This indicates that Blake is active, has good hands, and knows how to score the ball attacking the rim. This is a valuable asset that produces easy scores and cause the defense to track yet another offensive threat. Combine a good passing point guard with Blake and his team will burn the defense in this type of offense."
Griffin will need to spend a lot of time developing his jump shot. He generated only 0.64 points per possession on spot-ups. At Oklahoma, those opportunities accounted for only 2% of his offense, but at the pro level, he can't be an elite power forward without some range.
Griffin is a terrific big man in transition, where he chalked up 1.32 points per possession. The comp here is Brandan Wright, who had similar success on the break at Carolina in 2007-08. If the Clippers can get stops and control the defensive glass (two big ifs), they'll be able to use Griffin to get out of the offensive efficiency cellar -- they finished 30th in the league last season.
Hasheem Thabeet
Would you be surprised to learn that Thabeet was more efficient in the post than Blake Griffin? It's true. Thabeet's points per possession number down on the block, 1.02, was a hair better than Griffin. Post-ups accounted for 36% of Thabeet's offensive possessions.
How did he do it? According to the report, Thabeet was "effective from either block and surprisingly effective from the right block for a right-handed player. Very effective at pinning his man in the post (with defender on the high side)."
Like Griffin, Thabeet's face-up game is nonexistent -- 3% of overall possessions with only a half-point per possession. Unlike Griffin, Thabeet doesn't get out on the break very often (only 6% of possessions), though he converts at a nice rate when he does (a whopping 1.64 points per possession).
When you study the breakdown and the comps, Thabeet's 2008-09 season appears eerily similar to the Greg Oden's single season at Ohio State. Oden got the ball on the block far more frequently, but both Thabeet and Oden generated a lot of their points on offensive rebounds and on basket cuts.
May, 13, 2009
5/13/09
11:39
AM ET
In the course of a month, the NBA champion Boston Celtics have somehow emerged as gritty underdogs. The Magic has that look of the mid-80's Pistons -- a good team that hasn't yet learned how to win. The Lakers stomped on the Rockets and, for a night, answered questions about their resolve. And D.J. Augustin turned "undersized" into an asset.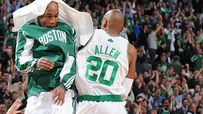 Zach Lowe of Celtics Hub: "The Celtics had to essentially play perfect basketball for nearly six minutes to avoid going on the road down 3-2, and they did it ... Orlando missed six shots and turned the ball over once. Boston made field goals on five of seven possessions and did not turn the ball over. Seven empty trips for one team. Scores on five of seven trips for the other. That is damn near perfect basketball, and the Celtics needed every one of those individual events to go their way in order to win this game. They also needed to make all 21 of their free throws, for the refs to award Ray Allen a three-pointer in the first half when it appeared as if his left foot was on the line, and for two terrible offensive possessions in the last minute (and the C's up 86-85) to end with shots that barely touched the rim and thus produced rebounds that didn't fall where they normally would have -- where Magic players would have scooped them up. They got all of it, and the Celtics are going to Orlando with a chance to be one of the last four NBA teams playing basketball this season."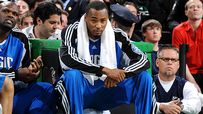 Zach McCann of Orlando Magic Daily: "If you called this the most devastating loss in Orlando Magic history, I wouldn't argue with you. If the Magic lose one of the next two games, this meltdown will go down with Nick Anderson's missed free throws, Shaq's departure and Fran Vazquez as some of the worst memories in the history of this franchise ... With your team up by 10 points in the final minutes of a crucial Game 5, how can you completely abandon everything that's been working all game? The Magic went scoreless on eight consecutive possessions, at a time when just ONE basket probably puts the game away. I understand Dwight Howard can't figure out Kendrick Perkins in the post, but he deserves to be completely ignored? Rashard Lewis was consistently scoring in the first half by attacking the hoop, so the Magic use him as a spot-up shooter down the home stretch? And how many times can we run a Hedo Turkoglu pick-and-roll to the right with everyone else standing around? The Magic played stall-ball, slowing down their offense and hoped there wasn't enough time for Boston to come back. Now, tell me -- when has this plan ever worked? That's how teams squander leads; they stop playing the way that built their lead to begin with."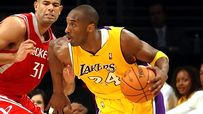 Anup Shah of Rockets Buzz: "For a brief moment, four minutes to be precise, I thought the Rockets had a chance to win this game. Through those first four minutes, the Rockets ran an efficient offense, grabbed offensive boards, and didn't commit a single turnover. And then Kobe Bryant made his first shot. A seven point lead quickly evaporated into an 11 point deficit at the end of the first quarter, capped off by Jordan Farmar's ridiculous three-pointer at the end of the period. The Lakers didn't look back from there. They led by 25 at halftime and by 40 at the end of the third quarter. My thoughts at the beginning of the fourth immediately went to the Nuggets trampling of the Hornets a couple of weeks ago. For a split second, I thought that record might be broken ... For the last 48 hours, all people have been able to talk about was how the Lakers blew it, how they got lazy, how they just stopped trying. And Kobe Bryant wasn't going to let that slide."
THE FINAL WORD
Queen City Hoops: D.J. Augustin -- winning point guard.
Hornets247: Evaluating New Orleans GM Jeff Bower.
By the Horns: Fun with nicknames.

(Photos by Brian Babineau, Stephen Dunn/NBAE via Getty Images)
December, 17, 2008
12/17/08
5:19
PM ET
Last night, D.J. Augustin and his Charlotte Bobcats got the better (thanks in no small part to a bad call) of Derrick Rose and the Chicago Bulls.
It was a tidy little duel between two rookie point guards of note. Augustin -- he of the 29 points on 16 shots, to go with seven assists and just one turnover -- got the win and the street cred.
Rose took the same number of shots. But instead of 29 points, he turned them into a measly six. His seven assists came with three turnovers, a couple of botched late drives, and a loss.

But this was hardly the first time they had met. TrueHoop reader Matt e-mails to point out that round one was a cakewalk for Rose:
The last time D.J. Augustin and Derrick Rose played against each other was their match-up in the Elite 8 of the NCAA tournament. It was pretty memorable because Rose absolutely torched D.J. and led his team to an 18-point victory:


Rose: 21 points (7-10, 7-8 FT), 9 assists, 6 rebounds
Augustin: 16 points (4-18, 6-6 FT), 3 assist, 2 rebounds

Rose's performance was used to demonstrate how far above the rest of the point guards he was. D.J.'s payback was putting up the best game of his NBA career the same night that Rose had his worst.
Clearly, Augustin had something to prove last night. Now, when they play each other again in March, maybe Rose will reciprocate, and we can have the beginning of a nice little rivalry.