July, 13, 2010
7/13/10
3:17
PM ET

By Henry Abbott
ESPN.com
Archive
The Cavaliers' organization got a lot weaker on Thursday. LeBron James' departure was the first part, and
the immolation of Dan Gilbert's credibility
as an owner and leader was the second.
I could go on and on about how the NBA is built on relationships, and the way Gilbert handled this will crush some important ones.
However, when I criticized Gilbert the night of his letter, there was one wrinkle to the story I had not yet appreciated: It got Gilbert a whole bunch of draft picks.
Here's the thing: Even though it's blatantly better roster strategy for a team to sign-and-trade a departing star, it's a move that can make you look terrible with the fans. Before all this happened I wrote about why
I didn't think James would be traded
:
There is a ton of blame out there, but only an ounce or two of all that is aimed at the franchise as a whole, owner Dan Gilbert or current general manager Chris Grant. And that's more or less how it's going to stay, even if James leaves.

However ... if they trade James? Then call up the statue makers, and make room in your Hall of Cleveland Sports Horrors. (By the way, they should really make that.) Because as history will remember it, these two bozos just took LeBron stinking James -- the greatest player in the history of the basketball, the local hero who wrote a book about how much he loved his home town, the luckiest thing that ever happened to Ohio -- and traded him for Hamady N'diaye (or whomever that pick turns out to be).

Through all the bitterness of that departure, there may not be a ton of interest in the details of the Collective Bargaining Agreement. Those basketball fans walking around downtown Cleveland half-drunk and angry are not going to want to hear much about how Sam Presti got Byron Mullens.

And what fans thinks matters. For one thing, the depth of their devotion to the team is a key measure of the franchise's value. For another, Gilbert has poured his heart and his millions into the Cavaliers. It would be a shame if, after all that, one day his obituary includes a line about how he broke the hearts of every basketball fan in the state by putting the Cavaliers on the wrong end of the most lopsided trade in NBA history.
That letter, though ... while it did a lot of bad things for Gilbert, it completely inoculated him from anyone ever saying that he traded away LeBron James. He cemented his place as the betrayed, which gave him carte blanche to take part in a sign-and-trade, because everyone knows without a shred of doubt that Gilbert didn't ship James would leave town. That this was Gilbert's idea is officially crazy talk,
now
.
And in the ten-year analysis, the Cavs' haul from that trade will prove to be more than a little meaningful. The Cavs got two first-round picks, in the 2013 to 2017 range. They also got 2012 second-round pick that originally belonged to New Orleans and another from Oklahoma City, as well as the right to swap first-round picks with the Heat in 2012. Any good front office will be able to derive some real value from all that, and now none of it hurts Gilbert's profile in Cleveland, either.
All that said, I don't think Gilbert's approach was the smart one. But it did have this non-trivial benefit.
July, 12, 2010
7/12/10
11:31
PM ET

By Kevin Arnovitz
ESPN.com
Archive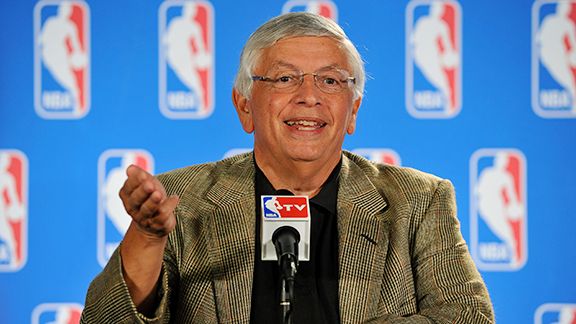 Garrett Ellwood/NBAE/Getty Images
David Stern: Service with a smile
LAS VEGAS -- Last week, LeBron James tipped the balance of power in the league and the NBA revised the 2010-11 salary cap upward to $58.04 million. In a business where celebrity and liquidity are vital to the health of the game, July 2010 has been a monumental month for the NBA.
Summer League, which is usually an exhibition of young talent and a summer schmoozefest for league insiders, has been buzzing with the fallout from James' decision to sign with Miami, followed closely by talk of the looming negotiations over the collective bargaining agreement.
Those two issues were the dominant themes as David Stern's press conferences in Las Vegas following a meeting of the NBA's Board of Governors.
On the James firestorm, Stern offered a series of nuanced qualifiers and condemnations.
On LeBron James: "With respect to LeBron's departure from Cleveland, a couple of things. One, he was certainly entitled to do that. I think he's both a terrific player and a very good person. Had he asked my advice in advance, I might have suggested that he advise Cleveland at an earlier time than apparently he did that he was leaving, even without announcing where he was going, so we could have eliminated that. I would have advised him not to embark on what has been come known as 'The Decision.' I think that the advice that he received on this was poor. His performance was fine. His honesty and his integrity shine through. But this decision was ill-conceived, badly produced and poorly executed. Those who were interested in it were given our opinion prior to its airing."
On Dan Gilbert: "I think that remarks by Dan Gilbert, the owner of the Cavaliers, catalyzed as they may have been by hurt with respect to the manner and the fact for himself, his team, and particularly for the people of Cleveland, though understandable, were ill-advised and imprudent. I have notified Cleveland that they will be fined $100,000 for those remarks under my power as Commissioner."
Whatever misgivings Stern had about James' orchestration of his decision-making process, the commissioner certainly didn't disown the public preoccupation that accompanied the lead-up to the announcement.
"I'm a devout reader of The Sports Business Daily -- and I've never seen so many pages devoted to one subject, not to the World Cup, not to the [baseball All-Star Game], but to the decision and its aftermath," Stern said. "It was just wild."
Stern's remarks about the collective bargaining agreement didn't vary a whole lot from his comments at press conference during All-Star weekend and the NBA Finals. The owners have furnished the players with their numbers. The players don't agree, in large part, with those numbers and the means by which they're being calculated. Stern maintained that the two sides aren't as far apart as the players suggest, but also said, "We're asking for fundamental changes in the system and the players, as Billy Hunter has said publicly, would very much like the present system to continue. So you can fill in the gaps for yourselves on that."
Those gaps are deep chasms. Fundamental change vs. the status quo is a very oppositional duality. Stern has provided the players with numbers that the union believes adamantly are false. The players insist the owners have exaggerated the 30 teams' aggregated losses, the number of teams that are unprofitable and the degree to which they're losing money.
Given that owners across the league have been doling out hefty contracts for the better part of two weeks, Stern was asked to reconcile that free spending with the reported losses in revenue.
"Our owners spend within the system," Stern said. "They're encouraged, praised, and otherwise driven to improve their teams. Of course, they have the capacity. It winds up driving them to unprofitability. They want to change that system so when they get driven to it, whatever they do, there won't be losses. That's all."
Regarding the increased estimate in revenue that nudged the salary cap number higher for 2010-11, deputy commissioner Adam Silver returned to what the owners see as an intrinsic problem in the current system. "Part of the problem with the existing system is it's based largely on revenue, not net revenue," Silver said. "Although our actual revenue numbers were better than what we projected, it came at a large cost. Our teams did a spectacular job in a down economy of increasing ticket sales, but that came at the cost of additional promotions, additional marketing, additional staff."
Most teams -- or at least management -- were ecstatic when the league bumped up the salary cap number by nearly $2 million. The salary cap estimate has been a moving target for the past year, a dynamic that's rarely discussed publicly, but one that's very peculiar. In what other industry do those charged with conducting the day-to-day business operations not know what their tactical budget is going to look like six months from today?
Since last July, the guesstimate of the salary cap has gone from somewhere in the neighborhood of $50.4 million to $53.6 million. Then, in February, Stern announced that the league projected an aggregate loss of $400 million this year after suffering losses of $200 million in each of the first four years of the current CBA. It's worth noting that this proclamation came down during one of the year's two most fluid trade markets -- the February deadline. A rosier $56.1 salary cap estimate was released in April on the eve of the postseason. Then, just after the trade-rich draft period, the league released the surprisingly high actual cap number of $58.04 million.
Skeptics might see the timing of the ever-shifting cap number as a deliberate attempt by the league to retard spending at times when management are most eager and able to spend. The league might respond that such are the realities of the current system. Don't like it? Change it.
Over the next year, that change vs. more of the same debate in the NBA will be as resonant as anything we've seen in a historic election.
July, 9, 2010
7/09/10
12:31
AM ET

By Henry Abbott
ESPN.com
Archive
As someone who spent a fair chunk of time in Daily Dime Live and on Twitter since LeBron James' decision became public, I can tell you that James has been the target of a lot of vitriol.
Dan Gilbert to the rescue.
With one stroke of the pen, the jilted Cavaliers' owner has done James the most extraordinary public relations favor imaginable, by ripping the "villain of the night" trophy right out of James' hands.
I don't know the specifics of Gilbert and James' behind-the-scenes history, and I'm in no position to tell you that James is perfect. But I do know that
the owner's open letter to Cavaliers fans
blatantly lacks class, and will earn far more support for James than for Gilbert.
You know that TV show with Cesar Millan, the dog trainer? I heard him say once that humans are the only animal that will follow an unstable leader. He says this when talking to humans, training them how to act as leaders to dogs. Basically, he's saying to take a deep breath, to be cool, to act with poise if you expect dogs to respect you.
I think the same goes with most people. You want your leader to make sense, and offer comfort and inspiration. Nothing much was called for here. Gilbert could have been silent. Could have wished James well. Could have said he's heartbroken. Instead, he went on the attack, talked some trash, called James names.
This is a terrible night for Cleveland fans. Not only did they lose the best player in the NBA, but they also are now attempting to rebuild with a green GM and an owner who just served notice that if push comes to shove, he'll bail publicly, and profoundly, on his players, no matter how well they've performed.
April, 21, 2009
4/21/09
2:20
PM ET
Boston and San Antonio proudly bounce back in Game Two. Gregg Popovich didn't win coach of the year -- but his disciple in Cleveland did. And how can Philly and Houston possibly top their Game One efforts?: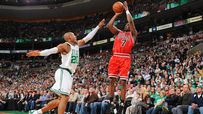 Matt McHale of By the Horns: "You wanted playoff drama, you got playoff drama. This game had everything: Fencing, fighting, torture, revenge, giants, monsters, chases, escapes, true love, miracles ... Okay, okay. That was actually The Princess Bride. But this game sure had its share of fairytale-like elements. A proud but ailing champion. A fierce and determined underdog. Mortal combat. A duel for the ages. And, of course, a thrilling last-second victory. Unfortunately, the Bulls were not the recipient of tonight's happy ending…the Celtics won 118-115 to even this best-of-seven series at one game apiece. But what a wild ride it was. I literally cannot summarize this game. It was way too epic, far too full of twists and turns, a million little momentum shifts and heroic deeds. (I'm pretty sure the live broadcast saved a burning orphanage and walked several little old ladies across the street…maybe even rescued a kitten from a tree.)"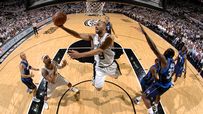 Rob Mahoney of Two Man Game: "Much like Saturday, the Mavs were hit in the mouth early. But all the moments in Game 1 where the team seemed gutsy or resilient were vanquished under Tony Parker's (38 points, 16-22 FG, 8 assists) thumb. The Mavs trapped, they switched, and they hedged…or at least they engaged in defensive sequences that remotely looked like they should have been those things. I'm not sure that Parker is ever fully solvable if he has the mind to drive at will and the determination to break a team's spirit, but it's certainly possible to slow the guy. The Mavs couldn't even accomplish that much, and the myriad of strategies they threw at TP were poorly executed due to technique and personnel."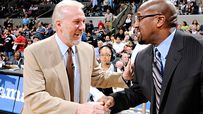 Timothy Varner of 48 Minutes of Hell: "Great people surround themselves with great people. Put differently, Mike Brown was already a good coach when Pop hired him. Pop saw a great coach in Brown, and that's why he was hired. If we're going to tag Pop with genius, it's the genius of discretion. He's been smart enough to surround himself with the right people.
Dan Gilbert understands this principle. He went out and hired smart people from a smart place. He hired Danny Ferry. Danny Ferry hired Mike Brown. Mike Brown hired Hank Egan. When Brown's Cleveland offense was criticized for being too stiff, Brown spent time with Ettore Messina. The Spurs are very careful about maintaining their culture. When they bring in a player or hire front office personnel, they're highly selective. They're looking for Spurs. They're looking for intelligent, professional, hard working, and, generally speaking, good people. Whenever someone new comes in, they're immediately and always surrounded by people who contribute to their success. The story of the Spurs is found in those that follow."
THE FINAL WORD
Celtics Hub: Boston's Game Two adjustments on Derrick Rose.
Rockets Buzz: How can Houston top Game One?
Philadunkia: Can the Sixers maintain the momentum?

(Photos by Brian Babineau, D. Clarke Evans/NBAE via Getty Images)
In an interview with the Plain Dealer's Bill Lubinger, Cavaliers' owner Dan Gilbert addresses the economy, why Mark Cuban is the NBA owner he most identifies with, and why he wants to put a casino next to Quicken Loans Arena.
Gilbert also talks about the team's approach to keeping LeBron James, saying:
A lot of people think "We need an owner who can write a check." There's a lot of owners that write a lot of checks. Some are more frugal than others or whatever, but you really have to create an environment, culture, get the great people, the right people. [And] just as important as getting the right people is getting rid of the wrong people. . . .

Everything's philosophically driven. We just say, "Look, if we can create the best environment, the best franchise, a winning franchise in a city that I think loves its sports teams, then we're in the best chance and opportunity to not only keep our greatest people but to attract others." ... To me, it'll take care of itself.
And I love this quote about Coach Mike Brown:
I think I've interviewed probably 1,500 people in my 24-year business career. There's nobody to this day before or after that I came away more impressed with than this guy. He just had every tool in the toolbox. He's real, he's honest, he works his tail off, he's smart. He's a phenomenal people person. He's got a strong ego, so he doesn't do the things that people that don't have ego do. ...

Let's talk about us being in the finals two years ago. Go take a look at that roster and tell me if we had any business being in the finals. He is as good as it gets and he's only 39.