TrueHoop:

Dante Cunningham

May, 8, 2012
5/08/12
1:25
PM ET

By Beckley Mason
ESPN.com
Archive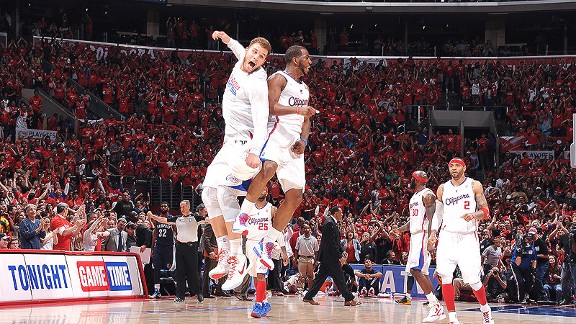 Andrew D. Bernstein/NBAE/Getty Images
Chris Paul is leading the Clippers to new heights.
We had the feeling there would be plenty of Flop of the Night fodder in the playoffs. But we never dreamed that anyone would approach Chris Paul's performance in Game 4.
In what must surely be
the most impressive and ambitious flop
in the history of the NBA, during a dead ball situation, Chris Paul flopped
on a ref
!
After Memphis called timeout, official Mike Callahan moved to get between Paul and Memphis forward Dante Cunningham, who were having a little passive-aggressive dispute over who got to hand the ball to the official. Paul knocked the ball out of Cunningham's hands, and as Paul went to secure it, Cunningham flicked the ball away with his foot.
Callahan swiftly went to separate the two, creating contact that somehow triggered Chris Paul's flop instinct.
Paul's head whip was enough to convince Callahan that the situation was escalating, and he called a double technical foul on Paul and Cunningham.
So to recap: It's a dead ball. Chris Paul flops when a referee touches him. The referee calls a double technical foul.
Paul's control over a basketball game is truly complete.
Meanwhile, on Twitter, the Clippers were cementing a floppy reputation.
July, 22, 2010
7/22/10
12:08
PM ET

By Kevin Arnovitz
ESPN.com
Archive
August, 17, 2009
8/17/09
11:58
AM ET
Posted by Kevin Arnovitz
Henry has delved into the work of John Huizinga and Sandy Weil with great detail. To review, Huizinga and Weil explored whether there's any validity to the conceit that a shooter can "get hot." Through extensive research and data-crunching, their study concluded that there's essentially no such thing as a "hot hand."
Whether you subscribe to the research, or believe that a shooter can feed on the sheer accuracy of his stroke, we can all agree that good shooters drain shots not because "they're hot." That rationale is as tautological as saying that I made the perfect omelet this morning because "I'm a good cook."
A good shooter is successful because he performs very specific mechanical tasks that increase the probability that the ball will fall through the iron. That's where a shooting coach like the Trail Blazers' John Townsend comes into the picture.
Wendell Maxey of Hoopsworld has a nice account of Townsend's busy summer traversing the country to work with Jerryd Bayless, Steve Blake, Dante Cunningham, and Jeff Pendergraph.
Townsend discusses his gentle approach in the context of Steve Blake, emphasizing that the best moment for instruction isn't always when a guy is missing ... but rather when he's on.
"When I got to work with him, he was already a pretty good shooter. He just wants to go up and shoot it. He doesn't want to think about it. I didn't make any changes. I just told him when he's on, why he's on.

"The stuff I do with guys and their shooting is, I wouldn't take your shot and change it. But if you are shooting and there is a stretch where you can't miss; why is that?" John continued.

"There's something different that you are doing for your particular shot. You have to pick and choose your spots. If a guy is off, I might leave him alone. But when a guy is on, that's when I tell him this is what you are doing well. Guys are going to listen to that instead of overhaul things. I'd be a fool to do that. But a change of the feet or positioning of the hands -- and if they like it -- after that I might just leave them alone. I try to think of two things that they can hone in on that will make them a straighter shooter or better feel."
Re-reading these comments from Townsend ("if you are shooting and there is a stretch where you can't miss; why is that?"), I instinctively return to the "hot hand" debate.
Is Townsend lending credence to the "hot hand" theory? Or is he, more precisely, concluding that on the occasions when a shooter appears hot, that accuracy can be attributed to very specific mechanical features in his shot rather than an abstract sense of momentum?
Maxey has a follow-up post at Beyond the Beat, chock full of longer quotes from Townsend on his teaching technique:
On working smarter not harder:

"I used to work with Tony Delk way back when. He had to make twenty-five shots from seven spots. So I said, 'what's the reason for this?' And he said he wants to make twenty-five. So I said, 'eventually what's happening is your first fifteen are great. Your next five are okay, and then you struggle with the last five. So why don't you just do ten and do a great ten, and if you feel good then go back around'. He said he never thought about it like that. A great ten is better than a mediocre twenty-five."

July, 20, 2009
7/20/09
1:55
AM ET
Posted by Kevin Arnovitz
The Las Vegas Summer League is a lot like the Sundance Film Festival of the NBA. Whereas the pageantry of most NBA games has gotten out of control, Summer League games are small indie productions. The event certainly has its share of fanfare, but it also allows participants to brush shoulders with some notables they wouldn't ordinarily have access to during the grind of the NBA season. Just as festival-goers at Sundance might find themselves sitting next to an A-List movie star in a cozy bar, it's not unusual for Summer League attendees to sit down in the stands at Cox Pavilion, only to look over and see a high-profile general manager in cargo shorts and flip-flops.
Since team executives, agents, player development personnel, and veterans who've come to watch their younger teammates are all convened in one place for 10 days, Summer League is one big, casual schmoozefest, and a great place to take inventory of the state of the NBA.
What were all those big names talking about in Las Vegas this year? Here were eight hot topics:
A Lot of Competent Players, but Only One Sure-Fire All-Star

Since early spring, the 2009 talent pool has been regarded as a one-man draft. By and large, NBA folks left Las Vegas with that consensus intact. Blake Griffin was the story of Summer League. Though he wasn't able to replicate his explosive 27-point debut, Griffin's 19.2 points and 10.8 rebounds per game stood out. There were other players who matched his statistical output, but few generated the enthusiasm Griffin did among those who got a look at the full roster of rookies. "It's not only his work ethic and competitiveness," said one scout. "It's the balance, athleticism, body, and control. The stuff he can't do yet? It'll happen in no time." When asked how many certain All-Stars would materialize from the class of 2009, interviewees set the over-under barely above one, with Tyreke Evans earning a few votes. Despite the low expectations for stardom, many observers were pleasantly surprised by the depth of solid, if unexceptional, players. The prevailing opinion in Vegas was that the 2009 group is a far cry from the notoriously fruitless class of 2000. Though there was little unanimity, James Harden, Austin Daye, Wayne Ellington, Jonny Flynn, DeJuan Blair, and Earl Clark were all mentioned as possible contributors, or "third options" as one assistant general manager put it. But conversations about potential greatness consistently and almost exclusively returned to Griffin.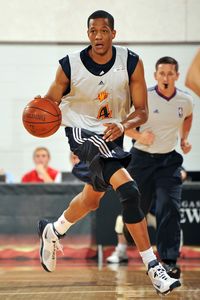 Anthony Randolph: All grown up?
(Photo by Garrett W. Ellwood/NBAE via Getty Images)
Anthony Randolph is Ridiculous

Summer League play always warrants a disclaimer, because the level of competition falls way short of what guys will confront in an NBA game, but the Warriors' 20-year-old forward seemed almost too advanced for Summer League play. Normally jaded execs and crusty sportswriters alike had their jaws agape watching Randolph command the game when he was out on the floor. Randolph came into the league as a candy dish of disparate talents, but he's graduated from curiosity to crackerjack. He has a band of admirers who gush over his range of talents, and that group got a lot bigger in Las Vegas, as his skill set was on full display. Randolph saw the court, ran the floor, passed the ball, blocked shots, got to the line, and drained mid-range jumpers as well as anyone in Summer League. In his four games, he averaged a Summer League-high 26.8 points per game on 60.9 percent shooting from the floor. He also got to the line 39 times and blocked 12 shots. But it was about more than the stats for Randolph. There's a moment when a player's talents unify into a single, coherent package. Judging from Randolph's performance, that moment has arrived.
The Global Economic Crisis
There's an area behind the near basket at Cox Pavilion where European coaches, general managers, and scouts sit and talk shop during the games. The NBA presents Summer League as a showcase of their future stars, but the real business in Las Vegas is being conducted by these guys, along with the agents and bridge-builders who are trying to get jobs overseas for the less recognizable names on Summer League rosters. Although there wasn't a visible black cloud hanging over this corner of the gym, the anxiety was palpable. They had a lot to be stressed about. Basketball clubs the world over are suffering, but none more than those in Europe. After years of escalating salaries and profits, the market has collapsed. "I've told all my European guys to expect, on average, salaries to go down between 30 and 40 percent," one European agent said. "It's definitely a buyer's market." This dynamic puts pressure on everyone -- the players who are facing a pay cut (even if they're coming off banner seasons), the agents who are terrified to communicate this to their clients out of fear of getting fired, and the teams who still haven't filled out their rosters because they're short on cash. The result is an impasse with neither players nor clubs budging, and a few teams on the verge of economic collapse.
Salary Cap Troubles & the NBA Financial Situation
The international game is in meltdown mode, while the NBA game is suffering from its own set of monetary issues. In Sections 104 and 115, where most of the NBA execs and team personnel sit, the dominant conversation of the week was about the financial pinch NBA franchises are feeling. In his press conference here in Vegas, NBA Commissioner David Stern said that fewer than half of NBA franchises made money last season. Ticket sales, sponsorships, and television contracts are all down. With the salary cap and luxury tax level dropping -- and scheduled to do so for the foreseeable future -- teams are having to calibrate their spreadsheets. This affects everyone: owners, general managers who are under pressure to build legitimate NBA rosters, free agents sitting on the sidelines, their agents, and also the journeymen and undrafted rookies trying to earn a spot on an NBA roster. To save money, a team that would normally carry 15 guys might trim that number down to 13 -- meaning fewer jobs. And players who would've inked rich, multi-year deals are finding that, with some exceptions, they have fewer suitors, with thinner wallets.
The Point Guard Class
Several point guards who came to Las Vegas made strong impressions. Jonny Flynn, despite all the turmoil surrounding Ricky Rubio, stood out. Though many in Vegas questioned the wisdom of playing Tyreke Evans at point guard long-term, few doubted that his strength, size, and capacity to get to the rim would make him a scoring machine. Observers had reserved praise for Brandon Jennings and Stephen Curry, the former for his unrefined shot, the latter for looking more like a gunner than a floor general. Some of the mid-first-rounders earned a lot of praise. Dallas' Roddy Beaubois led Vegas point guards in
oohs
and
aahs
, zipping through the lane in traffic and filling it up from beyond the arc. Of all the point guards in Las Vegas last week, Darren Collison was among the most polished before going down with an ankle injury. After starting Summer League 1-for-15 from the field, Ty Lawson bounced back to turn in three dominant performances, averaging 23.7 points over that span. Lawson is the kind of point guard who needs to be surrounded by scorers to excel. He'll have that in Denver.
LO, AI, Booz, and the Blazer
s
As much as NBA fans love speculation about trades and free agency, nobody appreciates the rumor mill quite like the NBA chattering class. Talk of the disintegration of Lamar Odom's negotiations with the Lakers provided plenty of fodder for late-night dinners. The same was true of the
l'affaire
Allen Iverson, where Carlos Boozer may land, and what the Blazers will do with the money they threw at Paul Millsap. The Odom situation was far and away the most intriguing to the insiders. Odom and the Lakers are in the second act of a romantic comedy: They need each other. The Lakers would slip measurably without Odom, and Odom needs the Lakers to solidify his place among the Lakers greats -- or at least the Lakers very, very goods. The Iverson and Boozer matters exemplify the financial issues mentioned above. So far as Portland, few teams run as much informational interference, and even some of the wiliest insiders were stumped about what the Trail Blazers might do.
The Death of the Back-to-the-Basket Game
"Name one guy here who can hit a jump hook over their left shoulder," an NBA assistant general manager asked. "I can't think of one." Whether it's the trickle-down effect of the European game, the rule changes implemented by the league a few years ago, or college teams appropriating Mike D'Antoni-style basketball, the vast majority of the young bigs who were in Las Vegas are face-up players who work either along the perimeter or out of the pinch post: Anthony Randolph, Earl Clark, James Johnson, Taj Gibson, Dante Cunningham, DaJuan Summers, Austin Daye, and even Blake Griffin. Is this a momentary trend, or will the pendulum eventually swing back? "If I were a big man about to enter college, I would develop that back-to-the-basket game," the executive said. The implication: At some point, those skills will be at a premium, and that kid will be impossible to defend. Forward-looking teams are all about buying low and, right now, traditional post players are undervalued because they don't conform to the current climate of the NBA game.

Dysfunctional Organizational Structures Breed Dysfunctional Franchises
What is going on with Minnesota? That was a popular topic of conversation among senior NBA people in Las Vegas. The team still has no coach. Though it had one of the Summer League's most prolific players in Flynn, there's no telling if the system he played in over the 10 days will be the one installed by a new coach -- whoever that might be. This makes the Summer League evaluation process a lot less useful. Who's in charge? CEO Rob Moor? General manager David Kahn? Will the new coach be fully empowered to do his job? Critics also looked at Memphis. How did the Grizzlies end up with Hasheem Thabeet? Because owner Michael Heisley reportedly made the call. The Clippers, too, generated buzz this week with the Iverson speculation. While owner Donald Sterling wants to make a splash with Iverson, Clippers management would like to target Ramon Sessions. These historically beleaguered franchises all have one thing in common: There's no clear hierarchy that allows basketball people to make basketball decisions. The best franchises have well-defined roles that emanate from the top. Owners allow their senior executives to do their job. Those executives give their head coaches full reign, and so forth. Look no further than the San Antonio Spurs.
July, 19, 2009
7/19/09
12:14
AM ET
Posted by Kevin Arnovitz
Jonny Flynn is making his case for Summer League MVP. We tend to forget that college offenses don't run much pick-and-roll. With the help of Garrett Siler, his own personal Erick Dampier, Flynn is getting the kind of open space that makes him lethal. Saturday's Flynn line: 24 points (7-for-10 from the floor, 4-for-5 from beyond the arc, 4-for-4 from the stripe, 4 assists). He's the single most electric guard here in Vegas.
We were deprived of the Flynn-Darren Collison matchup beyond the first quarter-and-a-half, when the Hornets' guard went down with a sprained left ankle. Flynn and Collison traded buckets for the better part of 15 minutes, as we witnessed the best mano-a-mano of the week. Collison plays with a smart combination of patience and assertiveness. He wants to size up the floor before he commits, but then takes direct action once he has. Before Collison went down, he had 18 points on 11 possessions.

Roddy Beaubois: Breaking the speed limit.
(Jack Arent/NBA via Getty Images)

Go ahead and put Roddy Beaubois directly behind Flynn in the pure point guard Vegas hierarchy. Beaubois doesn't need a screen -- just a little spacing around him. He's fearless and will probably kill himself once he encounters NBA centers, but for Summer League, he's a delight. Saturday's Beaubois Line was very Flynnian: 23 points (9-for-12 from the field, 4-for-6 from beyond the arc, 5 assists).
The Bulls have a project in James Johnson. He's capable of moving the ball, looks like a competent defender, but I don't think he's realized what kind of offensive player he is, wants to be, or the Bulls want him to be. He's 12 for his last 43 shots from the field, though he's managed 24 free throw attempts over that span.
Washington deployed trap after trap against Blake Griffin whenever he touched the ball inside of 15 feet. With Eric Gordon sitting out, there was no one else on the floor for the Clippers who warranted any real attention. The Wizards' strategy was effective, as Griffin had his least efficient game of the week: 19 points on 21 possessions, 10 rebounds, four steals against five turnovers.
JaVale McGee should help Washington's frontcourt rotation a good deal this season. He's got so much agility on both ends, a soft touch, and actually knows how to backpedal against a speedy guard coming off a screen. He got the better of DeAndre Jordan tonight and, prototypically, the guys have similar profiles. McGee put up a gaudy line: 19 points (9-for-11 from the field), seven blocks and four rebounds.
Ty Lawson again took matters into his own hands. He went nuts in the first quarter against the D-League Select team with 15 points, and he was more shooter than slasher. Lawson drained five field goals in the period, three of them from long range. He finished with 21 points on 17 possessions.
Jerryd Bayless appears really happy to be playing big minutes -- even if it's only Summer League. He's pressing a little bit, but when he works a simple drive off a high screen, then kicks it to a shooter in the corner, he's successful. Unfortunately, more times than not, it's penetration in traffic, often followed by careless baseline passes.
Benjamin Golliver of Blazers Edge, here in Las Vegas, on Dante Cunningham: "He's been the most pleasant surprise in an otherwise dismal Summer League for Portland. Pitched by Kevin Pritchard as a Travis Outlaw clone, Cunningham has shown a more instinctive, aggressive nose for tracking down rebounds than Outlaw, but clearly doesn't yet have his shot-creating and shot-making abilities. Through three appearances in Vegas, Cunningham has shown that he's fully comfortable -- and quite effective -- shooting face-up jumpers from the elbows and the baseline, even with a hand in his face. He has found those sweet spots by staying in nearly constant motion during offensive sets and by creating space for himself during effective pick-and-pops with Jerryd Bayless. The question that followed Cunningham throughout the draft process still looms: does he have a position? His is the classic three/four tweener dilemma. On offense, his lack of 3-point range forces him to play 4 for the Blazers but his slight frame prevents him from being a true interior threat. On defense, a Blazers scout this week questioned whether he has the tools to guard multi-talented threes or the size to handle physical fours."
DeJuan Blair recorded his second double-double of the week. Gregg Popovich on what he's getting in Blair: "A rebounder and someone who has a high effort level all the time on the boards, and running the floor. He enjoys playing, which is probably his main gift."
Spoke to the vendors at the NBA store here. They don't have any of the rookies' jerseys in stock. Bestsellers among the vets? Kobe Bryant and Chris Paul.
July, 16, 2009
7/16/09
12:17
AM ET
Posted by Kevin Arnovitz
The Knicks' Toney Douglas continued to struggle shooting the ball, but he performed his primary function as floor general quite well. He gave the Knicks what they needed at the point -- game management, penetration and kicking, creating for others, and, most of all, solid on-ball defense at that position. Douglas now has 21 assists to only two turnovers in his two games. Not bad for a guy who started out as a combo guard.

The Pistons' order of the Daye
(Garrett Ellwood/NBA via Getty Images)

Jordan Hill is at his strongest when he's facing up to the basket, but too often he rushes himself when he has the ball in the post. Several times on Wednesday, he lost track of where he was on the block, then flung an off-balanced shot up from close range. Hill also seemed a little passive as a post defender, even against the likes of Trent Plaisted. Hill stayed in close proximity on defense to his assigned man, but rarely tried to knock his guy off his spot. In general, the closer Hill was to the basket, the less comfortable he was.
You have to love a player who's useful at any spot on the court. Austin Daye is that guy for Detroit. He's a new wave three -- able to work as the ballhandler on the pick-and-roll, drive to the cup from the perimeter, post up against most small forwards, use a screen the right way, and hit from long range. Against the Knicks on Wednesday, he finished with 27 points and 13 rebounds.
DaJuan Summers was the butter and egg man down low for the Pistons. I can't quite figure out whether to classify him as a small or power forward. IMG's Mike Moreau referred to him as a "Power 3." Whatever he is, Summers continued to leverage his ability to face up for opportunities to get inside. There's a lot of offensive weaponry there, and he can clean the glass, too. His scoring line: 24 points on 9-for-15 shooting from the field, and 5-for-7 from the stripe.
Joe Alexander did a much better job off-the-ball finding space on the floor where teammates could hit him for open looks -- not just on the perimeter, but in Scola-territory along the baseline at 15 feet. The Alexander-Taj Gibson matchup was an interesting one and it was anything but a pitching duel. Alexander finished 9-for-16 from the field, Gibson 6-for-9. Gibson was able to exploit his length against Alexander, while Alexander used his versatility and triple-threat skills to beat Gibson. Meanwhile, Gibson became the second player in Summer League to rack up 10 fouls. The Spurs' Ian Mahinmi was the first Tuesday against Denver. Gibson now has 19 fouls in two games.
Summer League is the perfect setting for an athlete like Amir Johnson to show off his wares under the basket. Johnson was an efficiency machine inside for the Bucks: 17 points on 11 possessions, along with eight rebounds. He owned the paint, gobbling up offensive boards, going up strong with the putbacks, either converting or getting fouled (11 free throw attempts for the game). Defensively, he was smart and physical, blocking shots and igniting breaks with sharp, quick outlet passes to Brandon Jennings.
After sitting out Phoenix's first Summer League game on Monday with back spasms, Earl Clark displayed his full range of skills in his inaugural effort on Wednesday. He initiates the bulk of his offense along the perimeter, but he can do so many things from there to disarm the defense: a pretty touch pass into the post off a dish from his point guard, a catch-and-shoot, a dribble drive and pass-off that results in a hockey assist. He also showed his defensive flexibility, bothering guards and bigs alike.
DeMar DeRozan is far more polished than advertised. He uses his quickness to build his game. As Mike Moreau said in David Thorpe's twitter thread, "Demar DeRozan really comes off the curl with speed, balance and elevation-very controlled. Will come off a decade's worth of pindowns." He also rarely takes a bad shot -- uncommon among rookies and in Summer League, and particularly uncommon among rookies in Summer League.
Jason Thompson was an entirely different player Wednesday. He claimed his spot down on the block, called for the ball, forced the action off the dribble, made hard back cuts when he was fronted, backed his guy in with force when he wasn't, and worked his tuchus off on the offensive glass. His totals: 31 points and 10 rebounds.
Tyreke Evans didn't start for the Kings against the D-League Select team, and was very deferential when he checked in at the start of the second quarter and throughout the second half. He went 1-for-5 from the field, 3-for-4 from the line, with three assists in 23 minutes. Despite the off night, the change of speed on his dribble-drives was still ungodly.

Chase Budinger has a beautiful stride into his catch-and-shoot motion -- we know that -- but Wednesday night he also showed the athleticism to put it on the deck, weave through traffic, and finish strongly. He moved well without the ball to get open looks, and even absorbed a few bumps on defense to stay in front of his man, something he'll have to do this fall to stay in the Rockets' rotation.

Andray Blatche continues to be one of the most confounding talents in the league. He flashed moments of sheer dominance Wednesday night with swift, whirling post moves off good recognition that made his defenders look silly. At other times, he tried to improvise and failed spectacularly. Blatche could be a top-shelf talent, but his preference for raw instinct over tactical strategy on a given play renders him inconsistent. He needs a plan. Still, between the potent face-up game at the top of the key, and the fancy footwork and explosiveness down low, it's hard to take your eyes off him. Let's see how he fares this season against NBA talent.
Dante Cunningham: NBA body, NBA aggressiveness, NBA defense ... NBA player? He didn't put up the most efficient line of the night (22 points on 23 possessions), but his physicality made the Rockets' defense work. He often chose to back his defender in with a dribble or two, then launch a mid-range jumper with good elevation. When he recognized there was something better, he'd build a head of steam and get to the rim. More than anything, he was out there with a purpose, moving with the offense, mindful of where Jerryd Bayless was at all times.
July, 14, 2009
7/14/09
1:46
AM ET
Posted by Kevin Arnovitz
The best pure passer in Las Vegas this week? Try Walker Russell, Jr. from the D-League Select team. Russell lives for threading needles, lobbing alley-oops, dishing on the break, and swinging skip passes to the weak side. He couldn't care less about his own shot. There are 150 players here this week with more electric games than Russell, but few of them are more enjoyable to watch, and none of them are having more fun on the floor than Russell.
Ahmad Nivins looks like a pro player -- long, muscular, athletic, and coordinated. The but that usually follows this profile is ... lacks fundamentals, or doesn't have a post game. With Nivins, though, that doesn't appear to be the case. He displays good footwork, moves around the floor with purpose, and is a beast on the boards. When you ask folks here why he dropped to No. 56 in the draft, you get a lot of shrugs, followed by a soft endorsement of his skills. He's had a nice week thus far -- 14 points and 6 rebounds per game on 51.6 percent shooting from the field. The only apparent drawback is that he looks waaaay too wound up on the court, and that intensity occasionally works against him.
Funniest moment of the day came before the first ball was tipped. In the opening introductions of the Timberwolves-D-League Select team, Wayne Ellington was introduced as hailing from Duke. As Ellington trotted onto the floor, he did a double-take -- Whaaa?! -- then cracked a big smile as the public address announcer corrected himself, noting that Ellington went to North Carolina. "That was ridiculous!" Ellington said of the PA's snafu. "I had to go over and say something to the guy."
Kurt Helin watched the Pistons-Warriors matchup. Looks like Stephen Curry is fitting in just fine with Golden State's system: "[Curry] is a gunner to the point of recklessness - but what fan doesn't want to see that. He has not met a shot he didn't like. Making said shots... well, maybe that will come with time. He was 4 of 14 in his first game, 8 of 22 in his second, 7 of 19 in the third. In case you're not up for the math, that is 34.5%. He's better from three - 39 % - and tends to drain those if you leave him open. Not only do the fans not care, neither do the coaches. 'The shots he's missing now he will make soon, he's learning to make decisions,' said Keith Smart, who coaches the Warriors Summer League team. You can see how Curry could fit well as a point guard - a shoot-first point guard, sure, but he has the ball handling skills and made some good decisions trying to set up teammates. In the third game, with some Warrior regulars around him, Curry was clearly trying to set people up. Of course, then he would jack up a 28-footer."
Blake Griffin was the story of the evening for the Clippers, but DeAndre Jordan continues to flash glimmers of hmmmmm. He went 8-for-9 from the field against the Lakers in 27 minutes. Jordan was on the receiving end of some alley-oops, but he also worked the post for a few of those buckets, something he had trouble doing effectively last season. It wasn't all pretty for Jordan -- four turnovers, and an 0-for-5 night from the line. But when he slows down and works deliberately (but assertively), his athleticism is a tough matchup for 95% of the bigs in the league.
David Thorpe had an interesting tweet-servation about Griffin that, at first, seems counter-intuitive, but makes a lot of sense when you watch the rookie up close: "Griffin is a special athlete. Not because of his explosiveness. It's the combination of athleticism, power, balance, and coordination."
Jerryd Bayless has a Summer League scoring title to defend, and he got 22 points in his first game. His seven assists and eight free throw attempts are probably more important to the Blazers' brain trust.
Dante Cunningham put on a show for the Trail Blazers faithful (who, needless to say, travel well), from Joe Freeman of The Oregonian: "While general manager Kevin Pritchard and coach Nate McMillan scrutinized Bayless from the stands, Cunningham stole a lot of their attention. The second-round pick from Villanova started at power forward and showcased a nice midrange jump shot, a nose for the basketball and sturdy defensive prowess. He finished with 21 points and nine rebounds, making 8 of 17 field goals and 5 of 6 free throws. After the game, he was chosen to man an autograph zone in the lobby of the arena, where he scribbled his name on jerseys, shirts and hats and posed for pictures with fans -- many of whom sported Blazers jerseys. 'If he can knock that (midrange shot) down consistently, he's going to be a player,' McMillan said. 'And I think that's going to come. His rotation and everything is good. He just needs to keep shooting when he's open.'"
I didn't get a chance to see the Kings-Bucks game, but Tyreke Evans put up eye-popping numbers that had the campus abuzz: 33 points, 9 rebounds, 7 assists. What's more? 19 free throw attempts, 17 of them successful. Evans is the most physical guard in Las Vegas this week (with Eric Gordon coming in second).

The Warriors have Anthony Randolph and Anthony Morrow mic'd up for Summer League games.