December, 29, 2009
12/29/09
10:47
PM ET
By Marc Stein

Jason Hart was going to be traded Tuesday by the Minnesota Timberwolves.

The only question was where: New Orleans or Phoenix.

As a story that appeared briefly on the Timberwolves' Web site earlier in the day confirmed, Minnesota was convinced that it had a deal with the New Orleans Hornets to send Hart to the Hornets in exchange for Devin Brown.

But Brown was able to block that deal from going through, much to the disappointment of the tax-conscious Hornets.

Sources with knowledge of the teams' discussions told ESPN.com that Brown and agent Mark Termini refused to reduce the amount on the 10-percent trade kicker in Brown's $1.1 million contract. Brown was not asked to waive the whole kicker, sources said, but the trade math on a deal with the Hornets would not work unless Brown consented to forfeiting some money.

Brown, though, would have been giving up a starting spot as well as the cash. He's started 23 of his 25 games this season and didn't know what sort of playing-time situation awaited in Minnesota.

The appeal for the Hornets was Hart's non-guaranteed contract. They planned to waive him immediately just as Phoenix is planning to release Hart on Wednesday after the Suns capitalized on the collapse of the Minnesota-New Orleans deal to send Alando Tucker, cash and a conditional second-round pick to the Wolves for Hart.

Meanwhile . . .

The big-picture takeaway from all of Tuesday's drama surrounding a seemingly minor deal is that it's yet another example of the pressure -- some would say desperation -- New Orleans is feeling to get its payroll beneath the $69.9 million luxury-tax threshold.

The wing positions have been major trouble spots for the Hornets all season, but Brown entered Tuesday's play averaging 10.0 points in just 23.4 minutes per game while shooting a solid 41.1 percent from 3-point range.

Yet the Hornets are currently $3.3 million over the tax line and remain prepared to send away Brown in a deal that brings back no guaranteed money, as seen over the summer when New Orleans felt it had to essentially donate Rasual Butler to the Los Angeles Clippers because of the tax benefits.

There is a belief among some rival executives -- or perhaps it's more accurate to call it a hope -- that the Hornets will not be able to resist moving All-Star forward David West before the Feb. 18 trading deadline to ensure that they get comfortably under the tax threshold.

New Orleans' preference would obviously be moving out player(s) from its list of veterans with contracts that stretch beyond this season. That list presumably includes Emeka Okafor, Peja Stojakovic, James Posey, Mo Peterson, Darius Songaila and Julian Wright.

But a major shakeup with the Hornets would appear highly unlikely without involving West, since we know (as covered in this cyberspace last week) that they're not trading Chris Paul.
April, 1, 2009
4/01/09
11:21
AM ET
An improbable ending in Sacramento for the Hornets, an improbable W for the Bobcats against the Lakers, and an improbable comeback for a former prodigy. Factor the improbabilities at the TrueHoop Network: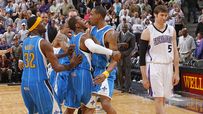 Niall Doherty of Hornets247: "It was one crazy finish in Sacramento. In the final three minutes, we had Hilton Armstrong and Devin Brown miss four free throws, Rashad McCants and Francisco Garcia hitting long J's to keep the Kings in it, a fit-for-a-wheelchair David West converting a three-point play off a bullet feed from Chris Paul, an amazing block by Garcia on CP's fast break layup, followed by some awesome transition defense by Julian Wright to prevent an easy two by Andres Nocioni. The Kings then reset and Beno Udrih threw in an off-balance, sideways runner to put them up two with 1.7 seconds left. Plenty of time for Garcia and Nocioni to miscommunicate on a switch and leave Butler all alone for three. I'm not sure my elderly neighbor on oxygen support appreciated my screaming Rasual [Butler]'s name and jumping around my living room at 11:45 p.m. on a Tuesday night."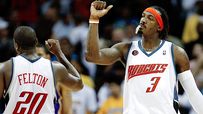 Brett Hainline of Queen City Hoops: "The Bobcats are giving Charlotte a playoff race and took the opportunity to knock off one the league's top teams and most popular players -- and the city is started to get excited ... There was a lot to be excited about last night: Gerald [Wallace] had what is becoming a routine game for him, but that makes it no less exceptional ... Boris Diaw did what he does best, creating for teammates: 12 assists for Boris and just 1 turnover, including handful of 'how did he make that pass' plays. Against the bigger frontcourt of the Lakers, Boris recognized it was not a game for him to try and score a lot of points in the paint -- but that didn't stop him from finding opportunities for others there ... Charlotte got everything it wanted last night: A win, a Detroit loss, and a Chicago loss. That puts the Cats a game out of the 8th spot and just 2 back of 7th. With a game against both the Bulls and Pistons left ... well, last night may not remain the biggest game in Bobcats' history for long."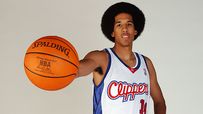 Rob Mahoney of Hardwood Paroxysm: "The underlying sentiment of most [Shaun] Livingston stories will parade his rehabilitation, and rightfully so. From that injury to what we can only hope is a full-time comeback, Shaun has come a long way. At the core of this story is disappointment and redemption. Strength, will, and resiliency. But what Shaun represents isn't a moral-of-the-story tagline or cheesy documentary featurette on the power of the human spirit. Livingston, as much as any player, is hope. Hope that a lanky, awkward 6′7" point guards can rule the league. Hope that injured players can return to their previous form, even if that form was but a point on the slope to an undetermined end. Hope that some players will realize that braids may not be for them, and that they look better with short hair ... Acquiring a hardly proven, injury-ridden point guard has never made so much sense."
THE FINAL WORD
Celtics Hub: Boston's clutch offense -- apart from the Big Three.
48 Minutes of Hell: It's about time for the Spurs to settle on a rotation.
Forum Blue & Gold: Mark Cuban buys the Lakers ... via Twitter.
(Photos by Rocky Widner, Streeter Lecka, Juan Ocampo/NBAE via Getty Images)