November, 27, 2013
11/27/13
9:11
AM ET
By Daniel Nowell
Special to ESPN.com
Archive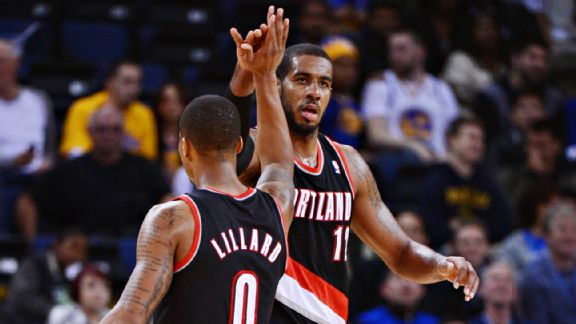 Kyle Terada/USA TODAY SportsPortland has an NBA-high 13 wins, and, more importantly, has figured out a game plan to win more.
It's been three weeks since the Trail Blazers lost a game. That's not much time, but it's enough to obscure the many questions that Portland seemed to carry into the early season. New players, middling attendance, a defense that seemed like a work in progress -- even as the Blazers squeezed out wins against a few overmatched bottom-feeders, their unknown variables seemed about equal to their known quantities. This was a season, it seemed, when the Blazers would test the timber of their core before deciding whether they had a collection of assets or a functioning and coherent team.
General manager Neil Olshey
said as much before opening night
to ESPN.com: "Upon conclusion of the 2014 season, we will know whether or not we have reached the fork in the road," Olshey said. This season was to be an evaluative foray, a fact-finding mission, an effort to determine whether the Blazers were in transition or had staked themselves to a present tense. Three weeks has been enough time to answer that question. These Blazers are no starter kit for tomorrow's franchise: They are a competitor unto themselves.
The shape of that competitor is a testament to the flexibility that seems to infuse the organization from Olshey down. The Blazers have a roster full of jump-shooters; they are second in the league in field goal attempts beyond 15 feet. Their frontcourt features willing but somewhat slow-footed defenders; coach Terry Stotts restructured pick-and-roll defense to allow the bigs to drop into the paint against penetration. They are bombing away without reserve, sticking to their principles on defense and showcasing the potency of a team that refuses to get hung up on potential limitations.
[+] Enlarge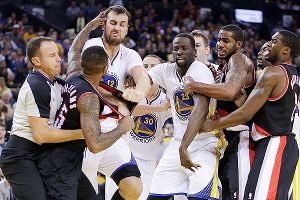 AP Photo/Ben MargotThe Trail Blazers have successfully stood their ground against top-tier teams like the Warriors.
In fact, let me cut to the chase here and say that what is most striking about the Blazers' current success is the way it reflects the team's embrace of its own character. The differences between this team and the team that last season won 33 games are differences of degree, not kind. Those Blazers also bombed away in a free-flowing offense. Those Blazers, too, were marked by a kind of quiet, self-possessed locker room character. The veterans added this past offseason -- Robin Lopez, Dorell Wright, Earl Watson, Mo Williams -- were brought in less to reimagine the team than to fill in the gaps and serve as an extension of how Nic Batum, Wes Matthews, Damian Lillard and LaMarcus Aldridge were already playing. With that kind of support, the core of the team is able to embrace its own style, play without anxiety and carry itself without defensiveness.
I've spent a lot of time this season trying to draw admissions of epiphany from various Blazers, to get some quote describing a collective realization that this team is taking a step forward for the franchise. That's a bit of a sucker's bet in any locker room, and doubly so among this group. The players offer brief acknowledgements of the team's maturity, of the infusion of veteran habits into a locker room dominated by youth and inexperience. These acknowledgements hover somewhere between standard lip service and conference-room-poster copy. Implicit in the Blazers' unwillingness to explain themselves is a plea to let their play talk for them, but still they occasionally slip up and reveal themselves in front of a microphone.
On Saturday, the Blazers traveled to Golden State and salvaged a win out of what was shaping up to be a listless performance. Trailing by 14, Portland was ignited when an altercation between Andrew Bogut and Joel Freeland turned into a full-team scrum, resulting in the ejection of Matthews, several fines and the suspension of Williams. The Blazers stormed back after the shoving match behind a 15-point, nine-rebound fourth quarter from Aldridge. After the game, the power forward offered the following: "This team has a different feeling" than previous teams. "I wouldn't say easier, but we just blend better."
I hold it as a rule that any time a person prefaces a statement with "I wouldn't say," he would indeed say. And "easier" is a telling word for a player who has spent so much of his time in Portland under scrutiny. Last season, Aldridge fended off constant inquiries about whether he takes too many jump shots. Over the summer, rumors about his desire to stay with the Blazers swirled until Olshey put them to bed with
no small amount of exasperation
. Being scrutinized in a small, demanding market has not always been easy for Aldridge, and he wouldn't say that it's easier this season, except that it plainly is.
And so he's free to play his game, doing his damage from midrange and mixing in bullish post-ups. He's leading the league in attempts from 15-19 feet while making a mockery of any doubts about his toughness with 35 rebounds in his past two games. With license to blend strength and finesse in whatever proportion he sees fit, Aldridge played himself into Western Conference Player of the Week honors this past week. And when you dig into the statistics, it appears that each of Portland's key contributors has been similarly liberated.
Batum has been allowed to fully indulge his preference to make plays for teammates, and he's averaging more assists (five) than any forward not named Kevin Durant or LeBron James. Matthews likes to get his shots within the flow of a game rather than from stricter play calls -- he's seventh on the team in usage rate, but second among guards leaguewide in effective field goal percentage. Lillard trails only Stephen Curry in attempts from 3. At every position, there is statistical evidence that the Blazers have been empowered to play to their strengths. If they want their play to speak for them, the message is clear: They know who they are, and they won't be pressured out of playing their game.
The only question is whether that comfort bred success or vice versa -- after all, it's easy to be vindicated in your habits when the result is 11 straight wins. But that tautology works both ways, and the Blazers now know that sticking to their game as individuals can translate into sustained team success, which is powerful knowledge, indeed. There will be regression, and injuries and other obstacles that will test the Blazers in ways they haven't yet been tested, but three weeks of winning has confirmed that being themselves is a winning recipe. That's a valuable lesson to learn this early and one that will matter a great deal more than hot shooting come playoffs.
July, 13, 2012
7/13/12
11:04
PM ET
By Ryan Feldman
ESPN Stats & Info
Archive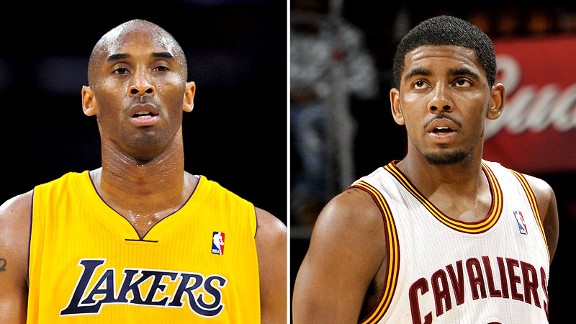 Getty ImagesKyrie Irving challenged Kobe Bryant after a Team USA practice to a game of one-on-one.
Who would win a one-on-one matchup?
Kobe Bryant
or
Kyrie Irving
?
Irving challenged Bryant to a one-on-one game with the loser donating $50,000 to charity.
In order to analyze this hypothetical matchup, let's take a look at how each player performed last season on various play types that represent pure one-on-one situations using Synergy Sports Technology.
SINGLE-COVERED ISOLATION PLAYS
OFFENSE
The majority of a one-on-one matchup between two guards would likely be comprised of single-covered isolation plays.
Irving scored the second-most points per play on single-covered isolation plays last season of the 63 players with at least 100 plays, trailing only
Chris Paul
. Of those same 63 players, Kobe ranked 21st. Irving shot 49 percent, while Bryant shot 38 percent.
DEFENSE
On defense, it's a different story.
Of the 99 players to defend at least 75 single-covered isolation plays last season, Kyrie allowed the third-most points per play. Only
Steve Blake
and
Dorell Wright
were worse. Of those same 99 players, Bryant ranked 24th. Kyrie allowed opponents to go to the free throw line 15 percent of the time, the sixth-highest percentage, while Kobe only sent opponents to the charity stripe on six percent of those plays, the 10th-lowest percentage.
SINGLE-COVERED POST-UP PLAYS
OFFENSE
Irving only had nine single-covered post-up plays last season, but he was very effective on those nine plays, shooting 5-of-9 (55.6 percent) with no turnovers or free throws.
Although a small sample size, Irving's 1.11 points per play on single-covered post-up plays was better than Bryant's 0.94.
Of the 225 players with at least nine single-covered post-up plays last season, Irving scored the sixth-most points per play, while Bryant ranked 53rd.
Kobe's most effective post-up move is facing up from the right block. Of the 31 players with at least 20 of those plays, Bryant had by far the most points per play (1.46) and highest field-goal percentage (71).
DEFENSE
Neither player spent much time defending single-covered post-up plays, but when they did, Kobe was more effective. He held opponents to 28 percent shooting and the ninth-fewest points per play of the 265 players to defend at least 25 single-covered post-up plays.
Of those same 265 players, Kyrie ranked 63rd in points per play allowed. He held opponents to 38 percent shooting. Irving's strength defending those plays was the ability to not commit fouls. His opponents only reached the free throw line on five percent of those plays, the 13th-lowest percentage. Kobe's opponents got to the free throw line 15 percent of the time, which ranked 189th.
JUMPERS OFF THE DRIBBLE
OFFENSE
Kobe gets the edge in jumpers off the dribble. He shot 40 percent, which ranked 26th of the 95 players with at least 100 jumpers off the dribble last season, while Irving shot 35.3 percent, which ranked 62nd. In effective field-goal percentage, which factors in 3-pointers as well, it's a little closer. Kobe was 41 percent (ranked 42nd), while Kyrie was 40 percent (52nd).
DEFENSE
Kobe held opponents to 33 percent shooting on jumpers off the dribble last season, the 24th-lowest percentage of the 157 players to defend at least 100 jumpers off the dribble. Irving's opponents shot 42.2 percent, which ranked 133rd.
November, 10, 2011
11/10/11
1:40
PM ET

By Kevin Arnovitz
ESPN.com
Archive