November, 22, 2013
11/22/13
12:33
PM ET

By Ethan Sherwood Strauss
ESPN.com
Archive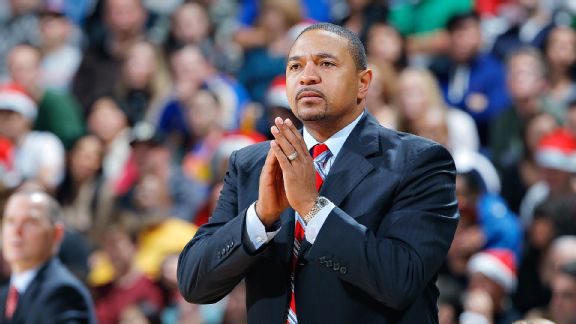 Rocky Widner/NBAE/Getty ImagesMark Jackson: The lay preacher.
Name
: Mark Jackson
Birthdate
: April 1, 1965
Is he an emotional leader or a tactician?
Outwardly, he's an emotional leader, and it's how he sold himself upon arrival. In last year's playoffs, a camera captured Jackson telling his team, "I love you."
Jackson preaches, quite literally. The ordained pastor uses religion in the locker room to connect with his players, and isn't averse to thanking God for his team's success.
He also sells confidence. You could even call Jackson a swaggering braggart. He's positive where other coaches are negative, often talking up his team's abilities in the hope that messaging will elevate internal expectations.
Jackson isn't opposed to sly tactics, though. He likes to employ the unexpected trick, like guarding an inbounds pass with Andrew Bogut while zoning up the 3-point line, or calling a sideline buzzer-beater shot for Andre Iguodala as the opposition focuses on Stephen Curry and Klay Thompson.
Is he intense or a go along-get along type?
Somewhere in between, as he's transitioning from the latter to the former. Though habitually sanguine in the appraisal of his team, something has soured of late. He's been quite frustrated and quite critical of his bench players this season. They aren't playing well and Jackson is tiring of their lack of production. He's calling them out publicly.
No matter how viciously Jackson skewers his team, it'll stay rated-PG. He insists that he hasn't cursed in over a decade.
Does he rely on systems, or does he coach ad hoc to his personnel?
It's been ad hoc and the results have rewarded that flexibility. Here's one example. The Jackson Warriors began with a defensive scheme that included big men who hedged high on pick and rolls. Eventually, the coaching staff decided that David Lee and Andrew Bogut were too slow for such a system. Golden State has played competent defense ever since they adopted a new scheme, one that's predicated on the big men slinking back towards the paint.
Does he share decision-making with star players, or is he The Decider?
He is more the Decider, in part because so many of his players are young. This may change as his guys get veteran experience.
For instance, to hear Curry tell it, he'd prefer guarding the other team's primary ball handler. Jackson overrides that preference and hides Curry on the opposition's worst offensive perimeter player. Though a superstar, Curry's opinion generally doesn't dictate what the team does. After years spent as a "coach on the floor" kind of point guard, Jackson remains in control of his team's in-game approach.
Does he prefer the explosive scorer or the lockdown defender?
Here's one way to answer that question: David Lee's playing time has never been in jeopardy.
Does he prefer a set rotation, or is he more likely to use his personnel situationally?
He's preferred a set rotation, but such preferences are often undone by the reality of running an injury prone team. Also, the recent Golden State bench woes have forced Jackson to scramble for answers. It's easier to embrace a set rotation when you can rely on bench stalwarts like Carl Landry and Jarrett Jack. Expect more mixing and matching from Jackson in 2013-14.
Will he trust young players in big spots, or is he more inclined to use his veterans?
He trusts young players more than any other coach, perhaps. He started rookies Harrison Barnes and Festus Ezeli last season. Draymond Green, whom Jackson effusively praises, received a lot more playing time than your typical second-round rookie. So long as the young player is practicing well, he's afforded the larger stage.
Is he an advanced stats guy?
Yes, but reputedly by accident. Jackson won't admit to letting analytics dictate his actions, but his actions often agree with the stats. He likes leaving players in the game after they've incurred foul "trouble." He likes when his players fire up 3-pointers immediately off offensive rebounds. He sometimes lets his team run the final play without a timeout to guide them. If Jackson comes about these sound decisions by accident, it may be because bad coaching decisions skew fearful, and Jackson isn't a fearful coach.
Are there any unique strategies that he particularly likes?
The Warriors run a lot of floppy action (two guards crisscrossing under the basket, off the ball) to get into their sets. Jackson ran this as an Indiana point guard and he's made good use of it in Oakland. Curry and Thompson race through the kinds of staggered screens the Pacers once deployed to spring Reggie Miller, whom Jackson remains close friends with.
Golden State has adopted an action called "the split game" where they often force defenses to make a quick decision between guarding a cutting Iguodala or guarding Curry as he pops out for a 3-pointer. They also love to free Curry for semi transition 3-pointers with screens above the arc. The most eye-catching Warriors play is "Elevator Doors," where Curry or Thompson race between two Warriors bigs as they converge to create a massive two-man screen.
Golden State's execution is more unusual than the particular play calls they use. It's upside-down world, where big men can push fast breaks and shooting guards regularly punish defenders in the post. The latter strategy is designed to hurt teams that guard Curry with someone other than their smallest player.
What were his characteristics as a player?
Jackson's stocky frame did not belong in the NBA. He excelled due to vision, guile and a bruising post game. Though a pious man, he would wildly celebrate his successes. Jackson's celebration of choice was the loose shimmy, which you'll occasionally see Curry break out as an homage.
Which coaches did he play for?
Rick Pitino, Pat Riley, Larry Brown, Larry Bird, and Jeff Van Gundy are the heavy hitters. He also had an ill-fated stint under Jerry Sloan that ended amid a lot of speculation over whether Jackson turned the team against John Stockton.
What is his coaching pedigree?
Nothing, nothing at all.
If basketball didn't exist, what might he be doing?
He's already an ordained pastor. Should Jackson leave coaching in the near future, expect him to mix that with his old announcing job.
---
The spirit of the 1984 Bill James Baseball Abstract was summoned for this project
.

November, 7, 2013
11/07/13
10:28
AM ET

By Ethan Sherwood Strauss
ESPN.com
Archive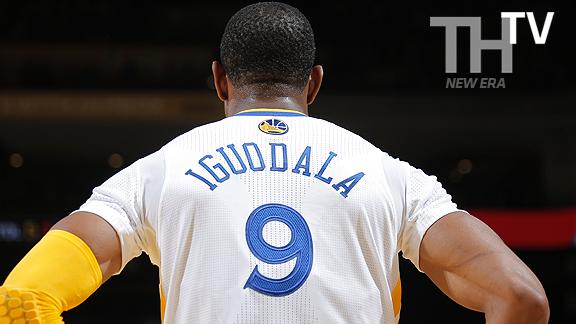 Go ahead, laugh at the headline. It sounds ridiculous on its face, given that the last time Golden State finished better than 10th in defensive rating was 35 seasons ago. One could argue that Jimmy Carter's presidency bookmarks the latest instance of a "good" Warriors defense.
Maybe it's not the past that makes you laugh. Maybe it's that All-Star
David Lee
and superstar
Stephen Curry
have suffered noted defensive struggles. Maybe it's that the Warriors recently played a hyped, nationally televised game wherein the Clippers scored 126 points.
It all hides what's probably the greatest collection of defensive talent out West. Through five games, the Warriors rank behind only Indiana in defensive efficiency. Their rating would probably be better if not for a slew of comically sloppy turnovers that became
Blake Griffin
dunks last Thursday. It's just five games, yes. But don't be shocked if this trend holds over the entire 82-game slate.
It starts with Andre Iguodala and Andrew Bogut, both elite defensive players at their respective positions. Building a bad defense that involves Bogut and Iguodala would probably take more effort than building a good one. So long as both are healthy, the Warriors' defense should be healthy.
Iguodala shores up the exterior and Bogut protects the rim. The shooting guard works in the shadows and margins of the Warriors' perimeter D. A fan might not notice how he's shading an offensive player a certain direction, or how he's swiveling through a screen. Defense is a percentage battle, and Iguodala is looking to play the probabilities over time. Over the course of 40-plus minutes, process trumps results for him. Such efforts rarely get widespread praise, but they do result in team success. The last time an Iguodala squad performed better on defense with Iguodala off the court was
2006-07
.
In contrast to Iguodala's style, Bogut is a pronounced defensive presence. Your eye is drawn to the rim, where the Golden State center often blows up the play
with no regard for human foul trouble
. He's a confrontational defender, occasionally prone to latching one mitt on a driving player as the other hand chops at the ball like an overhead smash. Bogut is healthy again (for now), looking svelte compared to last season and, frankly, appearing to be the dominant defender Milwaukee never would have traded back in 2010.
On the perimeter,
Klay Thompson
mirrors some of Bogut's aggression. Though Thompson sometimes suffers lapses in concentration off the ball, he's a physical, dogged man-to-man defender. Both he and Iguodala can guard anyone from point guards to small forwards. Their skill and versatility spares Curry a lot of tough matchups and a lot of foul trouble.
Marreese Speights aside, the bench is stacked with plus defensive players. It's nearly the only thing Jermaine O'Neal can do well at this juncture of his career. Defensively,
Harrison Barnes
looks like the next Iguodala, only taller.
Draymond Green
is a large and mobile wing.
Toney Douglas
gave Stephen Curry fits
before finally joining the Warriors.
Kent Bazemore
is an athletic shooting guard whose wingspan stretches wider than Kevin Love's.
Given the Warriors' embarrassment of defensive riches, defining the team defense by citing the shortcomings of Stephen Curry and David Lee doesn't make a lot of sense. It'd be analogous to defining their thrilling "Splash Brothers" offensive attack by Bogut's hopeful hook shots or Iguodala's midrange misses.
Also, Lee's and Curry's deficiencies will likely be mitigated by help from their teammates and by time in this particular defensive system. Lee's inability to hedge high on screens used to kill the Keith Smart Warriors. Mark Jackson's system eases the pain by calling on Lee to sink back from screens as Curry chases his man around the obstruction. Neither player is anything special at corralling offensive attackers, but the style shift has delivered results.
The change helped vault Golden State from 27th in defensive efficiency in 2011-12 to 13th last season. This happened largely without an injured Bogut's help and before Iguodala arrived in Oakland.
These are not Don Nelson's Warriors. It's comforting to believe that team cultures have continuity across generations, but times do eventually change -- even for a franchise as stubborn as old Nellie was.
It's a bit confusing because these Warriors are running up and down the court, launching 3s and thrilling fans. You'd assume a devil's bargain where such an offense can't come with a strong defensive foundation. You'd be wrong, though. If the Warriors aren't good defensively this season, it should come as a shock. For once.

July, 19, 2013
7/19/13
12:12
PM ET
When the Golden State Warriors closed out the Denver Nuggets in Game 6 of the first round of the playoffs this spring, the team's post-game celebration was a testimony to its togetherness. Mark Jackson delivered one of his signature benedictions to teamwork, then gave forward Draymond Green the cue to initiate the group prayer as the team huddled tightly, arms raised like a campfire stack.
Green led the prayer with great command. His invocation thanked "father lord" for the blessings bestowed upon the team and asked that the lord continue to bless the Warriors, watch over them and allow them to bond together. Green then concluded the prayer with, "In Jesus' name, I pray."
Broadcasted live on national television, the unbridled expression of faith in a specific god was jarring. For anyone who's ever found himself in such a circle but who doesn't believe in that particular god -- or any god -- the experience can be uncomfortable.
Do you participate out of deference to the majority? Stay silent and meditate about something else until it's over? Quietly excuse yourself from the circle? Do you bring your uneasiness to the attention of a coach, supervisor, camp counselor but risk disrupting the cohesion the team, staff or cabin has established?
These are tough questions, especially when there's a sense these rituals are positive, team-building exercises for most. But there are also good reasons we reserve faith for private moments in a civil society. Plurality comes with a price, even if it feels right to praise a higher power at a moment of collective celebration. That's not a statement of political correctness, but a commitment to the idea that great teamwork is about inclusiveness above all else, that units function best when everyone feels like they have a stake in the mission.
Could Green make this accommodation if he was asked? I'd been wanting to find out since May.
Meeting Green in person is an altogether pleasant encounter. He's inordinately grateful for the opportunities he's enjoyed in basketball. Where there's often a chip on a second-rounder's shoulder, Green carries a humble confidence. He loves his job, loves his teammates, his coaches and even loves the chance to share those impressions with strangers and sincerely wants those strangers to feel comfortable.
Green graciously agreed to sit down and discuss the importance of vocalizing his faith in the locker room, and the implications of those declarations.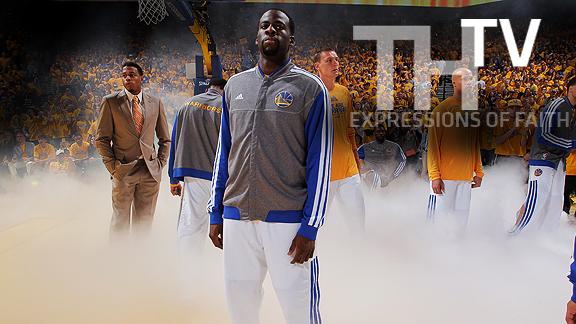 December, 26, 2012
12/26/12
5:22
PM ET
December, 13, 2012
12/13/12
12:11
AM ET
By ESPN Stats & Information
ESPN.com
Archive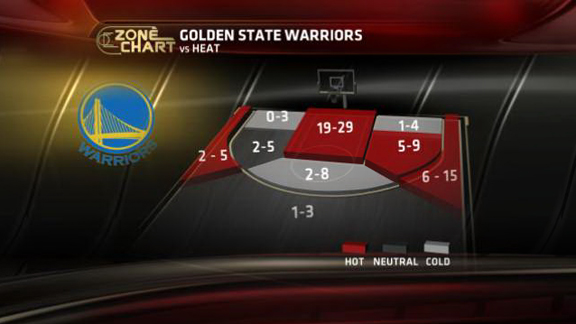 The Warriors were hitting from inside and outside against the Heat.
Who would have thought at this point in the season that we'd be writing about the composure under pressure by the
Golden State Warriors
?
But this team merits mention after continuing its road success under arduous circumstances.
So here are five stats to know from the Warriors' stunning win over the
Miami Heat
.
1.
The Warriors are hot. They've won five straight games to start this road trip, all against Eastern Conference opponents. It's the first time they've won the first five games of a road trip since 1978.
2.
Mark Jackson's team is 7-1 in games decided by five points or less this season. The Warriors went 8-14 in those games last season, in Jackson's first season as head coach.
3.
This was the first game in
Draymond Green's
22-game career in which he made a go-ahead shot in the fourth quarter. His basket on a backdoor cut continued a trend for the Warriors that has been key to their success.
Golden State is 19-for-26 this season on shots taken from within five feet and the score within five points in the fourth quarter or overtime (known as "clutch time."). That shooting percentage ranks third-best in the NBA.
The Warriors have been much more poised this season than last (as the chart on the right notes) in late/close situations … at least so far. Last season, they shot just 52 percent on shots inside five feet in those instances (fourth-worst in the league).
4.
Forward
David Lee
had his fifth straight game with 20 points and at least 10 rebounds. That ties
LeBron James
for the longest such streak in the NBA this season.
5.
James had his 20th straight game scoring at least 20 points, extending the longest such streak to start a season in his career.
But in the five games in which James has scored 30 or more (as he did on Wednesday), the Heat are 2-3. In the losses to the Warriors, Clippers, and Knicks, James' teammates are shooting 42 percent from the field.
James missed a potential game-tying shot at the buzzer. He's now 3-for-14 on game-tying or go-ahead shot attempts in the final 24 seconds of regulation or overtime with the Heat.
Statistical support from NBA.com was used in this article