March, 17, 2010
3/17/10
2:10
PM ET

By Kevin Arnovitz
ESPN.com
Archive
From Basketbawful: "The Nyets are now 30-10

0 since

Devin Harris said 'We knew we were going to be a playoff team' way back on December 9, 2008."
The average player doesn't have the ball in his hands 80 percent of the time he's on offense. During those instances, where and how he sets up in the half court in relation to his teammates is vital. If you're in a system that relies on good spacing, that's especially true. Kelly Dwyer at Ball Don't Lie: "How many times this year do I have to see Bynum post up eight feet from the hoop on the low left block, only to see Artest think it sane to then post up just below Bynum on the same block three feet from the hoop. It defies logic, spiraling from any template. And yet, the Lakers let him do it, likely thinking that they can put up with not playing their best because of Ron while still managing to win the title."
At Basketball Reference, Neil Paine has assembled the best NBA playoff teams in history in a bracket. I'm drawn to the 8-9 matchup in Pool C: '95 Rockets vs. '77 Trail Blazers.
Timothy Varner of 48 Minutes of Hell on how Manu Ginobili is solving the Spurs' most intractable problems: "Manu Ginobili is making everyone better, most noticeably the previously pronounced dead on arrival Richard Jefferson. Jefferson is openly campaigning for heavy minutes alongside Manu Ginobili. It's almost as if Gregg Popovich turned to Manu and said, 'I can't figure this guy out. Can you fix him for me?' And then Ginobili grabbed Jefferson by the hand, walked into a nearby phone booth, and emerged in Superman garb. Jefferson can be seen just behind Ginobili, with a fistful of cape. Problem solved."
Skeets and Tas pay homage on St. Patrick's Day to the NBA's prominent Irish contingent -- players like Chris Quinn, Troy Murphy and ... Lamar O'do'm.
The Washington Post poses a crucial question for those who like that silky smooth feel on their jumpers:"[I]s there a launch angle that gives the maximum probability of a perfect telegenic swish?"
In a video interview, Jerry Colangelo tells Bloomberg's Michele Steele, "There could be a seismic switch this summer in terms of power in the NBA and which teams are going to be relevant over the next four or five years."
Smart column from John Schuhmann looking back at his preseason predictions. Among his miscalculations (shared by many): Eddie Jordan's impact in Philadelphia, the Thunder's stratospheric rise and the Bucks' surprisingly stingy defense.
ESPN's Stats and Info Department tells us that only two active players have won both an NBA and an NCAA title: Rip Hamilton and Nazr Mohammed.
There's a limit to what fans with limited expectations can reasonably tolerate. After Minnesota's 152-114 loss in Phoenix on Tuesday night, Canis Hoopus tries to name what Timberwolves fans are experiencing right now and comes up with a neologism called apastration: "It's somewhere in between boredom and apathy, frustration and anger, regret and hope, and all sorts of other polar and not-so-polar dichotomies."
Reggie Evans would like his alma mater to perform a thorough interview process, thank you very much, in its search for a head coach to replace Todd Lickliter.
Rajon Rondo tells HoopsTV, "I don't care who we play in the Finals."
August, 18, 2009
8/18/09
8:13
PM ET
Posted by Kevin Arnovitz
Andre Miller's departure from Philadelphia left a vacuum at the point guard for the Sixers. The team selected UCLA point-leaning-combo guard Jrue Holiday with its first round draft pick, and has now named 22-year-old, fifth-year guard Louis Williams as the presumptive starter at the point for the 2009-10 season.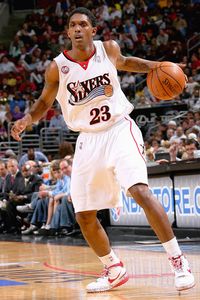 Williams isn't a natural point guard, though there are some promising numbers in his portfolio:
The best news of all for Williams' prospects as the Sixers point guard won't be found on a stat sheet, but with the man pacing the sidelines -- new head coach Eddie Jordan.
Jordan is a devotee to the Princeton offense, or at least its NBA variation. Players and the ball are in perpetual motion in the halfcourt, which means the system is less reliant on a traditional point guard.
Here's Sixers general manager Ed Stefanski explaining the dynamic to NBA.com's Matt Winkeljohn
, alluding to his days in New Jersey where Jordan served as an assistant, as well as Jordan's head coaching tenure in Washington:
It may help that coach Jordan is not counting on having a John Stockton-esqe point guard...

"Eddie has shown in Washington that without the prototypical point guard he has made it work with Gilbert Arenas so there's a lot less pressure on the point in a two-guard system than the one point guard-system," Stefanski said.

"The theory is the guy who has the less pressure on him will bring it up. When we were in New Jersey, Kerry Kittles often initiated the offense even when we had Jason Kidd [at point]."
Philadelphia hasn't exactly had a banner offseason, and will be fortunate to contend for much more than a 4 seed in the increasingly competitive Eastern conference. But from a basketball perspective, it should be fascinating to watch Eddie Jordan employ his system with the likes of Andre Iguodala, Thad Young, Williams, Elton Brand, Jason Kapono, and the decidedly un-Princeton-ish center, Samuel Dalembert.
This isn't your prototypical Princeton roster, but Iguodala and Young in particular have the potential to run opponents ragged off the ball and beat defenders to the rim in that motion offense.
Could it work?
Maybe.
In theory, the system should thaw an offense that was especially prone to rigor mortis in the halfcourt.
If nothing else, Sixers fans should be grateful for that.
The Salt Lake Tribune's Ross Siler has this dispatch from the Orlando Pro Summer League, where the Sixers and Nets are strange bedfellows:
The union became official at halftime of Monday's summer-league opener at the RDV Sportsplex, when 76ers general manager Ed Stefanski pulled up a seat along press row next to Nets president Rod Thorn.

For one week at least, the Atlantic Division rivals have come together, with a joint New Jersey/Philadelphia entry in the Orlando summer league prompted by the worst economy in a generation.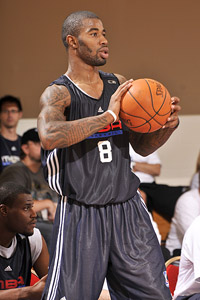 Nets rookie Terrence Williams: Would this man steal Eddie Jordan's trade secrets? (Fernando Medina via Getty Images)
Whatever they lose in individuality, the Sixers and Nets hope to save in costs. They took the court Monday in generic blue NBA jerseys, coached by a staff of two New Jersey and two Philadelphia assistants.
"I'm not a fan of it," Philadelphia coach Eddie Jordan admitted. "I like working with your own players and teaching your own guys, getting your own guys in your system."
"I don't want to have to berate their player for not picking up. It just doesn't seem right to get on their players for doing something that you want them to do."
The marriage has led to some strange scenes, to be sure. Philadelphia's newest first-round pick, Jrue Holiday, warmed up for Monday's game in a Nets shirt, leading one Sixers staffer to observe that a free shirt is a free shirt.
After Monday's game, Jordan was asked about Nets rookie Terrence Williams, prefaced with the qualifier: "You won't have him beyond this week ..."
(Jordan's answer: "He's a very competitive player. He's strong, he's a bull out there. He's got great, quick moves. He can change direction in a heartbeat. He's an aggressive player. I really like him.")
In addition to their own draft picks and players, the Nets and Sixers each made four selections for the team. The offense can best be described as an overlap of Jordan's and Lawrence Frank's systems.
"It's a combination of what they've done and what we're going to do," Jordan said. "And that's why we make it work, because we know the Nets."
Frank called it "a little bit of an introduction" to his offense, adding, "But I think this has to be more about the development of the guys as opposed to putting in your system. Especially when you're
splitting a team, it makes it tougher."
The biggest benefit, Frank said, comes in having a deeper summer-league team than most. The Nets/Sixers have four recent draft picks in Chris Douglas-Roberts, Holiday, Marreese Speights and Terrence Williams.
Were it not for the history between Jordan and Frank, Thorn and Stefanski, as well as assistants Tom Barrise and Mike O'Koren, the Philadelphia and New Jersey pairing probably would be doomed to
failure.
"It's a joint venture, where it only works for us because we know the Nets guys," said Jordan, who nevertheless described the partnership as being "different" three times in one answer.
Of course, the Nets and Sixers players still have it better than Bobcats second-round draft pick Derrick Brown, who is playing with the Jazz in Orlando with Charlotte not fielding a summer-league team to cut costs.
Brown ended up with the Jazz thanks to a longtime connection between Charlotte coach Larry Brown and Utah general manager Kevin O'Connor. (There's a lengthy explanation as to why the Jazz didn't also end up with Bobcats lottery pick Gerald Henderson.)
Brown had nine points in his NBA debut Monday night, which came in a Jazz jersey, playing for a team coached by Jazz assistants. In fact, Brown wasn't even sure if the Bobcats were sending a representative
to Orlando to watch him.
"It's definitely a good opportunity to be out there and start the ball rolling in the NBA," he said. "Whatever it takes for me to make a stand in this league, I'm going to do it."
Frank was asked if the Nets and Sixers were just ahead of the curve, whether next summer will feature other entries based on geography and cost-saving, like the Heat and Magic, the Bulls and Bucks, the
Warriors and Kings or the Jazz and ... nobody.
"In these economic times, look, you've got to be fiscally very responsible and I think you just have to be prudent in the decisions you make," Frank said. "Every group is different. This worked for us and Philly and it made sense, and who knows what the future holds. Hopefully, things get better."
June, 2, 2009
6/02/09
12:06
PM ET
Matchup problems are a two-way street, you know. For Magic fans, this trip up the mountain feels a whole lot different. And it's time for certain GMs to make some tough decisions about their 2010 free agents.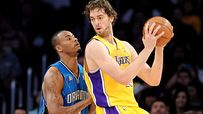 Bill Bridges of Forum Blue & Gold: "The focus of the pre-series review has emphasized that the Magic pose matchup problems for the Lakers. Perhaps. However, I contend that the matchup problems that the Lakers pose for the Magic dwarf the former ... [Trevor] Ariza on [Hedo] Turkoglu? No mismatch there. Then how will [Rashard] Lewis punish [Pau] Gasol? Not by posting him up obviously. By shooting perimeter shots? As Memo knows, Lewis will be surprised at how good Gasol is at defending the perimeter jump shot. He will find that shooting jumpers over the length of Pau's outstretched fingers not quite as easy as shooting over Mo Williams or Delonte West. Lewis' best chance is to take Gasol on the drive. Even here as well the advantage is not so clear cut ... Phil [Jackson] must see Gasol versus Lewis and be licking his pleasingly-smooth chops. Move Gasol around on the block, get him the ball, make strong cuts and what do you have? Single-covered, easy scores by Gasol. Double-covered, layups by cutters, open 3's by Ariza/[Derek] Fisher/Kobe [Bryant], and fouls on [Dwight] Howard defending the basket. This mismatch might become such a problem that I predict that SVG is the first to blink and play a Howard/[Marcin] Gortat front line to counter."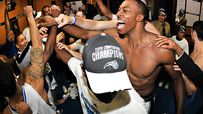 Zach McCann of Orlando Magic Daily: "You could say the local team spirit has returned to the glory of 1995, the last time the Magic reached the NBA Finals. Only this time, it's better. Back then, the city didn't really know what to think. The sudden trip to the NBA Finals was unexpected, exhilarating, and spoiling for the Magic fan base, which really didn't understand how lucky it was. After all, some franchises go decades without reaching the NBA Finals. The Magic franchise was only five years old, and there weren't any lifelong fans who suffered through some bad times ... Current fans of the team -- the ones who've been following the team since the Shaq days -- have suffered through some pretty upsetting times. Shaq's departure, Penny Hardaway's injuries, Grant Hill's injuries, T-Mac's falling out, the 21-win season, Fran Vazquez -- please, somebody stop me ... The Magic weren't just a bad team post-Shaq. They were, at times, a poorly run team that seemed to have little idea on what it took to build a successful team. The players suffered, the team suffered, and the fans suffered. Of course, the current regime doesn't fall under that umbrella. These guys have done an amazing job building this team, and here we are: the NBA Finals. It feels good."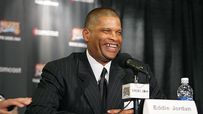 Jeff McMenamin of Philadunkia: "As Eddie Jordan walked up to the Sixers podium in the press room he wasn't a man who was nervous but a man who was calm, collected, and ready to take this young Sixers team to the next level ... Jordan is big on X's and O's and he is a very vocal and charismatic coach, something the Sixers haven't been used to seeing in a long time ... The word which Jordan used a lot during his press conference was 'team.' For a supposed team that tore apart at the end of this season, that is a word that must be a point of focus during the off-season. Players were throwing blame in all the wrong places and the quiet locker room we all thought the Sixers had turned into an army test base. Even team leaders like Andre Iguodala and Andre Miller were firing off rounds. One of the ways in which Eddie Jordan thinks the Sixers will become a 'team' once again is through the use of the Princeton offense."
THE FINAL WORD
Hardwood Paroxysm: Caveat emptor on Jameer Nelson.
Valley of the Suns: Amare Stoudemire has one foot out the door.
Raptors Republic: Time to ship Chris Bosh out of town.

(Photos by Lisa Blumenfeld, Fernando Medina, Jesse D. Garrabrant/NBAE via Getty Images)
May, 31, 2009
5/31/09
2:08
PM ET
The Magic bask in the warm glow of their ECF upset, while Cleveland is forced to do some serious soul-searching. The Sixers opt for a tried-and-true choice to propel them forward. And what should the Knicks do about their fan favorites -- both free agents?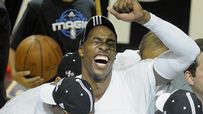 Zach McCann of Orlando Magic Daily: "The NBA Finals never seemed possible. Too much went wrong this season. But this team grew up in the playoffs and evolved into an elite team that won't quit, that won't go down without a fight under any circumstance. Not all championship teams are that way at the beginning of the season. It takes some tough times (struggling against Philadelphia in round one). It takes adversity (Jameer Nelson's injury). It takes inner-conflict (Dwight Howard's touches). It takes growth (Courtney Lee's emergence). It takes seemingly insurmountable odds (down 3-2 to Boston). It takes adjustments (Rafer Alston). It takes unity. It takes teamwork. Now, the Magic are right there. The ultimate dream is no longer a dream. It's now a goal."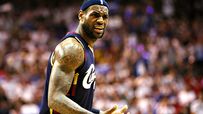 John Krolik of Cavs the Blog: "This was one of ours. And we lost. It still hasn't sunk in for me yet, but it's just so painful. The Cavs won't get many more chances like this. So, what happened? Nobody thought we would lose this series. Nobody ... This was a tough matchup for this team. All the talk will be about what else the Cavs could've done offensively, with LeBron [James] accounting for nearly half the offense and all, but the problem was the Cavs' defense getting cracked. The Cavs had nobody to defend Dwight Howard, and that opened up this insane perimeter game. Everyone was ready to make the extra pass and the open shot, and that's just ridiculously hard to defend when you have one guy who demands two defenders ... There's at least one more go-round with LeBron and Co., and all signs point to many more. But you get so few years. So few. I don't know what else to say. I want answers. I want vindication. I want validation. I want a smoke. I even want to see my ex again. I'm going to get none of those things. There will be lots of things said about this team. The trick is to not listen to them. This is a great player. This was a great team. They did great things. They brought so much joy. The memories they made will last forever."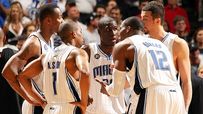 Matt Moore of Hardwood Paroxysm: "Mike Brown's gotta be saying to himself, 'I worked a roster to defend Paul Pierce and Rajon Rondo. I can battle Pau Gasol and Kendrick Perkins. My team can dominate Rasheed Wallace and neutralize Josh Smith. We've got Kevin Garnett in a series of uncomfortable situations. And what do I get? Rashard freaking Lewis' ... While Mike Brown was pretty abused on both ends of the floor in this series, tonight wasn't on him. What was he going to do? Double Howard? He kicked it out for the rotation three. Don't double? Howard killed whoever was on him. Foul him? He hit free throws. There wasn't much Brown could do tonight. The Magic weren't hot, they were just playing to their fullest potential. Which is kind of what you want to do in the Conference Finals in a home elimination game."
THE FINAL WORD
Philadunkia: The Sixers play it safe with Eddie Jordan.
Knickerblogger: Truth-squadding Will Leitch's platform for the Knicks.
48 Minutes of Hell: How borderline prospects view the D-League.

(Photos by Phelan M. Ebenhack, Elsa, Nathaniel S. Butler/NBAE via Getty Images)
January, 2, 2009
1/02/09
12:27
PM ET
Posted by Kevin Arnovitz
Georgia Tech head basketball coach Paul Hewitt has experienced the full gamut of coaching ups and downs. In 2004, he led the Yellow Jackets to the NCAA title game. He's also suffered some brutal seasons in the unforgiving ACC. Hewitt has been bitten by the one-and-done bug. In recent years, Chris Bosh, Thaddeus Young, and Javaris Crittenton all departed Georgia Tech after a single season. Hewitt recently visited with TrueHoop to discuss Thaddeus Young's evolving game, how the Brandon Jennings experiment affects college recruiting, Anthony Morrow's splashy start in Golden State, Javaris Crittenton's struggles, and his beloved New York Knicks.

TrueHoop: As a recruiter, how can you protect yourself from the one-and-done? Is there any way to target kids who are uniquely suited to the college game but, maybe because of their size, or because they lack a true position, or because they aren't a pure athlete, might be more likely to stay three or four years?

Hewitt: No. I look for kids who are uniquely suited to Georgia Tech. Some of them are a little high on the radar. Some are lower when they get to us, then they develop into quality players. If you look at Georgia Tech as a whole -- not just basketball, but baseball, football, golf -- they've done an unbelievable job of turning out professional players and a lot of them leave when the opportunity arises. It's gone on forever. It went on with Bobby [Cremins]; it goes on with us. I'd love to figure it out one day, but you go after kids who are right for the program. Some of them are going to leave.

TH: As you go around the country and meet kids and their families, is the Brandon Jennings scenario real? Are there Division One recruits who are looking at Europe and thinking that's a legitimate option?

Hewitt: I haven't heard much of it among the kids I've talked to. You hear whispers and rumors: "This kid is looking at it or "that guy is looking at it. The only advice I'd have for kids who are looking at that as an option is that they should have it written in their contract that if they don't make it as a professional player, the pro team pays for their college education, much the way they do in baseball. I hope it works out well for Brandon Jennings. I hope it works out well for any kid that does it. But I think they have to be very, very careful and structure their contract in a way that if they do miss -- and the odds say they are going to miss -- that they have an ample fallback plan.

TH: Do you think Jennings is the tip of the iceberg, or do you think this is a novelty or an experiment?

Hewitt: Today I think it's a novelty. It's such an adjustment to go to Europe as a 17 or 18-year-old kid. There's the language -- you turn on the TV and you don't know what anyone is saying -- different kind of food. You're really put into a man's world because of how the coaches are going to drive you. So right now, it's a novelty, at best.

TH: Thaddeus Young. He almost seems like he was born for the pro game.

Hewitt: He's gotten off to a great start. Every time I run into people from Philadelphia they have nothing but great things to say about him. He's got a great work ethic. He converted from being a 4/5 in high school to a 3 with us. Now when they play him at the 4, it's somewhat natural to him. But he's continued to evolve and develop. He did a lot of good work with Mark Price in the off-season. Mark worked him out last summer at the Sewanee Sports Academy and Thad tells me all the time that really helped him speed up the process of becoming a 3 man in the NBA.
TH: He's really learned how to move off the ball to fill space...

Hewitt: That's right...Particularly for a guy who played around the basket as much as he did in high school. If you look at Thad's last ten games his freshman year, he averaged something like 19 or 20 points a game. He really started to get it. He started shooting the three well, attacking the basket. He still couldn't go right [laughs]. That's something we always teased him about, but he's gotten better with that. But you could see it coming along. I think had he decided to come back for a second year -- and it was a close decision; he decided to make the move at the last minute -- he easily would've been a Player of the Year candidate, an All-American candidate.

November, 24, 2008
11/24/08
3:28
PM ET
If there's a memo to NBA head coaches from the last few days, it's certainly this: Do NOT lose to the New York Knicks.
That seems to have sealed the fate of Eddie Jordan, who is, surprisingly, no longer a Wizard.
Is Anyone Better Available?
Interim coach Ed Tapscott is respected, but I don't think anybody thinks he'll be the long-term coaching solution -- mainly because word is that his aspirations are in the front office, where he has spent most of his career.
So at some point the Wizards will be interviewing, and look at the list of head coaching free agents. Sam Amick of the Sacramento Bee puts the list at Flip Saunders, Avery Johnson, Doug Collins, Mark Jackson, Mike Fratello, Jeff Van Gundy, and a number of people with current assistant jobs.
Pretend you owned an NBA team. You could make a strong case for any of those guys, but wouldn't Eddie Jordan be at the top of this list for you?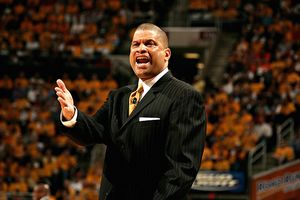 Not to mention, Jordan -- who took over a bad Wizards team, and coached them to 26 playoff games -- got consideration for Coach of the Year just last season. Few Washington D.C. coaches in any sport have done better over the last decade. And all kinds of players, from Caron Butler and Antawn Jamison to Brendan Haywood and Larry Hughes, have played better under Jordan than they ever did for anyone else.
On Eddie Jordan's watch, the Wizards started to matter again.
He's a Leader
I should not proceed without telling you that I am wholly biased in favor of Eddie Jordan, after seeing him speak in person just once, back when he was known as the Nets assistant who introduced that clever Princeton-style offense.
Thanks to Hoop magazine, I weasled my way into several closed sessions of the Rookie Transition Program in 2002. All kinds of people spoke, from Bill Russell to Kenny Smith. But nobody was half as powerful, memorable, or on point as Eddie Jordan. He has unusual eyes. They're kind of delicate, but also, I learned that day, fiery at times. He can joke around with the best of them, but this day was about being a professional, and he delivered in a voice that came from somewhere down around his ankles. His instructions were succinct, and one of them -- he essentially told the players not to get injured -- was wholly impossible. (The irony being, of course, that if Gilbert Arenas and Brendan Haywood had figured out how to heed this advice, Jordan would still have a job.)
I'm certain that if you posted his ten or so points on the inside of your locker, and made it your business to follow them, you could be a very good NBA player. It was terrible, in a way, not to be an NBA player after his talk, just because I wanted so badly to put his excellent advice to good use. Anyway, I came away from that day convinced that if smarts, toughness, leadership, and eloquence can get you far as an NBA coach, then Eddie Jordan would go far.
Tim Lemke of the Washington Times quotes Jordan talking in similar ways a couple of days ago:
"Not in our wildest dreams did we ever think we would be 1-10, and now how do you handle that?" Jordan said Saturday night. "I wish I could give them a manual on how you stay poised, how you suck it up, how you stay positive. I can't find a manual like that yet.

"But again, I reiterated, we don't have losing habits. And that's a big thing for us. You respect the game. You play hard. You help your teammate. You protect your teammate. You play with confidence. You understand what the coaches are telling you, try to follow directions. We have all that. We just haven't won."
Organized thoughts, eyes on the prize, and a message delivered clearly and with compassion. When the cards are stacked against you like they are against the Wizards right now, to me that's the kind of leadership you want.
On the other hand, the ultimate measure of coaching success is what happens on the court, and this season -- there's no arguing the point -- the Wizards have been terrible, and in the NBA the players are much harder to get rid of than the coach. So, as we all know, teams with terrible records tend to fire coaches whether it makes sense or not.
It's hardly worth questioning. But will the firing put the Wizards on a better long-term trajectory than they were on before? I sincerely doubt it.

UPDATE: Michael Grange of the Globe and Mail writes:
Over the past three seasons Jordan has a 45-26 record when he's had Gilbert Arenas, Antawn Jamison, Caron Butler and Brendan Haywoood in the lineup. Throw out last season when Gilbert limped through eight games with that crew and the Wizards were 3-5, and the percentage was even better. I don't think anyone thinks that a lineup of Gilbert, Caron, Antawn, Haywood and Deshawn Stephenson, healthy and intact for 80 games wouldn't be a serious factor in the East. But they're not and may never will be, the way Arenas's knee is going. And after three years of battling through adversity brought on by injury the Wizards just seem to have got a bit tired of running uphill. It happens. It does not make Jordan a bad coach.