October, 18, 2012
10/18/12
2:04
AM ET

By Kevin Arnovitz
ESPN.com
Archive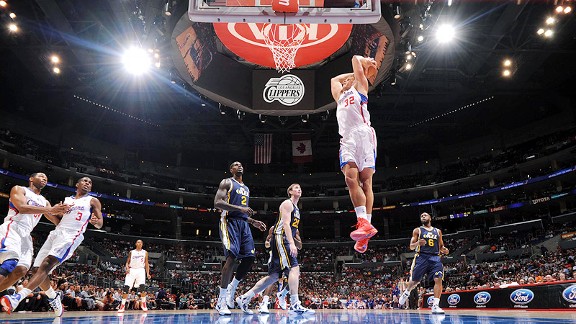 Andrew D. Bernstein/NBAE/Getty Images
Blake Griffin: Jet lag of an entirely different sort.
LOS ANGELES -- NBA players tend to be adaptable creatures when it come to sleep, capable of catching z's on cross-country charter flights and whenever else they can steal a few hours. The Los Angeles Clippers have even fashioned a prank called #GotEm (yes, that's a hashtag) around
catching guys dozing off on the team plane
.
Not-so-fresh off a week-long jaunt to China, the Clippers are having trouble adjusting to the 15-hour time difference, as GotEm has given way to a fierce battle of jet lag. Eric Bledsoe and Blake Griffin have found themselves awake at odd hours this week.
Whatever residual effects Griffin might be suffering after the transoceanic trip, few of them were evident in his performance in the Clippers' 96-94 win over Utah on Wednesday night at Staples Center.
Blake Griffin's opening quarter
Griffin unfurled the entire portfolio in the first period:
With Al Jefferson in his mug at the right elbow, Griffin -- one of the better passing big men in the league -- zipped a bullet to DeAndre Jordan for a little high-low magic. A few minutes later, Griffin patiently waited out a double-team, spinning clockwise then counterclockwise. After a couple more head fakes and another round of pivots, Griffin somehow squeezed his big frame through the pickets to elevate for a sweet little hook shot.
Next possession: He teamed up with Chris Paul for an angle pick-and-roll on the left side. Griffin rolls hard, drawing Utah's entire help side defense. Paul follows in Griffin's wake, then kicks the ball out to a wide-open Caron Butler for a perimeter jumper. I've long advocated for the creation of the screen-assist stat, and Griffin picks up one there.
Next possession: Griffin sprinted the left side of the floor against a backpedaling Gordon Hayward. The easy shuttle pass from Paul on the move resulted in a flush.
Later on, Griffin drained a 20-footer from the left side then, on the ensuing possession, rumbled down the floor coast to coast -- handle as tight as a nice Tumi expandable carry-on. Griffin spun through traffic and finished in Griffinian fashion to top off a 12-point, 4-rebound, 3-steal first quarter. Griffin finished the night with 23 points.
Life as a Utah big man
So much of being a frontcourt player in the Jazz offense revolves around moving from block to block as a screener and screenee. That constant motion demands precision and timing, a certain rhythm that can intimidate or confound a guy who has been accustomed to setting up in the low post, then awaiting an entry pass.
When the Jazz acquired such a player in Jefferson a couple of seasons back, there was some reasonable skepticism. Jefferson was a throwback, a tireless, hulking pivot man who owns the left block, starting and finishing his offensive possessions down there.
It took Jefferson some time to adjust to Jerry Sloan's offense
, a system that has remained very much in effect (with a few tweaks) under Ty Corbin, who succeeded Sloan in the spring of 2011.
Jefferson, who is in the final year of his contract, may or may not be in Utah this time next year (or sooner) given the embarrassment of riches the Jazz have in their frontcourt. Wherever Jefferson lands, he credits his time in the Utah system as essential to his maturation as a low post.
"Actually, the flex has really helped my game over the last two and a half years," Jefferson said prior to the game. "It's really helped me out big time. In Minnesota, it was all about fighting my way on the block. Throw the ball inside. Try to score against double-teams. With the flex cuts, it makes my job a lot easier. If I set good picks and get my teammates open, I bounce off that and now I'm the one getting the layup."
Systems matter, and Jefferson has not only learned how to pass out of double-teams but, as he alludes to above, he understands how to make himself useful when he's not the focal point of a set.
Second-year big man Enes Kanter is another big who isn't necessarily a natural fit in the flow of the Jazz offense. We're talking about a guy who recorded eight assists in
874 minutes
during his rookie season -- a most unJazzly stat. But on Wednesday, Kanter appeared comfortable in the confines of the Jazz offense. Taking a cue from Jefferson, he got into a little crossing flex action along the baseline with Randy Foye in the second quarter and, voila, Kanter used the action to get a deep catch on the left block, which he converted with a nice fake to the middle, then a reverse pivot to a strong drop step and layup.
A little later he gave Jordan the treatment with an assertive spin and drive, drawing a foul. And like Jefferson, Kanter is gradually learning to look over his shoulder to the arc when the double-team arrives. He's also been a beast on the boards, a trend that started the instant he arrived in the league. Over four preseason games, Kanter is averaging 12.5 points and a hair over 10 rebounds in just under 20 minutes per game.
Kanter still needs to cultivate the reflexes and timing to flourish as Jazzman. Like Jefferson, he's not a perfect fit. But just as Big Al has used the system to expand his game and lure defenses away from Utah's weak side actions, so too can Kanter if he continues to put in the work.
Your Jeremy Evans moment
Jeremy Evans' ceiling is an object of fascination among hard-core Jazz fans. He's bouncy and rail thin, lethal on the break and can jump out of the gym standing still. On Wednesday night, Evans thoroughly embarrassed poor Ronny Turiaf, first by flying in from the baseline and swatting Turiaf's face-up jumper from 14 feet, then by collecting the remains, dashing the length of the floor, then throwing down a tomahawk dunk on Turiaf, who had the temerity to actually run back on the play. The sequence set off a spark inside Staples Center among a crowd that's grown accustomed to some pretty hot pyrotechnics.
In fact, they are talking about practice
One theme you hear repeatedly in the preseason is that live games aren't nearly as vital to the process of preparation as a good practice. Jazz guard Mo Williams sounded this call before the game as he explained why he wouldn't play in Wednesday's game.
"Practice is more important than games right now," Williams said. "I haven't missed a practice. The games -- you go in there and play 20 or 22 minutes. I'd rather be in practice with my guys. That's where we're going to get better."
Moments earlier, Clippers coach Vinny Del Negro cited the same rationale for sitting Lamar Odom. Del Negro expressed that he'd been pleased with Odom in practice, suggesting as Williams did that, for vets like Odom, games are afterthoughts. It's the practices, where schemes move from the whiteboard to the hardwood with repetition and explanation, that are the mother's milk of October basketball.
...except maybe Jamal Crawford
With the game tied 92-92 inside of a minute, the Clippers couldn't find anything off a Bledsoe-Turiaf high screen. After some meandering, the ball landed in the hands of Crawford about 28 feet from the hoop. Isolated against DeMarre Carroll with nine seconds remaining on the shot clock, Crawford used a crossover then a devastating hesitation move to breeze by Carroll to the rim for the layup, and-one.
The lead would hold for the Clippers and Crawford, ever the improviser.
Ismail Senol is a Turkish play-by-play announcer for NTV SPOR and NBA TV Turkey, and he weighs in with a report on a young Turkish player whose name you ought to learn now.
Enes Kanter is an impressive prospect from a physical standpoint. He is a 6-10 low post player who was born in 1992, which makes him two years younger than any current NBA player. He may grow a couple of inches, but he doesn't need to in order to dominate. In the rebounding department, he already assumes every shot will be missed, and has a special sense where the ball will end up, and he has no trouble rebounding out of his area.
Last October, Kanter became the first player born in 1992 to play in the Euroleague. "I was on the roster because Semih [Erden] and Ömer [Asik] were injured" he remembers. "Sitting on the side, I was so nervous. I was joking with my teammates on the bench. Then Mirsad [Turkcan] got into foul problems. Coach [Bogdan Tanjevic] called my name. I was so excited. I felt like I was a roster-filler for that game, so I didn't expect to play any minutes. I didn't even tie my knee-pads until I sat down on the substitution chair."
Then the game stopped. Enes Kanter was in.
"In the first two minutes, I was freaking out. Then Mirsad and Damir [Mrsic, 38 year-old team captain] helped me a lot from the bench. After that I scored my first bucket and remembered that was the game I love to play. I felt great!"
The result wasn't that bad. Kanter's Fenerbahçe Ülker beat German powerhouse Alba Berlin 82-73, and Kanter got his first Euroleague action in front of his home crowd. He scored five points, along with three rebounds and a steal in a dream-like 10 minutes.
Kanter is a clever defender. He is good at positioning himself to guard drop steps and up-and-under moves in the paint. His foot speed is enough to hedge pick and rolls effectively and guard smaller players when forced to switch. Since Kanter is very strong, he can defend the post one-on-one. He is not afraid of contact, and he doesn't fall for fakes.
On offense, Kanter uses his body very well. He knows where to stand, and he excels scoring alongside a quick point guard. Kanter makes a guard's work easier. He is strong on his size-17 feet, and has a great feeling for the game. Even if the opponents double-team, he always keeps the ball safely up high. Because of his physical dominance, coaches play him close to the rim, yet, he has a nice, high arcing jumper from the foul line. Nevertheless in youth tournaments Kanter mostly overpowers his opponents. He's like Wilt Chamberlain playing against a high school JV team. He is the "Kanterlain" for his age.
He was MVP of the U18 European Championship, even as he played against prospects a year older than him. In the semi-final game, he posted 32 points, 25 rebounds and two blocks in 39 minutes against the tournament champion Serbia team. The bronze medal game was even better. In 36 minutes, Kanter scored 35 points on 16/22 shooting. He also grabbed 19 rebounds, stole three balls and blocked four shots against the Lithuanian team and big man prospect named Jonas Valanciunas. His overall tournament statistics were 18.6 points, 16.4 rebounds, 1.3 assists and 1.8 blocks.
"People try to make some comparisons about my game. I respect all the great players that people compare me to, but I don't want to be like someone else." Enes says. "This is Enes Kanter. I have my own name, I just want to be respected."
Talking to Enes, a person can feel that the kid knows himself very well. "I need to work on my left hand," says Kanter, who is the son of a professor, and seems to have inherited an analytical mind that belies his age. "I need to build on my face-up game, try to dribble more and get my shooting range up to the three point line."
Playing for Fenerbahçe Ülker's team this season, he'll share the frontcourt with all-time Euroleague rebound leader Mirsad Turkcan, Celtics' draftee Semih Erden, Bulls' draftee Omer Asik and undrafted center Oguz Savas. He is expected to be the fifth big man on the roster. Sharpshooter Gordan Giricek, guards Will Solomon and Lynn Greer are Kanter's other teammates. Training with that talent around him, and working under prospect-booster coach Bogdan Tanjevic will help Kanter's improvement.
Turkish prospect Enes Kanter will be 18 years old during the next year's World Championships which will be hosted by Turkey. If he continues to improve at this accelerated rate, he may earn a roster spot on the Turkish team led by Hidayet Turkoglu and Mehmet Okur. Having other experienced frontcourt prospects like Asik, Erden and Savas may hurt his chances. If he earns that spot, and scores over the likes of Pau Gasol or Dwight Howard, don't say I never told you about Enes Kanter.