Posted by Kevin Arnovitz
NBA training camps are still a few weeks away, but rosters around the league are gradually taking shape. Once David Lee, Allen Iverson and Ramon Sessions have jobs, we'll be ready to go.
The favorites in each conference are easy to spot -- they bear a striking resemblance to the teams that were playing on Memorial Day weekend. But which teams are lurking beneath the surface, ready to assume the role of improbable contender?
If they can avoid the injury bug, and the chemistry works just right, here are three teams that could emerge as success stories come spring:

Dallas Mavericks
It's easy to forget just how dominant the Dallas Mavericks were when they took the floor against the eighth-seeded Warriors on a Sunday evening in April 2007. This was the last game of the postseason's opening weekend, a perfunctory item of business for the Mavs en route to a conference finals matchup against the Suns or the Spurs.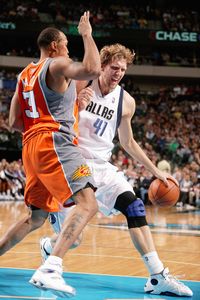 Can this pair inflict serious damage in a brutal Western Conference? (Garrett Ellwood/NBAE/Getty Images)
Dallas was one year removed from an NBA Finals appearance, and had just piled up 67 wins in the regular season. Only five teams in NBA history had recorded more Ws in a single season. Dirk Nowitzki was the presumptive MVP (and would go on to win the award).
The Mavs' epic collapse in that first-round series against the Warriors has been well-documented, and over the next two seasons, Dallas would descend from its perch into the Western Conference's upper-middle class.
What's interesting about that falloff is how many of the elements of that Mavs team remain intact today -- to say nothing of the quality pieces that have been added since. 67 wins isn't ancient history; we're talking
two
seasons ago.
Dirk Nowitzki, at 31, is the same age as Kobe Bryant. While Nowitzki is unlikely to reproduce his 2006-07 exploits, he remains one of the league's best players. Jason Terry has been a model of consistency for Dallas and had arguably the most efficient season of his career as the Mavs' super sub in 2008-09. Josh Howard is only 29. When healthy, he's still one of the more flexible swingmen in the game and a lockdown defender. In 2006-07, J.J. Barea logged fewer than 200 minutes, but he's become a spark plug for the Mavs' quality second unit ever since.
With Jason Kidd settling nicely into the role of veteran facilitator (and surprisingly efficient shooter), the franchise doubled down on the bet that its solid core could maximize what's left of Nowitzki's prime. The Mavs landed Shawn Marion.
Like Howard, Marion is versatile, freakish, and mercurial. Defensively, he can stay in front of speedy point guards, bother face-up power forwards, chase spot-up shooters, and clean up on the boards. Offensively, Marion's downward trajectory the past season and a half began the moment he left Phoenix. Coincidence -- or evidence that his talents demand the care of a veteran, pass-first point guard?
When you consider those assets, then throw in sensible additions like Drew Gooden and Kris Humphries to bolster Erick Dampier on the block, defensive stopper Quinton Ross, and a pair of intriguing rookies, and the Mavs appear ...
stacked
.
There is no shortage of nightmarish scenarios by which Dallas' gamble can implode. Nowitzki, Kidd, Marion, Terry, and Dampier are all on the wrong side of 30. Howard is accustomed to missing about 15 games a year, and being less than 100 percent for long stretches. The Mavs' best offensive lineup (Kidd-Terry-Howard-Marion-Nowitzki) won't give them much interior defense, and the loss of Brandon Bass makes them a less energetic bunch.
But with Kidd at the point, and a roster of flexible guys who can each serve multiple functions on the floor, Dallas has the potential to develop into a grizzled, selfless squad with the kind of mental edge that just might have been the missing ingredient 28 months ago.
---

Chicago Bulls
How much should we read into Chicago's classic seven-game series against Boston? Was the Bulls' gutsy performance a harbinger of things to come, or was it lightning in a bottle? Did they graduate into a team that knows how to scramble defenses with a legitimate pick-and-roll game, or were they just lucky to encounter a crippled Celtics team ill-suited to deal with their quickness and athleticism?
Those aren't the only imperative questions for Chicago. Even if we conclude that they came of age in April, is it fair to expect them to continue their progress without their top scorer, Ben Gordon, whom they lost to Detroit?
Short answer: Yes.
Although there will be nights when Gordon's fearlessness as a sniper will be missed, the Bulls might be better served long-term by the three-guard rotation of Derrick Rose, Kirk Hinrich, and John Salmons. With Gordon out of the picture, Rose can assert himself both as distributor and scorer. He's a transcendent young point guard, and one that should flourish now that his running mates in the backcourt are a little more pliable.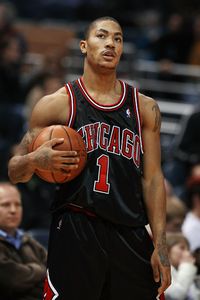 Derrick Rose: Season Two
(Photo by Jonathan Daniel/Getty Images)
Both Rose and Hinrich are expert ballhandlers -- and Hinrich is very comfortable off the ball as well. Salmons, along with Hinrich, is capable of defending all three perimeter positions, can score on pin-downs, slash to the rack, and fire from 3-point range (41.7 percent).
There are good reasons sleepers are sleepers, and the caveats for Chicago reside in its frontcourt. Start at small forward, where Luol Deng will be returning from a stress fracture in his right leg. He last played in a game on February 28. When 100 percent, Deng is a rangy, athletic force in transition and in the halfcourt, where his height and handle give him a big advantage over most defenders at the small forward. When Deng is on his game, he's also the correct answer to the question, "Who's going to make up for Ben Gordon's 20.7 points per game?"
There's a reason why any time a marquee big man comes on the market, he's rumored to be headed to Chicago. But desperate as the Bulls are for help on a threat on the block, we saw something interesting down the stretch last season. Rather than resign themselves to their lack of post scoring, the Bulls began to use Joakim Noah and Tyrus Thomas in pick and roll schemes, where their agility allowed them to beat their defenders to the rim. So long as Thomas resisted launching jump shots, it worked.
Noah doesn't have the jumper to be a high-post center (like backup Brad Miller), but his passing and mobility around the hoop might be enough in Chicago's offense. Thomas, of course, is the wild card. A composite of his finest moments last season would show him as a defensive ace, capable of creating opportunities for himself off the dribble, hitting a face-up jumper, and blocking any shot in medium proximity.
If
that highlight reel can become a reality,
if
Deng can bounce back, and
if
Rose can continue his co
urse as one of the game's best young playmakers, the Bulls might turn their novelty act from last spring into a long-run production in 2010.
---

New Orleans Hornets
Here's one you can play by the pool:
Name the best starting power forward/center tandems in the NBA.
You could begin with Pau Gasol and Andrew Bynum. After the Lakers' duo, there's only one other pair of starters who each recorded a player efficiency rating greater than 18:
David West and Emeka Okafor.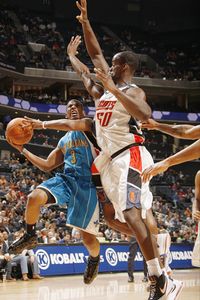 For Emeka Okafor, playing alongside Chris Paul will be more pleasant than playing against him. (Photo by Kent Smith/NBAE via Getty Images)
After playing in relative obscurity with Charlotte over the past five seasons, Okafor moves to New Orleans, where he'll fill Tyson Chandler's spot at center for the Hornets. Chandler was a sentimental favorite in New Orleans -- both of the fan base in the Crescent City and his teammates. The Chris Paul to Tyson Chandler alley-oop was one of the NBA's signature highlight reel snippets.
Okafor may not be an elite center, but he's a very, very good big man and a more complete player than Chandler. For an extensive look at New Orleans' upgrade, take a look at
John Hollinger's must-read comparison of Okafor and Chandler
.
One of the most productive frontcourt tandems in the league and arguably
the best
point guard on the planet: That's a pretty nice place to start a season, don't you think?
Paul, West, and Okafor might not warrant a "Big Three" designation, but we can agree that they qualify as some sort of troika -- particularly in a scheme that's as dependent on the pick-and-roll as the Hornets offense.
Unfortunately for New Orleans, the NBA game demands that its best teams field a couple of guys on the wing who can create and/or defend -- preferably both -- and this is where the Hornets have depth problems.
As a catch-and-shoot artist, Peja Stojakovic is about as good as we've seen over the past decade, but he's coming off his worst season since the Clinton administration and is increasingly having trouble staying healthy. The Hornets signed James Posey a season ago to play the same role in New Orleans that he did in the Celtics' 2008 championship run -- defensive and 3-point specialist. Posey is good for 25 minutes per night in that capacity, but not dynamic enough to play much more. Morris Peterson was once thought to be a solution on the wing, but injury and age have slowed him. Those three guys -- each born in 1977 -- won't get them the 96 minutes per night they need from the off-guard and small forward.
The Hornets don't need All-Stars at the wings, but they must get solid production. Enter enigmatic, third-year forward Julian Wright.
Whereas the Hornets' aforementioned veterans have trouble doing much more offensively than spot up and shoot, Wright -- on his better nights -- can do everything
but
shoot. Though he was a menace defensively for the Hornets -- the team was about five points stingier with him on the court -- Wright took a step back last season offensively. The gifts are apparent, but there's still a lot of refinement needed, both mechanically and mentally.
The elasticity of the Hornets' win total isn't all on Wright and the health of the vets. If Summer League is any indication (that's a much longer conversation, isn't it?), New Orleans scored with its selection of guards Darren Collison and Marcus Thornton in the draft. And forward Ike Diogu was a savvy pickup on the cheap, as well.
One summer ago, the Hornets were being sized up as contenders after a spirited playoff run. This summer, much of the discussion surrounding the team has included the phrase "luxury tax threshold." While general manager Jeff Bower was attending to the spreadsheet, it's possible he constructed a team poised to surprise next season.
May, 3, 2009
5/03/09
9:13
PM ET
Posted by Kevin Arnovitz
It's unknown when the trope "matchup nightmare" first entered the basketball lexicon, but I imagine it happened at some point between Magic Johnson's rookie season and the emergence of Kevin Garnett and Dirk Nowitzki.
Nowitzki's versatility makes him a nearly impossible cover. Normally, the primary defensive function of a power forward is to push his guy off the block. Nowitzki, though, neutralizes a good post defender because he actually prefers to hang out at the elbow, where he's one of the best 18-foot jump shooters in the game. When the defender steps out, the taller Nowitzki can shoot his high-arching turnaround shot over most power forwards, or, if he's so inclined, he can put the ball on the deck and drive to the hole. Nowitzki might not be the quickest 4 to the basket, but his defenders have to crowd him because he's such a deadly shooter. If Nowitzki can get that first step, it's a foot race between him and the weak side help. Dirk will win most of those battles because he's a strong and deceptively quick finisher.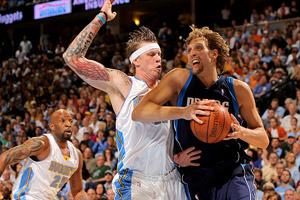 Chris "Birdman" Andersen: Slowing down Dirk
(Doug Pensinger/NBAE via Getty Images)
Early on Sunday afternoon, it looks as if Denver has absolutely no answer for Nowitzki. On Dallas' first 13 possessions, Nowitzki converts all six of his field goal attempts from the floor, and chips in an assist to Josh Howard. Dirk isn't merely beating Kenyon Martin. He's having his way against virtually every Denver defender -- Nene, Carmelo Anthony, the Nuggets' guards off the switch, et al.

The best player on the floor is in a Mavericks uniform and Dallas leads by eight at the end of the first quarter.
As Hubie Brown explains, George Karl has clearly made the decision to play Nowitzki straight-up. With the exception of the occasional trap along the sideline, Denver defenders will have to fly solo against Nowitzki in the middle of the floor. Karl is adamant: If Dirk is going to beat his Nuggets, he won't do it as a playmaker.
At the 10:03 mark of the second quarter, Nowitzki checks back in for Dallas, and is immediately picked up by Chris "Birdman" Andersen. Nowitzki's first touch of this sequence comes at the 8:33 mark when he draws J.R. Smith -- and a J.R. Smith foul -- on the switch. After that, the game at the Dallas end of the floor changes:
[2nd Quarter, 8:23] Dampier sets a hard down screen on Andersen to give Nowitzki a little space at the foul line. J.J. Barea feeds Nowitzki there, but Andersen doggedly fights through the Dampier screen and closes that space in a hurry. That's the first thing about Andersen: Dampier takes most defenders out of this play with what's essentially a lineman's block -- but not Andersen. He's back in Dirk's face before Dirk can face up. Dirk chooses to back Andersen in -- first with the right shoulder, then he reverses course and pounds with his left. Andersen absorbs every blow, and you sense he loves every minute of the contact. Birdman's feet are bouncy and he's got his right hand on Dirk's back. Nowitzki hasn't made much progress. He pivots to his right and, trying to draw the foul on Andersen, flings the ball at the basket -- but Andersen doesn't budge. He never bites on the shot and, in turn, denies Nowitzki the contact. The ball draws nothing.

[2nd Quarter, 7:55] Isolation for Nowitzki against Andersen way out on the left side of the arc. Andersen assumes a defensive crouch and takes a mean swipe at the ball as Nowitzki faces up. Dirk snatches the ball back, then takes a hard dribble with his left and goes baseline. On the drive, Birdman has Dirk on a tightrope, well underneath the hoop. Andersen funnels Nowitzki to the weak side where Nene stuffs Dirk's reverse layup attempt. Nowitzki finishes the afternoon 2-7 against the Birdman-Nene combination, 10-15 against the Nuggets' other defenders.

[2nd Quarter, 6:50] Andersen crowds Nowitzki at the top of the arc, really harassing him. Nowitzki moves forward with his patented sequence, left shoulder, then right shoulder. Andersen stays with him, as Nowitzki leads them to a spot inside the left elbow. Dirk elevates and, with Andersen's hand in his face, launches a fall-away jumper that's no good.
When Kenyon Martin checks back into the game for Nene at the 4:11 mark, he assumes Dirk Duty, and Andersen slides over onto Dampier and general help duty. On the next Dallas possession, Dirk draws Smith on the switch up top, backs in the Nuggets' guard, and works himself an easy 5-footer.

Andersen earns another stint on Nowitzki for the better part of the fourth quarter, during which Birdman outscores Dirk, 4-2. Nowitzki's only bucket comes on an offensive rebound that rolls his way, which he puts back up for a 10-foot jumper against Anthony Carter. The only time Andersen gets beat is on a defensive switch when he draws Jason Terry, who unleashes a quick jumper over him from about 20 feet [4th Quarter, 10:04]. But Andersen exacts revenge on the very next possession:
[4th Quarter, 9:28] Terry draws the Birdman at the same spot out on the left wing. This time, Terry tries to take Andersen off the dribble. The Jet's layup is promptly swatted into next week by Andersen, and Denver ignites the break. How nice a luxury it must be for George Karl to know that he can switch his center onto a speedy little guard and feel comfortable that his big man can not only stay in front of the drive, but challenge the shot at the basket.

[4th Quarter, 9:10] Andersen effortlessly runs through a (moving) screen by Antoine Wright off the ball at the elbow, and meets Nowitzki out on the right wing in isolation. Dirk faces up, but then rushes his half-hearted rocker step and subsequent jumper. The shot is off.

[4th Quarter, 7:16] Andersen fouls Nowitzki as Dirk brings the ball upcourt. After the Mavs inbound it on the side, Nowitzki gets the ball at the top of the key opposite Andersen. For the first time in isolation against the Birdman, Nowitzki acts decisively. That's probably a good instinct, only Andersen anticipates Nowitzki's left-handed drive beautifully and establishes himself at the spot for the easy charge call. Hubie: "A great defensive play."
[4th Quarter, 6:51] The Mavs are in transition. Jason Kidd gets the ball to Nowitzki in the right lane. Dirk, at the time he receives the pass, is actually ahead of Andersen, but Birdman catches him from behind and gets a piece of Dirk's layup attempt. Billups applauds proudly from the bench. Last week, we characterized many of Dwyane Wade's defensive blocks as "horror flick" plays -- just when you think Wade is out of the play, he comes in for the kill. Andersen is a horror show, too -- only he's not a furtive killer that we never see on screen. He's Javier Bardem in No Country for Old Men, walking in broad daylight with a pneumatic air gun.

Nowitzki gets only one more meaningful touch against Andersen. Ironically, he beats Andersen off the dribble, only to lose the ball as he makes his approach for the basket -- the last of Dallas' 20 turnovers.
It's doubtful Dirk Nowitzki will be bottled up for the entire series (and to be fair, Dirk went 12-22 from the floor, a solid performance, even if he tailed off). Dallas will make some smart adjustments. For one, they should figure out a way to generate more mismatches for Nowitzki, something they were able to accomplish in the first qua
rter. Andersen is a scrappy recoverer as the big man in a ball screen, but Dallas has the capacity to get Nowitzki more space, regardless of who's defending the two-man game.
Meanwhile the Nuggets have to be pleased. The top assignment for any team facing Dallas is neutralizing Dirk Nowitzki. It took Denver a quarter to find the lock, but they did. Andersen's shot-blocking and help defense are well-known and highly regarded, but today he proved that he can match up in isolation with one of the most gifted offensive power forwards in the NBA.


April, 24, 2009
4/24/09
12:47
PM ET
Both the Celtics-Bulls and Spurs-Mavericks series are positively schizophrenic. Dahntay Jones is making a name for himself as Denver's Paul-stopper. And NBA fans should sentimentalize hand-checking at their own peril.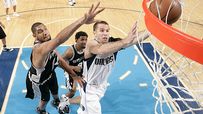 Graydon Gordian of 48 Minutes of Hell: "The formula that produced tonight's blowout loss against the Mavericks seems simple enough. The Mavericks came out with a level of defensive intensity they had yet to show this series. The Spurs were out of sync offensively from the outset and continued to miss open looks for a full 4 quarters ... even if each game makes sense in and of itself, this series has yet to develop a rhythm. The power dynamics of the individual match-ups fluctuate wildly from game to game. Players who seem unstoppable one night are decidedly mortal the next. Although the details are quite different, the tone of this series reminds me of last season's schizophrenic Western Conference Semifinals between the Spurs and the Hornets: The only game that was close in the closing minutes was Game Seven. I would not at all be surprised if this series ended in a similar manner."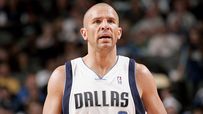 Rob Mahoney of The Two Man Game: "If you'd like a face for the Mavs' exemplary defense, I'll give you three: Jason Kidd, Josh Howard, and Erick Dampier. Tony Parker was obviously in the Mavs' crosshairs, and they successfully held TP to 14 points on 5-14 shooting with 3 turnovers. If that surprised you, then brace yourself: that defense on Parker was keyed primarily by Jason Kidd. Kidd hardly guarded Parker exclusively, but he provided the groundwork and a point of reference for J.J. [Barea] and Parker's other defenders. He hustled to get into position, tried his damnedest to slow Parker even half a step, and used timing and hustle to irritate Tony into turnovers or misses ... the defense's accomplishments were even more pronounced because of shot-blocking from the weak side. Enter Howard and Dampier ... Howard played the passing lanes and forced his share of turnovers, but cemented the Mavs' defensive game plan by coming out of nowhere for huge blocks. Dampier followed suit, protecting the rim from Parker and [Tim] Duncan ... without fatally injuring anybody. Parker wasn't knocked flat on his back, but he might as well have been."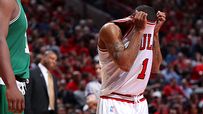 Matt McHale of By the Horns: "Chicago suffered a meltdown so complete that at one point I started to wonder whether the United Center had been converted into a giant microwave. These couldn't be the same Bulls that almost swept the first two games in Boston, could they? Seriously, I was ready to storm the locker room and check for Body Snatcher pods. I mean, newly minted Rookie of the Year Derrick Rose (9 points, 4-for-14, 3 rebounds, 2 assists, 7 turnovers) wasn't just thoroughly outclassed by Boston's Rajon Rondo (20 points, 8-for-15, 11 boards, 6 assists, 5 steals), he was even outplayed by Stephon Marbury (13 points, 4-for-10, 3 rebounds, 5 assists, zero turnovers). Welcome to the Twilight Zone, folks."
THE FINAL WORD
Celtics Hub: It's the offensive efficiency, stupid.
Hoopinion: A smart take on the great hand-checking debate.
Roundball Mining Company: Dahntay Jones -- game-changer.
Beyond Bowie: What to wear, what to wear?!

(Photos by Glenn James, Gary Dineen/NBAE via Getty Images)
Posted by Kevin Arnovitz
It wasn't that Tony Parker had a bad outing in Game One. He poured in 24 points and dished out eight assists. Graydon Gordian of 48 Minutes of Hell wrote that, Saturday, Parker appeared "indecisive and unfocused ... and struggled to score when faced with the busy hands and busy feet of J.J Barea." Parker isn't a prototypical shoot-first point guard, but in order to exert influence over the game, he needs to know he can score. Saturday, that confidence wasn't there or, at least, it wasn't evident.
Monday night, there was nothing tentative about Parker's game. He went 9 for 11 from the field in the first quarter, and finished with 38 points in a game with only 90 possessions. With the help of some well-executed high screens from Tim Duncan and Kurt Thomas, Parker confounded Dallas' defense all night, no matter what the Mavs threw at him defensively:
Dallas Runs Under the Screen
[1st Quarter, 10:14; 1st Quarter, 5:43; 1st Quarter, 4:48; 3rd Quarter, 7:35] Parker hits his two-point jumpers at a 42.2 percent clip -- not terrible, but not Jason Terry's 49.2 percent mark either -- so it's not a surprise that Dallas chooses to run under picks, and challenge Parker to shoot. It happens twice during Parker's seven-field-goals-in-nine-possessions explosion. The first comes after a rub-handoff on the right side with Tim Duncan, after which Duncan gives Parker a screen. The second instance, Parker gets an elbow screen from Tim Duncan. Both Dallas defenders -- first Jason Terry, then Jason Kidd -- opt to run underneath, and both times, Parker has all kinds of space from about 20-feet to set and fire. Both shots are good.

Parker has always maintained a high field-goal percentage, but he did it primarily by finishing at the basket at an astonishingly high rate for a point guard. It took him a while to establish a consistent mid-range game. When his jumper is falling -- as is true for most point guards off the screen and roll -- this is a defensive tack that's tough to maintain.
Dallas Traps
[1st Quarter, 2:15] With a point guard as capable as Parker, there are no hard-and-fast rules at defending the ball screen. Running a trap isn't a bad way to go, but if Parker can split it, the floor effectively becomes a 5-on-3 game -- one the Spurs won't lose. Parker converts his final field goal of the first period when Kurt Thomas steps out to the arc to give Parker a high screen. Dirk Nowitzki blitzes past the screen, but not high or hard enough. Meanwhile, Terry has every intention of joining Nowitzki on the trap, but Thomas takes him out of the play. By the time Terry squeezes over Thomas, Parker is already in the box -- but that's only Part One of the play.

Part Two comes as he reaches Dallas' help on the back line. As he makes his approach to the left side of the rim, Parker shows the ball to Brandon Bass, which disarms the defender. Parker then protects himself from any recovery by flying to the other side of the basket for a reverse lay-in.
No matter how he's defended, Parker demonstrates a remarkable ability to make strong moves to the basket, yet still have the body control to change direction as necessity dictates.

Dallas Switches
[1st Quarter, 6:18; 1st Quarter, 4:11; 1st Quarter, 2:50; 3rd Quarter, 11:30; 3rd Quarter, 6:20] This generally isn't a good strategy to employ against Parker, unless the thought is that a big man like Erick Dampier can slow Parker's path to the basket once Parker reaches the paint. On both Duncan screens, Dampier drops back to the edge of the lane, yielding Parker a little space. The first time Parker sees the switch, he takes advantage of the space by pulling up and nailing an 18-foot jumper. The second and fourth time, he attacks Dampier off the dribble, breezing past him along the baseline for the layup as his original man locks and trails ... less lock, more trail.
The Mavs never look more disoriented than they do on the third switch. This is the instance when Nowitzki gets crossed up and has his back to the play. At first, Nowitzki shows nicely, but as he goes to recover, he pancakes Terry. This gives Parker a clear path to the hole, and he goes in for the layup untouched.

Just as defenses will throw different looks at an offensive player, Parker does a masterful job of mixing up his offensive repertoire to keep the defense off-balanced. Having just seen Parker drain a jumper in open space, Dampier meets Parker much higher the second time around -- and Parker makes him pay the price by beating him off the dribble.

Dallas in the Zone
[2nd Quarter, 1:13; 2nd Quarter, 0:43] The zone, in large part, is designed to stymie guys like Tony Parker from penetrating, but Parker caps off his incredible first half by shredding the Mavs' zone on consecutive possessions in the final 90 seconds. The Spurs stay with the Parker/Thomas high pick-and-roll. They get into the first one quickly. With the Dallas bigs remaining on the back line, Parker has only one man to worry about up high (Jason Terry), and Thomas promptly takes him out with the pick. Kidd tries to help from the top weak side, but Parker is too quick. Howard is manning the ball side down low, but he has to account for Bruce Bowen in the left corner, so he's slow to leave. By the time Howard arrives, Parker is already to the rim.

The second zone-buster essentially functions like a "run under" set. Parker gets his pick from Thomas. Howard, who picked up Parker in the early offense, dares Parker to shoot, and the bigs are all zoned up, waiting down low. Parker shoots, Parker scores.

The Remainders
Some of Parker's prettiest baskets come in transition [1st Quarter, 9:38; 2nd Quarter, 2:26] and, of course, the third quarter buzzer-beater in isolation against Josh Howard. With the possible of exception of these three field goals, the rest of Parker's buckets come on set plays. This isn't to say that Parker doesn't improvise in the halfcourt, but he dispels any notion that structured offenses stifle creativity. Parker is dynamic and efficeint, stylish and methodical.
April, 14, 2009
4/14/09
1:01
PM ET
The Mavs look like they'll avoid the dreaded 8-hole in the West, but the Pistons succumb to the Bulls and will have a weekend date in Cleveland. Meanwhile, the Sixers and Hornets have tough decisions to make about a couple of struggling shooters.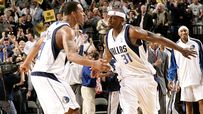 Rob Mahoney of Two Man Game: "What a game, what a game, what a game. In recent weeks, we've seen the 'Race for 8′ transform into a 'Race to Avoid 8′, and, by definition, a race to avoid the Lakers. The Utah Jazz, who sit just one full game behind the Mavs, were nursing a huge lead against the Clippers, and with two minutes and thirty seconds remaining, the Mavs were down five points to the Timberwolves. Heavy stuff. But from that point on, the Mavs committed few mistakes. They got exactly the offensive looks they wanted, and capitalized on most of them. They locked down defensively, and ceded a single basket due to unfortunate circumstance alone. Two and a half minutes, a 9-2 run, and nearly flawless execution. In the biggest moments of this game and possibly of the season, the Mavs did not disappoint. Shot after shot, stop after stop, all culminating in a defensive stop by Dirk [Nowitzki]/Erick Dampier and a huge go-ahead bucket by Jason Terry with 0.2 seconds remaining."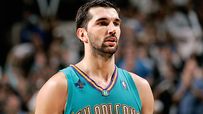 Ryan Schwan of Hornets247: "There is much made about the idea that Peja [Stojakovic] isn't having plays run for him, that he's being mis-used, that he should be sent in motion. So I kept track of plays where Peja was moving his feet, clearly having had a play called for him. There were twelve in the game. One, [Chris] Paul saw an opening and short-circuited the play, diving to the basket and scoring. Twice Peja got free off a single pick as [Shane] Battier got momentarily lost, and got two nice open shots. Three times, Peja ran off a set of three staggered picks, resulting in a nice open shot, a hurried deep three, and Paul being unable to get the pass to him because he was covered too well. Six times, he ran off a pair of picks and couldn't get open at all. For those of you keeping score, that's 12 plays for three open shots and an opening for Paul. If that's the return, I'm not sure it's worth the investment. And if the investment continues to be made, he needs to do better than 0-4 shooting (1-7 for the game, including shots off plays that weren't designed for him as a primary option)."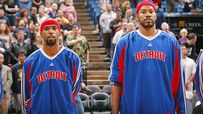 Dan Feldman of Piston Powered: "With a 91-88 loss to Chicago, Detroit will have the eighth seed and a first-round matchup with Cleveland ... [I]t's a shame that's Detroit's fate. In their biggest game of the season, the Pistons played the best they have in a while. Detroit and Chicago were evenly matched. They fought from start to finish, dove all over the court, played physical - and most importantly, played well. The game looked like a four-five matchup in the first round.
The Bulls are playing their best basketball of the season. They've won five in a row, nine of 11 and 12 of 15. And the Pistons are still 8-5 when Richard Hamilton and Rasheed Wallace both play and Allen Iverson doesn't. That clip would give the Pistons 50 wins over the course of a full season and put them comfortably in fourth place in the East. To make matters more impressive, eight of those games were against playoff teams (including two wins over Orlando and one over Boston). And most of those games were on the road."
THE FINAL WORD
Roundball Mining Company: J.R. Smith explodes.
Philadunkia: Falling out of love with Willie Green.
Two Man Game: Deep thoughts on the Mavs' bench.

(Photos by Glenn James, Rocky Widner/NBAE via Getty Images)
March, 12, 2009
3/12/09
12:15
PM ET
The Mavericks still have it, tired legs and all. So does Bruce Bowen, at age 37. Old is new again at the TrueHoop Network.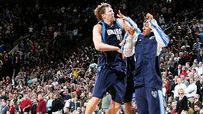 Rob Mahoney of The Two Man Game: "Part of me wants to cheapen this win. The voice in my head is telling me 'Well pffft, any team can win if they make their jumpshots and play half-decent defense.' This is entirely true, and the Mavs haven't had much trouble winning when they actually do those two things. Unfortunately, the defense tends to come and go with the shooting. But you know what? This one counts, and it counts big. The Mavs weren't killing the Blazers' playoff chances like they did to the Suns the night before, but they also implode when faced with adversity and low expectations. Myself and countless others hoped for a win in Portland, but generally resigned ourselves to the fact that the Mavs might go out and lay an egg. It was the second night of a back-to-back, they played an awfully good Portland team that has been ridiculously good at home lately, and when the Blazers offered some resistance in the second half, the Mavs had every reason to fold. They were on tired legs, and again, no one was scoring outside of Dirk and Terry. But they stood their ground, and as a team the Mavs came up huge. Dirk and JET took and made all the big shots, but the impact of players like Erick Dampier, Antoine Wright, and whoever invented the zone defense cannot be discounted.

So much of what the Mavs were able to accomplish in this game hinged on their play in the first and third quarters, which have been the most troublesome all season. They started things off well, and though they were down one at the end of the first, it was evident that this was the Mavs' game. The Blazers made their runs and had their chances, but it was a Maverick world and they were just temporarily leasing in it. The third quarter, in which the Mavs typically implode on their way to a double-digit loss, instead had the Mavs standing their ground against a Blazer resurgence. The storm was weathered, the Mavs bounced back, and the day was won. Huzzah!"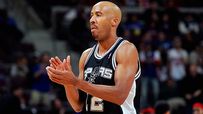 Graydon Gordian of 48 Minutes of Hell: "At 37 years old, Bowen is undoubtedly in the winter of his career. Since joining the Spurs in the 01-02 season, Bowen started in every game in which he played before this year. During the Spurs' early season struggles, Popovich moved Bowen to the bench and decreased his minutes significantly ... Given Popovich's preference for veteran players (a tendency that has led him to continue to utilize several players far past their prime), Pop's decreased utilization of Bowen suggests Bruce must really have slid a peg or two.

But plenty of data (as well as the plain old tactic of trusting one's eyes) suggests otherwise. Bowen is most often used in the 4th most common 5-man unit deployed by Popovich. The four other men he most often plays with are Matt Bonner, Michael Finley, Tim Duncan and Tony Parker. It's important to note that of the other four, two are generally regarded as defensive liabilities, particularly for the Spurs' standards. Of the five most common units, this group of players has the strongest defensive efficiency rating: 87.3 ... To put that rating in perspective, the best defensive team in the NBA, the Cleveland Cavaliers, has a defensive efficiency rating of 98.4.

The fact of the matter is, Matt Bonner and Michael Finley aren't lockdown defenders. And although Duncan and Parker are both known as good defenders (Duncan is more accurately described as a 'great' defender), they can be found on the Spurs unit with the worst defensive efficiency as well. Like it or not, Bowen's presence on the court remains a (if not the) key factor in the Spurs having a good defense versus having a great defense."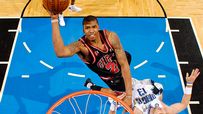 Matt McHale of By the Horns: "I've tried to be patient with [Tyrus Thomas]. I've tried to defend him. I've tried to embrace the notion that he is part of The Future in Chicago. I've pleaded with Vinny Del Negro to give him minutes, to work with him, to focus on his development. But I've got to tell you: Tyrus is driving me nuts. He took 13 shots against the Magic. Two of them were attempted within his range (i.e., at the rim) while 11 of them were jumpers. Quick quiz: Is Tyrus Thomas a jump shooter? Quick answer: NOOOOOOOO! ... Why is he so quick to chuck it up from the outside? Dwight Howard was in foul trouble for most of the first half, but instead of taking it to Howard and trying to get him off the floor, Tyrus was content to just let 'em fly.

A lot of people hold Vinny responsible for Tyrus' lack of development as a player this season. But I can't believe that Ty's love affair with the jump shot is Del Negro's fault. I sincerely doubt he's instructing Tyrus to concentrate on his outside shooting. And if he is, I want him run out of Chicago on a rail.

Ty's coverage on pick and rolls was almost as awful as his shot selection. His lackadaisical help on the pick and roll led to three wide open layups for Rafer Alston during that killer third quarter. Tyrus honestly looked like he had no idea what to do in that situation. He didn't crash the offensive boards either. He finished with a measly 5 rebounds in 37 minutes. It was a lifeless performance."
THE FINAL WORD
Roundball Mining Company: A smart look at Denver's offensive woes (last night notwithstanding).
Hoopinion: Acie Law IV -- serviceable NBA point guard.
Raptors Republic: Toronto circles the drain.

(Photos by Sam Forencich, D. Lippitt/Einstein, Barry Gossage/NBAE via Getty Images)
How did the Mavs defend the 3? Can Boris Diaw play the 3? Are those 3 a.m. gripe sessions working in Phoenix? Examine the prime numbers around the TrueHoop Network.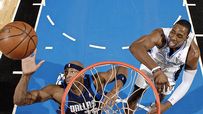 Rob Mahoney of Two Man Game: "Somehow, a Dallas outfit that has been miserable in guarding the three point line turned a group of 'snipers' into kids with cap guns, firing blanks at every opportunity.

A lot of credit goes to both Carlisle and the players themselves, who combined a solid game plan with excellent execution. Looking to the box score, it may seem like the Mavs were absolutely grilled inside. This is entirely true. Dwight Howard awakened his inner Hakeem as he threw in hook after hook, and he finished the night with 35 and 11. But this time, Dwight's dominance was by design. Erick Dampier has shown himself to be a capable one-on-one post defender in the past, and tonight he was given the task of derailing Howard with no help from the weak side. That not only forces Dwight to (theoretically) force up errant shots, but also keeps the ball out of the hands of Orlando's shooters, who typically capitalize on Dwight's ability to draw double teams. Nuh-uh. Not last night. Wing defenders were all over the place, and their efforts were bolstered by a poor shooting effort by the Magic. Even when they had open looks, the Magic shooters were hearing Maverick footsteps. Or maybe they were just cold. Whatever."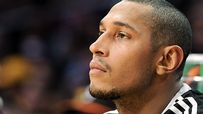 Brett Hainline of Queen City Hoops: "Do the Bobcats really want to play [Boris Diaw] at small forward? They have not done it much so far, but with Gerald out, his time there is increasing rapidly...

In 60 minutes at the 3 over the last few games, Boris has struggled: He is averaging fewer than 10 points per 40 minutes at the position and not even grabbing 2 rebounds per the same time frame (the number is 1.96). Not a great rebounder to start with, moving him further away from the rim seems to have diminished his already light appetite for board work. Worse yet, his defense at the 3 is lacking, to say the least. Opponents are averaging 18.3 points/40 against Boris at the 3, on a 62% true shooting percentage. Those numbers at the 4: 14.8 and 54%. The impact on the team is telling: With Boris at the 3, Charlotte has an offensive efficiency of 99.9 and a defensive mark of 121.3. At the 4 (and again, since Gerald went out), 95.3 and 106.0. Still awful - but way better."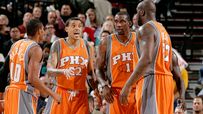 Michael Schwartz of Valley of the Suns: "Anybody who watched the Suns destroy the Kings 129-81 on Monday night would be hard-pressed to believe this was the same organization whose players were holding team meetings, whose executives were plotting the future of the team and whose fans were deciding whom is most to blame the last few days.

The question now is whether this was more of a tease than the Cardinals' late Super Bowl lead or actually a sign of a team that may still gel when it counts."
THE FINAL WORD
Daily Thunder: January was a banner month in OKC.
Raptors Republic: A podcast visit with DraftExpress' Jonathan Givony.
Hornets247: A rough patch in New Orleans.


(Photos by Fernando Medina, Lisa Blumenfeld, Sam Forencich/NBAE via Getty Images)
Posted by Kevin Arnovitz

Remember when ex-NFL offensive lineman Tony Mandrich was all the rage coming out of Michigan State about 20 years ago? He was so beastly that observers starting charting his "pancake blocks" -- the number of times he plowed over an opposing pass rusher. For all of its cutsy-ness, the stat wasn't entirely without value. If pass rushers are awarded sacks, shouldn't offensive lineman be statistically credited for preventing them?
Derrick Rose's freakish driving layup early at 8:42 in the fourth quarter last night against the Nets on a crucial possession to keep the Bulls close was aided tremendously by a high screen from Joakin Noah. For all of
Chris Paul's wizardry
, his patented dribble-drive is often the result of a nasty screen by Tyson Chandler...provided Chandler isn't sitting on the pine with three fouls early in the second quarter.
Shaquille O'Neal might not think much of Erick Dampier
, but the Mavericks' center has carved out a place for himself as one of the game's best big men on the pick-and-roll. And I hope Steve Blake picked up something nice for Joel Przybilla this year, because the Blazers' work horse makes life a whole lot easier for his point guard.
Effective high screens that give a penetrator like Chris Paul the daylight and/or mismatch to get to the rim are as important to a team's offense as the assists we so diligently track when approximating a player's offensive value. Yet we award a dime for being -- often by happenstance -- the last person to touch the ball before a made shot. Meanwhile, all the pick man gets on a successful dribble-drive are kind words from Hubie Brown or Doug Collins. Analysts like to deliver the old "it doesn't show up in box score" trope, but why can't it? It seems that if we can make stats and box scores more perfect entities, we should.