TrueHoop:

Hasheem Thabeet
July, 22, 2010
7/22/10
12:08
PM ET

By Kevin Arnovitz
ESPN.com
Archive
July, 14, 2010
7/14/10
12:35
AM ET

By Kevin Arnovitz
ESPN.com
Archive
At summer league, athleticism is the most commonly cited variable to distinguish NBA-caliber players from the rest of the talent. DeMar DeRozan's athletic gifts established him as a Top 10 pick in 2009, despite an underwhelming one-and-done season at USC. DeRozan displayed his explosiveness and agility for much of the 2009-10 season at varying levels of refinement, finishing his rookie campaign with a Player Efficiency Rating (PER) of 12.58. He showed strength (finishing near the rim) and weakness (playmaking) in the precise areas where you'd expect an athlete to succeed and fail.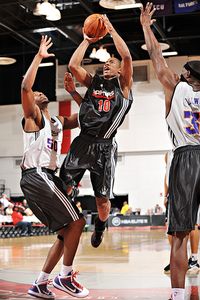 Garrett Ellwood/NBAE/Getty Images
Can DeMar DeRozan fill the void in Toronto?
Chris Bosh's departure leaves the Raptors with a vacuum in their offense, and DeRozan is probably the only player on the roster with the dynamism to fill that void. But to be the name on the marquee in Toronto, DeRozan will have to graduate from an athlete who can ball to a ballplayer who can leverage his athleticism. If he's going to achieve as a shooting guard, he must extend his range to beyond the arc, where he converted only four shots during his entire rookie season. DeRozan will also need to apply all that athleticism and length against the scorers who are torching Toronto on a regular basis.The Raptors finished dead last in defensive efficiency last season. As he enters his sophomore season DeRozan is well-aware of this opportunity, and the improvement in his game it will require on both ends of the floor.
"If I want to be more effective, I really have to slow down and not only use my athleticism all the time," DeRozan said. "I have to learn how to play different kinds of ways and I'm learning."
On Tuesday, we saw glimpses of DeRozan's learning curve and his expanding game. He scored 23 points, shooting 10-for-15 shooting from the floor. Although he unleashed some ferocious dunks, there was substance and nuance to go along with the aerial effects. DeRozan showed off a tighter handle against pressure, something that hampered his one-on-one game at times last season. That added confidence in his ballhandling allowed DeRozan to make better decisions off the dribble, whether it was spinning away from help defenders or finding a seam.
"Athletes last for [only] so long," DeRozan said. "Being young, I want to develop now so that I can go 50-50 with my game -- skills, then use my athleticism when I have to."
DeRozan still exhibited plenty of that raw athleticism, especially in tandem with Sonny Weems, his closest friend on the team. The two wingmen teamed up on consecutive alley-oops in the second quarter. The first jam came in the half court when Weems snuck behind the Houston defense on a dive to the hoop, where DeRozan found him with a lob. On the next possession -- a break in transition -- Weems returned the favor when DeRozan ran the baseline and met Weems' pass at the rim for the slam.
"That's what young guns do," DeRozan said. "When we came out, Sonny said he was going to go back door and I threw it to him. Then I knew when we were on the fast break together, I knew he was going to throw it up."
DeRozan's primary defensive assignment on Tuesday was staying with Chase Budinger (and occasionally Jermaine Taylor) in Houston's active three-man sets, closing out on the second-year sharpshooter and staying with him in transition. For the most part, DeRozan succeeded on all three accounts. He selectively provided help, but usually opted to stay glued to his man.
"I need to improve my defense, especially going at the 2 position, going against players like Kobe [Bryant], Ray Allen, those type of guys every night."
Evidence gathered at summer league has to be viewed with a jaundiced eye. As DeRozan himself suggests, there's simply no substitute for meaningful NBA games. Matt Janning and Chase Budinger aren't exactly comps for Bryant or Allen, but at least DeRozan acknowledges that the trajectory of his growth as a player will be central to the Raptors' fortunes.
To return to respectability, Toronto will need a superstar -- and there's only one candidate on their roster.
Yes, that was J.R. Smith out on the floor starting for the Nuggets. You can't find Smith on the published roster, nor on any of the box scores from the Nuggets' first three games here in Las Vegas. So what's he doing here? "I'm just working out," Smith said. "I'd rather play somewhere like this than a high school gym and get hurt." Smith is rehabbing his left ankle. "Of course it's not the NBA season, but it feels good to see some familiar faces and feels good to come out and play."
James Johnson's teammates spent a lot of time telling Chicago second-year forward where to set up offensively in the half court. When Johnson doesn't have the ball in his hands, he floats purposelessly around the floor. Should he work off the ball to elude his man? Should he go to the ball? Often, Johnson has no idea. On the positive side, Johnson has some impressive ball skills. He has the handle and agility to find seams to the basket -- and the strength to finish. Unfortunately, he doesn't display the desire or wherewithal to make a play when he encounters heavy traffic.
DeMarcus Cousins posted another strong showing. The numbers were solid -- 19 points and 12 rebounds -- but the breadth of Cousins' game was most impressive. Cousins displayed a lot of polish against the Lakers' squad. Whether he was delivering a nice pass against collapsing defenders to a diving Omri Casspi for a slam, or working Derrick Caracter off the dribble from the top of the arc (finishing with a soft hook off the glass), Cousins revealed finesse to accompany that power. He even drained a jumper from 20 feet and launched a smart outlet pass that led to a bucket on the break for Casspi. Above all, he's still showing signs of becoming a pick-and-roll force. On one possession, he set a high screen for point guard Donald Sloan, then made a beeline to the rim, flushing Sloan's missed shot for a putback. Even on Cousins' misses (he finished 8-for-20 from the field), he unveils a range of skill. There's a whole lot to be explored here.
If Dan Dickau can play NBA ball, then it seems to make sense that Matt Bouldin should. The big point guard out of Gonzaga can deliver a sharp pass, pressure the ball, fight through screens and make good decisions with the ball in late shot-clock situations. At 6-foot-5, he has NBA size at the position.
On a high ball screen, the man guarding the screener is charged with the responsibility of letting the man about to be screen know the pick is coming. In the opening possession of the Houston-Toronto game, the Raptors' Joey Dorsey failed to do that and got an earful from the Toronto coaching staff. In a sparsely filled arena on a Tuesday afternoon, that bark reverberated from the rafters. Suffice it to say that, for the rest of the game, you could hear "by yourself!" and "right! right! right!" every time Houston was in a ball-screen set.
Bret LaGree of Hoopinion on Othello Hunter: "Three weeks ago Atlanta Hawks Assistant General Manager Dave Pendergraft called Othello Hunter's season-and-a-half with the team as an experiment they didn't see through. Hunter appeared in just 23 games for 125 minutes with the Hawks. Despite having no immediate need for him, the Hawks assigned Hunter to the D-League for just 3 games during the 2008-09 season. After the Hawks released him in January, he finished the 2010 season in Greece, averaging 10 points and seven rebounds in 23 minutes per game for Ilisiakos. His first stretch of regular playing time since his senior season at Ohio State may have given Hunter the confidence to again demonstrate his strengths on the glass and around the basket. Through four games with the undefeated Denver Nuggets summer league team, Hunter has again produced when given playing time, averaging 13 points and five rebounds in 24 minutes per game while making more than two-thirds of his field goal attempts."
D.J. Foster of ClipperBlog and ESPN Los Angeles on Patty Mills: "Most 6-foot point guards with diminutive frames would be weary of mixing it up, but Mills isn't your typical guard. Despite his stature, Mills is a scorer first and foremost who actually does some of his best work off the ball. One display of his aptitude without the rock came when Mills hurled himself at a Hornets defender almost twice his size, setting such a thick baseline screen that his own man had to scurry off to help. The suddenly wide-open Mills then floated to the perimeter for a clean 3, bringing his total on the evening to 14 points on 6-for-9 shooting. In Mills, the Blazers look to have another threat off the bench who can pack a punch offensively, whether he's the primary ball-handler or not. With players like Brandon Roy and Jerryd Bayless typically dominating the ball, Mills' abilities away from the play should prove valuable going forward.
Jeremy Schmidt of Bucksketball on Hasheem Thabeet: "As he often does, Thabeet showed his shot blocking ability, rejecting three shots, but he still looked unsure of himself on offense. 20 seconds into the game he caught a pass and brought it down to his chest, allowing a guard to sneak in to tie him up. Later in the game he grabbed a rebound and again brought the ball down low before watching it get slapped away by a much smaller player. While signs of progress are there, Thabeet was 6-9 from the free throw line and rotated well enough on defense that his coaches were very vocal in their praise from the bench more than once, Tuesday's game reinforced the idea that Thabeet is still very much a work in progress."
Joe Gerrity of Hornets247 on Quincy Pondexter: "The first-round pick continues to impress on the defensive end. He's active off the ball and has shown the capability to stay in front of his man, something the Hornets desperately needed last year on the perimeter. Under the tutelage of new coach Monty Williams the Hornets are expecting an immediate contribution from Pondexter. Offensively he's a quality finisher and capable of cutting to the hole or hitting a pull up jumper at an NBA level. Before too long he should be in contention with Julian Wright to receive substantial minutes in relief of the aging Peja Stojakovic."
February, 26, 2010
2/26/10
11:02
AM ET

By Henry Abbott
ESPN.com
Archive
There has been a lot of laughing at Hasheem Thabeet for being sent to the D-League, and I understand why, in theory. It's nobody's Plan A.
But for crying out loud, is it really so shameful? He's a young, raw, big man. The D-League exists to hone the skills of young, raw players. Why wouldn't he go to the D-League?
Steve Weinman of D-League Digest writes
:
The Grizzlies picked Thabeet when they did knowing full well that he would not be an immediate home run. He entered the league with significant questions about his strength, lateral quickness, offensive post game and ability to stay out of foul trouble. At 7-foot-3, he had great size and had already shown at UConn how his length and shot-blocking instincts could make him an impact presence at the defensive end. But none of that made it any less clear that his game left plenty of room for nuance.

It should not come as a shock that Thabeet hasn't set the world on fire in his first NBA season, and his getting sent to the D is not some sort of dishonorable discharge. The D-League offers exactly what Thabeet and many young NBA players laboring at the end of their teams' rotations could use: a chance to get consistent run and fine-tune his game.

One needs to look no further than Bobcats center Alexis Ajinca to see a viable parallel for Thabeet: Another wiry man in the middle, Ajinca went to Maine earlier this season with a reputation for soft play on the interior. Over the course of half a season, he went from routinely settling for 18-footers to posting up with confidence, drop-stepping for dunks and adding a hook shot. Unfortunately, Ajinca's story isn't complete as he has been sidelined with an injury since late January and hasn't returned to Charlotte yet. But while I can't guarantee success when he returns to the next level, watching his progression through two months in the D-League this season left no question that Ajinca is a much better player than he was in November. Thabeet comes in with more raw ability, a higher ceiling and greater expectations, and I see no reason consistent minutes and daily work with the coaching staff can't help augment his all-around game the way those benefits helped Ajinca.
Not to mention, it's not like only NBA flops make it to the D-League.
The list of D-League alumni
includes plenty of valued NBA players, like Aaron Brooks, Shannon Brown, Jordan Farmar, Rafer Alston, Martell Webster, Chris Andersen, Matt Barnes, Louis Williams and Ersan Ilyasova. It's hardly shameful for Thabeet to join that group.
July, 20, 2009
7/20/09
1:55
AM ET
Posted by Kevin Arnovitz
The Las Vegas Summer League is a lot like the Sundance Film Festival of the NBA. Whereas the pageantry of most NBA games has gotten out of control, Summer League games are small indie productions. The event certainly has its share of fanfare, but it also allows participants to brush shoulders with some notables they wouldn't ordinarily have access to during the grind of the NBA season. Just as festival-goers at Sundance might find themselves sitting next to an A-List movie star in a cozy bar, it's not unusual for Summer League attendees to sit down in the stands at Cox Pavilion, only to look over and see a high-profile general manager in cargo shorts and flip-flops.
Since team executives, agents, player development personnel, and veterans who've come to watch their younger teammates are all convened in one place for 10 days, Summer League is one big, casual schmoozefest, and a great place to take inventory of the state of the NBA.
What were all those big names talking about in Las Vegas this year? Here were eight hot topics:
A Lot of Competent Players, but Only One Sure-Fire All-Star

Since early spring, the 2009 talent pool has been regarded as a one-man draft. By and large, NBA folks left Las Vegas with that consensus intact. Blake Griffin was the story of Summer League. Though he wasn't able to replicate his explosive 27-point debut, Griffin's 19.2 points and 10.8 rebounds per game stood out. There were other players who matched his statistical output, but few generated the enthusiasm Griffin did among those who got a look at the full roster of rookies. "It's not only his work ethic and competitiveness," said one scout. "It's the balance, athleticism, body, and control. The stuff he can't do yet? It'll happen in no time." When asked how many certain All-Stars would materialize from the class of 2009, interviewees set the over-under barely above one, with Tyreke Evans earning a few votes. Despite the low expectations for stardom, many observers were pleasantly surprised by the depth of solid, if unexceptional, players. The prevailing opinion in Vegas was that the 2009 group is a far cry from the notoriously fruitless class of 2000. Though there was little unanimity, James Harden, Austin Daye, Wayne Ellington, Jonny Flynn, DeJuan Blair, and Earl Clark were all mentioned as possible contributors, or "third options" as one assistant general manager put it. But conversations about potential greatness consistently and almost exclusively returned to Griffin.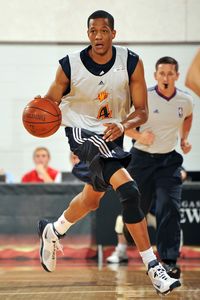 Anthony Randolph: All grown up?
(Photo by Garrett W. Ellwood/NBAE via Getty Images)
Anthony Randolph is Ridiculous

Summer League play always warrants a disclaimer, because the level of competition falls way short of what guys will confront in an NBA game, but the Warriors' 20-year-old forward seemed almost too advanced for Summer League play. Normally jaded execs and crusty sportswriters alike had their jaws agape watching Randolph command the game when he was out on the floor. Randolph came into the league as a candy dish of disparate talents, but he's graduated from curiosity to crackerjack. He has a band of admirers who gush over his range of talents, and that group got a lot bigger in Las Vegas, as his skill set was on full display. Randolph saw the court, ran the floor, passed the ball, blocked shots, got to the line, and drained mid-range jumpers as well as anyone in Summer League. In his four games, he averaged a Summer League-high 26.8 points per game on 60.9 percent shooting from the floor. He also got to the line 39 times and blocked 12 shots. But it was about more than the stats for Randolph. There's a moment when a player's talents unify into a single, coherent package. Judging from Randolph's performance, that moment has arrived.
The Global Economic Crisis
There's an area behind the near basket at Cox Pavilion where European coaches, general managers, and scouts sit and talk shop during the games. The NBA presents Summer League as a showcase of their future stars, but the real business in Las Vegas is being conducted by these guys, along with the agents and bridge-builders who are trying to get jobs overseas for the less recognizable names on Summer League rosters. Although there wasn't a visible black cloud hanging over this corner of the gym, the anxiety was palpable. They had a lot to be stressed about. Basketball clubs the world over are suffering, but none more than those in Europe. After years of escalating salaries and profits, the market has collapsed. "I've told all my European guys to expect, on average, salaries to go down between 30 and 40 percent," one European agent said. "It's definitely a buyer's market." This dynamic puts pressure on everyone -- the players who are facing a pay cut (even if they're coming off banner seasons), the agents who are terrified to communicate this to their clients out of fear of getting fired, and the teams who still haven't filled out their rosters because they're short on cash. The result is an impasse with neither players nor clubs budging, and a few teams on the verge of economic collapse.
Salary Cap Troubles & the NBA Financial Situation
The international game is in meltdown mode, while the NBA game is suffering from its own set of monetary issues. In Sections 104 and 115, where most of the NBA execs and team personnel sit, the dominant conversation of the week was about the financial pinch NBA franchises are feeling. In his press conference here in Vegas, NBA Commissioner David Stern said that fewer than half of NBA franchises made money last season. Ticket sales, sponsorships, and television contracts are all down. With the salary cap and luxury tax level dropping -- and scheduled to do so for the foreseeable future -- teams are having to calibrate their spreadsheets. This affects everyone: owners, general managers who are under pressure to build legitimate NBA rosters, free agents sitting on the sidelines, their agents, and also the journeymen and undrafted rookies trying to earn a spot on an NBA roster. To save money, a team that would normally carry 15 guys might trim that number down to 13 -- meaning fewer jobs. And players who would've inked rich, multi-year deals are finding that, with some exceptions, they have fewer suitors, with thinner wallets.
The Point Guard Class
Several point guards who came to Las Vegas made strong impressions. Jonny Flynn, despite all the turmoil surrounding Ricky Rubio, stood out. Though many in Vegas questioned the wisdom of playing Tyreke Evans at point guard long-term, few doubted that his strength, size, and capacity to get to the rim would make him a scoring machine. Observers had reserved praise for Brandon Jennings and Stephen Curry, the former for his unrefined shot, the latter for looking more like a gunner than a floor general. Some of the mid-first-rounders earned a lot of praise. Dallas' Roddy Beaubois led Vegas point guards in
oohs
and
aahs
, zipping through the lane in traffic and filling it up from beyond the arc. Of all the point guards in Las Vegas last week, Darren Collison was among the most polished before going down with an ankle injury. After starting Summer League 1-for-15 from the field, Ty Lawson bounced back to turn in three dominant performances, averaging 23.7 points over that span. Lawson is the kind of point guard who needs to be surrounded by scorers to excel. He'll have that in Denver.
LO, AI, Booz, and the Blazer
s
As much as NBA fans love speculation about trades and free agency, nobody appreciates the rumor mill quite like the NBA chattering class. Talk of the disintegration of Lamar Odom's negotiations with the Lakers provided plenty of fodder for late-night dinners. The same was true of the
l'affaire
Allen Iverson, where Carlos Boozer may land, and what the Blazers will do with the money they threw at Paul Millsap. The Odom situation was far and away the most intriguing to the insiders. Odom and the Lakers are in the second act of a romantic comedy: They need each other. The Lakers would slip measurably without Odom, and Odom needs the Lakers to solidify his place among the Lakers greats -- or at least the Lakers very, very goods. The Iverson and Boozer matters exemplify the financial issues mentioned above. So far as Portland, few teams run as much informational interference, and even some of the wiliest insiders were stumped about what the Trail Blazers might do.
The Death of the Back-to-the-Basket Game
"Name one guy here who can hit a jump hook over their left shoulder," an NBA assistant general manager asked. "I can't think of one." Whether it's the trickle-down effect of the European game, the rule changes implemented by the league a few years ago, or college teams appropriating Mike D'Antoni-style basketball, the vast majority of the young bigs who were in Las Vegas are face-up players who work either along the perimeter or out of the pinch post: Anthony Randolph, Earl Clark, James Johnson, Taj Gibson, Dante Cunningham, DaJuan Summers, Austin Daye, and even Blake Griffin. Is this a momentary trend, or will the pendulum eventually swing back? "If I were a big man about to enter college, I would develop that back-to-the-basket game," the executive said. The implication: At some point, those skills will be at a premium, and that kid will be impossible to defend. Forward-looking teams are all about buying low and, right now, traditional post players are undervalued because they don't conform to the current climate of the NBA game.

Dysfunctional Organizational Structures Breed Dysfunctional Franchises
What is going on with Minnesota? That was a popular topic of conversation among senior NBA people in Las Vegas. The team still has no coach. Though it had one of the Summer League's most prolific players in Flynn, there's no telling if the system he played in over the 10 days will be the one installed by a new coach -- whoever that might be. This makes the Summer League evaluation process a lot less useful. Who's in charge? CEO Rob Moor? General manager David Kahn? Will the new coach be fully empowered to do his job? Critics also looked at Memphis. How did the Grizzlies end up with Hasheem Thabeet? Because owner Michael Heisley reportedly made the call. The Clippers, too, generated buzz this week with the Iverson speculation. While owner Donald Sterling wants to make a splash with Iverson, Clippers management would like to target Ramon Sessions. These historically beleaguered franchises all have one thing in common: There's no clear hierarchy that allows basketball people to make basketball decisions. The best franchises have well-defined roles that emanate from the top. Owners allow their senior executives to do their job. Those executives give their head coaches full reign, and so forth. Look no further than the San Antonio Spurs.
July, 17, 2009
7/17/09
12:25
AM ET
Posted by Kevin Arnovitz
Joe Alexander, as much as anyone on the Bucks' roster, will benefit from Brandon Jennings' fluency at running the break. Alexander can run the floor well for a combo forward, and knows how to fill the lane in transition. Thursday, he also harnessed his athleticism and got points driving to the hole with authority against some slower Toronto defenders. He also ran the pick-and-roll as the ball man effectively. All in all, another good outing for Alexander.
DeMar DeRozan: moving well off the ball. In the second quarter against the Bucks, he made a beautiful back door cut to the hole from the weak side the instant he recognized that the defense was sloughing off him a bit. The result? A perfect lob pass from Quincy Douby, and a vicious slam by DeRozan. He was also undeterred by tight coverage from Jodie Meeks at about 15 feet off the left block. Even with Meeks on top of him, DeRozan managed to get remarkable separation and elevation on his jumper under pressure. Coming hard off screens, DeRozan easily got free from Jodie Meeks. More on DeRozan from Holly MacKenzie here.

Chase Budinger: Averaging 17.8 point per game on 68% shooting.
(Garrett Ellwood/NBA via Getty Images)

Speaking of Meeks, he's still primarily a spot-up threat, which limits his ability to get to the line (23 attempts from the floor, but only one from the line), so it was nice to see him take it to the hole on occasion ... and finish.

Meeks and Jennings had great chemistry on Thursday, especially in the third quarter. On a high pick-and-roll for Jennings, the rookie point guard beat the trap. When the help sloughed off Meeks, Jennings kicked a perfect pass to his shooter, and Meeks drained the shot. Meeks' next two buckets from Jennings came in transition. On both breaks, Jennings waited patiently for Meeks to spot up, then perfectly timed his pass to Meeks, hitting him in rhythm. Both shots fell. On a crucial possession in the game's final minute, Jennings found Meeks again on the drive-and-kick, for a 3-pointer that put the Bucks ahead a point. Meeks finished the game with 29 points, including 4-for-8 from beyond the arc.
Brandon Jennings was really aggressive off screens when he split the trap and recognized that the back line rotation was slow. As a result, he forced fewer bad shots and had an easier time finishing at the cup.

Apart from Adam Morrison, the Lakers have few recognizable names on their Summer League roster. Morrison didn't play Thursday, which left some additional shots for David Monds. The journeyman forward took full advantage of the opportunities, nailing a slew of mid-range jumpers on his way to 14 points and 6 rebounds -- may not sound like a lot, but the Lakers' summer league team is a little impoverished.
Chase Budinger put up the best line of the day outside of Anthony Morrow: 25 points on 13 possessions. The forward out of Arizona might have the sweetest stroke in town. The challenge for most pure shooters in the NBA, of course, is finding good looks. This week, Budinger hasn't had any trouble. "He has a knack for getting open," Rockets' assistant Eltson Turner said. "He moves well without the basketball, and you can't leave him. That fits our style."
On the day he signed a 4-year, $3.8 million contract, DeJuan Blair gave the Spurs a good look at their investment against the Thunder, scoring 20 points on 13 possessions. Blair battled underneath all afternoon, muscling up for putbacks. But there was more to Blair's repertoire, including some wily dribble moves from the top of the key. "They shouldn't have passed on me," Blair said of the Thunder.
Thunder general manager Sam Presti is collecting versatile pieces to round out an increasingly mature Oklahoma City roster. To that end, Kyle Weaver's game is hard not to like. He wasn't the Thunder's top scorer Thursday, but he gave his team a reliable handle, solid on-ball defense for most of the night on George Hill, and some timely shooting. The Thunder's backcourt is standing room only, but in Weaver, Scott Brooks has a guy who knows his way around the court. For more on Weaver, check out Darnell Mayberry's profile in the Oklahoman.

In the first half of the Clippers-Grizzlies game, Blake Griffin (No. 1 overall) goes for 12 points and 11 boards, while Hasheem Thabeet (No. 2 overall) goes for 4 points (0 field goals) and 1 rebound. David Thorpe at halftime: "Griffin played as if he was an undrafted player from Bulgaria trying to impress everyone in the place, in search of a job next year. Thabeet jogged around, bumped a few people, and generally seemed uninterested. Passion is a talent."
Tarence Kinsey wins the Kevin Martin Award: 20 points on two field goals ... but 16-for-18 from the stripe.

July, 1, 2009
7/01/09
10:04
PM ET
Posted by Kevin Arnovitz
The last time Quentin Richardson was a member of the Los Angeles Clippers, the Clips were a promising, young squad that included Elton Brand, Corey Maggette, Bobby Simmons and Chris Wilcox. Next week, Richardson will be shipped back to Los Angeles as nothing more than filler in a deal that will send Zach Randolph from the Clippers to Memphis. It's a seemingly inequitable trade -- the 20/10 in Randolph for gimpy, marginal Richardson -- until you look beneath the surface:
Two Clips passing in the night.
(Ray Amati via NBAE/Getty Images)

The player that matters most in this trade is neither Randolph nor Richardson, but the Clippers' No. 1 pick, Blake Griffin. Randolph is a single-minded post scorer who likes to work on the right block -- precisely where Blake Griffin is slated to build his NBA career as a monstrous big man. For the Clippers, moving Randolph clears the way for Griffin, where he'll play alongside Marcus Camby, Chris Kaman and Griffin's pal, the intriguing DeAndre Jordan.


For the Clippers, moving Randolph isn't just about clearing minutes -- it allows the franchise to press rewind on what was a disastrous cultural acquisition in Randolph. Although Randolph's selfishness, disinterest on defense, and questionable off-court character were no secret, Mike Dunleavy felt he had to find a frontcourt scorer after the Clippers lost Brand to Philadelphia. He pushed all in on Randolph, absorbing three years and approximately $45 million in exchange for a couple of 2010 expiring contracts (Tim Thomas and Cuttino Mobley). Randolph put up his usual solid offensive numbers, but the Clippers still finished the season with a horrendous 19-63 record.

Worse, the team descended into a lazy funk. Though the blame can't be attributed solely to Randolph, the Clippers had to endure Randolph's sucker punch to Louis Amundson (resulting in suspension) and a drunk driving arrest (also resulting in suspension). For an organization that did an admirable job reshaping its image the preceding half-dozen years or so, 2008-09 was a disheartening setback -- and Randolph was at the crime scene.


By shipping Z-Bo out of town, the Clippers move the remaining two years and $33.3 million of his contract. Richardson stands to earn only $9.35 million in 2009-10, and his contract expires at the end of the season. He might get some burn on the wing. With his bad back, he might not. For the Clips, it's of little import. The move gives them significant cap room for the summer of 2010, when both Marcus Camby and Ricky Davis will also come off the books -- nearly $20 million.


That brings us to the obvious question: If Randolph is so inimical to an NBA team's rebuilding effort -- as determined by the Clippers, and New York and Portland before them -- why does Memphis want him? The answer, as it was for the Clippers in November of last year, is that there aren't a lot of available power forwards who can score and rebound the way Randolph can, and the Grizz need some production down low.

If you want to take a glass-half-full approach, you can look at a couple of mitigating factors in Memphis. Randolph's worst qualities on the court are his ineffectual interior defense and his tendency to become a black hole in the offense. With Hasheem Thabeet, Memphis has a big man who can protect the rim and compensate for Randolph. And in Marc Gasol, they have a complementary big who knows how to move the ball out of the high post. In addition, if there's one team in the NBA without cap concerns, it's Memphis, which has only $17 million committed in salaries after next season.

The NBA's salary cap structure is usually unforgiving of teams that made the kind of miscalculation the Clippers did on Randolph last season. But the Clippers have been leading a charmed existence over the past six weeks. First Blake Griffin lands in their lap, and now they find a willing sucker for Zach Randolph.
June, 24, 2009
6/24/09
11:02
AM ET
Posted by Kevin Arnovitz
You've reviewed the prospects' measurements. You've seen their projections as pro players. You've watched the buttoned-up interviews. But have you seen Stephen Curry's foray into variety comedy? Or caught a glimpse of James Harden's biggest (smallest) fan?
Stephen Curry
The jokesters at The Davidson Show put together a variety show of produced video segments several times a year. They scored last fall when they booked Stephen Curry and some of his teammates as the guest hosts of Episode 5, whose opening segment includes Curry reading an issue of Seventeen magazine in the Davidson library:

I joined a new team the next summer and while Taylor was in a Bible study with me at church and we still hung out now and again, I really never saw Blake again. Except the first time I interviewed him on campus last year, he remembered me. He looked and me and said, "Hey, you're Royce Young. You played baseball with Taylor. Good to see you man." I shook his hand and said the usual crap, but seriously, this guy is going to be the No. 1 pick in the NBA Draft, and he remembers me? He even remembered something Taylor and I did. "Didn't you go TPing with my brother? And didn't you guys get caught or something?" Yes, yes we did. On both accounts.
You have something to add to the mix? A tweet, video, or other found object? Post it in the comments section.
June, 23, 2009
6/23/09
5:49
PM ET
Posted by Kevin Arnovitz
It seems like we're privy to more information on draft prospects than ever this year. Want to see how a player shoots the ball? That's simple -- just press play on any number of
workout videos
that are floating around the web. Is a draftee personable?
See for yourself
.
We're inundated with more stuff than ever, yet when it comes to raw data about a player's tendencies, there's still a lot that even most basketball junkies don't know.
Synergy Sports
is on it. They supply sortable video and data to NBA teams, and have been developing meticulous reports on this year's draft class. They were nice enough to send some samples of their research to TrueHoop. These are multiple-paged spreadsheets with evidence plucked straight from video. Here are some highlights of what the reports deliver: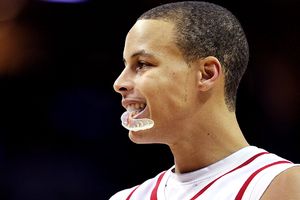 Sophisticated video analysis says: Stephen Curry's isolation skills will translate nicely to the NBA, but he has not proven mastery of the pick-and-roll.
(Streeter Lecka/Getty Images Sport)
Stephen Curry
Isolation plays accounted for 27% of Curry's offense -- more than any other category. Pro point guards who share this distinction include Chauncey Billups and Deron Williams. Curry's 0.95 points per possession in isolation is very strong. As the report points out, "This bodes well for Stephen ... Point guards have the ball most of the time anyway and so a strong isolation point guard is a real plus."
Transition opportunities constituted 24% of Curry's offensive possessions at Davidson. In transition, Curry generated 0.94 points per possession, which is lower than some 2008 prospects coming into the draft, such as Eric Gordon (1.27) and Jerryd Bayless (1.23). The Synergy report says that "this seems to be due to the high number of jump shots he takes in this situation."
Where does Curry need to improve? The pick-and-roll. Curry managed only 0.78 points per possessions -- though the pick-and-roll accounted for only 8% of his offensive possessions. In the 45 instances Synergy studied, Curry went 12-36 from the field, and turned the ball over about a sixth of the time. The pick-and-roll is the linchpin of most NBA offenses. In contrast to Curry, Gordon and D.J. Augustin came into the NBA as proficient pick-and-roll guys in college, which probably helped their rookie campaigns.
Curry was a very proficient as a spot-up shooter (1.19 points per possession), and coming off screens (1.3 points per possession). This presents an interesting dilemma. As a kid trying to morph into a point guard, there will be fewer opportunities for Curry to spot up and come off screens in the pro game.
Blake Griffin
The first thing that jumps off the page in Griffin's report is the percentage of his offense that comes from post-ups -- 44%. To put that in perspective, Al Horford came ouf of Florida with a 43% number, but you'd be hard-pressed to find many amateurs who get out of the 30s. Horford was a bit more efficient than Griffin on the block (1.11 vs. 1.00 points per possession), but Griffin's number is still very strong. As the Synergy report states, "Blake's proficiency in this area will not only produce a high percentage shots for his team when he goes to work on the block, it will also create open shots for his teammates when players are forced to leave their men to help defend Blake's post-ups."
Baron Davis, take note: Griffin's numbers indicate that he moves as well off the ball as any big man we've seen in recent years. He recorded a whopping 1.5 points per possession on cuts. The reports says it all, "This indicates that Blake is active, has good hands, and knows how to score the ball attacking the rim. This is a valuable asset that produces easy scores and cause the defense to track yet another offensive threat. Combine a good passing point guard with Blake and his team will burn the defense in this type of offense."
Griffin will need to spend a lot of time developing his jump shot. He generated only 0.64 points per possession on spot-ups. At Oklahoma, those opportunities accounted for only 2% of his offense, but at the pro level, he can't be an elite power forward without some range.
Griffin is a terrific big man in transition, where he chalked up 1.32 points per possession. The comp here is Brandan Wright, who had similar success on the break at Carolina in 2007-08. If the Clippers can get stops and control the defensive glass (two big ifs), they'll be able to use Griffin to get out of the offensive efficiency cellar -- they finished 30th in the league last season.
Hasheem Thabeet
Would you be surprised to learn that Thabeet was more efficient in the post than Blake Griffin? It's true. Thabeet's points per possession number down on the block, 1.02, was a hair better than Griffin. Post-ups accounted for 36% of Thabeet's offensive possessions.
How did he do it? According to the report, Thabeet was "effective from either block and surprisingly effective from the right block for a right-handed player. Very effective at pinning his man in the post (with defender on the high side)."
Like Griffin, Thabeet's face-up game is nonexistent -- 3% of overall possessions with only a half-point per possession. Unlike Griffin, Thabeet doesn't get out on the break very often (only 6% of possessions), though he converts at a nice rate when he does (a whopping 1.64 points per possession).
When you study the breakdown and the comps, Thabeet's 2008-09 season appears eerily similar to the Greg Oden's single season at Ohio State. Oden got the ball on the block far more frequently, but both Thabeet and Oden generated a lot of their points on offensive rebounds and on basket cuts.
Easily my favorite thing that was on TrueHoop yesterday was a link the Go Go's singing "We Got the Beat."
If you are a fan of UConn center Hasheem Thabeet, who is likely to be very high draft pick next Thursday, then it's impossible to hear that song without assuming they are in fact saying "We Got Thabeet." Honestly, if you were to re-record the song in honor of the big man, it sound exactly like the original. They did a perfect job.
But that's only the beginning.
TrueHoop reader Matt points out that Eric B. and Rakim have done their own unwitting tribute to the 7-3 Tanzanian shotblocker. Another perfect match. It sounds just like they're saying "Thabeet."
Unimpeachably excellent.
Two song tributes to Thabeet basically materialized out of nowhere. There must be more, right?
There sure are.
Without all that much searching I dug all these up:
This is literally just the tip of the iceberg. Something like 4% of all recorded music can be interpreted as an theme or anthem for Hasheem Thabeet. That makes him the second luckiest person in the world, behind whoever it is that does game operations for whatever team it is that drafts him.
April, 2, 2009
4/02/09
6:03
PM ET
Posted by Kevin Arnovitz
I can't remember an April when the upcoming draft pool was less distinguishable than the Class of 2009. This much I know: Blake Griffin is a beast and Ricky Rubio is the Catalan Pete Maravich, though he may not even declare for the draft. After that, I've fallen in and out of love this winter with everyone from Greg Monroe and Stephen Curry to Earl Clark and Jordan Hill. Each prospect -- even the ones projected as Top 5 picks -- offers as many red flags as refined skills. Worst of all, we have only 120 minutes of basketball and a handful of players left to make sense of it all.
To help me sort it out, I emailed the oracle, Jonathan Givony of Draft Express. I asked Givony to share with TrueHoop the five guys he'll be watching most closely in Detroit. Here is Givony's comprehensive guide to the weekend:
Hasheem Thabeet, 7-3, Junior, Center, UConn
Thabeet is the top NBA draft prospect at the Final Four, and will be very heavily scrutinized due to his somewhat underwhelming NCAA tournament showing thus far (Chattanooga aside). When you're 7-3, have an NBA body, a freakish wingspan and run the floor like a deer, people tend to expect a lot out of you, as Thabeet seems to be slowly figuring out. Defensively, Thabeet will be asked to protect the rim and make his presence felt on the glass, as he usually does. Offensively, it would be nice to see him try and ask for the ball once in a while, as he's been extremely bashful in many of UConn's key games this season, seemingly afraid of exposing his poor hands and lack of balance. Thabeet has been projected by many NBA executives we've spoken with as a likely top-5 pick and potentially the second player off the board after Blake Griffin, so a strong showing is definitely in order.

Kemba Walker, 6-1, Freshman, Point Guard, UConn
If you're looking for an immediate NBA guard prospect to watch in the Michigan State-UConn game, by all means focus on sharp-shooting A.J. Price. But if it's the best all-around talent you're after, then freshman Kemba Walker is clearly your man. It's been too long since the 'next great point guard' has come out of New York. One who brings not only the moxie, ball-handling skills and clutch play that 'the City's' guards are known for, but also is actually the kind of player and person that teammates would like to play with. Walker is the best of both worlds in that regard, and is coming off an incredibly strong showing in the Elite Eight, carving up Missouri to the tune of 23 points and 5 assists. On paper, he's probably "too small" and "too streaky" a shooter to pass the initial eye test, but once he's done padding his resume and legacy at UConn, he's not going to have nearly as many doubters.

Ty Lawson, 6-0, Junior, Point Guard, North Carolina
If we had to choose the MVP of the NCAA Tournament thus far, it would clearly be Ty Lawson. Last June, after being projected as a late-first round pick, Lawson decided to return for his junior season. Now he's getting close to solidifying himself as a lottery pick, something this upcoming weekend can surely help with. Lawson has been playing on a bad toe, but he's been responsible for a number of incredible halves in this tournament to help sway the tide for the Heels, including 21 points in the second half against LSU, 17 points in the first half against Gonzaga. Now it's time for Lawson to go up against a physical, pesky and extremely aggressive Villanova backcourt that has been outstanding over the past two weeks, and prove his mettle as the best point guard in college basketball. Is he up to the task?

Kalin Lucas, 6-0, Sophomore, Point Guard, Michigan State
While there is no question that Michigan State's place in the Final Four was secured through a total team effort, the one individual that can be singled out as being a catalyst would have to be their star point guard Kalin Lucas. He was incredibly clutch in the Sweet 16 against Kansas, and has been a very steady distributor and prolific shot-creator all season for Tom Izzo. Still very much flying underneath the radar on the national level, and subsequently as a NBA draft prospect, despite being named Big Ten player of the year, Lucas is likely a year away from blowing up as a junior and truly becoming a household name. If he can have a big showing against UConn, that recognition might come a bit early, although there will always be question marks about his lack of size.

Jay Wright, 47 years old, Head Coach, Villanova
On a team full of marginal pros, the one name from Villanova that NBA fans should be aware of is actually that of their head coach, Jay Wright. Watch the difference in his offense this weekend-chock full of NBA friendly isolation plays, heavily focused on outstanding spacing-compared with that of Michigan State, UConn or North Carolina, and notice the difference. His team doesn't shoot particularly well, and they aren't very big, long or athletic. They lack a true point guard, a real center, any kind of depth at all in the frontcourt, and may not have even a single future NBA player on their roster.

So what are they even doing on this stage?

The answer to that is their head coach: Jay Wright. When NBA GMs go to scout the Final Four this weekend, they'll obviously be taking notes on their star players, Dante Cunningham and Scottie Reynolds. But they should also be keeping tabs on the man running the show from Villanova's bench.

Wright looks like the most likely head coach in the NCAA right now to be able to successfully make the transition to coaching in the NBA. Even though his team runs a traditional 4-out 1-in motion offense, he gives his players an unbelievable amount of freedom to go out and make plays on their own if they feel like they have an advantage. Even if they aren't the most talented group of players, Wright has made them into an extremely disciplined, unselfish bunch who are about as well-prepared a team as you'll find.

Everyone who has been around Wright mentions his charisma and ability to build and maintain relationships as the key to his success. Even if he obviously looks the part, he's much more than just a smooth talker. He knows how to manage his players and get the absolute most out of them, often by making quick changes on the fly, and is not a control freak, an ego-maniac or a disciplinarian, like many other failed college-to-pro experiments. When he asks his team to go out and spit blood in order to get him stops on the defensive end-a huge key to their success-- they do it, because they have a tremendous amount of respect for him. Would NBA players respect his authority in a similar way? There's only one way to figure that out.