March, 6, 2009
3/06/09
9:03
AM ET
Nate Robinson and David Lee put Eddy Curry and Jamal Crawford to shame. Chris Paul makes J.J. Barea look bad, and Nenad Krstic is making Sam Presti look good. Appearances matter at the TrueHoop Network.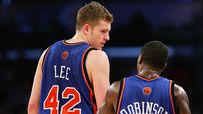 Mike Kurylo of Knickerblogger: "What I want to talk about is the siren song of the NBA - the creative scorer. As a fan who watches many games, it's easy to understand the lure of the volume scorer. The average fan focuses on the guy with the ball, and the scorer tends to have the ball in his hands more often than his teammates. Additionally he is able to create the shot by his own ability, independent of his teammates. It's easy for the fan to see the benefit of the scorer's efforts, since it connects directly to the main goal of the team: Points. Rebounds don't change the point totals on the scoreboard. When the news covers the game, usually you hear something like 'Robinson led the Knicks with 29 points, while Duhon and Hughes chipped in 19 each.' You don't hear about the other stats unless it's a phenomenal number (20 rebounds). And the players listed are in point order, even if they score 19 points on 20 shots.

...I'll agree that the double-double is an overrated stat, but is it that much more overrated than points per game? Or even the ability to create your own shot? This final component seems especially important for the average fan who plays basketball. At the level of the average fan, being able to create your own shot is more important than many other attributes. In other words your neighborhood version of Al Harrington is worth more at the park than the NBA's version is to his team. In the Hawks game thread, a game that Robinson missed due to injury, 'ess-dog' commented, 'Now this is the kind of game that makes me wonder if Nate's scoring and penetrating is overrated.'

During Isiah's tenure New York was stuck with two players that could create their own shot, but do little else. Crawford & Curry seemed to divide Knick fans between creationists who worshiped their ability to make shot attempts, and those that covered their ears to the siren song of YouTube highlights. This year the team has traded one and marginalized the other, and their record is on track to improve by 10 games. It's no coincidence that this improvement has occurred by replacing the inefficient ex-Bulls' minutes with the more efficient Robinson and Lee. Additionally the latter pair gives the team more than just field goal attempts. Lee provides rebounding, while Robinson sprinkles the stat line with rebounding, assists, and steals.

As advanced statisticians already know, at the highest levels of basketball shooting is the most important factor with regards to a team's chances of winning. But it's not shooting volume that we use to measure it, but rather shooting efficiency."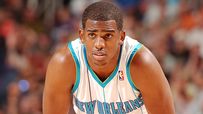 Ryan Schwan of Hornets247: "I felt bad for Dallas back-up point guard J.J. Barea. He and Antoine Wright got most of the defensive duties against Paul all game, and Paul was treating him the way eighth graders do fifth graders on the playground. He was smacking Barea's hand away, going right at him, and treated him multiple times to a contemptuous stare that looked right through Barea like he wasn't even on the floor. Defensively, Paul was even more disrespectful of poor J.J. I counted four possessions where Paul left Barea open on the perimeter -- and never came back. He simply walked away and helped out elsewhere, showing no concern about Barea at all. It was so egregious that I re-watched Barea's second stint in the game, and I figured out why. Neither Dirk nor Kidd pass to him. Paul kept close to Barea for a few possessions and then cheated towards Dirk three times. Not once did the ball skip out to Barea, even when he was left wide open. So Paul abandoned him -- and it led to some nice defensive possessions. (Oh yeah, Paul had 27 points on 18 shots, 15 assists, 4 rebounds, a steal and a pair of turnovers. Nice)"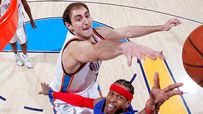 Royce Young of Daily Thunder
: "It's probably more coincidental than anything else, but since Krstic officially became a Thunder-er Dec. 31, the team is 13-16 (though he didn't actually play a game until Jan. 7 against Minnesota in a huge blowout loss). He averaged 8.8 points per game and 5.5 rebounds per game in about 22 minutes per game in January. In February, his minutes went up to 26 per game and he averaged 8.3 ppg and 5.4 rpg. But so far in March (two games albeit), he's averaging 22 points and 5.0 rebounds per game and has led the Thunder in scoring the last two.
...[F]rom what I can tell, he's not doing anything that much different. He's still taking a majority of jump shots, but now he's making a really high percentage of them...He catches, sets and shoots. No thinking and no second guessing. Just swish.
...I don't think we should get used to 20-point nights from Krstic, but he's really settling in and is a candidate to put up solid offensive numbers every night...He's not going to be the Tyson Chandler enforcer in the paint and block shots and change games on the inside. That's not his game. We still definitely need that, but he's a more than competent defender with good footwork and long arms and a potentially deadly offensive weapon.
And for just $3 million a year, I think Presti worked some magic again with this guy. Maybe it's a coincidence that the Thunder's playing better with Krstic in a Thunder uniform and maybe it's not. Regardless of that, the team got much stronger with him and the future got brighter."
THE FINAL WORD
Roundball Mining Company: Carmelo Anthony roars back.
Hoopinion: Take Josh Smith for the block.
Raptors Republic: Jermaine O'Neal and Jamario Moon return to Toronto.

(Photos by Lisa Blumenfeld, Barry Gossage, Layne Murdoch/NBAE via Getty Images)
February, 4, 2008
2/04/08
5:51
PM ET
This is no Chris Bosh home video -- it's clearly the work of professionals, with its crisp video, promotional nature, nifty "I vote, you decide" line, and semi-poetic ending. But it's still cool.
January, 12, 2008
1/12/08
2:46
PM ET
AOL's Randy Kim talked to Jamario Moon about it last night:
On Friday, Moon also said that he had been asked by the league to participate in this year's Slam Dunk contest during All-Star Weekend in New Orleans, which left Jamario, well, over the moon.

"I just found out today that I got an invite," said a beaming Moon. "It'll be big."

As the slam dunk contest isn't quite what it was back in 1985, or even 2000, it was only natural to ask Moon if he planned on participating. The happy-go-lucky rookie suddenly got serious (or as serious as he can get) and seemed appalled at the very thought of not entering.

"Oh, no doubt!" answered Moon. "I'm taking advantage of every opportunity to be a part of something that the legends were part of. I'm taking advantage of everything."
Moon tells the National Post that he still regrets a high school dunk contest he lost to Gerald Wallace.
You can see a lot of Moon's work on YouTube.
November, 26, 2007
11/26/07
4:54
PM ET
If my email inbox is any judge, the story of the last couple of weeks in the NBA is Jamario Moon.
He really can't sing the Canadian national anthem, but he sure can hustle. And everyone loves the player who claws his way into the NBA late in his basketball life, and then shines.
And there are times he changes games. It's fun to watch.
Michael Grange of Canada's Globe and Mail writes:
Jamario Moon will be earning just $427,000 next season. It's only been 10 games, I know, I know. But if he was a free agent today, you don't think someone throws him four years and $12-million? His numbers in eight games as a starter: 9.6 points, 6.8 rebounds, 1.9 blocks and 1.4 steals. Right now Moon is sixth among rookies in scoring and second in rebounding, blocks and steals.
Dan Wetzel and Don Yaeger first published "Sole Influence: Basketball, Corporate Greed, and the Corruption of America's Youth" in 2000.
It's wall-to-wall stories about the many psycho things that happen in the world of basketball recruiting and sneaker wars. Plenty of current NBA figures (everyone from Sonny Vaccaro to Lamar Odom) pop up in the book.
One of the stranger passages concerns Jamario Moon's visit to the private North Carolina high school that gave us Tracy McGrady.
Mt. Zion's coach at the time, Joel Hopkins, comes under a lot of fire in that book (and various articles, like this one which also features Jarrett Jack).

In the book, the player Tony Bobbitt says he opted not to go to Mt. Zion because Hopkins offered to fix his test scores, criticized his previous coach, and made him worry that he might not be able to pick which college he went to. Is that true? The authors were unable to confirm the stories.
Moon never went to the school, but as the book tells, he did visit then-coach Hopkins, who sold him on the idea that Moon could go straight to the NBA like McGrady had. "And if the NBA didn't work out immediately, Moon says Hopkins assured him his academic transcript would be in line to receive a scholarship. 'They said I didn't have to worry about academics,' Moon said. 'You had to go to class but you didn't have to worry about no grades.'"
Moon visited at first with his mother and grandmother, but then somehow got roped into staying longer, and did not like at all that he and the other basketball players were kept "on lockdown," far from the head coach's mansion, at all hours of the day and night.
Moon roomed with Steven Hunter, and got in trouble for bringing in a CD player. (Rap music is banned.) Phone calls were not allowed, and straying away from the assistant coaches on hand is also, reportedly, forbidden. Moon says he got really crazy at one point and defied the rules by sneaking across the street to McDonald's.
"They don't want you do to do nothing," Moon is quoted as saying in "Sole Influence." "They just want to control you."
Moon eventually left, and signed a letter of intent to attend Mississippi State, although he did not get the grades to make the team. He ended up on a basketball odyssey that took him to play for a long list of teams that include Meridian Community College, the Rome Gladiators, the Albany Patroons, the Huntsville Flight, the Kentucky Colonels, the Dodge City Legend, Fuerza Regia, the Gary Steelheads.
It's one of a million stories about players underprepared to make good career decisions and overexposed to the those eager to exploit them. It's also one of a million stories about someone whose first, second, third, fourth, and fifth attempts to make it in basketball all fell short. But now? It's that one-in-a-million such story that is well on its way to a happy ending.