TrueHoop:

Jason Richardson
August, 20, 2012
8/20/12
3:08
PM ET

By Beckley Mason
ESPN.com
Archive
March, 14, 2012
3/14/12
2:31
PM ET

Chicago Bulls
PG Derrick Rose SG Ronnie Brewer SF Luol Deng PF Carlos Boozer C Joakim Noah
Minutes Played
: 284
Offensive Rating
: 111.6 points per 100 possessions
Defensive Rating
: 91.8 points per 100 possessions
How it works offensively
In 2010-11, the Bulls were a middling offensive team that relied on one dominant mode of attack -- a dynamic Rose at the top of the floor. This season, Rose is still the prized asset in the Bulls' scheme, but he's orchestrating a deliberate, savvy offense that's expanded its breadth.
This unit plays at a plodding pace of 90.9 (which would rank them last in the NBA), but it's a tight, killing-you-slowly kind of assault. How many teams pressure you with a point guard like Rose, who collapses the defense anytime he works off the dribble, but can also feed the post and have three quality options from there? When you watch these Bulls move around the court with purpose, it's hard not to see hints of the best of the Deron Williams-Boozer era in Utah -- only better, because Noah's screens and ball skills are so exceptional for a big man.
This group also features two world-class athletes in Deng and Brewer who understand how to play off a penetrator, as well as a couple of big guys who know how to hit a cutter. Ever since Derrick Rose arrived on the scene in Chicago, we've been hearing about how the Bulls have a fatal hole at shooting guard. Bulls fans, you have your shooting guard. His name is Ronnie Brewer.
The rap on Brewer has always been that he can't space the floor. Fair enough, because Brewer is a subpar shooter from beyond 10 feet. But elite teams find workarounds for flawed players, and the Bulls have maximized Brewer's many strengths beautifully. Spacing is a nice attribute to have in an offense, but movement is woefully underrated in today's game. And you won't find a lot of players who move more intently off the ball than Brewer. He might not hit a shot for you from 24 feet, but he never stops moving. Feed, clear, cut and repeat.
Would there be more space for Rose to work if he had a couple of wings who were better conventional shooters than Brewer and Deng? Possibly, but there are more ways to bludgeon an opponent than a drive-and-kick. Putting bodies in motion and forcing opponents into bad decisions with endless actions has its virtues.
How it works defensively
The vaunted Tom Thibodeau defense is no longer an exotic mystery cooked up in some lab in Cambridge, Mass. It's simply standard operating procedure for several NBA defenses -- but few, if any, of the imitators run it with the precision this unit does.
On nearly every half-court possession, the Bulls' defense has one objective -- keep the ball out of the middle of the floor. Once they have you confined to the sideline and you try to, for example, run a pick-and-roll, the Bulls will strangle you like a python by trapping, then bringing a third defender to the ball side of the paint to add further pressure.
What makes this unit particularly deadly when they implement this defense? Let's start with Joakim Noah. Bringing three guys to the ball is all well and good, but it doesn't help if you don't have two defenders who can cover the rest of the floor in what's essentially a two-man zone. There isn't a big man who performs this task better than Noah. He instinctively knows where the offensive threat is coming from -- when the ball will be reversed out of that pressure, to whom it will go to and how to best help without compromising the system.
Throw in two lanky defenders like Brewer and Deng, whose length, agility and smarts allow them to both stifle defenders on the ball or work as Noah's partner in that backside zone, and you have the components for the most difficult defense to score against in the NBA.
---

Orlando Magic
PG Jameer Nelson SG J.J. Redick SF Hedo Turkoglu PF Ryan Anderson C Dwight Howard
Minutes Played
: 178
Offensive Rating
: 118.3 points per 100 possessions
Defensive Rating
: 98.4 points per 100 possessions
How it works offensively
How good has this group been with the ball? There isn't a five-man unit that's recorded a higher offensive rating or a larger point differential in its favor. This isn't Orlando's most-used unit -- that would be the starters with Jason Richardson at shooting guard instead of Redick (402 minutes on the floor versus 178). The starting five aren't chopped liver, but the Redick-at-the-2 unit blows them away.
In many respects, this unit evokes the halcyon days of the Magic, circa 2009. Stan Van Gundy is one of the great pragmatists in the league. He deftly appraises his personnel on the floor and always seems to find a way to maximize those players' strengths while minimizing their weaknesses. These are familiar schemes that leverage Howard's presence down low to open up the perimeter for the Magic's snipers along the perimeter -- specifically Redick and Anderson.
Many times it starts with a high pick-and-roll with Nelson and Howard. The Magic get penetration or a deep feed to Howard in the paint, which forces the defense to collapse. When that happens, you know the drill -- a kickout to Redick or to a lifted Anderson for a clean look at a 3-pointer. Nelson has also developed a nice pick-and-pop rhythm with Anderson to find him open shots.
Other times, they initiate offense through Turkoglu on the left side. Turkoglu's efficiency numbers have fallen off since 2009 (he's shooting poorly and turning the ball over too frequently), but he's still capable of putting the ball on the floor and finding shots for others, and getting Howard the ball where he likes it. Redick is in constant motion in the Magic's half-court sets, breezing around baseline screens, getting free via pin-downs and using his escape dribble along the perimeter to find space.
And that's how an NBA unit chalks up a gaudy true shooting percentage of 60.5 percent, even with a below-average free throw rate.
How it works defensively
This unit earns its money on the offensive end -- a 98.4 defensive rating isn't anything to be ashamed of, but doesn't qualify as elite. Still, these five are getting a sufficient number of stops.
Unlike their contemporaries up in Chicago, Orlando places more of a premium on chasing shooters off the 3-point line, and they have the luxury of staying at home because they have a very large man with very broad shoulders manning the basket area and cleaning up any blow-bys that might occur. How is that going? Opponents are shooting 24 percent from beyond the arc against this unit and converting only 4.8 3-pointers per game.
That
is what chopped liver tastes like.
As imposing as Howard is under the basket, altering shots and intimidating, his pick-and-roll defense is also a key ingredient to this unit's defensive success. The Magic don't need to rotate all that often and, when they do, Howard recovers promptly to the back line and those rotators can immediately dash back to the perimeter where they can contest long shots with a close out, or just stagnate the offense.
One-on-one defense can occasionally be problematic, but Redick's tenacity -- both on-the-ball and chasing rabbits like Ray Allen around screens -- is vastly underrated. Turkoglu is no Tony Allen, but his length and awareness of where Howard is lurking makes him an adequate defender, as well. Finally, Nelson is a sturdy fireplug who can use his strength to bother opposing point guards, though he does yield his share of blow-bys.
---

Miami Heat
PG Mario Chalmers SG Dwyane Wade SF LeBron James PF Chris Bosh C Joel Anthony
Minutes Played
: 389
Offensive Rating
: 109.9 points per 100 possessions
Defensive Rating
: 94.7 points per 100 possessions
How it works offensively

This past summer, Erik Spoelstra immersed himself in a single exercise:
Examine how he could make life easier for the Heat's offense
by diversifying their attack. In 2010-11, Spoelstra grappled with several strategies -- elements of the Rick Adelman's corner offense, "elbow sets" run through Bosh with multiple triggers and even some old Hubie Brown sets to free up shooters. The Heat finished the season as the NBA's third-ranked offense.
Spoelstra came to a realization, one that didn't necessarily conform to his natural instincts: The Heat could do better, and to achieve that improvement, it would require less conventional structure. He has freed up James and Wade, made transition opportunities and early offense priorities (Miami has gone from 21st in pace last season to 12th this season) and found new ways to space the floor.
So far as Wade and James, they have one imperative -- catch the ball and attack and don't allow the defense to set. No more dawdling at the top of the floor, waiting for stuff that never materializes. Off that, the Heat have found gold with Chalmers' vastly improved outside shot. The Heat were assembled with the idea that James and Wade would have quality shooters primed for kickouts, and with Chalmers, they have a teammate shooting 44.3 percent from 3-point-land.
Fewer sets are being run through Bosh at the high post with this unit, though he's still able to facilitate when the pace settles into a more deliberate, half-court game. Many of those sets that started with Bosh at the high post are now being initiated with James at the "Karl Malone" spot off the mid-post. Meanwhile, Bosh and Anthony screen with the best of them -- especially to lend space for Wade to attack -- and Bosh is still superb at lifting to a spot 18 feet away from the hoop for a no-dribble J.
How it works defensively
Spoelstra is still experimenting and tinkering with the Heat's schemes. Many a night, Miami is flirting with a Thibodeau-style strongside strategy, but one with a bit less structure and more freedom for James and Wade to rove. This isn't coming without costs: This unit is giving up 19.2 3-point attempts per 48 minutes, and opponents are shooting 40.4 percent from beyond the arc in the process.
The Heat are aware of the shortcoming and seem willing to tolerate a few gimmes on the perimeter in service of their larger defensive goal --
create chaos
. That means more ball pressure than ever from Chalmers, and Bosh and Anthony jumping out with impunity on every ball screen. When it comes to defending the pick-and-roll, Bosh and Anthony might be the best big man tandem in the business at showing hard and recovering to the right spot on the back line.
Most of all, Spoelstra is encouraging James and Wade to operate as free safeties in what can be described as a quasi-two-man zone. Spoelstra's nature favors order over chaos and he traditionally has discouraged gambling, but he's come to appreciate that doubling-down on his team's athleticism makes good sense.
The results are there. Opponents are turning the ball 16.8 times per 48 minutes against this group. More impressive, the unit generates 23.3 points per 48 minutes off these turnovers and 22.5 fast-break points per 48 minutes. There simply isn't a defense in the world that can stop James and Wade in the open floor and the Heat's newfound guerrilla defense has maximized these opportunities.
October, 19, 2011
10/19/11
6:39
PM ET
February, 22, 2011
2/22/11
4:01
AM ET
By ESPN Stats & Info
ESPN.com
Archive

Anthony
After weeks of trade talk,
Carmelo Anthony
has apparently found a new home in the Big Apple. The Nuggets traded the star forward to the Knicks on Monday along with guard
Chauncey Billups
, forward
Shelden Williams
, guard
Anthony Carter
and forward
Renaldo Balkman
.
In return, the Knicks sent forward
Wilson Chandler
, guard
Raymond Felton
, forward
Danilo Gallinari
and center
Timofey Mozgov
to Denver. The Nuggets will also get the Knicks' 2014 1st-round pick, the Warriors' 2012 and 2013 2nd-round picks and $3 million cash.
ESPN's Chris Broussard reports the Knicks will also receive
Corey Brewer
from the Timberwolves and send center
Eddy Curry
and forward
Anthony Randolph
to Minnesota. The 12-player trade (not including draft picks) is tied for the second-largest trade in NBA history.
Chandler, Felton, Gallinari and Mozgov combined for 53.4 points per game this season (50.3 percent of total team scoring). The Knicks acquired a combined 50.9 points per game in the five players that they received from the Nuggets, 47.3 percent of the points that Denver had scored this season.
The Knicks gave up an awful lot to bring Anthony to town, especially when it comes to outside shooting. New York ranked among the league's best in spot-up shooting metrics, including 25.3 points per game. Chandler, Felton, Gallinari and Mozgov contributed 13.1 of those points.
In the last five minutes of games in which the score is within five points, Raymond Felton (32.4), Danilo Gallinari (30.8), and Wilson Chandler (24.0) have the three lowest FG percentages among Knick players who have attempted a shot.
Conversely, Billups and Anthony have shot a combined 43.6 percent in those situations, slightly above the league average of 41.8 percent.
When you are a scorer, you need to find different ways to provide your team with points. For Carmelo Anthony, the leak out play has been a key cog in his arsenal. He is the only NBA player who has had more than 100 leak out plays during the past five seasons (133).
August, 17, 2010
8/17/10
1:19
PM ET
May, 14, 2010
5/14/10
1:36
PM ET
The Phoenix Suns' pick-and-roll:

You know it's coming, but there's only so much you can do about it.

That pick-and-roll attack is the primary reason Phoenix was the NBA's most efficient offense this season. How good were the Suns with the ball in 2009-10? The gap between their top-ranked offense and Orlando's second-ranked squad was greater than the distance between Orlando and #10 Dallas. Incredibly, the Suns have become even more efficient in the postseason, where they're averaging 113.2 points per 100 possessions.

Virtually every team in the league incorporates the pick-and-roll and practices defending it tirelessly. So what's the open secret that allows the Suns to bludgeon teams on a nightly basis?


March, 13, 2009
3/13/09
2:06
PM ET
Several people have e-mailed me about this.
Wasn't that dangerous just like Trevor Ariza's attempt to block Rudy Fernandez the other night?
My response: Yup. It was similar, and no doubt dangerous. And it certainly should have been called a foul.
This kind of play is not at all uncommon.
I will be the guy to pipe up for the code of letting airborne players land safely. That's a good and important thing to do. But players disrespect it just about every night! It's like the speed limit. It's a good thing to have a rule. But lots of people go fast! It is what it is.
Here's the important part, though: If you break that rule, do so knowing that if you are unlucky, and cause a serious accident with your speeding, and heavens forbid hurt somebody ... it's your fault. You're the bad guy.
LeBron James was either lucky or skilled, and didn't cause a bad fall.
Ariza, on the other hand, was this close to being the villain in a dreadful injury story. The distinguishing drama of the Ariza tale was not Ariza's action -- which was fairly ordinary -- but Fernandez's fall, which looked like it could have been life-altering for the worse. That fall made that play a case study in why the common rule to let people land safely exists in the first place.
March, 11, 2009
3/11/09
2:36
PM ET
The Hornets' sharpshooter might be better off in the second unit. The Cavs' sharpshooter couldn't connect all night...until it mattered. Ron Artest thinks he's a sharpshooter. The TrueHoop Network shoots from the hip.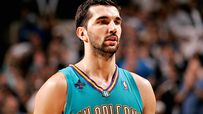 Ryan Schwan of Hornets247: "Other than Dallas, the Hornets have the worst bench among the current 8 seeds in the West...That means that when the Hornets hit the playoffs, we can expect the second-quarter meltdowns to become even more pronounced. It's pathetic, because the Hornets' starting five is the seventh best in the league, despite all the nagging injury issues they've had. If the Hornets' bench could provide even a little boost, or just play the other team more evenly, it would make the team infinitely stronger and get the starters more rest.

So is there a way to fix the bench? I'm a bit of a pessimist, but here is an idea that several people have already proposed in our comments, and that I agree with: Turning Stojakovic into a sixth man.

During the series of games where Paul, Chandler, and West were all out of commission, the Hornets turned to Peja to be their primary offensive option, and he did a pretty solid job in that role. The past three games with Julian in the starting lineup, the Hornets' starters have produced a slightly worse offensive efficiency of 108.0 and a much nastier defensive efficiency of 84.0 ... The Hornets could start Julian, sub him out for Peja around the 6:00 minute mark of the first quarter and let Peja warm up. At the start of the second quarter, they can start running the offense through him.

Making this change will entail curtailing Posey's minutes some -- but I really think he'd be better served as a 20-22 minute man anyways, not the 29 minute man he's been all season."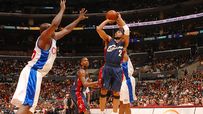 John Krolik of Cavs the Blog: "Mo Williams. What do I say? For 47:54, he had absolutely as bad a game as you can have. He's kind of an Anti-LeBron in that he's a guy who's primarily a straight-up scorer whose offense comes from the perimeter, so when he's not in a flow things can get very bad very fast. (Fortunately, he's ridiculously consistent.)

Tonight, he wasn't hitting his shots off the dribble. He wasn't hitting open threes. He wasn't doing well defensively. He had one assist against four turnovers.

And yet, for the third game in a row, Mo Williams was the difference between victory and defeat. And if I had to pick one game to show how valuable Mo is to this team, it might be this one. No matter what he's done before in the game, he's the guy who's there when we need him. Tonight, he was the difference between a great win and the worst loss of the year.

Delonte got off the hook, too-he was an absolute non-factor all game long, which is the one thing he generally never is.

Again, I'm going to point out just how good Joe Smith and Andy were at rolling to the basket all game long and getting layups, and how unbelievable LeBron was at finding them with amazing passes. I do not think it is a coincidence that this came against Zach Randolph."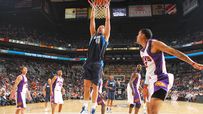 Michael Schwartz of Valley of the Suns: "We'll never know if things would be different with Amare (I think they would be), but as J-Rich said, the Suns just can't think that way.

As it is, Phoenix struggles to match up defensively against most teams with their small ball lineup, and it makes me a bit queasy that Dirk has said the toughest defender he faces in the NBA is Shawn Marion.

Yeah, he might be a little helpful right about now.

To add insult to injury, the Mavs won this game without Josh Howard to snap a nine-game road losing streak to Western Conference foes, winning their first West game away from Dallas this calendar year. And yes, it is March 10.

For the Suns, it feels like that 'season-changing' win over the Lakers on March 1 was in a whole different calendar year."
THE FINAL WORD
Celtics Hub: How clutch are the C's in close games?
Rockets Buzz: The eternal Ron Artest question.
Daily Thunder: Who needs Tyson Chandler when you have Nenad Krstic?
(Photos by Glenn James, Noah Graham, Barry Gossage/NBAE via Getty Images)
December, 11, 2008
12/11/08
9:02
AM ET
Suns.com's Jeramie McPeek talked to the new Sun shortly after he was traded from the Bobcats:
I'm sure your teammates were disappointed.
Yes, they were. I have a lot of great teammates here. We were all out in the (hotel) hallway and were talking. I let them know that I wasn't going to the game tonight because I had been traded.

What are your thoughts on the Suns?
There are high expectations in Phoenix. You can see what the roster has with Amar'e, Shaq, Steve. Those guys are future Hall of Famers. I'm very excited to play alongside guys like that for the first time in my career. I've never played on a team like this. I've always been on re-building teams. I've only been to the playoffs once. I've never really won anything, but I think I can bring a lot to this team and have a special season.

You played with Matt Barnes at Golden State. How do you feel about reuniting with him?
Richardson: Matt is a great guy. He called me today and said if I needed anything I should call him. I have a good relationship with him. It'll be good to see a familiar face and to ask where to go, where to eat in Phoenix and all of those types of things.

What should fans know about you?
I'm an exciting player. I do everything to win games. I have a lot of energy, I can dunk and shoot the threes. I give everything I can on the court. I'm not trying to take anyone's spot. I just want to come in and do what is needed. I'll fill the void where it is needed. Whatever it is - defense, scoring, rebounding, whatever it is. I just want to help the team to win and get deep in the playoffs.