Big star and champion at Duke. Second overall draft pick of the Chicago Bulls. Career cut short by a motorcycle accident.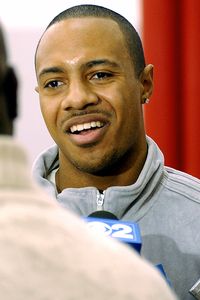 Jay Williams knows basketball from all angles, and over the next several days, he's going to be sharing his insights with TrueHoop readers as a special correspondent profiling players in the upcoming NBA draft.
The first player Williams is going to tell us about is Memphis guard Derrick Rose.
Many experts and insiders predict Rose will soon become what Williams once was: a point guard taken at the top of the draft by the Chicago Bulls.
Williams writes:
My first opportunity to witness Derrick Rose in person was at a scrimmage last year for the Michael Jordan All-American game.
I remember thinking to myself that there is no way that this kid is only 18 years old. I immediately pulled out my phone and began to text Jason Kidd saying that I was watching a raw young version of himself on the court.
Strengths
At 6'3 and 190 pounds, Derrick Rose had the physical gifts to be an elite guard on the NBA level even then.
His upside is off the charts.
His blazing speed combined with his incredible upper body strength gives him the ability to drive around and through defenders to get anywhere he wants to on the court. His athleticism allows him to finish at the rim with crafty and dazzling shots through traffic.
His basketball IQ has risen tremendously through his year at Memphis. Now you see him controlling tempo and directing players on the court.
He is in "hunt mode" the entire game, looking for opportunities to attack.
He has the cat-like quickness, combined with great lateral movement, to be a relentless defender with length. He gets low on defense, and is mentally driven to constantly out work his opponent defensively.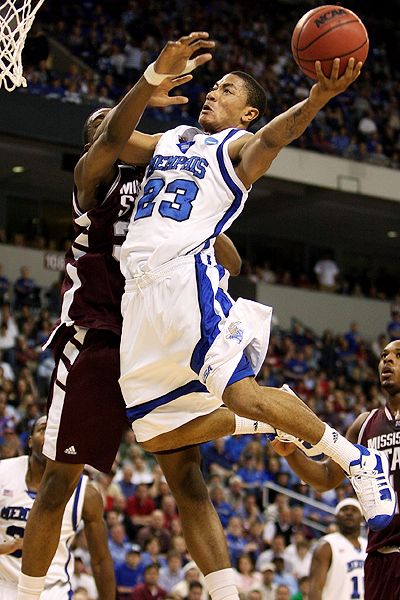 On top of all that, Rose is a clutch player who raises his level of performance against good competition. His ability to knock down big jumpers was evident during the Final Four.
Most importantly, he has a very calm demeanor, wants to be coached, and never seems to be rattled.
Weaknesses
Shooting 34% from college 3-point range is not great. At times he seems to hoist the ball from his shoulder. This will become important in the NBA as players will go under screens, challenging him to beat them from the outside.
Shooting 71% from the free throw line can haunt any point guard, as it did Rose during the Final Four.
Sometimes he appears to coast on defense, and I have seen him get lost due to lack of concentration.
He plays at a very high speed. The NBA game is at time faster than college, and at times slower. Rose must be able to change speeds on the court, instead of going fast all the time.
Rose should learn to create more scoring opportunities for players around him.
More repetition in screen-and-roll situations would make him better. He has a tendency to rely too much on his athletic ability instead of applying the fundamentals of the game.
In the NBA, Derrick Rose will need to shoot many more floaters than he did in college. Not even Derrick Rose can finish on top of defenders like Dwight Howard.
He will struggle, as I did, trying to lead veterans at the age of 20.
Conclusion
Derrick Rose has the potential to be a great NBA point guard.
The pressure of him playing back in his home town of Chicago could be difficult, especially off the court.
The one thing I can promise is that, if he does become a Bull, he'll have a great owner in Jerry Reinsdorf and an unbelievable general manager in John Paxson. Rose will have a great support staff.
Derrick Rose, if he works at his game, and can stay in a good situation, will be an All-Star in years to come.
(Photos: Randy Belice/NBAE/Getty Images, Andy Lyons/Getty Images)