February, 9, 2010
2/09/10
12:49
PM ET

By Henry Abbott
ESPN.com
Archive
Joe Dumars has long been hailed as one of the best general managers in the NBA, but
John Hollinger (Insider) says he's living on his reputation
at this point:
Check out the résumé and find me a correct decision. Just one. Fire Saunders? Wrong. Hire Michael Curry? Wrong. Trade Chauncey Billups? Wrong. Extend Richard Hamilton? Wrong. Sign Kwame Brown? Wrong. Go after Ben Gordon and Charlie Villanueva? Wrong again.
In two years, the Pistons have gone from one of the best teams in basketball to among the worst. They stink, they're capped out, and they don't have much in the way of young talent; for all we know, in two years they're going to be the Pittsburgh Pisces or the Seattle Grunge or something. If Isiah Thomas or Rob Babcock had done this, we'd have buried them alive by now, so it's only fair for us to point out that regardless of his previous track record, Dumars is on a two-year losing streak of McHalian proportions.
July, 2, 2009
7/02/09
12:42
PM ET
Remember when the Pistons were the toast of the town? In 2003-2004, they added Larry Brown and Rasheed Wallace and won the title. But the seeds of that team were really planted when the Pistons acquired some players with shaky reputations around the league.
By signing Ben Gordon to big dollars, Joe Dumars has run the same play again.
But there's a difference this time around.
In 2000, the team got Ben Wallace as a throw-in, after Grant Hill agreed to sign with the Magic, and the Pistons participated in one of those lopsided "you got us" trades instead of losing the player for nothing.
The summer of 2002 is when GM Joe Dumars really earned his money. That's when he drafted Tayshaun Prince 23rd overall, and acquired Richard Hamilton and Chauncey Billups -- neither of whom was seen, then, as likely to contribute to a title team.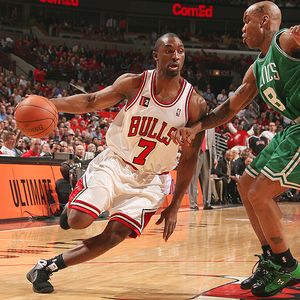 Of course, the pieces fit together tremendously well.
Later, working on a story for a magazine, I asked Dumars why he had decided those were the two guards who would make the most sense for his team.
Dumars' answer was very clear, and represented a real philosophy: Those were two guards who could help the team without needing possession of the ball.
The Pistons were going to be a team of ball movement and they were not ball-stoppers.
Hamilton could run around a thousand screens and force the defense to chase, hedge, and help all over the place. Such movement has the potential to get easy buckets for any and all Pistons, from the guy setting the pick to the guy spotting up behind the 3-point line.
Billups, meanwhile, is a good enough shooter to keep a defender near. The team could run its offense with Billups at the top of the circle. Now and again the ball would be kicked out to him, and he had the skill and mentality to drain the shot if he was open, or swing the ball to the opposite side if he wasn't.
It worked.
Ben Gordon represents a different approach.
I have never seen good statistics determining which players are the most opposite of what Dumars described. As in, players who can't do jack for you unless they have the ball.
But by reputation, Ben Gordon would be on that list.
So, does this mean Joe Dumars has changed his tune? That he is desperate?
Maybe none of the above. Perhaps it just means that the Pistons have a different roster now, with different needs.
And more likely, it could be a story about hand-checking. The rule changed in 2001, but the following strategic shift is still unfolding. The ball-stopper, time-consuming thing Gordon does -- creating scoring opportunities for himself off the dribble -- may well be more valuable than it was. That's because such play now comes with frequent trips to the free throw line, which is the home of the easiest and most efficient points in the NBA.
(Photo by Nathaniel S. Butler/NBAE via Getty Images)
July, 1, 2009
7/01/09
12:59
PM ET
When Allen Iverson was traded to the Pistons, I wrote a post about how smart the Pistons were. The trade positioned them to be major players in free agency in their choice of years -- 2009 or 2010. With (then) a winning tradition, a big fanbase, a talented roster and a general manager with a stellar reputation, the Pistons looked to be in position to add some extraordinary pieces.
At the time, I threw around names like LeBron James and Chris Bosh.
Now they are a team with a fired coach, several key veterans with one foot out the door, and good players who don't appear to fit well together.
Today the talk is that the Pistons have their sights set on Ben Gordon and Charlie Villanueva.
Both players are good, of course. But nothing like Chris Bosh and LeBron James, you know?
I find the Gordon story particularly perplexing. He needs the ball and playing time to do what he does, which is also true of Rip Hamilton and Rodney Stuckey. I can't imagine how this is the first step in rebuilding a champion.
If that's what that cap space turns into ... I take it all back.
I'd like to officially recant my assertion that the Billups trade was a stroke of genius. Thank you.
Are you better off keeping your second banana than trading for more talent? Can Kirk Hinrich accept playing second fiddle to Derrick Rose? How will Shawn Marion's 2008-09 second act in Toronto fare? Seconds for everyone at the TrueHoop Network.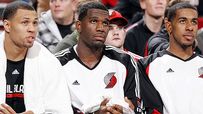 M. Haubs of The Painted Area: "In addition to this kind of 'little-picture' unselfishness, it's crucial to keep 'big-picture' unselfishness in mind when building an NBA team as well, the delicate balance of getting guys to accept a team's pecking order.

Our favorite example of this, which we've written about before, is how the Pistons were considering trading Joe Dumars prior to their championship run, possibly for more talent, but owner Bill Davidson persuasively argued against by saying something to the effect of 'You'll never find a better player who's willing to sit second chair to Isiah.'

It's what we see now in L.A. with Lamar Odom accepting a bench role in a free-agent year. It's what we've seen for years in S.A. with Manu Ginobili accepting fewer minutes even though it keeps his stats low and probably costs him All-Star appearances.

It's what makes me wonder if we'd have a different perception of KG and Kevin McHale and the Minnesota Timberwolves of the last decade if Stephon Marbury had simply been the type of player to accept playing second fiddle.

It's what makes me realize that the Portland Trail Blazers, even with all of their assets, have a big challenge as they make moves going forward, just because they have such a nice ego balance with Roy, Oden, and Aldridge all seemingly to coexist peacefully no matter the relative attention one or the other might get. This especially applies to B-Roy, who handled the initially Oden hoopla so gracefully, even though he had already established himself as a young star."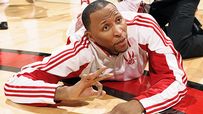 Arsenalist of Raptors Republic: "As unlikely as a playoff spot is, I'm still looking forward to this bunch at least try and make a push to prove that they're more than a collection of overrated misfits and underachievers. The trade has breathed a little purpose into the season and I felt that as I made the brisk walk over to Philthy's to catch yet another game on TSN2. Going up against Cleveland sans Chris Bosh and having two new players is an impossible challenge so all you really looked for in this game is some signs of whether this group could seriously pose a threat to anyone but my blood pressure. Results were leaning towards the negative...

Marion last night showed what he could possibly do for us. His defense on Lebron was good enough to force him into low-percentage shots, he got a steal off a front on Ilgauskas (no easy task) and took his man off the dribble for a couple scores. He made some good entry-passes (that's a big deal for us) and executed a jump-hook in the low-block, which I think will be his primary means of scoring. If we can get him into the post through a slip-screen he has the leaping and finishing ability to be a scoring threat. He looked lost at times, for example on one play Calderon used the high-screen and Marion sealed his man off so Jose could continue with his drive but instead he pulled up. Marion didn't get why he did that and took the rest of the possession off by standing in the corner. All in all a decent game considering he's guarding Lebron James - 10 points, 6 assists, 6 rebounds and 2 blocks...

A note about up-tempo play. If Shawn Marion thinks we'll be playing up-tempo ball in Toronto I hate to disappoint him. As I see it there are two problems. Firstly, you need the ball to run and we don't have the rebounding to facilitate early break opportunities. Secondly, no team will ever be able to run 'n gun with Jose Calderon at the point. He simply does not have the court-vision, blow-by speed and pushing mentality that is needed for that style..."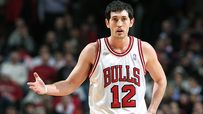 Matt McHale of By the Horns: "If this was Kirk's swan song as a Bull, it was a pretty good one. For my part, I don't want him to go. The Bulls have been a better team with him than without him this season. He's the perfect safety net to have under Derrick Rose, who still makes his share of rookie mistakes (particularly on the defensive end). I know conventional wisdom says Hinrich's contract is greater than his worth as a basketball player, but I'm not sure I agree with that. Remember, it wasn't even two full seasons ago that he was being touted as the next John Stockton. And while that was a gross overestimation, I'd say he still has value, more to the Bulls, maybe, than to anybody else. I hope we hold onto him."
THE FINAL WORD
Hardwood Paroxysm: Great moments in trade deadline history.
Celtics Hub: This year's Celts vs. Last year's Celts
Queen City Hoops: When 41% from the field isn't as bad it sounds.


(Photos by Sam Forencich, Ron Turenne, Gary Dineen/NBAE via Getty Images)
June, 7, 2007
6/07/07
10:07
AM ET
As I look around the league, and think about the draft, and all those general managers who are out there scheming right now, I keep coming back to the same question: might those Pistons really be available? It has a million implications. For instance, if beating the Spurs is the riddle everyone's trying to solve, Richard "mid-range" Hamilton could sure be handy. (Imagine Rip alongside Steve Nash!)
Likewise, if slowing Tim Duncan is the key, Rasheed Wallace has a pretty good track record, and he can stretch the defense.
Then there are all those teams that could use a point guard. Is Chauncey Billups really a possibility?
And ... perish the thought ... is it even worth the call for my Blazers to offer something for Tayshaun Prince? Portland needs perimeter defense, veteran poise, and outside shooting, from a three who is not a ball hog. Prince is the king of all that. Should I even dare to let myself consider it a possibility? My hunch is no, but I can't stop thinking about it.
I emailed Matt Watson of Detroit Bad Boys to take his temperature. Would Joe Dumars really consider blowing up a team that was two games from the NBA Finals? This is his response:
Short answer: I don't know if he will, but I don't think he's scared to.

Long answer: I've heard him mention how he was still playing the last time the Pistons were in this situation, and how quickly the Pistons went from winning the title in '90 to completely falling out of relevance within two years. The Cavs are in the Finals this year and the Bulls are only going to get better -- if each of those two teams improve by just two wins in the regular season next year and the Pistons slip by two wins, Detroit is suddenly a third-place team within their division and a No. 5 seed at best in the East. For all the talk about how weak the East is, the Central Division is the balls.

Plus, there's precedent for Dumars making a bold move: Jerry Stackhouse was the franchise player in '02 (and the league's second-leading scorer in '01) and Dumars wasn't scared to pull the trigger for the (relatively) unheralded Rip Hamilton. Granted, that a was a different situation, but it was unpopular and certainly a risk for a 50-win team.

If he does make a move, I have completely no idea who it will involve. A lot of fans assume Rasheed Wallace will be the first to go, but I'm not so sure. I could see Dumars making another Stackhouse-type move and trading Hamilton, since he's not viewed as a "flawed" player around the league and would probably bring back the most bang for the buck.

Another thing to consider is that the Pistons have two first-round picks -- I'm going to assume they use the first one (No. 15) on a point guard for the future who joins the rotation immediately, but that second pick (No. 27) probably won't be contributing next year at all, which means it could be included in a trade and not be missed.

Either way, the team *needs* to bring back Chauncey Billups, or at the very least get *something* out of him in a sign-and-trade. If that doesn't happen ... man, I don't want to think about it.