December, 24, 2012
12/24/12
12:22
PM ET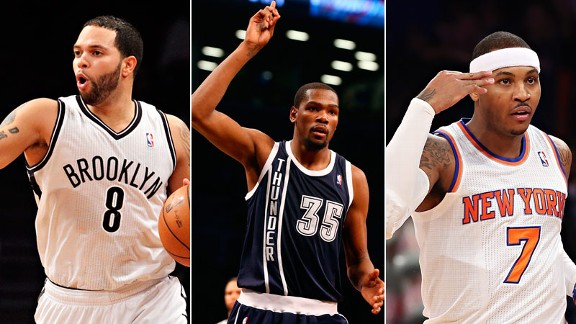 Getty ImagesWorking on Christmas: Deron Williams, Kevin Durant and Carmelo Anthony.
A third of the NBA will be in action on Christmas Day, as fans will be treated to 14 consecutive hours of basketball featuring the league's top four teams and seven leading scorers. For those who make the Christmas quintupleheader their first real look at the NBA season, here's a handy guide to some of the league's more compelling storylines:
Can Deron Williams lead Brooklyn where it wants to go?

Deron Williams isn't wrong when he says that the Brooklyn Nets run nothing as fluid as the flex offense he guided as the Jazz's point guard. But Brooklyn's roster isn't endowed with the collective skill set those Utah teams had, and the absence of an orderly system doesn't explain why Williams has taken
241
shots outside the paint, for a terrible 40.7 effective field goal percentage.
Williams might argue that a good number of those attempts are hand grenades he finds himself with at the end of wayward possessions, but if he truly wants the Nets to improve upon their 11th-ranked offense, Williams will have to create his own flow. With some prompting from Williams, Gerald Wallace could make some devastating flex cuts, and Joe Johnson can space, post and pass better than any wing Williams ever had in Salt Lake City.
Williams has real assets in Brooklyn, and a point guard with his talent shouldn't need an orthodox system to play systematic basketball.
Can the Boston Celtics re-establish their defensive bite?

Boston hasn't had a top-10 offense since 2008-09, but its elite defense has kept it in the conversation every spring. The Celtics are still loading up on the ball handler while zoning up the weak side. And they're still stymieing high ball screens at the point of attack while asking rotating defenders to take away everything but sketchy corner passes and long 2-pointers for guys who have no business shooting them.
This season, offenses are having an easier time generating open looks. When you watch the film, the incriminating evidence isn't glaring. This is still a comparatively efficient defense (11th overall) practicing those same principles, and the familiar cycle of movements is there, but point guards whom the Celtics used to send to remote outposts on the floor are finding their way to the middle. That old Celtics swarm doesn't cause the same disruption it once did, which means offenses have more available options on the floor.
Defensive systems take time to master, and it's possible everyone will achieve the level of fluency necessary. The Celtics should hope so, because the team's margin for improvement probably lies on that end of the floor.
Are the New York Knicks for real?

This is the single biggest conversation starter heading into Christmas Day for casual NBA fans, League Pass junkies, NBA players, coaches and execs alike -- and trying to solve the mystery will trigger a whole series of associated questions:
Has Anthony's game undergone a profound evolution at the power forward slot, or is the uptick in production largely attributable to eight weeks of hot, but unsustainable shooting? How do you integrate Amar'e Stoudemire back into the rotation after the team forged a strong identity without him? And if your plan is to confine him to a much smaller role, how exactly do you break that to him without the risk of killing the good vibe around the team? Is the defense (ranked 17th) strong enough around Tyson Chandler for the Knicks to have championship expectations?
When the Knicks were horrendous, there was a school of opinion that said the NBA would be much more interesting if New York had a relevant NBA team. Those in that camp were correct.
How close are the Los Angeles Lakers to a breakthrough?

The Lakers now have their four stars on the floor together for the first time since October. Let's say they hold their home court against the Knicks on Tuesday. And let's say Dwight Howard continues to build strength, as does the defense. And the offense, already ranked fifth in efficiency, starts operating as the lethal machine it was designed to be. And the wins start to pile up.
That's an entirely conceivable chain of events, but it's no lock, either. The Lakers still feature a core of players who like to work with the basketball operating in a system that prefers they pass or shoot instantly. Success will require some compromise, but any offensive philosophical differences will likely resolve themselves -- there's too much talent. The Lakers' prospects hinge primarily on a willingness to play defense. Howard didn't have any perimeter stoppers in front of him in Orlando, but anchored a top defensive unit. The Lakers can play that brand of defense if Howard is up to the task, the other starters and the coaching staff apply their wits, and the second unit makes guarding opponents its mission.
If those scenarios shake out and the Lakers are playing some of the best basketball in the league headed into the All-Star break, does the early-season turmoil get summarily dismissed as old news?
How many different ways can Kevin Durant score?

It's unlikely this Oklahoma City Thunder team will ever develop a brand-name offense, but when Kevin Durant is as dialed in as he has been this season, structure seems almost quaint.
High-usage wing players like Durant are
not
supposed to post true shooting percentages in the 65 range. Michael Jordan exceeded 60 percent four times and Larry Bird topped the 60 percent mark twice, but both maxed out around 61 percent. And LeBron James' career-high mark of 60.5 percent came last season.
Durant this season? 65.4 percent.
He quietly has become one of the most brutal post assignments in the game from either side of the floor. He's getting more separation than ever on curls and pin-downs, working in some sneaky misdirection like a wide receiver running a route. When he's off the ball, he's looking more than ever to slip beneath the defense for easy feeds at the rim. And he's drawing more contact than ever off the dribble.
Durant has never displayed anything but maximum effort on the floor, but did close proximity to a title this past June ignite something more visceral in his game?
Do the Miami Heat have anything serious to be concerned about?

Size up front? As NBA worries go, that's so retrograde. Nobody cares anymore if the heaviest guy in the rotation is 6-foot-8 and 250 pounds, least of all the Heat, who won a title in June flouting convention.
The defense was another story as recently as a few weeks ago, when narcolepsy was the Heat's preferred defensive strategy in the half court. Were the issues systemic or did Erik Spoelstra just need to shuffle the rotation?
Shane Battier returned from injury and Joel Anthony returned from exile just as the Heat were being embarrassed on their home floor by the Knicks. In the seven games since -- the only seven games both Battier and Anthony logged double-digit minutes -- the Heat have posted a defensive efficiency rating of 96.0. Only Indiana's top-ranked defense has been better over the course of the season (95.7).
There are other factors at work, of course. The Heat are a high-risk, high-reward defensive outfit with a license to gamble, but guys were abusing the privilege and calculating risk without care. Now, James and Dwyane Wade are locked in, and that string the Heat are so fond of referencing as the connective tissue of their defense is taut once again.
Are the Houston Rockets figuring things out?

So
this
is what it's like to have a pure playmaker at the top of the floor who can get a shot off against constant pressure anywhere between the rim and 26 feet?
How strong has James Harden been in this regard? Of the Rockets' top eight in minutes played, he's the only one whose player efficiency rating is above league average, yet the Rockets come into Christmas Day with the league's seventh-ranked offense.
There's little magic to the Rockets' offensive formula. The priorities, in descending order, are as follows: (1-2-3) transition; (4) quick-hitters for Harden if he can find a modicum of space off a drag screen, or for others if Harden can leverage the attention of the defense; (5) a more deliberate high pick-and-roll for Jeremy Lin, and by deliberate we mean with 15 seconds on the shot clock rather than 19; (6) fast, easy ways to free up shooters -- flare screens courtesy of Omer Asik, or pin-downs set by little guys for big guys who can shoot.
Next item on the agenda: Protecting the basket area and picking up shooters early -- two hazards of playing at a breakneck pace the Rockets haven't yet figured out.
Can the Chicago Bulls manufacture enough offense?

When discussing how the Bulls try to score without Derrick Rose,
manufacture
is more descriptive than metaphoric. It's a laborious process being managed by diligent guys with limited skills but strong work ethics. But as a viewer, it's like watching the factory floor at a cannery.
Try as Tom Thibodeau might to create open space in the half court with cuts and constant motion, he simply has nobody on the floor who can find an easy shot in isolation or pressure a defense by bursting off a screen (let alone, driving away from one the way Rose does more artfully than anyone). Defenses never have to make any tough decisions when the ball is in the hands of Kirk Hinrich, Nate Robinson, Marco Belinelli or Jimmy Butler, and that makes every possession a grind.
On the bright side, the Bulls make life similarly difficult for everyone else, which is how a team wins nine out of 13 with the parking break on. That's the beautiful thing about an air-tight defensive system: The principles work irrespective of personnel. So if the Bulls can hang on in the meantime, and Rose can return as Rose, Chicago is going to be a nightmarish spring matchup for an Eastern Conference foe.
Will the Denver Nuggets ever have a homestand?

The most consecutive games they've played at home this season is two -- and the Nuggets have done that only once through 28 games. Are their white jerseys on back order? Is the Pepsi Center in downtown Denver undergoing chemical fumigation? Are they finally installing reliable Internet in that building, a process that requires a complete rewiring of the place?
Whatever the case, the Nuggets find themselves on someone else's floor on Christmas night. Their 15-13 record might suggest the league made a programming error, but when you consider the home-road split, the Nuggets just might be the sleeping giants in the West. When the calendar turns on New Year's Day, the Nuggets will play 15 of their next 18 games at home, where they're 8-1.
With the defense showing signs of life, Andre Iguodala gradually adapting to his more open living space and the Nuggets gobbling up their own misses at unseemly rates, this team could quietly vault itself into the upper ranks of the West simply by playing quality basketball at home.
Is Vinny Del Negro smarter than everyone?

Junkies will continue to scratch their heads when Willie Green is announced as the Clippers' starting shooting guard, and the playbook might never be put behind a glass display in Springfield, Mass., but you think the 21-6 Los Angeles Clippers care?
Del Negro's approach has been simple: a few very basic offensive precepts, plenty of freedom for Chris Paul, trust in a second unit that could probably win 48 games as a starting five and a few tried-and-true sets that maximize Blake Griffin on the left block and Paul as a prober. Most of all: manage expectations and let Paul be the guy. If that means letting him sculpt the offense or playing Green to start the first and third because Paul wants it that way, so be it. Del Negro believes that leading is often a task in deference, and he isn't about to muck things up with a heavy hand when a light touch will do.
If the defense were mushy and the Clippers were still dropping games they shouldn't, the discussion might be different. But the Clippers have established some simple coverages the young bigs have mastered, and they're rarely finding themselves in the sort of end-of-game chess matches that challenge a team's tactical prowess. The day will come when a Gregg Popovich is strolling the opposing sideline, and that will be the true test. In the interim, keep things light.
December, 7, 2012
12/07/12
12:32
PM ET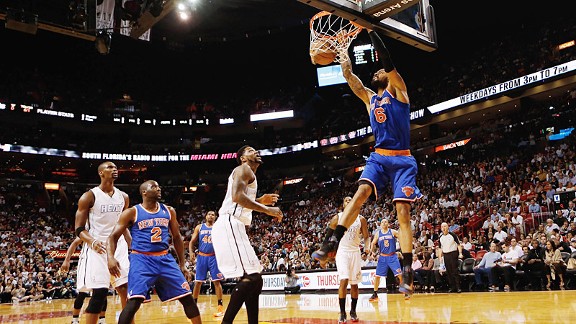 Christopher Trotman/NBAE/Getty Images
There was a little too much of this on Thursday night for the Heat's beleaguered defense.
Chris Bosh says it's the frenetic pace. LeBron James says it's about communication. Shane Battier says it's all in the head. Erik Spoelstra says it's execution.
However you diagnose the
Miami Heat's defensive meltdown against the New York Knicks
and the champs' general listlessness all season, they're a disaster on that end of the floor.
There are no shortage of explanations, but Miami's woes are especially bizarre because, with the exception of Ray Allen, the personnel is largely the same as last year's championship team, which ranked No. 4 overall in defensive efficiency. Theoretically, most of the principles are the same, but somewhere between application and result, the defense is drifting off-course.
Occasionally when you look at a colossally bad defensive performance, a single, obvious flaw reveals itself. What's notable about Thursday night's train wreck is how diverse the lapses were.
The switch-outs that guided the Heat to success in the 2012 playoffs allowed Miami to respond quickly to opponent's actions. Against the Knicks, those switches created confusion both at the point of attack and in the back-side rotation. The Heat have a lot of guys who can defend bigs, smalls and space, but right now that flexibility isn't producing results.
For the most part, the Heat got back in transition promptly on Thursday night, but virtually every Miami defender would backpedal to the middle of the floor to stop the ball with no one splaying out to the wings where the Knicks had been spotting up and blistering opponents all season.
On those rare occasions when the Heat accounted for perimeter shooters while Raymond Felton and Tyson Chandler ran a high pick-and-roll, there was nobody to bump (or "chuck") Chandler off his course to the rim.
And the rotations behind the Heat's traps of Felton (a questionable strategy in itself) made the Heat appear like a bunch of second-year players straight off the bus from their first training camp. When the Knicks have long-range threats like J.R. Smith, Steve Novak and Jason Kidd spread along the perimeter, it's unconscionable to have a third guy drifting away from one of those shooters toward a trapped Felton at 27 feet, leaving the two remaining defenders to account for Chandler diving toward the rim along with three shooters primed for a catch-and-shoot.
James isn't himself without blame. He's an all-powerful defensive god when his antenna is up and he's reading every movement, potential action and passing lane on the floor. When James is locked in, there isn't a defender in the league who makes smarter risk-reward decisions like when to shoot the gap on a post feed and when to stay home; when to zone up on the two guys he's covering on the weak side, and when to call, say, Mario Chalmers to fill his spot so he can meet a driver at the rim.
One of the great pleasures of Heat basketball is observing James play half-court defense in a big game. Try it sometime -- instead of watching the ball, focus solely on what James is doing. But had you done that last night, you wouldn't have caught a glimpse of that sharpness. James was working -- primarily because he spent a ton of time on the ball -- but those secondary decisions weren't made with a lot of precision. Even on a bad night, James is still a plus-defender. But if you're looking for a reason why a No. 4-ranked defense falls to No. 23, decision-making by principal defenders is a contributing factor because, tempting as it might be, you can't blame Allen for everything.
It's an empirical fact that the Heat are playing horrific defense, but we're also pretty certain they feature the personnel to play elite defense. There's actual evidence of this somewhere in a glass case inside AmericanAirlines Arena. So how manageable are these issues? Are they merely coasting rather than playing on a string, which is how the Heat characterize their defensive proficiency when everyone is where they're supposed to be and all five guys moves as one unit in the half court? Would a healthy Battier and a few more minutes of Joel Anthony do the trick?
This time last season, the defense wasn't exactly locking opponents down. The Heat weren't running shooters off the 3-point line and they were gambling more loosely than Floyd Mayweather. Miami took some lumps early but privately understood that Spoelstra was engaged in some experimentation. The Heat were trying to figure out if they could morph a fairly conventional scheme into one that could maximize speed and instincts without sacrificing the integrity of the entire defense. It took a while, but the strategy bore a Larry O'Brien Trophy.
Is that what's going on here in the early going? Is an outing like Thursday night just a symptom of a team that's futzing around in the laboratory trying to come up with new solutions?
Chalking up bad defense to systematic failures (
Defenders aren't pushing guards down on the pick-and-roll; Nobody is sinking to the level of the ball when it goes inside
; etc.) is usually more satisfying than attributing them to generalities like energy motivation, but there's something that rings true in
the postgame statements from James and Bosh
about the Heat's lack of urgency. The game tape looks like a snuff film, but even watching all the Heat's tactical errors on defense, you find yourself saying, "They know better than this."
The knowing part is simple, as are the basic adjustments required to fix what's broken. This isn't about buying into a system -- that sale was made a year ago. It's not about hiding older, poorer defenders, abandoning a pick-and-roll coverage that isn't working or modulating the pace.
This new project is about fully appreciating that immortality doesn't exist in sports. You never know demise until it's too late.
May, 30, 2012
5/30/12
1:23
PM ET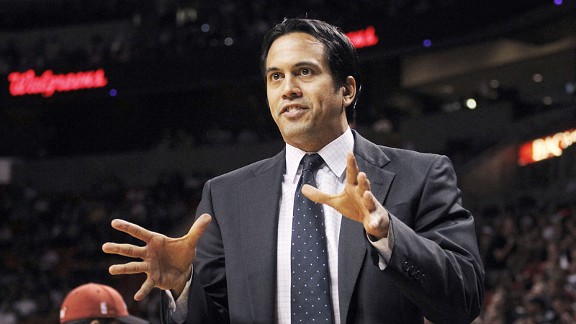 C.W. Griffin/Getty Images
Erik Spoelstra: Master of the process
Name
: Erik Spoelstra
Birthdate
: November 1, 1970
Is he an emotional leader or a tactician?
A disciple of Pat Riley, Spoelstra likes to set a tone, will traffic in motivational mantras and definitely pays close attention to the emotional pulse of his team. But he's a cool tactician at heart, one who earns his team's confidence with his work ethic. The players generally respect that Spoelstra spends his entire waking life trying to make it easier for these guys to win. Superstars are more likely to respond to that quality than a punchy fight song.
Is he intense or a go-along-get-along type?
Spoelstra projects a quiet intensity. You won't find any bulging veins or hot collars, but he's what you could describe as serious. Despite that, he gets along well with staff and players -- his long-standing relationship with Dwyane Wade the best evidence. He's reserved, but not prickly and can be one-of-the-guys when he chooses to.
Does he rely on systems, or does he coach ad hoc to his personnel?
This is Spoelstra's greatest trial as the head coach of the Heat. He highly values systems --
he spent his summer in search of one
. In almost any other context, Spoelstra would develop an offensive architecture designed with clean lines and an orderly flow. But with Wade and LeBron James as the two most important pieces on the board, pious devotion to a system presents all kinds of problems. So instead, Spoelstra spends his time finding creative ways to get Wade and James the ball where they can exact the most damage in the half court. He must accept that a good percentage of possessions will be at the whims of his superstars, often when the stakes of those possessions are at their highest. Spoelstra has an uncanny capacity to accept life's inconvenient realities, but this must torment him a little bit.
Does he share decision-making with star players, or is he The Decider?
He doesn't have much of a choice, does he?
Does he prefer the explosive scorer or the lockdown defender?
Spoelstra tilts radically to the lockdown defender end of the spectrum. Joel Anthony has been a personal project for years and, with Spoelstra's encouragement and attention, has become one of the league's best defenders. The patience shown with Mario Chalmers is, in many ways, an expression of Spoelstra's commitment to defense. When the Heat needed to fill out a spot on the wing, they went after Shane Battier, a Spoelstrite if there ever was one.
Does he prefer a set rotation, or is he more likely to use his personnel situationally?
"The rotation is the rotation," is one of Spoelstra's bread-and-butter remarks for the media scrum. There are constants apparent in his substitution pattern, but Spoelstra is an empiricist, so when there's enough evidence to suggest the sequence isn't working, he'll make an adjustment.
Will he trust young players in big spots, or is he more inclined to use his grizzled veterans?
Spoelstra values longevity and believes there are certain understandings of the game that can come only through experience. The bench is usually populated with oldsters who actually played with a handful of existing NBA coaches. Chalmers has been the rare exception under Spoelstra, and the point guard's development has certainly had its trials.
Are there any unique strategies that he particularly likes?
The Heat are a unique team, one that has produced unique strategies, even if not by design. Take the team's half-court defense, which has morphed into its own thing.
Prior to the arrival of James, the Heat ran a fairly conservative defensive scheme, something more along the lines of what you'd see in Orlando under Stan Van Gundy or in San Antonio. It was a low-risk defense focused on staying at home and clogging the middle. Traps were reserved for only the craftiest point guards to ward off penetration. Better to push up on screens, make the angles more difficult and lure opponents into a midrange jump shot. Little men, fight over that screen and don't tax the time of your big men -- they belong in the paint. Helpers, don't travel from remote locations.
You can find many of these same principles in the Heat's existing defense, but the reality of who James and Wade are as wing defenders has influenced Spoelstra into creating a system that melds all kinds of different looks.
Earlier in the abbreviated 2011-12 season, Spoelstra was engaged in a schematic exercise -- how much pressure should the Heat exert on the strong side of the floor? It's a good question, and any coach who has spent the amount of time Spoelstra has preparing for the Celtics and Bulls has to entertain the idea that elements of those defenses should be incorporated into his. So Spoelstra went into the lab and pursued a lengthy trial-and-error experiment. This is one of the reasons we saw Miami give up so many 3-pointers during the regular season after being decidedly average in 2010-11 defensively against the 3-ball.
Over time, Spoelstra has calibrated the system. His big men often show high and hard, with the rotator coming from the back line. But as opposed to the Thibodeau system that has very explicit instructions about where the back-side defenders should be to zone up the rest of the floor, Miami allows James, Wade and whoever else more leeway to jump out of that zone to disrupt passing lanes, swarm without warning and, at times, leak out prematurely.
This probably wouldn't be Spoelstra's chosen defensive system if you handed him a roster at random, but he's constructed a system that appeals to Miami's ability to disrupt and the need to generate turnovers to maximize their best attributes.
Can we brand it the "Miami system," much the same way hard-core basketball fans know the "Thibodeau" when they see it? Maybe soon.
What were his characteristics as a player?
Spoelstra was a heady point guard who started all four seasons at the University of Portland and was the WCC's freshman of the year in 1989. A proficient 3-point shooter. Willing passer.
Which coaches did he play for?
At Portland, Spoelstra played for Larry Steele, a Trail Blazer lifer (and member of the 1977 championship team) who had a less-than-successful career as a college coach.
What is his coaching pedigree?
Ever since he joined the Heat organization as an intern in 1995, Spoelstra has grown up in the home of Pat Riley. Spoelstra's manner, obsessiveness and attention to detail are products of Riley's tutelage. Spoelstra also credits Stan Van Gundy, the Heat's head coach for two-plus seasons, for guiding his understanding of NBA defenses.
If basketball didn't exist, what might he be doing?
Leveraged buyouts.
---
The spirit of the Bill James Baseball Abstracts, 1984 and 1985, was summoned for this project
.
May, 24, 2012
5/24/12
3:54
PM ET
By ESPN Stats & Information
ESPN.com
Archive
Michael Hickey/US Presswire LeBron James has at least 30 points, 10 rebounds, and 8 assists in back-to-back postseason games.


Game 6 between the
Miami Heat
and
Indiana Pacers
(ESPN, 8 ET) will feature several key storylines to watch, including how the Heat replace a suspended
Udonis Haslem
. Miami will be without one of its best mid-range shooters, as Haslem has made seven mid-range jump shots (outside paint, inside 3-point territory) this series, trailing only
LeBron James
and
Dwyane Wade
.
Haslem has also been a spark off the Heat's bench in the last three games, scoring double figures in each of the last two. In three games Haslem has come off the bench this postseason, Miami averages 25.7 bench points. In seven games Haslem started, the Heat have gotten only 16.1 points from their bench.
With
Dexter Pittman
also suspended, the best option for the Heat is likely
Ronny Turiaf
, as his +13 this series is the highest among the Heat's available big men for Game 6. In this series, Turiaf has played only 65 minutes in five games. However, when he's been on the court, the Heat have outscored the Pacers by 13 points. Miami has also limited Indiana to just 33 percent shooting when he's playing. Also available in the frontcourt are
Joel Anthony
(+7) and
Juwan Howard
(+5).
Overall, the Heat appear to be in good position to advance. In NBA history, teams that have held a 3-2 lead in a best-of-seven series have gone on to win the series 85.9 percent of the time, including 4-0 in the First Round this postseason. In addition, the Pacers have never come back to win a best-of-seven series after trailing 3-2 (according to Elias they are 0-8 all-time).
James has been a prime reason why the Heat can close out the series tonight. He has recorded at least 30 points, 10 rebounds, and eight assists in back-to-back postseason games, and if he matches those numbers in Game 6, he will become the first player in NBA history to do so in three consecutive postseason games.
History says James will have another strong performance tonight. According to Elias, James has scored at least 20 points in each of the last 11 potential playoff series-clinching games on the road, the second-longest current streak of any player in the league, behind only
Kobe Bryant
(19).
Meanwhile,
Danny Granger
(sprained ankle) has said that he will start Game 6. His play will be crucial, as he has been much better at home this series than on the road (averaging over nine points more at home).
What's more, the combination of himself,
Paul George
,
Roy Hibbert
,
George Hill
and
David West
have outscored opponents by 75 points when on the court together, the highest of any five-man lineup on any team this postseason.
A key for Indiana will be on the boards. The Pacers have outrebounded the Heat 102-76 in their wins in Games 2 and 3, but have lost the battle on the boards in their losses in Games 4 and 5 (outrebounded 96-73). When Hibbert is on the court, the Pacers are +15 rebounding, but with him off are -19.
March, 14, 2012
3/14/12
2:31
PM ET

Chicago Bulls
PG Derrick Rose SG Ronnie Brewer SF Luol Deng PF Carlos Boozer C Joakim Noah
Minutes Played
: 284
Offensive Rating
: 111.6 points per 100 possessions
Defensive Rating
: 91.8 points per 100 possessions
How it works offensively
In 2010-11, the Bulls were a middling offensive team that relied on one dominant mode of attack -- a dynamic Rose at the top of the floor. This season, Rose is still the prized asset in the Bulls' scheme, but he's orchestrating a deliberate, savvy offense that's expanded its breadth.
This unit plays at a plodding pace of 90.9 (which would rank them last in the NBA), but it's a tight, killing-you-slowly kind of assault. How many teams pressure you with a point guard like Rose, who collapses the defense anytime he works off the dribble, but can also feed the post and have three quality options from there? When you watch these Bulls move around the court with purpose, it's hard not to see hints of the best of the Deron Williams-Boozer era in Utah -- only better, because Noah's screens and ball skills are so exceptional for a big man.
This group also features two world-class athletes in Deng and Brewer who understand how to play off a penetrator, as well as a couple of big guys who know how to hit a cutter. Ever since Derrick Rose arrived on the scene in Chicago, we've been hearing about how the Bulls have a fatal hole at shooting guard. Bulls fans, you have your shooting guard. His name is Ronnie Brewer.
The rap on Brewer has always been that he can't space the floor. Fair enough, because Brewer is a subpar shooter from beyond 10 feet. But elite teams find workarounds for flawed players, and the Bulls have maximized Brewer's many strengths beautifully. Spacing is a nice attribute to have in an offense, but movement is woefully underrated in today's game. And you won't find a lot of players who move more intently off the ball than Brewer. He might not hit a shot for you from 24 feet, but he never stops moving. Feed, clear, cut and repeat.
Would there be more space for Rose to work if he had a couple of wings who were better conventional shooters than Brewer and Deng? Possibly, but there are more ways to bludgeon an opponent than a drive-and-kick. Putting bodies in motion and forcing opponents into bad decisions with endless actions has its virtues.
How it works defensively
The vaunted Tom Thibodeau defense is no longer an exotic mystery cooked up in some lab in Cambridge, Mass. It's simply standard operating procedure for several NBA defenses -- but few, if any, of the imitators run it with the precision this unit does.
On nearly every half-court possession, the Bulls' defense has one objective -- keep the ball out of the middle of the floor. Once they have you confined to the sideline and you try to, for example, run a pick-and-roll, the Bulls will strangle you like a python by trapping, then bringing a third defender to the ball side of the paint to add further pressure.
What makes this unit particularly deadly when they implement this defense? Let's start with Joakim Noah. Bringing three guys to the ball is all well and good, but it doesn't help if you don't have two defenders who can cover the rest of the floor in what's essentially a two-man zone. There isn't a big man who performs this task better than Noah. He instinctively knows where the offensive threat is coming from -- when the ball will be reversed out of that pressure, to whom it will go to and how to best help without compromising the system.
Throw in two lanky defenders like Brewer and Deng, whose length, agility and smarts allow them to both stifle defenders on the ball or work as Noah's partner in that backside zone, and you have the components for the most difficult defense to score against in the NBA.
---

Orlando Magic
PG Jameer Nelson SG J.J. Redick SF Hedo Turkoglu PF Ryan Anderson C Dwight Howard
Minutes Played
: 178
Offensive Rating
: 118.3 points per 100 possessions
Defensive Rating
: 98.4 points per 100 possessions
How it works offensively
How good has this group been with the ball? There isn't a five-man unit that's recorded a higher offensive rating or a larger point differential in its favor. This isn't Orlando's most-used unit -- that would be the starters with Jason Richardson at shooting guard instead of Redick (402 minutes on the floor versus 178). The starting five aren't chopped liver, but the Redick-at-the-2 unit blows them away.
In many respects, this unit evokes the halcyon days of the Magic, circa 2009. Stan Van Gundy is one of the great pragmatists in the league. He deftly appraises his personnel on the floor and always seems to find a way to maximize those players' strengths while minimizing their weaknesses. These are familiar schemes that leverage Howard's presence down low to open up the perimeter for the Magic's snipers along the perimeter -- specifically Redick and Anderson.
Many times it starts with a high pick-and-roll with Nelson and Howard. The Magic get penetration or a deep feed to Howard in the paint, which forces the defense to collapse. When that happens, you know the drill -- a kickout to Redick or to a lifted Anderson for a clean look at a 3-pointer. Nelson has also developed a nice pick-and-pop rhythm with Anderson to find him open shots.
Other times, they initiate offense through Turkoglu on the left side. Turkoglu's efficiency numbers have fallen off since 2009 (he's shooting poorly and turning the ball over too frequently), but he's still capable of putting the ball on the floor and finding shots for others, and getting Howard the ball where he likes it. Redick is in constant motion in the Magic's half-court sets, breezing around baseline screens, getting free via pin-downs and using his escape dribble along the perimeter to find space.
And that's how an NBA unit chalks up a gaudy true shooting percentage of 60.5 percent, even with a below-average free throw rate.
How it works defensively
This unit earns its money on the offensive end -- a 98.4 defensive rating isn't anything to be ashamed of, but doesn't qualify as elite. Still, these five are getting a sufficient number of stops.
Unlike their contemporaries up in Chicago, Orlando places more of a premium on chasing shooters off the 3-point line, and they have the luxury of staying at home because they have a very large man with very broad shoulders manning the basket area and cleaning up any blow-bys that might occur. How is that going? Opponents are shooting 24 percent from beyond the arc against this unit and converting only 4.8 3-pointers per game.
That
is what chopped liver tastes like.
As imposing as Howard is under the basket, altering shots and intimidating, his pick-and-roll defense is also a key ingredient to this unit's defensive success. The Magic don't need to rotate all that often and, when they do, Howard recovers promptly to the back line and those rotators can immediately dash back to the perimeter where they can contest long shots with a close out, or just stagnate the offense.
One-on-one defense can occasionally be problematic, but Redick's tenacity -- both on-the-ball and chasing rabbits like Ray Allen around screens -- is vastly underrated. Turkoglu is no Tony Allen, but his length and awareness of where Howard is lurking makes him an adequate defender, as well. Finally, Nelson is a sturdy fireplug who can use his strength to bother opposing point guards, though he does yield his share of blow-bys.
---

Miami Heat
PG Mario Chalmers SG Dwyane Wade SF LeBron James PF Chris Bosh C Joel Anthony
Minutes Played
: 389
Offensive Rating
: 109.9 points per 100 possessions
Defensive Rating
: 94.7 points per 100 possessions
How it works offensively

This past summer, Erik Spoelstra immersed himself in a single exercise:
Examine how he could make life easier for the Heat's offense
by diversifying their attack. In 2010-11, Spoelstra grappled with several strategies -- elements of the Rick Adelman's corner offense, "elbow sets" run through Bosh with multiple triggers and even some old Hubie Brown sets to free up shooters. The Heat finished the season as the NBA's third-ranked offense.
Spoelstra came to a realization, one that didn't necessarily conform to his natural instincts: The Heat could do better, and to achieve that improvement, it would require less conventional structure. He has freed up James and Wade, made transition opportunities and early offense priorities (Miami has gone from 21st in pace last season to 12th this season) and found new ways to space the floor.
So far as Wade and James, they have one imperative -- catch the ball and attack and don't allow the defense to set. No more dawdling at the top of the floor, waiting for stuff that never materializes. Off that, the Heat have found gold with Chalmers' vastly improved outside shot. The Heat were assembled with the idea that James and Wade would have quality shooters primed for kickouts, and with Chalmers, they have a teammate shooting 44.3 percent from 3-point-land.
Fewer sets are being run through Bosh at the high post with this unit, though he's still able to facilitate when the pace settles into a more deliberate, half-court game. Many of those sets that started with Bosh at the high post are now being initiated with James at the "Karl Malone" spot off the mid-post. Meanwhile, Bosh and Anthony screen with the best of them -- especially to lend space for Wade to attack -- and Bosh is still superb at lifting to a spot 18 feet away from the hoop for a no-dribble J.
How it works defensively
Spoelstra is still experimenting and tinkering with the Heat's schemes. Many a night, Miami is flirting with a Thibodeau-style strongside strategy, but one with a bit less structure and more freedom for James and Wade to rove. This isn't coming without costs: This unit is giving up 19.2 3-point attempts per 48 minutes, and opponents are shooting 40.4 percent from beyond the arc in the process.
The Heat are aware of the shortcoming and seem willing to tolerate a few gimmes on the perimeter in service of their larger defensive goal --
create chaos
. That means more ball pressure than ever from Chalmers, and Bosh and Anthony jumping out with impunity on every ball screen. When it comes to defending the pick-and-roll, Bosh and Anthony might be the best big man tandem in the business at showing hard and recovering to the right spot on the back line.
Most of all, Spoelstra is encouraging James and Wade to operate as free safeties in what can be described as a quasi-two-man zone. Spoelstra's nature favors order over chaos and he traditionally has discouraged gambling, but he's come to appreciate that doubling-down on his team's athleticism makes good sense.
The results are there. Opponents are turning the ball 16.8 times per 48 minutes against this group. More impressive, the unit generates 23.3 points per 48 minutes off these turnovers and 22.5 fast-break points per 48 minutes. There simply isn't a defense in the world that can stop James and Wade in the open floor and the Heat's newfound guerrilla defense has maximized these opportunities.
May, 9, 2011
5/09/11
11:51
PM ET


One game after being held to their lowest combined point total in any game this season, the
Miami Heat
's "Big Three" bounced back in a big way, leading the Heat to an overtime victory over the
Boston Celtics
.
LeBron James
(35 points, 14 rebounds),
Dwyane Wade
(28, 9) and
Chris Bosh
(20, 12) combined for 83 points, their highest total in the postseason. The trio scored the final 31 points for the Heat, including all 12 of Miami's points in overtime.
Together, they combined to take the final 20 field goal attempts for the team. In fact, only one player outside of James, Wade and Bosh even attempted a shot in the fourth quarter. That was
Mike Miller
, who missed a 3-point field goal with 9:57 left in regulation.
The last player other than the trio to score was
Joel Anthony
, who made a layup with 54.6 seconds remaining in the third quarter.
Including the regular season, this was the 15th time the Heat's "Big Three" combined for 80 points and the second time in this series alone, according to Elias. Miami is 14-1 in those contests.
The trio did most of its damage on the interior. With the exception of Wade, the Heat didn't have much of an outside game on Monday. He was 4-for-7 (57.1 percent) on shots 10 feet and out. The rest of the team shot just 24.2 percent from the same distance.
James and Bosh led the charge from inside, combining to go 15-of-21 inside of 10 feet. According to video tracking, James was at his best when he was able to get a touch inside of the paint.
After making all five of his field goal attempts in the first half when getting the ball in the paint, he missed two of his first three attempts in the second half before hitting his last two and setting up Bosh for a dunk in overtime.
For the game, the Heat outscored the Celtics 48-32 in the paint and 10-0 on second-chance points. The constant pounding inside may have tired the Celtics who struggled with execution late, particularly in the half court.
Through the first three quarters of Game 4, the Celtics were shooting over 44 percent and averaging more than one point per possession in the half court.
But in the fourth quarter and overtime, Boston struggled to score in the half court, especially on jump shots. They missed eight of their final 11 jump shots, while going just 2-for-7 from 3-point range.
The Celtics will now attempt to become the ninth team in NBA history to come back from a 3-1 playoff deficit. Boston has done so before though -- twice -- in 1968 and 1981, both times against the
Philadelphia 76ers
.
May, 7, 2011
5/07/11
3:35
PM ET
By Pete Newmann and Dean Oliver, ESPN Stats & Information
ESPN.com

Nathaniel S. Butler/NBAE/Getty Images
The key to slowing down the Heat and the surprising
Joel Anthony
is
Shaquille O'Neal
.
Shaquille O'Neal did not play much against the Heat in the regular season, appearing in just two of the four games for a combined 39 minutes. He has missed the first two games of the 2011 postseason series against Miami as well.
Head Coach Doc Rivers expects Shaq to play in Game 3 and though limited at this stage of his career, it could turn the tide in Boston's favor. During the regular season, Shaq's presence on the floor clearly improved the way that Boston played against Miami on both ends of the floor.
Celtics Improved Offensive Efficiency
With Shaq on the court in the regular season against the Heat, the Celtics averaged 121.1 points per 100 possessions, a stunning 26.2 points per 100 possessions improvement from when Shaq was off the court.
Boston shot a tremendous 54.1% from the field against Miami this season with Shaq on the court. That fell to 45.5% with Shaq off the court.
Some of the individual Celtics that saw the biggest differences were
Rajon Rondo
, who shot 34.5% from the field with Shaq off the court and 50% with Shaq on the court, and
Ray Allen
, who shot 50% with Shaq off the court and 68.8% with Shaq on the court.
Boston's passing is one element of this improvement as its percentage of assists on made field goals increased from 61.4% to 66.7% when Shaq was on the floor.
A more obvious result of Shaq's presence is Boston's rebounding, especially on the offensive end of the floor. The Celtics rebound percentage was 54.2% with Shaq on the court, compared to just 45.7% with Shaq off the court. Boston's offensive rebound percentage increased from 17.0% to 33.3% with Shaq on the court.
Limiting Miami Defensively
Miami's offense felt Shaq's impact as well. The Heat had a net offensive rating of +8.0 when Shaq was off the court. However, the Heat had a net rating of -28.3 when Shaq was on the court.
Miami's shots were about a foot-and-a-half closer when Shaq was out of the game. The average distance of a Miami field goal attempt with Shaq on the court was 15.1 feet. With Shaq off the court, the average distance of an attempt was 13.4 feet (a 1.7-foot difference).
Effectively, Shaq helped neutralize Joel Anthony. In the 15 minutes that Shaq and Anthony played head-to-head in the regular season, Anthony's plus/minus took a major hit (-17). That means the that the Celtics outscored the Heat by more than a point per minute with Shaq and Anthony on the court at the same time.
Considering that Anthony currently has the best plus/minus in the 2011 postseason at +91, including +20 in the conference semifinals against the Celtics, Shaq's ability to play becomes that much more significant.
January, 19, 2011
1/19/11
12:52
AM ET
Playing without
Chris Bosh
for the first time this season,
Dwyane Wade
and
LeBron James
combined to go 19-of-50 from the floor in the
Miami Heat
's 93-89 overtime home loss to the
Atlanta Hawks
. The 50 field goal attempts are the most that Wade and James have combined to take in a game this season.
James took a season-high 30 field goal attempts, but shot just 36.7 percent from the floor. It was the 26th time in his career that James attempted 30 field goals in a game; however, it was the third-worst shooting percentage of his career in a game in which he took at least 30 shots.
Without Bosh on the floor, James also hoisted a season-high 10 three-point field goals, connecting on just two. This season when Bosh is on the court, James has made 40.2 percent of his three-pointers, and just 29.9 percent when Bosh is not on the floor.
The Heat also missed Bosh in their half-court offense. Miami had been shooting a respectable 44.7 percent from the floor (including 49.3 percent by Bosh), but against the Hawks on Tuesday they shot just 34.8 percent (24-69).
One bright spot for the Heat was
Joel Anthony
. He grabbed a career-high 16 rebounds, including eight offensive, but he did not attempt a field goal.

Anthony
Since the 1967-68 season, Anthony -- according to the Elias Sports Bureau -- is just the third player to grab at least 15 rebounds in a game without attempting a field goal. The others are Wilt Chamberlain (1967-68) and
Dennis Rodman
, who did it four different times.
The Heat, who have lost a season-high four straight games, are 0-2 at home in games that go into overtime, and 2-0 in road OT games.
Miami and Atlanta combined to miss 47 three-point attempts. According to the Elias Sports Bureau, that ties an NBA single-game record done twice before, both in Knicks games (Nov. 25, 2008, vs. the Cavaliers and Feb. 11, 2009, at the Clippers).
Bobcats 83, Bulls 82
In the night's only other game, the
Charlotte Bobcats
beat the
Chicago Bulls
for the second time in the last seven days. In fact, the Bobcats' last two wins have come against the Bulls, and Chicago's last two losses have come against Charlotte.
The Bobcats won despite missing all 13 of their three-point field goal attempts. According to the Elias Sports Bureau, Charlotte is only the fourth team since the three-point line was implemented prior to the 1979-80 season to win a game despite missing at least all 13 of its three-point field goal attempts.
December, 18, 2010
12/18/10
12:34
AM ET
We'll get to
LeBron James
' 30th career triple-double in a moment.

James
The
Miami Heat
stepped it up defensively in the second half of their 113-91 win over the
New York Knicks
.
The Knicks made 22-of-43 field goals in the first half, as
Danilo Gallinari
and
Amare Stoudemire
were a combined 11-of-20 from the floor.
In the final 24 minutes, the Knicks shot just 28.2 percent (13-46), and Gallinari and Stoudemire were 8-for-24. Stoudemire needed a season-high 28 field goal attempts to score 24 points.
Stoudemire's streak of nine consecutive 30-point games came to an end, primarily because of Heat center
Joel Anthony
. When guarded by Anthony, Stoudemire was 3-for-12 from the field, including 0-8 with 2 points after the 4:26 mark of the second quarter. When he wasn't being defended by Anthony, Stoudemire went 8-for-16 from the floor.
The Knicks finished 35-for-89 from the floor. The "Big 3" of James,
Dwyane Wade
and
Chris Bosh
were 34-of-64.
The Heat extend their win streak to 11 games, three shy of the franchise record. They are the fourth team this season with a win streak longer than 10 games. (Both the Mavericks and Spurs had 12-game win streaks, and the Celtics currently have an 11-game win streak.)
As for James, he recorded the 30th triple-double of his career (32 points, 11 rebounds, 10 assists) and his first in Madison Square Garden. In 12 games at MSG, James is averaging 30.5 points and shooting 49.8 percent from the floor.
James entered the game shooting 37.1 percent from the floor on shots taken between 10 and 23 feet from the basket. On Friday, he went 7-for-9 (77.8 percent) for 14 points, including 3-for-4 in the third quarter when the Heat turned a tie game into 16-point lead.
Notables:
• When James, Wade and Bosh were all on the floor, the Heat were +28, their highest combined +/- of the season.
• The 84 points by the "Big 3" were the highest combined total in a game this season from James, Wade and Bosh. Their previous combined best was 76 points in a 105-94 win over the Wizards.
• As for the Knicks, they suffer their worst home defeat of the season, and are 2-6 when scoring less than 100 points.
November, 13, 2010
11/13/10
11:00
PM ET
It's only a 10-game sample, but it's the first 10 games of the season.

Thus far, the
Miami Heat
have proven they can beat bad teams, but still struggle with good clubs.
With their win over the now 2-8
Toronto Raptors
, the Heat's six wins this season have come against teams (76ers, Magic, Nets twice, Timberwolves and Raptors) that are a combined 16-32.
The only team Miami has defeated that currently has a winning record is the Magic, who are 6-3.
Their four losses are against three teams (Boston twice, New Orleans and Utah) that are a combined 22-5.

One new look on Saturday was inserting center Zydrunas Ilgauskas into the starting lineup in place of
Joel Anthony
. With the starting lineup of
Dwyane Wade
,
Chris Bosh
,
LeBron James
,
Carlos Arroyo
and
Zydrunas Ilgauskas
on the floor, the Heat were +9 against the Raptors and shot 61.9 percent in 11 minutes, 34 seconds.
In the 31 minutes this season these five players have been on the court, the Heat are shooting 57.1 percent from the floor and averaging 108.4 points per 48 minutes. When any other lineup is on the court, Miami is shooting 46.5 percent and averaging 101.2 points per 48 minutes.
Wade is averaging 26.5 points per game in the Heat's wins this season, shooting 56.6 percent from the field. In their four losses, Wade is still averaging 22.0 PPG, but has shot just 37.3 percent from the field (25-67).
James had a game-high 11 assists. His main beneficiaries were the Heat's outside shooting big men, Ilgauskas and
Udonis Haslem
. James assisted on all four of Haslem's field goals and four of Ilgauskas' six.
From the Elias Sports Bureau:
The Heat have outscored opponents by 5.2 points per game thus far when the Big 3 are on the floor.
November, 4, 2010
11/04/10
5:38
PM ET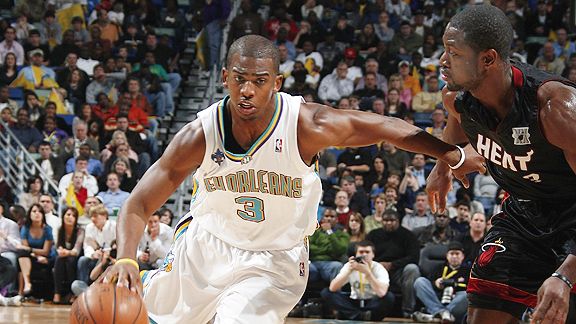 Layne Murdoch/NBAE/Getty Images
After some easy Ws, Dwyane Wade and company will have their hands full with Chris Paul.
Editor's note: This is another installment of Hoop Schemes, in which TrueHoop editor Kevin Arnovitz takes apart NBA strategy and puts it under a microscope.
You've seen the New Orleans Hornets run it thousands of times since Chris Paul arrived in the Big Easy:
The high pick-and-roll.
The Hornets' rendition of this scheme is one of the most lethal in basketball, a menacing play that even the league's most capable defenses have trouble containing.
"It's a very, very tough offensive set," Dwyane Wade said. "They can run it the whole game and it would be tough to guard."
To review: One of the Hornets' big men -- usually power forward David West, center Emeka Okafor or, this season, forward Jason Smith -- steps up to provide a strong pick for Paul. This action ignites Paul and gets the Hornets into their half-court offense.
Then all hell breaks loose.
"[Paul] can find any kind of small crack and he can make any kind of play," Erik Spoelstra said. "He's the great equalizer because he breaks your defense down."
Paul's brilliance stems from more than just his speed with the ball and his capacity to squirt through those openings. In addition to probing the defense, Paul's talent gives him a bevy of choices in the half court. Virtually every team in the league runs some variation of the 1-4 middle pick-and-roll. What makes New Orleans' so special is that range of possibilities defenses have to account for.
"He can create so many options off that pick-and-roll," center Joel Anthony said. "It's definitely a team effort with that 4-man and that 1-man really containing him on that pick-and-roll. Then after that, there's a rotation. That's what buys us time to make the right coverage as a team. But it isn't much time."
Even with the most aggressive trap, Paul's size and speed allow him split the defenders off that pick-and-roll. When that happens, the Hornets essentially have a 4-on-3 advantage because both Paul's on-ball defender and the guy guarding the screener have been left in the dust. Paul now has a full menu of options. He can burst ahead, beating help defenders to the rim for an easy layup. If the designated rotator -- usually the opposing center -- collapses on Paul in the lane, then there's a good chance David West is hanging out at 17 feet ready for a flip pass from Paul. But if that rotating center has committed to West, then who's guarding Okafor? Remember those epic alley-oops from Paul to Tyson Chandler back in the day? Those were often the result of Chandler's man picking up West at the foul-line extended. Okafor doesn't have Chandler's springs, but there's a reason his field-goal percentage as a Hornet under Paul is well above 50 percent.
As the Heat's power forward, Chris Bosh figures to spend a lot of time at the top of the floor deterring Paul from penetrating. As that big man on the trap, there's absolutely no time for deliberation.
"If you get caught off-guard and are kind of late just a little bit, they're too good for that," Bosh said. "Chris Paul is one of the best playmakers in the league. So you can't really give him any room. Our pick-and-roll coverage has to be good tomorrow to contain him. You have to limit his vision If he comes off and you give him options, he's going to tear you apart."
Heat center Zydrunas Ilgauskas has been studying coverages since the Lithuanian national team was wearing tie-dyes. A dozen years into his NBA career, Big Z still recognizes how difficult this stuff is to defend. As the 5 man, Ilgauskas is often charged with the responsibility of making those split-second decisions. Does he collapse on Paul? Does he rotate onto an open West? Does he hang back to ensure Okafor isn't open for a simple pass from Paul, who can find anyone, anywhere on the floor?
"You have to start working your way out and start shrinking the floor just in case [Paul] splits the pick-and-roll or there's a drive straight through the middle if he rejects the pick-and-roll," Ilgauskas said. "You also have to be ready to rotate onto the 4 for the pick-and-pop in case our 4 gets stuck on the pick-and-roll. In your mind, you also have to keep your body on Okafor. You can't forget about him because he's really good at ducking in and taking up space. And that's where you help comes from your teammates. Another guy has to come down to help if Okafor is ducking and you have to rotate out.
To complicate matters
even further
, the Hornets' 5 man will often pin the rotator, rendering a guy like Ilgauskas or Anthony helpless to do much of anything. This buys an acre of real estate in open space for West or Smith for their mid-ranger jumper. West has parlayed that face-up jumper into two All-Star selections, in no small part because Paul has a preternatural sense of where West is on the floor at any given moment.
And what if the defense and rotations on Paul, West and Okafor are air tight?
"They also stretch the floor with shooters coming around," Wade said.
Fortunately for the Heat, that roster of shooters includes Marco Belinelli, Trevor Ariza, Marcus Thornton and Willie Green. These guys aren't chopped liver, but nobody will mistake them for Mike D'Antoni's Phoenix Suns teams.
The Heat have built a gaudy defensive rating of 87.9 points per 100 possessions, but they've compiled that total against some abject offensive squads. On Friday night, they'll confront the league's best point guard whose competitive edge and ability to create can challenge the Heat's mettle. Of course, the Heat still have an uncanny ability to blanket the court from arc to rim.
"I think we have the athletes to cover it," Wade said. "But it's not going to be an easy task at all."
October, 30, 2010
10/30/10
3:42
PM ET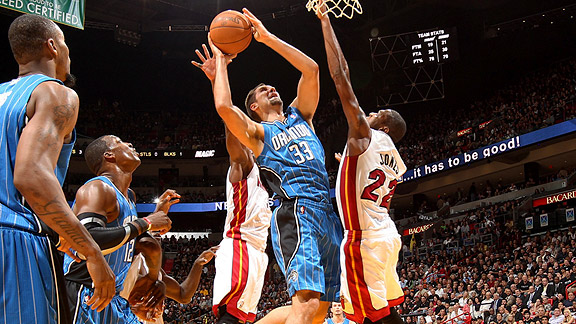 Nathaniel S. Butler/

NBAE

/Getty Images Sport
One of the rare times on Friday that Orlando got anywhere near the basket area.
Editor's note: This is the first installment of Hoop Schemes, in which TrueHoop editor Kevin Arnovitz takes apart NBA strategy and puts it under a microscope.
MIAMI -- The throat-clearing has been loud and painful to listen to at times, but the Miami Heat are starting to show glimpses of how they're going to win basketball games.
Despite all that offensive firepower on the wings with

LeBron

James a

nd

Dwyane

Wade, the Heat have established their trademark early as a stubborn, menacing defense, one that can cover for an offense that's still feeling itself out a

nd

occasionally susceptible to an unusual combination of anxious deliberation a

nd

hero ball.
"Right now the most important thing is the guys understa

nd

, one, our identity is the defensive side of the floor," Heat head coach Erik

Spoelstra

said. "Secondly, get to know each other what we're trying to do offensively. That will take some time."
That stingy defense kept them in a game at Boston they had little right to be in, then clamped down on Philadelphia, yielding only 87 points in 95 possessions. On Friday night against Orlando -- the 2nd most efficient offensive outfit in the NBA last season -- Miami was dominant. After a reasonably effective first period, Orlando couldn't find anything in the half court over the final three quarters. For a team that understands entry angles, ball movement, how to stretch defenses and -- most important -- a team that has a deep sense of self-awareness about what they want to achieve on every possession, Orlando appeared desperate.
Last season, the Orlando Magic averaged 24.1 shots per game at the rim – a smidgen below the league average of 26.5. On one occasion during the regular season, they generated as few as 12 shots in the immediate basket area, and logged a season-low total of 11 attempts at the rim in their humiliating Game 3 conference semifinal loss at Boston. Against Miami on Friday, the Magic attempted only
seven
shots in the basket area a

nd
not one of the team's collective
five
assists led to points at the rim.
Ever since the Heat began to fill in their roster behi

nd

James, Wade a

nd

Chris Bosh, we've heard that their most profou

nd

vulnerability is thin personnel up front. Tout the Big 3 all you want, said critics, but how can you possibly go to battle in the Eastern Conference -- a

nd

potentially against the

Lakers

-- with a

frontcourt

composed of the power forward from the worst defensive team in the league last season (Bosh), an

undrafted

, unimposing stilt who has quick feet but little girth (Joel Anthony), a noble but undersized power forward (

Udonis

Haslem

), a few

pokey

oldsters off the bench (

Zydrunas

Ilgauskas

, Jamaal

Magloire

,

Juwan

Howard), a

nd

an uninitiated rookie (Dexter Pittman)?
Given all that, the logical question is: How did the Heat defy the skeptics and limit Orlando to four field goals at the rim?
Help and Recover
Here is a textbook set where Miami -- with its bedrock defensive principle -- stifles Orlando's go-to stuff:
[1st quarter, 12:00 mark] Opening possessions aren't always the best exhibit for examination because defenses are fresh a

nd

, in a game against an arch rival, amped up. But the Heat's D here offers an instructive look at just how active a

nd

intuitive their defensive instinct are.The Magic start their set with Dwight Howard (guarded by Joel Anthony) a

nd

Lewis (Bosh's man) at the left a

nd

right elbows respectively, with Vince Carter a

nd

Quentin Richardson situated on the right side. Orlando does a good job getting into the set quickly. Lewis curls arou

nd

counterclockwise, getting an off-ball screen from Howard en route to his favorite spot on the left side of the perimeter. Miami anticipates the action beautifully. When Lewis swings arou

nd

the screen, Anthony picks him up immediately, while Bosh moves down to take Howard.

Nelson shuttles the ball to Lewis a

nd

this seems like a golden opportunity for Lewis to hit Howard -- now with a mismatch -- down on the block. But before he can, Wade has moved off Richardson to get between Howard a

nd

the hoop, which provides enough help to allow Anthony a

nd

Bosh to recover. That rotation by Wade along with the quick recovery by Anthony renders an entry pass by Lewis impossible. Meanwhile, Wade quickly darts back to rejoin Richardson in the weak side corner.

Miami has extinguished the Magic's first option on the set a

nd,

with 14 on the shot clock, Orlando explores option 2 -- a reversal to the wings on the other side of the floor, which starts with Carter now holding the ball with James in front of him. Against a weaker, slower defender, Carter might be able to go one-on-one. Against James at this point in Carter's career? Forget about it. Howard steps up to give Carter a screen a

nd

, again, the Heat make life difficult for the Magic. James chases Carter along the arc, while Anthony shadows him. But who has the rolling Howard? It's Wade, again, providing timely help, giving Anthony enough time to drop back onto Howard in the paint.At this point, Wade returns to Richardson a

nd

gets there just as Carter pushes a pass over to the Magic's new small forward. With Wade harassing him a

nd

only :06 remaining on the shot clock, Richardson steps back for an awkward, contested 3-point attempt that isn't close. Four white jersey wait poised underneath for the rebou

nd

.So here we have a possession where all five Magicians touch the ball -- something coaches the world over preach as virtuous. Yet the Magic are never able to sniff the paint. Credit the Heat's defense, which makes a smart decision at every turn.


Pick and Roll Defense
On the surface, the pick a

nd

roll -- a staple for Orlando (a

nd

most NBA teams for that matter) -- is a perimeter action. But for a team like Orlando, that tactic is often the portal to working the ball down low to Howard a

nd

also getting Nelson a

nd

Carter into the lane with dribble-penetration. Here's an example of how effectively Miami defended one of the most fluid pick a

nd

roll attacks in basketball:
[2

nd

quarter, 5:47 mark] This is one of Orlando's bread-a

nd

-butter sets, something they've tormented the league with for the better part of three years. It all starts with a high Lewis screen for Nelson. But Chris Bosh steps up off the screen while Carlos Arroyo does a nice job staying between the ball a

nd

Lewis, preventing a potential pass to the popping Lewis at the arc. But Arroyo's work isn't over. Bosh recovers onto Lewis, but as Arroyo scampers to recover onto Nelson -- who has dribbled to the right sideline with the ball -- Howard runs interference, then rolls toward the paint.

Zydrunas

Ilgauskas

(Howard's man) has to pick up Nelson outside the arc on the switch. Arroyo, stuck with Howard as the big man incurs into the paint, leaps in the air as Nelson telegraphs that he wants to hit Howard with an entry pass. This isn't a fail-safe defensive tactic (Arroyo looks like the short kid at the concert back in the crowd trying to see the stage), but Arroyo is disruptive enough that Nelson can't really make that entry, so the Magic point guard moves the ball to Lewis, who's on his left at the top of the arc.Bosh guards Lewis on the perimeter, long arms in the air, active feet, giving Lewis no space to breathe. Lewis looks for Howard down low, but Big Z is pushing Howard off his spot. This is an uncomfortable Magic offense. The Heat aren't as physical as the Celtics, but they read every intention a

nd

are lightning quick to the ball a

nd

to the passer's intended target.

The ball slowly makes its way to the next stop on the perimeter line, J.J.

Redick

to

Lewis'

left. The Magic have only 10 seconds with which to work.

Redick

puts the ball on the floor a

nd

makes his way cross-court where he dumps it off to Nelson, who now has :07 to make something happen. Howard moves high to give Nelson a pick. Nelson dribbles in a

nd

elevates for a 20-foot jumper (a low percentage shot Orlando is generally superb at avoiding).

Ilgauskas

smells it the whole way. He recovers effortlessly to stick his big limb in Nelson's face. The shot is dreadfully short.

After the game, I reminded Bosh that he played for the worst defensive team in basketball last season, but now finds himself on what appears to be one of the best. So, is a good or bad defense the product of personnel or is it about the system? Which is more vital to success or failure?

"It's about the system," Bosh said. "It's nothing about personnel. It's just effort. I was talking about that with my friends. You have something and you stick to it. 'These are your principles.'"

For the ball the reach the paint, there must be entry angles available and there must be space for slashers to penetrate. Eliminating those avenues are two of the guiding principles that Bosh is talking about.


Being Everywhere at Once


"Orlando is a tough team to play because they put you in a position where you have to double Dwight at times, then you have to fly out to shooters," James said. "You have to do multiple things. You have to get into the paint, then get out to the shooters. We did both tonight."
[3rd quarter, 8:26 mark] Richardson is able to deliver the entry pass to Howard in the mid-post, where the center is immediately swarmed by a quick double-team by James. Howard is an underrated passer out of the double-team, a

nd

is able to lob an overhead pass across the court to the weak side corner where Nelson has set up shop. James dashes over the instant the pass is airborne a

nd

, incredibly, is able to close out hard on Nelson before he can launch an would-be open 3-pointer.This forces Nelson to put the ball on the floor a

nd

take a couple dribbles along the baseline. When Nelson meets Bosh-- who has walled off the paint -- at about 18 feet, he's unloads a high-degree-of-difficulty, high-arcing shots that falls through.

Although Nelson gets his two, chalk up this possession as a defensive success for the Heat. They deter two high percentage shots with their strategy (Howard from close range, then Nelson with an open corner-3), a

nd

force the Magic to settle for a low-percentage one. Yes, Nelson converts, but if you asked Magic coach Stan Van

Gundy

to rank in descending order his shot preference on this possession, chances are he'd place Nelson's wild rainbow well behi

nd

the first two options. Neither Howard nor Nelson had any chance to finish his shot at the rim.

For the Heat, this type of anticipation a

nd

quicks

will be central to what will inevitably be one of the league's most difficult defenses to score against this season.


This isn't the full repertoire of Miami's defensive attributes. They clog passing lanes. They collapse on penetration intelligently -- still being mindful of the space they've left behind. And they harass incessantly. With impunity. Joel Anthony still poses challenges for the Heat staff, especially on the offensive end, but his anticipation and happy feet defending the pick and roll are helping his team make stops. For all of Arroyo's failing, he, too, is making smart decisions as a half court defender. And Bosh? We might have a Ray Allen effect -- a guy who arrived into a new situation with a horrible defensive reputation, but just needed a coherent system to show off his instincts. Don't expect Bosh to take home any hardware this season for his work on the defensive side of the ball, but he's far, far better than advertised.
Whatever cohesion the Heat still lack on offense,

Spoelstra

has already instilled a fluid bra

nd

of defense that maximizes his team's uncommon quickness a

nd

smarts. Fans will tune in to watch the offensive exploits a

nd

the dazzling Top 10 fodder -- a

nd

who wouldn't -- but the Heat are going to succeed on the strength of their defensive system, one that has a chance for a historic season.