Posted by Kevin Arnovitz

Remember when ex-NFL offensive lineman Tony Mandrich was all the rage coming out of Michigan State about 20 years ago? He was so beastly that observers starting charting his "pancake blocks" -- the number of times he plowed over an opposing pass rusher. For all of its cutsy-ness, the stat wasn't entirely without value. If pass rushers are awarded sacks, shouldn't offensive lineman be statistically credited for preventing them?
Derrick Rose's freakish driving layup early at 8:42 in the fourth quarter last night against the Nets on a crucial possession to keep the Bulls close was aided tremendously by a high screen from Joakin Noah. For all of
Chris Paul's wizardry
, his patented dribble-drive is often the result of a nasty screen by Tyson Chandler...provided Chandler isn't sitting on the pine with three fouls early in the second quarter.
Shaquille O'Neal might not think much of Erick Dampier
, but the Mavericks' center has carved out a place for himself as one of the game's best big men on the pick-and-roll. And I hope Steve Blake picked up something nice for Joel Przybilla this year, because the Blazers' work horse makes life a whole lot easier for his point guard.
Effective high screens that give a penetrator like Chris Paul the daylight and/or mismatch to get to the rim are as important to a team's offense as the assists we so diligently track when approximating a player's offensive value. Yet we award a dime for being -- often by happenstance -- the last person to touch the ball before a made shot. Meanwhile, all the pick man gets on a successful dribble-drive are kind words from Hubie Brown or Doug Collins. Analysts like to deliver the old "it doesn't show up in box score" trope, but why can't it? It seems that if we can make stats and box scores more perfect entities, we should.
April, 7, 2008
4/07/08
10:43
AM ET
Blazer fans have been aware of "the bet" for some time.

It's between center Joel Przybilla and trainer Jay Jensen. Jason Quick of the Oregonian described it in February:
Because of abdominal and knee injuries, Przybilla played in 43 games last season. The year before, a knee injury allowed him to play in just 56 games. He also had seasons in Milwaukee and Atlanta in which he played 33, 32 and 17 games because of injuries.

So when Blazers athletic trainer Jay Jensen -- who tends to the aches and pains of Przybilla -- heard Przybilla's goal of playing in 82 games, he snickered.

"He kind of laughed at me,'' Przybilla said of Jensen. "So I said, 'Do you want to make a bet?' ''

At that moment The Bet was established:

If Przybilla doesn't play in all 82 games, he has to buy Jensen dinner. But if he does play in every game, Jensen has to kiss Przybilla's behind at half court after the Blazers' final game.

So far, Przybilla has played in all 58 games, a string that is expected to reach 59 tonight when Przybilla is listed as the probable starting center against the Lakers.

"All I know is that Jay better start puckering up,'' Przybilla said. "Because I feel great, knock on wood. I'm a little banged up, but overall I feel great. I'm going to play in all 82.''
Last night, trying to block a shot by former teammate Ime Udoka, Przybilla broke his hand and will be out for the rest of season. The Blazers have just five games left.
Jay Jensen must be crestfallen to see one of his warriors go down, so close to the finish line.
But he also must be just a little relieved, don't you think?
December, 17, 2007
12/17/07
5:02
PM ET
Whew! Thank goodness I got a few non-Blazer posts published there, so that I can get back to writing about my favorite team. (I swear, this won't last all season. And actually, I think this particular tale has value well beyond one team.)
TrueHoop reader Ben has crunched some numbers from Portland's win streak. He's ready to hand a ton of credit to Joel Przybilla, and he has some numbers to back it up. He emails:
Could it be that part of the key to the Blazers playing so well is LaMarcus Aldridge's injury?

It forced McMillan to play Przybilla, who's logged 99 minutes total in the last three games compared to 72 in the four prior to that.

I think this could be another one of those "what advanced stats are useful for" notes.

In the last three games Przybilla was +30 overall, including +15 against a running Warriors team. Clearly he's doing something right.

You wrote: "Joel Przybilla has been the kind of lane patrolling alpha dog that winning teams almost always have," and 82games.com backs you up.

Teams shoot a full 6% worse when he's on the floor! That's enormous. The Blazers' defense plays at a rate equal to the third best defense in the NBA with him on court, and with him off are by far the worst defensive team in the league (the Knicks give up around 114 points per 100 possessions as the worst defense in the league -- league average is around 106 -- and the Blazers without Joel are at 115.5).

Przybilla grabs an offensive rebound on 10% of all his own team's misses (which puts him in the top tenth of NBA players), and 23% of opponent's misses (putting him in the top 5% of the NBA). He blocks about four percent of opposing field goal attempts (only about 10 players in the league are better).

His game is definitely limited offensively, but he helps so much on the defensive end and on the glass that I think there's no question he's helping (and can help) the Blazers win.

Last night the game was won because of the offense, but in the previous three games the Blazers put up incredible defensive ratings -- they allowed 97 points per 100 possessions against Utah on December 11th, 103 to Golden State on December 12th and 96 to Utah again on December 14th. Considering that the second best defense in the league gives up 102 points per 100 possessions, and that the Utah and Golden State offenses average 111 and 110 points per 100 possessions respectively, those are some impressive defensive numbers.

Looking at the normal stats someone might shrug and say: OK, four and a half points, six and a half boards and a block and a half a game.

But there's a lot more to the picture. And I think between these numbers and the results you've seen over the last few games, it makes you wonder if he doesn't deserve much more playing time even when Aldridge comes back.

Fouls could definitely be an issue, but take, for example, when Portland played at Philadelphia on November 16th. He didn't have a single foul and played all of 10 minutes. In those 10 minutes he was +11 (including an eight-minute stretch in the second quarter where Portland extended the lead from 21-14 to 38-14).

And Portland ended up losing by four.

You don't think he could have helped win that game?

Przybilla is one of a crop of incredibly strong defensive and rebounding centers who have limited offensive skills and are thus undervalued by fans everywhere. DeSagana Diop is another. He's a defensive game changer (just like Przybilla his team plays as one of the best defensive teams when he's on the floor and as one of the worst when he's off) yet his minutes have completely dropped off with the return of Dampier and the solid play of Brandon Bass. And of course, why are the Mavs struggling this year? Defense. They're #1 in the NBA offensively but 24th defensively, an incredible drop off from last year's #5 overall.

Just another in the series of "how we can use stats to improve our understanding of players, teams and the game itself."
Ben also included some very positive statistical trends to do with LaMarcus Aldridge, of whom he is a big fan. This isn't a story of Aldridge being a bad player. It's more a story about Przybilla not getting on the floor as much when Aldridge is healthy -- something that you have to think could be changing when Aldridge returns, which should be soon. There is no reason those two can't play together.
December, 13, 2007
12/13/07
10:32
AM ET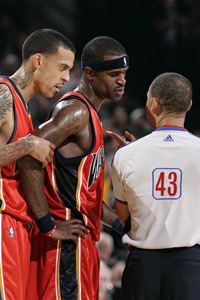 "No, seriously, you don't understand. We're the Golden State Warriors. We can't be losing to the Portland freakin' Trail Blazers."
It's a funny thing that's happening with this Blazer team. Honestly, my expectations have been pretty darned low for this season. But now they're on a win streak of five games -- with wins the last two night in Utah and at home against the Golden State Warriors.
The highlights will give you a little taste.
They're winning games in the strangest fashion. Against Utah, the Jazz opened the game with a layup line. One after another. Add in the absent Greg Oden and LaMarcus Aldridge, and it was clearly going to be a miserable night. But then one guy got hot, and another, and then later another. Everyone seemed to take turns making shots that this team has historically missed.

Last night was much the same. Martell Webster sat out most of the game with flu-like symptoms. And it barely seemed to matter. James Jones, Brandon Roy, Joel Przybilla, and Travis Outlaw did the scoring instead.
Through it all, Joel Przybilla has been the kind of lane patrolling alpha dog that winning teams almost always have.
And now, you're starting to see something that has been missing for a long time: praise for Nate McMillan's Xs and Os. On Tuesday, Portland scooted into and out of a zone defense in a way that clearly kept the Jazz off balance. They have also been scoring out of timeouts, which is usually seen as a crude measure of clipboard chops. The Oregonian's Jason Quick says the team had another couple of tricks at the ready last night:
"I don't know how you give credit to a coach, but he gets an A-plus," said Roy, who had 21 points and seven assists. "Not only his adjustments on the fly, but just putting guys in the right position. He has been really good."

On Wednesday, McMillan fought the temptation to get caught up in Golden State's small lineups, starting the game with an emphasis on attacking the Warriors inside. Przybilla, who entered the game averaging 4.6 points, scored the Blazers' first seven, eventually forcing Nelson to take out undersized center Al Harrington and go with a bigger, yet less skilled center in Andris Biedrins.

Once Nelson went with Biedrins, McMillan countered by substituting Outlaw for Przybilla, and Outlaw took advantage, zig-zagging his way around the court for 12 second-quarter points.
Quick also points out that McMillan is starting to trust the team. He used to yank anyone who made a bad play. But now he's letting them feel their way a bit more, and the trust is paying off.
Now, I have no illusions. I know that in the big picture a five-game winning streak doesn't mean all that much. But when you couple it with low expectations it can really make you feel like singing. Consider very serious blogger Dave, of BlazersEdge:
After a while you get used to watching games. You're sitting there on the couch, Tivo remote in one hand (to rewind and analyze), pen in the other (to make notes for later use). Your eyes dart back and forth, looking for the angle, the story, the trends. I don't want to say it's like a business because it's not. It's very enjoyable. But it's kind of a clinical operation, especially when you know that a few thousand people are going to call you on mistakes you make or things you miss. You watch the moment, but you seldom get to be in the moment.

In the third quarter tonight the Blazers turned me into 100% fan again. Put down the pen, stop rewinding and analyzing, just watch and enjoy. Seeing Trout [Travis Outlaw] and Jones nail shots like they were 10-year pros, Jack and Joel run the pick and roll against a defense that was begging to be exploited, watching that brilliant play as Roy passed to Joel and then back to Roy again for an easy two at the rim ... wow.
(Photo: Sam Forencich/NBAE via Getty Images)