June, 10, 2013
Jun 10
4:59
PM ET

By Jared Wade
ESPN.com
Archive
I was alone, the only person watching the NBA playoffs on a 16-foot television. It didn't last. Soon others entered. Most wore purple, some wore yellow. A few carried boxes. One young lady put tchotchkes on my table. Yellow-and-purple tchotchkes.
I asked what was up.
"We're having a Lakers viewing party," said the woman.
"Who is
we
?"
"The … Lakers," she said, realizing I didn't belong.
It made sense. We were in downtown Los Angeles at the ESPN Zone, a sports bar to the nth degree. Staples Center sits next door, and the injury-riddled Lakers were about to play Game 2 of their first-round series in San Antonio, hoping to pull even with the Spurs at 1-1. Fans needed a place to congregate. Why not here?
In came a man who did belong: Michael Cooper.
He dressed simply -- a baby-blue button-up tucked neatly into dark slacks -- but his tailored, freshly pressed clothes stood out. Even those who didn't notice his sartorial style would recognize his ballplayer gait.
It was clear that someone had entered the room.
He walked my way. I was just a face in the growing crowd, but we made eye contact, and he gave a nod. It was the nod famous people give when they know you know who they are. He was just being friendly. Though I was planted at a long, communal table and Cooper had his own VIP chair, we were next to one another when he took his seat.
The box carriers unpacked, arranging items on a table beneath the giant TV. They arranged purple-and-yellow jerseys and basketball shoes. One sneaker was in a glass case.
At first I couldn't read the number and signature. Then I made it out.
Antawn Jamison?
The jerseys were similarly odd: Shannon Brown, Luke Walton, Andrew Bynum.
Then, one made sense. It had No. 21 on the back. Ahhh. There it is.
The Michael Cooper jersey?
Nope. It was a Kareem Rush throwback.
I wasn't surprised that someone else had worn Coop's number. I knew the Lakers hadn't retired the jerseys of all their greats.
Still, it was off-putting to be sitting next to Cooper, the 1986-87 Defensive Player of the Year and a guy who made eight straight All-Defensive Teams, and see a Kareem Rush jersey.
I looked up, and there was a break in the game action on the big screen. A Crown Royal commercial came on with Julius Erving as the liquor's pitchman.
As with everything Dr. J-related, the highlight soon showed up.
For the man sitting next to me, I imagine it is the highlight; The Doctor's breakaway, cradle, "rock the baby to sleep" dunk over Michael Cooper in January 1983 during the Lakers' regular-season visit to the Spectrum.
I looked over at him.
"What?" Cooper asked me, raising his arms. "You got something to say?"
I did not.
I did manage a question. Holding back laughter -- maybe fear -- I asked him how many times he has seen that highlight. I expected him to shake his head and say, "Thousands, jerk." Or check my chin.
He didn't answer. But he did let me in on a little secret.
"The funny part about it -- every time I see that, I get paid," Cooper said.
I don't know if he was leading me on or if he actually gets a royalty check each time the ad airs. Crown Royal has to license the footage from somewhere.
But Cooper repeated his claim later in the evening while emceeing the event. He joked with the crowd, saying I tried to clown him. He recounted our exchange, saying that he receives $1,500 every time it airs.
I was taken aback. Twice, Cooper had owned the moment. The Doctor's butchered patient -- a stopper of the highest order, the guy Larry Bird called the best defender he ever faced -- was embracing his inclusion in maybe the most iconic poster dunk in basketball history.
Some people might be ashamed. Players today are told, "Don't jump." Brandon Knight and Jason Terry, victims of the two most heinous facials handed out this season (
here
and
here
), probably wish they had taken that advice.
Coop? Thirty years after the dunk, he's taking it in stride.
As he should.
Michael Cooper is a Lakers icon. To those in the know, he is an NBA legend. But to many casual sports fans, he is just a guy who played with Magic, an afterthought who didn't make the Showtime "big three" cut behind Johnson, Kareem Abdul Jabbar and James Worthy.
Through this dunk, however, he has become immortal. Whenever Dr. J is celebrated, the footage inevitably resurfaces. I must have seen the time Coop got dunked on thousands of times.
He never answered after I asked how many times he has seen it. But I'm guessing the years -- and maybe those $1,500 checks -- allow Cooper to enjoy The Doctor's most famous dunk more now than he did in 1983, and more than any of us do today.
June, 13, 2012
6/13/12
10:37
PM ET
By ESPN Stats & Information
ESPN.com
Archive
As the late singer Aaliyah once said, "
Age Ain't Nothing But a Number
."
And that has never been truer in the NBA than now.

The
Oklahoma City Thunder
had the youngest starting lineup in an NBA Finals Game 1 in 35 years. Their average age of 25 didn't stop them from taking a 1-0 series lead over
LeBron James
,
Dwyane Wade
,
Chris Bosh
and the
Miami Heat
.
What this Thunder team has already accomplished, and what they could accomplish in the upcoming games, is virtually unprecedented when age is taken into account.
But despite their youth,
Kevin Durant
and
Russell Westbrook
are quickly etching their names among some of the NBA's all-time greats.
Durant and Westbrook combined for 63 points in Game 1. According to the Elias Sports Bureau, that is tied with Julius Erving and Doug Collins (1977
Philadelphia 76ers
) for the most combined points by a duo in their NBA Finals debut.
Durant and Westbrook alone outplayed the entire Heat team in the second half, outscoring them 41-40.
Durant's 36 points in Game 1 tied the franchise mark for most points in a Finals game. Durant also became the fourth-youngest (23 years, 257 days) player in NBA history to score at least 35 points in an NBA Finals game.
Westbrook, who had 27 points, 11 assists and eight rebounds in Game 1, is the second player in NBA history with at least 25 points and 10 assists in their NBA Finals debut. The other player? None other than
Michael Jordan
, who had 36 points and 12 assists in a 1991 Game 1 loss to the Lakers.
Forget NBA Finals debuts. Westbrook's performance was special. He was the first player with at least 25 points, 10 assists and eight rebounds in an NBA Finals game since
Charles Barkley
in 1993.
Where age and inexperience normally might come into play is crunch time, but that hasn't been the case. This postseason, in the final five minutes of the 4th quarter and overtime when the game is within five points, the Thunder are shooting 48.3 percent (29-for-60). The Heat are shooting just 36.4 percent in crunch time (24-for-66).
And nobody with at least 20 crunch-time shot attempts has been better this postseason than Durant, who's shooting 60 percent (12-for-20). In fact, there have only been four game-tying or go-ahead shots in the final 24 seconds of the 4th quarter and overtime this postseason, and Durant has three of them.
No matter how it's sliced, the Thunder have proven time and time again this postseason that youth is overrated. Just three years removed from back-to-back-to-back 50-loss seasons, a bunch of 20-somethings are now three wins away from their franchise's first NBA Championship in 33 years.
Statistical support for this story from NBA.com
June, 12, 2010
6/12/10
9:49
AM ET
By Brian Robb of CelticsHub
ESPN.com
Archive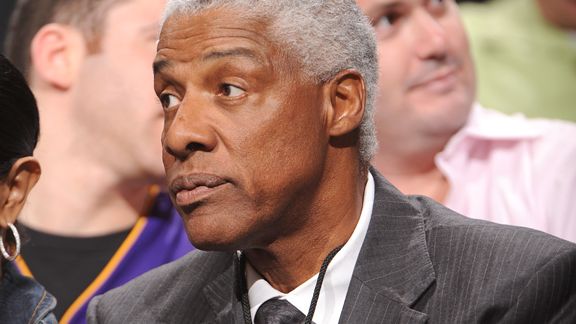 Andrew D. Bernstein/NBAE/Getty Images
The doctor, in the house.
One of the great innovators in basketball history, 60-year-old Julius Erving is still thinking about the game he stopped playing professionally more than two decades ago. In town to attend a Finals game with the winners of a Kia Motors Sweepstakes, Erving took time to answer some questions about everything from the effect of momentum in the NBA Finals to his memories of visiting Boston in his playing days:
You played in five Finals combined in the ABA and NBA over the course of your career, with a wide variety of results. Having dealt with outcomes on both sides of the spectrum, can you talk a bit about the idea of momentum when playing basketball at that Championship level and the affect it may have within any series?
To me, momentum is not something that carries over from each game of the series, it's something that shifts within the game. Each night you start from square one with each side trying to paint a masterpiece. One team has a plan and the other team adjusts to it throughout the contest and the momentum shifts based on those adjustments. Then it is up to the opposing team to respond. For the most part though, once that game ends, you close the book on it and start from scratch next time out.
Can you talk then, about the factors that come into play for momentum that might shift momentum during an NBA Finals game?
Coaching does play a role and sometimes fate plays a role. Take this series for instance. Boston's preparation for L.A. is very clear. Let Ron Artest shoot, and cheat off of Derek Fisher and give him open looks. It's interesting, though, how a simple change can affect that gameplan. For example, Ron Artest picked up two early fouls in game three and Phil Jackson was forced into an adjustment, having to bring in Luke Walton while being down 12-5.
Boston was now playing a unit they hadn't planned on seeing, a Laker unit that runs things a little differently. And you look up and the Lakers went on a 25-5 run. Suddenly, it was the Celtics who looked a little confused about how they wanted to play against these guys. Do we double Kobe? What do we do with Walton? They deviated from the gameplan to early and it hurt them.
The emphasis on the Celtics establishing the low-post game and getting Kevin Garnett going in Game 3 also hurt their offense in my opinion and swung the momentum. Ray Allen and Paul Pierce struggled shooting because they were the second and third options on those plays. They looked nothing like Game 2, when they were moving the ball around and finding the open man. Instead they were intent on establishing Kevin, and they did it, but in establishing him, it took them away from what they needed to be doing on offense.
It's that kind of back and forth play that has set the tone for this series. Neither team has any momentum right now, so it's going to be up to those mid-game adjustments to decide who wins this championship.
Having attended UMass to go along with your epic battles with the Celtics in the 1980's, you have a lot of connections to this area. What are your memories of playing here?
I have a lot of memories coming to Boston, most of them are good surprisingly. One thing I will always remember is coming to the Boston Garden and seeing a red 6 they use to hang up in the balcony. The Sixers wore red, but UMass' colors were maroon and I always used to notice it, once I realized it was the UMass people. They'd always try to get my attention since they would say "Look here, look here we love you" so it wasn't always hostile. There was always a little fanbase for me.
Now having attended a Finals game here, how would you compare the crowd to back to the 1980's? Is the passion, intensity and knowledge of the game for the fans now around here still as strong, compared to your Garden visits back in the day?
The arena has changed, they've actually cleaned it up quite well, (laughs) needed it from the old Garden. But the intensity, crowd and their passion for the team has not changed. The fans here are 100 percent behind their team. Just sitting there during Game 3, they were giving it to all the Laker fans sitting around me, and it was funny to me since it reminded me of the 1980's.
When we use to come up from Philly, it was one of those trips that was close enough, we would enjoy bringing our wives with us. They got so berated, though, by the crowd, they wouldn't come anymore. So after watching a couple games here, I was thinking, these are the same fans here that I remember, letting the opposing fans have it.