April, 23, 2011
4/23/11
1:42
AM ET
By ESPN Stats & Info
ESPN.com
Archive

Crawford
The bank was open for
Jamal Crawford
down the stretch of Friday's Game 3 as his three-point field goal with 5.7 seconds remaining helped seal the
Atlanta Hawks
win over the
Orlando Magic
.
In a series that has been defined by bench play -- or lack thereof for the Magic -- Crawford led all scorers with 23 points off the bench, with 12 coming in the final frame.
For the third straight game Crawford single-handedly outscored the Magic reserves. For the series, Crawford has scored 71 points, while Orlando's subs have combined for just 43 points.
Crawford is one of only seven players in the past 20 seasons to have three consecutive 20-point games off the bench in a single postseason. Only two players have done it in four straight games --
Nick Van Exel
in 2003 for the Mavericks and Kevin McHale for the Celtics in 1991.
Crawford did most of his damage when guarded by
Jameer Nelson
, who had actually held Crawford to 38.9 percent shooting over the past two seasons.
However Friday night Crawford scored 17 of his 23 points when checked by Nelson, making five of his nine field goal attempts. He was just 2-for-10 when guarded by other players.
Although the Hawks managed to win Game 3, Atlanta has gotten progressively worse at shooting jump shots during their series with the Magic. After shooting 51.4 percent (19-37) on jumpers in Game 1, the Hawks made only 42.0 percent (21-50) in Game 2, and 32.6 percent (16-49) Friday.
However the Magic have not been able to capitalize as they have shot poorly throughout the series as well, particularly from behind the three-point line.
Orlando made just eight of its 28 three-point attempts (28.6 percent) and have now shot under 30 percent from three-point range in each game of this series.
During the 82-game regular season they had only two streaks of three straight games in which they failed to shoot at least 30-percent from long distance.
One of the main cogs in the Magic's struggle has been the inability to get
Hedo Turkoglu
on track. Turkoglu is shooting just 25 percent on field goal attempts from beyond 10 feet and only 17.6 percent from behind the three-point line.
During the Magic's run to the NBA Finals two season ago, Turkoglu shot 42.3 percent from 10-feet and beyond, including 38.6 percent from three-point range.
One thing is for sure though; Magic fans cannot blame
Dwight Howard
for how this series has gone. Howard notched 21 points and 15 rebounds and is now averaging 33.3 points and 17.7 rebounds per game for the series.
According to Elias, Howard is the fifth player since the NBA merger (1976-77) to record 20 points and 15 rebounds in each of his first three games of a postseason. The last player to do so was
Dirk Nowitzki
back in 2001.
August, 13, 2009
8/13/09
11:10
AM ET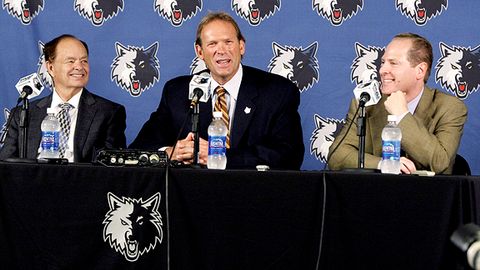 On my desk is the Minnesota Timberwolves' newest media guide. It's about ten months old, and still has that "freshly printed" smell.
But I'm about to throw it away. The Timberwolves have changed so much, and so quickly, that the book is almost worthless.
Thirteen of the players, a head coach or two, and the face and brain trust of the team through its first two decades -- Kevin McHale: All gone.
In their place: One of the most profound and rapid rebuilds the NBA has ever seen, highlighted by the frenetic activity of hardworking new president of basketball operations David Kahn. He has ushered in new young players like Jonny Flynn and Ricky Rubio, a new coach in Kurt Rambis, a small collection of returning players highlighted by Al Jefferson and Kevin Love ... and a thousand questions.
Rookies at point guard, rookies in the executive office, and (but for half a lockout season) a rookie head coach. It's a high-risk, shoot-for-the-moon, long-term approach, which is delightful for what it is not: More of the same.
"I have absolutely no desire," says Kahn, "to build a team that perennially wins 40 to 45 games and scratches and claws for the first round."
In other words, he has no desire to run, well, the Timberwolves.
It's a brand new day for professional basketball in the Twin Cities.
Ripping Right Down to the Studs
David Kahn objects to my saying that he has "ripped the team down to the studs."
"I mean," he retorts, "we kept Al Jefferson, we still have Kevin Love ..."
Only later did I think that I should have responded: "You don't think they're studs?"
Call it what you will, but it's certainly a historical bit of redirection. New head coach Kurt Rambis is the team's best-known quantity, but in his current post he boasts 37 games of experience, which took place a decade ago (on top of a more meaningful decade-and-a-half assisting in the front office and on the sidelines).
Upon arrival, Rambis talked a little bit about the team's assets, but more about changing the culture of the team. But how much culture could be left to change? The only Timberwolves who have been around for even just a year are Corey Brewer, Brian Cardinal, Ryan Gomes, Al Jefferson and Kevin Love.
"Amazing isn't it?" laughs Love. "One year, and I'm already one of the old guys."
"We are in the midst of re-building," says team president Chris Wright. "It is no secret that we are not going to be competing for an NBA championship this upcoming season. ... We are going to play our young players and allow them to grow and develop together on the court. Are we going to take some lumps along the way? Sure, we are. But, the only way our young core will continue to improve is to play together and experience first-hand all of the various situations within an NBA game."
Wright declined to offer insight into ticket sales this summer -- last season the Timberwolves famously offered some five-dollar tickets, which was seen as a strong sign of a weak economy -- but he says the media and blog buzz about the team has ratcheted up, while "there is a renewed excitement about Timberwolves basketball here in the Twin Cities."
No current Timberwolf has had time to enter the bloodstream of Minnesota fans the way Kevin Garnett once did. The player with the most minutes played in a Minnesota uniform is 26-year-old Gomes, who has played about 5,000 minutes since arriving in a trade for Garnett. Five thousand minutes is nothing to sneeze at, but, for instance, Kobe Bryant has played nearly 35,000 minutes for the Lakers.
Rambis singled out Jefferson, Love, Brewer, Rubio and Flynn as "nice pieces," to build around. But his decision to leave the Lakers also centered around the length of his contract, the upcoming draft picks and cap room, and promised input into personnel.
Basketball executives and coaches are relentlessly sunny, in public, about the prospects of their teams. Yet on the day he was hired, the coach was talking about long-term projects. Translation: This could take a while.
But there's more to life than one season's win total, and clearly the new management team has owner Glen Taylor's blessing to take some time in redefining the organization, which may well prove brilliant.
"The singular objective," says Kahn, "is to be a championship-contending team. I don't want to put a time frame on it, but it seems that three to four years is probably realistic."
Kahn spells out that this season will be an exploration of how the existing roster works. Next summer there will be several more new players to be added through the draft and free agency. "2010-2011 could be something of a laboratory, too," says Kahn. "There are so many things that can change, but with the path we're on, I think the third year is the first time we can really expect to make a playoff push."
---
Counting on Al Jefferson
Al Jefferson, the team's MVP and the star they received in the Garnett trade, flatly rejects that schedule, saying "It shouldn't be no three years."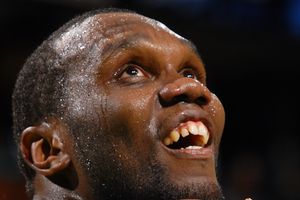 While hardly bitter, Jefferson is not guzzling the kool-aid of rebuilding either. "I was a little disappointed about Kevin McHale leaving, and also a little disappointed about Sebastian Telfair leaving," he says. "But I understand it's a business, and I understand David Kahn is here to do a job and he's doing it. ... The team becomes part of your family. You get close to guys, and to see them go, it hurts. ... I miss the guys. But you move on, and it's a new beginning."
(Love is similarly cautious in sizing up the new direction, stopping well short of an endorsement: "All the changes ... We just got to sit back and see. Hopefully it will work in our favor.")

Jefferson also rejects the slow rebuild out of sheer confidence. "When you look at how quickly things turned around in Portland," he says, "when they got Brandon Roy and those young players ... it's up to us. We have some young players, but if we do what we're supposed to do we can make this happen faster."
Jefferson is the team's only unquestioned star, but even he comes wrapped in uncertainty. Not only is he recovering from a torn ACL, but he is forced to play long minutes as an undersized center. The team has a shortage of real 5s, and Love needs minutes at power forward. (The only real center on the roster is Ryan Hollins.)
Jefferson says his injury ought not be a concern. After ACL surgery last winter, he's still not cleared for contact, but is scheduled to see the doctor on August 24 and swears he'll be on the court and ready to play by training camp.
Jefferson says he has been "doing everything I was supposed to do, and not doing everything I wasn't supposed to do." To play center, he had bulked up to 285 or bigger last season. This summer, after seeing the team draft speedster point guards Rubio and Flynn, and knowing he'd be running more than ever, he resolved to get back to his rookie weight of 265 (he's at 270 right now).
How does one drop weight while taking it easy on a healing knee? "Easy," he says. "I didn't go home to Mississippi and eat all that fried food. I stayed in Minnesota."
Kahn and Rambis have insisted that the up-tempo style they plan to play can use
Jefferson on the secondary break, or when the team can't run. Jefferson, for his part, says he'll be like Amare Stoudemire, out there running and finishing on the primary break, and he's looking forward to it.
As for Jefferson and Love's coexistence, Rambis bats aside the concern that they can't play together: "Kevin Love and Al Jefferson can definitely play together. They're going to be the initiators of the break, and they're both very, very capable rebounders in this league. As Pat Riley talked about many years ago, no rebounds, no rings."
Both Love (third) and Jefferson (25th) are highly rated rebounders, and Jefferson had the 10th best PER in the NBA last season. His All-Star level of play, combined with a five-year career of playing for rebuilding teams, may make him one of the biggest victims of this latest and most profound organizational redirect.
Jefferson's impressed with Rambis, however: "The No. 1 thing that amazed me was how he left the Lakers. A championship team, probably was going to be the head coach in the next couple of years, who knows? To come here, and to help turn the Timberwolves around, that gained my respect. I just met him today. He already got my respect for that, because a lot of people don't want to come to Minnesota. I'm here and I want to be here, and I want do something this team has never done before, we're going to need all the main pieces to get us there. Bringing Coach here could be the beginning."
---
"The Spanish Kid"
Of the Timberwolves' many summer soap operas, the most closely watched one has been that of fifth overall pick Ricky Rubio (whom Jefferson referred to thrice as "the Spanish kid," and never as "Rubio," in one 10-minute interview). Some suggest the 18-year-old Spanish heartthrob has the potential to be the best point guard of his generation, and are shocked that he lasted to the fifth spot in the draft. Kahn himself expressed delight and surprise at finding Rubio available.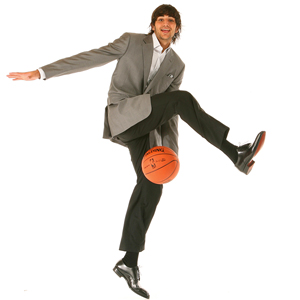 And yet Rubio has yet to sign a Minnesota contract and it's unclear when he will.
Sources indicated his initial reticence at joining a team with Flynn, another highly touted young point guard. More recently, indications are that Rubio's entirely happy to join the Timberwolves, but buyout talks with DKV Joventut, his Spanish team, have not been smooth.
When Rubio was 15, he signed a contract that paid him very little for a professional basketball player -- an annual income of less than $100,000 for most of his time there -- but had a massive buyout clause of 5.7 million Euros, or about $8 million. It is believed to be the biggest buyout in Spanish basketball history.
It remains to be seen if Rubio's lawyers would push the issue, but recognizing that teenagers and their families are ripe for exploitation in negotiating with savvy teams -- it would take decades of work for him to afford the buyout -- Spanish law offers certain protections that may apply in Rubio's case.
Meanwhile, Rubio has long been clear that he intended to go to the NBA, and for a time Joventut made noises, publicly, about a willingness to negotiate should the NBA come calling. (The buyout, in a setting like that, would protect Joventut against richer European teams trying to steal Rubio.) As recently as this summer there was talk of negotiating a severely reduced buyout to help Rubio pursue his NBA dream.
But the more recent storylines in the Spanish press have featured a new uncompromising line from Joventut. Team president Jordi Villacampa recently said that relations had deteriorated and he implied that Rubio would not be welcome to return to play for the team. The Timberwolves are only allowed to contribute $500,000 towards his buyout, so Rubio would seem to have few options beyond haggling further, and deciding how much he can afford to pay out of the roughly $6.8 million he'll be guaranteed from his rookie contract, plus whatever he can get from sponsors.
Meanwhile, the Timberwolves have been careful not to say anything about limiting Rubio's playing time or role, apparently wary of deflating his NBA aspirations.
"I have a gut feeling, right now, that Ricky would be the starter," says Rambis. "Flynn with his speed and and nastiness as a defender, I see him being a key player off the bench ... but it's not set in stone."
What Rambis says is unlikely, however, is Flynn and Rubio starting together.
Kahn had spun a yarn, since the draft, that Flynn and Rubio could play together, in the backcourt, at the same time, for the long term. "Right now I see them playing a little bit on the floor together, but that will be extremely difficult to do for long periods of time particularly in the Western Conference," says Rambis, "because of the quality of the point guards, as well as the quality 2 guards. Defensively, that'll be a tough matchup for either one of them."
Rambis adds, however, that training camp could prove him wrong. "We want them to get as much playing time and experience as possible. They're going to learn the most about the NBA by being out there on the floor. ... There will certainly be times when they will be playing together. They could certainly prove me wrong."
---
2010 Offseason: Even More Change
The Timberwolves will spend this season, essentially, getting to know each other.
But just when the dizziness wears off, there's every reason to think the roster-shifting will resume. Minnesota is poised for action in next summer's free agent market, and has the potential to have as many as three (or as few as zero) first-round picks:
Minnesota's own pick in 2010 is owed to the Clippers but is top-10 protected, meaning unless the Timberwolves play well enough to end up with the 11th pick or worse, they'll keep their pick. (Assuming they keep the 2010 pick, however, the 2011 pick is the Clippers' with no protections at all, which could prove painful.)
Charlotte's pick in 2010, which is protected if it's top 12.
Utah's pick in 2010, which stays with Utah if it's in the top 15.
"At a minimum," says Kahn, "I expect we'll be $10 or $12 million under the cap in the summer of 2010. If we have that cap space, and we can spend judiciously on a player who will help our team, we are absolutely ready to spend that money."
In deference to that cap space, Kahn says that he will not take on any more contracts that last beyond next summer, and is "pretty much done with major changes to the roster" beyond "some pruning and trimming."
"The biggest change that could be coming to our roster for this season is finding out whether or not we'll get Ricky Rubio this season," he says.
This is the kind of rebuild that many teams are too timid to attempt, and it's fun to see it in action. It'll take years, however, to know whether it's brilliant, insane, or somewhere in between.
For 'Wolves fans, everything is changing. One thing that won't change, however, is that around this time next summer, we'll probably still be talking about how it will take time to see what the Timberwolves will become, and
I'll probably once again be throwing out my Minnesota Timberwolves media guide before it's even a year old.
(Rambis photo by David Sherman/NBAE via Getty Images. Al Jefferson photo by Brian Babineau/NBAE via Getty Images. Rubio photo by Nathaniel S. Butler/NBAE via Getty Images)
August, 10, 2009
8/10/09
12:04
PM ET
Kurt Rambis will reportedly replace Kevin McHale as the head coach of the Timberwolves.
In Game 4 the 1984 NBA Finals, the Celtics needed the win of their season. They had given up home-court advantage and trailed 2-1 to Magic Johnson's Lakers.
Laker forward Kurt Rambis caught a pass on the fast break, and rambled to the hoop down the right side of the lane. After one dribble, and just as he started his layup, Kevin McHale stretched out his long left arm and extended it across Rambis's chest and neck. As Rambis elevated, at a run, McHale pulled backwards, sending Rambis to the floor, hard and horizontal.
It's among the most famous dirty plays in NBA history, and changed the tone of a series that the Celtics went on to win in seven games.
In 2008, Rambis talked about it in an interview with TrueHoop:
There are things that you are not supposed to do. In the heat of the moment, those things do happen anyway, sometimes. You get your competitive fires going. I don't know why it happens, exactly, but players do things they would erase, if they could go back in time.

But you are not supposed to do, for instance, what Kevin McHale did to me when I was in the air. You are supposed to make a play on the ball. There are so many leapers in this league, so many basket attackers. Usually when the defense attacks, they attack the ball, and there might be body contact, but not just body contact.
How ironic then, that David Kahn, the Timberwolves president of baskeball operations (who was in his early 20s at the time) has a chance to symobolically reverse the impact of that 1984 event. Now it is McHale who has been pushed aside, and Rambis who emerges victorious.
What kind of coach would Kurt Rambis be? One can examine the 37 Laker games he coached a decade ago for evidence, but more meaningful might be his own comments. He offered some insight in that same 2008 interview, including:
On the triangle offense: "If the staff had their druthers, we'd be using the triangle at all times. And I think that any basketball purist would rather see more player movement, more passing, and less dribbling. The result of all that should be a quality shot: a layup, or a wide open jump shot within the player's range. Making that shot -- that just depends on the skill level of the player. But if you end up with a shot like that, the offense has accomplished its job, whether or not it goes in. On the other hand, if a player comes down and misses a shot from three-to-five feet behind the three-point line, they might say they were open, but the answer is 'yeah, but who would guard you out there?' Our objective is to penetrate the defense and find high-quality shots."
On zone defense: "With the talent level in the NBA, however, where there are a lot of quality shooters, the zone is less effective over the long haul. Those shooters spread out your zone, but the whole idea of the zone is to protect the heart of the court. But if it gets spread out, that opens the middle, and then people can pick the zone apart, get to the seams, move the ball, and attack the back side. So a zone has shock value, but it shouldn't last very long. It also makes it hard to rebound."
On player development: "I have always thought that we should not try to pigeonhole guys by putting them into specific positions. Maybe it should be more like Europe (although I haven't been to see what they actually do). Maybe we could teach everyone to dribble, pass, and shoot, regardless of size. Teach everyone to play facing the basket, or back to the basket. Teach them how to be basketball players, and then let them gravitate to what they are best suited to do."
On simple play: "When players do something of transcendent athleticism, the twist, turn, jump, pike, flip, or whatever, and they miss the shot, the crowd goes ooh, ooh, oh. But it's just a missed shot. To me a much simpler way to play the game is better. The beauty is in the ball movement, the passing, and a lot less dribbling."
On whether he'd like to be a head coach again: "Oh, absolutely. That's what I'm working towards."

Posted by Kevin Arnovitz
Kevin Love had a stellar rookie year for the Timberwolves. His foray into the world of popular media may have been even more impressive. He worked as the rookie correspondent for NBA TV during the playoffs, and he jumped out ahead of the pack on Twitter, even breaking the story of Kevin McHale's firing via Twitter.
Two years ago, The Onion ran a piece with the headline "Curt Schilling To Start LiveBlogging From Mound." Thanks to guys like Kevin Love and Charlie Villanueva, life is starting to imitate parody.
This week, Love is in Las Vegas, tweeting live from the 'Wolves bench.
TrueHoop dropped by at halftime to check in on his progress, and to get his picks for the NBA's All-Twitter team.
Are you better off keeping your second banana than trading for more talent? Can Kirk Hinrich accept playing second fiddle to Derrick Rose? How will Shawn Marion's 2008-09 second act in Toronto fare? Seconds for everyone at the TrueHoop Network.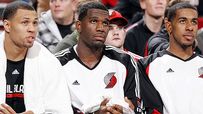 M. Haubs of The Painted Area: "In addition to this kind of 'little-picture' unselfishness, it's crucial to keep 'big-picture' unselfishness in mind when building an NBA team as well, the delicate balance of getting guys to accept a team's pecking order.

Our favorite example of this, which we've written about before, is how the Pistons were considering trading Joe Dumars prior to their championship run, possibly for more talent, but owner Bill Davidson persuasively argued against by saying something to the effect of 'You'll never find a better player who's willing to sit second chair to Isiah.'

It's what we see now in L.A. with Lamar Odom accepting a bench role in a free-agent year. It's what we've seen for years in S.A. with Manu Ginobili accepting fewer minutes even though it keeps his stats low and probably costs him All-Star appearances.

It's what makes me wonder if we'd have a different perception of KG and Kevin McHale and the Minnesota Timberwolves of the last decade if Stephon Marbury had simply been the type of player to accept playing second fiddle.

It's what makes me realize that the Portland Trail Blazers, even with all of their assets, have a big challenge as they make moves going forward, just because they have such a nice ego balance with Roy, Oden, and Aldridge all seemingly to coexist peacefully no matter the relative attention one or the other might get. This especially applies to B-Roy, who handled the initially Oden hoopla so gracefully, even though he had already established himself as a young star."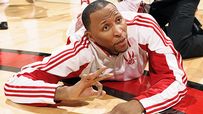 Arsenalist of Raptors Republic: "As unlikely as a playoff spot is, I'm still looking forward to this bunch at least try and make a push to prove that they're more than a collection of overrated misfits and underachievers. The trade has breathed a little purpose into the season and I felt that as I made the brisk walk over to Philthy's to catch yet another game on TSN2. Going up against Cleveland sans Chris Bosh and having two new players is an impossible challenge so all you really looked for in this game is some signs of whether this group could seriously pose a threat to anyone but my blood pressure. Results were leaning towards the negative...

Marion last night showed what he could possibly do for us. His defense on Lebron was good enough to force him into low-percentage shots, he got a steal off a front on Ilgauskas (no easy task) and took his man off the dribble for a couple scores. He made some good entry-passes (that's a big deal for us) and executed a jump-hook in the low-block, which I think will be his primary means of scoring. If we can get him into the post through a slip-screen he has the leaping and finishing ability to be a scoring threat. He looked lost at times, for example on one play Calderon used the high-screen and Marion sealed his man off so Jose could continue with his drive but instead he pulled up. Marion didn't get why he did that and took the rest of the possession off by standing in the corner. All in all a decent game considering he's guarding Lebron James - 10 points, 6 assists, 6 rebounds and 2 blocks...

A note about up-tempo play. If Shawn Marion thinks we'll be playing up-tempo ball in Toronto I hate to disappoint him. As I see it there are two problems. Firstly, you need the ball to run and we don't have the rebounding to facilitate early break opportunities. Secondly, no team will ever be able to run 'n gun with Jose Calderon at the point. He simply does not have the court-vision, blow-by speed and pushing mentality that is needed for that style..."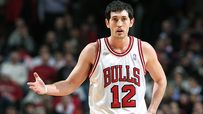 Matt McHale of By the Horns: "If this was Kirk's swan song as a Bull, it was a pretty good one. For my part, I don't want him to go. The Bulls have been a better team with him than without him this season. He's the perfect safety net to have under Derrick Rose, who still makes his share of rookie mistakes (particularly on the defensive end). I know conventional wisdom says Hinrich's contract is greater than his worth as a basketball player, but I'm not sure I agree with that. Remember, it wasn't even two full seasons ago that he was being touted as the next John Stockton. And while that was a gross overestimation, I'd say he still has value, more to the Bulls, maybe, than to anybody else. I hope we hold onto him."
THE FINAL WORD
Hardwood Paroxysm: Great moments in trade deadline history.
Celtics Hub: This year's Celts vs. Last year's Celts
Queen City Hoops: When 41% from the field isn't as bad it sounds.


(Photos by Sam Forencich, Ron Turenne, Gary Dineen/NBAE via Getty Images)
November, 6, 2007
11/06/07
10:50
AM ET
Writer Britt Robson conducted an enlightening City Pages interview with 'Wolves owner Glen Taylor that was published in early 2006. As we have discussed before, we learned something that, to me, is troubling about how the franchise started. Taylor explains that he shoved the job on the big name in local sports, who was not thinking like a GM, nor prioritizing work all that highly compared to things like kids, hunting, and fishing. Taylor explains:
You have to remember it isn't like Kevin came and begged me for the job. I took over a franchise very quickly, and we had a problem with the team. I knew Kevin's name, didn't really know him personally. I came down and asked Kevin, could he help me in the basketball things? He said to me, Glen, that's not what I do. I don't even know if I could do that. And I said, well, but you do know how to play basketball, you've seen how to win, you knew those things. I know the business part, so let me try to help you with the business part.

But Kevin was very realistic up front in saying, "Okay, I'm growing a family. I earned my money already. I have some priorities, this isn't like I'm doing this for money now." So you understand, and he says, "You know, I love to hunt. I love to fish. I love some other things." I mean, he was always up front with all of those things. He didn't want to do basketball and give up those other things in his life. So it's not like he said, "I'm going to work 80 hours a week, or 70, or 45 hours a week."
Sometimes stuff like that just works out. But man, who had the vision of how the basketball team should work? Who was going to rally the troops?
In any case, after interviews like that, I trust Robson to have deeper-than-normal NBA insight.
[Brace yourself for a hairpin left turn from my main point. Back in a moment.]
Robson also, I learned today, nobody told me -- has a great blog on the website of The Rake where you can learn stuff like how Sebastian Telfair is doing so far as a Minnesota starter:
Telfair has on balance been a pleasant eye-opener, especially compared to the prevailing opinion of his game when the Wolves first acquired him in the Garnett trade from Boston. On opening day, he did a decent job on Allen Iverson (albeit was less stellar when AI and Mike Wilks comprised a small backcourt tandem in the fourth quarter), coming up with three steals and registering a mere minus-1 in 35:17 of an eventual eight-point loss. Tonight agains the Knicks, it was seven assists and zero turnovers (for a composite 12/3 assist/turnover ratio thus far) and a nifty plus +5 in 36:58 of a four point loss.

But missed shots can be akin to turnovers, especially when you're the point guard assigned with the task of getting your more accurate shooting and advantageously matched-up teammates the rock. Telfair is a career .387 shooter who has never converted 40 percent of his heaves in any of his three NBA seasons. In the third quarter tonight he received a nice, creative feed from Al Jefferson (a rare occurrence), blew the layup, and then immaturely strained to atone by driving into traffic and hoisting an airball on the very next possession. For the season he is 8-27 FG, with no free throw attempts, in a combined 72:15 of action while Jefferson is 14-29 FG in 74:49. In other words, the bricklaying point guard is shooting at almost exactly the same frequency as the meat-and-potatoes franchise cornerstone who is supposed to be the focus, and primary locus, of the offense.
[End detour.]
OK, so, Robson has recently written an article for Minneapolis St. Paul magazine called "Kevin McHale's Fall from Grace." I'll be darned if I can find it online. (Google, apparently, does not believe McHale has fallen from grace.) But I know it is chock-full of insight, because thanks to FreeDarko I have heard Robson talking about that article on KFAN AM 1130 with Dan Bareiro.
After talking to McHale and several others at length, Robson understands that the franchise was not just hurt by the various missteps that have been discussed before (for instance, gambling and losing on Stephon Marbury, making several draft mistakes, giving long contracts to mediocre players, the Joe Smith fiasco, letting Kevin Garnett inspire bad personnel decisions, not embracing foreign players, etc.).
Another one to add to the list, it seems, is McHale's attachment to "smashmouth" basketball, which departed from the inclinations and abilities of Flip Saunders and Kevin McHale.
I'm torn here. Part of me wants to say: oh please. Another hindsight excuse. And in some fashion, the insinuation that Saunders and Garnett weren't macho enough seems to be the ultimate in mindless fourth-grade playground bullying. ("We didn't win because, because, because ... Jimmy's a pansy!") I mean, we all know that Saunders and Garnett have been/will be winning plenty post-Minnesota, right? Were they really the weak links?
Another part of me wants to state the obvious, which is that McHale may not have gotten everything he wanted from Glen Taylor, but it has been pretty darned close. Including Kevin Garnett. So who's to blame if McHale had the wrong personnel?
Another part of me wants to write 10,000 words on leadership, and how it is McHale's job to inspire people like Saunders and Garnett to adhere to a successful program.
But the last part of me thinks this: Kevin McHale, if you didn't have the players and coaches you thought could do your bidding well then go out and get some who will. Get your "smashmouth" players already.
And you know what? I think he did. He made one of the boldest trades in NBA history, and got himself an old-school smashmouth scorer in Al Jefferson. The roster is super-young. But this might be the first time in a long time that the roster, the coach, and front office are all roughly on the same page. It might not be nearly as fun as making the Western Conference Finals with Kevin Garnett. It might not even be smart. But at least it's somebody's vision, and not just Kevin Garnett and his ever-changing patchwork quilt of sidekicks.