November, 22, 2013
Nov 22
12:33
PM ET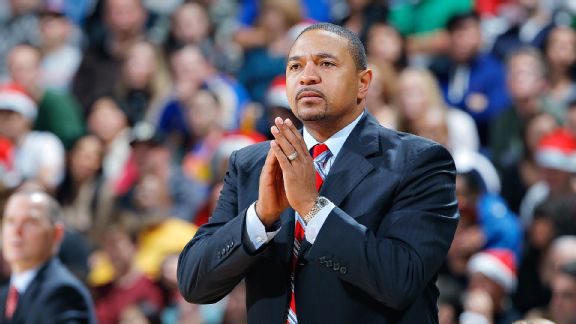 Rocky Widner/NBAE/Getty ImagesMark Jackson: The lay preacher.
Name
: Mark Jackson
Birthdate
: April 1, 1965
Is he an emotional leader or a tactician?
Outwardly, he's an emotional leader, and it's how he sold himself upon arrival. In last year's playoffs, a camera captured Jackson telling his team, "I love you."
Jackson preaches, quite literally. The ordained pastor uses religion in the locker room to connect with his players, and isn't averse to thanking God for his team's success.
He also sells confidence. You could even call Jackson a swaggering braggart. He's positive where other coaches are negative, often talking up his team's abilities in the hope that messaging will elevate internal expectations.
Jackson isn't opposed to sly tactics, though. He likes to employ the unexpected trick, like guarding an inbounds pass with Andrew Bogut while zoning up the 3-point line, or calling a sideline buzzer-beater shot for Andre Iguodala as the opposition focuses on Stephen Curry and Klay Thompson.
Is he intense or a go along-get along type?
Somewhere in between, as he's transitioning from the latter to the former. Though habitually sanguine in the appraisal of his team, something has soured of late. He's been quite frustrated and quite critical of his bench players this season. They aren't playing well and Jackson is tiring of their lack of production. He's calling them out publicly.
No matter how viciously Jackson skewers his team, it'll stay rated-PG. He insists that he hasn't cursed in over a decade.
Does he rely on systems, or does he coach ad hoc to his personnel?
It's been ad hoc and the results have rewarded that flexibility. Here's one example. The Jackson Warriors began with a defensive scheme that included big men who hedged high on pick and rolls. Eventually, the coaching staff decided that David Lee and Andrew Bogut were too slow for such a system. Golden State has played competent defense ever since they adopted a new scheme, one that's predicated on the big men slinking back towards the paint.
Does he share decision-making with star players, or is he The Decider?
He is more the Decider, in part because so many of his players are young. This may change as his guys get veteran experience.
For instance, to hear Curry tell it, he'd prefer guarding the other team's primary ball handler. Jackson overrides that preference and hides Curry on the opposition's worst offensive perimeter player. Though a superstar, Curry's opinion generally doesn't dictate what the team does. After years spent as a "coach on the floor" kind of point guard, Jackson remains in control of his team's in-game approach.
Does he prefer the explosive scorer or the lockdown defender?
Here's one way to answer that question: David Lee's playing time has never been in jeopardy.
Does he prefer a set rotation, or is he more likely to use his personnel situationally?
He's preferred a set rotation, but such preferences are often undone by the reality of running an injury prone team. Also, the recent Golden State bench woes have forced Jackson to scramble for answers. It's easier to embrace a set rotation when you can rely on bench stalwarts like Carl Landry and Jarrett Jack. Expect more mixing and matching from Jackson in 2013-14.
Will he trust young players in big spots, or is he more inclined to use his veterans?
He trusts young players more than any other coach, perhaps. He started rookies Harrison Barnes and Festus Ezeli last season. Draymond Green, whom Jackson effusively praises, received a lot more playing time than your typical second-round rookie. So long as the young player is practicing well, he's afforded the larger stage.
Is he an advanced stats guy?
Yes, but reputedly by accident. Jackson won't admit to letting analytics dictate his actions, but his actions often agree with the stats. He likes leaving players in the game after they've incurred foul "trouble." He likes when his players fire up 3-pointers immediately off offensive rebounds. He sometimes lets his team run the final play without a timeout to guide them. If Jackson comes about these sound decisions by accident, it may be because bad coaching decisions skew fearful, and Jackson isn't a fearful coach.
Are there any unique strategies that he particularly likes?
The Warriors run a lot of floppy action (two guards crisscrossing under the basket, off the ball) to get into their sets. Jackson ran this as an Indiana point guard and he's made good use of it in Oakland. Curry and Thompson race through the kinds of staggered screens the Pacers once deployed to spring Reggie Miller, whom Jackson remains close friends with.
Golden State has adopted an action called "the split game" where they often force defenses to make a quick decision between guarding a cutting Iguodala or guarding Curry as he pops out for a 3-pointer. They also love to free Curry for semi transition 3-pointers with screens above the arc. The most eye-catching Warriors play is "Elevator Doors," where Curry or Thompson race between two Warriors bigs as they converge to create a massive two-man screen.
Golden State's execution is more unusual than the particular play calls they use. It's upside-down world, where big men can push fast breaks and shooting guards regularly punish defenders in the post. The latter strategy is designed to hurt teams that guard Curry with someone other than their smallest player.
What were his characteristics as a player?
Jackson's stocky frame did not belong in the NBA. He excelled due to vision, guile and a bruising post game. Though a pious man, he would wildly celebrate his successes. Jackson's celebration of choice was the loose shimmy, which you'll occasionally see Curry break out as an homage.
Which coaches did he play for?
Rick Pitino, Pat Riley, Larry Brown, Larry Bird, and Jeff Van Gundy are the heavy hitters. He also had an ill-fated stint under Jerry Sloan that ended amid a lot of speculation over whether Jackson turned the team against John Stockton.
What is his coaching pedigree?
Nothing, nothing at all.
If basketball didn't exist, what might he be doing?
He's already an ordained pastor. Should Jackson leave coaching in the near future, expect him to mix that with his old announcing job.
---
The spirit of the 1984 Bill James Baseball Abstract was summoned for this project
.

November, 7, 2013
Nov 7
10:28
AM ET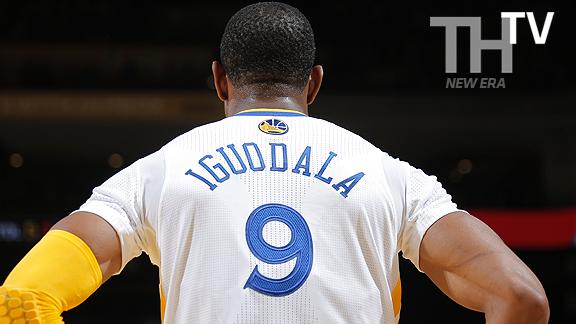 Go ahead, laugh at the headline. It sounds ridiculous on its face, given that the last time Golden State finished better than 10th in defensive rating was 35 seasons ago. One could argue that Jimmy Carter's presidency bookmarks the latest instance of a "good" Warriors defense.
Maybe it's not the past that makes you laugh. Maybe it's that All-Star
David Lee
and superstar
Stephen Curry
have suffered noted defensive struggles. Maybe it's that the Warriors recently played a hyped, nationally televised game wherein the Clippers scored 126 points.
It all hides what's probably the greatest collection of defensive talent out West. Through five games, the Warriors rank behind only Indiana in defensive efficiency. Their rating would probably be better if not for a slew of comically sloppy turnovers that became
Blake Griffin
dunks last Thursday. It's just five games, yes. But don't be shocked if this trend holds over the entire 82-game slate.
It starts with Andre Iguodala and Andrew Bogut, both elite defensive players at their respective positions. Building a bad defense that involves Bogut and Iguodala would probably take more effort than building a good one. So long as both are healthy, the Warriors' defense should be healthy.
Iguodala shores up the exterior and Bogut protects the rim. The shooting guard works in the shadows and margins of the Warriors' perimeter D. A fan might not notice how he's shading an offensive player a certain direction, or how he's swiveling through a screen. Defense is a percentage battle, and Iguodala is looking to play the probabilities over time. Over the course of 40-plus minutes, process trumps results for him. Such efforts rarely get widespread praise, but they do result in team success. The last time an Iguodala squad performed better on defense with Iguodala off the court was
2006-07
.
In contrast to Iguodala's style, Bogut is a pronounced defensive presence. Your eye is drawn to the rim, where the Golden State center often blows up the play
with no regard for human foul trouble
. He's a confrontational defender, occasionally prone to latching one mitt on a driving player as the other hand chops at the ball like an overhead smash. Bogut is healthy again (for now), looking svelte compared to last season and, frankly, appearing to be the dominant defender Milwaukee never would have traded back in 2010.
On the perimeter,
Klay Thompson
mirrors some of Bogut's aggression. Though Thompson sometimes suffers lapses in concentration off the ball, he's a physical, dogged man-to-man defender. Both he and Iguodala can guard anyone from point guards to small forwards. Their skill and versatility spares Curry a lot of tough matchups and a lot of foul trouble.
Marreese Speights aside, the bench is stacked with plus defensive players. It's nearly the only thing Jermaine O'Neal can do well at this juncture of his career. Defensively,
Harrison Barnes
looks like the next Iguodala, only taller.
Draymond Green
is a large and mobile wing.
Toney Douglas
gave Stephen Curry fits
before finally joining the Warriors.
Kent Bazemore
is an athletic shooting guard whose wingspan stretches wider than Kevin Love's.
Given the Warriors' embarrassment of defensive riches, defining the team defense by citing the shortcomings of Stephen Curry and David Lee doesn't make a lot of sense. It'd be analogous to defining their thrilling "Splash Brothers" offensive attack by Bogut's hopeful hook shots or Iguodala's midrange misses.
Also, Lee's and Curry's deficiencies will likely be mitigated by help from their teammates and by time in this particular defensive system. Lee's inability to hedge high on screens used to kill the Keith Smart Warriors. Mark Jackson's system eases the pain by calling on Lee to sink back from screens as Curry chases his man around the obstruction. Neither player is anything special at corralling offensive attackers, but the style shift has delivered results.
The change helped vault Golden State from 27th in defensive efficiency in 2011-12 to 13th last season. This happened largely without an injured Bogut's help and before Iguodala arrived in Oakland.
These are not Don Nelson's Warriors. It's comforting to believe that team cultures have continuity across generations, but times do eventually change -- even for a franchise as stubborn as old Nellie was.
It's a bit confusing because these Warriors are running up and down the court, launching 3s and thrilling fans. You'd assume a devil's bargain where such an offense can't come with a strong defensive foundation. You'd be wrong, though. If the Warriors aren't good defensively this season, it should come as a shock. For once.
November, 7, 2013
Nov 7
1:13
AM ET
Golden State Warriors
guard
Klay Thompson
was at it again on Wednesday, making 11-of-21 shots, including 6-for-9 from 3-point range in a 106-93 win over the
Minnesota Timberwolves
.
He had 19 of his points in the fourth quarter, matching the most points he's had in any quarter in his career.
Thompson has had three great games and two average shooting games.
The sum of those numbers is pretty impressive: He's averaging 24 points on 58 percent shooting from the field and 56 percent shooting from 3-point range.
Only two other Warriors players have hit all three of those benchmarks in the first five games of the season -- Sleepy Floyd in the 1985-86 season and
Mitch Richmond
in the 1990-91 season.
Richmond had three 3-pointers. Floyd had nine. Thompson has 19.
Thompson is 13-for-20 from in the paint, 12-for-22 on his mid-range shots and 19-for-34 on his 3-point attempts.
What's most impressive has been his ability to score from all over the floor.
You can see that in the shooting charts from Thompson's three top games this season.
Opening night vs. Lakers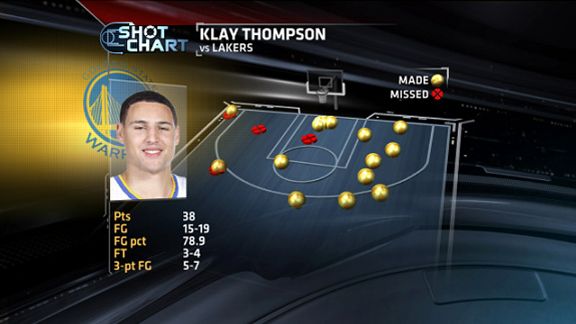 November 2 vs. Kings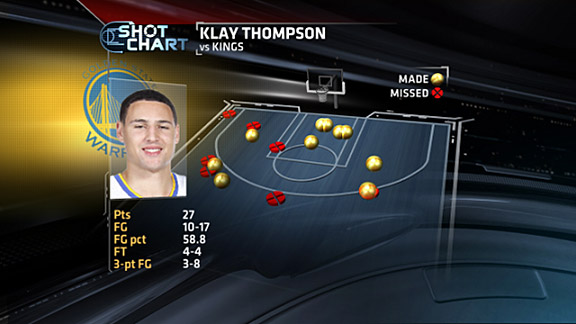 Wednesday vs. Timberwolves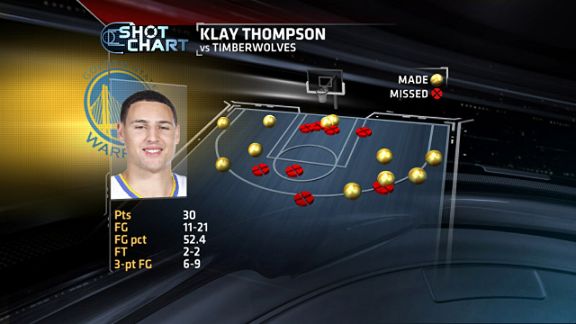 October, 31, 2013
Oct 31
12:50
PM ET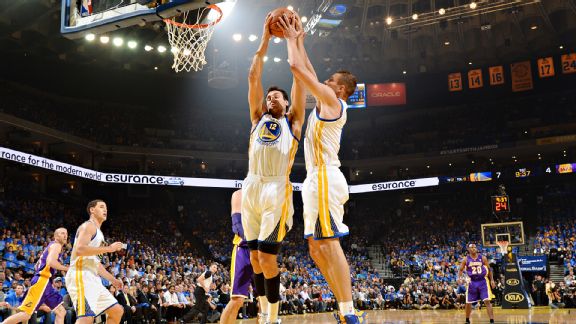 Andrew D. Bernstein/NBAE/Getty Images
Lighter fuel: David Lee and Andrew Bogut battle to start a Warriors possession.
Are the 2013-2014 Golden State Warriors great? That we don't know. Are they fun? Yes, and by broad consensus. They crushed the competition in Bill Simmons and Zach Lowe's
League Pass Rankings
. They were branded "
The New Showtime
" in Sports Illustrated. Everywhere you look, the Warriors are appraised as fun, fun, fun.
The reason is Stephen Curry, followed by Klay Thompson. Last playoffs, fans peered in from non-West Coast time zones and saw the Splash Brothers hoisting long 3s in situations usually reserved for dribbling, passing or breathing. Now the viewing public wants more transition bombs. Viewers will get those, but they'll also get another secret weapon -- something that might ratchet this team's entertainment value up even further.
This summer, the Warriors placed an emphasis on their bigs pushing the break off rebounds. Last season, Mark Jackson talked of a "green light" for David Lee to bring the ball up. Lee was reluctant to do so, but gained facility with this role as the season went on.
Lee is now flanked by a newly healthy Andrew Bogut, a center who's an uncannily good passer. Both have full permission to grab a rebound and push it like a regular Jason Kidd. It happened a few times in Wednesday night's stomping of the Lakers, most notably when Lee and Bogut
combined to create an Andre Iguodala dunk
out of semi-transition.
After the game, Jackson explained his squad's ethos: "Anybody that gets the rebound on this team has the light to push the basketball. Until they get a bunch of turnovers (chuckles), and I will reel them in. But I encourage those guys to push the ball. They are great at making plays. They are great at reading and reacting. And it's a weapon to have all those shooters on the floor. So it's a license to do that at any time."
That license isn't afforded to most big men on most teams. Even centers and power forwards who pass ably are restricted from orchestrating offense end-to-end. Not only does it seem risky, but it can look rather silly. A big man leading a fast break conjures a clown riding a miniature bicycle. Big guys should do big-guy things, as basketball's division of labor dictates.
"It's unorthodox for sure," Curry mused. "In transition, another big, whoever it is, running the lane, it's tough to guard. Especially if they can get into the paint with their dribble. It just draws attention in a different way I'm not sure teams can prepare for."
It's uncommon to see Curry speculate on what the opposition isn't ready for, but really, who spends time preparing for Bogut's And-1 mixtape audition? The novelty of a big man on the loose can be a boon for an offense. The virtue of strangeness is that defenses aren't so versed in counteracting the unusual. Golden State hopes the confusion can lead to
more open 3s
for Curry and Thompson. The oddball approach is, ironically, another means to Golden State's tried and true.
Curry channeled the defense's mindset: "If I see a big man going coast-to-coast, maybe I'll overreact sometimes, 'cause they can finish. It's not like they're just teasing. They can take it in the middle coast-to-coast. And the way they pass, if we run our lanes right and have good spacing, that's going to be tough to guard. We see our guard, soon as we get a rebound, it's open space. We have no problem turning around and sprinting because we trust them with the ball in their hands."
If a big man leads the break, he's likely to force someone other than an opposing big man to step up and deal with him. This can foment mismatches and defensive miscommunication. Teams that obsess over stopping Curry may forget every principle when the boulder from Indiana Jones starts rolling through the lane.
Yes, the Splash Brothers will be the main draw at Oracle. That much isn't changing. But if you're the type of person who loves watching a lumbering defensive lineman return an interception, you might just find more joy in Golden State's inverted fast break.
May, 17, 2013
May 17
3:58
AM ET
After losing to the
San Antonio Spurs
94-82 in Game 6, the
Golden State Warriors
just couldn't let go.
Neither could the fans, most of which were standing well after the final buzzer, possibly waiting for some kind of release. The waiting was rewarded as Mark Jackson's team trundled back out of the locker room, out onto the court. A mic was given to
Stephen Curry
, whose 10-of-25 night for 22 points was not reflective of the star turn he has taken since the All-Star break. Curry had been hurting physically all series, and appeared weary as he addressed the crowd.
"We just wanted to thank you guys," Curry began, his voice cracking. What followed was inaudible to all but recording devices close to the microphone. The crowd was roaring over the words. Eventually, Curry settled on a final call and response of "Just us!" As the crowd screamed it back, the season was finished.
In the end, the Warriors had acquitted themselves nicely considering the circumstances. "Just us!" was the symbolic chant that ended this season, but the harbinger of doom arrived much earlier. The death knell likely came when Curry sprained his ankle (again) in the fourth quarter of Game 3.
This is not to say that Golden State wins this series if Curry stays healthy. The Spurs were the better team, due to their superior defensive communication and ball movement. It's just that, the injury took an improbability and turned it into an impossibility. The sprain ripped off the hand of the puncher's chance.
Golden State just did not have enough to win a series against such a complete, strategically impeccable team. Curry was not his usual zig-zagging self over the last three games.
Andrew Bogut
was pained to the point of sitting out all but five minutes and 44 seconds of the second half of Thursday's action. After the game, the big man said, "I played terribly. My ankle just didn't hold up."
David Lee
was half a player, due to a hip flexor tear in the Denver series.
And finally, a bad situation turned awful when
Harrison Barnes
landed horizontally to the floor with a sickening thwack. Barnes was motionless for minutes, eventually leaving under his own power to the training room, where he received six stitches. Barnes later returned to action but wasn't as effective. The Warriors claim that he passed their concussion tests.
In the background of blood, strains and sprains, the Spurs were outplaying the Warriors. Since switching onto
Klay Thompson
after Game 2,
Kawhi Leonard
had essentially erased Thompson from the series. Game 6 was another night in which Thompson shot poorly (4-of-12) under Leonard's watch. With
Tony Parker
and
Tim Duncan
struggling for stretches, Leonard may well have been San Antonio's MVP of the series. He allowed the Spurs to focus max attention on Curry as he excised the other 3-point threat, while putting up steady numbers himself (14.9 points, 9.2 rebounds, 60.7 true shooting percentage).
On the other end, the Spurs regained their 3-point stroke just in time to push Golden State over the ledge. A flurry of three corner 3-pointers put the game out of reach. Tony Parker had been struggling mightily, but two of his three made shots were corner 3s with less than four minutes to go.
That should serve as a reminder of what Golden State needs to work on next season, aside from getting healthy. The Warriors give up the most 3-point attempts in the league.
For now, few on the team are focused on that, and understandably so. During the postgame interview, after making mention of the three rookies getting major minutes, and the injury pileup, Curry settled on, "You have to be happy about how far we went and how hard we fought."
Curry's coach was certainly pleased with the effort. Mark Jackson eulogized the season as follows: "Guys battle, guys gave me everything they had, and we fought. And I could not be prouder of any group. I could go on to win championships, and I will not be prouder of any group that I ever coached."
Such praise of the loser might seem ridiculous to those who follow habitually great teams like the Spurs. That's to ignore the backdrop of a perpetually hopeless franchise, and the young players tasked with turning it around. For a season, and probably beyond, the Warriors are indeed turning it around. Nothing beats a title, but the long-awaited return of competent basketball can move thousands into chanting "Just us!" with the young, improving team they've come to love.
May, 15, 2013
May 15
2:09
AM ET

Game 5 was not about
Stephen Curry
and
Klay Thompson
, the duo dubbed by Warriors head coach Mark Jackson as "the greatest shooting backcourt" in NBA history.
Instead, it was about one of the best trios in NBA history.
Tim Duncan
,
Tony Parker
and
Manu Ginobili
won their 93rd playoff game together, tying Magic Johnson,
Kareem Abdul-Jabbar
and Byron Scott of the
Los Angeles Lakers
for the second-most playoff wins as a trio in NBA history. Only Magic, Kareem and Michael Cooper (110) have more.
The veteran trio played like they were in their prime in Game 5. Duncan posted his 143rd career playoff double-double, tying
Wilt Chamberlain
for the second-most in NBA postseason history. Only Magic (157) has more.
Parker had 25 points and 10 assists, his 11th career postseason double-double. He has scored at least 20 points in seven of his last eight games.
Curry and Thompson combined for just 13 points, tied for the fewest they've combined for in any game that both of them have played in this season (regular season or postseason). Previously, the fewest they had combined for this postseason was 29.
Neither Curry nor Thompson had any unguarded or transition field goal attempts in Game 5.
Kawhi Leonard
was primarily responsible for locking down Thompson. He held him to 2-for-7 shooting as an on-ball defender.
The Spurs exploited Curry when he was on defense. The Spurs shot 11-of-16 from the field and scored 30 points (23 in the first half) with Curry as the primary on-ball defender. Five different Spurs players contributed to the 30 points, including 11 points on catch-and-shoot jumpers, and nine off screens or pick-and-rolls.
Danny Green
led the way with 12 of those 30 points. In total, the Spurs averaged 1.58 points per play with Curry as the primary on-ball defender in Game 5 after he allowed just 0.77 points per play in the first four games of the series.
With Thompson struggling offensively over the last two games (and Curry struggling in Game 5),
Harrison Barnes
has emerged as a legitimate offensive scoring threat for the Warriors. After never scoring more than 21 points during the regular season, Barnes has scored more than 21 points four times this postseason.
Barnes is the first player in NBA history to score at least 25 points in consecutive playoff games after never scoring 25 in any regular season or postseason game in his career, according to the Elias Sports Bureau.
The Warriors have now lost 31 of their last 32 road games (regular season and playoffs) at San Antonio. The Spurs have won 11 of 12 all-time best-of-seven playoff series when leading 3-2.
May, 9, 2013
May 9
1:12
AM ET
AP Photo/Lynne SladkyThe Heat outscored the Bulls 56-18 in the paint in Game 2.
The
Miami Heat
certainly bounced back from their Game 1 loss to the
Chicago Bulls
. Saying they "bounced back" is quite the understatement.
The Heat defeated the Bulls by 37 points, the largest margin of victory in a postseason game for the Heat in franchise history and the worst loss in a postseason game by the Bulls in franchise history.
The Heat dominated the Bulls around the basket. They outscored Chicago 56-18 in the paint, the largest scoring differential in the paint in a playoff game in the last 15 seasons.
Miami used a 62-20 run that spanned the final three quarters to pull away for the victory. The Heat were aggressive attacking the basket. They had 33 drives to the basket on half-court plays for 45 points and shot 68 percent on those drives.
The game was marred by technical fouls. There were nine player technical fouls called, the most combined in a playoff game since May 7, 1995, when the Pacers and Knicks also combined for nine. The six player technical fouls by the Bulls were the most by any team in the last 20 postseasons.
Warriors finally win in San Antonio
The
Golden State Warriors
won a road game at the
San Antonio Spurs
for the first time in 31 games. It was their first win there since February 14, 1997, when
Tim Duncan
was still in college at Wake Forest,
Stephen Curry
was eight years old and Curry's dad Dell was still playing in the NBA.
The Warriors won a road playoff game after the 1st Round for the first time since 1991.
The Spurs nearly overcame a large deficit again. If the Spurs had come back to win the game, they would have been the first team to overcome a 15-point deficit in consecutive playoff games since the
Sacramento Kings
in 2001 against the
Phoenix Suns
.
Klay Thompson
scored a career-high 34 points, including a Warriors postseason-record eight 3-pointers, one shy of tying the all-time NBA postseason record.
Thompson scored 29 of his points in the first half, the most points in a half in a postseason game by any player against the Spurs in the Gregg Popovich era.
Thompson attempted the most catch-and-shoot jumpers during the regular season, shooting 43.8 percent on those attempts. In Game 2, Thompson was 6-for-6 on catch-and-shoot jumpers, all from 3-point range. He was 7-for-27 on 3-point catch-and-shoot attempts this postseason entering Game 2.
ESPN Stats & InformationKlay Thompson was 8-for-9 on 3-point attempts in Game 2.
April, 26, 2013
Apr 26
1:36
PM ET
By Justin Page, ESPN Stats & Information
ESPN.com

Rocky Widner/NBAE/Getty ImagesKlay Thompson and Steph Curry both made over 200 3-pointers this season.

Golden State Warriors
coach Mark Jackson made this bold statement at his postgame press conference following Golden State's 131-117 win over the
Denver Nuggets
on Tuesday night:
"We are a very good shooting basketball team. We've got guys that can knock down shots.
You talk about Klay Thompson and Steph Curry, in my opinion, they're the greatest shooting backcourt in the history of the game."
Let's take a look at whether there is any truth to this quote.
Curry and Thompson are the best
If Jackson was referring to three-point shooting, he may be accurate. Stephen Curry and Klay Thompson combined to hit 483 three-pointers this season, the most all-time dating back to when the three-point line was instituted in 1979-80.
Curry averaged a career-high 22.9 points this season, seventh most in the NBA. He set the NBA record for a single season with 272 three-pointers (
Ray Allen
previously held the record with 269 in 2005-06).
Curry shot 45.3 percent from behind the arc for the season, becoming the second player in NBA history to make more than 45 percent of his shots from beyond the arc in a single season (minimum 200 attempts).
Thompson ranked third on the Warriors in scoring with 16.6 points per game. Despite only shooting 42 percent from the field, Thompson connected on 40 percent of his shots from three-point range. He made 211 three-pointers, third-most in the NBA behind Curry and
Ryan Anderson
(213).
The Warriors had the most prolific set of guards in the NBA, getting a league-leading 39.3 points per game from their starting backcourt (which included 82 starts from Thompson, 78 starts from Curry and 4 starts from other players).
Mark Jackson is wrong
Despite the accolades and accomplishments by the young duo, there is an argument to be made against Curry and Thompson as the greatest shooting backcourt in the history of the game.
Curry and Thompson didn't even rank in the top 10 in the NBA in field goal percentage among their position peers. Curry shot 45.1 percent from the floor, ranking 13th in the NBA among qualifying guards; Thompson shot 42.2 percent from the field (43rd).
True shooting percentage calculates shooting percentage adjusting for the value of free throws and three-point field goals. Among qualifying players, Curry placed fifth in that category (58.9 percent) this season while Thompson came in 30th (53.3 percent).
February, 1, 2013
Feb 1
1:25
AM ET

By Kevin Arnovitz
ESPN.com
Archive
With
Stephen Curry
and
Dirk Nowitzki
not dressed, and the Grizzlies waiting on
Tayshaun Prince
and
Ed Davis
, the Memphis-Oklahoma City and Dallas-Golden State games didn't reveal anything monumental, but there were still a few takeaways from the action:
Russell Westbrook likes his basketball piping hot, and that often elevates his game. But leading by 25 points in the second half, Westbrook needs to know how to calculate the cost-benefit analysis of melting down over what he termed after the game "a miscommunication." Let's say for argument's sake that Thabo Sefolosha hung Westbrook out to dry in the lane, or mistimed his cut which, as a consequence, brought a Memphis help defender to Westbrook as he tried to post up Jerryd Bayless. What possible good is derived from a tantrum? Perfectionism can be an admirable trait for a professional, but is there any part of Westbrook's game that suggests he's a perfectionist?
Big guys with skills demand attention, and in that regard Andrew Bogut is already helping the Golden State Warriors' half-court offense, even in limited minutes and even with Curry on the bench in street clothes. A small squad like the Kaman-less Mavericks needs to send help when the Warriors post up Bogut who, even as he shook off the rust, had the wherewithal and vision to either avoid the second defender by gathering quickly then getting into his move for the lefty flip shot, or kicking the ball out if the rotation left an opening on the perimeter or hitting a baseline cutter. (In the second half, when Bogut was visibly exhausted, the Dallas Mavericks opted to play him one-on-one.) Then, of course, there was the defensive end, where Bogut challenged Dallas at the rim. Second-half blocks of Shawn Marion and Brandan Wright at point-blank range were just two of several Bogut-influenced defensive possessions for the W's. On the botched Dallas possession with the game in the balance, Bogut stepped up from the back line to help on a driving O.J. Mayo, then dashed back to Wright when the ball was delivered to Marion. A second later, Marion's zippy baseline pass to Wright underneath would've produced a layup. Instead, Bogut punched the ball away and it landed in Jarrett Jack's hands going the other way. Andrew Bogut: defensive closer.
It's almost always smart to leave a productive player on the floor with two fouls in the first quarter. And it's equally smart if you're the opposing team to attack that player and force him to defend. Two possessions after Klay Thompson picked up his second foul midway through the first quarter, Mayo rejected a ball screen from Elton Brand, assuring that Thompson, his defender, would stay with him as he dribbled left. Mayo went right at the body of Thompson, who was whistled for his third foul seven and a half minutes into the game. Jackson again kept Thompson on the floor with foul trouble in the third, when the second-year sharpshooter picked up foul No. 4 midway through the period. Thompson didn't foul again until the final minute of regulation.
Future Golden State opponents: When a Warrior sets a down screen for a shooter, chances are that screener is about to streak to the basket once he finishes the business of freeing up his teammate. The Warriors are moving off the ball offensively as effectively as any team in the league this side of San Antonio, and it's one of the primary reasons Thompson is finding clean looks all over the court.
With Jason Kidd, the Mavericks ran an efficient quasi-system that allowed intuitive players who had been together for a while to find shots for one another off reads. This season, the Mavs have some good quality parts, but the collection as a whole is a bit disparate. Darren Collison isn't Kidd and you sense he could use an offense that's a tad more organized, though down the stretch their flow produced some quality shots, several off penetration. Not every set needs to be commandeered on the sideline, but a little more structure would do this group some good -- even the vets.
The first half ended on a bizarre series. Vince Carter launched a corner jumper with about 22 seconds to go before intermission. On his landing, he appeared to slip and came up with a gimpy right ankle. With the shot clock turned off, the Mavericks reset for a final possession. Confident that Carter was essentially a nonentity nursing himself in the right corner, Harrison Barnes essentially ignored Carter, collapsing instead on Elton Brand, who'd flashed to the paint just inside the foul line. All alone in the corner, Carter made a sharp cut along the baseline to the rack, where Brand found him for a massive jam. Was it a bald-faced decoy by Carter?
Seven games of Grizzlies-Warriors would be like a prestige cable drama.
The high pick-and-roll way up top has become so prevalent that it seems odd when teams run a ball screen at the elbow, an action that was commonplace eight years ago but now almost feels exotic.
Oklahoma City will run the Westbrook-Kevin Durant pick-and-roll, but Westbrook far prefers to feed Durant an entry pass in the post, and that's often what transpires on this call. Truthfully, it doesn't make much difference because Durant will generally succeed either which way.
Westbrook was a handful for Bayless, who competes but isn't a gifted defender. Bayless chose to run under ball screens and Westbrook made him pay repeatedly. Bayless also cheated off Westbrook on a few occasions to put himself in position to help on Durant, but that also produced uncontested attempts for Westbrook.
Serge Ibaka runs the floor these days in transition with a finer-tuned sense of timing. He always has been quick and willing to make a rim run, but he wasn't always mindful of that invisible yarn that existed between the ball handler at the controls of the break, and himself.
October, 24, 2012
10/24/12
8:46
AM ET

By Kevin Arnovitz
ESPN.com
Archive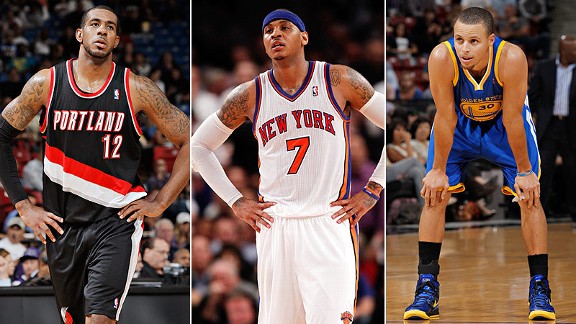 Getty Images
LaMarcus Aldridge, Carmelo Anthony and Stephen Curry: Gridlock or glory?
Think about your favorite team then ask yourself, "What are things going to look like for the next three to five seasons?"
A degree of uncertainty will find its way into every situation, but smart teams have plans. They might be in championship-or-bust mode like Miami, Oklahoma City or the Los Angeles Lakers. They might be straight-up rebuilding like Detroit or New Orleans.
Some teams pursue a more targeted plan. The Clippers want to perform well enough to maintain Chris Paul's faith in the organization, lock him up on July 1, 2013, then keep building from there. Others, like Phoenix, lost the flash drive with the PowerPoint on the way to the presentation.
Then there are those NBA teams standing at the junction, examining the map and looking at the routes. Do they stay on course? Take the scenic route, or the practical one? Get cute and try a shortcut? Slow down and move more deliberately and keep their options open?
Such is the challenge for several NBA teams entering the 2012-13 season, with some facing a better set of options than others.
New York Knicks

The Knicks' crossroads are grander and better paved than most teams in their predicament, by virtue of playing in one of the league's two premier markets. It certainly ain't the cooking in the front office, which has prepared a roster slated for another quick April ouster from the postseason.
Let's rewind: Two years ago, New Yorkers were giddy and comparatively patient. The Knicks didn't bag LeBron James in 2010, but it wasn't for a lack of trying or bad bookkeeping. They signed Amare Stoudemire and, that winter, the Garden was alive for the first time in ages. The acquisition of Carmelo Anthony midseason signaled the Knicks' official return to relevance (even if the team was playing well prior to his arrival and forked over a king's ransom to get him). Aware that the 22nd-ranked team defense would be a train wreck, the Knicks anchored the middle with Tyson Chandler in the summer of 2011.
Despite the defensive improvement last season, the Knicks couldn't score and the old dysfunction returned, pausing for only a seven-week hiatus when Jeremy Lin single-handedly thawed winter.
That brings us to the 2012-13 season. Lin is in Houston, Stoudemire is sidelined and the Knicks are indisputably Anthony's team, which was always the design in New York. If nothing else, perhaps Stoudemire's injury coupled with the success Anthony had as a power forward in Olympic competition will finally convince Melo that he's a new-wave 4. Improving the Knicks will require some innovation, because Anthony, Chandler and a band of reclamation projects, post-prime players and question marks in the backcourt won't make much noise in the playoffs. If they fail to play into May, the Knicks would begin to look a lot like Mike Woodson's Atlanta Hawks -- a team with discernible talent, but no championship aspirations.
What happens then?
The Knicks could resign themselves to a nice house in the East's upper-middle class district or, much like the Lakers did in sheer defiance of what was thought possible, they could trade on the allure of their market and coax a game-changer to New York. It won't be easy. They'd either have to part with Chandler, convince a team with cap room to absorb Stoudemire's outsized salary along with a few goodies, get a superstar approaching free agency to hold his existing team hostage in exchange for a ticket to New York -- and probably some combination of the above.
The Knicks wanted superstars to elevate their brand and incite championship aspirations among their beleaguered fans. Now it's time to manage those expectations and find an acceptable alternative should the team fall short of them.
---
Golden State Warriors

The new regime in the Bay is committed to a serious rebranding campaign. It's not just the smart new threads and the
Sn°hetta-designed jewel box
slated for downtown San Francisco. The Warriors finally seem primed to be more than the NBA's novelty act. They're practicing defense again in Oakland, using analytics for the first time to make personnel decisions and, aside from a hiccup or two on the cap-management side, forging something that looks like a future.
The Warriors traded roboshooter Monta Ellis for Andrew Bogut, one of the five best defensive big men in the game ... when he can move on two feet. Stephen Curry has proven he's
far
more than a spot-up shooter ... when he can move on two feet. Add a little seasoning to Golden State's young wing tandem of Klay Thompson and Harrison Barnes, and you can pencil them in for the opener across the bay. David Lee makes a mint, but he contributes consistently and the Warriors have virtually nothing else on the books in two years, so why worry?
But that's the thing about cap flexibility -- it's a luxury that can lure smart people into iffy decisions. When you're a front office strapped for cash, you have to be selective in your decision-making. But when you have clean books, you can be tempted to populate the ledger with all kinds of stuff that isn't good for you.
The biggest decision facing the Warriors over the next week is whether to extend Curry. If not for his wonky ankle, this is a no-brainer for Golden State and even with all the concern, still is. But the cap can be unforgiving, and paying max or near-max money to a chronically-injured player can be devastating to a team's long-term ambitions. Bogut, the team's highest-paid player, has a bum left ankle and there's no timetable for his return.
The Warriors don't have to make a contractual call on Bogut for two more seasons, but it's hard for a team to forge a path without a vision of its future core. And, practically, it's difficult to achieve goals if there's $30 million worth of stars in street clothes -- just ask the Houston Rockets.
That's the gamble for the Warriors: Do they construct a team for the foreseeable future around the inside-out threat of Curry and Bogut, knowing it's very possible their two best players might not share a court for weeks, maybe seasons, on end?
Do the Warriors commit to Curry, then wait and see on Bogut once they have a clearer prognosis on his health, knowing they'll likely have some money to find an alternate big man? Do they look at their promising young wings as the guys who will usher in the new era, a Klay Thompson-Harrison Barnes ticket rather than Curry-Bogut? Can Golden State craft a clever contingency plan whereby there's some insurance in the backcourt should Curry's ankle be an indefinite concern?
Or do the Warriors act without prejudice, knowing that the revenue they'll generate in the most state-of-the-art arena in North America (with some of the most expensive seats in sports) can compensate for a lot of dead payroll?
---
Portland Trail Blazers

The rug was pulled from the Rose Garden floor some time ago. What was once the most tantalizing roster in the league has been stripped of its jewels, with Brandon Roy's retirement and relocation and Greg Oden's injuries.
Beyond those bad beats, the Trail Blazers no longer play the flavor of deliberate, possession-focused basketball they did under Nate McMillan, for better or worse. Last season, the Trail Blazers were adrift. They no longer controlled the rim -- on either end -- and many of those familiar patterns that were solidified during the Age of Promise went missing.
LaMarcus Aldridge is a refined, reliable power forward -- probably a Top 15 player -- but is he truly the centerpiece of a contending team? What if the best blueprint of the team going forward has him at center in a more agile offense? Is he flexible and resolute enough to not only tolerate that adjustment, but embrace it?
The first question is a difficult one, though one that can be answered more optimistically if Damian Lillard can evolve into a lead guard who can simplify the game for Aldridge. The Trail Blazers' big man has spoken glowingly about
how easy the game came to him after being paired with Andre Miller in Portland
. It's unfair to expect Lillard to find that kind of command before he gets a couple of years of NBA basketball under his belt -- and right now he's more of a pick-and-roll scorer than a manager or distributor -- but Aldridge can screen-and-pop with the best shooting big men in the game and should be able to make ample use of Lillard's talent.
The Trail Blazers also re-upped Nicolas Batum long term, defensible given the spreadsheet. Throw in Wes Matthews -- probably a better third guard than a fixture at the 2, but the team's third or fourth best player -- a raw rookie center, and a couple of imports. Is that a foundation that can grow into legitimate power in the West? If you're a Trail Blazers fan or executive, how many teams would you happily exchange futures with? Three years ago,
that number was minuscule
. Today, you're making a lot of outgoing calls.
A creative Terry Stotts will work hard to develop the Lillard-Aldridge tandem to its full potential, and it could be something special. But if the chemistry doesn't translate into a winning combination, and Aldridge grows uncomfortable as Banana No. 1, do you reshuffle the deck? And, if so, is Aldridge an asset you'd discard if the right offer came along? Could you afford
not
to?
The Trail Blazers don't figure to win much in 2012-13, and will likely have another high pick in June to add more young talent -- as well as some money to throw around -- but it's going to be a painstaking process.
---
Philadelphia 76ers

Entering the offseason, the Sixers' crossroads looked something like a busy London roundabout. The team could take any number of routes, and there was an intelligent case to be made for each of them.
Hard-bitten realists argued it was time to blow up a core that was unlikely to finish higher than a Hawkish No. 4 or 5 seed. Romantics felt that the Sixers' young talent had finally cracked the code on Doug Collins' safety-first system. If the versatile roster could come back largely intact in 2012-13 and buy in for a full season, they could take what was already a Top 3 defense, win the Atlantic then, come spring, play with the elite.
Instead, the Sixers made a lateral move in trading Andre Iguodala, their best defender and ball-mover, for a true inside threat in Andrew Bynum. They also lost Lou Williams, one of their few creators outside of Iguodala.
So who are the Sixers now and what can we reasonably expect them to become, especially with Bynum playing out the final year of his contract?
Performance will dictate everything. With Bynum anchoring the post, Philadelphia will no longer need a cab to get to the rim. For a team that relied on an unhealthy diet of midrange jumpers, that's no small thing. But indispensable defenders like Iguodala don't come around every day. Systems matter, but you can't just plug Evan Turner into the small forward slot and expect the same results. Bynum is not exactly Collins' idea of a big-man defender. On pick-and-roll coverage, Bynum is a chronic dropper (in fairness, that has generally been the scheme employed by the Lakers), and he'll be pressed rather persistently by Collins to put some more bite into his defensive game.
Let's say the Sixers drop a few of spots defensively, rise a few offensively and their final tally looks a lot like previous seasons. What then? You probably try to lock up Bynum long-term, but is there anyone else on the roster who you'd automatically wave through the door? Do you punt on Turner? What do you need to see from Jrue Holiday to warrant handing him the reins for the next five years? Does all that add up to contention?
Philadelphia will have plenty of flexibility going forward, but cap room isn't an end unto itself. At some point, the Sixers need to figure out what the plan is along the perimeter, and whether their existing platoon of curios and vets can do the job around Bynum.
---
Toronto Raptors

Head coach Dwane Casey got the hard work out of the way in Season 1, taking a team ranked dead last in team defense and catapulting it to 12th by installing some conservative principles and demanding full effort from the entire roster.
There were other bright spots, with more on the way. When Andrea Bargnani was healthy, he played some of the best basketball of his career. Once Jonas Valanciunas gets a feel for the NBA game, he'll demand attention down low. New acquisition Kyle Lowry can generate instant offense, which should also help.
There's a lot to like here, but still a ton of work to do to improve upon a 25th-ranked offense. The Raptors desperately need to open up some space in the half court to prevent the rigor mortis that bogged them down last season. Bargnani, when he's out there, helps inordinately, and Lowry can hit a shot from the perimeter and break down defenses off the bounce. But the Raptors simply can't build the kind of offense they want with their current supply of wings -- and that sober reality starts and ends with DeMar DeRozan, who enters the final guaranteed year of his rookie deal.
DeRozan, the Raptors' leader in minutes played each of the past two seasons, has never posted a player efficiency rating (PER) above the league average and it's not as if he's making up for it as a defender. He's not a proficient outside shooter, makes iffy reads on the pick-and-roll and is a ball-stopper in isolation with a less-than-stellar track record of converting those opportunities into anything -- a creator without much creativity.
To put it bluntly, there are very few things DeRozan is doing to help the Toronto Raptors win basketball games and it's hard to imagine an efficient offense that relies on him for a significant chunk of possessions.
The Raptors raised eyebrows by selecting Terrence Ross with the No. 8 pick in June. While Ross is no polished product on the offensive end, he's a Casey type of player, with quick feet on defense and a heady awareness of what's happening on the floor. Ross could watch tape of Tony Allen and craft a career as a stopper with a few offensive tricks. He'd be a natural replacement for DeRozan, provided he can find his shot or, at the very least, recognize his limitations and minimize mistakes. That would be an easier proposition if there was another wing on the floor who could create.
If the Raptors let DeRozan walk, they'd have some dough to find someone -- anyone -- who can score efficiently at the wing. Once that happens, the ball will start to move again in Toronto, this time with a stalwart defense to complement it.