April, 9, 2010
4/09/10
11:40
AM ET

By Henry Abbott
ESPN.com
Archive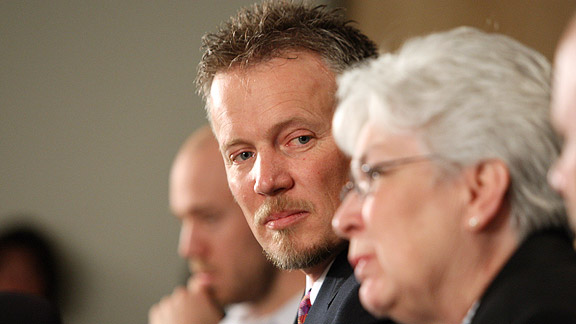 Melissa Majchrzak/NBAE/Getty Images
As Greg Miller takes over for his late father Larry, is it even possible to keep things the same?
Despite the improvisational flair of the team's name, the Utah Jazz lead the league in doing things the same way, again and again. Most teams bend with the whims of their billionaire owners -- coaches, executives and players rotate through at a dizzying rate. Long-time Jazz owner Larry H. Miller's only whim since buying the team in 1979, on the other hand, seemed to be finding things that works and to stick with them. Whether it was John Stockton and Karl Malone running the same pick and roll for nearly two decades, Jerry Sloan patrolling the sidelines since 1988, or a roster still built, despite several bumps in the road over the last five years, around Deron Williams, Carlos Boozer and Andrei Kirilenko.
Through it all, next week the Jazz will enter the playoffs on the short list of teams with a real chance to win this year's title.
Key basketball employees at most NBA teams are on the "hot seat" every day. The threat of unemployment is a key motivator League-wide. But not in Utah. Consider what Larry Miller said in 2001 when he gave vice president of basketball operations Kevin O'Connor a contract extension: "I fully expect that Kevin and Jerry [Sloan] will be with the team as long as they choose to be. I figure that they are both good for another 20 years."
It's an old-school approach that may well cost the Jazz opportunities -- how many brilliant coaches, executives and players have they missed through the years? Critics will note that the team has yet to win a title, and that doing so is a one-in-thirty proposition that surely favors the bold.
On the other hand, since inception, the Jazz franchise has the fifth-best winning percentage of any NBA team, despite operating in one of the smallest markets with a management edict to be more or less financially self-sufficient. How much of that is attributable to people like O'Connor and Sloan knowing they have job security, and being able to think long-term? Sloan doesn't have to acquiesce to players who won't run his system -- political battles with him all end the same way, and it's unthinkable a player could get him fired. Knowing that, is it any wonder why the Jazz share the ball beautifully?
Similarly, O'Connor is widely viewed as one of the NBA's savvier executives. In 2005, for instance, through deft talent evaluation and trading, and without a top-five pick, the Jazz nabbed Williams, one of the very best point guards of his generation. But how much of that savvy was learned on the job? Four years earlier, Miller had extended O'Connor's contract when his noteworthy acquisitions were John Amaechi, John Crotty, John Starks, Donyell Marshall, DeShawn Stevenson and Jarron Collins -- a list that wouldn't have helped his job security on many teams.
The win totals fluctuate, but nothing about Utah's process was ever going to change as long as Larry H. Miller was at the helm -- a reign that ended in February 2009 when he succumbed to complications of diabetes. Years before his death, Miller named his son Greg chief executive of the Larry H. Miller Group of Companies (which owns the Jazz).
Now that Greg Miller is calling the shots without his dad around, will things stay the same for the Jazz? In a lengthy conversation about his management style, Greg Miller doesn't sound like someone eager to depart from the past.
"The recipe for success," Miller explains, "is executing fundamentals as well as they can be executed. It's a natural law that success or victory has to come as a result. I've seen dozens, or hundreds of examples of that being so, in all of our businesses, and I don't want to turn away from that now.
"And what if I did change how we did things, and we took ten steps backwards? Then we'd lose credibility, not to mention, I'd look like an idiot."
But that doesn't mean there won't always be pressure to evolve.
In the days to come on TrueHoop, Miller will share thoughts about running an NBA team the same way as ever in a changing world. Challenges, believe it or not, even include Twitter.
UPDATE: A follow-up, about
the business of owning a small-market NBA team
.
March, 20, 2010
3/20/10
3:14
AM ET

By Henry Abbott
ESPN.com
Archive
A few days ago, the Portland Trail Blazers fired their assistant general manager, Tom Penn.
And one of the NBA's most robust fanbases is starting to freak out, to the point that there is literally talk, in Blazer fan blog comments, of riots.
Around the League Penn is seen as a guy who knows a thing or two about basketball, but he's mainly prized as the former criminal defense attorney who mastered the NBA's more arcane stuff like the collective bargaining agreement.
And nobody mourns lawyers. Right? (Even fans of that assistant GM, if such people exist, could hardly be too upset -- Penn will keep drawing paychecks for more than two years even if he doesn't land another job. But teams are interested, and Penn is a shoo-in for a good position. Just last summer he passed up an offer to run the Timberwolves' basketball operations.) It's the kind of story that just about does not matter to fans ... in most cities.
But in Portland, things are different, because the firing of Penn is the first serious crack in the facade of the new-era Blazers. And through that crack, fans can peer into the team's inner workings. The scene is ugly. It may even foretell the end of the happy Blazers story Portland fans celebrate as real-time folklore.
In this story, Penn serves as a kind of Archduke Franz Ferdinand. He's a bit player to onlookers. But when he went down, it was clear the big trouble was imminent.
Nothing like the real World War I is remotely close -- but for Portland fans, the worst thing imaginable may well be on the horizon.
The face of the franchise, and perhaps the most beloved general manager in the NBA, is Kevin Pritchard. The former Kansas and NBA player's drafting and trades have built a Blazer nucleus with players like Brandon Roy, LaMarcus Aldridge, Nicolas Batum, Marcus Camby, Andre Miller and Greg Oden, to go with an exceedingly bright future. Last year, with one of the youngest teams in NBA history, Portland finished tied for second in the West with 54 wins. This season, despite a historic series of injuries -- the team played without a center at all for a long stretch -- the Blazers may well win 50.
Until Pritchard took over, the city of Portland's only major sports franchise was a laughingstock, known as the Jail Blazers. The players were talented but underachieving. The fans, and at times the police, weren't happy with the players' off-court behavior. The business office was at odds with the basketball operations staff. In a city famous for rain, the Blazers were a multi-year thunderstorm.
The theory about discordant teams is that no matter how talented, they will crack under pressure. In giving up a 15-point fourth quarter lead to the Lakers in Game 7 of the 2000 Western conference finals, the Portland Trail Blazers proved that theory as well as any team ever has.
But in recent years, that has all been forgotten. In the summer of 2008, the Blazer executives went on a team-building retreat in the Arizona desert. The talk, coming out of the retreat, was of a basketball staff that had bridged old divides with the business staff. Through the magic of ranches, and Kevin Pritchard, everyone was on the same page. Naive though it may have seemed, it was portrayed again and again as one big, happy family.
Trail Blazers president Larry Miller insists that Penn's departure is no sign the Blazer stakeholders were faking team harmony all along. "What happened with Tom was unfortunate," Miller explains. "But the results that this organization was able to make happen I don't think could have happened if we weren't on the same page working together and pulling together."
And yet, for the last couple of days it has not only been hard to find Pritchard -- who is usually in heavy contact with the media -- but it has also been hard to find anyone who will predict that Pritchard will stick in Portland for the long haul, whether he departs of his own volition or at the instigation of the team.
"If they fire KP," said a comment from "iDea" on
the Blazersedge blog
, "after building the team back to being respectable and with a winning culture, it'll be the last straw with most fans."
"Could you imagine the scene if KP left ... There might be an actual riot" writes "blazeraddict." Another commenter, "somanluna," quickly added: "I would be in it (the riot) It would absurd to let the man responsible for rebuilding the franchise to what it is today go at this point. He's done so much and is very passionate about the team and doing what's right for it so who would be better?"
"I think their fears are justified," says Warren LeGarie who represents both Pritchard and Penn, when asked if he could say anything to settle down Blazer fans. He offered no tonics. "We've been given no indication that this team sees Kevin as somebody who will be there on a long-term basis. All we've seen is them taking away people that Kevin feels are important to his ability to do his job successfully. ... I've been a Blazer fan from early on. I've been involved in some way with the team for many many years. I want them to be successful. They gave Kevin an unbelievably wonderful opportunity. But in order to make that opportunity work, he still needs to have people who believe in him around him, and people that he'd like to have, and that's certainly not the case anymore."
Perhaps the worst possible news for Blazer fans is that according to sources, last summer LeGarie became so convinced that the Blazers would not commit to Pritchard for the long haul that the agent has spent the season looking for another team to take on Pritchard and Penn. His concerns would seem to be validated, somewhat, by the firing of Penn.
Most observers have assumed that Pritchard is on a short list of untouchably promising young GMs, along with the Thunder's Sam Presti and the Rockets' Daryl Morey. But around the League, plenty now insist Pritchard is likely to seek a new home, either because he'll be fired or because he'll resign.
Asked to promise to fans that the team's star employee would stick around, team president Miller offered more platitudes than specifics.
"Kevin is the GM here," says Miller. "I can never commit to anybody being around long term. I don't know that I'll be here long term. That's just not the way it works. To me, Kevin is our GM, and my feeling is we should focus on finishing out the season, trying to win games, trying to have a successful run in the playoffs. That should be our focus right now. The situation with Tom was in isolated incident. It's unfortunate, but hopefully we can put it behind us."
Why was Tom Penn fired, anyway?
In extensive conversations with well-placed sources across the NBA, a variety of theories have been presented about what precipitated Penn's firing just a few months after he received a significant raise and promotion. Larry Miller dismissed them all.
One reported theory is that LeGarie and Penn exaggerated word of a Minnesota offer, to get Penn a raise. Miller says: "I have no idea where that ever came from. From my perspective, I've never heard any dispute internally that Tom had a valid offer." ESPN.com has obtained a copy of the Minnesota offer. Is there any chance Penn was fired for faking the Minnesota job? According to Miller: "No."
Similarly, there are stories that Penn may have been flirting with the Clippers, who recently fired Mike Dunleavy as general manager. Is that why Penn was ousted? "Absolutely not," says Miller. Likewise, sources insist Penn never sought that job.
Another report said that Penn was fired because of some unspecified "H.R. issue." Miller's response was that there's "nothing valid to that."
Still more sources suggest that in the lead-up to his firing, Penn had been involved in a personal confrontation of sorts with top Blazer brass. "I'd like to know who makes up this kind of stuff," says Miller. "That's absolutely, positively, untrue. ... That, I can tell you, is unequivocally untrue."
The final theory, and one that a half-dozen sources insist is real, whether or not it led directly to Penn's firing, is that there's an ongoing and long-term power struggle between the basketball operations staff and the owner's suite. As the theory goes, Pritchard and Penn had amalgamated too much power and autonomy in making basketball decisions, and the people who sign the checks resolved to clip Pritchard's wings. Firing Penn was a handy way to do so -- Pritchard is no contract expert, and without Penn, he'd have no choice but to bring others into the process whenever he had the kinds of legal or CBA issues that Penn once handled.
Miller says that could not be so, because owner Paul Allen has never had any curbs on his own influence throughout the organization. "Paul is the owner," says Miller, "and the owner has the ultimate say on every decision, because we're spending his money. So, if Paul wants to weigh in or have input, he absolutely has that. There's nothing to that story."
What's more, Miller says Pritchard will be the key figure in hiring a replacement assistant GM, although for unclear reasons that likely won't happen until the summer.
So, if it wasn't because of the Minnesota theory, the Clipper theory, the H.R. theory, the confrontation theory, or the corporate politics theory ... why is it again that Penn was fired?
"I'm not going to talk about that," says Miller.
Miller may not, but Blazer fans certainly will.
February, 20, 2009
2/20/09
8:03
PM ET
From the Larry H. Miller Group of Companies:
SALT LAKE CITY (February 20, 2009) -Larry H. Miller, husband, father, grandfather, a well-known entrepreneur, community advocate and humanitarian, died from complications due to type 2 diabetes today, at home, surrounded by his family. He was 64.

Miller, a man who truly loved Utah, its people and its land, was born in Salt Lake City in 1944. From modest beginnings, he grew up in the Capitol Hill area and went on to become one of Utah's most successful entrepreneurs and business leaders.

Leaving behind a profound professional and personal legacy, the entities Miller created have had a significant and lasting impact on the communities in which he did business, and the more than 7,000 individuals he employed.

The Larry H. Miller Group of Companies began with the Larry H. Miller Toyota store in Murray, Utah on May 1, 1979. Through the years, Miller amassed more than 80 businesses and properties in the western United States. Most notable are the Utah Jazz, EnergySolutions Arena, the Salt Lake Bees, Miller Motorsports Park, Megaplex Theatres, and 39 automobile dealerships spanning the Rocky Mountain West. Miller also developed a vast real estate holdings including commercial and agricultural properties.

A dynamic entrepreneur and business leader, Miller also became known for his charitable efforts. Miller coined the phrase "Go about doing good until there is too much good in the world."

Miller and his wife Gail provide close to 300 college scholarships each year. Larry H. Miller Charities, a foundation funded by monthly contributions from his businesses, fundraising events in the community, and personal donations from employees, has donated millions of dollars to communities in which Miller does business.

"Larry and Gail have always stressed the importance of giving back to the communities in which we do business. Our customers have supported us and it is important that we show our appreciation by helping those in need," said Greg Miller, eldest son and CEO of the Larry H. Miller Group of Companies. "Larry felt that his legacy isn't in business as much as it was in creating opportunities for good jobs and higher education."

Larry and Gail have also donated millions of dollars to Utah-based colleges and universities for campus improvements such as the state-of-the-art softball and baseball complexes at BYU. The Larry H. Miller Campus of the Salt Lake Community College (SLCC), was completed in fall 2001 and includes the Larry H. Miller Entrepreneurship Training Center and The Larry and Gail Miller Public Safety Education & Training Center.

Despite all of his success, Miller always maintained that his greatest accomplishment is the family that survives him: his wife, Karen Gail Saxton Miller, their four sons and one daughter, 21 grandchildren, and one great grandchild.
And a must-read story about Larry Miller.
UPDATE: TrueHoop reader Spencer writes:
He was an icon in Utah in almost all areas of society. He donated huge amounts of money to almost every institution of higher education, his businesses line State Street from one end of the metro area to the other, and of course the Jazz would not be playing in Utah if he hadn't stayed strong. The Salt Lake Tribune has a nice tribute story up.

The flagship radio station of the Jazz (1320 KFAN) has been replaying classic interviews with LHM all afternoon since the news broke, and some of the things were just amazing. I can't find a transcript or a link, but in one of the interviews from last August or September, Karl Malone was a surprise guest and the interview became a discussion between Larry Miller and Malone. It was fascinating to hear and I hope you get a chance to hear it. The most amazing part was the revelation that Karl Malone came out to Utah last summer when Mr. Miller was hospitalized for two month and stayed with Miller in his hospital room for four days straight. He didn't just visit him for the four days he was in town, he actually stayed in the room and didn't leave the bedside for four days. Amazing.
June, 20, 2007
6/20/07
9:35
AM ET
Brian Berger of Sports Business Radio is plugged into Portland's front office and has been all over this story throughout the search process. Late yesterday, he reported the choice would be Miller. (A press conference has been announced for later today.)
Last Friday, Berger previewed the decision and discussed Miller generally:
Larry Miller would be an interesting choice. Miller was promoted to VP and GM for Nike Basketball just last October. In his current role, he is responsible for all aspects of Nike's global basketball business, including Brand Jordan. Miller joined Nike in 1997 and has led Brand Jordan (a standalone division of Nike), since 1999. He was named the Brand Jordan President in 2002. During his tenure atop Brand Jordan, the company has continued to grow despite the fact that the company's namesake is no longer an active NBA player. Brand Jordan grew revenues 40 percent in fiscal 2006. Nike is the global leader in basketball shoe and apparel sales and being the person charged with leading one of the company's most highly visible categories is pretty prestigious.

Its interesting to me that Miller would want to leave his very powerful position at Nike, with global authority and exciting expansion in to Asia looming, to become the team President of an NBA team. Don't get me wrong, the Trail Blazers job is very attractive, especially with the team on a major upswing with the addition of the #1 pick in the June 28th NBA Draft, but it doesn't have nearly the cachet globally as Miller's current position with Nike.
Berger speculates that one reason Miller might be willing to make that jump is because the Blazers likely pay more. He also points out that from a business perspective, one of Miller's many challenges has nothing to do with basketball, and that's developing the valuable downtown land surrounding the arena.
UPDATE: It's official. From the press release:
"It is a very exciting day for the Trail Blazers organization to be able to announce the hiring of Larry Miller as our team President," said Trail Blazers Chairman and Owner Paul Allen. "Larry is a preeminent figure in the basketball industry and one of the most widely respected sports professionals in the country, and importantly has been a long time member of the Portland community."

As President of the Trail Blazers, Miller will be responsible for all aspects of the Trail Blazers business portfolio, including all team business activities, the Rose Quarter and Rose City Radio and will report to Vulcan Sports CEO Tod Leiweke.

"Larry Miller has operated successfully at the highest levels of our sport", said NBA Commissioner David Stern. "The Trail Blazers and the city of Portland will greatly benefit from his expertise and vast knowledge of the NBA. I am pleased to welcome him to the league."