December, 31, 2011
12/31/11
12:12
AM ET
By ESPN Stats & Information
ESPN.com
Archive
How the Heat shot in their win over the Timberwolves on Friday.
For more shot charts from this game, click
here
.
A new season means a new outlook on game-winning shots for
Miami Heat
guard
Dwyane Wade
.
Wade's game-winning layup on Friday was his second game-winning field goal in as many days.
Before making the game-winner against the Bobcats on Thursday, Wade had missed his last ten potential game winning or tying attempts with under 10 seconds left in the fourth quarter or overtime.
In the previous four seasons, Wade was a combined 4-for-37 (11 percent) from the field on these shots, the second worst field goal percentage in the league.
Joe Johnson
was the only one worse in that span -- (2-for-23, 8.7 percent).
Wade is 6-for-7 this season on shots that have been generated off side-out-of-bounds situations. This was his only such shot attempt in this game, capping a contest in which the Heat went 6-for-6 on possessions that came off side-outs.
This was the fifth time in his career that
LeBron James
played on his birthday, the second time he won (he's won his last two birthday games). In those five games, he's averaging 35 points, shooting 56 percent from the field.
James notched his 38th career 30-point, 10-assist game on Friday, the last assist coming on Wade's hoop. It's the most such games among active players, one more than Wade.
Elsewhere in the NBA
Nifty 50
Dwight Howard
notched the 50th game of his career with at least 20 rebounds, his second such game in a row. His 50 are the most of any active player, eight more than
Ben Wallace
.
Memories of The Dutchman
Roy Hibbert
had 17 points and 13 rebounds on Friday for the Pacers, his third double-double in three games this season.
Hibbert is the first Pacers player to start a season with at least 10 points and 10 rebounds in his team's first three games since
Rik Smits
in 1991-92.
Elias Stat of the Night
With the
Detroit Pistons
loss to the
Boston Celtics
, Pistons head coach Lawrence Frank has now lost 20 consecutive games as a head coach (17 of those were with the
New Jersey Nets
) joining Byron Scott as just the second coach in the last 10 years to lose 20 or more consecutive games.
Plus-Minus Stat of the Night
Dallas Mavericks
center
Ian Mahinmi
was a plus-21 in his team's first win of the season, a 99-86 triumph over the
Toronto Raptors
, a 35-point swing for him. He was minus-14 in a buzzer-beating loss to the
Oklahoma City Thunder
on Thursday night.
It was the second best plus-minus for Mahinmi in his career, a point shy of his best, which came last season in a win over the
Cleveland Cavaliers
.
Mahinmi was 6-for-6 from the field, the second time in his career that he made at least six baskets in a game without missing a shot.
February, 19, 2011
2/19/11
12:09
PM ET

By Henry Abbott
ESPN.com
Archive
Justin Bieber took the court in the All-Star celebrity game, and he was not the best player on the court -- he missed eight of his eleven shots, had some frustration fouls and was a liability on defense. He wasn't the biggest, either. But thanks to fan votes determining the pick, he was both the MVP (despite his team losing), and the player who had the NBA talking:



Many thanks to Bryan Gold for editing.
In his final installment from Orlando, The Salt Lake Tribune's Ross Siler checks in with the forgotten man in the big Magic-Nets trade:
As traumatic as the first trade of a young player's career is said to be, Ryan Anderson appears to be grieving about as much as a lottery winner after being sent to Orlando from New Jersey as part of the draft-day deal involving Vince Carter.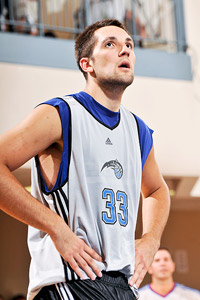 Ryan Anderson: "He's one of those guys ... It leaves his hands and you say, 'It's in." (Fernando Medina/NBA via Getty Images)
"The way that the trade went about, it wasn't a traumatic thing," Anderson said. "If it was a situation where New Jersey was like, 'We don't want this guy, let's put him in the deal with Vince, throw him
out of here....'
"That's definitely not what it was. I talked to the whole staff in New Jersey. It was a hard decision for them to make, but if I could go with anybody, I'm glad I came with Vince."
It took just five summer games for Anderson to make Orlando look like his personal Magic Kingdom. He finished with 33 points -- one shy of Travis Diener's league-record -- and 14 rebounds Tuesday against
Boston.
He followed with five 3-pointers and 26 points against Utah. At times, Anderson was the second-best player in Orlando after Russell Westbrook and showed just how much he could thrive playing behind
Rashard Lewis with the Magic.
"How many guys in the league, when the ball leaves their hands, do you feel like, 'It's in'?" Jazz assistant Scott Layden asked. "All of a sudden the basket looks like a hula hoop.
"He's one of those guys, really. It leaves his hands and you say, 'It's in,' right? He's that way. And what a team to play for. Wow. Think about that. You get looks on Orlando."
Anderson had one sequence Thursday during the second quarter against Utah in which he hit a 3-pointer, put the ball on the floor against Goran Suton -- spinning back for a layup -- and then buried another 3-pointer off a pick-and-pop.
Anderson averaged 7.4 points and 4.7 rebounds as a rookie in New Jersey, but played in only 66 games. The 21-year-old spoke about the importance of confidence, which he figures will be easier to maintain
with a defined role off the bench in Orlando.
"Rashard didn't really get too much of a break, so I'm there to relieve him," Anderson said. "You can play the same game with Rashard on and off the court."
Not even two weeks after the trade, Anderson crossed paths all week in Orlando with the Nets' Lawrence Frank, Rod Thorn and Kiki Vandeweghe, in town to watch their own summer-league team. Anderson said there was no awkwardness in the least.
"I think it's kind of nice," Anderson said. "I have that team family and now I have a brand-new family."
The vibe around the Magic couldn't have felt better this week. Dwight Howard was a regular -- even for Friday's 11 a.m. getaway game between the Jazz and Oklahoma City -- while Vince Carter stopped in a handful of times.
Even after signing an offer sheet with Dallas, Marcin Gortat watched games every day, evidence perhaps of how tough it is to leave Orlando right now ... or, in Anderson's case, how easy it is to arrive.
"It's a good fit for us because he fits into our style of play," Magic general manager Otis Smith said. "He's another tall forward that can shoot and you can't have enough of them."
Having traded up from the Nets to the Magic, from a 34-win lottery team to one that reached the Finals, from winter in the Meadowlands to year-round fun in the sun, Anderson clearly is enjoying the view from the penthouse.
"I think I've always been an underdog guy my whole career," Anderson said. "I'm finally in a spot where a team really wants me and needs me. Last year in New Jersey, I'm a rookie, so they don't know what to expect of me, really. But here they do, and it's exciting. This is a winning team. I'm really excited to be part of it."
The Salt Lake Tribune's Ross Siler has this dispatch from the Orlando Pro Summer League, where the Sixers and Nets are strange bedfellows:
The union became official at halftime of Monday's summer-league opener at the RDV Sportsplex, when 76ers general manager Ed Stefanski pulled up a seat along press row next to Nets president Rod Thorn.

For one week at least, the Atlantic Division rivals have come together, with a joint New Jersey/Philadelphia entry in the Orlando summer league prompted by the worst economy in a generation.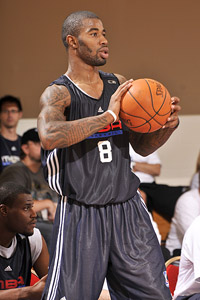 Nets rookie Terrence Williams: Would this man steal Eddie Jordan's trade secrets? (Fernando Medina via Getty Images)
Whatever they lose in individuality, the Sixers and Nets hope to save in costs. They took the court Monday in generic blue NBA jerseys, coached by a staff of two New Jersey and two Philadelphia assistants.
"I'm not a fan of it," Philadelphia coach Eddie Jordan admitted. "I like working with your own players and teaching your own guys, getting your own guys in your system."
"I don't want to have to berate their player for not picking up. It just doesn't seem right to get on their players for doing something that you want them to do."
The marriage has led to some strange scenes, to be sure. Philadelphia's newest first-round pick, Jrue Holiday, warmed up for Monday's game in a Nets shirt, leading one Sixers staffer to observe that a free shirt is a free shirt.
After Monday's game, Jordan was asked about Nets rookie Terrence Williams, prefaced with the qualifier: "You won't have him beyond this week ..."
(Jordan's answer: "He's a very competitive player. He's strong, he's a bull out there. He's got great, quick moves. He can change direction in a heartbeat. He's an aggressive player. I really like him.")
In addition to their own draft picks and players, the Nets and Sixers each made four selections for the team. The offense can best be described as an overlap of Jordan's and Lawrence Frank's systems.
"It's a combination of what they've done and what we're going to do," Jordan said. "And that's why we make it work, because we know the Nets."
Frank called it "a little bit of an introduction" to his offense, adding, "But I think this has to be more about the development of the guys as opposed to putting in your system. Especially when you're
splitting a team, it makes it tougher."
The biggest benefit, Frank said, comes in having a deeper summer-league team than most. The Nets/Sixers have four recent draft picks in Chris Douglas-Roberts, Holiday, Marreese Speights and Terrence Williams.
Were it not for the history between Jordan and Frank, Thorn and Stefanski, as well as assistants Tom Barrise and Mike O'Koren, the Philadelphia and New Jersey pairing probably would be doomed to
failure.
"It's a joint venture, where it only works for us because we know the Nets guys," said Jordan, who nevertheless described the partnership as being "different" three times in one answer.
Of course, the Nets and Sixers players still have it better than Bobcats second-round draft pick Derrick Brown, who is playing with the Jazz in Orlando with Charlotte not fielding a summer-league team to cut costs.
Brown ended up with the Jazz thanks to a longtime connection between Charlotte coach Larry Brown and Utah general manager Kevin O'Connor. (There's a lengthy explanation as to why the Jazz didn't also end up with Bobcats lottery pick Gerald Henderson.)
Brown had nine points in his NBA debut Monday night, which came in a Jazz jersey, playing for a team coached by Jazz assistants. In fact, Brown wasn't even sure if the Bobcats were sending a representative
to Orlando to watch him.
"It's definitely a good opportunity to be out there and start the ball rolling in the NBA," he said. "Whatever it takes for me to make a stand in this league, I'm going to do it."
Frank was asked if the Nets and Sixers were just ahead of the curve, whether next summer will feature other entries based on geography and cost-saving, like the Heat and Magic, the Bulls and Bucks, the
Warriors and Kings or the Jazz and ... nobody.
"In these economic times, look, you've got to be fiscally very responsible and I think you just have to be prudent in the decisions you make," Frank said. "Every group is different. This worked for us and Philly and it made sense, and who knows what the future holds. Hopefully, things get better."
Posted by Kevin Arnovitz
Former Pistons coach Chuck Daly is drawing up plays from his hospital bed for Jay Wright to run for Villanova in the Final Four.
Bad break for a good Sixers team:"[Thaddeus] Young sprained his ankle in Tuesday's 98-85 victory, and the Sixers learned the extent of that injury yesterday. An MRI exam also revealed a bone bruise. The team expects him to be sidelined for two to three weeks, which means he could miss the start of the playoffs."
Dave D'Alessandro on Nets coach Lawrence Frank: "Business as usual for L-Frank. Still upbeat, still classy, still team-obsessed, still has his head in the game. He probably knows this is not going to end as well as he had hoped, but this isn't the kind of guy who burns bridges, and the only preemptive strike he believes in would be a 2-0 lead."
SLAM's Lang Whitaker with a stellar Twitpic of "Derrick Rose Colored Glasses."
Interesting conclusion from Ira Winderman on the Heat's backcourt situation: "In a moment of semi-candor, Spoelstra said before the game the loss of Luther Head means the team lacks a needed combo guard. Translation: Cook lacks the needed handle to play point and Quinn lacks the size to defend shooting guards."
I'm still partial my original Darko in Chains tee, but FD has released some new swag in anticipation of a certain potential Finals matchup.
Baron Davis has a confession: "I talk to my beard all the time. He has a mind of his own."
Dwight Howard: Not of fan of the zoo, or Stan Van Gundy's sideline antics. Much more bullish on Philippians 4:13.
Clips Nation on rookie guard Mike Taylor, and the Clippers' proximity to rookie explosions: "Taylor has started the last two games at the point guard, and scored 35 in the game before that against the Knicks. Did you know that the Clippers were involved in the top three rookie scoring performances of the season? (1) Eric Gordon, 41 points against the Thunder. (2) Anthony Morrow, 37 points against the Clippers. (3) Mike Taylor, 35 points against the Knicks. That's correct -- Mike Taylor's 35 are better than any game by O.J. Mayo or Russell Westbrook this season."
At some point the exploits of Charles Charles MaGall will cross from funny to creepy. Right now, his persistent challenges to Dwyane Wade are funny. For now.
Ross Siler reassures skeptical Jazz fans: "I just wanted to address the perception that some/one of you has that your Jazz beat writer is a closet Lakers fan. Although I covered the Lakers for three seasons, I write about them in this space only because they are my frame of reference in covering the Jazz now .. If I left tomorrow to cover another team, I'm sure I would annoy their fans by writing about the Lakers and the Jazz in a blog there. If you're interested, I grew up outside of Washington and still follow the Redskins/Wizards/Nationals more than anything."
From the Golden State Warriors: "Referee Bob Delaney, who worked our game last night, visited the Oakland Police Department during his stay in the Bay Area this week. He spoke to a group of the officers and offered his support for the department following the tragic events on March 21, when four Oakland Police Offers were tragically murdered in the line of duty in what started as a random traffic stop. Delaney has been involved in the training of Police Officers for the last 30 years and said he considers the men and women of the OPD among the best in the world. The funeral for the four offices was held at ORACLE Arena last Friday, when over 20,000 people filled the venue to its capacity."

Reader Eli Steinberger has a thought about Allen Iverson: "Allen Iverson to Europe. It's the perfect storm: 1. Aging superstar 2. Can still score on anyone 3. Refuses to take a smaller role - DUDE, just hop across the pond! Think he'd go for it? He'd get a HUGE paycheck, super-duper-star status, and as much PT as he wants. He could become the first guy to win an MVP in both leagues."
The NBA launches a reality show in China. Buried toward the bottom of the story: "The NBA has opened three league retail stores in China and sales have topped projections by 70 percent. Even sales of Yao's jersey rank only No. 10 in China, trailing such American stars as Kobe Bryant and LeBron James, according to the NBA. The league projects retail sales in China to rise 60 percent this year and another 70 percent in 2010."
January, 2, 2009
1/02/09
12:27
PM ET
Posted by Kevin Arnovitz
Georgia Tech head basketball coach Paul Hewitt has experienced the full gamut of coaching ups and downs. In 2004, he led the Yellow Jackets to the NCAA title game. He's also suffered some brutal seasons in the unforgiving ACC. Hewitt has been bitten by the one-and-done bug. In recent years, Chris Bosh, Thaddeus Young, and Javaris Crittenton all departed Georgia Tech after a single season. Hewitt recently visited with TrueHoop to discuss Thaddeus Young's evolving game, how the Brandon Jennings experiment affects college recruiting, Anthony Morrow's splashy start in Golden State, Javaris Crittenton's struggles, and his beloved New York Knicks.

TrueHoop: As a recruiter, how can you protect yourself from the one-and-done? Is there any way to target kids who are uniquely suited to the college game but, maybe because of their size, or because they lack a true position, or because they aren't a pure athlete, might be more likely to stay three or four years?

Hewitt: No. I look for kids who are uniquely suited to Georgia Tech. Some of them are a little high on the radar. Some are lower when they get to us, then they develop into quality players. If you look at Georgia Tech as a whole -- not just basketball, but baseball, football, golf -- they've done an unbelievable job of turning out professional players and a lot of them leave when the opportunity arises. It's gone on forever. It went on with Bobby [Cremins]; it goes on with us. I'd love to figure it out one day, but you go after kids who are right for the program. Some of them are going to leave.

TH: As you go around the country and meet kids and their families, is the Brandon Jennings scenario real? Are there Division One recruits who are looking at Europe and thinking that's a legitimate option?

Hewitt: I haven't heard much of it among the kids I've talked to. You hear whispers and rumors: "This kid is looking at it or "that guy is looking at it. The only advice I'd have for kids who are looking at that as an option is that they should have it written in their contract that if they don't make it as a professional player, the pro team pays for their college education, much the way they do in baseball. I hope it works out well for Brandon Jennings. I hope it works out well for any kid that does it. But I think they have to be very, very careful and structure their contract in a way that if they do miss -- and the odds say they are going to miss -- that they have an ample fallback plan.

TH: Do you think Jennings is the tip of the iceberg, or do you think this is a novelty or an experiment?

Hewitt: Today I think it's a novelty. It's such an adjustment to go to Europe as a 17 or 18-year-old kid. There's the language -- you turn on the TV and you don't know what anyone is saying -- different kind of food. You're really put into a man's world because of how the coaches are going to drive you. So right now, it's a novelty, at best.

TH: Thaddeus Young. He almost seems like he was born for the pro game.

Hewitt: He's gotten off to a great start. Every time I run into people from Philadelphia they have nothing but great things to say about him. He's got a great work ethic. He converted from being a 4/5 in high school to a 3 with us. Now when they play him at the 4, it's somewhat natural to him. But he's continued to evolve and develop. He did a lot of good work with Mark Price in the off-season. Mark worked him out last summer at the Sewanee Sports Academy and Thad tells me all the time that really helped him speed up the process of becoming a 3 man in the NBA.
TH: He's really learned how to move off the ball to fill space...

Hewitt: That's right...Particularly for a guy who played around the basket as much as he did in high school. If you look at Thad's last ten games his freshman year, he averaged something like 19 or 20 points a game. He really started to get it. He started shooting the three well, attacking the basket. He still couldn't go right [laughs]. That's something we always teased him about, but he's gotten better with that. But you could see it coming along. I think had he decided to come back for a second year -- and it was a close decision; he decided to make the move at the last minute -- he easily would've been a Player of the Year candidate, an All-American candidate.

February, 27, 2008
2/27/08
4:25
PM ET
The Newark Star-Ledger's Dave D'Alessandro reports on Devin Harris' first practice in New Jersey. Harris is coming off an ankle injury and is said to have looked good playing full-contact basketball. One teammate said he was like the Tasmanian Devil.
And D'Alessandro writes about the leap of faith point guard and coach are taking trusting each other. I like the sound of it:
"We really want him to take ownership with this, we want him to feel comfortable with it, we want him to be assertive, having the freedom to make play-calls," the coach said. "But in order to do that, you have to have an understanding of what we look for. But he seems to be a quick study."

Harris said Friday night that the entire curriculum has flipped here, vis-à-vis Dallas. There, Avery Johnson liked "absolute control, and he likes to run things a certain way," Harris said. "But here, (Frank) told me he's going to let me run the show with some freedom - he'll give me that freedom before he takes it away. It's kind of an opposite situation, and I'm looking forward to it."

L-Frank confirms it all:

"Both of us are going to have to take a leap of faith," he said. "It's important for the point guard and the head coach to have a special relationship -- especially when you acquire someone in the middle of the year like Devin, where you have no past history: Both sides have to be willing to take that leap of faith.

"There's some trust we're going to give each other without earning it, and the only way that trust erodes is based on performance or [the head coach getting pissed at his lack of] preparation. So we'll each take a leap of faith, understanding it's work in progress, but we're both going to start here as opposed to starting in the basement."