December, 16, 2013
12/16/13
10:03
AM ET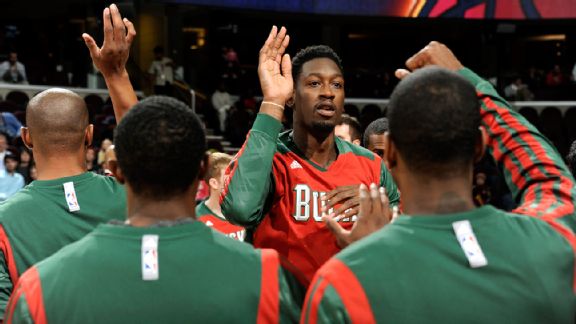 David Liam Kyle/NBAE/Getty ImagesAbsent Larry Sanders and several others to injury, the Bucks are winning the race to the bottom.
Not more than 90 minutes before the Milwaukee Bucks' opener on Oct. 30 in New York, Luke Ridnour and the team's trainers decided he couldn't play. Despite receiving an epidural cortisone shot 10 days prior, the herniated disc in Ridnour's back had flared up again.
Playing without him was an inconvenience, but not debilitating. Brandon Knight had earned the starting gig at the 1 for Milwaukee, and the third-year point guard was raring to go. But 1 minute and 45 seconds into his Bucks debut, Knight strained his hamstring pushing the ball upcourt in transition. He promptly checked out of the game, and so began the career of Nate Wolters -- South Dakota State Jackrabbit and No. 38 overall pick in the 2013 draft -- under the bright lights of Madison Square Garden on opening night.
The injuries to the point guard corps were merely the newest installments in the Bucks' medical drama. Milwaukee signed Carlos Delfino this past offseason under the assumption that the bone fractured in his right foot during the playoffs would be healed for the start of the season. But in September Delfino suffered a setback in his recovery that moved his estimated return date back to around just before the new year. He'd need extensive bone repair therapy.
While Delfino was rehabbing, big man Ekpe Udoh had his knee scoped Oct. 10. He missed the start of the season and didn't return to the court until Nov. 6.
The Bucks received the worst news of all only three games into the season, when Sanders was lost after tearing a ligament in his right thumb at a Milwaukee club the night of Nov. 3. The pin that protects the ligament reconstruction was removed a week ago, and he's just been cleared for light basketball activity. The hope is that Sanders will return soon after Christmas.
Hours before Sanders found trouble, Ersan Ilyasova aggravated the nasty right ankle sprain he suffered during the preseason. Four days later, Ilyasova had joined Sanders, Knight, Ridnour and Delfino on the shelf (Udoh was just about to make his return). He'd miss six games for the Bucks, then return to play sporadically for the remainder of November. The results have been dispiriting: Statistically, Ilyasova is putting up the least impressive numbers of his six-year NBA career.
The hits kept coming for the Bucks: A week after the Sanders dust-up and Ilyasova, Delfino announced via his website Nov. 9 that he'd need another round of surgery, a procedure he underwent Saturday in Argentina. The team says Delfino will be out at least another eight weeks, but it's possible he won't suit up for Milwaukee this season.
Feel-good story Caron Butler didn't feel so good. On Nov. 15, he flew to Los Angeles to consult a specialist about his tweaked shoulder and missed consecutive blowout losses to Indiana and Oklahoma City. Two weeks later, Butler was sidelined again, this time with a swollen left knee. He isn't expected back in uniform for another week. Meanwhile, Gary Neal has missed a couple of games because of a foot injury and left Saturday's game against Dallas because of plantar fasciitis in his left foot.
There's more: Center Zaza Pachulia will be in a walking boot on his right foot for the foreseeable future after suffering a stress fracture a week ago. That leaves the Bucks with a frontcourt rotation of John Henson, Udoh, a hobbled Ilyasova and first-year import Miroslav Raduljica.
---
What does all this mean? Is it an unmitigated disaster or the perfect unintentional way to secure a top-five pick in a prolific draft?
That's a matter of interpretation.
If you're owner Herb Kohl, the 5-19 start is a travesty. The Milwaukee Bucks brand might not register nationally, but the team's annual pledge to put a competitive product on the floor for the community has been compromised.
One of the hallmarks of Milwaukee Bucks basketball has been the promise that if you buy a ticket on a cold winter night, there's a better than even chance you'll see a win for the good guys. The Bucks haven't had a losing home record at the dilapidated Bradley Center since the 2007-08 season, but they've treated the local folks to only two wins in 12 games there this season.
[+] Enlarge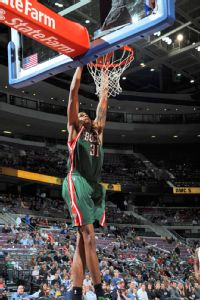 Allen Einstein/Getty ImagesJohn Henson has unintentionally benefited from Milwaukee's woes.
The litany of injuries is undeniable, as is the fact that the summer's projected starting lineup of Knight, O.J. Mayo, Butler, Ilyasova and Sanders hasn't played a second together. The team doesn't have a single five-man unit that's been on the floor for 100 minutes this season. You can boast about the potential of rookie Giannis Antetokounmpo and marvel at the length Larry Drew will be able to assemble on the floor once Sanders returns to play alongside Henson and Antetokounmpo.
Yet businessmen tend to be fixated on results -- and 5-19 is 5-19. City governments and those listening to proposals about the construction of new facilities in a depressed urban economy don't read draft reports or go to NBA salary sites for a rosy picture of the franchise's cost structure.
A project like the Milwaukee Bucks can't afford bad morale when it's up against all kinds of adverse conditions. Last summer, assistant general manager David Morway spoke about how losing, even with the disclaimer that losses can be teaching moments and part of the life cycle of a young team, can become habit, which is dangerous. It's not just players. Organizations who aren't winning and/or don't have a definable mission like the one Sam Hinkie has in Philly, can be infected off the court, too. There are a couple of examples on opposite sides of the East River.
But if you're a pragmatist or, possibly, a cynic, the organization might have lucked into something. Kohl's mandate to win as many games as possible is born out of noble intentions and menschkeit, but it costs you several draft slots each season and, often, a reasonable chance at a transcendent talent.
The Bucks have some promise on the roster. Sanders has the opportunity to grow into one of the five most valuable defensive players in the NBA. We need to see more of Antetokounmpo to make a legitimate estimate of his potential, but from the ground floor it looks like a vaulted ceiling. With the front-court depth depleted, the Bucks are asking a lot of Henson and he's delivering consistently. He doesn't currently have the stretch to be a logical counterpart to Sanders up front, but the learning curve is on a steep upward ascent.
No one in good conscience can say injuries are anything but bad -- they cause victims pain in the present and anxiety about the future. But unintended consequences can have benefits. Speaking of Henson, his smart, confident voice is growing louder in a locker room that needs some young guys who express a belief in what might be possible in Milwaukee. The Oklahoma City model is referenced a lot, but one thing that's commonly left off its list of characteristics is how the young Thunder core took ownership of the enterprise, even when they were losing a ton of basketball games.
There were questions coming into the season about how much action Antetokounmpo would see. The injuries to Delfino and periodic absence of Butler have wedged the door open a little bit more. People around the league have been surprised by what Khris Middleton has demonstrated in big minutes as a starting small forward.
But the Bucks need another big talent before this thing becomes real, and if current trends continue, they're in prime position to add one through the June draft. There's a good deal of irony at work, namely that a team that promised to make every attempt to be competitive is the Eastern Conference's least. Sometimes serendipity is better than brilliance.

September, 6, 2013
9/06/13
9:07
AM ET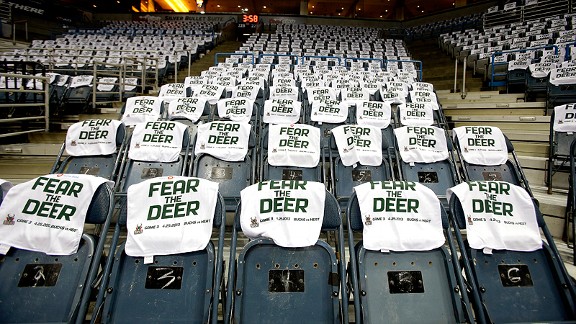 Mike McGinnis/NBAE/Getty
The Milwaukee Bucks don't believe in tanking, which makes them misguided -- or wonderful.
There was a time when the Milwaukee Bucks lorded over the NBA's Central Division as perennial contenders. In the mid-1980s, Don Nelson still had a modicum of structure in his nightly war plan (Nellie's Bucks consistently ranked in the bottom half of the league in pace), and the Bucks ran off seven straight divisional titles between 1979 and 1986.
Sidney Moncrief was a rock in the backcourt. Out on the wing, Paul Pressey established himself as a prototype for what would become the modern-day defensive stopper. Marques Johnson joined him out there as one of the more reliable, high-percentage wings in the league. When the Bucks swapped Johnson for Terry Cummings, they adapted seamlessly, and Cummings would become a top-10 player during the latter half of the Bucks' golden period. Alton Lister anchored a defense that was routinely in the top three.
Soon after that stretch, expressions like "small market" entered the league's lexicon, and the NBA's better players became empowered to be more selective about where they'd build a career. Gradually, places with cold weather and less cosmopolitan sensibilities had a harder time attracting talent. To play in these markets, stars have to accept a lower Q rating, and that represents lost dollars in today's sports economy. All of this produces a compounding effect: the belief among players that building a winner in that city is near impossible.
The Bucks organization has always retained its reputation as one of the league's classier outfits, but it couldn't fight this tectonic shift. The franchise simply didn't have enough mitigating factors to overcome it. Like their city, whose spirit has been sapped by new insurmountable economic realities, the Bucks began to fight an uphill battle.
---
Since Milwaukee struggles to recruit the kind of players who can single-handedly deliver home-court advantage in the playoffs, that leaves the Bucks with two general directions to follow. They can tread water as a league average team with the hope that, with a break or two, they can add 10-12 wins to their .500 record, join the adult table and continue to build from there. The Indiana Pacers, the former employer of Bucks assistant general manager David Morway, have deployed this strategy in recent years. The Bucks' alternative is to deliberately place themselves in a position to acquire a collection of high draft picks who could morph into an elite core -- the Oklahoma City Model, now a proper noun in the NBA.
"Guys are going to say, 'I want to be a part of this because they're winning,' or you need to be a team, like Cleveland, that gets two No. 1 picks or three or four top-five picks, and a guy says, 'I see what they have,' " Bucks general manager John Hammond said.
The treading-water strategy needs a public relations professional. The basketball intelligentsia mocks teams that seem content to chase the No. 8 seed, especially in the East (No. 8 seeds in the West are usually pretty good and generally have legitimate aspirations to finish higher). The maxim, "If you're not contending, you're rebuilding," is regarded as smart thinking. Some league executives publicly adopted another neologism -- "the treadmill of mediocrity" -- to describe what many of them see as a fatal condition. A popular notion exists that nothing short of running the table with a series of mid-first-round picks as the Pacers did, a team is a long shot to contend with this blueprint, even though there's
little evidence that losing ultimately leads to winning
.
The more clever teams looking to improve seek to capitalize on the glitch in the league's incentive structure. Blow it up, pick high, nail those picks (and every front-office guy believes he was born to evaluate prospects), and you'll play in late May. Don't you know that the market inefficiencies that come with the existence of the NBA draft were meant to be exploited? We don't make value judgments about the ethics of tanking, because aesthetics are irrelevant. These are the rules as they've been designed by the league, and the job of an executive is to succeed within those confines.
Under the leadership of owner Senator Herb Kohl and Hammond (a contributor to the assembly of the Pistons' teams of the early- to mid-'00s), the Bucks have squarely situated themselves in the survivalist camp. Their goal each offseason is to shoot for as many wins as possible. The catalog of transactions in pursuit of this goal isn't without blemishes -- and management will own up to the Harris-Redick deal -- but that's been the consistent tactic in Milwaukee.
The Bucks' brass articulates its rationale behind this strategy. Part of that argument is based on principle, while the other half is the stated belief that tanking doesn't necessarily yield better results than doing it their way.
"We're trying to say with Larry Sanders -- one of the top defenders in the league -- with Ersan [Ilyasova], with veterans like Zaza [Pachulia], Luke [Ridnour], Carlos [Delfino], with young players like O.J. [Mayo], Brandon [Knight], John [Henson], Gary [Neal], Ekpe [Udoh], and Giannis [Antetokounmpo], I know we may not win a world championship today, but I do think we can be competitive and continue to build with draft picks and cap space" Hammond said.
Critics (present company included) raised eyebrows at extending Mayo a contract of $8 million per season over three years, but the Bucks answer that they acquired one of the best talents among the free agents they could realistically target. If they overpaid by 10-15 percent, that's just one of those variables that Milwaukee can't control. Besides, it's not as if giving a $6 million player $8 million is going to decimate their fairly roomy cap situation.
"We're not unique," Hammond said. "Cleveland has to do the same thing. Indiana has to do the same thing. Sacramento has to do the same thing. It's also true in major league baseball. Sometimes you have to overpay for talent."
Morway was one of the architects of Indiana's build-on-the-go strategy. Now in Milwaukee, Morway has considered the Pacers' success and has come to feel deeply that, even with the league's weird incentive structure, tanking isn't necessarily a better strategy.
"There isn't one way to build a franchise," Morway said. "You can build a team [by pursuing high draft picks], but there's a lot that goes on between the concept and the execution."
For every Oklahoma City, there's a Charlotte and Sacramento. There's cause for optimism in Minnesota, Cleveland and Washington, but those teams are still trying to make good on multiple high picks, and none of them have seen the postseason during their current era. The Bucks can cite their own history -- the center they chose at No. 15 in the draft (Sanders, in 2010) will likely contribute more when it's all over than the center they drafted No. 1 (Andrew Bogut, in 2005). There was undoubtedly some bad luck involved but, for the Bucks, that's the whole point -- there's no certainty hitting the lottery jackpot will actually pay out in real life.
---
Then there's the case against tanking that can't be quantified on the floor but which most small-market teams feel a need to abide by. Like Pacers owner Herb Simon, Kohl is one of his city's last great patricians. The son of Jewish immigrants, Kohl built his fortune in Milwaukee, where he was born, raised and has resided in his entire life except for a couple of years earning his MBA at Harvard. With that accumulated wealth and a dutiful sense of noblesse oblige, Kohl has been one of Milwaukee's leading philanthropists for decades. And as a member of the United States Senate for 24 years, he literally represented Wisconsinites for a generation.
A sports owner like Kohl (and similarly Simon) who lives in an older city that has struggled to join the growth economies of the sun belt or tech corridors often sees his franchise as a public trust. The team has an accountability to the city. And part of that is delivering a competitive product, to let those making the trip to an aging arena know that there's a better than 50 percent chance they'll see a win for the home team. Unlike so many of the newer owners who live out of town and have only a passing relationship with the cities of their teams, Kohl sees Milwaukeeans as neighbors. When you invite your neighbors over to your place, you owe them your hospitality.
"Why should I come to the games if you're telling me you're not trying to win?" Morway asks rhetorically.
For Kohl, playing to win every night is a common courtesy to fans, the majority of whom have elected him to the Senate on four occasions, the last time with two-thirds of the overall vote. Public trusts have to perform -- especially if they're asking for popular support. The Pacers are, again, an appropriate case study. In Forbes' team valuations published in January, they ranked 24th, while the Bucks were dead last. The Pacers asked from the public and received $33.5 million to address their shortfall in operating income at their home arena. Coupled with a negative public image, the fallout from the Palace brawl, the Pacers felt they couldn't afford to tank. That's a privilege reserved for organizations in healthy markets and/or those who have accumulated equity and good will.
The Bucks will soon need to make a hard sell to the residents of Milwaukee that they can't survive without a new home. They play in arguably the worst facility in the league. Unlike some of the concrete palaces in Sacramento or Salt Lake City, there's no intimate charm or deafening noise in the Bradley Center. It's just tired. While a team can't control the climate, economy or general mood of its city, it can offer a nice work space. The Bucks can't do that until they build a new facility in Milwaukee, and that's an easier sell when there's electricity in town, the Bucks are on the verge of a series upset and Bango the Buck's antics make him a cult hero.
The Bucks maintain that putting together a run like that without cohesiveness and that there are psychic costs when a team accepts losing as part of the program.
"To build a winning culture ... you can't turn it on and off," Morway says. "Players see that."
Oklahoma City managed it, but by pulling off a rare trick. It built a unique relationship with Kevin Durant, who understood that for a few years, the organization would define success on its own terms. Building that kind of trust requires the rare player in a near-perfect situation. For most young players -- even some who project as future All-Stars -- losing can quickly become a bad habit, and that's not a risk most teams can assume.
---
At one point or another, most executives at least float the idea to their owner of starting from scratch. But for reasons ranging from civic responsibility to anecdotal evidence, Kohl and Bucks management decided some time ago that they couldn't seriously entertain a tanking strategy. Instead, they'll strive for respectability year in and year out. Since dynamic scorers tend to look past Milwaukee in free agency, the Bucks will focus first on building a top defense, then look to add durable perimeter scorers who can nudge their offense above the league average mark.
Some of the criticism targeting the Bucks is aimed squarely at questionable deals like trading Tobias Harris for two bumpy months with J.J. Redick and a 3-year, $15.6 million contract for reserve big man Zaza Pachulia. But the overriding sentiment is that the Bucks are foolish to do anything to compromise their future in service of winning more games in the present. Truth be told -- they might be. Unless Antetokounmpo, Henson and Knight explode, and Mayo makes a quantum leap (he's still only 25), it's difficult to see the path to the conference finals, and history tell us that's even more likely if they continue to pick in the mid-first round.
Teams like Bucks who direct their management to assemble this year's model with the highest-performing engine they can design are regarded as quixotic at best and, more times than not, myopic. Chasing the eighth seed is the ultimate act of madness because respectability is worth far less in the current structure than 60-65 losses. Does this kind of arrangement, one where NBA teams who put the best product on the floor might compromise their future, make the league stronger?
April, 5, 2012
4/05/12
11:21
AM ET
By Ryan Feldman, ESPN Stats & Info
ESPN.com

Ever since point guard
Ricky Rubio
was lost for the season with a torn ACL on March 9, the
Minnesota Timberwolves
have struggled. They were 21-20 when he got hurt and are 4-11 since then, and much of the Timberwolves' struggles are on the defensive end.
Rubio
Rubio is not the quickest player, but his length and size helped cover a lot of ground. Without Rubio -- who ranks third in the league in steals per game (2.22) -- the Timberwolves have had to rely more on smaller guards like
J.J. Barea
(6-0) and
Luke Ridnour
(6-2), both of whom rank in the bottom 40 percent in points per play allowed.
The Timberwolves are fine offensively without Rubio. In fact, they've scored two more points per 100 possessions with Rubio off the floor. Defensively they've allowed seven more points per 100 possessions without him and are allowing 11 more points per game.
Minnesota's opponents have scored 100 or more points in nine of the last 15 games after scoring at least 100 in 17 of 41 games that Rubio played.
But how are opponents scoring so much more lately?
Without Rubio on the court this season, Minnesota's opponents are scoring 22 percent more fast-break points, 11 percent more second-chance points and 4 percent more points in the paint.
However, with Rubio not on the court at all anymore, those numbers have been amplified even more over the last 15 games. Minnesota's opponents are scoring 30 percent more fast-break points, 14 percent more second-chance points and 14 percent more points in the paint.
Some of those increased easy baskets -- fast breaks, second-chance points, points in the paint -- can be attributed to
Nikola Pekovic
missing eight of the last 15 games with an ankle injury. But more of it can be attributed to Rubio's injury; the Timberwolves have had trouble stopping opposing guards from penetrating and dishing.
Over the last 15 games, opposing guards have an assist-to-turnover ratio better than three-to-one. In the 15 games before Rubio's injury, that ratio was less than two-to-one.
On March 12, the
Phoenix Suns
guards combined for 74 points, 16 assists and two turnovers. On April 2 against the
Sacramento Kings
,
Isaiah Thomas
had 17 points, five assists and no turnovers.
In Wednesday's loss to the
Golden State Warriors
, guard
Charles Jenkins
had 19 points, seven assists and two turnovers as Golden State erased a 20-point deficit with 58 second-half points.
Not having Rubio also impacts the Timberwolves on the boards. He averaged 4.2 rebounds per game, which ranks 10th among guards.
The Timberwolves were strong playoff contenders before Rubio's injury. Now, they're in last place in the Northwest Division, five games out of the playoffs with 10 games left to play.
February, 14, 2012
2/14/12
10:30
AM ET
Joni Mitchell recorded a live album in 1974 at the Hollywood Bowl called "Miles of Aisles." It was at the moment in her career when she was evolving from the moony, young girl from Saskatchewan who sang romantic stuff you'd hear around campfires for decades, to a hard-boiled, somewhat cynical performer who'd been through the meat-grinder of life and had come out the other side more jaded.
The best moment of the album comes during an interlude, when fans start shouting out the titles of songs from her oeuvre they want to hear, as Mitchell strums her guitar. This goes on for a bit, then finally a dude shouts, "Play whatever you want!" to which Mitchell replies, "Alriiiiiight!"
She then tells the audience:
That's one thing that's always been a difference between, like, the performing arts, and being a painter, you know? A painter does a painting, and he paints it, and that's it, you know. He has the joy of creating it, it hangs on a wall, and somebody buys it, and maybe somebody buys it again, or maybe nobody buys it and it sits up in a loft somewhere until he dies. But he never, you know, nobody ever, nobody ever said to Van Gogh, "Paint 'A Starry Night' again, man!" you know? He painted it and that was it.
Conventions are funny things because we don't consider their absurdity until we really think about them. People yell out requests at musicians but not painters, just as sports fans hound a foul shooter, but not a golfer. Mitchell would never rip her fans, but it's clear from her wry response during the performance that she'd like to roll through her set list without constant chirping from the audience on how they might do things differently. [Mitchell is also a painter, which might inform her thinking.]
Devin Kharpertian of Nets Are Scorching recently took a friend of his who's a classical musician and not much of a basketball fan to a Nets game. As much fun as it is going to games with friends who follow sports, sitting alongside someone who wants to understand all the rituals we take for granted can be fun because requires us to explain these traditions -- things like the players chalking up their hands before the tip, or why a center won't let a shot after the whistle go through the net even though it won't count either way and, as Kharpertian explains,
why we scream like crazy and wave our arms when an opposing player steps to the foul line
:
Without taking a stance, I rapped off some platitudes -- it's about getting in the guy's head, scaring him, making him think about his decision. My friend, a performance artist by design, contended that white noise doesn't beget performance anxiety -- pure silence does, especially for the solo artist. When a performer's on stage alone, the raucous cheers and applause soothe the nerves. I couldn't disagree -- I know the feeling.

Barea nailed both free throws. After a quick Nets dunk, they were forced to foul again. This time they sent Luke Ridnour to the line, who received identical treatment as Barea: screams, yells, taunts, distractions galore. Like Barea, Ridnour hit both free throws. Ten seconds later, the Timberwolves won the game.

At this point, watching a crowd desperately attempt to make a difference, the only words that came to me were the same eight that can kill sports, the eight Bill Simmons often cites: because that's the way we've always done it. We always scream at the opponent when they (and the game) are on the line. We blast voices, wave arms, smash together plastic blow-up toys, exploit our emotions in any effort to throw off the performer. It's our way of feeling involved in what's going on, our little droplet in an ocean of distraction.

But considering the circumstances, does it really work? Noise creates a cushion, one that a player can fall back into. The anxiety of performance loses meaning when all you hear is a sea of nothing in particular. It's a soft background noise. It's easy to presume that, as one individual in the crowd, your voice is heard and jarring. It certainly feels that way. But when faced with a crowd, 20,000 disjointed voices all sound alike -- and together, they sound like one overlapping breeze.
Golfers and tennis players, who play individual sports, are exempt from this treatment. Does the quiet that washes over a tee or a court enhance that athlete's drive or serve? In a similar vein, would an empty arena raise the collective free throw percentage of foul shooters?
We just don't know, but Kharpertian would love to find out:
My challenge, to whatever base can mobilize and feels like listening to me: at the apex of a contest, with the game hanging in the balance at the free throw line, just stare at the shooter. Don't say a word. Not a whisper in the arena. Just 40,000 eyes piercing the soul of one man, now wildly aware that everyone is staring at him -- and no one is speaking. Throw him off by throwing off expectation altogether. I understand that it's hard to put together, but with the pull of an understanding arena, it's not that hard.
February, 12, 2012
2/12/12
6:24
AM ET
By Ryan Feldman, ESPN Stats & Information
ESPN.com


Lin
Jeremy Lin
had been one of the best pick-and-roll ball-handlers in the NBA. But against
Ricky Rubio
, he was one of the worst.
In the Knicks' 100-98 win over the Timberwolves on Saturday, Lin shot just 3-of-14 and scored eight points when defended by Rubio. In the second half, Lin was 0-for-7 and scored just one point against Rubio.
Against all other defenders, Lin shot 5-of-10 and scored 12 of his 20 points.
Unfortunately for Rubio and the Timberwolves, that one point was the game-winning free throw for Lin in the final seconds. It came after Lin couldn't get through
Tyson Chandler
's screen, and Lin turned the corner and got fouled by
Luke Ridnour
driving to the basket.
But that final play wasn't reminiscent of the defensive effort Rubio displayed against Lin all night long.
Among players with a minimum of 50 plays, Lin came into the game ranked third in the NBA in points per play on pick-and-roll ball-handler situations and first on pick-and-roll single-defender situations (plays without hedges). Lin was shooting 61 percent on pick-and-roll plays, which ranked first in the NBA.

Rubio came into the game as one of the poorer pick-and-roll defenders in the NBA. He was ranked among the bottom 20 percent of the NBA in points per play on pick-and-roll ball-handler situations and pick-and-roll single-defender situations, among players with a minimum of 50 plays.
But this game was different. The defensive end of the court is where Rubio made his mark against the Knicks.
Despite Rubio's struggles defending the pick-and-roll this season, the Timberwolves didn't hedge a single time on the 14 pick-and-roll plays in which Rubio defended Lin.
With Rubio serving as Lin's primary defender, the Knicks point guard had his worst shooting performance as a Knick (8-of-24) and turned the ball over six times.
Rubio defended Lin on 14 of his 16 pick-and-roll plays. On those 14 pick-and-roll plays, Lin scored five points (2-of-8 shooting) and had four turnovers. That equates to 0.36 points per play -- among players with a minimum of 50 plays, that would rank worst in the NBA if it were Lin's season average.
Lin's numbers on pick-and-roll plays against Rubio don't even compare to his 1.07 points per play and 61.8 percent shooting in his previous four games.
Rubio has been known as one of the best passing point guards in the NBA. His offensive game is what has gotten him so much notoriety. But against Lin, one of the most efficient pick-and-roll players in the league, Rubio took on the challenge and proved his worth on the defensive end.
December, 28, 2011
12/28/11
1:58
PM ET
November, 11, 2011
11/11/11
1:33
PM ET
July, 3, 2007
7/03/07
2:35
PM ET
ESPN's John Hollinger has an excellent article about Rashard Lewis's migration to Orlando. He pokes and prods every aspect of the deal, especially how it may well make Darko Milicic a free man on the open market.
Hollinger also writes:
The Sonics obviously were interested in keeping Lewis, otherwise they wouldn't have flown to Houston this week to woo him. The key here is that Orlando's number was bigger than Seattle's number. With Kevin Durant and Jeff Green already in the fold, Lewis replicated some skills the Sonics already had, so while the Sonics probably would have been OK with something less generous, they weren't going to make a bid in Orlando's range.

And by not maxing out Lewis right now, the Sonics are better poised to add players later. Removing Lewis' cap hold puts Seattle $3.8 million under the salary cap right now, if we assume a $56 million cap for this season (again, the final number won't be known until July 11).

But the big splash is two years down the road. At that point, the expiring deals of Wally Szczerbiak and Chris Wilcox will take roughly $20 million off the Sonics' books. While extensions to Robert Swift and Delonte West are likely to eat up a portion of that, it still leaves Seattle with more than enough dough to chase a superstar in the summer of 2009.
I know people in Seattle are a little forlorn at losing the team's two best players in less than a week, and getting, in exchange, a sum total of (assuming Lewis ends up leaving as a pure free agent, not in some kind of sign-and-trade) an oft-injured veteran, the backup point guard from the second worst team in the league, and a draft pick.
However, I think people in Seattle should hang tough. It's a new universe for you now. Job #1 for the SuperSonics is no longer taping some bits and pieces together and praying for something magical to happen. Job #1 now is executing a master plan of long-term global domination, starring that young fellow who could prove to be the best player in the NBA.
Seeing to it that Kevin Durant is in a position to succeed -- as a player, and as a teammate -- is the most important of Sam Presti's priorities now, and losing Rashard Lewis while gaining future cap space hurts that none.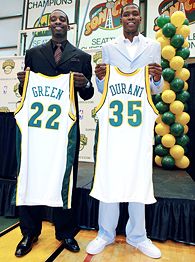 Messing up that Durant kid is the only way this thing doesn't get much better in the years to come. And you're on his schedule now. When he's ready to be MVP, your team is fantastic again. And in that regard, Rashard Lewis was to Kevin Durant what Zydrunas Ilgauskas was to LeBron James. Good. Really good. Been a rock for a long time. Hate to see him go. But in the final analysis, wouldn't Cleveland kill for some cap room now?
Did you see what Hollinger wrote? Barring surprises, Seattle will have enough cap room to add a superstar in 2009? That means Durant will start coming into his own, really eating people alive, making Seattle (or Oklahoma City, or Kansas City, or wherever ... here I depart from my "it'll all be OK, Seattle" argument) the Cleveland of the East, with cap room? It's not immediate gratification, but it's a thing of beauty nonetheless.
All indications are that there could be more changes coming, too.
In the meantime, Kevin Durant gets to play with longtime friend Jeff Green, and he gets to make mistakes along the way without a veteran in his prime angling for some of Duran't touches. The team gets to dedicate resources and the spotlight to Durant, making his development the main focus, instead of chasing the charade that the transition will be graceful.
Remember: what was happening in Seattle wasn't working. Now you know it likely won't be working this year either. But this year barely matters. You're in a spaceship headed to the moon. So what if, in the first few minutes of the ride, the view isn't so great?
UPDATE: Writer Sherman Alexie, who is a big Sonics fan, writes:
I am very depressed to lose Ray and Rashard, and yet keep Luke Ridnour. If we do indeed retain Luke for the season, he'll start off well, play decently for 20-25 games, then will fade, and lose playing time to Earl Watson and/or Delonte West and/or a random guy picked up from the Seattle Athletic Club, and will lose his starting position around game 45 or so, will start whining about it during game 46 or so, and will plunge into a smelly spiral of arrogance and self-doubt and endlessly missed open jumpers (I should YouTube a montage called, "C'mon, man, I had to shoot, I was open: The Luke Ridnour Era" or one called, "Yeah, I know I'm playing D three feet off Chauncey Billups, but hey, you try to guard him, okay?" ).

All the while, thousands of Luke Ridnour fans will flood the blogs with their pleas for patience as Luke will surely play up to his potential any moment now (potential being a relative term, of course, since Luke did play three years in college and will be in his fifth year in the pros).

Of course, if you did a demographic study of Luke Ridnour fans, you'd discover that their average height is 5-9, weight, 125 pounds, and hairstyle, George Clooney on "ER," circa 1994, and skin, Northwest trout meat pale. Of course, it's just a coincidence that Luke looks exactly like his most ardent fans, and vice versa. Repeat after me: It has NOTHING to do with race.

But Luke hatred aside, I take comfort in the fact that Kevin Durant will get 32 shots a game, that Wally Z will get injured putting on his socks sometime in December, and that Robert Swift, Johan Petro, and Sene will combine to average three blocked shots, six rebounds, and 16 fouls a game. We'll win 24 games, will pick in the top five in next year's lottery, and we'll draft one of the great point guards coming out next year, sign another superstar free agent in 2009, and the Las Vegas Sonics will win the NBA championship in 2011.
(Photo: Terrence Vaccaro/Getty Images)