April, 13, 2009
4/13/09
11:19
AM ET
The Kings are embarking on their late-season tour of ruination. Their best player is resting his ankle, and they are not playing for much other than lottery positioning.
Yet they are playing games with real meaning to their opponents. Tonight they wrap up a five-day period with games against the Rockets, Spurs and Nuggets, so they have had real chances to upset another team's playoff positioning with a surprise win.
So far, as expected, the Kings have lost all those games.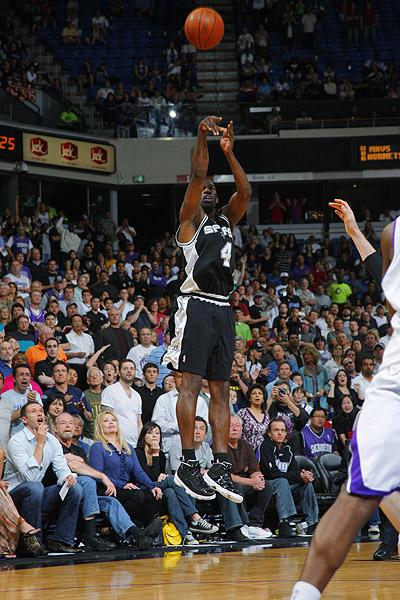 But Sunday they almost beat the undermanned Spurs. With the Spurs' usual bench now starting in place of the likes of Tim Duncan and Manu Ginobili, the Kings' bench had a nice run that gave the Kings a second-quarter lead which the team managed to cling to until the closing minutes.
The Spurs got a rebound with about 25 seconds left and the game tied. Tony Parker then rolled into the lane, and kicked it out to Michael Finley, who nailed a jumper which you can plainly see in this video was after the shot clock had expired. That kind of thing is nearly impossible to get right every time in real time, and the referees can't use instant replay to review shot clock violations. So to the amazement of everyone who loves fairness and the Kings, the play stood, and after a well-covered Andres Nocioni miss, the Spurs had their win.
So there was a bad call, which happens. But does that mean that in this particular case the referees gave the game away?
I was tempted to write about how this one little officiating snafu could have radically altered the playoff race in the West. And it's true, it could have. But I couldn't bring myself to get too indignant about it. Maybe I'm brainwashed by the uniforms, but I have this sneaking suspicion the Kings would have not scored in that final second, and in overtime I prefer the very well-coached Spurs who have the best player on the floor in Tony Parker.
You agree? Here's my question to you:
It's 92-92 with about (correction) THREE seconds left. (A shot clock violation would have occurred before the ball sailed through the air from Finley's hands.)
Kings have the ball and homecourt advantage.
The Spurs are playing without Tim Duncan, Manu Ginobili or George Hill.
The Kings are playing without Kevin Martin or any real need to win (indeed, this was the game when the Kings secured the pole position in the NBA draft lottery).
The only player with more than four fouls was Nocioni, with five.
Except for Spencer Hawes, the Kings' starters have generally had a long night.
Who's your pick in that setting?
UPDATE: Key point from Dwight Jaynes: Finley's horn clearly did not beat the clock, but it certainly did beat the buzzer, which was not in sync.
UPDATE: And now word from a TrueHoop reader that he has the game recorded and in fact the link above has incorrect, possibly manipulated, audio. In the TrueHoop reader's recording, the horn sounds along with the shot clock reaching zero.
(Photo by Rocky Widner/NBAE/Getty Images)
March, 30, 2009
3/30/09
1:08
PM ET
The Hornets prevail in a must-win game over the Spurs, in which Bruce Bowen records a DNP-CD. Stephon Marbury is starting to figure out his role with the Celtics, while Iverson will have to adjust to his in Detroit. Read all about "Sixth Men: Past, Present, and Future" at the TrueHoop Network: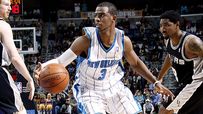 Ryan Schwan of Hornets247: "Simply put, Chris Paul came out at half time and proved he was the best player on the floor. I could fill up an entire observations section just with all the incredible plays he pulled out in that game. It's such a joy to watch him play. As what usually happens in good wins with the Hornets, [David] West carried the team in the first half, scoring 14 and serving as the focal point for the offense. In the second, Paul shifted from fourth gear to Warp 9 and carried the team to victory ... That was a big game, and it went into the 'Do Not Delete' section of my TIVO, so when I am without a game to watch in the off-season, I can fire that one up. Winning without Peja, Tyson and Posey was pretty big."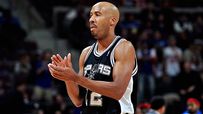 Timothy Varner of 48 Minutes of Hell: "As Coach Popovich creeps closer to setting a rotation, it appears that Ime Udoka will get minutes behind Michael Finley. I'll stop short of making bigger pronouncements. It was only one game. Popovich is certain to use [Bruce] Bowen as a spot defender between now and the time he retires. But I have to say, Pop is taking a gamble. Udoka is a tough-nosed defender, but even at his best moments he is not a versatile, game changing defender like Bruce Bowen. Bowen is a special player in that way. Or, reading into Pop's decision, Bowen was a special player in that way. But Udoka does do some things better than Bowen. His offense is more varied (and erratic), he can handle the ball, and his rebound rate is 10.6, making him one of the better rebounding small forwards in the league. Defensively, Udoka does a better job against balky players like Ron Artest. But unlike Bowen, Pop won't call his number against Chris Paul -- he'll put George Hill into the game. If Sunday's rotation more or less sticks for the postseason, Popovich's gutsy decision to favor Udoka over Bowen will play a prominent role in determining San Antonio's championship aspirations, for good or ill."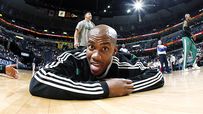 Brian Robb of Celtics Hub: "Starbury only scored 2 points on 1/4 shooting but he did have 7 assists compared to just 1 turnover in 22 minutes to go with a +12 on the floor. There have been some growing pains in the past 10 plus games for the point guard but he is finally starting to look comfortable with the bench unit by distributing the ball to his teammates in the right spots ... a lot of these assists came off of some nice penetration, allowing him to draw multiple defenders to create dunks and open jumpers for his teammates. Great news to see him putting it together at the right time."
THE FINAL WORD
Piston Powered: Allen Iverson, Sixth Man -- A History.
Daily Thunder: Are OKC's best players named Sefolosha and Weaver?
Raptors Republic: Toronto is putting all the pieces together ... in late March.

(Photos by Layne Murdoch, D. Lippitt/Einstein, Joe Murphy/NBAE via Getty Images)
March, 12, 2009
3/12/09
12:15
PM ET
The Mavericks still have it, tired legs and all. So does Bruce Bowen, at age 37. Old is new again at the TrueHoop Network.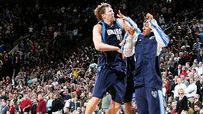 Rob Mahoney of The Two Man Game: "Part of me wants to cheapen this win. The voice in my head is telling me 'Well pffft, any team can win if they make their jumpshots and play half-decent defense.' This is entirely true, and the Mavs haven't had much trouble winning when they actually do those two things. Unfortunately, the defense tends to come and go with the shooting. But you know what? This one counts, and it counts big. The Mavs weren't killing the Blazers' playoff chances like they did to the Suns the night before, but they also implode when faced with adversity and low expectations. Myself and countless others hoped for a win in Portland, but generally resigned ourselves to the fact that the Mavs might go out and lay an egg. It was the second night of a back-to-back, they played an awfully good Portland team that has been ridiculously good at home lately, and when the Blazers offered some resistance in the second half, the Mavs had every reason to fold. They were on tired legs, and again, no one was scoring outside of Dirk and Terry. But they stood their ground, and as a team the Mavs came up huge. Dirk and JET took and made all the big shots, but the impact of players like Erick Dampier, Antoine Wright, and whoever invented the zone defense cannot be discounted.

So much of what the Mavs were able to accomplish in this game hinged on their play in the first and third quarters, which have been the most troublesome all season. They started things off well, and though they were down one at the end of the first, it was evident that this was the Mavs' game. The Blazers made their runs and had their chances, but it was a Maverick world and they were just temporarily leasing in it. The third quarter, in which the Mavs typically implode on their way to a double-digit loss, instead had the Mavs standing their ground against a Blazer resurgence. The storm was weathered, the Mavs bounced back, and the day was won. Huzzah!"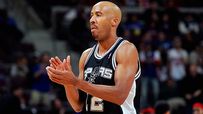 Graydon Gordian of 48 Minutes of Hell: "At 37 years old, Bowen is undoubtedly in the winter of his career. Since joining the Spurs in the 01-02 season, Bowen started in every game in which he played before this year. During the Spurs' early season struggles, Popovich moved Bowen to the bench and decreased his minutes significantly ... Given Popovich's preference for veteran players (a tendency that has led him to continue to utilize several players far past their prime), Pop's decreased utilization of Bowen suggests Bruce must really have slid a peg or two.

But plenty of data (as well as the plain old tactic of trusting one's eyes) suggests otherwise. Bowen is most often used in the 4th most common 5-man unit deployed by Popovich. The four other men he most often plays with are Matt Bonner, Michael Finley, Tim Duncan and Tony Parker. It's important to note that of the other four, two are generally regarded as defensive liabilities, particularly for the Spurs' standards. Of the five most common units, this group of players has the strongest defensive efficiency rating: 87.3 ... To put that rating in perspective, the best defensive team in the NBA, the Cleveland Cavaliers, has a defensive efficiency rating of 98.4.

The fact of the matter is, Matt Bonner and Michael Finley aren't lockdown defenders. And although Duncan and Parker are both known as good defenders (Duncan is more accurately described as a 'great' defender), they can be found on the Spurs unit with the worst defensive efficiency as well. Like it or not, Bowen's presence on the court remains a (if not the) key factor in the Spurs having a good defense versus having a great defense."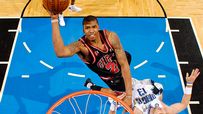 Matt McHale of By the Horns: "I've tried to be patient with [Tyrus Thomas]. I've tried to defend him. I've tried to embrace the notion that he is part of The Future in Chicago. I've pleaded with Vinny Del Negro to give him minutes, to work with him, to focus on his development. But I've got to tell you: Tyrus is driving me nuts. He took 13 shots against the Magic. Two of them were attempted within his range (i.e., at the rim) while 11 of them were jumpers. Quick quiz: Is Tyrus Thomas a jump shooter? Quick answer: NOOOOOOOO! ... Why is he so quick to chuck it up from the outside? Dwight Howard was in foul trouble for most of the first half, but instead of taking it to Howard and trying to get him off the floor, Tyrus was content to just let 'em fly.

A lot of people hold Vinny responsible for Tyrus' lack of development as a player this season. But I can't believe that Ty's love affair with the jump shot is Del Negro's fault. I sincerely doubt he's instructing Tyrus to concentrate on his outside shooting. And if he is, I want him run out of Chicago on a rail.

Ty's coverage on pick and rolls was almost as awful as his shot selection. His lackadaisical help on the pick and roll led to three wide open layups for Rafer Alston during that killer third quarter. Tyrus honestly looked like he had no idea what to do in that situation. He didn't crash the offensive boards either. He finished with a measly 5 rebounds in 37 minutes. It was a lifeless performance."
THE FINAL WORD
Roundball Mining Company: A smart look at Denver's offensive woes (last night notwithstanding).
Hoopinion: Acie Law IV -- serviceable NBA point guard.
Raptors Republic: Toronto circles the drain.

(Photos by Sam Forencich, D. Lippitt/Einstein, Barry Gossage/NBAE via Getty Images)
Would Stephon Marbury fit into Boston's backcourt? Does Nate Robinson fit into Mike D'Antoni's vision? Wizznutzz doesn't worry about fitting in, period.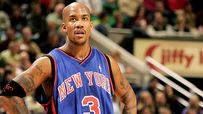 Zach Lowe of Celtics Hub: "The idea behind signing Marbury, I assume, is to have more offensive firepower on the bench. But where, exactly, does Marbury fit in with the second unit? If Doc sticks to the way he's been constructing line-ups so far this season, what you're really asking in the second question is this: Do you think Marbury is a better player than Eddie House? I say that because Doc essentially never plays a three-guard lineup or even a line-up with two small guards; Rondo and House, for instance, have been on the floor together for just 145 minutes this season.

So I don't think you can say, 'This is great, playing Stephon with the second unit frees up House to play shooting guard.' Because Doc has shown no indication he's willing to play two guys 6′2" or under at the same time, and I'm not sure he's willing to play a House-Marbury-Pierce/Ray combo during meaningful minutes.

It hurts the defense too much, especially against Cleveland, which rarely plays a small line-up. You can't just slide Marbury in for Tony Allen (who is 6′4" and a solid defender).

I just don't see how Marbury fits into the team - given the coaching staff's apparent preference for bigger guards - without severely cutting into House's minutes. Maybe Doc is willing to experiment with smaller line-ups or even play Marbury for Rondo alongside the other four starters in short stints. I ask you: Are you ready for that? Because I honestly don't know if I am."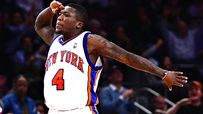 Rob Mahoney of Hardwood Paroxysm: "For a long time, Nate Robinson has been a welcome diversion. Unfortunately, that's all. His success was always side by side with the prerequisite grain of salt as I looked for subtle ways to invalidate his glory. No more. I'm ready for the Nate Robinson revolution, and - friends, Romans, countrymen - I hope you'll join me for the ride.

The stigma of the short point guard is a painful one. No player faces a steeper hill, nay, mountain to climb to NBA competence. On top of that, there is no Myth of the Next Jordan/Kobe, or the next Maravich, or the next Garnett. There is the Mythology of the Little Man. If you can dunk, you are Spud Webb. If you can't, you are Earl Boykins. The confines of Nate Rob's world are bench sparkplug at best and sideshow at the most demeaning. If given the proper opportunity, he's ready to make that abnormally low glass ceiling obsolete...
If Steve Nash taught us anything in SSoL v1.0, it's that a stellar point guard's offensive skill can overcome defensive inferiority. When your defensive philosophy is predicated on making opponents take poorly planned shots after being lulled into a false sense of security and superiority and then run the ball down their throats, you're given such a luxury. I think that once 2010 comes around, Robinson should be that point guard. Last night, Nate put up 41 points on 18 shots…off the bench. He turned the ball over once in 36 minutes. He sealed the game with a nice, contested lay-up after a steal. His ability to put the ball in the damn hoop certainly trumps his limitations, and his weaknesses (FG%, turnovers) have dwindled with NBA experience.

He's not of the Nash mold. Not even close. There are games where he looks exclusively to shoot, and that's precisely why I want him in there kicking ass and taking names. The easier comparison is probably to Leandro Barbosa, but I think Nate's play is infinitely less trite. If Walsh and D'Antoni put together the type of team we know that they are capable of given their market and clout, Nate Robinson doesn't have to be Nash…or Barbosa. He's somewhere in between. Part of the beauty of SSoL is that it can turn rotation players and sixth men into juggernauts if they have the right skill set. Nate's got it. He doesn't have Nash's court vision or Barbosa's unbridled speed, but he can make plays for his teammates and he makes people look foolish with his quicks. If you put a playmaker beside him on the wing, that offense goes from 'fun' to 'deadly.' LeBron James, Dwyane Wade, even Joe Johnson. They would demand a subtle modification of D'Antoni's system, but the benefits could be enormous.

Why must a scoring point guard's works be invalidated by his height? ...It's hard out there for a point…so can't we remove the complications by letting a player play and dropping our notions of what a point guard should be and what he should look like."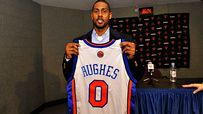 Wizznutzz: "Everyone was anticipating the mega-trades, player moves that would realign the balance of power but lets face it this is what the NBA trade deadline turned into: a game called 'Osbournes' played by NBA GMs where they pretend Larry Hughes is a giant ham and they try and throw him over their neighbors fence when he's not looking. Whats astonishing about Larry Hughes (aka 'L-Boogie' aka 'Cold Mountain' aka 'His Majestys Secret Service' aka 'The Coy Mister') is not his game but the size of his dowry!

Larry's career has answered the question many league scouts had when he was first drafted and that question was: 'I wonder what would happen in we gave Victor Page 100 million dollars?'

There was even a crazy rumor that Cold Mountain would be coming back to the Verizon Center (home of the 'Unlimited Minutes' rookie plan!) But the Wizards and Ernie Grunfeld stayed put, hey if it aint broke why fix it! Even though they made no moves, The Big G said he got lots of calls all week from keen GMs. But it turned out they were mostly prank calls from John Nash posing as keen GMs begging for the contracts of Etan Thomas and Mike James."
THE FINAL WORD
Hornets247: Will the offseason be a horror flick for the Hornets?
Piston Powered: Is it time to sit Rodney Stuckey?
48 Minutes of Hell: Michael Finley -- fearless elder.

(Photos by Kent Horner, Chris McGrath, David Dow/NBAE via Getty Images)
June, 15, 2007
6/15/07
9:47
AM ET
Matthew Powell of the Spurs' blog Pounding the Rock (name inspired by this quote) is feeling the love this morning. One thing he loves is the cold new nickname he invented for Tim Duncan:
I love that Tim shot the ball horribly but still finished +6 for the game. That's Tim Duncan in a nutshell. He's like an iceberg: the most impressive part of his game is missed by most fans who don't look deeper. Holy crap. Am I a freaking genius or what? He's "The Iceberg" from now on.
Today, Powell loves just about everything there is about the Spurs, which is as it should be. He loves that Michael Finley said he might stick the game ball in bed between Finley and his wife. And he loves this:
I love that Tony Parker convinced me, beyond a shadow of a doubt, that he was the rightful winner of the MVP award. I love that the man absolutely torched Cleveland for three quarters and then selflessly gave the ball up in the fourth, when the Cavs were dumb enough to put Damon Jones on Manu. I love that he shot 57% for the series and even pulled down five boards a game. And I especially loved that move in the second quarter when he faked the crossover on Gibson, nearly sending the poor rook sprawling. I love that I giggled like a schoolgirl when that happened. I love that when he was being presented the MVP award you could see his fiancee Eva crying and taking pictures. I love that they seem to really love each other. For all the talk about how beautiful a couple they are, and for all the talk about how efficient a team the Spurs are, people seem to be missing out on what's important: the love.

It's about the love people.

And winning championships.