TrueHoop:

Michael Heisley
January, 20, 2010
1/20/10
1:27
PM ET

By Henry Abbott
ESPN.com
Archive
Tom Van Riper of Forbes notices
that Grizzlies' owner Michael Heisley has made most of his money as a flipper: He buys distressed assets and then, at the right moment, sells them for big profits.
Van Riper says Heisley evidently had similar designs with the Grizzlies, but has been unable to find the buyer who would make the whole project pay off. One financial maneuver stands out:
When the new arena went up in 2005 it brought in a naming rights contract with FedEx worth $90 million over 20 years. Heisley needed cash immediately, so he cut a deal to securitize that revenue into a bond. Bondholders would get a coupon of $4.5 million a year from FedEx and Heisley got a lump-sum payment of $60 million.
That was the first big mistake, says Grizzlies minority partner [G. Staley] Cates. Stripping out that asset has slashed "tens of million of dollars" from the team's value to a prospective buyer, he says. Marc Ganis, a consultant with SportsCorp Ltd. in Chicago, agrees. "He took the quick arena deal, part of a strategy to take as much cash out as possible and then sell, the hallmark of a flipper. Only no one wants to buy it."
Heisley defends the strategy, saying that securitizing the naming rights provided cash to improve the balance sheet and borrow money more cheaply. "Anyone who thinks I put that money in my pocket is crazy," he says.
December, 3, 2009
12/03/09
4:30
PM ET
By Henry Abbott
The owner of the Grizzlies,
Michael Heisley, tells Chip Crain of 3 Shades of Blue
his version of how Allen Iverson came to have just a three-game stay in a Memphis Grizzlies uniform.
Heisley says he was surprised by Iverson's complaints about playing time. He says Iverson had come into training camp not in very good shape, and then injured his hamstring. The team then played him slightly more than the trainers recommended -- nevertheless Iverson was upset. Heisley explains:
The trainer said I don't want him playing in the first two or three games but when he starts to play we should play him about 15 minutes. We're going to watch him very closely and bring him along slowly otherwise he's going to injure this leg again. So that's the directions Lionel got. He played him 18 minutes in the first game when we told him 15 minutes. Which was fine and Allen did well. He scored 11 points in 18 minutes I think.
So in the 2nd game, if I remember correctly, he played 25 minutes and he scored like 17 points. Now he went to the press and started bitching about not being the starter. I think he was being a little ridiculous to think he could be put out there after he's coming off that leg injury and be the starter and that he had earned it like he said he wanted to do.
Lionel then had a meeting with him and the team; with all of the stuff that was going on around the team and Allen was very upset. I was in the Middle East when this took place and I flew for 29 hours and when I got home I heard there was a problem and I flew out to the West Coast. I met with Lionel and I met with Allen and I thought things were going to be straightened out.
Allen came to me that night and said he had a problem at home that he had to take care of, which I believed to be true and I still do believe, and I told him to take as much time as he needed to take care of his personal problem and so he left.
Heisley then says that when he heard Iverson wanted to retire, he decided to "divorce" (or, release) him, so that Iverson could pursue other NBA opportunities because "I want Allen to play in this league."
Posted by Timothy Varner of 48 Minutes of Hell.
I'm always more sympathetic to players who test positive for

PEDs

when the phrase "over the counter" is part of the story. If a substance is readily available to your local high school football team, why would we slap the hands of professional athletes for taking it? Well, as you might have guessed, that sort of reasoning is entirely too simplistic.

Dehydroepiandrosterone

, or

DHEA

, is only available by way of a sad piece of legislative history. Jeff

Passan

details that episode in this article. Go read

Passan's

take, and when you're done join me in giving the NBA three cheers for having more integrity on this issue than

MLB

. The NBA has its warts, but I'm happy that looking the other way on

DHEA

is not one of them. (Thanks to Third Quarter Collapse for bringing our attention to the

Passan

piece.)
Bradford Doolittle of Basketball Prospectus frames the

Rashard

Lewis discussion differently than most: "Performance enhancers are a fact of life. Rather than pouring all of these resources into vilifying athletes that made choices no different than what 99% of us would have made, perhaps it would be better to legitimize the industry and work to make

PEDs

safe. After all, the reason that they have been declared illegal by the FDA isn't because they allow you to hit a baseball farther (if it's true that that is the case); they are illegal because they have unacceptable risks for potentially lethal side effects. Modern athletes are serving as guinea pigs for a developing arm of pharmacology that in 20 years, no one is likely to object to...if they have found ways for all of us to improve the quality of our lives."
Will the

Rashard

Lewis suspension dramatically impact the playoff race? One stat geek says not so much: "As far as I'm concerned, the only relevance this news has is this: The Magic will lose the services of an excellent player for 10 games. But Orlando projects to be a deep team this season and when I reduce Lewis' playing time projection by 10% and up that of players like

Mickael

Pietrus

,

Matt Barnes

and

Ryan Anderson

, I see that the Magic's win projection drops from 52 to 51. That is all that really matters."
Marvin Williams is set to re-sign with the Hawks. Really, it's true this time.
Jon Nichols of Hardwood Paroxysm takes a smart look at shot selection in the final two minutes of games.

The Memphis Grizzlies fascinate me. Memphis GM Chris Wallace recently spoke to Chip

Crain

of 3 Shades of Blue and placed the size of his team's scouting staff in perspective. Michael

Heisley

takes a beating in the press, but Ronald

Tillery

makes an argument that

Heisley

does some things very well. And in a companion piece,

Heisley

paints himself as Clay Bennett's opposite. Who knew that the Grizzlies were so provocative?
Russell Westbrook tells Dime about all the hard work that has gone into his vertical leap. (Thanks to Royce Young of Daily Thunder for the alert.)
Someone else who thinks the

Lakers

lost in the

Ariza

/

Artest

exchange.
Ridiculous Upside reconsiders the question of whether to play in the D-League or Europe. And, don't look now, but they're out in full force defending the Grizzlies too.
Neil Paine of Basketball Reference provides a bunch of data that adds up in this way: "...it appears that there's a very slight trend over the last decade that says teams who rely on their guards and smaller players tend to win a few more games over the course of a season. This makes sense, given that the league spent most of the

Oughts

trying to tip the advantage in favor of perimeter scorers with modifications to the rules on hand-checking and more liberal foul calls on drives in general."
You have to appreciate Tony Parker's candor. He tells

L'Equipe

that his recent return to San Antonio was upsetting and that he plans to gradually work himself back into his national team's rotation. They have a heavy schedule between now and training camp. (HT:

Kace

)

I spent the morning listening to a terrific Blazer's Edge podcast with Kevin

Pelton

. If you don't have time to listen to the entire podcast, skip to segment 4 where Benjamin

Golliver

and

Pelton

pick up the hot-button topic of

Moneyball

, scouting, and the changing face of player evaluation in the NBA. (Soft caution: PG-13 audio between clips.)

Kurt

Rambis

is the leading candidate to become the T-Wolves next head coach.

Shaquille

O'Neal

is not the GM in Minnesota.
Most of the emails I received today were about the new Nike promotional featuring Kevin Durant, Mo Williams and

Rashard

Lewis.

Save Our Sonics thinks James Donaldson has the best chance of restoring an NBA franchise to Seattle.
Bethlehem Shoals says meh to the much ballyhooed free agent race of 2010. Chad Ford says these nine teams are in that race.
Update: Sebastian Pruiti of Nets Are Scorching learns that upon being drafted Terrence Williams was immediately enamored by New Jersey's market size. That Terrence Williams caught on quick.

July, 20, 2009
7/20/09
1:55
AM ET
Posted by Kevin Arnovitz
The Las Vegas Summer League is a lot like the Sundance Film Festival of the NBA. Whereas the pageantry of most NBA games has gotten out of control, Summer League games are small indie productions. The event certainly has its share of fanfare, but it also allows participants to brush shoulders with some notables they wouldn't ordinarily have access to during the grind of the NBA season. Just as festival-goers at Sundance might find themselves sitting next to an A-List movie star in a cozy bar, it's not unusual for Summer League attendees to sit down in the stands at Cox Pavilion, only to look over and see a high-profile general manager in cargo shorts and flip-flops.
Since team executives, agents, player development personnel, and veterans who've come to watch their younger teammates are all convened in one place for 10 days, Summer League is one big, casual schmoozefest, and a great place to take inventory of the state of the NBA.
What were all those big names talking about in Las Vegas this year? Here were eight hot topics:
A Lot of Competent Players, but Only One Sure-Fire All-Star

Since early spring, the 2009 talent pool has been regarded as a one-man draft. By and large, NBA folks left Las Vegas with that consensus intact. Blake Griffin was the story of Summer League. Though he wasn't able to replicate his explosive 27-point debut, Griffin's 19.2 points and 10.8 rebounds per game stood out. There were other players who matched his statistical output, but few generated the enthusiasm Griffin did among those who got a look at the full roster of rookies. "It's not only his work ethic and competitiveness," said one scout. "It's the balance, athleticism, body, and control. The stuff he can't do yet? It'll happen in no time." When asked how many certain All-Stars would materialize from the class of 2009, interviewees set the over-under barely above one, with Tyreke Evans earning a few votes. Despite the low expectations for stardom, many observers were pleasantly surprised by the depth of solid, if unexceptional, players. The prevailing opinion in Vegas was that the 2009 group is a far cry from the notoriously fruitless class of 2000. Though there was little unanimity, James Harden, Austin Daye, Wayne Ellington, Jonny Flynn, DeJuan Blair, and Earl Clark were all mentioned as possible contributors, or "third options" as one assistant general manager put it. But conversations about potential greatness consistently and almost exclusively returned to Griffin.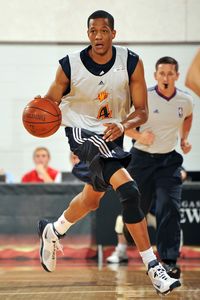 Anthony Randolph: All grown up?
(Photo by Garrett W. Ellwood/NBAE via Getty Images)
Anthony Randolph is Ridiculous

Summer League play always warrants a disclaimer, because the level of competition falls way short of what guys will confront in an NBA game, but the Warriors' 20-year-old forward seemed almost too advanced for Summer League play. Normally jaded execs and crusty sportswriters alike had their jaws agape watching Randolph command the game when he was out on the floor. Randolph came into the league as a candy dish of disparate talents, but he's graduated from curiosity to crackerjack. He has a band of admirers who gush over his range of talents, and that group got a lot bigger in Las Vegas, as his skill set was on full display. Randolph saw the court, ran the floor, passed the ball, blocked shots, got to the line, and drained mid-range jumpers as well as anyone in Summer League. In his four games, he averaged a Summer League-high 26.8 points per game on 60.9 percent shooting from the floor. He also got to the line 39 times and blocked 12 shots. But it was about more than the stats for Randolph. There's a moment when a player's talents unify into a single, coherent package. Judging from Randolph's performance, that moment has arrived.
The Global Economic Crisis
There's an area behind the near basket at Cox Pavilion where European coaches, general managers, and scouts sit and talk shop during the games. The NBA presents Summer League as a showcase of their future stars, but the real business in Las Vegas is being conducted by these guys, along with the agents and bridge-builders who are trying to get jobs overseas for the less recognizable names on Summer League rosters. Although there wasn't a visible black cloud hanging over this corner of the gym, the anxiety was palpable. They had a lot to be stressed about. Basketball clubs the world over are suffering, but none more than those in Europe. After years of escalating salaries and profits, the market has collapsed. "I've told all my European guys to expect, on average, salaries to go down between 30 and 40 percent," one European agent said. "It's definitely a buyer's market." This dynamic puts pressure on everyone -- the players who are facing a pay cut (even if they're coming off banner seasons), the agents who are terrified to communicate this to their clients out of fear of getting fired, and the teams who still haven't filled out their rosters because they're short on cash. The result is an impasse with neither players nor clubs budging, and a few teams on the verge of economic collapse.
Salary Cap Troubles & the NBA Financial Situation
The international game is in meltdown mode, while the NBA game is suffering from its own set of monetary issues. In Sections 104 and 115, where most of the NBA execs and team personnel sit, the dominant conversation of the week was about the financial pinch NBA franchises are feeling. In his press conference here in Vegas, NBA Commissioner David Stern said that fewer than half of NBA franchises made money last season. Ticket sales, sponsorships, and television contracts are all down. With the salary cap and luxury tax level dropping -- and scheduled to do so for the foreseeable future -- teams are having to calibrate their spreadsheets. This affects everyone: owners, general managers who are under pressure to build legitimate NBA rosters, free agents sitting on the sidelines, their agents, and also the journeymen and undrafted rookies trying to earn a spot on an NBA roster. To save money, a team that would normally carry 15 guys might trim that number down to 13 -- meaning fewer jobs. And players who would've inked rich, multi-year deals are finding that, with some exceptions, they have fewer suitors, with thinner wallets.
The Point Guard Class
Several point guards who came to Las Vegas made strong impressions. Jonny Flynn, despite all the turmoil surrounding Ricky Rubio, stood out. Though many in Vegas questioned the wisdom of playing Tyreke Evans at point guard long-term, few doubted that his strength, size, and capacity to get to the rim would make him a scoring machine. Observers had reserved praise for Brandon Jennings and Stephen Curry, the former for his unrefined shot, the latter for looking more like a gunner than a floor general. Some of the mid-first-rounders earned a lot of praise. Dallas' Roddy Beaubois led Vegas point guards in
oohs
and
aahs
, zipping through the lane in traffic and filling it up from beyond the arc. Of all the point guards in Las Vegas last week, Darren Collison was among the most polished before going down with an ankle injury. After starting Summer League 1-for-15 from the field, Ty Lawson bounced back to turn in three dominant performances, averaging 23.7 points over that span. Lawson is the kind of point guard who needs to be surrounded by scorers to excel. He'll have that in Denver.
LO, AI, Booz, and the Blazer
s
As much as NBA fans love speculation about trades and free agency, nobody appreciates the rumor mill quite like the NBA chattering class. Talk of the disintegration of Lamar Odom's negotiations with the Lakers provided plenty of fodder for late-night dinners. The same was true of the
l'affaire
Allen Iverson, where Carlos Boozer may land, and what the Blazers will do with the money they threw at Paul Millsap. The Odom situation was far and away the most intriguing to the insiders. Odom and the Lakers are in the second act of a romantic comedy: They need each other. The Lakers would slip measurably without Odom, and Odom needs the Lakers to solidify his place among the Lakers greats -- or at least the Lakers very, very goods. The Iverson and Boozer matters exemplify the financial issues mentioned above. So far as Portland, few teams run as much informational interference, and even some of the wiliest insiders were stumped about what the Trail Blazers might do.
The Death of the Back-to-the-Basket Game
"Name one guy here who can hit a jump hook over their left shoulder," an NBA assistant general manager asked. "I can't think of one." Whether it's the trickle-down effect of the European game, the rule changes implemented by the league a few years ago, or college teams appropriating Mike D'Antoni-style basketball, the vast majority of the young bigs who were in Las Vegas are face-up players who work either along the perimeter or out of the pinch post: Anthony Randolph, Earl Clark, James Johnson, Taj Gibson, Dante Cunningham, DaJuan Summers, Austin Daye, and even Blake Griffin. Is this a momentary trend, or will the pendulum eventually swing back? "If I were a big man about to enter college, I would develop that back-to-the-basket game," the executive said. The implication: At some point, those skills will be at a premium, and that kid will be impossible to defend. Forward-looking teams are all about buying low and, right now, traditional post players are undervalued because they don't conform to the current climate of the NBA game.

Dysfunctional Organizational Structures Breed Dysfunctional Franchises
What is going on with Minnesota? That was a popular topic of conversation among senior NBA people in Las Vegas. The team still has no coach. Though it had one of the Summer League's most prolific players in Flynn, there's no telling if the system he played in over the 10 days will be the one installed by a new coach -- whoever that might be. This makes the Summer League evaluation process a lot less useful. Who's in charge? CEO Rob Moor? General manager David Kahn? Will the new coach be fully empowered to do his job? Critics also looked at Memphis. How did the Grizzlies end up with Hasheem Thabeet? Because owner Michael Heisley reportedly made the call. The Clippers, too, generated buzz this week with the Iverson speculation. While owner Donald Sterling wants to make a splash with Iverson, Clippers management would like to target Ramon Sessions. These historically beleaguered franchises all have one thing in common: There's no clear hierarchy that allows basketball people to make basketball decisions. The best franchises have well-defined roles that emanate from the top. Owners allow their senior executives to do their job. Those executives give their head coaches full reign, and so forth. Look no further than the San Antonio Spurs.
July, 9, 2009
7/09/09
12:26
PM ET
The Shawn Marion deal is grounds for cautious optimism for Dallas. The Antonio McDyess signing means that Spurs ownership will take a hit in the pocketbook. And the quasi-Trevor Ariza-Ron Artest swap in Houston stirs mixed emotions.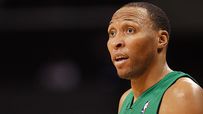 Rob Mahoney of Two Man Game: "While the Mavs won't be confused with the SSoL Suns, it's still easy to see [Shawn] Marion fulfilling his same duties as a one-man fast break. But more than anything, the Mavs are somewhat reliant on the notion that putting more weapons around Marion will boost his effectiveness and his efficiency on offense. Marion was a second offensive option on his last two stops, but with the Mavs he moves a bit further down the totem pole. The Mavs have an elite scoring talent in Dirk [Nowitzki], but also boast shot-creators in Jason Terry and Josh Howard. The attention that those three draw should definitely relieve some of the pressure from Marion, but the question is: Will it be enough? ... It's hard to say exactly where the Mavs' moves thus far put them in the context of the Western Conference ... For every little flaw I've picked at in this post, this is still Shawn fricking Marion. Even Shawn's harshest critics would have to concede that Dallas improved as a result of this deal. For every minor issue Marion brings to the forefront, he solves a handful of others. While he may not fit like a glove, the acquisition of Marion is far from forcing a square peg into a round hole. Donnie Nelson and Mark Cuban showed some creativity in getting Marion to Dallas, and now it's up to Rick Carlisle to show some creativity in getting him to excel here."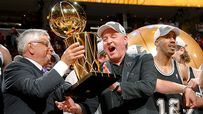 Graydon Gordian of 48 Minutes of Hell: "By signing [Antonio] McDyess to the full Mid-Level Exception and [Marcus] Haislip to the full Bi-Annual Exception (most likely), the Spurs are now a solid $10 million over the line ... Peter Holt took a serious financial hit yesterday and he did so for the good of the franchise you love. It's hard to feel sympathy for a man whose net worth is counted not just in millions but in tens of millions, but compare Holt's situation to Mark Cuban's, whose net worth is presumed to be north of $2 billion, and you begin to recognize the commitment Holt is making to the franchise. When the Mavericks head into the luxury tax, Cuban hardly feels the prick of a pin. Holt and the rest of the Spurs ownership group commit a significant fraction of the franchise's net worth to the team's success. Mr. Holt's financial commitment to the team is significant to no one more than the 3 individuals we adore most: Tim Duncan, Manu Ginobili, and Tony Parker. Whether by only requesting reasonable contracts or restructuring their contracts to allow the team to acquire the necessary supporting cast, over the last several years the big three have done their part to ensure the Spurs are in a position to compete for championships. By allowing the front office to take the steps they took today, Holt has kept up his end of the bargain."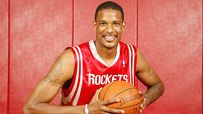 Anup Shah of Rockets Buzz: "The wan, dreary days that have been the two weeks since the draft finally parted the clouds for a glimmer of hope today. The Rockets were granted an exception for Yao, and now Daryl Morey can make the moves to at least give the Rockets a chance next season. And with the money they got from the exception, the Rockets officially inked [Trevor] Ariza for $5.7 million and still have $5.7 million more to spend on someone else. The hype won't match that of a year ago, but it certainly allows the Rockets to be more proactive -- to, as much as I hate to say it, start thinking past the TMac-Yao era. Then there was this video I watched more than once today. You hear [Ron] Artest say how he 'always wanted to be a Laker' and that this decision was a 'no-brainer.' To Rockets fans, pull the knives out of your back and patch up that cut. If you watch this video, every time Artest shoots the ball, you'll see a teammate calling for the ball back. And you remember the bad that came with the good. The 4-for-21 nights. The nights Artest was NOT the facilitator of the offense. I don't know what the future holds for the Rockets this year, but it'll be something new, and fans have come to trust Daryl Morey's judgment."
THE FINAL WORD
3 Shades of Blue: A blogger-owner dialogue with Michael Heisley.
Knickerblogger: Smart breakdown of salary cap arcana.
Bucksketball: Free agent signings -- not all they're cracked up to be.
(Photos by Streeter Lecka, Noah Graham, Bill Baptist/NBAE via Getty Images)
Memphis owner Michael Heisley talked to Yahoo's Adrian Wojnarowski about the trade of Pau Gasol (which Heisley has previously said was his own doing) that made the Lakers into title contenders:
When much of the league was determined to make a serious bid for the 7-footer, how could Memphis settle so long before the February trade deadline for such a paltry offer out of the Lakers?

For the first time, even Heisley wondered whether his general manager, Chris Wallace, blew it by caving so soon to the Lakers.

"I don't know if I got the most value," Heisley confessed. "Maybe our people should've shopped (Gasol) more and maybe we would've gotten more, done a better deal. Maybe Chris did call every team in the league. I don't think he did, but maybe he should've..."