June, 29, 2012
6/29/12
8:47
PM ET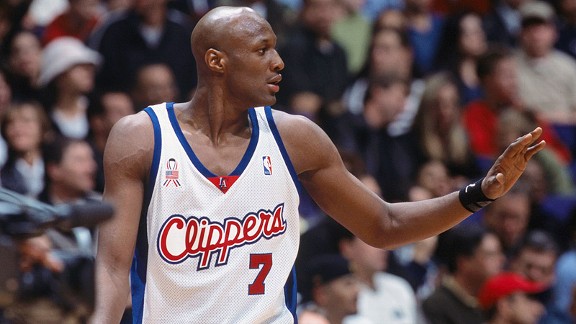 Jeff Gross/Getty Images Sport
Nine years after departing "basketball hell" in Los Angeles, Lamar Odom checks back in.
Lamar Odom's parting from the Los Angeles Clippers in August 2003 was a no-brainer, both financially and personally.
The Clippers had offered Odom a three-year, $24 million contract, but after losing out on Clippers restricted free agent Elton Brand, Pat Riley swooped in. The Heat laid an offer sheet of six years and $65 million at Odom's feet, and the then-23-year-old curio promptly switched coasts.
For most organizations, losing a talented fourth overall pick after only four seasons would have been devastating, but that wasn't really the case for the Clippers.
Summer 2003 was morning in ClipperLand.
Earlier that offseason, the team had matched $124 million worth of offer sheets for Brand and Corey Maggette, and brought on Mike Dunleavy to be the new coach. The team still had a stable of other promising youngsters age 23 or younger in Quentin Richardson, Chris Wilcox and Keyon Dooling, and had drafted a big man out of Central Michigan named Chris Kaman.
Out of nowhere, the Clippers looked like a serious NBA organization, and, from the perspective of then-general manager Elgin Baylor, Odom wasn't a serious person. Baylor described the rationale behind not matching Miami's offer for Odom as "based on issues of character and other risks involved." Although Dunleavy would have loved the opportunity to move a player of Odom's versatility around the chess board, Odom was the most expendable of the Clippers' young assets.
It didn't start that way for Odom with the Clippers. He displayed ball skills uncommon for a 20-year-old big man and was the first of the team's young stars to ignite some buzz around early-'00s Clippers. Odom posted a Player Efficiency Rating of 16.8 and 18.9 respectively in his first two seasons. In February 2002, he, Brand and Darius Miles posed on the cover of SLAM as the Clippers enjoyed a couple of seasons as one of the league's more likable baby squads. Had League Pass existed 10 years ago, the Clips would have been an attractive candidate to fill out your slate of "Choice" teams, and Odom was a big part of that.
Still, Odom was one of those young players for whom
potential
soon became a millstone. During his four-year tenure with the Clippers, Odom served two drug suspensions. After two productive seasons out of the gate, his efficiency dropped in his third and fourth seasons with the Clippers (13.7 and 14.6 PER), during which he played a combined 78 games as he battled a series of injuries.
When the Clippers didn't offer Brand, Maggette and Odom hefty extensions during the 2002 offseason, Brand and Maggette might have stewed quietly, but when the ball was tipped that fall, they killed and maimed for coach Alvin Gentry. In contrast, Odom's mood grew morose, and his shot selection was confounding. He loafed on defense and often appeared lost when the ball went into Brand on the left block. The injuries played a factor, but Odom's disengagement was more serious.
When Miami came knocking with the big offer sheet, Odom let it be known publicly that he wanted the Clippers to let him walk. On his way out the door, Odom referred to his time with the Clippers as "basketball hell."
Nine years is a lifetime in the NBA. Since leaving the Clippers as a callow talent brimming with potential, Odom established himself as the game's premier multiskilled big man, won two rings with the Los Angeles Lakers, used his celebrity as an adjunct Kardashian to cross over as a star on the shlock-ertainment circuit, consumed heaping amounts of refined sugar before games and, over time, emerged as one of the more interesting personalities in the league.
Odom was devastated in December when he was included in the post-lockout trade that would have sent him from the Lakers to New Orleans. He was so distraught that, when the deal wasn't consummated, the Lakers felt compelled to send him away to Dallas for nothing rather than deal with the emotional fallout. In Dallas, Odom found another basketball hell, one of his own creation. After a series of incidents, the Mavericks finally told him to take a walk a few weeks before the playoffs. Mark Cuban called it "addition by subtraction."
Thirteen years after the Clippers made him the cornerstone of their future, Odom returns to them for what will effectively be a nine-month stint. He was acquired by the team Friday in a four-way deal that shipped Mo Williams to Utah, the rights to second-round Clippers draft pick Furkan Aldemir to Houston and some cap relief to Dallas.
In both composition and reputation, the organization looks different than it did in the spring of 2003. Odom will join a team, anchored by Chris Paul and Blake Griffin, that's instilled a solid culture under Vinny Del Negro. Most of all, after decades of building for an uncertain future, the Clippers' only measure of success in 2012-13 will be present success.
What can Odom do for the Clippers? Running the numbers to project what he will contribute is an exercise in futility. Odom's 12th season in the NBA was statistically his best -- his 13th the worst. Season No. 14 likely will fall somewhere in between, a precarious balancing act between Odom's ingenuity and his temperament.
If Odom can revitalize his interest in the game, he can thrive as the Clippers' first big off the bench. If need be, he can play a handful of minutes at the small forward spot behind Caron Butler and operate as a distributor on a second unit that will need a player or two to keep the ball moving.
Odom can start, sub, pass, slash, score, facilitate and defend -- but we knew all that. In fact, the Clippers were the first to learn about Odom's range of skills. More than a decade later, they hope to finally profit from their original investment.
May, 28, 2012
5/28/12
2:39
PM ET
By ESPN Stats & Information
ESPN.com
Archive
Greg M. Cooper/US PresswireLeBron James averages 30.2 points in his postseason career in the Conference Finals.


The
Boston Celtics
and
Miami Heat
square off in Game 1 tonight (ESPN, 8:30 ET) in what is the third postseason meeting of all time between these two squads. Boston defeated Miami 4-1 in 2010 in the first round, while the Heat beat the Celtics 4-1 in last season's conference semifinals.
Tonight will be crucial, as the winner of Game 1 in the conference finals has gone on to win the series 80 percent (88-22) of the time in NBA history. The Celtics won the 2011-12 regular season series 3-1, but
Mario Chalmers
is the only one of the projected Game 1 starters to have started in all four meetings this season.
The Heat have performed well in these situations under coach Erik Spoelstra. According to the Elias Sports Bureau, Miami is 5-0 in playoff series opening games at home under Spoelstra, and only four other head coaches in NBA history were 5-0 or better in series-opening home games: Doug Moe (8-0), Mike Dunleavy (6-0), Fred Schaus (5-0) and Bill Russell (5-0).
More good news for Heat fans:
LeBron James
has averaged 30.2 points in his postseason career in the conference finals, his highest scoring output of any postseason round. James has also averaged 27.1 points per game in 18 career postseason games against the Celtics.
Teammate
Dwyane Wade
has been even better against Boston, however. In 10 career postseason games, Wade has averaged 31.7 points against the Celtics, his highest against any team.
One aspect to watch for will be when the duo is in transition. James (72) and Wade (57) are ranked first and second in individual transition points this postseason, and the Heat are 7-0 this postseason when they score at least 14 transition points.
Boston, meanwhile, has had to combat history to even reach this stage in the playoffs. According to Elias, the Celtics are just the fourth team since the ABA-NBA merger in 1976-77 to make the conference finals after entering the All-Star break under .500. The last team to accomplish the feat was the
Phoenix Suns
in 1983-84 (lost to the
Los Angeles Lakers
4-2 in the conference finals).
Much of the Celtics' postseason success has been thanks to
Kevin Garnett
, who has increased his offensive production this postseason. He is averaging a double-double and has already recorded six games this postseason with at least 20 points and 10 rebounds.
Teammate
Rajon Rondo
has also been key, having recorded at least 11 assists in nine of his 12 games this postseason. Rondo also has nine career postseason triple-doubles, second-most among active players and tied for the fourth-most all time. Rondo's nine triple-doubles have all come in the last four postseasons and are more than all other NBA players combined over that span (seven).
January, 6, 2011
1/06/11
7:51
PM ET

By J.A. Adande
ESPN.com
Archive
There's only one consistent theme that emerges from the latest filings obtained by ESPN.com in Elgin Baylor's wrongful termination lawsuit against the Clippers: getting owner Donald Sterling to spend money on players is a daunting prospect.
Declarations from Baylor, the Clippers' former general manager, and Mike Dunleavy, the coach who took over Baylor's general manager duties before Dunleavy lost both jobs, were included in Baylor's response to the Clippers' motions for summary judgment. The Clippers' legal action, filed in November, had essentially asked the court to dismiss Baylor's suit in which he claims he was fired on the basis of age and race.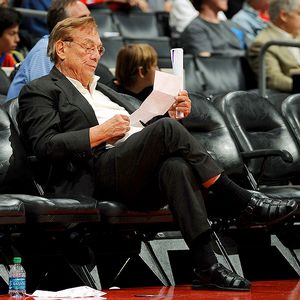 Noah Graham/NBAE/Getty Images
Donald Sterling could have some fresh courtside reading of legal documents to do.
Clipper legal counsel Robert Platt stated through the team that he would withhold comment until reviewing the documents himself.
Dunleavy said that Sterling "always told me to give him a great player and he'd pay for him, but there were several players I wanted to sign and we didn't because Sterling refused to spend the money. The Clippers' biggest concern was making a profit."
Baylor took it a step further, adding a racial component.
"Because of the Clippers unwillingness to fairly compensate African-American players we lost a lot of good talent, including Danny Manning, Charles Smith, Michael Cage, Ron Harper, Dominique Wilkins, [Corey] Maggette and others," Baylor said.
Baylor, who describes himself as "an African-American male over the age of 40" in the declaration (the NBA Register lists his date of birth as Sept. 16, 1934), said that Sterling and Clippers president Andy Roeser made references to his age for the last 10 years of his employment and questioned his ability to still do his job.
Dunleavy referenced similar comments about Baylor's age from the Clippers' upper management, but Dunleavy stated, "The entire time that I worked for the Clippers, I never saw any change in Elgin's ability to perform his duties, or that his age had any adverse impact on the performance of his duties and responsibilities as general manager."
Dunleavy said that during a team trip to Russia in 2006, Clippers officials were dining at a restaurant called Rasputin when Platt, the Clippers' attorney, told him that the Clippers thought Baylor was too old and they were going to fire him. While the Clippers told Dunleavy that Baylor only wanted to work for two more years, Dunleavy said he never heard that from Baylor, and Baylor said in his statement that he never told anyone that he wanted to retire.
Meanwhile, Dunleavy participated in the diminishing of Baylor's power, as Dunleavy took over trade talks and draft selections, while Roeser negotiated contracts. Baylor said it reached the point that he learned of team transactions through media reports.
Dunleavy said he wanted to make Baylor aware of his increased role, but he never did so directly. Dunleavy said he tried to bring it up in a meeting with Sterling, Roeser and Baylor, but was cut off by Sterling.
Dunleavy said that "I always tried to keep Elgin in the loop and let him know what I was doing", but Baylor said he was caught off guard when Neil Olshey (whom Baylor described as "a protégé of Mike Dunleavy") was named the new director of player personnel instead of Baylor's choice, Gary Sachs.
"There were other instances where Dunleavy negotiated deals that I learned about through the media," Baylor said.
Olshey took over the general manager job from Dunleavy last season, after Dunleavy had already been relieved of his coaching duties.
Baylor, who worked for the Clippers as an executive from 1986 to 2008, said he received only one raise in his final 16 years. He was most upset that after the team reached the second round of the playoffs in 2006 he did not receive a pay raise, while Dunleavy received a contract extension and Roeser was promoted.
Then there was this non-sequitur paragraph:
"While ignoring my suggestions and isolating me from decisions customarily reserved for general managers, the Clippers attempted to place the blame for the team's failures on me," Baylor said in the declaration. "During this same period, players Sam Cassell, Elton Brand and Corey Maggette complained to me that DONALD STERLING would bring women into the locker room after games, while the players were showering, and make comments such as, 'Look at those beautiful black bodies.' I brought this to Sterling's attention, but he continued to bring women into the locker room."
November, 9, 2010
11/09/10
9:57
PM ET
By ESPN Stats & Info
ESPN.com
Archive

While the
Indiana Pacers
have not had much about which to get excited over the last few years, the team's third-quarter output on Tuesday certainly fit the bill.
The Pacers scored a team record 54 points in the third quarter, tied for the fourth most in any quarter in NBA history. The team's 144 total points on the night is one shy of the Pacers NBA home record of 145 set back in 1991. But what was perhaps most fascinating about the record scoring spree was not how much they ended up with, but
how
the Pacers got there.
The Pacers hit 13-14 (92.9 percent) from outside the paint in the third quarter. They entered the game shooting 35.1 percent from outside the paint this season. They hit 12-13 from 19 or more feet from the basket. The Pacers made all eight field goals from inside of 10 feet and all five field goals on layups and dunks. Mike Dunleavy went for 24 points in the quarter alone, despite not scoring above 16 points in an entire game entering Tuesday.
The Pacers made their first 20 field goal attempts in the third quarter before, amazingly, missing the 21st attempt.
Josh McRoberts
did miss the 21st and final shot of what would have been a perfect quarter for the Pacers. In fact, McRoberts played 12 minutes in the quarter (tied for the most on the team), went 0-1 from the field and 0-2 from the line in a quarter in which the rest of his team combined for 54 points and 20-20 from the field. It's wasn't all bad for McRoberts, though; he still had a productive game, grabbing 10 rebounds to go with five assists and a blocked shot. His plus/minus of +25 was the 2nd-highest of any player.
March, 10, 2010
3/10/10
12:44
AM ET
When the Los Angeles Clippers relieved him of his head coaching duties nearly five weeks ago, Mike Dunleavy conceded that his team needed to hear from a fresh voice. Dunleavy moved upstairs in his role as general manager and readied himself for the trading deadline and the June draft. He took a bow after the Clippers were able wipe $5.5 million off the books at the deadline to put themselves in position to extend a massive contract in the 2010 free agency chase, and scheduled scouting trips to get an up close look at this year's crop of college talent. Dunleavy was slated to be in Greensboro this weekend to catch the ACC Tournament. On Tuesday, those plans came to abrupt halt as the organization completely disassociated itself from Dunleavy. Clippers' assistant general manager Neil Olshey will assume the position of GM.
Olshey's route to the top echelon of the Clippers organization is fascinating. He first arrived in Los Angeles as an actor, having appeared on a couple of ABC soap operas that taped in New York City. Once he came west, Olshey continued to work as a commercial actor, but ultimately ended up in the local high school basketball coaching ranks. He held an assistant coaching job at powerhouse Artesia High School, which has produced a bevy of talent in recent years, from Jason Kapono to James Harden. In 2001, Olshey landed at SFX, Arn Tellem and David Falk's agency, where he served as director of player development and prepped the company's clients for pre-draft workouts.
When Dunleavy got the head coaching job with the Clippers in 2003, Tellem recommended Olshey for a position. Olshey was hired by the Clippers as director of player development, the same title he held at SFX. From there, Olshey moved up the ranks. He assisted Dunleavy on the bench during the 2004-05 season, and was elevated to director of player personnel a season later. Once Elgin Baylor was ousted as general manager in favor of Mike Dunleavy in October 2008, Olshey was promoted to the role of assistant general manager, a job he held until Tuesday, when he claimed the mantle as the Clippers' general manager.
Sources around the league maintain that with Dunleavy focused primarily on his coaching responsibilities, Olshey has been the main pipeline into the Clippers' organization for a while now. Though Dunleavy -- and Clippers president Andy Roeser above him -- had veto power over any personnel moves, Olshey was the guy you called when you wanted to discuss deals. If that premise is correct, then Olshey had a big hand in getting the Clippers where they want to be financially heading into the summer.
The Clippers are placing a premium on flexibility as they strip their personnel down to the bare essentials in preparation for an active offseason. Only Baron Davis, Eric Gordon, Blake Griffin, Chris Kaman and DeAndre Jordan are under contract for 2010-11, and the organization will have somewhere in the neighborhood of $15-16 million to spend in free agency. Removing Dunleavy further enables them to reformulate, rebrand and reload.
In addition to extending a hefty contract to an elite player, might the Clippers also be looking for big names to preside in the front office and on the sidelines? Hours before the Clippers announced Dunleavy's termination,
a report surfaced that Larry Brown reached out to the Clippers
regarding a possible return to Los Angeles. Given the outcome in Charlotte's ownership situation, the likelihood of Brown taking a second tour with the Clippers seems unlikely, but the rumor does speak to the Clippers' desire for a complete makeover.
The timing of Dunleavy's firing is interesting considering that the Clippers are playing out the string under an interim coach. Evidently, the organization decided that even with one year remaining on his four-year, $22 million contract extension, Dunleavy's presence no longer offered value for the future. Personnel decisions of this magnitude are usually couched in conciliatory language, but the Clippers' press release was especially pointed:
The organization has determined that the goal of building a winning team is best served by making this decision at this time. The team has simply not made sufficient progress during Dunleavy's seven-year tenure. The Clippers want to win now. This transition, in conjunction with a full commitment to dedicate unlimited resources, is designed to accomplish that objective.
The Clippers have placed themselves in a unique and advantageous position. Last month, they signaled that there's a potential opportunity for a top free agent to name his own coach. On Tuesday, that hypothetical was extended even further -- name your own coach
and
general manager.
If only the Clippers could say, "Name your owner."
February, 18, 2010
2/18/10
2:45
AM ET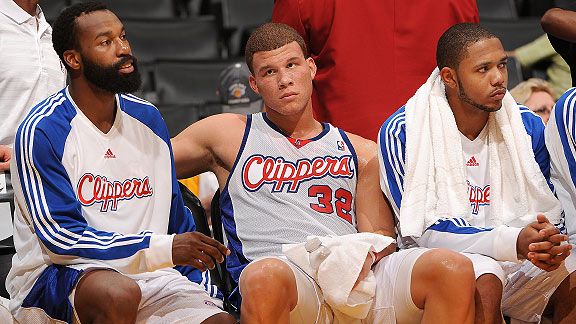 Andrew D. Bernstein/NBAE via Getty Images
Gentlemen, slide over and make some room.
For the better part of a year, the Los Angeles Clippers have been lurking around the fringes of the 2010 free agent marketplace. For bored sportswriters and denizens of NBA message boards, the Clippers have been a fun hypothetical in the LeBron James parlor game -- whether James has any interest in the Clippers is an entirely other matter.
Wednesday, the realm of possibility became a little bit larger for the Clippers, when they managed to shoehorn themselves into the Antawn Jamison deal. Cleveland's acquisition of their coveted stretch-4 will undoubtedly be the lead story, but the Clippers were somehow able to dump $5.5 million in 2010-11 payroll by offloading Al Thornton onto the Wizards and Sebastian Telfair onto the Cavaliers. In the process, the Clippers have established themselves as a legitimate contender for the league's elite free agents this summer.
The Clippers will enter the summer with a skeletal roster consisting of only Baron Davis, Eric Gordon, Blake Griffin, Chris Kaman and DeAndre Jordan -- with just over $33 million in salary commitments. Assuming they keep their first-round draft pick and depending on the salary cap, the Clippers will have somewhere in the neighborhood of $15-$16 million range to spend, which will be about the amount needed to pay a maximum salary, maybe a bit shy.
For Mike Dunleavy,
the primary target seems obvious enough
. But what happens in the likely event that LeBron James chooses to stay in Cleveland or points east? It's that old dilemma: If cap space exists on a spreadsheet and there's no one around to claim it, does it really exist?
Plan A: King's Ransom
Ironically, the deal that freed up all that cap space for the Clippers also reduced the likelihood that LeBron James will leave Cleveland next summer. The Clippers will certainly make their pitch to James and his representatives, and they have a good case to make. Few other teams would be able to offer James a more attractive supporting cast than the Clippers. Despite the drawbacks of sharing the market with Kobe Bryant, southern California is certainly big enough for two superstars. The ancillary benefits that come with being in Los Angeles are also alluring, from the lifestyle to the media spotlight that's essential for cultivating a global brand. The Clippers offer one other intriguing sweetener: the opportunity for James to have enormous (unilateral?) input on whom he'd like patrolling the sidelines as head coach.
There are a host of reasons why James would decline the Clippers' overtures -- ownership, history, the Lakers' long shadow -- but the primary one is that he's happy where he is. Still, the Clippers are obliged to ask.
Plan B: Max Junior
For a team that's struggling, the Clippers are remarkably well accounted for at multiple positions on the floor. Davis, their point guard, has three years and nearly $42 million remaining on his contract. Center Chris Kaman is locked in for another two years. Both Eric Gordon and Blake Griffin are good, young assets at the shooting guard and power forward spots respectively. The Clippers need someone to play small forward, but after James, the crop of free agents at that position is very thin. At 6-foot-7, Joe Johnson could man the 3 spot for the Clippers, but it's believed that Johnson isn't looking to return west. After Johnson, the field drops off considerably. Rudy Gay has the size and length the Clippers covet at that spot, but the Clippers would probably have to overpay to lure Gay away from Memphis, where he'll be a restricted free agent.
If the Clippers detect that Dwyane Wade is less than happy with Miami's recovery plan, would they present an offer? Even with Eric Gordon maturing nicely, the chance to bring a top 5 player to work alongside Blake Griffin would be too tempting to not explore.
Plan C: Superabsorbent
The deal that netted the Clippers their cap savings proved that high-priced players under contract are readily available so long as you're willing to soak up the remaining years and dollars. If the Clippers strike out with their top free agent targets, there might be ample opportunity to pluck a top-shelf producer from a team that wants to move into rebuilding mode or become more flexible.
The Clippers could potentially execute a sign-and-trade deal for a small forward, someone like Luol Deng or, if they're sold on his clean bill of health, Tayshaun Prince. It would require some creative maneuvering by the Clippers, but preying on a struggling franchise looking to shed some long-term liabilities could present them with a far better value than overpaying for a free agent.
Plan D: Building Blocks
The Clippers' starting four (plus Jordan) provides the franchise with a strong foundation, but they won't have another soul under contract after the season ends. Is $15 million best spent on a single savior, or are Clippers better off apportioning that money to multiple players?
It's a risky proposition in a league that's ruled by superstars. In recent memory, only the 2003-04 Pistons have been able to win a title without a surefire superstar.
The road to hell is often paved with midlevel players
. The counterargument goes that a healthy Blake Griffin is slated for superstardom. And the best way to foster that process? Surround Griffin with smart, efficient, productive glue guys who understand their roles. That might not win the Clippers the Larry O'Brien trophy, but you have to walk before you can run. A group of high-IQ competitors with a strong work ethic under a new coach would set the Clippers on that road.
Plan K
For the record, Kobe Bryant has yet to reach an extension with the Los Angeles Lakers.
Carry on.
Plan Aborted
Whether the Clippers are able to lure a dynamic superstar with a max contract or ink multiple players to smaller deals, there are any number of things that could go wrong for the franchise. Since arriving in Westwood as a freshman, Davis has played for exactly one coach he's fully embraced. Kaman was selected to his first All-Star Game this month, but Clippers fans are well aware of how precarious his progress is. The Clippers have high expectations for Griffin, but he has yet to suit up for his first regular-season NBA game.
And those retail purchases? They have a way of looking much more attractive in the storefront window than they do in real life.
February, 17, 2010
2/17/10
12:03
AM ET

By Henry Abbott
ESPN.com
Archive
Mike Dunleavy, the Clippers coach, recently lost his job. Luckily, he had a spare: general manager.
And in that role, he is being judged for trading arguably his best player -- Marcus Camby -- for a backup point guard in Steve Blake, and a small forward coming off a major injury in Travis Outlaw.
The Clippers' end of the trade has been praised as a solid and affordable way to get younger and more skilled; it has also been condemned as a cheap way to drum up some cash while dooming the season.
Dunleavy was a guest on the Fox Sports West broadcast of the Blazers vs. Clippers, and used the airtime to intimate that it's conceivable he just pulled off an amazingly lopsided trade -- because Camby could return to the Clippers as a free agent this summer.
In a phone interview from Los Angeles, Dunleavy spoke sparingly of his two new players. Instead he made clear how much he still likes Marcus Camby, and that it's a possibility the big man -- reportedly very happy in Los Angeles -- would return in the summer.
By moving Marcus we got a couple of young players that we'll have Bird rights for going into the future. We preserve our cap space as well, going into next summer. And, you know, Marcus Camby's a guy that we loved and appreciated and uh ... you know ... you never know how things are going to end up. But, uh, we're very excited about the players that we're adding to our team and what it does for us moving forward.
It's worth pointing out that it would be against League rules for a GM to have a handshake deal on a future contract, and I'm implying nothing of the sort here. But because of, for instance, the severe penalties Minnesota once paid for secret deals with Joe Smith, GMs go to trouble to avoid saying anything that might sound at all like this or that free agent has a particular destiny.
In the context of a total ban on such talk, however, Dunleavy was coy and suggestive. A Camby return is clearly on his mind, and something he encourages Clipper fans to consider. He added:
We love Marcus as a player. Everything about his game and what he does for this team. Like I said, we'll see how things go forward. Marcus is a free agent. We have a lot of cap space this summer -- and you never know how things work out.
This emphasis certainly does change a bit how the trade can be judged. Perhaps it's best to give it an incomplete for now. And if one or both of the new Clippers prove to be long term solutions at positions of need, and Camby returns, then there's no choice but to give Dunleavy an A+.
February, 6, 2010
2/06/10
4:38
PM ET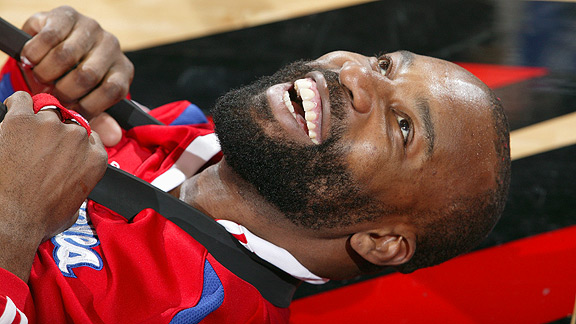 Andrew D. Bernstein/NBAE via Getty Images
Baron Davis is ready to take over the play calling in Los Angeles.
The thing you have to realize about Baron Davis is that this wasn't what he had in mind.
When he signed with the Clippers in July 2008, it was with a certain expectation: Davis would return to his beloved hometown and join forces with Elton Brand to form a powerful pick-and-roll tandem. Though Davis and Brand have vastly different temperaments, they share a common worldview and had a close friendship. Both are like-minded renaissance men with expansive passions that extend far beyond the basketball court. They've each dabbled in the entertainment industry, with
successful
results
. Each places a premium on philanthropic causes. For all of Davis' moodiness on the court, he rarely, if ever, turns down a request to perform charitable deeds in the community he loves dearly.
Davis was prepared to create beautiful music with one of his best friends ... but you know
the rest of the story
. Brand snuck out of town in the middle of the night to sign a lucrative $82 million deal with Philadelphia, leaving Davis at the altar.
All of the sudden, Davis was alone in Los Angeles, assigned to a coach in Mike Dunleavy notorious for being a half-court fundamentalist. Former Clippers forward Corey Maggette, who feuded with Dunleavy, told Tim Kawakami of the San Jose Mercury News at Warriors media day in September 2008 that
Davis was in for "a rude awakening
" in Los Angeles. Maggette said that he expected his first call from Davis to be, "Man, I didn't know we had to do all this! I didn't know we had to watch film 45 minutes before practice!"
By and large, Maggette's prophesy turned out to be true. The Clippers weren't two weeks into the season before
Davis told the Los Angeles Times' Bill Plaschke
that Dunleavy's thick playbook was cramping his style. "There's definitely a disconnect there. I've never had so many plays in my entire career," said Davis. "I have to figure out how to fit more into his system, and he has to figure out how to relax his grip."
Not the first time
In November 2007, Davis' Warriors were in town for an early-season matchup at Staples Center with the Clippers. The Dubs were working out at Davis' old haunt, Pauley Pavilion on the campus of his alma mater, UCLA.
Davis was waxing nostalgic about his days at Pauley
, when he mused, "We should have a banner up there: the only team to make the tournament without a coach." The coach in question at UCLA during Davis' years was the embattled Steve Lavin.
By most accounts, during his formative years in Charlotte, a young Davis had a decent relationship with his first coach, Paul Silas. The same cannot be said for the Hornets coaches who followed Silas. Davis was constantly at odds with Tim Floyd, then Byron Scott. Soon after his trade to the Warriors in 2005,
Davis told the New York Times' William C. Rhoden
, ''Tim Floyd was a guy from college who hadn't won in the league and he still had that college coaching style of a dictatorship. He didn't want to listen. Playing with Coach Scott, it was more like he was a dictator. It was his way or the highway."
Davis and then-Warriors coach Mike Montgomery got along initially, but it wasn't long before Davis clashed with his traditionalist coach. But once Montgomery left Oakland, Davis finally got what he always wanted: The ultimate laissez-faire guerrilla general, Don Nelson. For Davis, Nelson was a godsend, a coach who not only tolerated Davis' freelancing, but designed his game plan to maximize those instincts.
Under Nelson in 2006-07, Davis had a blast. The Warriors led the NBA in pace factor as Nelson allowed Davis to run the show. Davis recorded the highest player efficiency rating (PER) of his career (21.0), and was the catalyst for possibly the greatest upset in NBA postseason history when the Warriors shocked top-seeded Dallas in the first round of the 2007 playoffs. Davis emerged as a folk hero. Celebrities jetted up to Oakland from Los Angeles to witness Davis' electrifying performance. In the six-game series, he averaged 25.3 points per game on a true shooting percentage of 62.2. Although the Warriors bowed out in the conference semifinals to Utah, Davis exploded for
one of the most enduring dunks in recent NBA history
, when he posterized Andrei Kirilenko.
The Nelson/Davis marriage seemed eternal, but in the season that followed the Warriors' improbable playoff run, the bond between the two deteriorated. In the Warriors' penultimate game of the season -- one they had to have to cling to playoff contention -- Nelson benched Davis for the entire second half after Davis put up a stinky 2-for-13 line in the first half and failed to play a lick of defense.
Weeks later, Davis was gone.
A rocky start in Los Angeles
Some of Davis' comments about disconnects with Dunleavy and the heavy volume of x's & o's had real merit. Creative coaches find a way to maximize the strengths of their principal talent, and Davis was hindered somewhat by Dunleavy's commandeering each set from the sidelines. But Davis' worst enemy during his maiden voyage as a Clippers player was his own conditioning, something Davis readily acknowledged following the Clippers' disastrous 19-63 season in 2008-09. Davis was overweight and, by his own admission, lost much of the explosiveness that guided his game in Golden State. He converted only 48 percent of his shots at the rim in 2008-09, and was an indiscriminate chucker off the dribble. It took Davis until February 25 to shoot better than 50 percent in a game.
More generally, he appeared uninspired and lackadaisical on the court. His defensive rating of 111 was the worst of his career, some of it attributable to his being out of shape, some of it due to disinterest. There were even questions that Davis might be intentionally trying to sabotage Dunleavy's tenure with the team, a sentiment expressed to me by more than one executive around the league.
Davis is a thoughtful, expressive guy who isn't afraid to be introspective. To his credit, he was self-critical about his first year with the Clippers. In August, he told Ramona Shelburne, "I sucked. I sucked last year. I admit it. What (else) should I say?"
Sophomore Surge


Even while he logged arguably the worst season of his career, life in Los Angeles treated Davis well. He was close to his family and lifelong friends. There were club openings, drinks with the industry crowd at Chateau Marmont, movie premieres and a chance to add to his portfolio of extracurriculars.
None of that erased the embarrassment of his 2008-09 performance, and over the offseason he focused on his conditioning. Davis lost more than 15 pounds and worked out incessantly. At Clippers media day in September, he was absolutely ripped. Once the season started, teammates took notice. Marcus Camby and Eric Gordon never missed an opportunity to talk about Davis' re-dedication. It's one thing to be the titular face of the franchise, but the efficacy of that leadership is hollow unless it's accompanied by on-court performance.
Davis has revived his game. He's raised his PER from a mediocre 14.54 in 2008-09 to an impressive 18.38. His assist rate is the highest of his career. The true shooting percentage is back up over 50 percent. There are fewer ill-advised jumpers and that old explosiveness is back -- Davis is finishing at the rim at a very respectable 56.1 percent clip this season.
The numbers speak for themselves, but beyond the stats, Davis has established himself as a leader both on and off the court. He's cultivated a smooth rhythm with a pick-and-roll partner, Clippers center Chris Kaman. The two mouthy vets have an old married couple vibe to their relationship, but Davis' willingness to deliver the ball how and where his center likes it has been a pivotal part of Kaman's restoration from last season's foot injury. Most nights, Davis has re-committed himself to using his muscular frame to challenge opposing point guards on both ends of the floor. Davis' transition game is the stuff of highlight reels, but his efficiency numbers suggest he's been most potent over the course of the league as a post-up guard. One scout told me that Davis is most dangerous not in the open court, but at the left elbow bullying smaller guards. Despite his preference for winging it, Davis was a willing post player for Dunleavy.
The Clippers' surge in the days before and after New Year's produced a palpable feeling of goodwill around the team.
Davis' buzzer-beater to defeat Boston
on December 27 was his biggest moment as a Clipper. In the stretch that followed, Dunleavy and Davis independently spoke of their growing relationship.
The Clippers' recent slide, including humiliating losses to New Jersey and Minnesota, washed away the good feelings. Davis' old protests against Dunleavy's tight grip on the Clippers' offense and appeals for more freedom to improvise resurfaced. Dunleavy answered back that Davis' desire for a "free-flowing" offense was already a part of the Clippers' game (He was right. The Clippers rank 8th in the League in percentages of possessions used in transition). Dunleavy further argued that an open court offense was contingent on getting defensive stops, something the Clippers weren't doing during their slide.
Although Dunleavy's arguments were logical, Davis was right about this: The Clippers offense was stale and going nowhere. They're 23rd in the league in offensive efficiency, and those half-court sets just weren't producing buckets. On their recent 2-6 road trip, the Clippers topped 100 in offensive efficiency only once -- in their finale against Atlanta, a game in which they surrendered a third-quarter, 13-point lead and lost.
After a six-and-a-half year run, Dunleavy was out as the Clippers' head coach by Thursday afternoon.
It's his team now

On Friday morning at the Clippers training facility in Playa Vista, Davis was in the weight room brimming with energy. As he worked out on the Reebok core board, Davis belted out every rhyme to Makaveli's "Against All Odds." Over in the corner of the gym, Kim Hughes held his first press avail as Clippers interim head coach. Hughes quickly established what kind of offensive blueprint he's drawing up for the Clippers.
"My style would clearly be running," Hughes said, before elaborating on where he departs from Mike Dunleavy. "[Dunleavy] called a lot of plays for our guys and they're very good plays," Hughes said. "I'll give the players a little bit more freedom. Twofold. Because I don't know as many plays as [Dunleavy] does. And I don't think our players want to hear me call a lot of plays. So I'll leave a lot of the play-calling up to Baron … and we will try to push the ball whenever possible."
For Davis, Hughes' vision couldn't be more inviting. When Davis is happy, he's very politic with the media. He managed to heartily endorse Hughes' goals without evoking any residual qualms he had with Dunleavy's system (and praised Dunleavy's legacy at every opportunity).
"We should try to play in transition where we can all benefit from our talents," Davis said. "I think it's going to be up to me to manage the game -- who gets the ball, how we play.
"We definitely want to run more," Davis continued. "I think the element of fun and excitement were far and few in between."
Davis' funhouse opens on Saturday night as a struggling Spurs team, losers of seven of their last 11, comes into Staples Center. The Spurs rank 24th in pace factor. The matchup seems like an optimal opportunity for Davis to initiate his unshackled transition offense. That may mean fewer touches for Kaman, who has stated repeatedly he performs best in Dunleavy's pre-ordained sets, deliberately picking apart slower big men on the block en route to the basket or with kickouts to stationary shooters.
Whether Davis orchestrates an open court free-for-all, or merely splits the difference between Nelson and Dunleavy with some early offense that utilizes Kaman on quick pick-and-pops from 17 feet, one thing is certain: The success and failure of the Clippers from now until April 14 rest on Davis' shoulders. With his former coach now upstairs busying himself with scouting the incoming draft class, Davis can't gripe about the playbook weighing down his knapsack.
He wanted his freedom and now he has it.
December, 1, 2009
12/01/09
11:39
AM ET
By Kevin Arnovitz
Over the season's opening five weeks, two NBA coaches have been fired. On both occasions, the teams' general managers have been called upon to fill the vacancies. First, Hornets GM Jeff Bower took the reins in New Orleans after Byron Scott was let go, and now Nets GM Kiki Vandeweghe will patrol the sidelines for New Jersey beginning with Friday night's game in East Rutherford against Charlotte.
According to Dave D'Alessandro, assuming coaching duties wasn't Vandeweghe's idea
:
The 51-year-old Vandeweghe has never been a coach, and team officials who are not authorized to speak for the Nets say he was initially reluctant to take the job. But Thorn mandated that Vandeweghe occupy that role, if only because his imprint on the roster is indelible, as he is especially close to Devin Harris, Yi Jianlian and Courtney Lee – the three young players acquired for Kidd, Jefferson and Carter.
Back when policy-makers were behind closed door debating the implications of the war in Iraq, Colin Powell reportedly referenced
a Tom Friedman column
, citing the "Pottery Barn rule" as a basis for some of his private skepticism about the war:
"You break it, you own it."
Down in New Orleans, Hornets president
Hugh Weber implicitly evoked the Pottery Barn Rule
at his press conference introducing Bower a few weeks ago:
Through the summer we programmed what that change needed to be to execute at an elite level. We went out and found the players we felt would help us compete an elite level. And yet the team is broken...
Stepping into [the role of head coach] is Jeff Bower. And why Jeff is the right person, right now are twofold: One, not only is he a talented developer of talent, a coach, a tactician, but he's also the one who's the architect for this team. If you want to talk about accountability, and you want to talk about being held accountable to get results that this team was built to get, nobody wants it more than Jeff. He has built this team in a manner of assembling players, not only for their style of play, but for their principles and character. And for us, to have an immediate impact this season, we felt a change of someone who's been involved with the process the entire time, who's worked arm in arm with the coaching staff, who understands these players and their needs was the right choice...
I told Jeff the genie is out of the bottle. Nobody can say he didn't have the right players. Jeff has hand-selected this team and we like the idea that now Jeff will be held accountable for the results.
The Hornets stated that Bower doesn't wear the interim label, which made him the second head coaches in the league to have official dual GM/head coach roles (Mike Dunleavy of the Clippers is the other). Vandeweghe is currently being regarded as an interim coach, but in the meantime, he'll become the third official hybrid, and fourth if you count Gregg Popovich, who has decision-making authority in San Antonio.
At a time when NBA teams are stressed financially, it's cheaper to shop in-house for a replacement. But a tough economic climate also prompts corporations to squeeze higher productivity and accountability from their workers. When you listen to Weber and the reports out of New Jersey, it's clear that team executives are demanding that those who've been toting around the shopping baskets take direct ownership of what's inside.
November, 21, 2009
11/21/09
2:53
AM ET
LOS ANGELES -- If ever there were a team and a head coach in desperate need of a win, the Los Angeles Clippers and Mike Dunleavy were it.

The Clippers had lost five of six games entering Friday night's game against the Denver Nuggets, all without their most efficient player, second-year guard Eric Gordon. Over that stretch, which included a couple of embarrassing blowouts and a gut-wrenching fourth quarter collapse, dark clouds descended over the team. Reports that Dunleavy's job was in serious jeopardy went public, and the malaise that infected the team last season began to surface.

What better antidote for a team on the ropes than a nationally-televised date against the NBA's fourth-ranked offense featuring the league's hottest player, Carmelo Anthony?

The Clippers couldn't do much to stop Anthony, but they showed Denver a variety of effective looks on defense, and got some timely shooting from their wings and reserve unit. That was enough to hold off Denver 106-99 at Staples Center.

To no one's surprise -- least of all the Clippers -- Anthony dominated the game with 37 points (12-for-20 from the field; 12-for-13 from the stripe).

"It's such a tough matchup with 'Melo, trying to get anyone to guard him," Dunleavy said. "So we mixed up our double-teams, our locations, we mixed up the clock with our zone work. We tried to keep him a little off-balanced, but he's so tough. He makes shots. He's got that hang time. He draws fouls."

Al Thornton, who drew the defensive assignment on Anthony for much of the night, was even more emphatic.

"I think he's the best offensive player in the league, hands down this year," Thornton said. "He can do everything out there on that court."

The Clippers countered with a balanced, more fluid attack, racking up 28 assists on the 36 field goals, and earned 36 free throw attempts in the process.

For a team that's sleepwalked through much of the past two weeks, the Clippers played an intelligent brand of basketball. They got into the bonus early. They worked Al Thornton in the post against a smaller Arron Afflalo. Rasual Butler, mired in a miserable slump over the losing streak while straining to create shots for himself (not his strong suit), returned to doing what he does best -- spot-up shooting. He led the Clips with 27 points, draining four of nine from beyond the arc.

Most of all for a team that occasionally has trouble getting on the same page, the Clippers communicated on the defensive end.

"The guys did a great job of talking," Mardy Collins, who relieved Thornton on Operation 'Melo, said. "That allowed us to make good decisions on defense."

After the game, the Clippers coaching staff was huddled in the assistant coaches' office studying film, examining the tea leaves, gleaning what they could from a satisfying victory. Whether the Clippers' win over an elite Western power is enough to reverse the tide remains an uncertainty. Eric Gordon's strained groin will keep him sidelined for at least a few more games, and rookie Blake Griffin won't return before December 15.

Those concerns aside, Mike Dunleavy should have his best night of sleep in weeks.
Posted by Kevin Arnovitz
The Los Angeles Clippers introduced Rasual Butler this afternoon to the local media at their training facility in Playa Vista. For those keeping a tally of what's become of Zach Randolph, Clippers general manager and head coach Mike Dunleavy has now spun him off for the following:
Rasual Butler (1 year, $3.95M)
Craig Smith (1 year, $2.5M)
Sebastian Telfair (2 years, $5.2M, the second year a $2.7M player option)
Mark Madsen (1 year, $2.84M)
A remaining trade exception for $3.36M
$14.63M in salary savings for 2010-11, assuming Telfair picks up his option
A spot in the starting lineup at the power forward for Blake Griffin
There are no marquee names on that list, and nobody who can match Randolph's raw numbers, but judging from Dunleavy's mood on Monday afternoon, he's over the moon that he's been able to parlay arguably his worst blunder as general manager -- the acquisition of Randolph -- into a collection of cheap, complementary assets and tremendous financial flexibility.
The Clippers are almost certain to improve upon their 19 wins of last season. To what extent they'll be in factor in the Western Conference playoff race is anyone's guess. But if Dunleavy the GM has accomplished nothing else, he's starting to cobble together a roster that looks a lot more workable to Dunleavy the coach.
Dunleavy likes to post his guards, and has been imploring the small -- but brawny -- Eric Gordon to develop a post game, something he showed off in Las Vegas. With Butler, Dunleavy gets a lanky swingmen whom he can use in that capacity.
"If you're a 2-guard and you're 6-7, we can throw you down in the post some," Dunleavy said.
Less discussed, but more relevant is whether Dunleavy will act on his impulse as a tactician: Start Butler ahead of Al Thornton.
"We'll figure out what makes the best sense for us," Dunleavy said. "Coming into training camp, it'll be pretty wide open."
Dunleavy has coveted a Bowen-model small forward ever since arriving in Los Angeles. He took on defensive stopper Quinton Ross as a project, but Ross was never able to develop a perimeter shot that could stretch defenses. Instead, Dunleavy has had to cope with Corey Maggette and now Thornton. Both are capable creators for themselves, but ball-stoppers, defensive liabilities -- and endless sources of frustration for Dunleavy. Butler is no Bruce Bowen, but he's the corner sniper (45% from there), and long perimeter defender Dunleavy's been after.
Few teams will come into the season with more elastic expectations than the Clippers. So much is uncertain: Blake Griffin's ceiling in his rookie season; Baron Davis' health and resolve; Chris Kaman's ability to bounce back from injury; Eric Gordon's progress.
Toward the end of his media session, Dunleavy spoke about the physical regimen he requires of his players -- their body fat targets and conditioning programs. He also described a torturous, 60-second, three-man weave drill he had to perform himself as a rookie more than 30 years ago.
"If you can do that," Dunleavy said, "then you're in shape."
Dunleavy paused, then added wistfully, "Last year, I don't think we ever got to it. Period."
July, 24, 2009
7/24/09
10:39
AM ET
Posted by Kevin Arnovitz
No kid in the history of high school athletics saw his young career chronicled with more fanfare than Sebastian Telfair. Ian O'Connor's The Jump, and Jonathan Hock's documentary Through the Fire both captured Telfair's senior year at Abraham Lincoln High School in Coney Island, where Telfair was preparing himself to be basketball's next great phenom. Before Telfair ever suited up in an NBA uniform -- he was drafted 13th overall by Portland in the 2004 draft -- he'd already secured a eight-digit endorsement deal with Adidas, and appeared on the cover of Sports Illustrated.
Thursday afternoon, Sebastian Telfair was introduced as a member of the Los Angeles Clippers, his fourth team in a five-year NBA career. The module on the front page of the Clippers' website highlighting the press conference features a picture of Craig Smith -- Telfair's teammate in Minnesota, who was part of the deal between the T-Wolves and the Clippers. To find Telfair, you have to click on the hyperlink of the story, which will first take you to a video in which Clippers coach Mike Dunleavy refers to Telfair as his new backup point guard. Finally, in the video carousel below, you'll find Telfair's interview.
Expectations are among the most hardest things in life to manage, and Telfair's attempts to live up to the hype surrounding his amateur career have been difficult. He's still only 24, but his career 38.9 percent field goal percentage and 13.4 points per 40 minutes have relegated him to secondary status, at least for the time being.
Following his press conference with the Los Angeles media, Telfair addressed issues past and present with TrueHoop:
July, 14, 2009
7/14/09
12:37
AM ET
Posted by Kevin Arnovitz
Moments prior to Blake Griffin's NBA debut, the Los Angeles Clippers' brass was lined up courtside, smiling widely like expectant parents. And if the Thomas & Mack Center in Las Vegas weren't a smoke-free facility, they would've been lighting up stogies two minutes into the Clippers' Summer League game against the Los Angeles Lakers.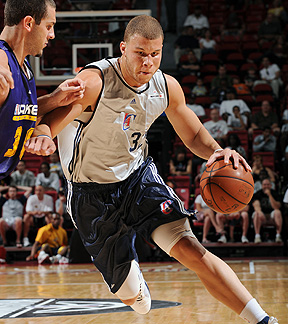 Blake Griffin: Scoring Every Which Way
(Garrett Ellwood/NBA via Getty Images)
Griffin, the Clips' prized rookie and the first overall pick in this year's NBA draft, delivered seven points in the game's first three possessions. In his first professional set, Griffin hooked up with second-year guard Eric Gordon for a pick-and-roll that resulted in an easy layup for the rookie.
"That should be the bread and butter this coming year," Gordon said. "We're both young guys and we should have a great chemistry."
The Gordon-Griffin connection was just the opening salvo in Griffin's 27-point, 12-rebound attack, but it was a huge relief for the rookie who was antsy to play competitive basketball for the first time since suiting up for Oklahoma in the NCAA tournament last spring.
"I really wanted to hit my first layup to take the edge off a little bit," Griffin said. "I kind of settled down on my jumpers."
You could say that.
Though Griffin hit a grand total of three 3-pointers in his two-year college career, he followed up that first layup Monday night by moving out to the perimeter for his next two buckets. On the Clippers' second possession, Griffin got the ball from guard Mike Taylor, absorbed hard contact from Lakers big man Ben McCauley, squared up and went glass from 15. He bested that the next trip down with a silky 3-pointer.
What got into Griffin?
It might have something to do with the fact that Clippers coach Mike Dunleavy actually stopped practice the other day to implore the rookie to launch the ball when he's got an open look.
"I caught one almost in the same position, passed it up, and he stopped me and said, 'Shoot the ball. I'm not going to get mad if you take a wide-open shot,'" Griffin recounted. "So I'm trying to get into that mindset."
Griffin has been plugging away to refine his outside shot. In a league increasingly dominated by power forwards who can do more than just throw their weight around inside of 15 feet, he knows he'll have to develop a face-up game if he wants to live up to his promise.
"The kid's been working like crazy on his outside shot," Dunleavy said. "Yesterday in practice, he hit a 20-footer, then a 3-pointer to end one of the games, and made probably six jumpers over 20 feet."
Griffin finished 11-of-15 from the field, and those 11 shots came every which way. He worked familiar territory on the right block. He pulled down offensive rebounds and muscled up putbacks. He fired turnaround hook shots. He even ignited a solo, coast-to-coast break to punctuate his performance in the fourth quarter. Granted, Griffin will draw tougher assignments this fall than McCauley and David Monds, but the range of skills the rookie displayed Monday night was impressive.
"He did everything we expected him to do," Dunleavy said. "For a guy like him, it's hard to have a bad game because he plays so hard and does so many things. He's very unselfish and he draws a lot of attention. Tonight, he made the plays to the right people at the right time and got them easy scores."
Along those lines, Griffin repeatedly laid out hard screens for Gordon and Taylor, precisely the sort of grunt work that the Clippers sorely missed last season at the power forward spot. Twice when he got doubled in the right post, Griffin whipped sharp interior passes to open teammates.
On defense, Griffin was the most vocal presence on the floor for the Clippers, playing traffic cop on every defensive set. He let his guards know when screens were coming, and called out defensive assignments in transition.
"I did a lot of that last year in college," Griffin said. "This year I have to step it up even more because it will help me out, and if I talk I'm more aware of everything that's going on around me."
Awareness wasn't a strong suit of the Clippers last season. They finished 19-63, and dead last in the league in offensive efficiency. Although injuries played a measurable role in the team's struggles, their nightly routine was marred, above all, by laziness and a lack of intensity.
Griffin brings no such deficit to the court. If anything, the rookie was overly keyed up for his first game. After his early scoring spurt, Griffin racked up a couple of careless turnovers -- a function of playing too fast. As he went back to the bench at the end of the first quarter, the coaching staff had a tip for him.
"Just relax and have fun," Griffin said.