October, 26, 2011
10/26/11
3:54
PM ET

By Kevin Arnovitz
ESPN.com
Archive
I had so much fun reading Kelly Dwyer's homage to Scottie Pippen that I got right back in line and read it again: "Scottie Pippen was a basketball genius, and in nearly 13 years of covering this league in written form, I don't think I've ever used the phrase 'basketball genius' in any way that wasn't the opposite of sincerity. Scottie couldn't articulate it. He probably couldn't draw it up for you, because how can you approximate momentum and attack and improvisation with a dry erase board and pen? He couldn't tell the teammate where to go in the next dead ball, because the 'where to go' and 'what to do' don't matter when you're not stopping or working in a set position. You can try to run, mistake activity for achievement, but you can't hide from what's inside of you. You don't know, like Scottie knows. You don't see what Scottie sees."
Kevin Pelton of Basketball Prospectus measures where Pippen ranks among the greats of the 1990s. One of many interesting observations: "The biggest factor working against Pippen was his relatively short prime."
Matt McHale of By the Horns charts how Pippen ended up in Chicago: "On November 12, 1986, the New York Knicks traded their 1987 1st round draft pick along with a 1990 2nd round draft pick (Steve Henson) to the Seattle Supersonics for Gerald Henderson and a 1987 1st round draft pick (Mark Jackson).Then, on June 22, 1987, the Seattle Supersonics traded the draft pick they got from the Knicks (which would become Scottie) along with their 1989 1st round draft pick (Jeff Sanders) to the Chicago Bulls for Olden Polynice, a 1988 2nd round draft pick (Sylvester Gray) and a 1989 1st round draft pick (B.J. Armstrong, who was traded right back to the Bulls for Brad Sellers, whom Pippen made obsolete)."
Andrew Sharp of SB Nation believes the Basketball Hall of Fame should be expanded to accommodate a "greatest teams" wing.
Economist Tyler Cowen writes that one of the most difficult questions he's ever been asked is "Which is the most underrated statistic for judging the value of an NBA player?" Dave Berri gives it a whirl at The Wages of Wins Journal.
Bret LaGree of Hoopinion reminds us that for all the hand-wringing of the Hawks' propensity to stagnate at key moments, they had the 2nd most efficient offense in the NBA last season, rarely coughing up the ball. How will Larry Drew's blueprint for a motion offense impact that?
Huge congratulations to Zach McCann, founder of Orlando Magic Daily -- the TrueHoop Network's charter Magic blog. McCann has been promoted by the Orlando Sentinel to be a multimedia reporter and will cover the Magic on a full-time basis. This won't be your ordinary beat. McCann will be telling the story of the Magic's 2010-11 season through video, blogging, live chat and social media.
Any media outlet that covers professional basketball seriously would be fortunate to have Eric Freeman in its ranks. The Baseline will be sorely missed.
Someone let NBA Playbook's Sebastian Pruiti loose with FastDraw, the technology many of the league's scouts use to diagram plays on their laptops from the arena. Pruiti diagrams some of his favorite last-possession sets from last season.
It's tough to find good footage of some of the game's historic greats. Bethlehem Shoals and Tom Ziller do a really nice job of bringing Gus Johnson and Walt Bellamy to life, despite not having seen much of them beyond a few video clips.
Jermaine O'Neal hasn't spent a lot of time at the power forward position in recent seasons. Zach Lowe of Celtics Hub wonders if Boston should be concerned.
Fun snapshots from Jazz fan photo night, circa 1988.
Sham Sports offers up some fine print from some of the summer's free agency contracts. Takeaway: There's a whole lot more unguaranteed money on NBA spreadsheets than most of us realize.
Chris Paul pays a visit to Lil Wayne, who is serving time on Rikers Island.
Rockets rookie Patrick Patterson tweets: "Just had crazy eye opener. Post Defense ain't no joke. Look forward to getting better. Had a good workout. Great bunch of guys n leaders."
Morris Almond's general view of tattoos: "I could never be mad at some well done ink. but I never understood the ability to just walk in and get one off the wall."
July, 22, 2010
7/22/10
12:08
PM ET

By Kevin Arnovitz
ESPN.com
Archive
July, 15, 2010
7/15/10
12:47
AM ET
By D.J. Foster
Chase Budinger is no stranger to being the most athletic guy in the gym. As a top-rated basketball and volleyball prospect in high school, Budinger was loathed by opponents (including your narrator) for being graced with otherworldly athletic ability. The way he could run the floor and soar through the air effortlessly seemed downright unfair, especially from a ground-level perspective.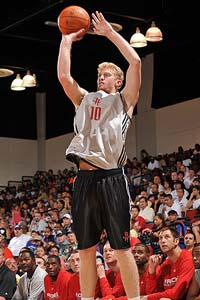 Garrett Ellwood/NBAE/Getty Images
Is Chase Budinger starting to put it all together?
The playing field in the NBA, of course, is a little more even. Summer league has its quirks, but there are plenty of ridiculously athletic prospects who can jump out of the gym and knock down an open 3 floating around. Budinger fits that billing, but he also has a firm grasp on what it will take for him to rise above the pack. Essentially, Budinger knows he needs to start playing chess instead of checkers.
"You always have to be thinking on the court," Budinger said. "That was probably one of the biggest things I learned right when I got to the NBA. On the defensive end you have to be in the right spot at the right time, because if you're not there then it's going to be tough."
Long gone are the days of players getting by solely on their athletic ability. After a solid yet unspectacular rookie campaign with the Rockets, Budinger came to Vegas, to loosely quote Jackie Chan, more focused on his focus.
"There were games last year where I should have been more aggressive," Budinger said. "In summer league, I had to be more aggressive."
That level of assertiveness often unseen in his rookie season came out in spades on Wednesday as Budinger led all scorers with 24 points on 9-for-14 shooting. The tell-tale play for Budinger came late in the fourth quarter when for a brief moment he seemed to piece it all together.
It started with an impressive display of leaping -- over a crowd of defenders to snatch a defensive rebound. Then came the aggressiveness when he immediately pushed the ball up the middle of the floor. Lastly came a wonderful show of confidence that manifested itself in a fancy around-the-back dribble and gorgeous no-look pass to a streaking Jermaine Taylor for the flush.
You could almost see the light bulb pop over Budinger's bushy head of hair as he ran back up the court. It was the perfect blending of ability and confidence and of body and mind that the Rockets can only hope Budinger can retain going forward.
DeMarcus Cousins filled the boxscore with 22 points, including the game-winner, but it's a single technical that's going to raise a few eyebrows in Sacramento. Cousins got mixed up with T-Wolves big man Greg Stiemsma in the first half and earned a quick T from the ref after a little jaw-jackin'. As the Kings went to the tunnel at halftime, assistant coach Mario Elie had some words for Cousins after watching his brush with the Wisconsin big man: "He's trying to get a job, you already have a job. Forget him."
Ish Smith is a 5-foot-11 point guard who weighs 155 pounds. In his senior season at Wake Forest, he shot a DeAndre Jordan-esque 49.4 percent from the free throw line while converting on 22.2 percent of his three-point attempts. Can a player like that survive in the NBA? Just maybe. Smith showed impeccable court vision, speed, and playmaking abilities, running the Rockets offense more like a seasoned vet than a prospect. Smith had six assists to just one turnover in 29 minutes and went a long way in showing he's not a completely incompetent scorer by going 7-for-8 from the field.
D-League all-star and former Utah Jazz draft pick Morris Almond continues to get buckets wherever he goes. The 25-year old scored 14 points in just 14 minutes for Chicago in their shellacking of the Clippers, showing off impressive range and a good first step in the process. Almond is too selfish for most offensive systems, but a bad team looking for instant points off the bench could do much worse for themselves.
The young Clippers can't hit the broad side of a barn right now, scoring just 50 points against the Bulls on 28 percent shooting from the field. Meanwhile, superfan "Clipper Darrell" remained right at 100 percent on his "U-G-L-Y" chants producing laughter from opposing players on the free-throw line.
The path for Joey Dorsey has already been paved by Raptors' dirty worker and possible future teammate Reggie Evans. Dorsey is a nasty screen-setter and a banger on the block, but similar to Evans, it's his offensive rebounding that could be his meal ticket on the next level. The big man out of Memphis is averaging nearly five offensive rebounds a game in Vegas through his first three games. Dorsey's solid frame and nasty disposition could lend itself well to a Toronto team short on toughness.
The best musical selection of the day by the DJ at the Cox Pavilion? The SpongeBob SquarePants theme song, played in its entirety. Media row was completely baffled.
Courtesy of Land O' Lakers, here's David Thorpe on Derrick Caracter: "The guy clearly should have been a first-round pick. A bunch of teams messed up. There's really no other way of saying it."
John Krolik of Cavs The Blog on J.J. Hickson: "Hickson had one of the most dominant performances of Summer League, putting in 34 points on 12-19 shooting from the field. He's really trying to add new aspects to his game, and the results have been fairly mixed. On one possession, he'll drain a smooth step-back jumper. On the next, he'll walk trying to execute a post move or force an off-balance shot over a waiting defender. What really allowed Hickson to dominate was the Cavs' focus on getting out in the open-court. Fast-break basketball has been the buzzword for the Cavs during this summer, and Hickson really thrives in an up-and-down game. He ran the court all day long, and he was usually rewarded with a pass for an easy dunk or layup, either from the break or the spacing the threat of early offense created. He's so much better as an athlete than most summer league bigs are, and it really shows in the uptempo game."
Jeremy Schmidt of Bucksketball on John Lucas: "In 60 career NBA games, Lucas has hit exactly one quarter of his 3-point attempts. But his last NBA game came in 2007. Since then, Lucas has turned himself into quite a shooter, hitting 44 percent of his threes in a 2008-09 D-League stint and then 45 percent last year with the Shanghai Sharks of the Chinese Basketball Association. Lucas was showing off that refined stroke Wednesday night, hitting all six of his 3-point shots en route to 25 points."
Joe Gerrity of Hornets247 on J.R. Smith: "Smith surprised the Vegas crowd by not only showing up at the Cox Pavilion, but actually suiting up and playing significant time against the Houston Rockets. Asked why, Smith cited his 'love of the game.' Early on he knocked down a silky smooth three-pointer and a rolled in a sweet reverse-layup in traffic, but that would do it for the

Nuggets

sixth-man. Despite the lax summer league defense, Smith finished 2-for-12 from the floor (1-for-8 from deep) with four fouls, three turnovers, two rebounds and only a single assist."
Surya Fernandez of Hot Hot Hoops on Garret Siler: "With Duke guard Jon Scheyer going home due to an eye injury and most of the starters for the Miami Heat summer league roster taking the day off, there wasn't much to take out of the Heat's game against the Detroit Pistons. Well, maybe there was one 'big' reason to watch: The steady play of 6-foot-11, 304 pound Garret Siler who is raising his game with each opportunity. Over on the Pistons end, center Greg Monroe also had a solid game by getting to the free-throw line regularly. Most impressively, both big men kept their turnovers down while remaining active in the paint -- a rarity in summer league where most bigs try to do too much and commit unforced errors."
John Krolik of Cavs The Blog on Christian Eyenga: "Eyenga is invisible for long stretches of play, but he does have his moments. He had an offensive rebound and putback where he just came from out of nowhere, and a crushing fast-break tomahawk that took the air out of the building. He's a ways away from harnessing his talent, but it's there."
Kevin Arnovitz on Alonzo Gee: "Never underestimate the power of being the most assertive guy on the floor in a summer league bout. That's how the Spurs' Alonzo Gee was able to dominate the floor in the Hawks-Spurs game. Not only was Gee the focal point of the offense, he was also the guy making sure the 5-man unit was on the same page coming out of a timeout. In transition -- but increasingly in the half court -- Gee can change direction on a dime. Pressuring him out on the perimeter just gives him an invitation to drive. If you play off Gee, he'll bear down, draw contact and finish."