TrueHoop:

Morris Peterson
Posted by Kevin Arnovitz
NBA training camps are still a few weeks away, but rosters around the league are gradually taking shape. Once David Lee, Allen Iverson and Ramon Sessions have jobs, we'll be ready to go.
The favorites in each conference are easy to spot -- they bear a striking resemblance to the teams that were playing on Memorial Day weekend. But which teams are lurking beneath the surface, ready to assume the role of improbable contender?
If they can avoid the injury bug, and the chemistry works just right, here are three teams that could emerge as success stories come spring:

Dallas Mavericks
It's easy to forget just how dominant the Dallas Mavericks were when they took the floor against the eighth-seeded Warriors on a Sunday evening in April 2007. This was the last game of the postseason's opening weekend, a perfunctory item of business for the Mavs en route to a conference finals matchup against the Suns or the Spurs.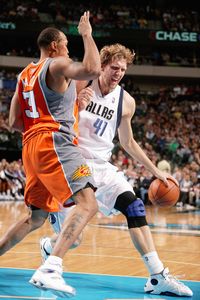 Can this pair inflict serious damage in a brutal Western Conference? (Garrett Ellwood/NBAE/Getty Images)
Dallas was one year removed from an NBA Finals appearance, and had just piled up 67 wins in the regular season. Only five teams in NBA history had recorded more Ws in a single season. Dirk Nowitzki was the presumptive MVP (and would go on to win the award).
The Mavs' epic collapse in that first-round series against the Warriors has been well-documented, and over the next two seasons, Dallas would descend from its perch into the Western Conference's upper-middle class.
What's interesting about that falloff is how many of the elements of that Mavs team remain intact today -- to say nothing of the quality pieces that have been added since. 67 wins isn't ancient history; we're talking
two
seasons ago.
Dirk Nowitzki, at 31, is the same age as Kobe Bryant. While Nowitzki is unlikely to reproduce his 2006-07 exploits, he remains one of the league's best players. Jason Terry has been a model of consistency for Dallas and had arguably the most efficient season of his career as the Mavs' super sub in 2008-09. Josh Howard is only 29. When healthy, he's still one of the more flexible swingmen in the game and a lockdown defender. In 2006-07, J.J. Barea logged fewer than 200 minutes, but he's become a spark plug for the Mavs' quality second unit ever since.
With Jason Kidd settling nicely into the role of veteran facilitator (and surprisingly efficient shooter), the franchise doubled down on the bet that its solid core could maximize what's left of Nowitzki's prime. The Mavs landed Shawn Marion.
Like Howard, Marion is versatile, freakish, and mercurial. Defensively, he can stay in front of speedy point guards, bother face-up power forwards, chase spot-up shooters, and clean up on the boards. Offensively, Marion's downward trajectory the past season and a half began the moment he left Phoenix. Coincidence -- or evidence that his talents demand the care of a veteran, pass-first point guard?
When you consider those assets, then throw in sensible additions like Drew Gooden and Kris Humphries to bolster Erick Dampier on the block, defensive stopper Quinton Ross, and a pair of intriguing rookies, and the Mavs appear ...
stacked
.
There is no shortage of nightmarish scenarios by which Dallas' gamble can implode. Nowitzki, Kidd, Marion, Terry, and Dampier are all on the wrong side of 30. Howard is accustomed to missing about 15 games a year, and being less than 100 percent for long stretches. The Mavs' best offensive lineup (Kidd-Terry-Howard-Marion-Nowitzki) won't give them much interior defense, and the loss of Brandon Bass makes them a less energetic bunch.
But with Kidd at the point, and a roster of flexible guys who can each serve multiple functions on the floor, Dallas has the potential to develop into a grizzled, selfless squad with the kind of mental edge that just might have been the missing ingredient 28 months ago.
---

Chicago Bulls
How much should we read into Chicago's classic seven-game series against Boston? Was the Bulls' gutsy performance a harbinger of things to come, or was it lightning in a bottle? Did they graduate into a team that knows how to scramble defenses with a legitimate pick-and-roll game, or were they just lucky to encounter a crippled Celtics team ill-suited to deal with their quickness and athleticism?
Those aren't the only imperative questions for Chicago. Even if we conclude that they came of age in April, is it fair to expect them to continue their progress without their top scorer, Ben Gordon, whom they lost to Detroit?
Short answer: Yes.
Although there will be nights when Gordon's fearlessness as a sniper will be missed, the Bulls might be better served long-term by the three-guard rotation of Derrick Rose, Kirk Hinrich, and John Salmons. With Gordon out of the picture, Rose can assert himself both as distributor and scorer. He's a transcendent young point guard, and one that should flourish now that his running mates in the backcourt are a little more pliable.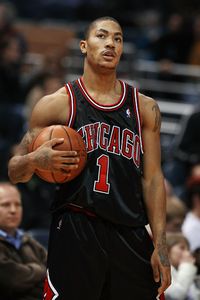 Derrick Rose: Season Two
(Photo by Jonathan Daniel/Getty Images)
Both Rose and Hinrich are expert ballhandlers -- and Hinrich is very comfortable off the ball as well. Salmons, along with Hinrich, is capable of defending all three perimeter positions, can score on pin-downs, slash to the rack, and fire from 3-point range (41.7 percent).
There are good reasons sleepers are sleepers, and the caveats for Chicago reside in its frontcourt. Start at small forward, where Luol Deng will be returning from a stress fracture in his right leg. He last played in a game on February 28. When 100 percent, Deng is a rangy, athletic force in transition and in the halfcourt, where his height and handle give him a big advantage over most defenders at the small forward. When Deng is on his game, he's also the correct answer to the question, "Who's going to make up for Ben Gordon's 20.7 points per game?"
There's a reason why any time a marquee big man comes on the market, he's rumored to be headed to Chicago. But desperate as the Bulls are for help on a threat on the block, we saw something interesting down the stretch last season. Rather than resign themselves to their lack of post scoring, the Bulls began to use Joakim Noah and Tyrus Thomas in pick and roll schemes, where their agility allowed them to beat their defenders to the rim. So long as Thomas resisted launching jump shots, it worked.
Noah doesn't have the jumper to be a high-post center (like backup Brad Miller), but his passing and mobility around the hoop might be enough in Chicago's offense. Thomas, of course, is the wild card. A composite of his finest moments last season would show him as a defensive ace, capable of creating opportunities for himself off the dribble, hitting a face-up jumper, and blocking any shot in medium proximity.
If
that highlight reel can become a reality,
if
Deng can bounce back, and
if
Rose can continue his co
urse as one of the game's best young playmakers, the Bulls might turn their novelty act from last spring into a long-run production in 2010.
---

New Orleans Hornets
Here's one you can play by the pool:
Name the best starting power forward/center tandems in the NBA.
You could begin with Pau Gasol and Andrew Bynum. After the Lakers' duo, there's only one other pair of starters who each recorded a player efficiency rating greater than 18:
David West and Emeka Okafor.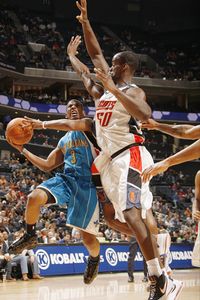 For Emeka Okafor, playing alongside Chris Paul will be more pleasant than playing against him. (Photo by Kent Smith/NBAE via Getty Images)
After playing in relative obscurity with Charlotte over the past five seasons, Okafor moves to New Orleans, where he'll fill Tyson Chandler's spot at center for the Hornets. Chandler was a sentimental favorite in New Orleans -- both of the fan base in the Crescent City and his teammates. The Chris Paul to Tyson Chandler alley-oop was one of the NBA's signature highlight reel snippets.
Okafor may not be an elite center, but he's a very, very good big man and a more complete player than Chandler. For an extensive look at New Orleans' upgrade, take a look at
John Hollinger's must-read comparison of Okafor and Chandler
.
One of the most productive frontcourt tandems in the league and arguably
the best
point guard on the planet: That's a pretty nice place to start a season, don't you think?
Paul, West, and Okafor might not warrant a "Big Three" designation, but we can agree that they qualify as some sort of troika -- particularly in a scheme that's as dependent on the pick-and-roll as the Hornets offense.
Unfortunately for New Orleans, the NBA game demands that its best teams field a couple of guys on the wing who can create and/or defend -- preferably both -- and this is where the Hornets have depth problems.
As a catch-and-shoot artist, Peja Stojakovic is about as good as we've seen over the past decade, but he's coming off his worst season since the Clinton administration and is increasingly having trouble staying healthy. The Hornets signed James Posey a season ago to play the same role in New Orleans that he did in the Celtics' 2008 championship run -- defensive and 3-point specialist. Posey is good for 25 minutes per night in that capacity, but not dynamic enough to play much more. Morris Peterson was once thought to be a solution on the wing, but injury and age have slowed him. Those three guys -- each born in 1977 -- won't get them the 96 minutes per night they need from the off-guard and small forward.
The Hornets don't need All-Stars at the wings, but they must get solid production. Enter enigmatic, third-year forward Julian Wright.
Whereas the Hornets' aforementioned veterans have trouble doing much more offensively than spot up and shoot, Wright -- on his better nights -- can do everything
but
shoot. Though he was a menace defensively for the Hornets -- the team was about five points stingier with him on the court -- Wright took a step back last season offensively. The gifts are apparent, but there's still a lot of refinement needed, both mechanically and mentally.
The elasticity of the Hornets' win total isn't all on Wright and the health of the vets. If Summer League is any indication (that's a much longer conversation, isn't it?), New Orleans scored with its selection of guards Darren Collison and Marcus Thornton in the draft. And forward Ike Diogu was a savvy pickup on the cheap, as well.
One summer ago, the Hornets were being sized up as contenders after a spirited playoff run. This summer, much of the discussion surrounding the team has included the phrase "luxury tax threshold." While general manager Jeff Bower was attending to the spreadsheet, it's possible he constructed a team poised to surprise next season.
I spent almost all day in New Orleans East.
This is not a glamorous part of New Orleans. Do you remember when, after Katrina, there were some plans publicized to turn some residential areas into park land? Some of that talk was about this part of the city.
This morning we drove to a church out on Lake Forest Boulevard that is more or less surrounded by ruined houses. The Apostolic Outreach Center, led by Pastor Raymond R. Watson Jr., is still in the process of being rebuilt itself. This church is in a neighborhood where getting a FEMA Trailer Park on the back lot was considered an upgrade. Many of the houses we saw driving around were entirely abandoned.
But the church was hopping today. The likes of Elgin Baylor, Bo Kimble, Jonathan Bender, Moses Malone, Robert Pack, ML Carr, and others were there with team t-shirts on, distributing groceries to those who came by looking for them.
The groceries were donated by Fairway. You have never seen so many Terra Chips in your life.
A lot of what happened there was caught on camera, and we'll be showing you some of that. But a few things that you probably won't see:
Jonathan Bender, from nearby Picayune, is doing well even after his NBA career was cut short. He is making a full-time job out of Hurricane Katrina recovery in this area. Christmas present programs, helping a school refurbish their moldy library, reading stories to kids, running free basketball camps ... he's putting his time and his treasure to work for this region. Bender has been buying damaged properties, hiring contractors to fix them up, and then renting them out. It's amazing how uplifting it is to see houses getting fixed up on blocks where everything is abandoned. He invited us on a trip to see some of his nearby projects, but time was tight. We might get to see it anyway, however -- Bender recently hired a production company to make a pilot of a reality show about such things called Brand New Orleans.
Aaron James played for the New Orleans Jazz during their five years here. Elgin Baylor was his coach. Before practice, he says, they would play half-court. We're talking about hundreds, if not thousands of games through the years. During that time, James was never once on a team that beat Baylor. "I call him 'the great,'" says James, "because he is great at everything he does." (Insert joke here about Clipper personnel decisions through the years.)
Remember the great Bo Kimble? He has a full career for himself after basketball -- investing in real estate and all kinds of things. But he says he's good to go -- ready to return to the NBA. He's playing recreationally three times a week, and says his jumper is better than ever. He joked about talking to Elgin Baylor about a job with the Clippers, whom, he points out, "could use a little scoring. At least, I thought he was joking. Then later, I actually saw him talking to Elgin Baylor in a fairly serious fashion.
Swinging Hammers with NBA Players
Early this afternoon I was "embedded" with Chris Duhon as he went about helping to build houses in East New Orleas for Habitat for Humanity. (You have have seen NBA TV this morning broadcasting live from a wet and muddy homebuilding site. That's where we went.)
The first step was meeting up with the players in the Sheraton lobby. Then we got on a bus to the work site. As one of a handful of "embedded" journalists, I got to ride on the player bus, instead of the media bus.
Didn't seem like that big of a deal. I plopped down in the back, and then Duhon sat down across the aisle. Paul Pierce sat in front of him, Kobe Bryant in front of him, Doc Rivers was there, Amare Stoudemire, Gerald Green, Morris Peterson ... All the other journalists were in the front. But I was back there feeling small.
It occured to me that this was probably the kind of experience you could get a lot of money for at a charity auction. I was there probably close to an hour over the whole round-trip.
Topics of conversation covered included:
Debate about whether or not Gerald Green had a chance against Jamario Moon in the dunk contest. Green said that if he lost, it would be because he beat himself. Pierce said a lot of things, but one of them was that if Green could pass the ball between his legs twice on one jump, then Pierce would retire from basketball. Pierce also offered to jump off a second-floor balcony we passed by. I swear I have seen this dunk by somebody on YouTube. But Green sure wasn't suggesting he could do it.
To put it mildly, these players seemed to think the Lakers got the good end of the Pau Gasol deal. Gasol, it is interesting to note, never seemed to get such remarkable reviews when he played for Memphis. But now that he's a Laker, no one can stop singing his praises. Context is everything.
Kobe Bryant has a big ol' Darth Vader style brace protecting that pinkie.
Several players remembered playing against Jeff Hornacek, and remembered, with a certain admiration, that they hated playing against him. He is credited with having been a certain kind of old school tough and physical that isn't allowed anymore. He was also, they say, pretty darned sneaky, especially in how and when he'd slip to the hoop.
Then we got to the building site. It was raining pretty hard, so some of the superstars (cough, Amare, cough) found jobs inside. But Doc Rivers, Paul Pierce, Chris Duhon, Gerald Green, and Morris Peterson worked outside. Kobe Bryant did too, but he made the rounds, visiting various pretty much all of the workers all over the site. He assigned himself the task of getting the lumber in the proper place, as he really could not swing a hammer with that pinkie like it is. I'll say here, that Kobe was great in this role -- with a lot of people moving all over, he was really able to quickly figure out what had to be done and how he could be most helpful.
It was my first time on a Habitat for Humanity site, and it was amazingly cool. They have the wood all marked, the tools all in place, so pretty much anyone who can swing a hammer can quickly assemble an entire interior wall. With so much prep work already done, and many hands, it's incredibly satisfying to be able to construct big things like houses really quickly.
I worked with the players. It was a little weird -- most of the media just watched. And there was a lot of media there. But man, the NBA invited us to help rebuild New Orleans! Highlight of my trip! I wanted to pound some nails, and feel like I had at least done a little something. (So there are probably a lot of photos out there of famous NBA people and some random bald blogger. But whatever.)
It was also a chance to do something physical, which is always welcome on business trips. And I can pound some nails! I have done such things before, and I was ready, unlike some NBA players. Doc Rivers -- he can pound nails. I think Pierce was pretty good. I'm not vouching for anybody else, but we did get three or four interior walls constructed in something like 40 minutes.
Once I got a rhythm going, I was humming along. Didn't bend nails, didn't miss and hit my finger. Didn't split the wood. It was all good.
But then, towards the end of our short time on the job, I put a nail closer to a knot than I probably should have. It was a little bit of a cocky move. I pounded it pretty hard too, before the nail started to buckle. There were big framing nails, too wide to power through this knot. It was my first nailing error of the day. I turned the hammer around and started to yank it out.
Then here comes Gerald Green. "Need some help with that?" He said it with just the slightest suggestion that maybe this was a job for a professional.
I had found that the nail wasn't budging at all, and was only too happy to stand back and let Green crank on it -- especially as 2 x 4 it was pounded into wasn't affixed to anything, so good leverage was hard to come
by.
The man they call G. Green yanked and pulled and grunted for some time. Eventually, the Habitat guy in charge of the project came over and saw that Green's bad nail was the holdup. "Want me to get that?"
Green was only too happy to join me on the sidelines. Kobe Bryant came over to watch, too, as had several TV cameras and photographers. The pro was about to go to work.
He had technique, and power. He used kind of a repeated jackrabbit type yank yank yank but the thing was not moving. "Man," he exclaimed to Gerald, "what'd you do to get that thing in there?"
Decision time. Gerald was getting credited with this work -- was it good work (hard hammering!) or bad work (dumb spot!)? I didn't know. I leaned towards good. And decided not to steal Gerald's thunder, especially when I knew those TV cameras had already had enough of me.
Yank yank yank the guy just kept tearing at it. He cranked and cranked on it, and wondered how the hell G. Green got that nail in there like that.
Then: the whole hammer busted right in half, straight through the handle, just below the head. Nail: still in place. Hammer: done.
I was proud I had been the one that got that nail in there like that. But I let Gerald soak in that pride. My pride. Like Gerald broke the hammer.
I handed the Habitat guy my hammer, which had a metal, instead of a wooden handle. He finished pulling out the nail in silence as the rain fell.
And then Kobe said to Green, of me: Whoa, man. That's cold. He didn't say a word.
Kobe couldn't believe I didn't 'fess up to the tough nail. G. Green got into the act too, ribbing me about that, playing mock victim.
Finally, I say it's cool: I'll take credit for it. But the Habitat guy is gone. And so are the TV cameras. It's too late. The world thinks that Gerald did that. I hereby formally admit: this evening New Orleans East is one hammer down, and it's all my fault.