March, 10, 2011
3/10/11
12:30
AM ET
By ESPN Stats & Info
ESPN.com
Archive
While most of the excitement in March is usually reserved for college basketball players,
Carmelo Anthony
provided a little of his own, and in the process showed exactly why the
New York Knicks
gave up so much to acquire him.

Anthony
After being held under 30 points in each of his first seven games with the Knicks, Anthony (31 points) eclipsed the 30-point mark for the second straight game.
He reached that plateau on his go-ahead field goal with less than one second remaining which broke a tie game and lifted the Knicks past the
Memphis Grizzlies
.
Over the past three seasons Anthony has proven to be one of the most clutch performers in the NBA. He has made eight field goals in the final 10 seconds of games in which his team was tied or trailing by fewer than three points.
Those eight field goals are tied for the second most in the NBA over the last three seasons. Anthony has been efficient as well, converting on 50 percent of those opportunities.
He is now 4-for-6 in such situations this season (1-for-1 with Knicks). Even more enlightening though is what other Knicks had done in these same type situations this season.
Other Knicks have combined to go just 1-for-7 field-goal shooting in such situations.
Raymond Felton
(1-for-2),
Wilson Chandler
(0-for-2) and
Danilo Gallinari
(0-1), the key pieces in the Anthony trade, struggled under those same conditions.
Elsewhere around the NBA:
•
Al Jefferson
did one half-second better than Anthony, as the big man's tip-in buzzer-beater led the
Utah Jazz
past the
Toronto Raptors
. His 34 points were most in a game by a player with a buzzer-beater since
Kobe Bryant
had 39 on New Year's Day 2010.
Jefferson scored all 34 of his points from the field, going 17-of-24 from the floor. According to the Elias Sports Bureau, Jefferson is the first player to score as many as 34 points in a game without making either a three-pointer or a free throw since the Rockets' Hakeem Olajuwon scored 48 points (24-for-40 from the floor) in a loss to the Nuggets on Jan. 30, 1997.
• What else is new?
Kevin Love
extended his double-double streak to 52 games. He notched 10 points and 12 rebounds in the first half alone, the 14th time during the streak he recorded a double-double in the first half.
August, 20, 2010
8/20/10
8:32
PM ET

By Kevin Arnovitz
ESPN.com
Archive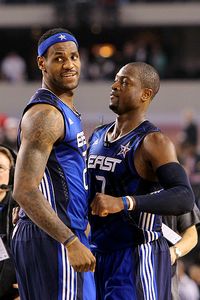 Jed Jacobsohn/Getty Images Sport
Forget about the hoopla in Miami, and let's talk about the basketball.
The basketball in Miami
The concentration of talent in Miami has created a dramatic storyline the NBA hasn't seen in years. In late October, the narrative will finally give way to live basketball, as the offseason machinations fade into the background. Fans and observers can debate
whether a team of LeBron James, Dwyane Wade and Chris Bosh in Miami is healthy for the NBA
, and the Heat's first final-possession scenario will likely launch silly arguments about who rightfully deserves to be called "the man" in Miami. Lost in the cacophony of hysteria is the single most fascinating question headed into the 2010-11 season: What will the Miami Heat's 94 or so possessions look like on a nightly basis? How will James play off Wade and vice versa? How do you defend a Wade-James pick-and-roll? Will we see a lineup of Eddie House, Wade, Miller, James and Bosh (talk about the end of positional orthodoxy!)? Will Bosh benefit from the disproportionate attention opposing defenses will have to devote to the perimeter? And how will Bosh handle the more workaday duties of being the big man down low? However you feel about what's transpired since the beginning of July, the experiment being assembled in Miami is a basketball lover's dream. If you find Miami's personnel unlikable, then root like hell for the opposing defense. Either way, you won't be disappointed.
The blueprint in Oklahoma City
The Thunder emerged last season as the most promising young outfit in the NBA. They finished with 50 wins and gave the Lakers their toughest Western Conference playoff series. Then, this offseason, they extended a max contract to Kevin Durant and fortified their bright young core by adding Morris Peterson, Daequan Cook and first-round draft pick Cole Aldrich. In some sense, general manager Sam Presti's decision to essentially stand pat might have been one of the the boldest move of the offseason. Many executives with a talented core and some money to spend would've committed to a high-dollar addition, but Presti stayed the course. He's banking that the maturation of Durant, Russell Westbrook, Jeff Green, James Harden and Serge Ibaka will continue and vault the Thunder over of the scrum in the Western Conference. Is he being realistic? Can the Thunder ride a frontcourt of Green, Nenad Krstic, Ibaka, Nick Collison and Aldrich into the ranks of the NBA elite? Can a team that sustained no major injuries last season decline to add a single major pieces and still pick up 5-10 wins? The answer to these questions will give us an idea of how much "upward trajectory" is worth in the NBA.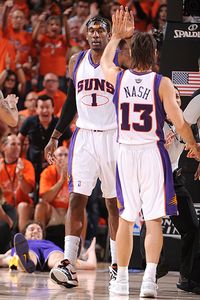 Andrew D. Bernstein/Getty Images Sport
Steve Nash and Amare Stoudemire: Beautiful while it lasted
The power of Nash
Amare Stoudemire provides us with one of the best controlled experiments in recent years.
Watching him run the pick-and-roll with Steve Nash in Phoenix for eight years, we grew to regard Stoudemire as one of the most prolific power forwards of his generation. In New York, Stoudemire will benefit from the presence of coach Mike D'Antoni, who conceived many of the schemes that enabled him to flourish, but will be without Nash for the first time since 2004. How will swapping out Raymond Felton for Nash affect Stoudemire's game? Back in Phoenix, a 36-year-old Nash will have to replicate what he did during his 2005-06 MVP season when Stoudemire missed virtually 79 games -- cobble together an offense with imperfect parts. How Stoudemire performs without Nash as his dance partner and how Phoenix fares with an offense that will be more reminiscent of their 2005-06 season -- when Nash maximized the versatility of Shawn Marion, Boris Diaw and Raja Bell -- will tell us a lot about Nash's enormous impact on the game he plays as beautifully as anyone.
The defense in Chicago
The Boston Celtics' return to the NBA's upper echelon was predicated first and foremost on their defense. They unleashed a pressurized force field designed and implemented by Tom Thibodeau, and ultimately adopted by other teams around the league, including the Los Angeles Lakers. This June, the Bulls tapped Thibodeau to fill their head coaching vacancy. He joins a Bulls team that put together a strong defensive season last season, finishing 10th in efficiency. Skeptics might look at Derrick Rose -- whose defensive instincts are a far cry from Rajon Rondo -- and Carlos Boozer and conclude that Thibodeau doesn't have the personnel to succeed the way he did in Boston. Yet in 2007, Thibodeau took a quintet that featured Ray Allen (who had a horrendous defensive reputation coming from Seattle), an undisciplined big man in Kendrick Perkins, a second-year point guard in Rajon Rondo who'd started only 25 games and made them one of the best defensive units in basketball. With Joakim Noah anchoring the interior, the lanky tandem of Luol Deng and Ronnie Brewer on the wings, Boozer's sharp basketball IQ and Rose's gifts, Thibodeau should have the tools to sculpt a top-5 defense. If the Bulls buy in, we'll have a better understanding whether Thibodeau's kind of tactical expertise is transferable -- and an inkling of just how dangerous the Bulls could be.
The reign in Los Angeles
A calm has set in over Los Angeles, where the Lakers went about their offseason business with all the fanfare of a routine annual checkup. While the rest of the basketball universe was focused in on LeBron James and south Florida, the Lakers quietly added veterans Steve Blake, Matt Barnes and Theo Ratliff and re-upped head coach Phil Jackson. Even when the Lakers were stringing together three consecutive titles at the beginning of the millennium, there was always a swirl of intrigue surrounding the club. That's no longer true, as the Lakers have assumed a posture of professional incumbency the league hasn't seen in quite some time. Will the Lakers ride the precision of their system, the collective experience and poise of their core and the natural attributes of their defense to a fourth straight Finals appearance? Barring serious injury, is there anything that can disrupt the Lakers' rhythm? Is a successful formula ever in danger of becoming predictable?
The patience in Portland
Before the Oklahoma City Thunder became next year's model, the Portland Trail Blazers were on the brink of creating something special. The sketch of a winner was stenciled on the Rose Garden floor -- an all-powerful wing primed to take big shots, a talented power forward oozing with finesse, a defensive and rebounding force in the middle and smart supporting players who embraced their roles. Injuries and disruption turned the 2009-10 campaign into a holding pattern, but the pieces are still in place for the Trail Blazers to achieve. Health remains a concern, as Greg Oden will try to return from a fractured left patella. But if the big man can log 2,000 minutes, Portland should be able to complement their Top-1o offense with the kind of dogged rebounding and efficient defense that made them a popular No. 2 pick headed into last season. The question those with an affection for Portland don't want to ask is, how bright is the team's future if he can't?
The possibility of youth
The appeal of the league's top-rated rookies runs much deeper than individual performance. Their presence can ripple beyond whatever spot on the floor they happen to occupy. Blake Griffin not only has the power to explode to the rim every time he touches the ball, but he also has the potential to transform Baron Davis into the joyful point guard the world fell in love with in the spring of 2007. John Wall's well-honed instincts won't just fill up the box score, but also could revive a fan base in Washington that was teased with meaningful basketball a few years ago, only to watch their franchise return to the wilderness. DeMarcus Cousins could become the Kings' more formidable presence in the frontcourt since Chris Webber left, but more important, he and Tyreke Evans have a chance to redefine what big-small combos can do in the rapidly changing pro game. "Upside" is a word thrown around a lot in June, but watching that potential unfold produces unique findings. And that's why we watch.
August, 20, 2010
8/20/10
11:36
AM ET

By Kevin Arnovitz
ESPN.com
Archive
September, 21, 2009
9/21/09
12:57
PM ET
Posted by Jay Aych, The Painted Area
Team USA got its redemption with Olympic gold in Beijing in 2008. On Sunday, Team España got its redemption with Eurobasket gold in Katowice, Poland.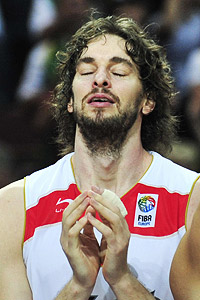 Pau Gasol: On top of the basketball world.
(Aris Messinis/AFP/Getty Images)
After blowing the 2007 Eurobasket gold-medal game to the underdog Russians at home in Madrid, Spain finally won its first Eurobasket title on Sunday, and did so in convincing fashion, beating Serbia 85-63.
Spain thoroughly outplayed Serbia in every facet of the game. The game was never in doubt and the gold medal was essentially wrapped up by halftime. Spain finally ascended to the top of the Euro podium after taking home six silvers and two bronzes all time, including three silvers and a bronze over the past decade.
Speaking of redemption, well, Spanish superstar Pau Gasol's circle is complete as well. After being roundly criticized for his role in the Lakers' defeat in the 2008 Finals, Gasol established himself as arguably one of the NBA's top dozen players in 2008-09, capped off by his skilled performance in L.A.'s championship run through the 2009 Playoffs and Finals. Pau averaged 18.6 points, 9.2 rebounds, and 1.8 blocks while also shooting .600 and doing a fine job defensively against Dwight Howard in the Finals.
Meanwhile, NBA fans may not be as aware that Gasol had unfinished business at the Eurobasket as well, as his disastrous fourth quarter in the 2007 gold-medal game may well have cost Team España the game.
As we wrote in 2007
:
"After such a tremendous Eurobasket for two weeks, Pau Gasol had a nightmare of a final--he just couldn't connect on his interior shots. Some of that has to be credited to the Russian defense, but Pau just could not get shots to fall.

Then he had a 4th quarter he would soon like to have wiped from the records. Pau was 3/8 on FTs and combined that with 3 TOs, including the costly TO with :25 left. All these miscues would have been forgotten if Pau could have knocked down a desperation jumper with :02 left, but his shot just rimmed out. Overall on the night, the Spanish go-to guy was just 4/13 from the floor and 5/12 at the line (14 pts, 14 reb, 3 ast, 3 blk, 5 TO)."
In 2009, Gasol was the dominant player at the Eurobasket, easily winning the tournament MVP for his terrific all-around play over the last two weeks. Pau's stat line for the tourney: 18.7 points, 8.3 rebounds, 2.2 blocks, 1.2 assists, 66 percent from the field, and even four-of-nine from 3-point range. He led the tourney in scoring and blocked shots, and finished second in field goal percentage and rebounds per game.
In '09, Pau kept it going all the way to the end. In the gold-medal game, Gasol led Spain with 18 pts on 8-of-13, 11 rebounds (four offensive) and three blocks. As usual, Pau was also a factor in the interior, deterring scoring at the rim. Gasol didn't do too much damage with his back-to-basket game, as Serbia actually guarded him fairly well on the block with Nenad Krstic and Kosta Perovic. Pau scored a few times finishing in transition, on a couple of drives, finishing on rolls or cuts (two of which were alley-oops).
It's just striking to see how Pau Gasol's basketball world has done a 180 since the deep disappointment of two years ago, when he was a primary reason that Spain lost the Eurobasket as heavy favorites at home, and his NBA career was wallowing in Memphis. Now, it's not crazy to say that Pau Gasol may be headed on a path to the Basketball Hall of Fame.
We noted last week
that the Hall of Fame had set a tenuous precedent by inducting FIBA legends Drazen Petrovic, Dino Meneghin and Drazen Dalipagic. By those standards, Gasol is already a Hall-of-Famer, though guys like Vlade Divac, Toni Kukoc and Arvydas Sabonis fall in the same boat -- qualified by FIBA standards, but falling short by NBA standards -- and it's uncertain how the Hall will treat them.
Also consider that this Lakers team still has some life left in it. If they end up winning another title or two, well, the history of the Hall of Fame has been to reward multiple players from teams with multiple championships (we don't necessarily agree with this, that's just the way it is). Gasol would certainly have to be considered the second-best player of this Lakers team, to date. He's also building some statistical chops, with over 11,000 points and 5,000 rebounds for his NBA career by age 28, with averages of 18.8 points, 8.7 rebounds, 3.2 assists, 1.7 blocks, .520 field goal percentage and a 21.8 Player Efficiency Rating. Give Gasol three rings to go with his FIBA resume, and we think he'll be close to a shoo-in, again based on past precedent.
Make no mistake, Pau Gasol's resume in FIBA play
is
formidable, and it's clear that he is one of the top European players of all time. Pau now adds a 2009 Eurobasket gold to his mantle top, to go along with his 2006 World Championship gold, 2008 Olympic silver, and 2003/2007 Eurobasket silver medals.
Since 2003, Pau has led Spain to three Eurobasket finals, one World Championship, and one Olympic final in six summers of competition (he missed the 2005 Euro due to injury). Every summer Pau has participated in FIBA competition, he has been selected for first team All-Tournament honors. It's no surprise that the rise of the Spanish national team has coincided with the emergence of Pau Gasol as one of the top players in the world.
Gasol consistently shoots above 60 percent at every international tourney, he's always one of the best shot blockers, and is always near the top of the scoring leaderboard -- Pau was the leading scorer at the '03 Euro, '04 Olympics, '08 Olympics & '09 Euro.
In 2003, Pau helped guide Spain to the Eurobasket final, in which they fell to another European basketball power, Lithuania. Pau poured in 36 points and 12 rebounds in the final, and led the tourney in scoring with 26 points per game.

In the 2004 Olympics, Pau led Spain to a 5-0 record in group play. But Spain was unfortunate in that they had to play a talented but underachieving Team USA in the quarterfinals, where they lost by eight points. Pau led the '04 Olympics in scoring (22.4 points per game) and was named first team All-Tournament.
In 2006, Pau led the Spaniards on an undefeated run through the World Championships in Japan. Even though Pau had to sit out the gold-medal game because of a broken foot suffered in the semifinal, he was still was awarded the MVP for his dominant play in the previous games. Pau's stellar stat line for the '06 Worlds: 21 points, nine rebounds and 2.5 blocks per game to go along with 63 percent shooting from the field.
In 2007, Gasol would have been the Euro MVP, if not for the aforementioned fourth-quarter meltdown vs. Russia. Andrei Kirilenko took home the award, but that does not take away how awesome Pau was for the entirety of Eurobasket 2007 -- he averaged 19 points per game on 62 percent field goal shooting, with seven rebounds and 1.8 blocks per game.

As far as 2008, we're pretty sure you remember how Spain pushed a fully stocked Team USA to the brink in Beijing. Pau powered that team with 19.6 points per game on 65 percent field goal shooting and seven rebounds per game, leading the Olympics
in scoring. Gasol scored 21 points in the classic gold-medal game, even though he only played 28 minutes for some strange reason.

Gasol has taken knocks for his inconsistent defensive effort in the NBA in the past, but he has always been a defensive stalwart on the international stage. He's a tremendous defensive presence on the back line for Spain, where he takes full advantage of the FIBA rules. He's been one of the top defenders in international play the last five years or so.
All told, Pau Gasol has taken quite a journey over the past two years, from the depths of two years ago, when he suffered defeat in Madrid and was staring at defeat after defeat in Memphis, to today, when he is standing really quite close to the top of the mountain of the basketball world.

For a full analysis of the gold-medal game, please visit The Painted Area.
September, 18, 2009
9/18/09
10:01
AM ET
After sleepwalking through the preliminary and qualifying rounds, Spain showed up to the knockout stage of Eurobasket '09 with a fury. The Painted Area has the full story of the Spaniards' win over France and Serbia's mild upset of Russia: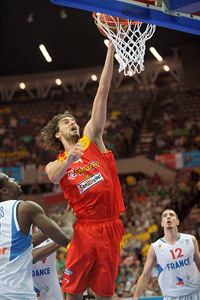 Pau Gasol: 28 and 9 for Spain
(Janek Skarzynski/AFP/Getty Image
Spain 86, France 66
I guess Spain can flip the switch when they want. After appearing aimless in the first four games, Spain sent a message to the rest of the field with this thrashing of previously unbeaten France. Third game in a row where Spain has dominated their opponent.

Spain's scrambling defense gave France major issues, forcing bad passes all over the court. Had little concern for France's perimeter shooting ability which led to unfettered help by Spain defenders. The Gasol Bros. paid very little attention to the French bigs.

Spain never went with much straight zone, but Pau Gasol (also Marc Gasol) was basically playing a one-man zone by sloughing off in the paint the whole game. Anytime a Frenchie tried to get to the rim, there was always a big waiting to help. Parker rarely had easy access to the rim.

Anywhere Tony Parker went with the ball, extra Spanish defenders followed. Actually, anytime the ball went below the free throw line, you had extra Spanish bodies flocking to the ball. This forced the French ball-handlers to pass the ball out under duress, often leading to turnovers (19 French turnovers). Spain had 13 steals, six of which belonged to Rudy Fernandez.

Pau Gasol simply ate up the French bigs. We wondered if Gasol's length would be an issue for the undersized French front line. It was a major issue. Gasol was a major factor in fouling out Ronny Turiaf in 21 minutes. Ali Traore fouled out in eight minutes. Yikes. This was a game where Joakim Noah could have come in handy.

Pau scored in anyway he wanted: multiple rolls to the rim, a few alley-oops, lefty hook, righty hook, turnaround banker, baseline spins and a 18-foot jumper for good measure. A clinic the late, great Pete Newell would have loved.

Most of Rudy Fernandez's 16 points came behind the arc (4-for-6), including three bombs in the first quarter. Juan Navarro wasn't quite as efficient as he was the night before, but he was still a factor. Navarro dropped a patented floater and a runner going across the lane on his way to 11 points and 4 assists.

Ricky Rubio had a solid outing with 8 points and 4 assists -- he even knocked down two 3pts. Ricky did have four turnovers. Was active defensively, not afraid to pressure Parker. Just don't make the mistake that Rubio shut him down, it was a team effort.

Tony Parker had been averaging 18 points per game before this game, but Spain held him to six points. When Parker did get some open looks on the perimeter, he continued to struggle with his jumper -- 1-for-8 from the field. Rarely had much room to operate, too many Spanish defenders shadowing him.

Ronny Turiaf took advantage of the Gasols not paying much attention to him. Ronny cut to the open spaces well to lead Les Bleus in scoring with 12 points on 6-of-9. Boris Diaw was due for a good game after a no-show the previous game, and he did alright with 9 points (all 3-pointers) and 6 rebounds.

France had been playing some of the best defense in the tourney before this matchup. But they had not seen an offense with this type of firepower in the prelim rounds. France had been holding opponents to 40 percent overall shooting, but Spain was able to hit 52 percent from the floor. France is normally a strong rebounding club, but the Spaniards helped their cause with 10 offensive boards to France's 20 defensive rebounds.

Spain gets a day off before they take on the winner of Turkey-Greece. France still has work to do for a 2010 Worlds qualifying spot. France moves into the Loser's Bracket where they will face the loser of the Turk-Greece game. If France wins that game, they earn a trip to the Worlds. If they lose, they might have one more game where they can qualify, but that depends on Turkey's status.

Serbia 79, Russia 68
Serbia scored a decisive victory over the Russians, securing a spot in next summer's 2010 Worlds. Russia came out strong in the first quarter, scoring 24 points to Serbia's 21. But then Russia's offense slammed to a halt.

Serbia took the game over in the second quarter and never relinquished control the rest of the way. The key was a 17-0 run to start the second quarter. Russia didn't score their first points of the second quarter until the 2:30 mark and were outscored 20 to 4 in the quarter.

Serbia's lead ballooned to 20 points midway through the third. Serbia committed a bunch of turnovers in the late third to early fourth that let Russia makes things semi-interesting, but Serbia was never seriously threatened down the stretch.

The usually meticulous Russian defense had trouble dealing with Serbia's pick/roll action. Russia allowed Serbia to score on 61 percent of their 2-point attempts, that's 20 percent points higher than their average defending 2-pointers for the tourney. Just not your typical defensive outing by the Russians. Seemed slow with their help, seemed to lack their normal concentration.

Serbia looked like the fresher team, which is a little strange since Russia was the team with the off-day on Wednesday. Might have something to do with the way Serbia spreads their minutes around -- 10 guys average 14 minutes/game. And this was another game where Serbia got nice contributions up and down the roster.

Point guard Milos Teodosic ran the pick/roll masterfully today creating opportunities for himself and his teammates. Milos hit a few quick dribble pull-up jumpers and found teammates with some precise passes (12 points, 4 assists, two 3-pointers). Teodosic has been one of the top PGs in this year's Eurobasket.

Nenad Krstic came out of the gates sharp scoring nine of his 10 points in the 1st quarter. While his starting frontcourt partner Novica Velickovic chipped in with 13 points and five rebounds, scored a few put-backs off his 3 offensive rebounds.

Serbian sniper Uros Tripkovic's duty is to drill jumpers, and that what he did today -- 4-for-6 from deep, few pull-ups for 18 points. Former G-State Warrior Kosta Perovic was vital to Serbia's 2nd quarter run scoring 11 of 13 points in the quarter. Kosta scored off a few rolls, a pick/pop, a lefty hook, and a dunk in transition.

Russian bigman Timo Mozgov wasn't dominant like last game, but did contribute with 10 points and six rebounds (three offensive). Mozgov finished a couple of rolls with hard dunks, even connected on a lefty hook.

Sergey Monya probably had the best all-around game for the Russians with 12 points (two 3-pointers), three steals and two blocks. Monya has been one of the top defenders in the tourney. Vitalii Fridzon led all Russian scorers with 15 pts on a perfect shooting day of 6-for-6 (three 3-pointers)

Russia didn't help themselves with a 9-for-19 free throw shooting display. Letting the Serbs grab 10 offensive boards while only securing 14 defensive boards wasn't helpful either.

Russia's tourney is not done yet, they still have a
chance at a qualifying spot. Like France, Russia moves on to the Loser's Bracket where they face the loser of Slovenia-Croatia. Serbia will face the winner of Slovenia-Croatia on Saturday.

For more analysis of the Spain-France quarterfinal, please visit
48 Minutes of Hell
.
There were decisive matches at Eurobasket '09 in Poland on Monday. The Painted Area was glued to the action, and has this update:
GROUP F: Spain 84, Lithuania 70



Pau Gasol and the Spaniards looked strong ... but they still need another win to reach the knockout stage.
(Janek Skarzynski/AFP/Getty Images)

Spain officially slammed the door shut on Lithuania's Eurobasket run by outscoring the Lithuanians 49-19 in the middle quarters.

The turning point came early in the second quarter where Spain went on 23-0 run to start the quarter. Lithuania went scoreless over the first seven minutes and only produced eight points in the quarter.

After scoring 24 pts in the first quarter, Lithuania could only generate a total of 19 points over the next two quarters. Things started off very promising in the first quarter with Lithuania making nine of 15 from the field.

Then, Spain really turned on the defensive pressure after the first quarter and the Lithuanians wilted. Spain scrambled in the half-court to contest/change shots and extended pressure up the floor that produced turnovers.

Lithuania has always been vulnerable to aggressive ball pressure (even with Sarunas Jasikevicius around), and struggled mightily handling the dogged Espana defense. Lithuania coughed the ball up 19 times vs. Spain, and now lead the tournament in turnovers with over 15 per game.

Active hands for the Spanish that led to 12 steals. The steals were not just thefts in passing lanes, four out of five of the steals came on strips right out of the ball handlers' hands.

Pau Gasol led the Spanish assault with 19 points, eight rebounds and three blocks. Pau ignited the second quarter explosion with two straight strong finishes in transition. Spain was able to get Pau great looks near the rim, he rarely missed (8-for-10) and he usually end these touches with dunks.

Easily the best ball movement from the Spaniards in the tourney -- 25 of their 31 field goals were assisted. Ricky Rubio had been pretty quiet for much of Euro '09, but you could tell the revved up pace of the game got him flowing. Ricky (9 assists) pushed the ball ahead well and smothered the opposing guards. FIBA doesn't officially chart fast break points, but imagine Spain had one of the top transition scoring days of the tourney.

Rudy Fernandez joined Rubio is creating chaos on both ends of the floor with quick hands (three steals) and attacking on offense (11 points). Jorge Garbajosa dropped two 3pts. in transition and ended with 10 points & 4 assists. Juan Navarro did most of his damage on jumpers -- 3-for-6 on 3-pointers for 13 points ...

... Spain (2-2) isn't quite out of the woods just yet. If they lose to Poland on Wednesday, they are done. Doesn't matter what happens in the Serbia-Lith game because Spain would lose the tiebreaker as of right now. If Spain wins, they're in and could be seeded anywhere from second to fourth in Group F.

GROUP F: Slovenia 76, Poland 60
Slovenia rolled to a decisive win that puts Poland's 2010 Worlds' qualifying chances in serious jeopardy. Slovenia continues to impress with their array of weapons on offense.

Much like the Spain-Lith game, Slovenia blew this game open in the middle section. Slovenia outscored Poland 42-23 in the middle quarters. Was never much of a contest in the second half.

Poland had a decent offensive groove working in the first quarter and was getting the crowd behind them. After a 17-point first quarter, Poland only could muster 23 points over the next two quarters. Poland just went ice cold, clanging one shot after the next.

Slovenia made sure the ball was in Erazem Lorbek's hands often and it paid off well. Lorbek showed off his multi-skilled arsenal scoring on the blocks with a hook, turnaround jumper and a face-up jumper. Lorbek stepped outside to hit two pick/pop 3-point jumpers. He also did a nice job passing from the high & low post. Lorbek had a mighty fine stat line -- 20 pts (7/14), 9 rebs, 5 assts, & two 3pts.

Slovenia's Primo Brezec hit two long 2-pointers up high and did a nice job flashing from the weak side for some easy scores on his way to 12 points on 6-for-7 shooting. Point guard Jaka Lakovic kept up his strong Euro '09 campaign with 14 points, six assists, four rebounds and three steals. Lakovic set-up his bigs well on pick/pop and continued his sharp shooting with three deep balls (18-for-35) ...

... No worries for Slovenia (3-1) besides seeding for the quarters. Been very impressed with Slovenia and like them to squeak by Turkey on Wednesday. If they beat Turkey, they win Group F and grab a No. 1 seed. It's do or die for Poland on Wednesday vs. Spain. It will be a tall task to take out the Spaniards, but they do have the home crowd.

GROUP F: Turkey 69, Serbia 64 (OT)
Turkey kept their undefeated record alive by outlasting the Serbs in overtime. Ragged game where both teams shot less than 40 percent from the floor and a total of 52 fouls were whistled. The Turks made things hard on themselves by shooting 18-for-31 at the free throw line.

The Bucks must be giddy with the way Ersan Ilyasova has ripped it up this summer. Ersan carried the Turks today with 22 points, 11 rebounds and two blocks. Ersan was damn efficient with a 7-for-12 shooting day and smoked the ball from long range -- 4-for-6 on 3-pointers. Ersan's stellar play covered for a miserable night had by Hedo. Hedo did contribute with seven rebounds and four steals, but his awful 1-for-16 shooting day wasn't helpful.

Omer Asik should be commended for his 11-point (5-for-6 shooting), six-rebound day. But Omer nearly single-handedly submarined his squad chances with a 1-for-10 day at the FT line. Serbia's offense was a disaster -- combining 31 percent shooting with 18 turnovers is never advisable. Point guard Milos Teodosic had one of his finer national team games with 16 points, eight assists and six rebounds. Milos and Novica Velickovic each drained three 3-pointer for the Serbs. Oklahoma City's Nenad Krstic managed to add 11 points and seven rebounds, but also had four turnovers. Serbia (2-2) can shake this loss off quickly because they're qualified for the quarterfinal no matter what happens in their game on Wednesday. Serbia is just playing for seeding purposes like Turkey. Turkey (4-0) plays Slovenia to determine the winner and No. 1 seed of Group F.
For the full analysis, go to The Painted Area.
September, 11, 2009
9/11/09
10:04
AM ET
And then there were 12. Eurobasket 2009 begins its second phase and The Painted Area has it all sorted out for you:



Can Pau Gasol lift Spain out of its first-round funk?


(Photo by Janek Skarzynski/AFP/Getty Images

)

Thursday was an off day so teams could transition from the opening round to the qualifying round (second round). Starting Friday in the Polish cities of Bydogoszcz & Lodz, teams play three games in their group with a day off between games. The top four teams from each group qualify for the quarters starting on Sept. 17th.


Israel, Latvia, Britain, & Bulgaria have been eliminated leaving 12 teams divided into two groups (Group E & F). Group E appears to be a little weaker, while Group F is packed with quality teams. You will have two pretty good teams not make the quarters out of Group F, while you will see a quarterfinal slot awarded to one of the three weaker qualifying round entries (Germ, Russ, Macedonia) in Group E. No off days in Group F.

Group E: (Playing in Bydogoszcz)
1) Greece (2-0)
2) France (2-0)
3) Croatia (1-1)
4) Germany (1-1)
5) Macedonia (0-2)
6) Russia (0-2)

GREECE: Should have no trouble moving onto the quarterfinals. Greece's change from a methodical defensive-minded brand of basketball to a more free-wheeling offensive team looks successful, so far. Greece's offense has looked exacting with constant movement and spacing. Greece has outscored their opponents by a combined 66 points and lead the tourney with 58 percent from the floor. The Croatia game where they won by 8 points, wasn't not quite as close as the score should indicate.
schedule: Fri., vs. Germ./Sun., vs. Russ./Tues., vs. France

FRANCE: Though, they went 3-0 in Group B, they weren't all that impressive. Group B was easily the weakest, and Les Bleus only beat Russia & Germany by five pts each. As usual, the half-court offense has gone thru major lulls. And obviously, this team can't hit from outside. Still having trouble shooting -- 14-for-53 (26 percent) behind the arc and 45-for-81 (56 percent) at the free throw line. France is the worst deep-shooting team left in the field. We've beaten this into the ground, but still holds true -- pack the painted area all game vs. France. France counteracted their ragged offense like they always do -- with great defense and rebounding.
schedule: Fri., vs. Mace./Sun., vs. Croat./Tues., vs. Greece

CROATIA: Nice contributions from their big PG combo, Roko Ukic and Zoran Planinic. Both have done a good job getting into the lane to create scoring opportunities. Nikola Vujcic had been the leader of the deep, veteran frontline scoring in double figures in each game. Expect them to secure a spot in the quarters with wins over Russia & Germany. France game is a toss-up.
schedule: Fri., vs. Russ./Sun., vs. France./Tues., vs. Germ

GERMANY: Not surprisingly the Germans have found it difficult to score with no Dirk. No one who is a reliable No. 1 option, and the Germans shot 38 percent from the floor in the opening round. Jan Jagla has brought his usual activity, but when he's your leading scorer you're in trouble. Only reason they're still playing has been the horrible free throw shooting of their Group B opponents. France, Russia and Latvia combined to shoot 65-for-120 (54 percent) from the free throw line vs. Germany. Germany is in better shape for a quarterfinal berth than Russia or Macedonia because they get to carry over a win into the second round. Don't see them beating Greece or Croatia, have a chance vs. Macedonia. A win vs. Macedonia would be huge for their playoff chances.
schedule: Fri., vs. Greece/Sun., vs. Mace./Tues., vs. Croat.

(FYR) MACEDONIA: Macedonia has a legit shot at the quarters because they should be favored to beat Germany, and are closely matched with Russia. Wouldn't be shocked if they pushed France. Gotten strong play from their frontline of Jeremiah Massey, Todor Gecevski and Pero Antic. Vrbica Stefanov has also been his usual steady floor genera selfl.
schedule: Fri., vs. France./Sun., vs. Germ./Tues., vs. Russ.

RUSSIA: Offense has not been quite as putrid as I thought it would. Kelly McCarty's athleticism has been a nice addition on both ends of the floor after the loss of Andrei Kirilenko and Viktor Khryapa. Gotten solid play from their PG combo of Sergey Bykov and Anton Ponkrashov. Will be tough to get victories against Greece and Croatia. Really can't afford a loss to Macedonia.
schedule: Fri., vs. Croat./Sun., vs. Greece/Tues., vs. Mace.

GROUP F: (Playing in Lodz)
1) Turkey (2-0)
2) Slovenia (1-1)
3) Serbia (1-1)
4) Spain (1-1)
5) Poland (1-1)
6) Lithuania (0-2)

TURKEY: Turkey has looked like a totally different team than the one that stunk up the '07 Euro. The Turkish offense that couldn't get out of its own way two years ago, has been smoking this year. Most importantly, they are converting shots around Hedo Turkoglu. Turkey has a point differential of +54 and is shooting 54 percent overall, 42 percent from 3. Their NBA pair of forwards have not disappointed. Hedo and Ersan Ilyasova have shown their mismatch ability creating offensive opportunities all over the floor. Ilyasova has led the Turks with 17 points per game on 58 percent & seven rebounds per game, while Hedo has added 13 points per game. Hedo has teamed with Kerem Tunceri and Ender Arslan to bring some type of order to their PG position. The PG play has left a lot to be desired the last few years, but nothing to complain about this year. Arslan has been hitting runners off ball screens & burying his open shots (8-for-11 on 3-pointers.).
schedule: Sat., vs. Spain./Mon., vs. Serb./Wed., vs. Slov.

SLOVENIA: Were some questions how all their talent would mesh, and so far, so good. Looked sharp vs. Serbia, and pushed Spain to OT with Matjaz Smodis only playing five minutes. The strong defense from their '07 run seems to have transferred over. No surprise the offense has looked crisp with the collection of shooters this team can put on the floor at once. Slovenia is shooting 51 percent overall, 36 percent from deep. PG Jaka Lavovic (14 points per game) has led the way buried jumpers off of screens -- Jaka is 9-for-19 from 3-pointers. Boci Nachbar has been ballin' as well with 12 points per game on 54 percent and 5.7 rebounds per game. Erazem Lorbek has been a nice option on the blocks with his sharp footwork -- 13 points per game and 5.7 rebounds per game. Phoenix Sun Goran Dragic has been a defensive pest once again--gave Rubio & Spain issues -- and even adding a little scoring to the mix with 11 points per game. They can take it up a notch if Smodis can go heavier minutes in the next round. Supposedly, his back is feeling better.
schedule: Sat., vs. Lith./Mon., vs. Pol./Wed., vs. Tu
rk.

SERBIA: Have gotten nice contributions up and down their deep, young roster. 10 players average at least 14 mins/game. Stunned Spain with an impressive defensive effort. Nenad Krstic (12 points per game & four rebounds per game) has been a solid option on the blocks and protecting the rim. Guards Milenko Tepic and Milos Teodosic have run the offense efficiently and stayed away from forcing the action. Need to get their shooting back on track after a poor display in the first round -- 24 percent from 3.
schedule: Sat., vs. Pol./Mon., vs. Turk./Wed., vs. Lith.

SPAIN: Not sure what's going on with this team. Serbia totally whupped them, Britain gave them a huge scare, and Slovenia roared back to push them to OT. Maybe they're too many players to keep happy with playing time. Maybe it's the coaching change (Spain's third change in as many years). Maybe they're disinterested. Whatever the reason, it's hard to figure because this team rarely, if ever, goes-through-the-motions. Should get props for controlling Slovenia for most of the game, but questions resurfaced when they let Slovenia comeback in the fourth to force OT. Expect them to get in a groove in the next round. But I thought they would destroy Britain, but that didn't happen.
schedule: Sat., vs. Turk./Mon., vs. Lith./Wed., vs. Pol.

POLAND: Our sleeper pick has performed admirably in front of the home crowd. The frontline has been killing it. Marcin Gortat has been an interior force and also turned himself into an offensive juggernaut the last week. Gortat is averaging 17 points per game (fifth-best) on 67 percent (fourth-best) and 11 rebounds per game (second-best). We highlighted some of Gortat's newfound offensive skills. PF Maciej Lampe has been an inside-out terror scoring 18 points (third-best) & grabbing seven rebounds per game. Gortat and Lampe are leading the tourney in blocks as well. The offense has functioned very well shooting 50 percent from the floor and 38 percent from 3-point. land. Don't have an easy road to the quarters with Serbia, Slovenia and Spain on the upcoming schedule.
schedule: Sat., vs. Serb./Mon., vs. Slov./Wed., vs. Spain

LITHUANIA: We knew there would be struggles without their two legendary playmakers, Saras Jasikevicius and Ramunas Siskauskas. The shot selection has been spotty, which is a rarity with the normal precision offense we expect from this national team. Their patchwork backcourt has been predictably lackluster. Deep frontline has been solid, but they could play better as well. Burly big Marijonas Petravicius (16 points per game on 71 percent shooting) has been a nice interior presence drawing fouls, finishing around the basket, and pushing people around. Linas Kleiza has been a little uneven and can't find his deep touch (0-for-7 on 3s) The normally sweet-shooting Lithuanians have been off from deep -- 32 percent from 3. Lithuania's quarterfinal chances are dicey with a 0-2 record and having to face brutal gauntlet of the top three of Group C.
schedule: Sat., vs. Slov./Mon., vs. Spain./Wed., vs. Serb.
September, 10, 2009
9/10/09
10:42
AM ET
The preliminary round of Eurobasket 2009 is in the books. The Painted Area has watched every second of every game, and tells us who's moving on to the qualifying round.
GROUP D: Turkey 87, Poland 69
Had a NBA vibe with a ton of post-ups for both sides and straight pick/rolls, while the players off-the-ball didn't move much. Nowhere near the off-ball movement we seen in other Euro games. And this game was heavily influenced by NBAers from the past (Maciej Lampe), present (Hedo Turkoglu, Marcin Gortat, Ersan Ilyasova), & future (Omer Asik).

It was finally nice to watch a game where the flow was not destroyed by constant whistles. Only 29 fouls and 16 turnovers between the teams. The third quarter had great back-and-forth action that was augmented by a boisterous Polish crowd.

Turkey was able to build a comfortable cushion in the fourth thanks to Hedo banging long jumpers. Hedo hit two back-2-back 3pts midway thru the fourth that put the game out of reach, then knocked a long 2-pointer a few minutes later. Hedo hit 3-of-8 on 3-pointers to finish with 13 points and 8 rebounds. Hedo paired with Kerem Tunceri and Ender Arslan to run the Turkish offense with a steady hand...

Once again, Ersan Ilyasova showed off his versatility and mismatch ability that should translate well to the NBA. Ilyasova hit a 3-pointer off of pick/pop action with Hedo (something he would do with Navarro or Lakovic with Barcelona). He hit another 3-pointer off an iso situation with ball fake, something he's shown a knack for in the past as well. Ilyasova scored put-backs on all of his three offensive rebounds. Ersan ended with 18 points on 7-for-12 shooting and 8 rebounds.

Poland did not get much from their perimeter, and their main scoring option, David Logan, was bottled up by the strong defensive backcourt of Turkey. Poland made a concerted effort to pound the ball into the post, and it paid off well. Poland got a tremendous effort from their starting backline, Marcin Gortat and Maciej Lampe.

Maybe Marcin Gortat is more than just a defensive & rebounding presence. Looks like Marcin can show D-Howard a few things about post footwork. Marcin put on a clinic. That's right, Gortat put on an offensive clinic...

GROUP B: Latvia 68, Germany 62



It wasn't pretty ... but Jan Jagla and Germany advances.
(Photo by Adam Nurkiewicz/Bongarts/Getty Images)

I don't know if I've ever seen a team celebrate with more on-court jubilation after a six point loss. Latvia won the game, but didn't win the game well enough. Latvia not only needed to win this game to avoid elimination, but needed to win by eight points to secure the tiebreaker. Germany unexpectedly gets to play on, Latvia goes home.

Latvia was up 11 points with 20 seconds left, but could not close the deal. They let Germany execute a very quick pick/pop 3-pointer to cut the lead to eight points with 15 seconds left. (Why they didn't overplay and force everything inside the arc, not sure). Then, Latvia's Ernests Kalve missed two free throws that could have pushed the lead back up to 10 points. Then, Latvia inexplicably fouled Jagla on the rebound of Kalve's second miss. Jagla hits both free throws to get the game to 68-62, and Latvia could not convert on their desperation shot.

Even though we had a suspenseful finish, this was another ugly Group B contest. The teams combined for 55 fouls and combined to shoot 38 for 102 (37 percent) from the field.

For the second game in a row, Germany accumulated a boatload of fouls (30). But for the second game in a row, they were fortuitous that the opposing team pooped the bed from the FT line -- Latvia shot 19-for-38. Atrocious opponent's free throw percentage is the overwhelming reason Germany is still alive.

Jan Jagla had another strong showing for Germany with 13 points & seven rebounds, converting a few times off curls coming on downscreens. Jan's biggest five points came in the last 20 seconds with the Germans down by 11 points. First, Jagla hit a quick pick/pop 3-pointer that cut the lead to 8 points with 0:15. Then, Jagla got fouled rebounding the Kalve's missed free throw. Jagla went to the line to bury two that cut the lead to six points...

Quick wrap-up of other Wednesday action:

GROUP A:
Greece 106, Israel 80 -- Greece rolls into the second Round undefeated, while Israel leaves Poland without a victory. Even in a meaningless game, Greece's offense continued to impress. Primary playmaker Vasilis Spanoulis led the way with 18 points and five assists, and kept his turnovers down. Spanoulis' Panathinaikos teammate, Antonio Fotsis, had his outside stroke working, scoring all of 16 points on four 3-pointers. Colossal PF Sofo Schortsanitis bulled his way to 16 points, and most encouraging, he made his free throws -- 8-for-9 on the line. The Greeks took the opportunity to sit their starting center, Giannis Bourousis. Israel got another strong game by uber-athletic forward Lior Eliyahu (Houston Rockets hold rights). Eliyahu was superb with 21 (9-for-14), eight rebounds and eight assists. Lior was the top scorer in the first round with 21 ppg.

Croatia 81, (FYR) Macedonia 71 -- After a poor first half, Croatia came out of the locker room to outscore Macedonia 47-23 in the second half. Croatia shot 56 percent from the floor, and 21 of their 24 field goals were assisted. Croatia's combo of tall PGs, Roko Ukic & Zoran Planinic, combined for 13 assists. Croatia got solid effort from their deep frontcourt rotation. Nikola Vujcic pitched in with 12 points and Marko Banic 11 points. Ex-Kansas St. forward Jeremiah Massey paced Macedonia with 12 points and 10 rebounds. Grizzled vet PG Vrbica Stefanov played his usual steady floor game with 12 points and five assists. Both teams advance to the next round.

GROUP B:
France 69, Russia 64 -- France sweeps through the weakest group with another less-than-impressive win. Hey what do you know, Boris Diaw decided to show up today. Boris had himself a great all-around game with 19 points (9-for-12 fga), seven rebounds and seven assists. Now expect a no-show in the next game from Diaw. Tender Ronny Turiaf dominated the interior with 18 points and 14 rebounds. Tony Parker had an uneven game with 17 points, four assists, four steals, but had five turnovers. France still had issues shooting either from the perimeter or on the foul line. They were 4-for-15 from deep and 15-for-28 on free throws. France glossed over these negatives by grabbing 15 offensive rebounds to Russia's 15 defensive rebounds. Wing Kelly McCarthy led Russia with 13 points. Big PG Anton Ponkrahov had another solid floor game with eight assists and seven points. Russia will take an 0-2 record into the second Round because their win over Latvia is wiped off the books.

GROUP C:
Spain 90, Slovenia 84 (OT) -- In one of the most anticipated games of the first Round, Spain held off Slovenia in OT. Should have a more detailed analysis of this game Thursday later in the day.

Serbia 77, Great B
ritain 59 -- Serbia ended Britain's Eurobasket campaign. Serbia got nice contributions up & down their deep roster. Nenad Krstic and combo guard Milenko Tepic led the Serbs with 17 points each. Lefty PG Nate Reinking tried to keep the Brits close with his perimeter touch -- 4-for-5 on 3-pointers, 21 points overall. High-flying Pops Mensah-Bonsu helped with 16 points. Britain will have to wait to see if a wild card berth is awarded. A long-shot, but FIBA might want the next Olympic host country to get some major competition experience under their belt.

GROUP D:
Lithuania 84, Bulgaria 69 -- Lithuania picked up their first victory after looking out of sync in their first two games. This game was a little closer than the score would indicate. Lithuania pulled away in the fourth to end Bulgaria's Euro '09 run. Ksystof Lavrinovic was big for the Green Team with 16 points, six rebounds and four assists. Ksystof's eight points in the last 5 mins was key to Lithuania's 18-5 run to end the game. Bruising big Marijonas Petravicius continued to be a physical interior presence with drawn fouls (8-for-9 fts) & 8 rebounds. Former Nug Linas Kleiza brought 10 points and 7 rebounds to the mix. Bulgaria shot just 34 percent from the floor, but were able to stay close because they crushed the offensive glass -- 22 offensive rebounds. The Ivanov twins combined for 9 offensive rebounds and former UNC Tarheel Vassil Evtimov hauled in five offensive rebounds, 13 total. Bulgaria's offense was led by their dynamic scoring perimeter. Explosive PG Earl Rowland dropped 18 pts on 7-for-14 shooting, while wily wing Todor Stoykov scored 16 points. Lith takes a 0-2 record into the second round.
For the full recap and analysis of Day 3 action, visit The Painted Area.
March, 14, 2009
3/14/09
2:49
PM ET
Watching the Thunder without Durant has been a revelation. Watching Paul Pierce is crunch time something to behold. Just don't try watching a Celtics game in a Philly sports bar. Watch and learn at the TrueHoop Network.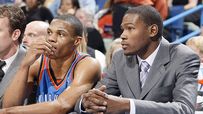 Royce Young of Daily Thunder: "I don't deny that something's changed without Durant in the lineup. Some very, very good things have happened. The team has worked together and focused on all the details and little things. They knew in order to win, there couldn't be any room for error. There would be no 'Pass it to Durant, stand back and watch.' It was five working as one on both ends of the floor. Guys like Kyle Weaver and Nenad Krstic picked up their offensive games. Russell Westbrook was making everybody better around him. Thabo Sefolosha was a bear defensively and a smooth operator offensively. And when Durant steps back on the floor ... things should be better for him because he'll have a group of guys playing with more confidence and a better understand of their role...
One thing to remember is that Durant hasn't really has the chance to play with Thabo yet. KD hasn't been able to reap the benefits of a teammate that can wreak havoc and entirely change a game by himself on the defensive end. Thabo can pull off and help with the best of them. And he's also a better offensive player than people give him credit for. He plays smart, takes good shots, makes solid cuts, moves well without the ball and is a solid passer ... So Durant and Thabo really haven't had a ton of burn together. And Thabo is clearly a very important key to winning some of these games...

Playing without Durant has been a great thing for the team. Everybody has had to elevate themselves and play better ... Hopefully with this solid stretch without him, the team has realized that they are a major part of this success. It's not Kevin Durant and four other guys. It's five guys and one of them happens to be Kevin Durant."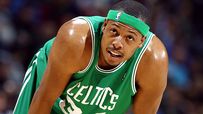 Zach Lowe of Celtics Hub: "Paul Pierce has taken ONE HUNDRED freaking free throws in crunch time. 100!

... That is a remarkable number. Pierce has shot 445 free throws this year, meaning a full 22 percent of his free throw attempts have come in 30 fourth quarters and three overtimes–a span that makes up just 12 percent of the season so far. Read another way, Pierce has gotten to the line twice as often in 'clutch' fourth quarters as his normal FTA rate suggests he should have. Pierce has taken 26.7 percent of the Celtics 1,666 free throws overall this season; he's taken 37.5 percent of the free throws in my 'clutch' sample.

There's one obvious caveat here: About one-quarter (maybe a little bit less) of these 'clutch' foul shots came in end-of-game scenarios where the other team fouled Pierce to stop the clock. Even with this in mind, the number of FTAs is still enormous. And it's a hugely important skill. Jump shots go hot and cold, ingenious plays break down, but Pierce's will to attack the rim never wavers. Pierce at the foul line is probably the C's best late-game weapon -- even better than a Pierce jumper.

The Celtics also rely heavily on that. Pierce's 97 total two-point 'clutch' FGAs make up 22.5 percent of the Celtics 'clutch' total. Overall this season, Pierce has taken 17.7 percent of the team's two-point field-goal attempts. Clearly, the team leans on the Truth when games get close."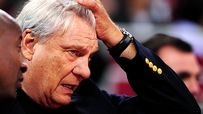 Rob Mahoney of Hardwood Paroxysm: "[Don Nelson] is the 'mad scientist.' the offensive wizard, and the cooky, unconventional coach who escapes to Maui in the offseason. His coaching style appears whimsical, and so he appears whimsical. But now, more than ever, we need to realize that he, as a person, is not. His basketball mind is a unique one, and he's done plenty of things that make me smile and think about the game in new ways. But time and time again, he has angered everyone around him, and split town with more enemies than friends. Mullin had a good gig going before The Whimsical One waltzed into town, and though his performance was poor, his job never seemed to be in jeopardy. One Don Nelson later, Mullin seems to be the one packing his bags while Nellie coasts through the end of the season, laughing maniacally on that extended flight to the islands. Nellie might be doing us all a favor by getting rid of Mullin, but is a good move for all the wrong reasons still a good move?"
THE FINAL WORD
The Painted Area: A smart assortment of basketball book notes.
Hornets247: Tyson Chandler is coming along.
Celtics Hub: "This is Philly. You're not getting the [flippin'] Celtics game on in here."

(Photos by Layne Murdoch, Garrett Ellwood, Frederic J. Brown/NBAE via Getty Images)
March, 11, 2009
3/11/09
2:36
PM ET
The Hornets' sharpshooter might be better off in the second unit. The Cavs' sharpshooter couldn't connect all night...until it mattered. Ron Artest thinks he's a sharpshooter. The TrueHoop Network shoots from the hip.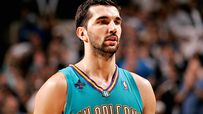 Ryan Schwan of Hornets247: "Other than Dallas, the Hornets have the worst bench among the current 8 seeds in the West...That means that when the Hornets hit the playoffs, we can expect the second-quarter meltdowns to become even more pronounced. It's pathetic, because the Hornets' starting five is the seventh best in the league, despite all the nagging injury issues they've had. If the Hornets' bench could provide even a little boost, or just play the other team more evenly, it would make the team infinitely stronger and get the starters more rest.

So is there a way to fix the bench? I'm a bit of a pessimist, but here is an idea that several people have already proposed in our comments, and that I agree with: Turning Stojakovic into a sixth man.

During the series of games where Paul, Chandler, and West were all out of commission, the Hornets turned to Peja to be their primary offensive option, and he did a pretty solid job in that role. The past three games with Julian in the starting lineup, the Hornets' starters have produced a slightly worse offensive efficiency of 108.0 and a much nastier defensive efficiency of 84.0 ... The Hornets could start Julian, sub him out for Peja around the 6:00 minute mark of the first quarter and let Peja warm up. At the start of the second quarter, they can start running the offense through him.

Making this change will entail curtailing Posey's minutes some -- but I really think he'd be better served as a 20-22 minute man anyways, not the 29 minute man he's been all season."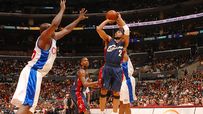 John Krolik of Cavs the Blog: "Mo Williams. What do I say? For 47:54, he had absolutely as bad a game as you can have. He's kind of an Anti-LeBron in that he's a guy who's primarily a straight-up scorer whose offense comes from the perimeter, so when he's not in a flow things can get very bad very fast. (Fortunately, he's ridiculously consistent.)

Tonight, he wasn't hitting his shots off the dribble. He wasn't hitting open threes. He wasn't doing well defensively. He had one assist against four turnovers.

And yet, for the third game in a row, Mo Williams was the difference between victory and defeat. And if I had to pick one game to show how valuable Mo is to this team, it might be this one. No matter what he's done before in the game, he's the guy who's there when we need him. Tonight, he was the difference between a great win and the worst loss of the year.

Delonte got off the hook, too-he was an absolute non-factor all game long, which is the one thing he generally never is.

Again, I'm going to point out just how good Joe Smith and Andy were at rolling to the basket all game long and getting layups, and how unbelievable LeBron was at finding them with amazing passes. I do not think it is a coincidence that this came against Zach Randolph."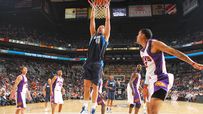 Michael Schwartz of Valley of the Suns: "We'll never know if things would be different with Amare (I think they would be), but as J-Rich said, the Suns just can't think that way.

As it is, Phoenix struggles to match up defensively against most teams with their small ball lineup, and it makes me a bit queasy that Dirk has said the toughest defender he faces in the NBA is Shawn Marion.

Yeah, he might be a little helpful right about now.

To add insult to injury, the Mavs won this game without Josh Howard to snap a nine-game road losing streak to Western Conference foes, winning their first West game away from Dallas this calendar year. And yes, it is March 10.

For the Suns, it feels like that 'season-changing' win over the Lakers on March 1 was in a whole different calendar year."
THE FINAL WORD
Celtics Hub: How clutch are the C's in close games?
Rockets Buzz: The eternal Ron Artest question.
Daily Thunder: Who needs Tyson Chandler when you have Nenad Krstic?
(Photos by Glenn James, Noah Graham, Barry Gossage/NBAE via Getty Images)
March, 6, 2009
3/06/09
9:03
AM ET
Nate Robinson and David Lee put Eddy Curry and Jamal Crawford to shame. Chris Paul makes J.J. Barea look bad, and Nenad Krstic is making Sam Presti look good. Appearances matter at the TrueHoop Network.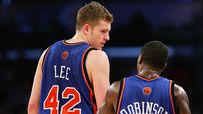 Mike Kurylo of Knickerblogger: "What I want to talk about is the siren song of the NBA - the creative scorer. As a fan who watches many games, it's easy to understand the lure of the volume scorer. The average fan focuses on the guy with the ball, and the scorer tends to have the ball in his hands more often than his teammates. Additionally he is able to create the shot by his own ability, independent of his teammates. It's easy for the fan to see the benefit of the scorer's efforts, since it connects directly to the main goal of the team: Points. Rebounds don't change the point totals on the scoreboard. When the news covers the game, usually you hear something like 'Robinson led the Knicks with 29 points, while Duhon and Hughes chipped in 19 each.' You don't hear about the other stats unless it's a phenomenal number (20 rebounds). And the players listed are in point order, even if they score 19 points on 20 shots.

...I'll agree that the double-double is an overrated stat, but is it that much more overrated than points per game? Or even the ability to create your own shot? This final component seems especially important for the average fan who plays basketball. At the level of the average fan, being able to create your own shot is more important than many other attributes. In other words your neighborhood version of Al Harrington is worth more at the park than the NBA's version is to his team. In the Hawks game thread, a game that Robinson missed due to injury, 'ess-dog' commented, 'Now this is the kind of game that makes me wonder if Nate's scoring and penetrating is overrated.'

During Isiah's tenure New York was stuck with two players that could create their own shot, but do little else. Crawford & Curry seemed to divide Knick fans between creationists who worshiped their ability to make shot attempts, and those that covered their ears to the siren song of YouTube highlights. This year the team has traded one and marginalized the other, and their record is on track to improve by 10 games. It's no coincidence that this improvement has occurred by replacing the inefficient ex-Bulls' minutes with the more efficient Robinson and Lee. Additionally the latter pair gives the team more than just field goal attempts. Lee provides rebounding, while Robinson sprinkles the stat line with rebounding, assists, and steals.

As advanced statisticians already know, at the highest levels of basketball shooting is the most important factor with regards to a team's chances of winning. But it's not shooting volume that we use to measure it, but rather shooting efficiency."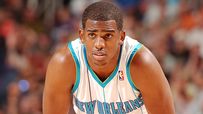 Ryan Schwan of Hornets247: "I felt bad for Dallas back-up point guard J.J. Barea. He and Antoine Wright got most of the defensive duties against Paul all game, and Paul was treating him the way eighth graders do fifth graders on the playground. He was smacking Barea's hand away, going right at him, and treated him multiple times to a contemptuous stare that looked right through Barea like he wasn't even on the floor. Defensively, Paul was even more disrespectful of poor J.J. I counted four possessions where Paul left Barea open on the perimeter -- and never came back. He simply walked away and helped out elsewhere, showing no concern about Barea at all. It was so egregious that I re-watched Barea's second stint in the game, and I figured out why. Neither Dirk nor Kidd pass to him. Paul kept close to Barea for a few possessions and then cheated towards Dirk three times. Not once did the ball skip out to Barea, even when he was left wide open. So Paul abandoned him -- and it led to some nice defensive possessions. (Oh yeah, Paul had 27 points on 18 shots, 15 assists, 4 rebounds, a steal and a pair of turnovers. Nice)"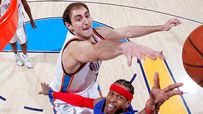 Royce Young of Daily Thunder
: "It's probably more coincidental than anything else, but since Krstic officially became a Thunder-er Dec. 31, the team is 13-16 (though he didn't actually play a game until Jan. 7 against Minnesota in a huge blowout loss). He averaged 8.8 points per game and 5.5 rebounds per game in about 22 minutes per game in January. In February, his minutes went up to 26 per game and he averaged 8.3 ppg and 5.4 rpg. But so far in March (two games albeit), he's averaging 22 points and 5.0 rebounds per game and has led the Thunder in scoring the last two.
...[F]rom what I can tell, he's not doing anything that much different. He's still taking a majority of jump shots, but now he's making a really high percentage of them...He catches, sets and shoots. No thinking and no second guessing. Just swish.
...I don't think we should get used to 20-point nights from Krstic, but he's really settling in and is a candidate to put up solid offensive numbers every night...He's not going to be the Tyson Chandler enforcer in the paint and block shots and change games on the inside. That's not his game. We still definitely need that, but he's a more than competent defender with good footwork and long arms and a potentially deadly offensive weapon.
And for just $3 million a year, I think Presti worked some magic again with this guy. Maybe it's a coincidence that the Thunder's playing better with Krstic in a Thunder uniform and maybe it's not. Regardless of that, the team got much stronger with him and the future got brighter."
THE FINAL WORD
Roundball Mining Company: Carmelo Anthony roars back.
Hoopinion: Take Josh Smith for the block.
Raptors Republic: Jermaine O'Neal and Jamario Moon return to Toronto.

(Photos by Lisa Blumenfeld, Barry Gossage, Layne Murdoch/NBAE via Getty Images)