TrueHoop:

Novica Velickovic
September, 18, 2009
9/18/09
10:01
AM ET
After sleepwalking through the preliminary and qualifying rounds, Spain showed up to the knockout stage of Eurobasket '09 with a fury. The Painted Area has the full story of the Spaniards' win over France and Serbia's mild upset of Russia: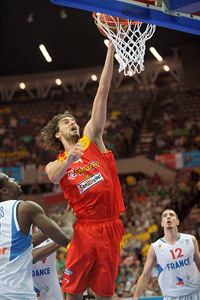 Pau Gasol: 28 and 9 for Spain
(Janek Skarzynski/AFP/Getty Image
Spain 86, France 66
I guess Spain can flip the switch when they want. After appearing aimless in the first four games, Spain sent a message to the rest of the field with this thrashing of previously unbeaten France. Third game in a row where Spain has dominated their opponent.

Spain's scrambling defense gave France major issues, forcing bad passes all over the court. Had little concern for France's perimeter shooting ability which led to unfettered help by Spain defenders. The Gasol Bros. paid very little attention to the French bigs.

Spain never went with much straight zone, but Pau Gasol (also Marc Gasol) was basically playing a one-man zone by sloughing off in the paint the whole game. Anytime a Frenchie tried to get to the rim, there was always a big waiting to help. Parker rarely had easy access to the rim.

Anywhere Tony Parker went with the ball, extra Spanish defenders followed. Actually, anytime the ball went below the free throw line, you had extra Spanish bodies flocking to the ball. This forced the French ball-handlers to pass the ball out under duress, often leading to turnovers (19 French turnovers). Spain had 13 steals, six of which belonged to Rudy Fernandez.

Pau Gasol simply ate up the French bigs. We wondered if Gasol's length would be an issue for the undersized French front line. It was a major issue. Gasol was a major factor in fouling out Ronny Turiaf in 21 minutes. Ali Traore fouled out in eight minutes. Yikes. This was a game where Joakim Noah could have come in handy.

Pau scored in anyway he wanted: multiple rolls to the rim, a few alley-oops, lefty hook, righty hook, turnaround banker, baseline spins and a 18-foot jumper for good measure. A clinic the late, great Pete Newell would have loved.

Most of Rudy Fernandez's 16 points came behind the arc (4-for-6), including three bombs in the first quarter. Juan Navarro wasn't quite as efficient as he was the night before, but he was still a factor. Navarro dropped a patented floater and a runner going across the lane on his way to 11 points and 4 assists.

Ricky Rubio had a solid outing with 8 points and 4 assists -- he even knocked down two 3pts. Ricky did have four turnovers. Was active defensively, not afraid to pressure Parker. Just don't make the mistake that Rubio shut him down, it was a team effort.

Tony Parker had been averaging 18 points per game before this game, but Spain held him to six points. When Parker did get some open looks on the perimeter, he continued to struggle with his jumper -- 1-for-8 from the field. Rarely had much room to operate, too many Spanish defenders shadowing him.

Ronny Turiaf took advantage of the Gasols not paying much attention to him. Ronny cut to the open spaces well to lead Les Bleus in scoring with 12 points on 6-of-9. Boris Diaw was due for a good game after a no-show the previous game, and he did alright with 9 points (all 3-pointers) and 6 rebounds.

France had been playing some of the best defense in the tourney before this matchup. But they had not seen an offense with this type of firepower in the prelim rounds. France had been holding opponents to 40 percent overall shooting, but Spain was able to hit 52 percent from the floor. France is normally a strong rebounding club, but the Spaniards helped their cause with 10 offensive boards to France's 20 defensive rebounds.

Spain gets a day off before they take on the winner of Turkey-Greece. France still has work to do for a 2010 Worlds qualifying spot. France moves into the Loser's Bracket where they will face the loser of the Turk-Greece game. If France wins that game, they earn a trip to the Worlds. If they lose, they might have one more game where they can qualify, but that depends on Turkey's status.

Serbia 79, Russia 68
Serbia scored a decisive victory over the Russians, securing a spot in next summer's 2010 Worlds. Russia came out strong in the first quarter, scoring 24 points to Serbia's 21. But then Russia's offense slammed to a halt.

Serbia took the game over in the second quarter and never relinquished control the rest of the way. The key was a 17-0 run to start the second quarter. Russia didn't score their first points of the second quarter until the 2:30 mark and were outscored 20 to 4 in the quarter.

Serbia's lead ballooned to 20 points midway through the third. Serbia committed a bunch of turnovers in the late third to early fourth that let Russia makes things semi-interesting, but Serbia was never seriously threatened down the stretch.

The usually meticulous Russian defense had trouble dealing with Serbia's pick/roll action. Russia allowed Serbia to score on 61 percent of their 2-point attempts, that's 20 percent points higher than their average defending 2-pointers for the tourney. Just not your typical defensive outing by the Russians. Seemed slow with their help, seemed to lack their normal concentration.

Serbia looked like the fresher team, which is a little strange since Russia was the team with the off-day on Wednesday. Might have something to do with the way Serbia spreads their minutes around -- 10 guys average 14 minutes/game. And this was another game where Serbia got nice contributions up and down the roster.

Point guard Milos Teodosic ran the pick/roll masterfully today creating opportunities for himself and his teammates. Milos hit a few quick dribble pull-up jumpers and found teammates with some precise passes (12 points, 4 assists, two 3-pointers). Teodosic has been one of the top PGs in this year's Eurobasket.

Nenad Krstic came out of the gates sharp scoring nine of his 10 points in the 1st quarter. While his starting frontcourt partner Novica Velickovic chipped in with 13 points and five rebounds, scored a few put-backs off his 3 offensive rebounds.

Serbian sniper Uros Tripkovic's duty is to drill jumpers, and that what he did today -- 4-for-6 from deep, few pull-ups for 18 points. Former G-State Warrior Kosta Perovic was vital to Serbia's 2nd quarter run scoring 11 of 13 points in the quarter. Kosta scored off a few rolls, a pick/pop, a lefty hook, and a dunk in transition.

Russian bigman Timo Mozgov wasn't dominant like last game, but did contribute with 10 points and six rebounds (three offensive). Mozgov finished a couple of rolls with hard dunks, even connected on a lefty hook.

Sergey Monya probably had the best all-around game for the Russians with 12 points (two 3-pointers), three steals and two blocks. Monya has been one of the top defenders in the tourney. Vitalii Fridzon led all Russian scorers with 15 pts on a perfect shooting day of 6-for-6 (three 3-pointers)

Russia didn't help themselves with a 9-for-19 free throw shooting display. Letting the Serbs grab 10 offensive boards while only securing 14 defensive boards wasn't helpful either.

Russia's tourney is not done yet, they still have a
chance at a qualifying spot. Like France, Russia moves on to the Loser's Bracket where they face the loser of Slovenia-Croatia. Serbia will face the winner of Slovenia-Croatia on Saturday.

For more analysis of the Spain-France quarterfinal, please visit
48 Minutes of Hell
.
There were decisive matches at Eurobasket '09 in Poland on Monday. The Painted Area was glued to the action, and has this update:
GROUP F: Spain 84, Lithuania 70



Pau Gasol and the Spaniards looked strong ... but they still need another win to reach the knockout stage.
(Janek Skarzynski/AFP/Getty Images)

Spain officially slammed the door shut on Lithuania's Eurobasket run by outscoring the Lithuanians 49-19 in the middle quarters.

The turning point came early in the second quarter where Spain went on 23-0 run to start the quarter. Lithuania went scoreless over the first seven minutes and only produced eight points in the quarter.

After scoring 24 pts in the first quarter, Lithuania could only generate a total of 19 points over the next two quarters. Things started off very promising in the first quarter with Lithuania making nine of 15 from the field.

Then, Spain really turned on the defensive pressure after the first quarter and the Lithuanians wilted. Spain scrambled in the half-court to contest/change shots and extended pressure up the floor that produced turnovers.

Lithuania has always been vulnerable to aggressive ball pressure (even with Sarunas Jasikevicius around), and struggled mightily handling the dogged Espana defense. Lithuania coughed the ball up 19 times vs. Spain, and now lead the tournament in turnovers with over 15 per game.

Active hands for the Spanish that led to 12 steals. The steals were not just thefts in passing lanes, four out of five of the steals came on strips right out of the ball handlers' hands.

Pau Gasol led the Spanish assault with 19 points, eight rebounds and three blocks. Pau ignited the second quarter explosion with two straight strong finishes in transition. Spain was able to get Pau great looks near the rim, he rarely missed (8-for-10) and he usually end these touches with dunks.

Easily the best ball movement from the Spaniards in the tourney -- 25 of their 31 field goals were assisted. Ricky Rubio had been pretty quiet for much of Euro '09, but you could tell the revved up pace of the game got him flowing. Ricky (9 assists) pushed the ball ahead well and smothered the opposing guards. FIBA doesn't officially chart fast break points, but imagine Spain had one of the top transition scoring days of the tourney.

Rudy Fernandez joined Rubio is creating chaos on both ends of the floor with quick hands (three steals) and attacking on offense (11 points). Jorge Garbajosa dropped two 3pts. in transition and ended with 10 points & 4 assists. Juan Navarro did most of his damage on jumpers -- 3-for-6 on 3-pointers for 13 points ...

... Spain (2-2) isn't quite out of the woods just yet. If they lose to Poland on Wednesday, they are done. Doesn't matter what happens in the Serbia-Lith game because Spain would lose the tiebreaker as of right now. If Spain wins, they're in and could be seeded anywhere from second to fourth in Group F.

GROUP F: Slovenia 76, Poland 60
Slovenia rolled to a decisive win that puts Poland's 2010 Worlds' qualifying chances in serious jeopardy. Slovenia continues to impress with their array of weapons on offense.

Much like the Spain-Lith game, Slovenia blew this game open in the middle section. Slovenia outscored Poland 42-23 in the middle quarters. Was never much of a contest in the second half.

Poland had a decent offensive groove working in the first quarter and was getting the crowd behind them. After a 17-point first quarter, Poland only could muster 23 points over the next two quarters. Poland just went ice cold, clanging one shot after the next.

Slovenia made sure the ball was in Erazem Lorbek's hands often and it paid off well. Lorbek showed off his multi-skilled arsenal scoring on the blocks with a hook, turnaround jumper and a face-up jumper. Lorbek stepped outside to hit two pick/pop 3-point jumpers. He also did a nice job passing from the high & low post. Lorbek had a mighty fine stat line -- 20 pts (7/14), 9 rebs, 5 assts, & two 3pts.

Slovenia's Primo Brezec hit two long 2-pointers up high and did a nice job flashing from the weak side for some easy scores on his way to 12 points on 6-for-7 shooting. Point guard Jaka Lakovic kept up his strong Euro '09 campaign with 14 points, six assists, four rebounds and three steals. Lakovic set-up his bigs well on pick/pop and continued his sharp shooting with three deep balls (18-for-35) ...

... No worries for Slovenia (3-1) besides seeding for the quarters. Been very impressed with Slovenia and like them to squeak by Turkey on Wednesday. If they beat Turkey, they win Group F and grab a No. 1 seed. It's do or die for Poland on Wednesday vs. Spain. It will be a tall task to take out the Spaniards, but they do have the home crowd.

GROUP F: Turkey 69, Serbia 64 (OT)
Turkey kept their undefeated record alive by outlasting the Serbs in overtime. Ragged game where both teams shot less than 40 percent from the floor and a total of 52 fouls were whistled. The Turks made things hard on themselves by shooting 18-for-31 at the free throw line.

The Bucks must be giddy with the way Ersan Ilyasova has ripped it up this summer. Ersan carried the Turks today with 22 points, 11 rebounds and two blocks. Ersan was damn efficient with a 7-for-12 shooting day and smoked the ball from long range -- 4-for-6 on 3-pointers. Ersan's stellar play covered for a miserable night had by Hedo. Hedo did contribute with seven rebounds and four steals, but his awful 1-for-16 shooting day wasn't helpful.

Omer Asik should be commended for his 11-point (5-for-6 shooting), six-rebound day. But Omer nearly single-handedly submarined his squad chances with a 1-for-10 day at the FT line. Serbia's offense was a disaster -- combining 31 percent shooting with 18 turnovers is never advisable. Point guard Milos Teodosic had one of his finer national team games with 16 points, eight assists and six rebounds. Milos and Novica Velickovic each drained three 3-pointer for the Serbs. Oklahoma City's Nenad Krstic managed to add 11 points and seven rebounds, but also had four turnovers. Serbia (2-2) can shake this loss off quickly because they're qualified for the quarterfinal no matter what happens in their game on Wednesday. Serbia is just playing for seeding purposes like Turkey. Turkey (4-0) plays Slovenia to determine the winner and No. 1 seed of Group F.
For the full analysis, go to The Painted Area.