May, 30, 2012
5/30/12
1:23
PM ET

By Kevin Arnovitz
ESPN.com
Archive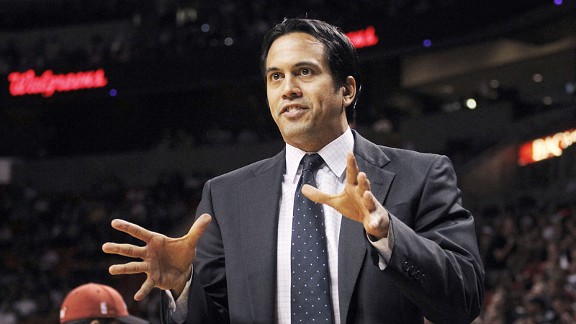 C.W. Griffin/Getty Images
Erik Spoelstra: Master of the process
Name
: Erik Spoelstra
Birthdate
: November 1, 1970
Is he an emotional leader or a tactician?
A disciple of Pat Riley, Spoelstra likes to set a tone, will traffic in motivational mantras and definitely pays close attention to the emotional pulse of his team. But he's a cool tactician at heart, one who earns his team's confidence with his work ethic. The players generally respect that Spoelstra spends his entire waking life trying to make it easier for these guys to win. Superstars are more likely to respond to that quality than a punchy fight song.
Is he intense or a go-along-get-along type?
Spoelstra projects a quiet intensity. You won't find any bulging veins or hot collars, but he's what you could describe as serious. Despite that, he gets along well with staff and players -- his long-standing relationship with Dwyane Wade the best evidence. He's reserved, but not prickly and can be one-of-the-guys when he chooses to.
Does he rely on systems, or does he coach ad hoc to his personnel?
This is Spoelstra's greatest trial as the head coach of the Heat. He highly values systems --
he spent his summer in search of one
. In almost any other context, Spoelstra would develop an offensive architecture designed with clean lines and an orderly flow. But with Wade and LeBron James as the two most important pieces on the board, pious devotion to a system presents all kinds of problems. So instead, Spoelstra spends his time finding creative ways to get Wade and James the ball where they can exact the most damage in the half court. He must accept that a good percentage of possessions will be at the whims of his superstars, often when the stakes of those possessions are at their highest. Spoelstra has an uncanny capacity to accept life's inconvenient realities, but this must torment him a little bit.
Does he share decision-making with star players, or is he The Decider?
He doesn't have much of a choice, does he?
Does he prefer the explosive scorer or the lockdown defender?
Spoelstra tilts radically to the lockdown defender end of the spectrum. Joel Anthony has been a personal project for years and, with Spoelstra's encouragement and attention, has become one of the league's best defenders. The patience shown with Mario Chalmers is, in many ways, an expression of Spoelstra's commitment to defense. When the Heat needed to fill out a spot on the wing, they went after Shane Battier, a Spoelstrite if there ever was one.
Does he prefer a set rotation, or is he more likely to use his personnel situationally?
"The rotation is the rotation," is one of Spoelstra's bread-and-butter remarks for the media scrum. There are constants apparent in his substitution pattern, but Spoelstra is an empiricist, so when there's enough evidence to suggest the sequence isn't working, he'll make an adjustment.
Will he trust young players in big spots, or is he more inclined to use his grizzled veterans?
Spoelstra values longevity and believes there are certain understandings of the game that can come only through experience. The bench is usually populated with oldsters who actually played with a handful of existing NBA coaches. Chalmers has been the rare exception under Spoelstra, and the point guard's development has certainly had its trials.
Are there any unique strategies that he particularly likes?
The Heat are a unique team, one that has produced unique strategies, even if not by design. Take the team's half-court defense, which has morphed into its own thing.
Prior to the arrival of James, the Heat ran a fairly conservative defensive scheme, something more along the lines of what you'd see in Orlando under Stan Van Gundy or in San Antonio. It was a low-risk defense focused on staying at home and clogging the middle. Traps were reserved for only the craftiest point guards to ward off penetration. Better to push up on screens, make the angles more difficult and lure opponents into a midrange jump shot. Little men, fight over that screen and don't tax the time of your big men -- they belong in the paint. Helpers, don't travel from remote locations.
You can find many of these same principles in the Heat's existing defense, but the reality of who James and Wade are as wing defenders has influenced Spoelstra into creating a system that melds all kinds of different looks.
Earlier in the abbreviated 2011-12 season, Spoelstra was engaged in a schematic exercise -- how much pressure should the Heat exert on the strong side of the floor? It's a good question, and any coach who has spent the amount of time Spoelstra has preparing for the Celtics and Bulls has to entertain the idea that elements of those defenses should be incorporated into his. So Spoelstra went into the lab and pursued a lengthy trial-and-error experiment. This is one of the reasons we saw Miami give up so many 3-pointers during the regular season after being decidedly average in 2010-11 defensively against the 3-ball.
Over time, Spoelstra has calibrated the system. His big men often show high and hard, with the rotator coming from the back line. But as opposed to the Thibodeau system that has very explicit instructions about where the back-side defenders should be to zone up the rest of the floor, Miami allows James, Wade and whoever else more leeway to jump out of that zone to disrupt passing lanes, swarm without warning and, at times, leak out prematurely.
This probably wouldn't be Spoelstra's chosen defensive system if you handed him a roster at random, but he's constructed a system that appeals to Miami's ability to disrupt and the need to generate turnovers to maximize their best attributes.
Can we brand it the "Miami system," much the same way hard-core basketball fans know the "Thibodeau" when they see it? Maybe soon.
What were his characteristics as a player?
Spoelstra was a heady point guard who started all four seasons at the University of Portland and was the WCC's freshman of the year in 1989. A proficient 3-point shooter. Willing passer.
Which coaches did he play for?
At Portland, Spoelstra played for Larry Steele, a Trail Blazer lifer (and member of the 1977 championship team) who had a less-than-successful career as a college coach.
What is his coaching pedigree?
Ever since he joined the Heat organization as an intern in 1995, Spoelstra has grown up in the home of Pat Riley. Spoelstra's manner, obsessiveness and attention to detail are products of Riley's tutelage. Spoelstra also credits Stan Van Gundy, the Heat's head coach for two-plus seasons, for guiding his understanding of NBA defenses.
If basketball didn't exist, what might he be doing?
Leveraged buyouts.
---
The spirit of the Bill James Baseball Abstracts, 1984 and 1985, was summoned for this project
.
March, 12, 2012
3/12/12
1:38
PM ET

By Beckley Mason
ESPN.com
Archive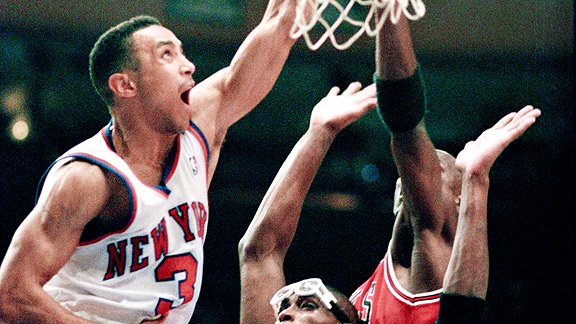 Tom Berg/Getty Images
John Starks posterized Horace Grant, but that isn't even half the story
After winning 60 games and the top seed in the East, the 1992-93 Knicks were still underdogs when they met the two-time defending champion Bulls in the Eastern Conference Finals. New York guard John Starks had been an underdog his entire improbable career, but found himself with the ball and a chance to take a commanding 2-0 series lead over the champs.
With 50 seconds left in Game 2, Starks dribbled on the right wing as Patrick Ewing rushed over to set a screen intended to spring Starks into the middle of the court. But instead of using the screen, Starks hesitated, feinted middle then exploded into the wide open space along the baseline. Bulls forward Horace Grant rotated to meet him outside the paint but arrived a step late. Starks gathered off of two feet and rocketed into the rafters of Madison Square Garden to deliver a
violent left-handed flush
that dislodged Grant's goggles and the sanity of Knicks fans everywhere. For good measure, Michael Jordan appeared in the poster to futilely swipe at the ball as Starks flew by.
Nothing and everything made sense; Starks was up, Jordan was down. The rim-rattling dunk shook the basketball world to its core.
Over on the New York bench, a young assistant was startled -- not by the outrageous dunk, but by a strange mutation in Chicago's pick-and-roll defense. What Jeff Van Gundy saw on that play would change the series, and inform the evolution of NBA defense over the next 20 years.
"That was the first time, late in the fourth quarter, that I had ever seen in the NBA any team force the ball to the baseline in the side pick-and-roll," says Van Gundy.
"I know they weren't well-coordinated and that's what led to that dunk, but I think it turned the series around for them."
The Bulls' defense had adapted right in front of the world and almost no one noticed. Though the adjustment led to an iconic moment for their opponents, the Bulls continued to use this new coverage on side pick-and-rolls to dismantle the Knicks, and particularly Starks, who averaged more than six turnovers in four straight losses while his scoring and assist averages plummeted.
NBA defenses built off of this moment over the next 20 years, and today's Chicago Bulls, coached by defensive genius Tom Thibodeau, are the finest example how this simple idea has evolved into a devastating strategy for defending pick-and-rolls.
On every pick-and-roll, the Bulls send the ball handler away from the middle of the court. On side pick-and-rolls, that means forcing the ball down to the baseline, where the offense's options quickly diminish.
A detailed examination of the Bulls' pick-and-roll philosophy gets pretty granular pretty quickly, but the guiding principle is dictating where the ball handler can go -- or more fundamentally,
can't
go -- and loading up the help defense accordingly.
Against Starks and the 1993 Knicks, Horace Grant was a step or two late. But today's Bulls, aided by altered illegal defense rules that allow for Thibodeau's signature strong side zone defense, are virtually always on time.
The history of NBA strategy is a conversation, or argument, between styles. Chuck Daly's Bad Boy Pistons were a response to Pat Riley's Showtime Lakers. While Thibodeau, then an assistant with Van Gundy in Houston, was designing defenses to chew up pick-and-rolls, current Knicks coach Mike D'Antoni's spread pick-and-roll offense provided the counterargument.
The goal of Thibodeau's pick-and-roll coverages is to "keep the ball on the strong side to limit how much the weak side has to help and protect, so you're not getting caught up in long rotations," according to Van Gundy.
Not coincidentally, those long rotations and closeouts are precisely what D'Antoni's offense is designed to create. In fact, Van Gundy credits the system D'Antoni developed in Phoenix with helping to advance defensive schemes around the league: "The high pick-and-roll with Phoenix with four shooters and Stoudemire rolling to the rim made it so you couldn't show," meaning the help-and-recover schemes teams had been using for years simply weren't tight enough to prevent Phoenix, with their extra shooter (the now endemic Stretch Big Man) from getting wide open looks.
At its maddening best, D'Antoni's offense generates wide swaths of space around the paint by stationing three shooters around a pick-and-roll involving a dynamic ball handler and an aggressively rolling big man.
During New York's magical seven-game winning streak in February, Jeremy Lin, Tyson Chandler and sweet-shooting Steve Novak perfectly embodied these roles. Not pictured: Carmelo Anthony and (for the most part) Amare Stoudemire.
But since returning their full complement of players, the Knicks have struggled, winning just three of their last 11 games. It comes as no surprise that the Knicks are also running
far fewer pick-and-rolls
.
The outlook is gloomy in Gotham, but remember that Euro-influenced drive-and-kick offenses that spread the floor with multiple attacking wings has historically been as successful as any against Thibodeau defenses. The Orlando Magic bounced the Celtics from the 2009 playoffs (while Thibodeau was the defensive assistant) with that strategy, and the Knicks have enough versatile scorers to exploit the Bulls' defensive rotations.
But to do that, to overcome Chicago's strong-side pressure, the Knicks must adhere to the space and movement principals of D'Antoni's system. They must keep the ball whipping around the perimeter, with either the dribble or the pass. Holding the ball, even to fake, and even when the fake is effective, only allows Chicago's help defenders time to get in position.
This is one of the few NBA games in which the name on the front of the jersey matters nearly as much as those on the back. There's a historical backdrop of bad blood, but tonight also puts a fine point on a broader philosophical conversation between D'Antoni's spread offense, at its best the most productive system yet developed, and Thibodeau's league-leading defense.
The echo from that roaring Starks dunk along the baseline can be heard throughout this game, in the howls of its passionate fans, and the tactical grappling of its coaches and players.
July, 19, 2010
7/19/10
1:02
AM ET

By Kevin Arnovitz
ESPN.com
Archive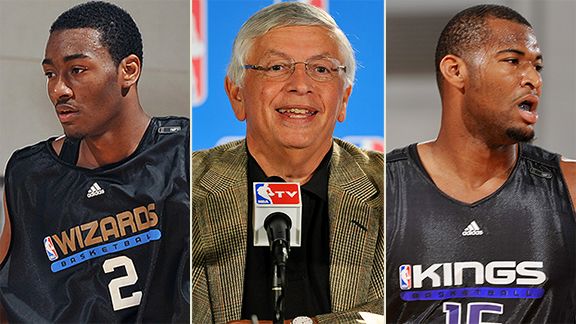 Garrett Ellwood/NBAE/Getty Images
LAS VEGAS -- For the basketball junkie in attendance at the Thomas & Mack Center or watching at home on NBA TV, Las Vegas summer league functions as an introduction to the league's freshest young talent. It's a unique event, far livelier than the preseason. Summer league's stripped-down basketball might not always produce the most graceful results, but there's an accessibility to the affair that carries great appeal. These 10 days in July also serve another purpose: It's summer camp for NBA insiders. That relaxed vibe breeds easy schmoozing for owners, executives, coaches, agents and reporters who have endured the pressure cooker of the season, draft, and free-agency period.
There was no shortage of topics to dish about in sections 104 and 119 of Cox Pavilion, where team officials gather during games, or at the restaurants and lounges on the Las Vegas Strip, where they often gather after the day's action. What were they talking about this year?
The executive carousel
Front-office intrigue always generates electricity wherever the NBA is gathered. The combination of vacancies and well-respected executives looking for work had summer league abuzz. New Jersey filled its opening on Wednesday when it named Billy King its new general manager, but empty seats in New Orleans, Phoenix and Portland kept the speculation lively with names like Kevin Pritchard, Dell Demps, Tom Penn, Jason Levien, David Griffin, Danny Ferry, Rich Cho, among others, in wide circulation. Various scenarios aside, there was healthy amount of discussion -- much of it precipitated by the reports that Phoenix will hire player-agent Lon Babby as president of basketball operations -- about what talents a modern-day executive needs to bring to the job. Will experienced negotiators and those with intricate knowledge of the collective bargaining agreement as well as contract law become increasingly popular as candidates for top management position traditionally reserved for those perceived as talent evaluators?
The looming lockout
The current collective bargaining agreement expires next summer and it was nearly impossible to find anyone in Las Vegas who has an optimistic view of the pending showdown between the league and the players' union. David Stern and the NBA has furnished the union with figures that project enormous losses, projections that players' union chief Billy Hunter says "strain credulity." Even those sympathetic to wholesale change believe that the NBA has an impossible sales job to perform. "The numbers that the league is throwing out there are hard to believe," one team executive said. "That doesn't mean the status quo is working. But the league is going to have a hard time getting anywhere using those numbers as a foundation." The impasse has governed a lot of what's happened over the past few weeks in the free agency market, both here and in Europe. For instance, with the prospect that their clients might have no employment in the fall of 2011 (or in fear that American players will come to Europe), some agents are locking players into longer contracts in Europe. For decision-makers in NBA front offices who had cap space this summer, there's a sense those dollars have an expiration date. Rather than carry that flexibility into an uncertain climate, better to spend now.
John Wall
You can usually find scattered seats in Cox Pavilion during summer league -- but not for Washington's first three games. John Wall not only excited fans, but he filled the VIP sections as well. "It's not just that he's the number one pick," said one NBA head coach. "He's also what every coach and general manager wants with the way the game is being played." Wall led summer league in points (23.5) and assists (7.8) per game, and added four rebounds and 2.5 steals to those averages. The superlatives and comps were flowing freely: Derrick Rose with defense and charisma. Chris Paul with better size. Rajon Rondo with more upside on his jump shot. One of the privileges of summer league is the opportunity to observe a top prospect in a meaningful context. After months of discussion their wingspan, upside, motor and potential, we finally have the chance to watch the player in a game situation. Seeing Wall run the pick-and-roll with JaVale McGee was a revelation for skeptics and reassurance for the true believers.
Run and space


"It seems like every time I look up, teams are bearing down on a lone defender," said an NBA assistant who is coaching his organization's summer league squad. "Everyone in the league is pushing the ball, even with big men." The trend isn't new. Ever since the rules committee eliminated hand-checking on the perimeter, the NBA has evolved into a more guard-oriented league. The best way to enable those quick guards to achieve maximum performance? Get out in transition when given the opportunity and space the floor when you aren't. "You have to have at least one mobile 4 or 5 who can run the floor, space the half court, be mobile enough to 'hard show' on a pick-and-roll and step out to at least 18 feet," said another NBA assistant. "Otherwise, you're dead."
Rehashing LeBron
There were few in Las Vegas who begrudged LeBron James' decision to bolt to Miami, and even fewer who resented Pat Riley's ability to assemble his vision. "Pat has been brewing Kool-Aid," said one general manager. Even though you won't find many sentimentalists in the NBA, there was a general consensus that James botched the process and needlessly squandered the goodwill he'd spent seven years acquiring. Being a superstar in the NBA is as much a management task as it is a body of statistical work, and many executives expressed the feeling that for all of James' interest in branding, he suffered a tactical failure with his handling of the announcement. A streamlined announcement without the theatrics and the protracted timeline would've been preferable.
DeMarcus Cousins
Even those who came into summer league with conflicted feelings about the Sacramento Kings young center were taken aback by the polar extremes Cousins displayed during his six games in Las Vegas. In his first three games, Cousins unveiled a broad range of skills, far more than his reputation as a raw big man suggested. He drained face-up jumpers, handled the ball in transition, worked off the dribble against defenders from the top of the circle, gobbled up rebounds then flicked perfect outlet passes fifty feet downcourt, and gracefully played pick-and-roll basketball with his guards. But we also saw Cousins' immaturity and petulant body language. He jawed incessantly at opposing centers like Greg Stiemsma and Ian Mahinmi, and nagged game officials with impunity. After shooting 45.8 percent over his first three games, Cousins went 9-for-45 from the field in his final three and also saw his rebounding totals sag. When the Kings' coaching staff gave him instructions during huddles, Cousins pouted and looked away. Whether Cousins' falloff was a product of poor conditioning, irritability or just self-disgust, one thing is certain: Cousins has more talent than advertised -- and it's going to be more difficult to harness than most of us realized.
Europe is burning
As bleak as the economic outlook for professional basketball in North America might be, it's nothing compared to the dark cloud hanging over many top leagues in Europe. Venerable teams are teetering on the edge of extinction -- and some have already fallen victim. Buried under a mound of debt, Fortitudo Bologna, one of the continent's most storied clubs in a basketball-crazed city, won't exist next season. A well-respected team like Belgacom Liège Basket, which made the Belgian League finals on a shoestring budget, is slashing even more payroll. More contract disputes are finding their way to FIBA Arbitral Tribunal, as some players go months with seeing some or all of their salaries. While the game is more popular than ever in Europe, economic conditions have never been more hostile to nurturing that passion.
August, 11, 2009
8/11/09
10:29
AM ET
Leon Powe's outsized heart moves to Cleveland. Kurt Rambis brings his pedigree and eyewear to the Twin Cities. And Mike Miller stretches the boundaries of social media.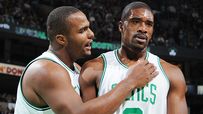 John Krolik of Cavs the Blog: "Leon Powe is about as good as an undersized, unathletic player with no range or ball skills to speak of can be. Yes, there's a definite ceiling in terms of how many ways he can impact a game. But as a pure banger, Leon Powe is just about as good as they come. Powe had the best offensive rebound rate of any power forward for the second consecutive year last season, and 9th in rebound rate overall. And offensively, Powe might not have any real jump shot whatsoever, but he knows his limitations and spends what time he has with the ball in the paint, shoving bodies around and trying to get the ball in the basket any way he can. 80% of Powe's shots came in the immediate basket area last year, and despite his dip in proficiency on layup-type shots from 07-08 to 08-09, his love of the dunk gave him a very respectable 60% mark on 'inside' shots ... For all Powe's strengths skill-wise, he still has major disadvantages athletically: He is much smaller than most centers and much slower than most power forwards. And he can't stretch the floor ... But overall, this is a great player and a great guy coming to the Cavaliers with very, very little financial risk involved, so my final position is that I congratulate the front office for getting yet another deal done, congratulate Mr. Powe for finding a team, and hope to see him on the floor reasonably soon."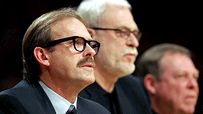 Patrick Hodgdon of Howlin' T-Wolf: "What I like about [Kurt] Rambis right off the bat is that he has always been surrounded by success in the NBA and owns seven championship rings, 4 as a player and 3 as a coach. He has played for Pat Riley alongside Magic and Kareem and has been an assistant under arguably the best coach in the NBA in Phil Jackson with whom he's coached Kobe and Shaq. The fact that success breeds success in the NBA is something I think that goes underrated. Sam Presti is doing a bang-up job in Oklahoma City because he learned it first in San Antonio. So is Kevin Pritchard in Portland. When you are around successful teams you learn how to emulate them and bring with you a blue-print for success. Rambis also brings actual coaching experience as an assistant for the Lakers for 10 years as well as experience from a short stint as head coach of the Lakers in 1999 during the lockout shortened season where he went 24-13 before being swept by the NBA champions Spurs in the second round that year. Something I also really like on his resume: he's been a coach with Kobe and Shaq on the team where he has seen the best at their best but more importantly at their worst, which is invaluable experience in the league ... "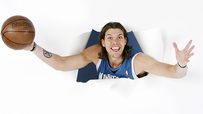 Kyle Weidie of Truth About It: "Mike Miller is for serious about his social networking. How serious? Damn serious enough to debut his new website with an inspirational Eminem 'song' that came out seven years ago. Miller also has a new blog entry, introduced by the 'frightening/sad/tough/crying on the inside/I'm from South Dakota/my fav rapper is Killer Mike/I'd eat a man's heart if it were legal and tasted like cheese wiz & beer' face you see above. Damn. That's serious enough to remove the 'r' from 'for' and make it a fo'. Mike Miller is fo' serious. Personally, I think Mike Miller is serious enough to drain more than 150 threes, drop more than 250 dimes, snag more than 350 boards, and shoot more than 42% from long distance this year. So if you're around, become a fan of Miller on FaceBook, follow his Twitter, or become a member at his website. Go give the guy they call 'White Mike' some support so that he and the Wizards can be working their hardest up to and through the 2009-10 season. After all, Brendan Haywood isn't the only guy playing for a contract this year."
THE FINAL WORD
Hoopinion: A comprehensive Rookie Guard Study from Bret LaGree.
Valley of the Suns: Dabbling in free agency counterfactuals from the Summer of '04.
Roundball Mining Company: The upside of losing Linas Kleiza.
(Photos by Steve Babineau, Lisa Blumenfeld, Joe Murphy/NBAE via Getty Images)
Hakeem Olajuwon
William Davidson
Pat Riley
Adrian Dantley
Patrick Ewing
April, 28, 2008
4/28/08
4:05
PM ET
So, Pat Riley is reportedly stepping down as coach of the Miami Heat.
It makes all kinds of sense. Simply put, if Pat Riley's heart is not in it, it's good to let someone else have one of the most coveted jobs in the world.
Exhibit A that is heart is not in it: he skipped four games of actual NBA head coaching action to go on scouting trips. I know, it makes some sense in his role as team president. But it's absolutely amazing that a coach -- the person charged with keeping the team inspired and on task -- would miss entire games to attend to other things.
It's not to rare to see coaches who are also front office executives. But it is exceedingly rare to see coaches miss games because of it.
But, once we agree it's good for Riley to step aside, we should probably get on to negotiating the schedule of his return. Because if the Heat get really good at any point soon, recent history dictates that Riley is likely to want to be on the sidelines again.
We have been here before.
Pat Riley came to the Heat in 1995, and had six straight winning seasons. In 2001-2002 (that was a team of Rod Strickland, Eddie Jones, and Alonzo Mourning), things started to slip a little, and they didn't get any better the next year, as the team had 36, and then 25 wins in consecutive years.
That roster was depleted, and full of players who were either too young to count on (Caron Butler), undrafted (Mike James), or slowed by injury (Brian Grant).
A few days before the 2003-2004 season started, Riley stepped down as coach, handing the job to his assistant Stan Van Gundy.
And Van Gundy took Lamar Odom, Eddie Jones, Rafer Alston, and rookie Dwyane Wade to the playoffs. A year later, Dwyane Wade was emergent, and Shaquille O'Neal was in the house. The Heat almost won the East.
21 games into the following season, when the Heat were a trendy pick to win the East, Stan Van Gundy stepped aside, saying he wanted to spend more time with his family (and, of course, has more recently become the very effective coach of the Orlando Magic). As Van Gundy stepped aside, there was no mystery about who would run the team. Riley had already told reporters he missed coaching, and was more than up for the job.
Then, Riley won a title. Well done!
The following season, the Heat were in disarray. There was bickering. There were injuries. There were conditioning issues. Just after the dawn of 2007, the defending champions were 13-18, and it didn't look good.
At that time, Pat Riley had two surgeries, including a hip replacement he had reportedly been putting off for years. Ron Rothstein took over for what ended up being only a few weeks out of action. But it's worth noting that Riley was in no mood to rush back at the outset, saying his medical departure was open-ended. He gave himself an out -- but returned to coach a team that did scrape its way into the playoffs.
Now, look, I know Pat Riley is older now. I know that he has obligations in the front office that demand a lot of his time. I know that people have long been writing articles like this, questioning Riley's commitment to the craft of coaching.
I know there are a million reasons to believe that this time, it will be different.
But, if Riley the executive can pull the right strings, this whole thing could happen again, couldn't it?
The Heat already have Dwyane Wade, Udonis Haslem, and maybe Shawn Marion. If those three can get healthy and happy playing together, that's a nice start. If the team can parlay its various draft picks and future cap space into something, then this miserable 15-67 team could be back at the top of the conference in a couple of years.
Reports are that "the Stan Van Gundy of 2008" -- the assistant who takes over for Riley when he gets tired of running a lousy roster -- will be Erik Spoelstra. Spoelstra is very high regarded. I hope he does well, and expect he will.
But if Spoelstra does very well, I wonder if Riley will be able to leave the coaching job alone.
Patrick Dorsey of The Miami Herald writes about Pat Riley, who has been asked about the likelihood that he will soon make the Hall of Fame.
Riley's response is brilliant. He uses some self-deprecation to, all at once, elevate the profession and dull his critics who claim that success was handed to him with a stacked Lakers roster.
More than anything, it shows that Riley understands what it's like to be a regular, as opposed to a superstar, basketball coach.
Here's what Riley says about the Hall of Fame:
I look at it this way: I don't belong there.

I really believe in the coaching profession and what the word coach means, and the gentlemen that are in -- all the gentlemen that are in that Hall of Fame as coaches -- [I know] why they are deserving, and why I don't belong, but why I'm there. ... I never coached a [Catholic Youth Organization] team. I never hauled a group of wannabes in the back of a truck to Central Park and worked them out from dawn to dusk. I never took a kid home in my car and treated his athlete's [foot] in my house when I was in high school. I never did the 8 million hours of work that a student-manager/assistant coach did.

I never did any of that stuff.

I was pushed through a door and a silver spoon was shoved in my mouth, that had Kareem [Abdul-Jabbar] and Magic [Johnson] and [James] Worthy and [Bob] McAdoo and [Byron] Scott and [Michael] Cooper and [Norm] Nixon. I mean, that's how I got my start. And most of the guys that are in [the Hall] did it the other way. So that's how I look at it.
February, 6, 2008
2/06/08
2:32
PM ET
The expectation is that O'Neal will pass the physical and a trade call will be placed with the league to consummate the deal by the end of the day. O'Neal could even be in attendance at US Airways Center tonight for Phoenix's 7 p.m. game with New Orleans.

Although O'Neal has been out with a hip injury, there is a belief that he will pass the physical because he is in great condition and is said to be at 312 pounds (down from his listed 325 pounds) with low body fat.

He seems to be a motivated player too, having jumped on a plane this morning after talking to several of the Suns, such as Steve Nash and Amaré Stoudemire, on Tuesday night.

"I will not let you down," O'Neal told Nash on the phone.