August, 13, 2012
8/13/12
1:50
PM ET
In North America, international basketball is often regarded as a novelty act -- a sideshow with funny rules, bizarre dimensions and lots of guys who look like rockers. Teams run sprawling offensive schemes that often look like something out of an instructional video.
Won't someone just explode off a pick already?!
But the 2012 Olympics, which ended Sunday, proved again that international competition is thriving. For two weeks, a world of players and teams with diverse skills battled for global prestige, and they did it in style. There's a reason that millionaires love playing for their countries. It's an inordinately rewarding way to express your identity as a basketball player in the context of something much larger than yourself.
Here's our all-London team:
First team
Gasol
Pau Gasol, Spain
What makes Spain so much fun to watch? It's Gasol's team, something we rarely witness in the NBA. When
La Roja
suit up, they're led by Gasol in the high post. His vision guides the guards to open spots, and his fluent read of the game creates opportunities.
When the Spanish fell behind big against Russia in the semifinals, Gasol changed course after halftime, getting quick touches before shuttling the ball across the court to his shooters. He posted, passed out, then reposted. This movement was precisely what the Spaniards needed against Russia's tight defense, and that adjustment
had
to come from Gasol. Jose Calderon hit the big shots, but Gasol facilitated them with his instincts and feel.
In the gold-medal game, Gasol's 24 points, 8 rebounds and 7 assists gave Spain a shot at the improbable. For the tournament, Gasol put up an average line of 19.1 points, 7.6 rebounds and 2.9 assists per game.
James
LeBron James, United States
For James, who had cemented himself as the most dominant player in the world during his 2011-12 NBA championship run, the gold medal was probably more of a statement than an achievement. He deferred to teammates during the early stages of group play, then again when the celebration started at North Greenwich Arena on Sunday. In between, he was the Americans' safety valve.
His line in London wasn't gaudy -- 13.3 points per game on 60.3 percent shooting from the field, 5.6 rebounds and 5.6 assists -- but when the 3-pointers weren't falling for the red, white and blue and opposing defenses began to gather confidence, Team USA could turn to James. In those instances, he would drive and dish, dive off the weak side where Chris Paul or Deron Williams could hit him on the move, or simply blow by helpless defenders with a single dribble and a burst to the basket, as he did with four fouls in a tight gold-medal game against Spain. All the while, James acted as the team's de facto center when Tyson Chandler was off the floor, defending the biggest guys in the most crucial moments.
Ginobili
Manu Ginobili, Argentina
Back when he was still known as Emanuel Ginobili to the rest of the world and before he ever suited up in black and silver, Manu led an Argentine national team that handed a mortifying defeat to the Americans in 2002 at the FIBA World Championship in Indianapolis. Two years later, Ginobili dropped 29 points on the Americans in the Olympic semifinal round en route to a gold medal for the Argentines.
As much as the hire of Mike Krzyzewski, those losses to Argentina inspired American NBA stars to renew their commitment to international competition. Argentina didn't medal in London, but a 35-year-old Ginobili continued his mastery of the world stage. In eight games, Ginobili averaged 19.4 points (third among all players), 5.4 rebounds (more than any other guard in Olympic play) and 4.1 assists. He led a tiny, somewhat depleted team that had grown old in the tooth to the brink of the podium. Ginobili is unlikely to suit up in Rio de Janeiro, and world basketball will be poorer for it.
Durant
Kevin Durant, United States
Every team needs a microwave, a guy whose penchant for unconscious shooting in uncanny spurts can single-handedly put an opponent away. Durant was repeatedly that sniper for the Americans over the eight games in London. In both games against Argentina -- first in group play, then in the semifinals -- Durant's barrage of 3-balls in the third quarter put tense, chippy games out of reach. There were no lapses in defenses by the Argentines nor any clever schemes drawn up by the American bench. Durant's combination of remarkable size and a quick trigger was simply incapable of being defended.
Back in Las Vegas after a friendly against the Dominican Republic, Durant flashed a bright smile when asked how much easier those 18 inches or so made the international 3-point shot, and his proficiency in London was all the evidence in the world. Durant went 34-for-65 from beyond the arc in the eight games and averaged 19.5 points per game, second only to Patty Mills.
Kirilenko
Andrei Kirilenko, Russia
There isn't a more effective, intuitive player at cutting off the ball to make a play than Kirilenko. Time and again in London, just when you thought the Russian offense grounded to a halt, there was Kirilenko dashing into the lane for a catch and an easy 2. Kirilenko was equally crafty on the other side of the ball. The Russians repeatedly switched up their defense over the two weeks of competition, and Kirilenko was one of the primary reasons that coach David Blatt's defense was so flexible. Kirilenko was the tournament's best weakside defender.
He ranked third in blocks and steals, sixth in scoring and eighth in rebounding. Although he wasn't accurate from the outside, he still tallied a field goal percentage of 54 percent, a testimony to his shot selection and general smarts. Few projected the Russians to stand on the podium on Sunday night, but Kirilenko's contributions elevated them.
---
Second team
Mills
Patty Mills, Australia
Mills drilled the shot of the Olympics when he flared to the top of the circle with his team trailing by two to the undefeated Russians. With 1.8 seconds left, Mills caught a pass from Joe Ingles, then launched the shot against two closing defenders. The ball fell through, one of several big shots Mills drilled for the Boomers, a team that probably had less pure talent on the floor than any other that survived group play. Mills was the only Olympian who averaged greater than 20 points per game (21.5) and was the spark Australia needed against more sophisticated schemes and explosive squads.
Scola
Luis Scola, Argentina
Talk about a guy with a tough assignment. Here's 6-foot-8, 32-year-old Scola essentially functioning as Argentina's big man against topflight opponents. Every game, he had to fight for position against defenses keying in on him below the foul line, but he repeatedly won those one-on-one battles. We saw it in the semifinal, when Scola was confronted early by Tyson Chandler one-on-one. Scola shrugged, went middle and elevated with a hook over the 7-footer. When the ball was high, he sneaked behind unsuspecting defenders to set up underneath the basket, where teammates always seemed to find him. Overall, Scola was tremendous, putting up 18 points, 4.6 rebounds and 2.8 assists per game.

Ingles
Joe Ingles, Australia
A national team without a lot of raw athleticism or transcendent talent crashed the quarterfinals with wiliness and savvy, and the Australian big man brought that consistently for Australia. That game-winning pass to Mills was just a taste of Ingles' heady play. He also routinely checked guys who could've flattened him in just about any other context. When the Boomers threw improvisational double-teams at unsuspecting offenses, Ingles was usually the guy applying pressure, then scampering back to his original assignment. The Aussie forward finished the Olympics with 15 points, 5 rebounds and 4.2 assists per game and was a paragon of consistency.
Anthony
Carmelo Anthony, United States
For a while, Anthony was scoring a point per minute for the Americans. He'd check in, set up on the right side, wait for cross-court passes against a loaded defense, then fire away. He went downright insane in the historic 156-73 drubbing of Nigeria during group play, going off for 37 points on 10-for-12 3-point shooting in a mere 14 minutes of court time. That explosion was one of the most unprecedented, self-contained scoring exhibitions we'll ever see in organized basketball. Anthony also produced in two skittish games for the Americans -- the close call against Lithuania and the semifinal versus Argentina.

Huertas
Marcelinho Huertas, Brazil
Are the shooting numbers great? Not really. But the electrifying point guard put a depleted, underperforming group of Brazilian veterans on his back into the quarterfinals. When he got there, Huertas drained a slew of 3-pointers from well behind the line, a barrage that punched the Argentines in the mouth in the first half. Huertas is a master of controlling space and tempo, an old-school point guard with a few new-school tricks. He was the second-leading assist man in London at six dimes per game, behind only Argentina's Pablo Prigioni, and averaged 11.3 points per game for a Brazilian team that outperformed expectations despite getting very little from its big men.
Honorable mentions:
Carlos Delfino, Argentina; Kevin Love, United States; Alexey Shved, Russia; Yi Jianlian, China; Joel Freeland, Great Britain; Leandro Barbosa, Brazil; Chris Paul, United States; Nicolas Batum, France; Marc Gasol, Spain; Boris Diaw, France.
August, 7, 2012
8/07/12
9:41
AM ET
Monday was the final round of group play, with eight teams advancing to the knockout phase. There were a fair number of virtuoso performances, spirited underdogs and some individual surprises, but those who have excelled at Olympics past, by and large, added to their international legacies.
Here a
re 10 standouts of the group play (in no particular order):
Ginobili
Manu Ginobili, Argentina
Possibly the greatest competitor in international play in a generation, Ginobili is likely playing in his final Olympics. He has set the standard for pros who want to leave their imprint on the state of global basketball, and he has suffered no falloff whatsoever in his 2012 Olympic production: 20 points, 6 rebounds, 4.6 assists, 29 minutes per game -- and perfect at the line in 27 attempts. Ginobili has accomplished this despite losing one-third of a step, but the seams are still there, even if the burst isn't. Ginobili knows the defenders and is still one of the game's best navigators with the ball in his hands.
Gasol
Pau Gasol, Spain
He has snatched those 25 or so minutes he spends on the floor for Spain and made them his personal exhibition. It's difficult to tell if Gasol is being guided by the desire to answer those who question his fortitude November through June, or if he truly feels more comfortable in that Espana jersey. Whatever the case, Gasol has eagerly moved to the post, but has still experienced a ton of success as a face-up jump shooter. He hasn't been flawless. A couple of brain-freezes late contributed to a loss against Russia, but those blemishes aside, Gasol has been as reliable as anyone in a series of games that hasn't been a cakewalk for Spain.
Kirilenko
Andrei Kirilenko, Russia
Another guy whose happiness quotient seems to tick up when sporting a national uniform. Kirilenko is still one of the best pressure defenders in the game for a player his size. Offensively, Kirilenko has been able to operate in areas of the game where he's strongest -- making back cuts, facilitating plays that move the Russians closer to a clean shot, and generally putting himself in a position to score (drawing plenty of fouls along the way). When Kirilenko is engaged and playing with confidence, he's a joy to watch.
Anthony
Carmelo Anthony, United States
Nobody is more potent when the game is easy. During group play, overwhelmed defenders matched up against Anthony are standing opposite him thinking, "Not only do I have to defend this guy's size, but also his guile, and deceptive quickness, too?" Anthony's 37 points in 14 minutes against Nigeria was the buzziest event of group play. He was denied the opportunity to tie a bow around his group-stage performance after he took a nasty shot to the groin by Argentine point guard Facundo Campazzo, but still finished the five games as a "198 shooter," when you add up field-goal percentage, free-throw percentage and percentage from beyond the arc.
Scola
Luis Scola, Argentina
If Ginobili is the heart of the Argentine team, then Scola is the nervous system, the organ that allows the body to do its thing. It's nothing we haven't seen before. Luis is popping, skying hooks, diving to the rim and finishing. If he can't find the space he needs, he'll cleverly draw a foul.
Scola's performance against Lithuania, when he went off for 32 points and sprinkled in some pretty basketball plays, stands out as one of the best offensive displays of group play.

Batum
Nicolas Batum, France
The lanky forward has had a big offseason, inking a four-year contract north of $40 million with the Portland Trail Blazers Portland after being the chew toy in a tug-of-war between Portland and the Minnesota Timberwolves. After he sputtered in France's opening loss to Team USA, Batum has emerged as one of the more effective transition wings in the tournament. The defense has been decent, if unexceptional, but Batum has slithered his way to a number of rebounds in traffic. There won't be a more interesting player to watch during the quarterfinals and beyond, because for all that production (16.8 points per game on 60.4 percent shooting), our overall evaluation of Batum will be his capacity to take control of the game on at least one side of the ball.
James
LeBron James, United States
James has exerted his will when inspired, even if he's choosing his spots sparingly -- the third quarter against Argentina the latest and most notable example. With Team USA and Argentina separated by a one-point margin at the half, James came out of intermission and put up seven points in three possessions over a minute and a half. The first bucket was a turnaround J after posting Andres Nocioni. James followed with a 3-pointer off an offensive rebound that made its way to him in the left corner. Then, he scooped in a shot at close range after carving out space near the baseline.

Shved
Alexey Shved, Russia
Can we throw out the game against Spain for a second and examine what's working about the 23-year-old's game? And can you imagine a few minutes of Ricky Rubio and Shved as a backcourt tandem? The creativity and quickness with the ball are evident, but we also like Shved's change of speeds, his propensity to see where his teammates are situated on the floor, and how their big bodies can help him find a quick path to the rim. As much as anyone in the field, Shved's ability to control pace will contribute largely to his team's success in the knockout phase.
Mills
Patty Mills, Australia
The Boomers have been a resourceful, ad-hoc team. They engage in guerrilla warfare, running multiple defenders at big scorers and finding useful ways to deploy their big front line. But the constant for Australia has been Patty Mills in open space. Mills has been a little trigger-happy (only 13-for-39 from beyond the arc), but his cold-blooded buzzer-beater at the top of the circle torched the undefeated Russians. Mills' 20.6 points per game leads all Olympians.

Freeland
Joel Freeland, Great Britain
The big Brit has been a gritty irritant on both ends, doing his best Nick Collison imitation. Freeland fights front to low post, and has also shown flashes of a nice left shoulder game. He was a horse down the stretch in the heartbreaker against Spain, and his big frame is deceptively mobile, one reason he has nabbed 10.6 rebounds per 40 minutes.
Honorable mentions:
Kevin Durant, United States; Kevin Love, United States; Linas Kleiza, Lithuania; Timofey Mozgov, Russia; Salah Mejri, Tunisia; Carlos Delfino, Argentina; Vitaliy Fridzon, Russia; Anderson Varejao, Brazil; Joe Ingles, Australia; Marcelinho Huertas, Brazil.
August, 7, 2012
8/07/12
12:23
AM ET
By Ryan Feldman
ESPN Stats & Info
Archive
Christian Petersen/Getty ImagesTeam USA will face Australia in the quarterfinals on Wednesday.
Team USA has won 47 straight games in international play and 14 straight Olympic games, but it won't mean anything if the Americans can't win three more and capture their 14th gold medal.
That road will continue on Wednesday with Australia, a team the Americans are 13-0 all-time against in FIBA tournaments. But the Aussies are hot, coming off a win over Group B winner Russia.
HOW CAN AUSTRALIA UPSET USA?

Mills
It all starts with
Patty Mills
, whose 20.2 points per game are tied for second-most in the Olympics.
One of USA's biggest strengths has been its transition offense, as the Americans lead all teams in transition points. Australia has held teams to the third-fewest points per transition play in Olympic play.
How about modeling what Lithuania did in its five-point loss to USA?
Lithuania defended the Americans' isolations plays well, holding them to 7-of-21 shooting on 23 isolation plays. On the six isolation plays that Lithuania's defense committed to the offensive player, USA shot just 1-for-6 on field-goal attempts. Meanwhile, Lithuania only ran three isolation plays.
WATCH OUT FOR RUSSIA
Russia was a Patty Mills buzzer-beater away from finishing pool play undefeated. The Russians may be the team that could pose the biggest threat to Team USA in the Gold Medal Game.
Team USA has 77 3-pointers in five games, which already ties its all-time record for 3-pointers in an Olympics, set in 2008. USA is shooting 46 percent on 3-point attempts, while no other team is shooting 40 percent.
Russia is defending the 3-point arc as well as any team in London. The Russians are holding opponents to 28.7 percent 3-point shooting, which leads all teams.
The Russians have held teams to the fewest points per transition play in Olympic play. They've held opponents to 38 percent shooting in transition, while every other team in the quarterfinals is allowing teams to shoot over 50 percent in transition.
USA's half-court man defense has not been great. Of the quarterfinal teams, only Spain has allowed more points per play with its half-court man defense. Russia is the only team with a higher field-goal percentage than USA against half-court man defense.
THREE KEY STATS
• USA is averaging 117.8 points per game through pool play. USA's all-time Olympic record is 117.3 points per game in 1992.
•
LeBron James
has scored 225 points in his Olympic career. He can become USA Basketball's all-time points leader in Olympic play if he scores 56 more.
David Robinson
is the all-time leader with 280.
• Spain's
Pau Gasol
leads everyone in scoring through pool play. Gasol led all scorers in the 2004 and 2008 Olympics.
He has a chance to become the second player ever to lead three straight Olympics in scoring. The only player to do so was Oscar Schmidt for Brazil in 1988, 1992 and 1996.
July, 22, 2010
7/22/10
12:08
PM ET
July, 14, 2010
7/14/10
12:35
AM ET
At summer league, athleticism is the most commonly cited variable to distinguish NBA-caliber players from the rest of the talent. DeMar DeRozan's athletic gifts established him as a Top 10 pick in 2009, despite an underwhelming one-and-done season at USC. DeRozan displayed his explosiveness and agility for much of the 2009-10 season at varying levels of refinement, finishing his rookie campaign with a Player Efficiency Rating (PER) of 12.58. He showed strength (finishing near the rim) and weakness (playmaking) in the precise areas where you'd expect an athlete to succeed and fail.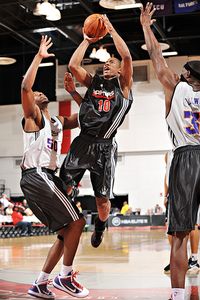 Garrett Ellwood/NBAE/Getty Images
Can DeMar DeRozan fill the void in Toronto?
Chris Bosh's departure leaves the Raptors with a vacuum in their offense, and DeRozan is probably the only player on the roster with the dynamism to fill that void. But to be the name on the marquee in Toronto, DeRozan will have to graduate from an athlete who can ball to a ballplayer who can leverage his athleticism. If he's going to achieve as a shooting guard, he must extend his range to beyond the arc, where he converted only four shots during his entire rookie season. DeRozan will also need to apply all that athleticism and length against the scorers who are torching Toronto on a regular basis.The Raptors finished dead last in defensive efficiency last season. As he enters his sophomore season DeRozan is well-aware of this opportunity, and the improvement in his game it will require on both ends of the floor.
"If I want to be more effective, I really have to slow down and not only use my athleticism all the time," DeRozan said. "I have to learn how to play different kinds of ways and I'm learning."
On Tuesday, we saw glimpses of DeRozan's learning curve and his expanding game. He scored 23 points, shooting 10-for-15 shooting from the floor. Although he unleashed some ferocious dunks, there was substance and nuance to go along with the aerial effects. DeRozan showed off a tighter handle against pressure, something that hampered his one-on-one game at times last season. That added confidence in his ballhandling allowed DeRozan to make better decisions off the dribble, whether it was spinning away from help defenders or finding a seam.
"Athletes last for [only] so long," DeRozan said. "Being young, I want to develop now so that I can go 50-50 with my game -- skills, then use my athleticism when I have to."
DeRozan still exhibited plenty of that raw athleticism, especially in tandem with Sonny Weems, his closest friend on the team. The two wingmen teamed up on consecutive alley-oops in the second quarter. The first jam came in the half court when Weems snuck behind the Houston defense on a dive to the hoop, where DeRozan found him with a lob. On the next possession -- a break in transition -- Weems returned the favor when DeRozan ran the baseline and met Weems' pass at the rim for the slam.
"That's what young guns do," DeRozan said. "When we came out, Sonny said he was going to go back door and I threw it to him. Then I knew when we were on the fast break together, I knew he was going to throw it up."
DeRozan's primary defensive assignment on Tuesday was staying with Chase Budinger (and occasionally Jermaine Taylor) in Houston's active three-man sets, closing out on the second-year sharpshooter and staying with him in transition. For the most part, DeRozan succeeded on all three accounts. He selectively provided help, but usually opted to stay glued to his man.
"I need to improve my defense, especially going at the 2 position, going against players like Kobe [Bryant], Ray Allen, those type of guys every night."
Evidence gathered at summer league has to be viewed with a jaundiced eye. As DeRozan himself suggests, there's simply no substitute for meaningful NBA games. Matt Janning and Chase Budinger aren't exactly comps for Bryant or Allen, but at least DeRozan acknowledges that the trajectory of his growth as a player will be central to the Raptors' fortunes.
To return to respectability, Toronto will need a superstar -- and there's only one candidate on their roster.
Yes, that was J.R. Smith out on the floor starting for the Nuggets. You can't find Smith on the published roster, nor on any of the box scores from the Nuggets' first three games here in Las Vegas. So what's he doing here? "I'm just working out," Smith said. "I'd rather play somewhere like this than a high school gym and get hurt." Smith is rehabbing his left ankle. "Of course it's not the NBA season, but it feels good to see some familiar faces and feels good to come out and play."
James Johnson's teammates spent a lot of time telling Chicago second-year forward where to set up offensively in the half court. When Johnson doesn't have the ball in his hands, he floats purposelessly around the floor. Should he work off the ball to elude his man? Should he go to the ball? Often, Johnson has no idea. On the positive side, Johnson has some impressive ball skills. He has the handle and agility to find seams to the basket -- and the strength to finish. Unfortunately, he doesn't display the desire or wherewithal to make a play when he encounters heavy traffic.
DeMarcus Cousins posted another strong showing. The numbers were solid -- 19 points and 12 rebounds -- but the breadth of Cousins' game was most impressive. Cousins displayed a lot of polish against the Lakers' squad. Whether he was delivering a nice pass against collapsing defenders to a diving Omri Casspi for a slam, or working Derrick Caracter off the dribble from the top of the arc (finishing with a soft hook off the glass), Cousins revealed finesse to accompany that power. He even drained a jumper from 20 feet and launched a smart outlet pass that led to a bucket on the break for Casspi. Above all, he's still showing signs of becoming a pick-and-roll force. On one possession, he set a high screen for point guard Donald Sloan, then made a beeline to the rim, flushing Sloan's missed shot for a putback. Even on Cousins' misses (he finished 8-for-20 from the field), he unveils a range of skill. There's a whole lot to be explored here.
If Dan Dickau can play NBA ball, then it seems to make sense that Matt Bouldin should. The big point guard out of Gonzaga can deliver a sharp pass, pressure the ball, fight through screens and make good decisions with the ball in late shot-clock situations. At 6-foot-5, he has NBA size at the position.
On a high ball screen, the man guarding the screener is charged with the responsibility of letting the man about to be screen know the pick is coming. In the opening possession of the Houston-Toronto game, the Raptors' Joey Dorsey failed to do that and got an earful from the Toronto coaching staff. In a sparsely filled arena on a Tuesday afternoon, that bark reverberated from the rafters. Suffice it to say that, for the rest of the game, you could hear "by yourself!" and "right! right! right!" every time Houston was in a ball-screen set.
Bret LaGree of Hoopinion on Othello Hunter: "Three weeks ago Atlanta Hawks Assistant General Manager Dave Pendergraft called Othello Hunter's season-and-a-half with the team as an experiment they didn't see through. Hunter appeared in just 23 games for 125 minutes with the Hawks. Despite having no immediate need for him, the Hawks assigned Hunter to the D-League for just 3 games during the 2008-09 season. After the Hawks released him in January, he finished the 2010 season in Greece, averaging 10 points and seven rebounds in 23 minutes per game for Ilisiakos. His first stretch of regular playing time since his senior season at Ohio State may have given Hunter the confidence to again demonstrate his strengths on the glass and around the basket. Through four games with the undefeated Denver Nuggets summer league team, Hunter has again produced when given playing time, averaging 13 points and five rebounds in 24 minutes per game while making more than two-thirds of his field goal attempts."
D.J. Foster of ClipperBlog and ESPN Los Angeles on Patty Mills: "Most 6-foot point guards with diminutive frames would be weary of mixing it up, but Mills isn't your typical guard. Despite his stature, Mills is a scorer first and foremost who actually does some of his best work off the ball. One display of his aptitude without the rock came when Mills hurled himself at a Hornets defender almost twice his size, setting such a thick baseline screen that his own man had to scurry off to help. The suddenly wide-open Mills then floated to the perimeter for a clean 3, bringing his total on the evening to 14 points on 6-for-9 shooting. In Mills, the Blazers look to have another threat off the bench who can pack a punch offensively, whether he's the primary ball-handler or not. With players like Brandon Roy and Jerryd Bayless typically dominating the ball, Mills' abilities away from the play should prove valuable going forward.
Jeremy Schmidt of Bucksketball on Hasheem Thabeet: "As he often does, Thabeet showed his shot blocking ability, rejecting three shots, but he still looked unsure of himself on offense. 20 seconds into the game he caught a pass and brought it down to his chest, allowing a guard to sneak in to tie him up. Later in the game he grabbed a rebound and again brought the ball down low before watching it get slapped away by a much smaller player. While signs of progress are there, Thabeet was 6-9 from the free throw line and rotated well enough on defense that his coaches were very vocal in their praise from the bench more than once, Tuesday's game reinforced the idea that Thabeet is still very much a work in progress."
Joe Gerrity of Hornets247 on Quincy Pondexter: "The first-round pick continues to impress on the defensive end. He's active off the ball and has shown the capability to stay in front of his man, something the Hornets desperately needed last year on the perimeter. Under the tutelage of new coach Monty Williams the Hornets are expecting an immediate contribution from Pondexter. Offensively he's a quality finisher and capable of cutting to the hole or hitting a pull up jumper at an NBA level. Before too long he should be in contention with Julian Wright to receive substantial minutes in relief of the aging Peja Stojakovic."
July, 12, 2010
7/12/10
12:25
AM ET
John Wall's professional debut began with a little throat-clearing, but once the Washington Wizards point guard got into the flow of the game, he commandeered the court. We asked some of those in attendance for their impressions of Wall's 24-point, 8-assist, 8-turnover performance: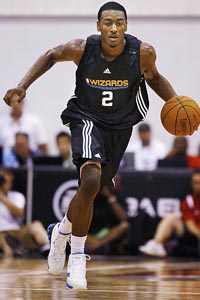 Garrett Ellwood/NBAE/Getty Images
John Wall: "A completely different kind of player."
Daniele Baiesi, former general manager Angelico Biella
When he picks up speed on the floor, he's unstoppable. He's a freak of nature for being 19-years-old. Today, there were a lot of expectations. The gym was packed, so everyone wanted to see the show. Whatever you see on the floor today won't be the exact truth. But whenever you see the kind of leadership skills he showed in his college year, you can expect him to lead an NBA franchise with no problem. He makes his teammates better because he puts them into a rhythm. He's a completely different kind of player. He also makes a huge defensive impact with his wingspan and athleticism.
David Blatt, Maccabi Tel Aviv and Russian national team head coach
Any player coming from college is going to have an adjustment period. Guys as talented as him will go through a shorter learning curve, even at his young age. I thought he did a pretty good job out here tonight, better than some of the first picks I've seen in the past. His future is very, very bright. For me as a coach, I like that he plays with his head up. He has a calm about him. He doesn't rush things. He makes mistakes but he doesn't allow the last play to bother the next play. I think that's very important, particularly for a player at his position. He has star quality. I think he's going to be a top-level player. It might take him longer than people think, but his talent is obvious.
Rick Carlisle, Dallas Mavericks head coach
He has fantastic ability and tremendous upside. He's a different version of Derrick Rose, a little different kind of player, a little different body type and a little different style of play. They both have a great ability to defend. As they learn more, they'll both get better and better. Wall is a little longer athletically and maybe a little more of a scorer.
DeMar DeRozan, Toronto Raports swingman
On the fast break, he's very effective. You see his speed, but you also see how strong he is. Once he gets more comfortable running an NBA team, I think he's going to be good. On defense, we haven't seen him guard anyone like Steve Nash or Chris Paul, so he's really going to get tested when the season starts.
Jimmy Goldstein, NBA superfan
It's pretty obvious he has such phenomenal speed. It's really exciting to see him dribble the ball down the court. His jump shot has a long way to go -- it's suspect at this point -- but he's such a phenomenal athlete, and I'm very excited about the prospect of watching him play.
Sam Hinkie, Houston Rockets vice president of basketball operations
So far, so good. You see the same kind of speed you saw in college. The advantage of that speed is only going to be amplified in the NBA with its spacing and his ability to get out in the open floor with even better finishers. Like any young player, there's a lot to work on, but you don't have to watch him very long to see how special he is for that position. Defensively, like most young players, he's better on the ball than off. There's no reason to believe he shouldn't be fine, and there's every reason to believe he should be very good.
Jarrett Jack, Toronto Raptors point guard
He started off a little shaky, but that's highly expected for his first NBA-style game. He played better as the game went on. He was able to be a little more aggressive and helped his team. He's best when he's in transition, so the best way to defend him is to try not to let him get a full head of steam and make him beat you from the perimeter.
Dean Oliver, Denver Nuggets director of quantitative analysis
The scouts were right. He's good. I thought it took him a little while to figure out the guys he was playing with, but that's not too much of a surprise. He's going to figure that out over the course of a season -- he figured it out over the course of a game. Defensively, I think he's going to be fine. He's got all the length and he can stay with guys. I'm not worried about any of that.
John Thompson, former Georgetown coach
I liked his attentiveness to the coaching staff. It goes without saying that he's faster than a speeding bullet. He's super-quick with the basketball, but he also showed poise. I think he's unlimited and a lot of it will depend on how much he continues to work and develop himself. But he's got special potential. This is the first time I've watched him this close. I was extremely impressed with how fast he was with the basketball. Also, a lot of players are offensively fast but defensively slow. But he's pretty quick defensively. There's something real special there.
Patty Mills brought a lot of life to the court for Portland. He filled up the box score with 12 points, nine assists, seven rebounds against only two turnovers. With a little space courtesy of a pair of early high screens, he was able to drain a couple of 3s in the first half. Throughout the game, he made smart decisions in transition, both finding seams for himself and directing traffic for his runners. In the third quarter, Mills sniffed out a pretty give-and-go with Dante Cunningham on the right side: perfect entry pass, perfect cut, perfect finis. The play earned a demonstrative fist pump by Cunningham on the return trip downcourt. Defensively, his quick hands wreaked havoc on the Rockets' ball handlers, as Mills racked up a bunch of deflections.
New Orleans first-round draft pick Craig Brackins struggled on Sunday, but the breadth of his game still holds appeal. He can do a little bit of everything which, judging from his indecisiveness on the floor, might be the problem here in Las Vegas. Because he was dealt from Oklahoma City -- a deal that wasn't official until last week -- Brackins had only one practice before taking the floor for the Hornets squad. "Craig has an NBA skill set as an offensive player: his ability to shoot the ball, his ability to face the basket and be effective, outstanding athletic ability, lateral mobility. These are all traits we think will allow him to be successful," Hornets general manager Jeff Bower said. "The thing with young players is, the quicker they can find a source of confidence in one aspect of their game, the quicker they become a factor." According to Bower, scoring the ball from mid-range and working the offensive glass are where Brackins can begin to build that confidence. "In these first experiences, focus on your strengths, get them established, feel good about them, understand your environment, then we'll address areas of the game we feel can be expanded."
David Thorpe on Portland rookie Luke Babbitt: "He's very comfortable as a scorer. He knows he has many option to choose from to get the ball in the bucket. He plays the game with a great pace -- not unlike James Harden. That allows him to let plays develop. He's going to be very effective in his shot-fake attack game."
Rob Mahoney on Denver's Coby Karl: "There's no real reason why Coby Karl wouldn't be able to compete on an NBA level, yet somehow, under guise of flawed skills and limited athleticism, he's doomed to the horrid middle ground between D-League stud and NBA role player. It's not a fun place to be, but there are so many capable wings that can technically do what Karl does. They just don't. Coby has the right skills and makes the right plays, with the perfect package for a complementary player. He doesn't step outside of himself and makes excellent decisions. For a guy vying for a spot on the back end of an NBA roster, that's huge."
Sebastian Pruiti offers up some video of Austin Daye's increasing confidence as a playmaker and scorer. Fearlessness is a trait developed over time for a young player, particularly one as slight of build as Daye was when he entered the league last season. Daye has bulked up -- both physically and mentally.
Jeremy Schmidt of Bucksketball catalogs the slew of Wisconsin Badgers present at summer league this year: "Those gritty Badgers with their swing offense and suffocating defense aren't thought of as an NBA factory the way Kentucky or North Carolina are. But that didn't serve as a deterrent to the franchises that added Marcus Landry (Knicks), Trevon Hughes (Rockets), Joe Krabbenhoft (Blazers), Brian Butch (Nuggets, though his summer league stint has ended prematurely due to injury) and Greg Stiemsma (T-Wolves) to their summer rosters."
Summer league fan uni watch: Jake Tsakalidis Grizzlies jersey (Hat Tip: Rob Mahoney)