TrueHoop:

Peja Stojakovic
May, 16, 2011
5/16/11
12:13
PM ET
By Peter Newmann and Dean Oliver, ESPN Stats & Info
ESPN.com

How do you defend a player who has averaged 25.0 points and 10.0 rebounds for his playoff career? That's the question the
Oklahoma City Thunder
will ask as they face
Dirk Nowitzki
and the
Dallas Mavericks
in the Western Conference Finals.

Nowitzki
Nowitzki is one of four players to average those numbers for his postseason career. The other three --
Hakeem Olajuwon
, Elgin Baylor, Bob Pettit -- are in the Hall of Fame. He's been a part of a Mavericks team that has made 11 straight postseasons, all 50-win seasons, as well.
So how should the Thunder attack such a daunting task that the
Portland Trail Blazers
and
Los Angeles Lakers
this postseason couldn't handle?
1. Defend him out to the 3-point line
Nowitzki shot 50.2 percent during the regular season from the field outside the paint. That was the highest percentage in the league among players whose majority of shots came outside the paint and had at least 500 field-goal attempts outside the paint.
Nowitzki shot 49.2 percent in the regular season from 10 feet and beyond. That was the third-highest percentage in the NBA (
Al Horford
,
Elton Brand
).
He also doesn't mind taking mid-range two-pointers on the baseline outside the paint. The Thunder didn't get the message in the regular season as Nowitzki hit 57 percent of his shots against them in that spot.
2. Double-team when the shooters are off the court
The vast majority of double teams on Nowitzki result in passes to spot-up shooters. Often, these passes result in 3-pointers. As the Lakers found out in Game 4, the Mavericks don't shy away from an open 3-pointer. During the regular season, 27.4 percent of the Mavericks field goal attempts were 3-pointers, the third-highest percentage in the NBA.
However, who do you leave open? Using "effective field goal percentage", a metric adjusted for three-pointers, the Mavericks have four players who had a higher effective field goal percentage on spot-up shots than the league average of 48.3 percent.
3. Keep him off the free-throw line
Nowitzki is the only 7-footer to rank in the top 100 in NBA history in both free throw percentage (14th) and three-point percentage (86th). He has the highest free throw percentage (87.7 percent) and highest three-point field goal percentage (38.1) in NBA history for a seven-footer.
During the regular season, Nowitzki got to the free-throw line 19 times in two games against the Thunder, missing just once.
May, 8, 2011
5/08/11
8:18
PM ET
By ESPN Stats & Info
ESPN.com
Archive

The
Dallas Mavericks
rode the hot shooting of reserves
Jason Terry
and
Peja Stojakovic
as they defeated the
Los Angeles Lakers
to finish off a four-game sweep of the two-time defending champions.
Terry (32 points),
Jose Juan Barea
(22) and Stojakovic (21) led a Mavericks bench that made 17 3-point field goals and matched the entire Lakers team with 86 points.
According to the Elias Sports Bureau, this marked the first time since the NBA merger that a team had three players score at least 20 points off the bench in any playoff game.
The Mavericks bench was the story of the series as they outscored the Lakers reserves by 109 points in the four games.
Dallas also took advantage from beyond 3-point range as they tied an NBA playoff record in Game 4 with 20 3-point field goals made. Only the 1996 Seattle SuperSonics made as many 3-point field goals in a single playoff game.
For the series, the Mavericks made 49 3-point field goals, an NBA record for a four-game playoff series. L.A. made just 15 three-point field goals, and went just 4-for-31 from three-point range in the fourth quarter during the series.
Dallas did most of its damage off of catch-and-shoot jumpers, according to game-tracking. The Mavericks hit 18-of-30 jump shots without taking a dribble in Game 4.
The alarming part for the Lakers is more than one-third of those shots came from Mavericks shooters who were unguarded. The Mavericks made 8-of-11 field goal attempts, all coming from 3-point range, when left unguarded by Lakers defenders.
The 36-point loss for the Lakers marked the fourth time the franchise lost a playoff elimination game by 30 points. Three of those four losses have come since 2006.
The game got out of hand for the Lakers in the second quarter when they were outscored 36-to-16. Entering Game 4, the second quarter was the only one the Lakers had been outplaying the Mavericks, entering Sunday's series clincher with a +21 point margin.
Kobe Bryant
finished off a disappointing series with just 17 points on 7-of-18 shooting from the field. Game footage showed only two of those shots came from within five feet of the basket, and Kobe missed both.
Bryant appeared to show some fatigue from all the games he has accumulated the past few years, settling mostly for jumpers throughout the series. Only seven of his 83 field goal attempts came from within five feet of the basket, generating only four points.
In the first round against the
New Orleans Hornets
, Bryant found it much easier to get into the paint, scoring 30 points while making 60 percent of those attempts within five feet.
He finished the 2011 postseason averaging just 22.8 points, his lowest postseason average since the 2000 playoffs.
This marked just the third time Kobe has been on the wrong end of a four-game sweep, and the seventh time the Lakers were swept in a seven-game series in franchise history.
May, 7, 2011
5/07/11
4:00
AM ET
By ESPN Stats & Info
ESPN.com
Archive


Since
Kobe Bryant
became a regular starter for the
Los Angeles Lakers
in 1998–99, the Lakers have fallen behind 2–0 in five previous playoff series. The Lakers were 4–1 in the pivotal "must-win" third games of those series with Bryant leading with way with 32.4 points per game.
Friday it was a different story as the Lakers fell to the
Dallas Mavericks
marking the first time the Lakers have trailed 3-0 in a best-of-7 series under Phil Jackson.
Dirk Nowitzki
finished with 32 points on 12-for-19 shooting from the floor as he notched his 10th straight playoff game with 20-plus points. Nowitzki feasted on
Pau Gasol
offensively as 27 of his 32 points came while being guarded by Gasol. This continued a series-long theme as Nowitzki is now 16-of-19 from the floor for 40 points against Gasol in the series.
The Mavericks bench once again outscored the Lakers bench, this time 42-15, led by
Jason Terry
(23) and
Peja Stojakovic
(15). Stojakovic contributed 11 of his 15 points in the fourth quarter.
Speaking of the fourth quarter, the Mavericks outscored the Lakers 20-7 in the final five minutes of the game. For the series, the Lakers have now been outscored by a combined 27 points in the fourth quarter.
As mentioned above Bryant has averaged over 32 points per game in Game 3 when trailing 2-0. Friday he had just 17 points, which is tied for his second-lowest output this postseason.
Andrew Bynum
was the lone bright spot as he led the Lakers with 21 points and 10 rebounds, but finished with just three points in the fourth quarter.
Phil Jackson and the Lakers not only find themselves in a huge hole, but also in very unfamiliar territory. The Elias Sports Bureau tells us that this is the first time in 65 playoff series as a head coach that Jackson has lost the first three games of a postseason series. Game 4 is Sunday in Dallas and the Lakers will try to avoid becoming the sixth defending champion in NBA history to get swept in a best-of-7 series (2007
Miami Heat
, 1996
Houston Rockets
, 1991
Detroit Pistons
, 1983 & 1989 Lakers).
And in case you were wondering,
none
of the 98 NBA teams to trail a series 3-0 have come back to win.
December, 29, 2009
12/29/09
10:47
PM ET
By Marc Stein

Jason Hart was going to be traded Tuesday by the Minnesota Timberwolves.

The only question was where: New Orleans or Phoenix.

As a story that appeared briefly on the Timberwolves' Web site earlier in the day confirmed, Minnesota was convinced that it had a deal with the New Orleans Hornets to send Hart to the Hornets in exchange for Devin Brown.

But Brown was able to block that deal from going through, much to the disappointment of the tax-conscious Hornets.

Sources with knowledge of the teams' discussions told ESPN.com that Brown and agent Mark Termini refused to reduce the amount on the 10-percent trade kicker in Brown's $1.1 million contract. Brown was not asked to waive the whole kicker, sources said, but the trade math on a deal with the Hornets would not work unless Brown consented to forfeiting some money.

Brown, though, would have been giving up a starting spot as well as the cash. He's started 23 of his 25 games this season and didn't know what sort of playing-time situation awaited in Minnesota.

The appeal for the Hornets was Hart's non-guaranteed contract. They planned to waive him immediately just as Phoenix is planning to release Hart on Wednesday after the Suns capitalized on the collapse of the Minnesota-New Orleans deal to send Alando Tucker, cash and a conditional second-round pick to the Wolves for Hart.

Meanwhile . . .

The big-picture takeaway from all of Tuesday's drama surrounding a seemingly minor deal is that it's yet another example of the pressure -- some would say desperation -- New Orleans is feeling to get its payroll beneath the $69.9 million luxury-tax threshold.

The wing positions have been major trouble spots for the Hornets all season, but Brown entered Tuesday's play averaging 10.0 points in just 23.4 minutes per game while shooting a solid 41.1 percent from 3-point range.

Yet the Hornets are currently $3.3 million over the tax line and remain prepared to send away Brown in a deal that brings back no guaranteed money, as seen over the summer when New Orleans felt it had to essentially donate Rasual Butler to the Los Angeles Clippers because of the tax benefits.

There is a belief among some rival executives -- or perhaps it's more accurate to call it a hope -- that the Hornets will not be able to resist moving All-Star forward David West before the Feb. 18 trading deadline to ensure that they get comfortably under the tax threshold.

New Orleans' preference would obviously be moving out player(s) from its list of veterans with contracts that stretch beyond this season. That list presumably includes Emeka Okafor, Peja Stojakovic, James Posey, Mo Peterson, Darius Songaila and Julian Wright.

But a major shakeup with the Hornets would appear highly unlikely without involving West, since we know (as covered in this cyberspace last week) that they're not trading Chris Paul.
Posted by Kevin Arnovitz
NBA training camps are still a few weeks away, but rosters around the league are gradually taking shape. Once David Lee, Allen Iverson and Ramon Sessions have jobs, we'll be ready to go.
The favorites in each conference are easy to spot -- they bear a striking resemblance to the teams that were playing on Memorial Day weekend. But which teams are lurking beneath the surface, ready to assume the role of improbable contender?
If they can avoid the injury bug, and the chemistry works just right, here are three teams that could emerge as success stories come spring:

Dallas Mavericks
It's easy to forget just how dominant the Dallas Mavericks were when they took the floor against the eighth-seeded Warriors on a Sunday evening in April 2007. This was the last game of the postseason's opening weekend, a perfunctory item of business for the Mavs en route to a conference finals matchup against the Suns or the Spurs.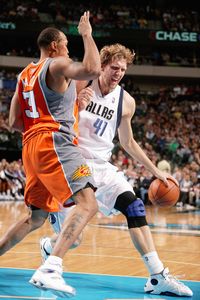 Can this pair inflict serious damage in a brutal Western Conference? (Garrett Ellwood/NBAE/Getty Images)
Dallas was one year removed from an NBA Finals appearance, and had just piled up 67 wins in the regular season. Only five teams in NBA history had recorded more Ws in a single season. Dirk Nowitzki was the presumptive MVP (and would go on to win the award).
The Mavs' epic collapse in that first-round series against the Warriors has been well-documented, and over the next two seasons, Dallas would descend from its perch into the Western Conference's upper-middle class.
What's interesting about that falloff is how many of the elements of that Mavs team remain intact today -- to say nothing of the quality pieces that have been added since. 67 wins isn't ancient history; we're talking
two
seasons ago.
Dirk Nowitzki, at 31, is the same age as Kobe Bryant. While Nowitzki is unlikely to reproduce his 2006-07 exploits, he remains one of the league's best players. Jason Terry has been a model of consistency for Dallas and had arguably the most efficient season of his career as the Mavs' super sub in 2008-09. Josh Howard is only 29. When healthy, he's still one of the more flexible swingmen in the game and a lockdown defender. In 2006-07, J.J. Barea logged fewer than 200 minutes, but he's become a spark plug for the Mavs' quality second unit ever since.
With Jason Kidd settling nicely into the role of veteran facilitator (and surprisingly efficient shooter), the franchise doubled down on the bet that its solid core could maximize what's left of Nowitzki's prime. The Mavs landed Shawn Marion.
Like Howard, Marion is versatile, freakish, and mercurial. Defensively, he can stay in front of speedy point guards, bother face-up power forwards, chase spot-up shooters, and clean up on the boards. Offensively, Marion's downward trajectory the past season and a half began the moment he left Phoenix. Coincidence -- or evidence that his talents demand the care of a veteran, pass-first point guard?
When you consider those assets, then throw in sensible additions like Drew Gooden and Kris Humphries to bolster Erick Dampier on the block, defensive stopper Quinton Ross, and a pair of intriguing rookies, and the Mavs appear ...
stacked
.
There is no shortage of nightmarish scenarios by which Dallas' gamble can implode. Nowitzki, Kidd, Marion, Terry, and Dampier are all on the wrong side of 30. Howard is accustomed to missing about 15 games a year, and being less than 100 percent for long stretches. The Mavs' best offensive lineup (Kidd-Terry-Howard-Marion-Nowitzki) won't give them much interior defense, and the loss of Brandon Bass makes them a less energetic bunch.
But with Kidd at the point, and a roster of flexible guys who can each serve multiple functions on the floor, Dallas has the potential to develop into a grizzled, selfless squad with the kind of mental edge that just might have been the missing ingredient 28 months ago.
---

Chicago Bulls
How much should we read into Chicago's classic seven-game series against Boston? Was the Bulls' gutsy performance a harbinger of things to come, or was it lightning in a bottle? Did they graduate into a team that knows how to scramble defenses with a legitimate pick-and-roll game, or were they just lucky to encounter a crippled Celtics team ill-suited to deal with their quickness and athleticism?
Those aren't the only imperative questions for Chicago. Even if we conclude that they came of age in April, is it fair to expect them to continue their progress without their top scorer, Ben Gordon, whom they lost to Detroit?
Short answer: Yes.
Although there will be nights when Gordon's fearlessness as a sniper will be missed, the Bulls might be better served long-term by the three-guard rotation of Derrick Rose, Kirk Hinrich, and John Salmons. With Gordon out of the picture, Rose can assert himself both as distributor and scorer. He's a transcendent young point guard, and one that should flourish now that his running mates in the backcourt are a little more pliable.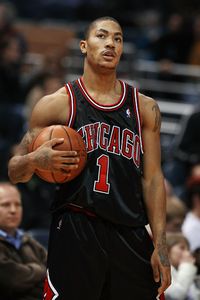 Derrick Rose: Season Two
(Photo by Jonathan Daniel/Getty Images)
Both Rose and Hinrich are expert ballhandlers -- and Hinrich is very comfortable off the ball as well. Salmons, along with Hinrich, is capable of defending all three perimeter positions, can score on pin-downs, slash to the rack, and fire from 3-point range (41.7 percent).
There are good reasons sleepers are sleepers, and the caveats for Chicago reside in its frontcourt. Start at small forward, where Luol Deng will be returning from a stress fracture in his right leg. He last played in a game on February 28. When 100 percent, Deng is a rangy, athletic force in transition and in the halfcourt, where his height and handle give him a big advantage over most defenders at the small forward. When Deng is on his game, he's also the correct answer to the question, "Who's going to make up for Ben Gordon's 20.7 points per game?"
There's a reason why any time a marquee big man comes on the market, he's rumored to be headed to Chicago. But desperate as the Bulls are for help on a threat on the block, we saw something interesting down the stretch last season. Rather than resign themselves to their lack of post scoring, the Bulls began to use Joakim Noah and Tyrus Thomas in pick and roll schemes, where their agility allowed them to beat their defenders to the rim. So long as Thomas resisted launching jump shots, it worked.
Noah doesn't have the jumper to be a high-post center (like backup Brad Miller), but his passing and mobility around the hoop might be enough in Chicago's offense. Thomas, of course, is the wild card. A composite of his finest moments last season would show him as a defensive ace, capable of creating opportunities for himself off the dribble, hitting a face-up jumper, and blocking any shot in medium proximity.
If
that highlight reel can become a reality,
if
Deng can bounce back, and
if
Rose can continue his co
urse as one of the game's best young playmakers, the Bulls might turn their novelty act from last spring into a long-run production in 2010.
---

New Orleans Hornets
Here's one you can play by the pool:
Name the best starting power forward/center tandems in the NBA.
You could begin with Pau Gasol and Andrew Bynum. After the Lakers' duo, there's only one other pair of starters who each recorded a player efficiency rating greater than 18:
David West and Emeka Okafor.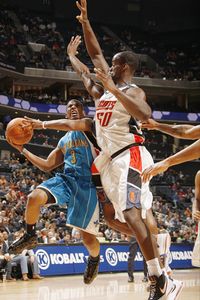 For Emeka Okafor, playing alongside Chris Paul will be more pleasant than playing against him. (Photo by Kent Smith/NBAE via Getty Images)
After playing in relative obscurity with Charlotte over the past five seasons, Okafor moves to New Orleans, where he'll fill Tyson Chandler's spot at center for the Hornets. Chandler was a sentimental favorite in New Orleans -- both of the fan base in the Crescent City and his teammates. The Chris Paul to Tyson Chandler alley-oop was one of the NBA's signature highlight reel snippets.
Okafor may not be an elite center, but he's a very, very good big man and a more complete player than Chandler. For an extensive look at New Orleans' upgrade, take a look at
John Hollinger's must-read comparison of Okafor and Chandler
.
One of the most productive frontcourt tandems in the league and arguably
the best
point guard on the planet: That's a pretty nice place to start a season, don't you think?
Paul, West, and Okafor might not warrant a "Big Three" designation, but we can agree that they qualify as some sort of troika -- particularly in a scheme that's as dependent on the pick-and-roll as the Hornets offense.
Unfortunately for New Orleans, the NBA game demands that its best teams field a couple of guys on the wing who can create and/or defend -- preferably both -- and this is where the Hornets have depth problems.
As a catch-and-shoot artist, Peja Stojakovic is about as good as we've seen over the past decade, but he's coming off his worst season since the Clinton administration and is increasingly having trouble staying healthy. The Hornets signed James Posey a season ago to play the same role in New Orleans that he did in the Celtics' 2008 championship run -- defensive and 3-point specialist. Posey is good for 25 minutes per night in that capacity, but not dynamic enough to play much more. Morris Peterson was once thought to be a solution on the wing, but injury and age have slowed him. Those three guys -- each born in 1977 -- won't get them the 96 minutes per night they need from the off-guard and small forward.
The Hornets don't need All-Stars at the wings, but they must get solid production. Enter enigmatic, third-year forward Julian Wright.
Whereas the Hornets' aforementioned veterans have trouble doing much more offensively than spot up and shoot, Wright -- on his better nights -- can do everything
but
shoot. Though he was a menace defensively for the Hornets -- the team was about five points stingier with him on the court -- Wright took a step back last season offensively. The gifts are apparent, but there's still a lot of refinement needed, both mechanically and mentally.
The elasticity of the Hornets' win total isn't all on Wright and the health of the vets. If Summer League is any indication (that's a much longer conversation, isn't it?), New Orleans scored with its selection of guards Darren Collison and Marcus Thornton in the draft. And forward Ike Diogu was a savvy pickup on the cheap, as well.
One summer ago, the Hornets were being sized up as contenders after a spirited playoff run. This summer, much of the discussion surrounding the team has included the phrase "luxury tax threshold." While general manager Jeff Bower was attending to the spreadsheet, it's possible he constructed a team poised to surprise next season.
April, 28, 2009
4/28/09
1:12
PM ET
We're deep into the first round series -- let the advanced game of adjustments begin. Carmelo has finally arrived, while the Hawks bounced back from oblivion. And what do the Washington Wizards and Thora Birch have in common?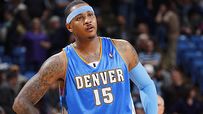 Jeremy Wagner of Roundball Mining Company: "If this is the new and improved playoff model of Carmelo Anthony, may the postseason never end ... If I could wrap up the difference in Melo over the previous three games it is that he is not only getting himself easy shots, but he is using his talent to consistently get his teammates easy shots. Melo has totaled 21 assists in the last three games and he has tied or surpassed his previous playoff career high of five assists for three straight games. Melo has also raised his defensive game to the highest level I have seen on a consistent basis at any point in his career. Melo clearly is taking his assignment of covering Peja Stojakovic seriously. He finished the game with only six rebounds, but most of them were ones he earned going up very strong in traffic. Carmelo is a dangerous weapon right now for a dangerous team and I cannot wait to see what he will do next."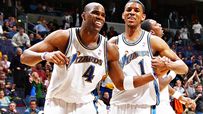 Wizznutzz: "It was the 2008-09 Wizards that had daddy issues. and im not talking about Pamela McGee buying Bud Ice at tenley mini mart for nick young. LIke we said before this years team was a RUMP STATE - its a very real thing google it. They had no authorities in charge and it was left to them to raise themselves like Dickens orphans. they were a party of five, a pack of wolves, a tribo-juvelist cooperative (I made up those words). Yes they had a Dad but their dad was like Dirk Benedict (i did not make up those words) in the movie ALASKA who crashed the family plane into the mountains and the young kids were faced with a harrowing adventure to race against time and nature to save him. They had to think fast and grow up and come up with a plan and work together to cross the wild and while they were doing all that Mike James slipped back into the plane wreckage and stole dad's wallet."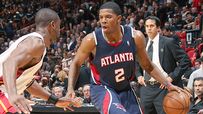 Bret LaGree of Hoopinion: "Through four games, the Hawks have won the fastest and slowest paced games. They've also won the two least efficient offensive games which have both been characterized by poor field goal shooting and lots of turnovers. As much talk as there's been since Game 1 about Miami keeping the Hawks out of transition, both teams are so comfortable taking their time to set up their primary offensive option that if that option is taken away there's little time to find a quality second option within a possession barring an offensive rebound. Factor in the deference to Dwyane Wade and, to a lesser extent, Joe Johnson demonstrated by their teammates and the sharp contrast between good and bad offense we've seen through four games becomes more understandable..."
THE FINAL WORD
Celtics Hub: The age old question -- when are moral victories enough?
Forum Blue & Gold: Sizing up the Lakers' potential second round opponents.
Philadunkia: The chess game inside the Orlando-Philly series.

(Photos by Rocky Widner, Ned Dishman, Victor Baldizon/NBAE via Getty Images)
April, 14, 2009
4/14/09
1:01
PM ET
The Mavs look like they'll avoid the dreaded 8-hole in the West, but the Pistons succumb to the Bulls and will have a weekend date in Cleveland. Meanwhile, the Sixers and Hornets have tough decisions to make about a couple of struggling shooters.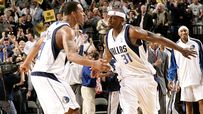 Rob Mahoney of Two Man Game: "What a game, what a game, what a game. In recent weeks, we've seen the 'Race for 8′ transform into a 'Race to Avoid 8′, and, by definition, a race to avoid the Lakers. The Utah Jazz, who sit just one full game behind the Mavs, were nursing a huge lead against the Clippers, and with two minutes and thirty seconds remaining, the Mavs were down five points to the Timberwolves. Heavy stuff. But from that point on, the Mavs committed few mistakes. They got exactly the offensive looks they wanted, and capitalized on most of them. They locked down defensively, and ceded a single basket due to unfortunate circumstance alone. Two and a half minutes, a 9-2 run, and nearly flawless execution. In the biggest moments of this game and possibly of the season, the Mavs did not disappoint. Shot after shot, stop after stop, all culminating in a defensive stop by Dirk [Nowitzki]/Erick Dampier and a huge go-ahead bucket by Jason Terry with 0.2 seconds remaining."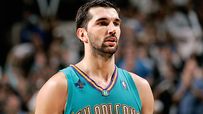 Ryan Schwan of Hornets247: "There is much made about the idea that Peja [Stojakovic] isn't having plays run for him, that he's being mis-used, that he should be sent in motion. So I kept track of plays where Peja was moving his feet, clearly having had a play called for him. There were twelve in the game. One, [Chris] Paul saw an opening and short-circuited the play, diving to the basket and scoring. Twice Peja got free off a single pick as [Shane] Battier got momentarily lost, and got two nice open shots. Three times, Peja ran off a set of three staggered picks, resulting in a nice open shot, a hurried deep three, and Paul being unable to get the pass to him because he was covered too well. Six times, he ran off a pair of picks and couldn't get open at all. For those of you keeping score, that's 12 plays for three open shots and an opening for Paul. If that's the return, I'm not sure it's worth the investment. And if the investment continues to be made, he needs to do better than 0-4 shooting (1-7 for the game, including shots off plays that weren't designed for him as a primary option)."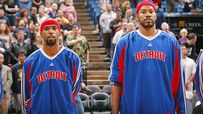 Dan Feldman of Piston Powered: "With a 91-88 loss to Chicago, Detroit will have the eighth seed and a first-round matchup with Cleveland ... [I]t's a shame that's Detroit's fate. In their biggest game of the season, the Pistons played the best they have in a while. Detroit and Chicago were evenly matched. They fought from start to finish, dove all over the court, played physical - and most importantly, played well. The game looked like a four-five matchup in the first round.
The Bulls are playing their best basketball of the season. They've won five in a row, nine of 11 and 12 of 15. And the Pistons are still 8-5 when Richard Hamilton and Rasheed Wallace both play and Allen Iverson doesn't. That clip would give the Pistons 50 wins over the course of a full season and put them comfortably in fourth place in the East. To make matters more impressive, eight of those games were against playoff teams (including two wins over Orlando and one over Boston). And most of those games were on the road."
THE FINAL WORD
Roundball Mining Company: J.R. Smith explodes.
Philadunkia: Falling out of love with Willie Green.
Two Man Game: Deep thoughts on the Mavs' bench.

(Photos by Glenn James, Rocky Widner/NBAE via Getty Images)
April, 13, 2009
4/13/09
1:00
PM ET
In today's Shootaround, we sort through the weekend's events, and distinguish the meaningless wins from the heartening losses, and the moral victories from the crushing defeats: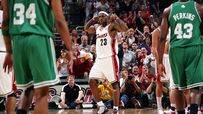 John Krolik of Cavs the Blog: "This game pretty much showed the difference between being on the winning side and the losing side of a rivalry ... Boston's not the team who has something to prove ... They have their spot locked in ... And they could care less about bragging rights or posturing. They're wearing the rings, and they're the champs until someone beats them in a series.

For us, it's different. Not only are we still fighting for home-court advantage ... but Boston is much more than a game to us at this point. Everyone came out hungry. We want to send a message. We didn't want to beat them; beating the Celtics without KG on our home-court is what was expected. We wanted to leave no doubt. We wanted to beat them so badly that it went beyond any possible hedging factors. We wanted it to be too much to brush off. I can't say what type of impact this is going to have -- I don't really think it affects how a series shakes out one way or another. If/when these two teams go at it, they're both going to be confident, prepared, and on top of their games. A regular-season blowout isn't going to change that dynamic."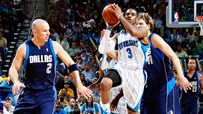 Rob Mahoney of Two Man Game: "The numbers didn't turn up in the Mavs' favor, but the game definitely acted as an extension of the new Mavs rather than a reversion to the old ways. When you win, you don't always demonstrate progress, and when you progress, you don't always win. The Mavs were within three points with a minute and a half to play, but James Posey made a smart pass on an out of control drive to set up Peja Stojakovic in the corner for a three (he was 1-7 on threes prior to the shot). It turned out well for New Orleans, kept the Mavs at arm's length, and essentially sealed the game. I'm disappointed that the ball didn't bounce the other way, but that doesn't mean I'm at all displeased with the Mavs' effort or overall performance."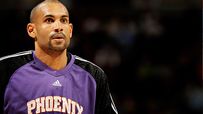 Brandon Haraway of Valley of the Suns: "Grant Hill wants to be a Phoenix Sun next year, and you know what, every single Suns fan should be pulling for him to be back. Let's see if Steve Kerr and Robert Sarver finally get it right and bring back the man who doesn't seem to realize the Suns' season is over, the man who has played with heart all year and the man who is about to play in all 82 games. This was never more evident than Saturday night in Phoenix's 110-97 victory over the Minnesota Timberwolves. On a night when Hill logged the most minutes of all the starters (23), he showed the next generation of Suns the way it should be done. He scored 19 points in those 23 minutes, missing just one shot and getting four steals."
THE FINAL WORD
The Painted Area: A dispatch from the Nike Hoops Summit in Portland.
Celtics Hub: Don't worry so much.
By the Horns: Derrick Rose -- Mid-range assassin.
(Photos by David Liam Kyle, Layne Murdoch, Doug Pensinger/NBAE via Getty Images)
March, 30, 2009
3/30/09
1:08
PM ET
The Hornets prevail in a must-win game over the Spurs, in which Bruce Bowen records a DNP-CD. Stephon Marbury is starting to figure out his role with the Celtics, while Iverson will have to adjust to his in Detroit. Read all about "Sixth Men: Past, Present, and Future" at the TrueHoop Network: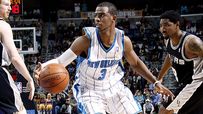 Ryan Schwan of Hornets247: "Simply put, Chris Paul came out at half time and proved he was the best player on the floor. I could fill up an entire observations section just with all the incredible plays he pulled out in that game. It's such a joy to watch him play. As what usually happens in good wins with the Hornets, [David] West carried the team in the first half, scoring 14 and serving as the focal point for the offense. In the second, Paul shifted from fourth gear to Warp 9 and carried the team to victory ... That was a big game, and it went into the 'Do Not Delete' section of my TIVO, so when I am without a game to watch in the off-season, I can fire that one up. Winning without Peja, Tyson and Posey was pretty big."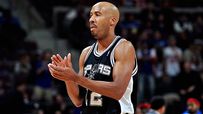 Timothy Varner of 48 Minutes of Hell: "As Coach Popovich creeps closer to setting a rotation, it appears that Ime Udoka will get minutes behind Michael Finley. I'll stop short of making bigger pronouncements. It was only one game. Popovich is certain to use [Bruce] Bowen as a spot defender between now and the time he retires. But I have to say, Pop is taking a gamble. Udoka is a tough-nosed defender, but even at his best moments he is not a versatile, game changing defender like Bruce Bowen. Bowen is a special player in that way. Or, reading into Pop's decision, Bowen was a special player in that way. But Udoka does do some things better than Bowen. His offense is more varied (and erratic), he can handle the ball, and his rebound rate is 10.6, making him one of the better rebounding small forwards in the league. Defensively, Udoka does a better job against balky players like Ron Artest. But unlike Bowen, Pop won't call his number against Chris Paul -- he'll put George Hill into the game. If Sunday's rotation more or less sticks for the postseason, Popovich's gutsy decision to favor Udoka over Bowen will play a prominent role in determining San Antonio's championship aspirations, for good or ill."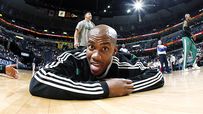 Brian Robb of Celtics Hub: "Starbury only scored 2 points on 1/4 shooting but he did have 7 assists compared to just 1 turnover in 22 minutes to go with a +12 on the floor. There have been some growing pains in the past 10 plus games for the point guard but he is finally starting to look comfortable with the bench unit by distributing the ball to his teammates in the right spots ... a lot of these assists came off of some nice penetration, allowing him to draw multiple defenders to create dunks and open jumpers for his teammates. Great news to see him putting it together at the right time."
THE FINAL WORD
Piston Powered: Allen Iverson, Sixth Man -- A History.
Daily Thunder: Are OKC's best players named Sefolosha and Weaver?
Raptors Republic: Toronto is putting all the pieces together ... in late March.

(Photos by Layne Murdoch, D. Lippitt/Einstein, Joe Murphy/NBAE via Getty Images)
March, 11, 2009
3/11/09
2:36
PM ET
The Hornets' sharpshooter might be better off in the second unit. The Cavs' sharpshooter couldn't connect all night...until it mattered. Ron Artest thinks he's a sharpshooter. The TrueHoop Network shoots from the hip.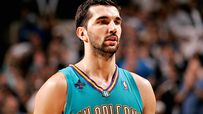 Ryan Schwan of Hornets247: "Other than Dallas, the Hornets have the worst bench among the current 8 seeds in the West...That means that when the Hornets hit the playoffs, we can expect the second-quarter meltdowns to become even more pronounced. It's pathetic, because the Hornets' starting five is the seventh best in the league, despite all the nagging injury issues they've had. If the Hornets' bench could provide even a little boost, or just play the other team more evenly, it would make the team infinitely stronger and get the starters more rest.

So is there a way to fix the bench? I'm a bit of a pessimist, but here is an idea that several people have already proposed in our comments, and that I agree with: Turning Stojakovic into a sixth man.

During the series of games where Paul, Chandler, and West were all out of commission, the Hornets turned to Peja to be their primary offensive option, and he did a pretty solid job in that role. The past three games with Julian in the starting lineup, the Hornets' starters have produced a slightly worse offensive efficiency of 108.0 and a much nastier defensive efficiency of 84.0 ... The Hornets could start Julian, sub him out for Peja around the 6:00 minute mark of the first quarter and let Peja warm up. At the start of the second quarter, they can start running the offense through him.

Making this change will entail curtailing Posey's minutes some -- but I really think he'd be better served as a 20-22 minute man anyways, not the 29 minute man he's been all season."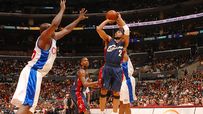 John Krolik of Cavs the Blog: "Mo Williams. What do I say? For 47:54, he had absolutely as bad a game as you can have. He's kind of an Anti-LeBron in that he's a guy who's primarily a straight-up scorer whose offense comes from the perimeter, so when he's not in a flow things can get very bad very fast. (Fortunately, he's ridiculously consistent.)

Tonight, he wasn't hitting his shots off the dribble. He wasn't hitting open threes. He wasn't doing well defensively. He had one assist against four turnovers.

And yet, for the third game in a row, Mo Williams was the difference between victory and defeat. And if I had to pick one game to show how valuable Mo is to this team, it might be this one. No matter what he's done before in the game, he's the guy who's there when we need him. Tonight, he was the difference between a great win and the worst loss of the year.

Delonte got off the hook, too-he was an absolute non-factor all game long, which is the one thing he generally never is.

Again, I'm going to point out just how good Joe Smith and Andy were at rolling to the basket all game long and getting layups, and how unbelievable LeBron was at finding them with amazing passes. I do not think it is a coincidence that this came against Zach Randolph."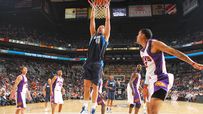 Michael Schwartz of Valley of the Suns: "We'll never know if things would be different with Amare (I think they would be), but as J-Rich said, the Suns just can't think that way.

As it is, Phoenix struggles to match up defensively against most teams with their small ball lineup, and it makes me a bit queasy that Dirk has said the toughest defender he faces in the NBA is Shawn Marion.

Yeah, he might be a little helpful right about now.

To add insult to injury, the Mavs won this game without Josh Howard to snap a nine-game road losing streak to Western Conference foes, winning their first West game away from Dallas this calendar year. And yes, it is March 10.

For the Suns, it feels like that 'season-changing' win over the Lakers on March 1 was in a whole different calendar year."
THE FINAL WORD
Celtics Hub: How clutch are the C's in close games?
Rockets Buzz: The eternal Ron Artest question.
Daily Thunder: Who needs Tyson Chandler when you have Nenad Krstic?
(Photos by Glenn James, Noah Graham, Barry Gossage/NBAE via Getty Images)
Do fans in Phoenix have it all wrong? Are there things Kobe gets that LeBron doesn't? Have the Hornets learned to cope without Chris Paul? Nothing is "untouchable" at the TrueHoop Network.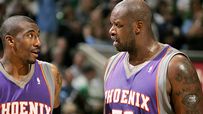 Matt Moore of Hardwood Paroxysm: "Stoudemire has had a 300 pound loudmouth move into his apartment, eat all his cheezewhiz, hang up on all his calls when he's on the other line, take up the DVR, drink all his Sunny D, and hit on his girlfriend. The acquisition of Shaq was supposed to create a dominant twin towers in the post. But in those combinations, one player is always the primary scorer alpha dog. And if Shaq is in your paint, he's the alpha dog.

I'm not saying it's Shaq's fault.

Wait, yes I am.

It's exactly Shaq's fault. What's more infuriating is that Phoenix fans have actually fallen for it. They truly believe that Shaq's little resurgence, which has been conspicuously absent against playoff teams, I might add, will be what takes them deeper into the playoffs (deeper than multiple conference championship appearances and several six game series against the eventual champions, but hey, they act like they never got past the first round with D'Antoni). But let's make this real simple. If you're relying on a 37 year old center with conditioning issues who has trouble going in back to back games to lead you to a championship?"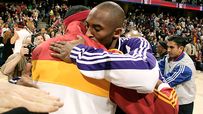 John Krolik of Cavs the Blog: "Fairly quiet night for that Mamba fella, as apparently he was battling a touch of the flu and, more importantly, Lamar Odom and Pau Gasol were having an absolute hammer party down low, with Lamar shooting 13-19 from the field and Pau, who looks worlds better when Bynum doesn't play, directing traffic and getting 6 assists.

Kobe's off-ball movement in the first quarter to get low catches was an absolute thing of beauty, as were his little mini-jumpers to get the buckets. I think one reason why so many people go with Kobe over LeBron, despite the evidence to the contrary, is that Kobe's solved a lot of the problems LeBron has, and the difference is evident, while the things LeBron does better than Kobe are either more subtle or a result of pure athletic talent -- he just seems like he's at a further point on his development curve. And that turnaround to end the game was absolutely ridiculous."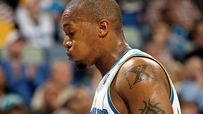 Ryan Schwan of Hornets247: "[G]ive it up to Byron Scott, folks. The vaunted ball movement you were all hollering for? It was in full effect tonight. They opened the game cutting and moving, with Peja setting down screens for Daniels and Butler before fading high for open shots off of picks by West or Bowen. You'll also notice that of the 13 possessions David West had tonight, only three were in a basic low post situation. All the rest involved his cutting back to the free throw line, receiving the ball, looking for open shooters, and if nothing opened up, driving into the paint against Jefferson, who couldn't move fast enough to keep up with him. Peja and Butler were rolling off of curls all night, and though Devin brought back the old Pick-and Roll offense when he was on the floor, there was still a lot more moving around as he drove to get open."
THE FINAL WORD
Queen City Hoops: A smart comparison of Vladimir Radmanovic and Adam Morrison's defensive shortcomings (with charts!).
Valley of the Suns: Why Steve Nash is "untouchable."
Hardwood Paroxysm: 20 things Anderson Varejao should never do.


(Photos by Melissa Majchrzak, David Liam Kyle, Chris Graythen/NBAE via Getty Images)
March, 31, 2008
3/31/08
6:10
PM ET
Peja Stojakovic has long been called a weak defender. That's a knee-jerk assessment people have of a lot of European players, whether it's true or not. It's doubly true of those who aren't super quick laterally, and don't like hard, physical play.
But if you notice, more and more he has been assigned to stop top scorers, and he has been doing a nice job of it too.
Ryan Schwan of Hornets247 examines the Hornets' defense, as part of a post calling for Byron Scott to win Coach of the Year. This Stojakovic passage was some fine analysis:
Peja is good at two types of defense, perimeter and help, and weak at two others, post and fast break. Far from being a weak link, Peja's skills on the perimeter have him frequently covering the top perimeter threats.(McGrady, LeBron, Bryant) As a perimeter defender, he is a bit unorthodox. Elite defenders usually guard their man by bumping and muscling them(Bowen, Battier), or using incredible speed to stay in front of the guy(Paul, Baron). Peja does neither of these things. When he takes a man, he knows his weaknesses and instead compensates by using his two best defensive assets - anticipation and height. His height allows him to lay off his man just another half step, allowing him to close and still contest the shot, or ancticipate and cut off a player trying to get past him by stepping in front of him as he begins his move. Once he closes, Peja's tall enough to contest almost any shot.

If a player is a determined driver, Peja is also always aware of where his help defense and is good at funneling the player into trouble, or, if they do manage to get past him towards where there is no help, he judiciously fouls them on the perimeter before they take a shot. Usually, these are always good fouls.

An example of his defense comes from that very game against LeBron where he was called a traffic cone. All game long, Peja had been checking LeBron.(6-14 for 21 points) When he caught the ball, Peja would get right in front of him, and not bite on his jab steps and headfakes. After about five seconds of precious time, a double would arrive, and LeBron would have to give the ball up or jack up a shot. At the end of the game, LeBron blew by Peja for only the second time all game. All game. LeBron also made his move so early in the clock(leaving us enough time to win) because he knew the double was coming and he had to go as soon as he caught it. It was an unexpected move, and I don't blame Peja for being caught by it, you can't stop everyone all the time, but he is very solid on the perimeter.
His weakness revolve around one thing: Contact. On fast breaks, you will never see Peja give a hard foul to break up a layup. Ever. Instead he'll try to stay close to the guy and bother him a little in the hope of making him miss a layup, or at most, he'll swipe at the ball, sometimes earning lame fouls. He's just not good at defending the break. In the post, he is clearly uncomfortable at handling determined players trying to post him up. He still anticipates well, keeping between the player and the basket, but he's not good at muscling players away from their perferred spots, so he still gives up good shots in the post.

And here is where my original intent for this post diverged. Peja's weakness in the post is pretty obvious. Why isn't he always put into that situation? The answer: against good teams, he is.
The Hornets are one of the best teams in the league, but one of the least televised and written about. Heading into the playoffs, we're lucky to have Hornets247 telling how the Hornets work. There's lots more to this post about the Hornets' defense. Well worth a read.