July, 17, 2009
7/17/09
12:25
AM ET
Posted by Kevin Arnovitz
Joe Alexander, as much as anyone on the Bucks' roster, will benefit from Brandon Jennings' fluency at running the break. Alexander can run the floor well for a combo forward, and knows how to fill the lane in transition. Thursday, he also harnessed his athleticism and got points driving to the hole with authority against some slower Toronto defenders. He also ran the pick-and-roll as the ball man effectively. All in all, another good outing for Alexander.
DeMar DeRozan: moving well off the ball. In the second quarter against the Bucks, he made a beautiful back door cut to the hole from the weak side the instant he recognized that the defense was sloughing off him a bit. The result? A perfect lob pass from Quincy Douby, and a vicious slam by DeRozan. He was also undeterred by tight coverage from Jodie Meeks at about 15 feet off the left block. Even with Meeks on top of him, DeRozan managed to get remarkable separation and elevation on his jumper under pressure. Coming hard off screens, DeRozan easily got free from Jodie Meeks. More on DeRozan from Holly MacKenzie here.

Chase Budinger: Averaging 17.8 point per game on 68% shooting.
(Garrett Ellwood/NBA via Getty Images)

Speaking of Meeks, he's still primarily a spot-up threat, which limits his ability to get to the line (23 attempts from the floor, but only one from the line), so it was nice to see him take it to the hole on occasion ... and finish.

Meeks and Jennings had great chemistry on Thursday, especially in the third quarter. On a high pick-and-roll for Jennings, the rookie point guard beat the trap. When the help sloughed off Meeks, Jennings kicked a perfect pass to his shooter, and Meeks drained the shot. Meeks' next two buckets from Jennings came in transition. On both breaks, Jennings waited patiently for Meeks to spot up, then perfectly timed his pass to Meeks, hitting him in rhythm. Both shots fell. On a crucial possession in the game's final minute, Jennings found Meeks again on the drive-and-kick, for a 3-pointer that put the Bucks ahead a point. Meeks finished the game with 29 points, including 4-for-8 from beyond the arc.
Brandon Jennings was really aggressive off screens when he split the trap and recognized that the back line rotation was slow. As a result, he forced fewer bad shots and had an easier time finishing at the cup.

Apart from Adam Morrison, the Lakers have few recognizable names on their Summer League roster. Morrison didn't play Thursday, which left some additional shots for David Monds. The journeyman forward took full advantage of the opportunities, nailing a slew of mid-range jumpers on his way to 14 points and 6 rebounds -- may not sound like a lot, but the Lakers' summer league team is a little impoverished.
Chase Budinger put up the best line of the day outside of Anthony Morrow: 25 points on 13 possessions. The forward out of Arizona might have the sweetest stroke in town. The challenge for most pure shooters in the NBA, of course, is finding good looks. This week, Budinger hasn't had any trouble. "He has a knack for getting open," Rockets' assistant Eltson Turner said. "He moves well without the basketball, and you can't leave him. That fits our style."
On the day he signed a 4-year, $3.8 million contract, DeJuan Blair gave the Spurs a good look at their investment against the Thunder, scoring 20 points on 13 possessions. Blair battled underneath all afternoon, muscling up for putbacks. But there was more to Blair's repertoire, including some wily dribble moves from the top of the key. "They shouldn't have passed on me," Blair said of the Thunder.
Thunder general manager Sam Presti is collecting versatile pieces to round out an increasingly mature Oklahoma City roster. To that end, Kyle Weaver's game is hard not to like. He wasn't the Thunder's top scorer Thursday, but he gave his team a reliable handle, solid on-ball defense for most of the night on George Hill, and some timely shooting. The Thunder's backcourt is standing room only, but in Weaver, Scott Brooks has a guy who knows his way around the court. For more on Weaver, check out Darnell Mayberry's profile in the Oklahoman.

In the first half of the Clippers-Grizzlies game, Blake Griffin (No. 1 overall) goes for 12 points and 11 boards, while Hasheem Thabeet (No. 2 overall) goes for 4 points (0 field goals) and 1 rebound. David Thorpe at halftime: "Griffin played as if he was an undrafted player from Bulgaria trying to impress everyone in the place, in search of a job next year. Thabeet jogged around, bumped a few people, and generally seemed uninterested. Passion is a talent."
Tarence Kinsey wins the Kevin Martin Award: 20 points on two field goals ... but 16-for-18 from the stripe.

July, 15, 2009
7/15/09
1:49
AM ET
Posted by Kevin Arnovitz
Five days down, five to go at Las Vegas Summer League. Some teams are nearly through with their schedule, while others are just rolling into town. Since we're halfway through, it's a good moment to take inventory of what we've seen so far, and hand out some early awards.
Keep in mind that some teams have played only a single game and some stellar performances might not be acknowledged (read: Jerryd Bayless):
All-Rookie Team
Tyreke Evans (SAC): Evans' one-on-one power game has produced a sick line. In three games, Evans has averaged 24.7 points and 7.7 rebounds per game. Most impressively, Evans has attempted 41 free throws in three games. His transition to point guard is a work in progress, but he'll be a scoring machine no matter where he plays on the floor.

Tyreke Evans has shown the ability to score points at will.
(Garrett Ellwood/NBA via Getty Images)

Blake Griffin (LAC): Griffin followed up his momentous 27-point, 12-rebound debut Monday night with a hum-drum 16-point, 9-rebound, 5-assist performance. Griffin directs traffic on both ends of the floor, and has been a pleasant surprise on pick-and-roll defense -- something he didn't encounter a whole lot at the college level.
Darren Collison (NOH): The Hornets' first-round pick has brought the discipline and patience of his UCLA pedigree to the pro game. He matched George Hill mano-a-mano in his first game, then came back Tuesday night with 23 points. He's also a perfect 16-for-16 from the stripe in his two games.
Roddy Beaubois (DAL): Before the Mavericks' rookie point guard took a scary spill Monday night in his third outing, he was electrifying crowds in Cox Pavilion with his combination of speed and range. He ran up 34 points against the Rockets Saturday night, including 7-for-12 from beyond the arc.
Jodie Meeks (MIL): The second-round pick out of Kentucky might not be one of the more athletic two-guards here, but he has lit it up from midrange, averaging 16.7 points per game on 60 percent shooting. The Bucks' brass is said to be very, very pleased.
All-Sophomore Team
Anthony Randolph (GSW): Quite simply, the most dominant, skilled, devastating player in town. On Tuesday, his 42 points tied a Summer League record. His current averages through four games: 26.8 points, 8.5 rebounds, 3.0 blocks on 60.9 percent shooting from the field.
George Hill (SAS): Hill has demonstrated a complete command of the Spurs offense. He has picked his spots offensively, and finished -- unlike last year, when he shot eight percent from the field in Summer League action. He's averaging 20.5 points per game and getting to the line at will.

Eric Gordon (LAC): In his two games, the Clippers' second-year guard has muscled his way to the hole for 21 and 22 points, respectively. His 21-for-22 totals from the free-throw line demonstrate that strategy is working well.
Robin Lopez (PHX): The question surrounding Lopez has been one of resolve, but Lopez looked fierce in his first Summer League game, racking up 24 points, 16 boards, and a couple of blocks.

DeAndre Jordan (LAC): Jordan's athletic attributes have never been in question. Whether he could package it all together into a coherent low-post game was another matter. So far, Jordan has dominated the interior for the Clippers. He's shooting 15-for-19 from the field. He's shown sharp recognition in the post and is winning every race to the basket.
All-Vets & Journeymen Team
Quincy Douby (TOR): Douby has been working hard on his game, and his effort is paying off in Las Vegas. He's shooting the ball efficiently from distance, racking up assists, and keeping turnovers to a minimum. Toronto may not have room for him in their backcourt, but his 19 points per game on 61.1 percent shooting should catch someone's attention.
Nick Young (WAS): The Wizards haven't even unpacked, but Nick Young's first game Tuesday night was a revelation. The third-year guard went insane, running up 36 points on 13-for-19 shooting, against the Cavs' hapless perimeter defenders.
Adam Morrison (LAL): It might not be the most efficient stat line of the week, but Morrison has put together a nice series of games. He's scored from distance, off cuts, and by putting the ball on the deck. It's a long road back for Morrison, but this week has served as a solid stepping stone back to respectability.
David Monds (LAL): The forward spent last summer in the D-League, and has been a solid contributor to the Lakers' 3-1 Summer League record thus far. He's averaging 14 points and five rebounds, and only 0.5 turnovers per game. He's also shooting an efficient 64.1 percent from the field.

Walker Russell, Jr. (D-League Select): A sentimental choice off the D-League Select roster, Russell is a creative, pass-first point guard. He sees the floor with an uncanny awareness of exactly where his teammates are, and where they want the ball. His pinpoint passes were the highlight of the Select team's victory over the Timberwolves.
All-The-Week-Isn't-Working-Out-So-Far Team
David Thorpe shares his thoughts about who's had a disappointing week in Vegas:
Curry has struggled with his shooting touch, while Randolph can't seem to miss.
(Garrett Ellwood/NBA via Getty Images)

Stephen Curry (GSW): The good news for Curry is that he's been able to get shots -- largely because the ball has been in his hand. He's picking his opportunities. Unfortunately, he's picking far too many of them. Although he's averaging 19.5 points per game, he's doing it on only 31.4 percent shooting. His assist/turnover ratio? 4.5 to 3.75.
Donte Greene (SAC): Greene is a bit of collateral damage playing next to Tyreke Evans. He needs the ball in the right spots, and Evans can't deliver those passes yet. So Greene is struggling to score efficiently, shooting only 8-for-27 over three games.
Mike Taylor (LAC): Taylor can shoot, is lightning quick, and plays with spirit. But he's not been able to put it together and doesn't look like a rotation point guard.
Bobby Brown (MIN): Sorry to break fellow Titan Marc Stein's heart, but for a team that just drafted two rookie PGs, Brown hoped to show this week that he could be part of the Timberwolves' backcourt rotation. That's looking unlikely. He's shooting 35.7 percent from the field, and not giving the 'Wolves much else.
Luc Mbah a Moute (MIL): Mbah a Moute has already proved he's a rotation player in this league. He was hoping to show that he can be more than just a tough defender. Thus far, that hasn't happen
ed.

April, 6, 2009
4/06/09
3:25
PM ET
It's gut check time in the Association. The Mavs step up with confidence, while the Suns step out of the playoff picture. The Cavs reverse their fortunes against the Spurs. And the Hornets can't seem to build any momentum heading in the postseason: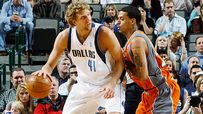 Rob Mahoney of Two Man Game: "The Mavs could have allowed the Suns to create a bit too much significance out of the final five games of the season. Hell, they could have at least let Phoenix make a game out this singular contest, dubbed by Grant Hill as the team's 'World Cup.' But for whatever reason, the Mavs weren't in a generous mood. They stabbed the Suns right in the heart, twisted it, and twisted it some more. This wasn't a demonstration of killer instinct, but rather, a will to annihilate. It wasn't just a destruction of the Suns' playoff chances, it was a complete eradication of hope and confidence. Behold, ladies and gentlemen, the puddle of disappointment that lays where the mighty Suns once stood. The Mavs didn't start Phoenix's downfall, but they have likely dealt the finishing blow and inked the death certificate."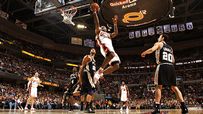 Graydon Gordian of 48 Minutes of Hell: "Both the Cavs and the Spurs play stodgy, spatially sophisticated defense. They both surround key offensive players, adept at collapsing the defense, with highly effective outside shooters. They both dominate the defensive boards. The Spurs average 90.5 possessions per game. The Cavs average 91.3. Both teams, although thoroughly conceived, have enough flexibility to counter opposing teams' varying styles.

This has been true for a few years now. Then what is different than past seasons? Well, in pretty much every category the Cavs are now slightly superior. Rather than playing Cleveland tightly, this means every tactical advantage the Spurs typically enjoy is negated."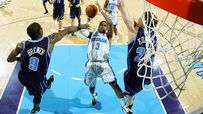 Ryan Schwan of Hornets247: "The Jazz are a premier team at exposing soft interior defense since they launch cuts through the middle on every play. If the big men aren't willing to body up, rotate, and contest shots, it's all over at that point. Armstrong rarely left Okur, West usually left late, and Marks just isn't fast enough.

The thing that probably stuck with me the most throughout the game, however, was the first quarter. The Hornets played very strong defense through the first five possessions, giving up only one good look. Ronnie Brewer, however, tossed in some really tough shots anyways, and the Hornets rotations came slower, the focus was softer, and the Jazz got more open shots -- and knocked them down. It was over then, no matter what happened the rest of the way. Paul wanted the game bad, and did what he could on both ends of the floor. The rest of the guys? I can't say the same."
THE FINAL WORD
Forum Blue & Gold: A review of Seth Davis' When March Went Mad.
Raptors Republic: The Quincy Douby era begins in Toronto.
Daily Thunder: OKC regresses.

(Photos by Tim Heitman, David Liam Kyle, Layne Murdoch/NBAE via Getty Images)