January, 18, 2013
1/18/13
11:11
AM ET

By Kevin Arnovitz
ESPN.com
Archive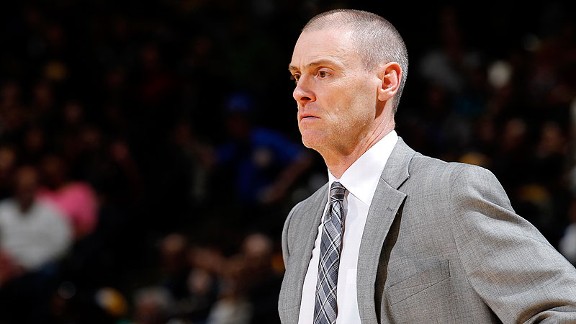 Rocky Widner/NBAE/Getty ImagesRick Carlisle: The pragmatist
Name
: Rick Carlisle
Birthdate
: October 27, 1959
Is he an emotional leader or a tactician?
A tactician. Carlisle inspires his team and staff with his deep knowledge of the game, not an emotional appeal. They know he's passionate about winning and losing, but that's conveyed through his intelligence and command, not huddle histrionics or heartfelt one-on-ones with players or coaches. Those who've worked with him, as well as colleagues around the league, marvel at Carlisle's ability to manage the last five minutes of a basketball game.
Is he intense or a go along-get along type?
You'd be hard-pressed to find anyone in the NBA who would characterize Carlisle as lighthearted. He's very intense, but he also knows how to corral that sharpness and doesn't coach angry.
Does he rely on systems, or does he coach ad hoc to his personnel?
Give Carlisle the pieces, and he'll find something that works. In Detroit and Indiana, Carlisle's teams were defined by their defense and were all about controlling the possession on offense. He succeeded with both Stackhouse-Atkins and Billups-Hamilton backcourts in Detroit, all four guards decidedly different in styles and strengths. In Indiana, Jermaine O'Neal got the ball on the left block, and Reggie Miller curled off single-singles, stacks and staggered screens. In Dallas, Carlisle went away from play-calling in favor of something that relied on more general principles -- and the instincts of Jason Kidd and Dirk Nowitzki to put those principles into action. To the extent that there's a commonality over the course of Carlisle's career, it's "Find the right shot at the right time for the right guy."
Does he share decision-making with star players, or is he the Decider?
Carlisle is the Decider, but he's exceptionally good at giving his key players the sense that they own a piece of the enterprise. He takes in a lot of information -- from assistants, star players, owners, numbers guys and trainers -- and that knowledge will often guide his decisions. For instance, things weren't so rosy in fall 2008 when the Mavericks came out of the gate 2-7. Kidd didn't want every set being commandeered from the sideline and was pining for more freedom. Carlisle went into the lab with his staff, came up with the "push" offense, which gave Kidd the flexibility he needed, but still generated
the right shot at the right time for the right guy
. That often amounted to an early jump shot for Nowitzki in a prime spot.
Does he prefer the explosive scorer or the lockdown defender?
Carlisle has always appreciated who's helping his team on the defensive end of the floor and feels confident he can find good shots for just about anyone -- even a defensive specialist like DeShawn Stevenson. In Indiana, Carlisle found plenty of minutes for Fred Jones, and in Dallas there has almost always been a Corey Brewer, James Singleton or Quinton Ross within close reach if needed for defensive duty. All that said, neither Corliss Williamson nor Jason Terry ever had to worry about losing minutes under Carlisle, who can recognize a well-tuned microwave when he sees one.
Does he prefer a set rotation, or is he more likely to use his personnel situationally?
Carlisle has no problem mixing things up when he identifies an opportunity. When his Pacers team needed to unclog the half court against the Pistons in a grueling conference final in 2004, Carlisle had Austin Croshere make his first start in two seasons to help the spacing. When his Mavericks team needed someone to attack the Heat's defense off the dribble in the 2011 Finals, Carlisle inserted J.J. Barea into the starting lineup for the final three games of the series en route to an NBA championship. Throughout his tenure in Dallas, if a player has cracked the code in a regular-season game -- say Brandon Bass in a pick-and-roll with Barea -- Carlisle will gladly leave him out there to exploit an opponent's defensive vulnerability.
Will he trust young players in big spots, or is he more inclined to use his veterans?
Again, Carlisle isn't prone to personal bias. He wants the guy out there who can help him the most. The situation will dictate the personnel, regardless of a factor like age. In Indiana, the core apart from 38-year-old Reggie Miller was very young, and nobody used more possessions for him during his last season in Detroit than 24-year-old Rip Hamilton. Yet Dallas has largely been a veteran's shop under Carlisle.
Are there any unique strategies that he particularly likes?
Carlisle might never fashion a trend in the NBA, but he'll take a current one and perfect it.
The push offense isn't so much an offensive system as it is solution to a problem. The 2008-09 Mavericks roster featured few players who could break a defense down with penetration and nobody who could be classified as a low-post threat. What Dallas had in spades were one- and two-dribble jump shooters and guys with astronomical basketball I.Q.s and other discernible skills like picking, diving and cutting. So Carlisle, with the aid of then-assistant coach Terry Stotts, devised a strategy to empower the team to find early high-percentage looks against an imbalanced defense.
As a general tactic, this wasn't new -- several teams had abandoned structure for freedom, Mike D'Antoni's Phoenix squads the best example. But unlike D'Antoni, Carlisle didn't have a prober like Steve Nash, nor was his group in Dallas as speedy or stretchy. The Mavs couldn't run and shoot with abandon, but Kidd could orchestrate an aggressive offense that knew how to sniff out those clean, early looks. That often meant getting wings and big men behind plays into random pick-and-rolls, or pinning Nowitzki's man early, or hitting Terry on the secondary break for a trailing jumper, or finding Josh Howard (later Shawn Marion) underneath a defense that's collapsed after an early drag screen.
Given his conventional playbook at his previous stops, this shift to a more free-flowing offense seemed like a departure for Carlisle. But in time, we learned that Carlisle didn't coach a deliberate, half-court game in Detroit and Indiana because he had a predisposition for it. He drew it up that way because his rosters necessitated more structure. When the circumstances in Dallas revealed themselves and he realized Kidd wasn't Jamaal Tinsley or Anthony Johnson, Carlisle deftly adjusted to the talent around him and created something special.
Defensively, the Mavericks adopted an inventive zone defense strategy devised by Dwane Casey. They were the rare team that was able to effectively zone up after misses, and would actually employ both zone and man-to-man schemes within a single possession.
What were his characteristics as a player?
A plodding but an intensely hard-working shooting guard who was always prepared and stayed in impeccable shape. Curiously, he tallied only 3.5 rebounds per 36 minutes for a total rebounding rate of 5.4 percent -- one of the lowest in history for a guard his size. By all accounts, this wasn't for a lack of effort, but a lack of hops.
Which coaches did he play for?
Carlisle played for Pine Tree State lifer Skip Chappelle at the University of Maine before transferring to the University of Virginia, where Terry Holland was the head coach. During his three years with the Boston Celtics, Carlisle came off the bench for K.C. Jones. Rick Pitino had Carlisle for a single season in New York. Carlisle finished his career as a player with New Jersey for Bill Fitch, who eventually offered him his first job on an NBA staff.
What is his coaching pedigree?
After being waived by the Nets, Carlisle got his start breaking down film under Fitch. In 1994, Carlisle joined P.J. Carlesimo's staff in Portland, where he worked alongside the legendary Dick Harter, the man responsible for the Bad Boy Pistons' "Jordan Rules" defensive strategy. Harter had a tremendous influence on Carlisle, who ultimately adopted many of Harter's principles in Detroit and Indiana -- strong base defense without much switching, few double-teams, help and rotations only when necessary and, above all, physicality. In 1997, Carlisle joined the coaching staff of former teammate Larry Bird in Indiana. Again Carlisle found himself on staff with defensive guru Harter. When Bird left the sideline in 2000, Carlisle was passed over for Isiah Thomas, but was tapped by the Pistons for his first head coaching gig. After two seasons in Detroit, Carlisle moved on to Indiana for four seasons before landing in Dallas in 2008 after a one-year sabbatical.
If basketball didn't exist, what might he be doing?
Working as a clinical psychologist.
August, 11, 2010
8/11/10
3:44
PM ET

By Kevin Arnovitz
ESPN.com
Archive
Every acquisition has a cost, which is one of the bedrock principles of bartering. Unless you're purchasing Manhattan or annexing the Sudetenland, it's virtually impossible to get something for nothing. The NBA's trade market has three primary currencies in circulation: talent, cap relief and flexibility -- with the latter two linked to some extent. On Wednesday, Houston, New Orleans, Indiana and New Jersey cooperated on a blockbuster trade that saw each team forfeit assets in service of a larger goal.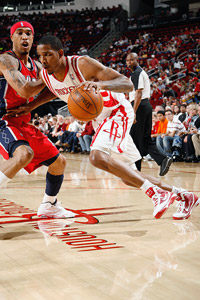 Bill Baptist/NBAE/Getty ImagesCourtney Lee will pick up some of Trevor Ariza's minutes in Houston.
Houston Rockets
Coming: Courtney Lee
Going: Trevor Ariza
On the surface, the deal for the Rockets appears to be a cost-cutting measure. Houston re-upped Luis Scola and Kyle Lowry this summer, while signing Brad Miller to a free-agent contract. Deep into luxury tax territory, the Rockets unloaded the remaining four years and $28 million on Ariza's deal in exchange for Nets guard Courtney Lee.
The Rockets' front office deeply believes the best value contracts in basketball are max deals granted to transcendent superstars, and rookie scale contracts belonging to productive young players. In Lee, the Rockets get a young wing who will earn only $1.35 million in 2010-11. In addition, the Rockets hold a team option on Lee for $2.23 million in 2011-12. That's real value for a 24-year-old with the talent to start. A $6.3 million trade exception doesn't hurt either.
Lee and Rockets starting shooting guard Kevin Martin train together in the offseason -- the latter regarded as an older brother to the third-year guard. Although Lee might not be the stopper Ariza is, he is capable of covering either guard position and can certainly tread water against some of the league's less dynamic 3-and-D small forwards. Lee will find strong organizational dynamics in Houston, similar to what he encountered during his rookie season in Orlando, where he succeeded. With Ariza's departure, the Rockets will have to figure out who picks up his minutes beyond Lee and whether that means experimenting selectively with Martin at the 3 spot.
---
New Orleans Hornets
Coming: Trevor Ariza
Going: Darren Collison and James Posey
The wing has been an enduring problem for the Hornets dating back to Desmond Mason, Bostjan Nachbar and J.R. Smith. Ariza might not rank on Chris Paul's list of the top 25 guys he most wants to play with, but the second Ariza puts on the teal, he'll instantly become the most athletic and versatile wing New Orleans has seen in recent years -- but at an enormous cost.
Collison has one of the best value contracts in basketball. He'll earn $1.3 million this season and carries team options for $1.46 million and $2.31 respectively over the subsequent two seasons. As a rookie, Collison played more than 2,000 minutes and compiled an impressive player efficiency rating of 16.55.
There's no guarantee Chris Paul will be sticking around New Orleans after his contract expires in the summer of 2012, and Collison's presence was a healthy -- and cheap -- insurance policy against that departure and any injury. Removing the remaining $13.4 million of James Posey's contract and the addition of Ariza's gifted -- but limited -- game seem to be an expensive bounty for a player with the potential to be very special and who is already contributing on a nightly basis.
---
Indiana Pacers
Coming: Darren Collison and James Posey
Going: Troy Murphy
"Point guard, Indiana Pacers" has been the NBA equivalent of "Drummer, Spinal Tap." The Pacers haven't been able to buy a break at the top of the floor for several seasons. Jamaal Tinsley, Anthony Johnson, Sarunas Jasikevicius, Jarrett Jack and, most recently, T.J. Ford and Earl Watson have all walked through the revolving door in Indianapolis.
A.J. Price, picked in the second round of the 2009 draft, showed some promise in his rookie campaign. But the acquisition of Collison finally locks down the point for the Pacers for the foreseeable future.
Normally, a salary like Posey's would be an onerous burden, but the Pacers have one of the cleanest spreadsheets in the league going forward -- only $18.8 million committed in 2011-12 before you tack on Posey's deal. The addition of Collison gives the Pacers the freedom to buy out Ford and not overpay for the services of Watson.
---
New Jersey Nets
Coming: Troy Murphy
Going: Courtney Lee
There's a pleasing symmetry to this deal, and it ends in Newark where Murphy arrives in exchange for the departing Lee. Murphy offers a lot of appeal for the Nets. First, he's in the final year of his contract, which will pay him a hair under $12 million in 2010-11. Second, he gives the Nets a stretch 4 who can crash the defensive glass and deliver smart interior passes, assets the Nets want alongside Brook Lopez's more traditional skill set.
What about No. 3 overall pick Derrick Favors? The power forward out of Georgia Tech turned 19 the week following Orlando summer league. With Yi Jianlian moving down I-95 to Washington, there will be plenty of minutes for Favors in the Nets' frontcourt rotation.
The Nets will presumably fill the void left by Lee with a platoon of Terrence Williams, Anthony Morrow and Quinton Ross -- three players who share absolutely nothing in common. Williams' versatility and range of talents span the board. Meanwhile, Morrow could beat Ross in a shooting contest wearing a blindfold, but few players in the NBA can torment perimeter scorers the way Ross can.
September, 4, 2009
9/04/09
1:57
PM ET
Posted by Kevin Arnovitz

Kevin Pelton writes that Bruce Bowen's legacy is a complicated one -- charitable spirit, borderline dirty player, hopeful symbol for the undrafted and, of course ...
I would also say Bowen brought a certain level of attention to the unglamorous work of defensive stoppers. Bowen wasn't the first player to gain accolades for individual perimeter defense, and he won't be the last. However, an entire generation of offensive-challenged defenders gets the luxury of the "next Bruce Bowen" tag, not unlike talented young swingmen in the post-Michael Jordan era. For a guy who took nearly a decade just to become the first Bruce Bowen, that's not bad at all.

That hyperlink to the "next Bruce Bowen" reveals 24,700 Google search results. For the record, the names include Trevor Ariza, Quinton Ross, Tony Allen, Corey Brewer, Ime Udoka, Kyle Weaver, Dahntay Jones, Justin Cage, Luke Walton, Marcus Dove, O. J. Mayo, Yakhouba Diawara, Paul Harris, and Gerald Henderson. And that's just the first 50 results.

Posted by Kevin Arnovitz
The Los Angeles Clippers introduced Rasual Butler this afternoon to the local media at their training facility in Playa Vista. For those keeping a tally of what's become of Zach Randolph, Clippers general manager and head coach Mike Dunleavy has now spun him off for the following:
Rasual Butler (1 year, $3.95M)
Craig Smith (1 year, $2.5M)
Sebastian Telfair (2 years, $5.2M, the second year a $2.7M player option)
Mark Madsen (1 year, $2.84M)
A remaining trade exception for $3.36M
$14.63M in salary savings for 2010-11, assuming Telfair picks up his option
A spot in the starting lineup at the power forward for Blake Griffin
There are no marquee names on that list, and nobody who can match Randolph's raw numbers, but judging from Dunleavy's mood on Monday afternoon, he's over the moon that he's been able to parlay arguably his worst blunder as general manager -- the acquisition of Randolph -- into a collection of cheap, complementary assets and tremendous financial flexibility.
The Clippers are almost certain to improve upon their 19 wins of last season. To what extent they'll be in factor in the Western Conference playoff race is anyone's guess. But if Dunleavy the GM has accomplished nothing else, he's starting to cobble together a roster that looks a lot more workable to Dunleavy the coach.
Dunleavy likes to post his guards, and has been imploring the small -- but brawny -- Eric Gordon to develop a post game, something he showed off in Las Vegas. With Butler, Dunleavy gets a lanky swingmen whom he can use in that capacity.
"If you're a 2-guard and you're 6-7, we can throw you down in the post some," Dunleavy said.
Less discussed, but more relevant is whether Dunleavy will act on his impulse as a tactician: Start Butler ahead of Al Thornton.
"We'll figure out what makes the best sense for us," Dunleavy said. "Coming into training camp, it'll be pretty wide open."
Dunleavy has coveted a Bowen-model small forward ever since arriving in Los Angeles. He took on defensive stopper Quinton Ross as a project, but Ross was never able to develop a perimeter shot that could stretch defenses. Instead, Dunleavy has had to cope with Corey Maggette and now Thornton. Both are capable creators for themselves, but ball-stoppers, defensive liabilities -- and endless sources of frustration for Dunleavy. Butler is no Bruce Bowen, but he's the corner sniper (45% from there), and long perimeter defender Dunleavy's been after.
Few teams will come into the season with more elastic expectations than the Clippers. So much is uncertain: Blake Griffin's ceiling in his rookie season; Baron Davis' health and resolve; Chris Kaman's ability to bounce back from injury; Eric Gordon's progress.
Toward the end of his media session, Dunleavy spoke about the physical regimen he requires of his players -- their body fat targets and conditioning programs. He also described a torturous, 60-second, three-man weave drill he had to perform himself as a rookie more than 30 years ago.
"If you can do that," Dunleavy said, "then you're in shape."
Dunleavy paused, then added wistfully, "Last year, I don't think we ever got to it. Period."
Posted by Kevin Arnovitz
NBA training camps are still a few weeks away, but rosters around the league are gradually taking shape. Once David Lee, Allen Iverson and Ramon Sessions have jobs, we'll be ready to go.
The favorites in each conference are easy to spot -- they bear a striking resemblance to the teams that were playing on Memorial Day weekend. But which teams are lurking beneath the surface, ready to assume the role of improbable contender?
If they can avoid the injury bug, and the chemistry works just right, here are three teams that could emerge as success stories come spring:

Dallas Mavericks
It's easy to forget just how dominant the Dallas Mavericks were when they took the floor against the eighth-seeded Warriors on a Sunday evening in April 2007. This was the last game of the postseason's opening weekend, a perfunctory item of business for the Mavs en route to a conference finals matchup against the Suns or the Spurs.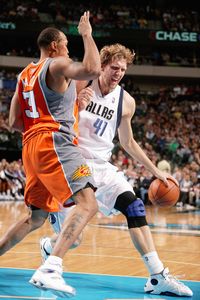 Can this pair inflict serious damage in a brutal Western Conference? (Garrett Ellwood/NBAE/Getty Images)
Dallas was one year removed from an NBA Finals appearance, and had just piled up 67 wins in the regular season. Only five teams in NBA history had recorded more Ws in a single season. Dirk Nowitzki was the presumptive MVP (and would go on to win the award).
The Mavs' epic collapse in that first-round series against the Warriors has been well-documented, and over the next two seasons, Dallas would descend from its perch into the Western Conference's upper-middle class.
What's interesting about that falloff is how many of the elements of that Mavs team remain intact today -- to say nothing of the quality pieces that have been added since. 67 wins isn't ancient history; we're talking
two
seasons ago.
Dirk Nowitzki, at 31, is the same age as Kobe Bryant. While Nowitzki is unlikely to reproduce his 2006-07 exploits, he remains one of the league's best players. Jason Terry has been a model of consistency for Dallas and had arguably the most efficient season of his career as the Mavs' super sub in 2008-09. Josh Howard is only 29. When healthy, he's still one of the more flexible swingmen in the game and a lockdown defender. In 2006-07, J.J. Barea logged fewer than 200 minutes, but he's become a spark plug for the Mavs' quality second unit ever since.
With Jason Kidd settling nicely into the role of veteran facilitator (and surprisingly efficient shooter), the franchise doubled down on the bet that its solid core could maximize what's left of Nowitzki's prime. The Mavs landed Shawn Marion.
Like Howard, Marion is versatile, freakish, and mercurial. Defensively, he can stay in front of speedy point guards, bother face-up power forwards, chase spot-up shooters, and clean up on the boards. Offensively, Marion's downward trajectory the past season and a half began the moment he left Phoenix. Coincidence -- or evidence that his talents demand the care of a veteran, pass-first point guard?
When you consider those assets, then throw in sensible additions like Drew Gooden and Kris Humphries to bolster Erick Dampier on the block, defensive stopper Quinton Ross, and a pair of intriguing rookies, and the Mavs appear ...
stacked
.
There is no shortage of nightmarish scenarios by which Dallas' gamble can implode. Nowitzki, Kidd, Marion, Terry, and Dampier are all on the wrong side of 30. Howard is accustomed to missing about 15 games a year, and being less than 100 percent for long stretches. The Mavs' best offensive lineup (Kidd-Terry-Howard-Marion-Nowitzki) won't give them much interior defense, and the loss of Brandon Bass makes them a less energetic bunch.
But with Kidd at the point, and a roster of flexible guys who can each serve multiple functions on the floor, Dallas has the potential to develop into a grizzled, selfless squad with the kind of mental edge that just might have been the missing ingredient 28 months ago.
---

Chicago Bulls
How much should we read into Chicago's classic seven-game series against Boston? Was the Bulls' gutsy performance a harbinger of things to come, or was it lightning in a bottle? Did they graduate into a team that knows how to scramble defenses with a legitimate pick-and-roll game, or were they just lucky to encounter a crippled Celtics team ill-suited to deal with their quickness and athleticism?
Those aren't the only imperative questions for Chicago. Even if we conclude that they came of age in April, is it fair to expect them to continue their progress without their top scorer, Ben Gordon, whom they lost to Detroit?
Short answer: Yes.
Although there will be nights when Gordon's fearlessness as a sniper will be missed, the Bulls might be better served long-term by the three-guard rotation of Derrick Rose, Kirk Hinrich, and John Salmons. With Gordon out of the picture, Rose can assert himself both as distributor and scorer. He's a transcendent young point guard, and one that should flourish now that his running mates in the backcourt are a little more pliable.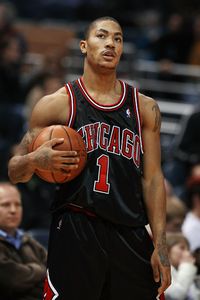 Derrick Rose: Season Two
(Photo by Jonathan Daniel/Getty Images)
Both Rose and Hinrich are expert ballhandlers -- and Hinrich is very comfortable off the ball as well. Salmons, along with Hinrich, is capable of defending all three perimeter positions, can score on pin-downs, slash to the rack, and fire from 3-point range (41.7 percent).
There are good reasons sleepers are sleepers, and the caveats for Chicago reside in its frontcourt. Start at small forward, where Luol Deng will be returning from a stress fracture in his right leg. He last played in a game on February 28. When 100 percent, Deng is a rangy, athletic force in transition and in the halfcourt, where his height and handle give him a big advantage over most defenders at the small forward. When Deng is on his game, he's also the correct answer to the question, "Who's going to make up for Ben Gordon's 20.7 points per game?"
There's a reason why any time a marquee big man comes on the market, he's rumored to be headed to Chicago. But desperate as the Bulls are for help on a threat on the block, we saw something interesting down the stretch last season. Rather than resign themselves to their lack of post scoring, the Bulls began to use Joakim Noah and Tyrus Thomas in pick and roll schemes, where their agility allowed them to beat their defenders to the rim. So long as Thomas resisted launching jump shots, it worked.
Noah doesn't have the jumper to be a high-post center (like backup Brad Miller), but his passing and mobility around the hoop might be enough in Chicago's offense. Thomas, of course, is the wild card. A composite of his finest moments last season would show him as a defensive ace, capable of creating opportunities for himself off the dribble, hitting a face-up jumper, and blocking any shot in medium proximity.
If
that highlight reel can become a reality,
if
Deng can bounce back, and
if
Rose can continue his co
urse as one of the game's best young playmakers, the Bulls might turn their novelty act from last spring into a long-run production in 2010.
---

New Orleans Hornets
Here's one you can play by the pool:
Name the best starting power forward/center tandems in the NBA.
You could begin with Pau Gasol and Andrew Bynum. After the Lakers' duo, there's only one other pair of starters who each recorded a player efficiency rating greater than 18:
David West and Emeka Okafor.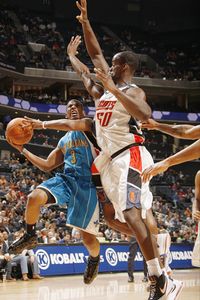 For Emeka Okafor, playing alongside Chris Paul will be more pleasant than playing against him. (Photo by Kent Smith/NBAE via Getty Images)
After playing in relative obscurity with Charlotte over the past five seasons, Okafor moves to New Orleans, where he'll fill Tyson Chandler's spot at center for the Hornets. Chandler was a sentimental favorite in New Orleans -- both of the fan base in the Crescent City and his teammates. The Chris Paul to Tyson Chandler alley-oop was one of the NBA's signature highlight reel snippets.
Okafor may not be an elite center, but he's a very, very good big man and a more complete player than Chandler. For an extensive look at New Orleans' upgrade, take a look at
John Hollinger's must-read comparison of Okafor and Chandler
.
One of the most productive frontcourt tandems in the league and arguably
the best
point guard on the planet: That's a pretty nice place to start a season, don't you think?
Paul, West, and Okafor might not warrant a "Big Three" designation, but we can agree that they qualify as some sort of troika -- particularly in a scheme that's as dependent on the pick-and-roll as the Hornets offense.
Unfortunately for New Orleans, the NBA game demands that its best teams field a couple of guys on the wing who can create and/or defend -- preferably both -- and this is where the Hornets have depth problems.
As a catch-and-shoot artist, Peja Stojakovic is about as good as we've seen over the past decade, but he's coming off his worst season since the Clinton administration and is increasingly having trouble staying healthy. The Hornets signed James Posey a season ago to play the same role in New Orleans that he did in the Celtics' 2008 championship run -- defensive and 3-point specialist. Posey is good for 25 minutes per night in that capacity, but not dynamic enough to play much more. Morris Peterson was once thought to be a solution on the wing, but injury and age have slowed him. Those three guys -- each born in 1977 -- won't get them the 96 minutes per night they need from the off-guard and small forward.
The Hornets don't need All-Stars at the wings, but they must get solid production. Enter enigmatic, third-year forward Julian Wright.
Whereas the Hornets' aforementioned veterans have trouble doing much more offensively than spot up and shoot, Wright -- on his better nights -- can do everything
but
shoot. Though he was a menace defensively for the Hornets -- the team was about five points stingier with him on the court -- Wright took a step back last season offensively. The gifts are apparent, but there's still a lot of refinement needed, both mechanically and mentally.
The elasticity of the Hornets' win total isn't all on Wright and the health of the vets. If Summer League is any indication (that's a much longer conversation, isn't it?), New Orleans scored with its selection of guards Darren Collison and Marcus Thornton in the draft. And forward Ike Diogu was a savvy pickup on the cheap, as well.
One summer ago, the Hornets were being sized up as contenders after a spirited playoff run. This summer, much of the discussion surrounding the team has included the phrase "luxury tax threshold." While general manager Jeff Bower was attending to the spreadsheet, it's possible he constructed a team poised to surprise next season.