In his final installment from Orlando, The Salt Lake Tribune's Ross Siler checks in with the forgotten man in the big Magic-Nets trade:
As traumatic as the first trade of a young player's career is said to be, Ryan Anderson appears to be grieving about as much as a lottery winner after being sent to Orlando from New Jersey as part of the draft-day deal involving Vince Carter.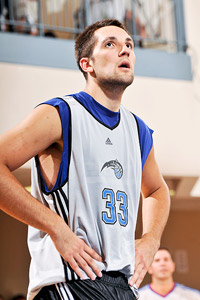 Ryan Anderson: "He's one of those guys ... It leaves his hands and you say, 'It's in." (Fernando Medina/NBA via Getty Images)
"The way that the trade went about, it wasn't a traumatic thing," Anderson said. "If it was a situation where New Jersey was like, 'We don't want this guy, let's put him in the deal with Vince, throw him
out of here....'
"That's definitely not what it was. I talked to the whole staff in New Jersey. It was a hard decision for them to make, but if I could go with anybody, I'm glad I came with Vince."
It took just five summer games for Anderson to make Orlando look like his personal Magic Kingdom. He finished with 33 points -- one shy of Travis Diener's league-record -- and 14 rebounds Tuesday against
Boston.
He followed with five 3-pointers and 26 points against Utah. At times, Anderson was the second-best player in Orlando after Russell Westbrook and showed just how much he could thrive playing behind
Rashard Lewis with the Magic.
"How many guys in the league, when the ball leaves their hands, do you feel like, 'It's in'?" Jazz assistant Scott Layden asked. "All of a sudden the basket looks like a hula hoop.
"He's one of those guys, really. It leaves his hands and you say, 'It's in,' right? He's that way. And what a team to play for. Wow. Think about that. You get looks on Orlando."
Anderson had one sequence Thursday during the second quarter against Utah in which he hit a 3-pointer, put the ball on the floor against Goran Suton -- spinning back for a layup -- and then buried another 3-pointer off a pick-and-pop.
Anderson averaged 7.4 points and 4.7 rebounds as a rookie in New Jersey, but played in only 66 games. The 21-year-old spoke about the importance of confidence, which he figures will be easier to maintain
with a defined role off the bench in Orlando.
"Rashard didn't really get too much of a break, so I'm there to relieve him," Anderson said. "You can play the same game with Rashard on and off the court."
Not even two weeks after the trade, Anderson crossed paths all week in Orlando with the Nets' Lawrence Frank, Rod Thorn and Kiki Vandeweghe, in town to watch their own summer-league team. Anderson said there was no awkwardness in the least.
"I think it's kind of nice," Anderson said. "I have that team family and now I have a brand-new family."
The vibe around the Magic couldn't have felt better this week. Dwight Howard was a regular -- even for Friday's 11 a.m. getaway game between the Jazz and Oklahoma City -- while Vince Carter stopped in a handful of times.
Even after signing an offer sheet with Dallas, Marcin Gortat watched games every day, evidence perhaps of how tough it is to leave Orlando right now ... or, in Anderson's case, how easy it is to arrive.
"It's a good fit for us because he fits into our style of play," Magic general manager Otis Smith said. "He's another tall forward that can shoot and you can't have enough of them."
Having traded up from the Nets to the Magic, from a 34-win lottery team to one that reached the Finals, from winter in the Meadowlands to year-round fun in the sun, Anderson clearly is enjoying the view from the penthouse.
"I think I've always been an underdog guy my whole career," Anderson said. "I'm finally in a spot where a team really wants me and needs me. Last year in New Jersey, I'm a rookie, so they don't know what to expect of me, really. But here they do, and it's exciting. This is a winning team. I'm really excited to be part of it."
The Salt Lake Tribune's Ross Siler has spent the week in Orlando tracking down the Summer League's most interesting stories. Today, he caught up with Congolese forward Serge Ibaka, the Thunder's (then Sonics) first-round draft pick in 2008.
No matter the language barrier -- or the fact that summer-league teammate Moses Ehambe was serving as his interpreter -- Serge Ibaka was able to find the words Thursday to describe the experience of arriving in Oklahoma City from Congo and Spain.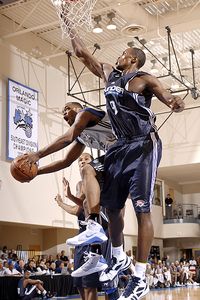 Serge Ibaka: Averaging 13.7 points per game in Summer League action. (Photo by Fernando Medina/NBAE via Getty Images)
"It's totally different," Ehambe said in translating. "It's real calm and relaxing. It's peaceful. He likes it a lot. It's good for us basketball players to be out there. He feels really blessed to be there."
Whether he knew it or not, Ibaka once represented one of the great mysteries in the NBA: the teenage forward chosen 24th overall in the 2008 Draft who promptly returned to Spain for another year of development.
Just holding his rights seemed to constitute an embarrassment of riches for the Thunder, set someday to add Ibaka to a roster with Kevin Durant, Jeff Green, Russell Westbrook and now No. 3 overall pick James Harden.
The only question was when Ibaka would come to the NBA. The answer judging from this week's games in Orlando is sooner rather than later. Not only does he outrun smaller players on the floor, the 6-foot-10 Ibaka's game is far more refined than expected.
"He wants to play [in the NBA] really bad," Ehambe said. "It's way different than in Spain, but he's really excited."
The Thunder have yet to make any official decisions, but they have been impressed by Ibaka's play so far and are strongly considering keeping him on their roster this season. Ibaka is set to turn 20 on Sept. 18, only days before the start of training camp.
To accelerate the adjustment, one of Ibaka's coaches in Spain will join the Thunder for summer-league play in Las Vegas. Ibaka also started taking English lessons during his time in Oklahoma City.
"The one thing about him is he's an incredibly focused individual, just in his make-up," Thunder general manager Sam Presti said. "He's focused, but he's also very humble.
"He obviously knows that learning a language is going to help him to be a better player, so he's spent a lot of time working, taking English lessons seriously on the days leading up to this."
The Thunder, who scouted Ibaka for a season before the draft, were impressed at how quickly he learned Spanish while playing in the country. Ibaka joked that it only took him three months to become fluent.
There have been momentary miscommunications this week -- when Ibaka has to take out the ball, when he misses a play call -- but he plays at the right speed for the Thunder and is a fan of the 20-year-old Westbrook.
"He likes it a lot because they're the same age," Ehambe said. "[Westbrook] plays really hard, he likes running, just like he does. He loves playing with a point guard that runs the floor with him. He loves having a point guard like Russell Westbrook."
Just in case that wasn't enough, Ibaka interjected, "I'm very happy my team point guard Westbrook."
Ibaka started Thursday alongside Byron Mullens -- no longer B.J. -- and matched up against Boise State's Jason Ellis. Ibaka missed a baseline jumper and lost his handle on a couple of passes but got to
the foul line from the low post.
Ibaka hit a right-handed hook in the second quarter and was called for a loose-ball foul when he went up to dunk a missed Westbrook free throw while it hung on the rim. He had two blocks and dunked
off a Westbrook pass in the third quarter.
(Westbrook and Mullens, meanwhile, both had impressive games, with Mullens scoring 18 points with equal parts alley-oop dunks and long jumpers. Westbrook finished with 19 points and hit a turnaround jumper in the first half over Blake Ahearn after Ahearn bumped Westbrook and then tried to slap the ball out of his hands as he walked away.)
For the afternoon, Ibaka had 15 points, two rebounds and two blocks, hitting five of eight shots and five of seven free throws. It was the third time in three games in Orlando that Ibaka has scored in double figures. His energy and instincts on the defensive end also have been good.
Despite the language barrier, Harden called Ibaka a great teammate and said he hoped he'd be with Oklahoma City this season. If he does, the Thunder believe he will fit in as a worker on a team that has
been built around them.
It also appears Ibaka will fit in well in the NBA. He wore a designer Louis Vuitton backpack around the RDV Sportsplex. "It's fake," Ibaka joked.
July, 8, 2009
7/08/09
12:15
AM ET
The Salt Lake Tribune's Ross Siler continues his tour of the Orlando Pro Summer League. He filed this report for TrueHoop on the Celtics' youth movement:
Whether they're hanging championship banners or descending on Rasheed Wallace's house for the start of free agency, Kevin Garnett, Paul Pierce and Ray Allen always will be celebrated as the Big Three of the Boston Celtics.
There's also the Little Three of Gabe Pruitt, Bill Walker and J.R. Giddens, who played in a combined 82 games for the reigning world champions last season and are in Orlando, Fla., for summer league this week.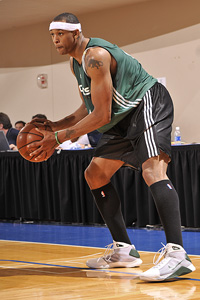 J.R. Giddens: Leading the Celtics' Little Three in Summer League.
(Fernando Medina via Getty Images)
It takes a long view, to be sure, but the development of the latter someday could ease the departure of the former, at least if the Celtics can find a player or two for their rotation among Pruitt, Walker and Giddens, each with high risk/reward potential.
"I think it's really important because we're young and we have fresh legs," Giddens said. "One thing that you can't stop is Father Time, and when players get older, they might lose a step or two. You've just got to be able to come in and help them play games.
"You know, with Paul, last year I think that was part of what was going on. He didn't have enough rest. We can't play a whole game and expect him not to get tired, especially guarding the other team's best perimeter player and being our best perimeter scorer."
The results for the Little Three so far have been mixed. Walker, who has been bothered by back spasms since Saturday, sat out Tuesday's 85-82 loss to Orlando. Pruitt had 14 points and five assists but struggled in hitting just one of six 3-pointers.
Giddens, meanwhile, enjoyed the brightest day, finishing with 17 points, six rebounds and four assists. Not a bad introduction for last year's first-round draft pick out of New Mexico, who played in just six games for Boston as a rookie.
"It's hard because we have a really good team," Celtics assistant coach Mike Longabardi said, "so that's the reason we're here, to give those guys some opportunity."
Even though it was 2,100 miles from Boston (and probably felt like a world away), the Celtics made use of the Utah Flash, their former NBA Development League affiliate, the past two seasons with Pruitt, Walker and Giddens.
The Celtics were so committed to the Flash, they shipped assistant general manager Dave Wohl to Utah with Giddens for the start of training camp, with Wohl sitting in on practices and coaches' meetings.
Giddens said he was able to "find myself as a player" with the Flash. He was the only Celtic to play for a championship last season, even if it was in the D-League Finals against the Colorado 14ers.
Based on what he saw, Flash head coach Brad Jones came away believing Walker probably was closer to contributing than Giddens, though he added, "I think all three of them will be NBA players, will have a decent career in the NBA."
Giddens impressed Tuesday at the RDV Sportsplex. He wore his socks high, had his jersey taped at the shoulders, and accessorized with a headband and a wristband.
(Taking a page from Jazz coach Jerry Sloan's rule book, Jones refused to let Giddens wear a headband during his time with the Flash. Giddens pleaded his case every time he had a good game, but Jones wouldn't relent.)
In the first quarter, Giddens missed two jumpers over Kasib Powell, before electing to attack the basket. He served notice by flipping the ball off the backboard for an alley-oop dunk in warmups, then drove for a ferocious slam midway through the opening period.
"You know, J.R. tells me that he was a shooter in high school and early in college," Jones joked. "He's a guy that can really fill out a stat sheet. Obviously, his energy is terrific and he has a great motor. Part of that is why he needs to just settle himself down just a little bit."
Giddens finally got a jumper to fall in the third quarter, then sized up Powell and buried another. He missed two shots in the final minute -- including a potential game-tying 3-pointer after Coby Karl's inbounds steal -- but it was a successful afternoon all the same.
"I would say that the big thing with him is that once he slows down, I think he's way better," Longabardi said. "He's just been so excited because he wants to play so much, so badly."
The Salt Lake Tribune's Ross Siler has this dispatch from the Orlando Pro Summer League, where the Sixers and Nets are strange bedfellows:
The union became official at halftime of Monday's summer-league opener at the RDV Sportsplex, when 76ers general manager Ed Stefanski pulled up a seat along press row next to Nets president Rod Thorn.

For one week at least, the Atlantic Division rivals have come together, with a joint New Jersey/Philadelphia entry in the Orlando summer league prompted by the worst economy in a generation.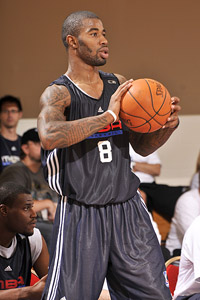 Nets rookie Terrence Williams: Would this man steal Eddie Jordan's trade secrets? (Fernando Medina via Getty Images)
Whatever they lose in individuality, the Sixers and Nets hope to save in costs. They took the court Monday in generic blue NBA jerseys, coached by a staff of two New Jersey and two Philadelphia assistants.
"I'm not a fan of it," Philadelphia coach Eddie Jordan admitted. "I like working with your own players and teaching your own guys, getting your own guys in your system."
"I don't want to have to berate their player for not picking up. It just doesn't seem right to get on their players for doing something that you want them to do."
The marriage has led to some strange scenes, to be sure. Philadelphia's newest first-round pick, Jrue Holiday, warmed up for Monday's game in a Nets shirt, leading one Sixers staffer to observe that a free shirt is a free shirt.
After Monday's game, Jordan was asked about Nets rookie Terrence Williams, prefaced with the qualifier: "You won't have him beyond this week ..."
(Jordan's answer: "He's a very competitive player. He's strong, he's a bull out there. He's got great, quick moves. He can change direction in a heartbeat. He's an aggressive player. I really like him.")
In addition to their own draft picks and players, the Nets and Sixers each made four selections for the team. The offense can best be described as an overlap of Jordan's and Lawrence Frank's systems.
"It's a combination of what they've done and what we're going to do," Jordan said. "And that's why we make it work, because we know the Nets."
Frank called it "a little bit of an introduction" to his offense, adding, "But I think this has to be more about the development of the guys as opposed to putting in your system. Especially when you're
splitting a team, it makes it tougher."
The biggest benefit, Frank said, comes in having a deeper summer-league team than most. The Nets/Sixers have four recent draft picks in Chris Douglas-Roberts, Holiday, Marreese Speights and Terrence Williams.
Were it not for the history between Jordan and Frank, Thorn and Stefanski, as well as assistants Tom Barrise and Mike O'Koren, the Philadelphia and New Jersey pairing probably would be doomed to
failure.
"It's a joint venture, where it only works for us because we know the Nets guys," said Jordan, who nevertheless described the partnership as being "different" three times in one answer.
Of course, the Nets and Sixers players still have it better than Bobcats second-round draft pick Derrick Brown, who is playing with the Jazz in Orlando with Charlotte not fielding a summer-league team to cut costs.
Brown ended up with the Jazz thanks to a longtime connection between Charlotte coach Larry Brown and Utah general manager Kevin O'Connor. (There's a lengthy explanation as to why the Jazz didn't also end up with Bobcats lottery pick Gerald Henderson.)
Brown had nine points in his NBA debut Monday night, which came in a Jazz jersey, playing for a team coached by Jazz assistants. In fact, Brown wasn't even sure if the Bobcats were sending a representative
to Orlando to watch him.
"It's definitely a good opportunity to be out there and start the ball rolling in the NBA," he said. "Whatever it takes for me to make a stand in this league, I'm going to do it."
Frank was asked if the Nets and Sixers were just ahead of the curve, whether next summer will feature other entries based on geography and cost-saving, like the Heat and Magic, the Bulls and Bucks, the
Warriors and Kings or the Jazz and ... nobody.
"In these economic times, look, you've got to be fiscally very responsible and I think you just have to be prudent in the decisions you make," Frank said. "Every group is different. This worked for us and Philly and it made sense, and who knows what the future holds. Hopefully, things get better."
July, 6, 2009
7/06/09
6:16
PM ET
Ross Siler is one of my favorite NBA beat writers, covering the Utah Jazz for the Salt Lake Tribune. He's in Orlando for the Orlando Pro Summer League, and has agreed to send some dispatches to TrueHoop. His first is about Indiana rookie, and University of North Carolina legend, Tyler Hansbrough.
For the record, Tyler Hansbrough did come off the bench for one game his freshman year at North Carolina, so what happened Monday in his NBA debut at the Orlando summer league wasn't a full flashback to his days of needing to remember a locker combination.
Hansbrough enjoyed a solid, if not spectacular, debut in Indiana's 75-67 overtime victory over New Jersey/Philadelphia -- the Nixers or the 76ets -- finding his rhythm in the second half to total 17 points, five rebounds and three steals -- yes, off the bench.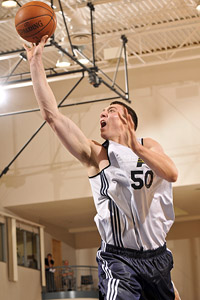 For Tyler Hansbrough, the crowd at the Orlando Pro Summer League was a little more forgiving than the crazies at Cameron Indoor Stadium. (Photo by Joe Murphy/Getty Images)
"It's been a while," said Hansbrough, who last thought he had come off the bench as a high school freshman. The Pacers opted to start Roy Hibbert and Josh McRoberts, with Hansbrough entering at the 5:03 mark of the first quarter.
"I was just doing my part on the team," Hansbrough continued. "We came out here and I felt like I played well and I'm getting acclimated to all the little rules in the NBA, the defensive three seconds and stuff like that, so I think that was good for me."
It was Hansbrough's first game action since North Carolina's victory in the NCAA championship game against Michigan State. That night, Hansbrough cut down the nets in front of 73,000 at Ford Field.
He played in front of several hundred Monday on the Magic's practice court, with the Orlando league open only to team personnel and media. If all crowds were so tame, Hansbrough wouldn't complain. "There's not a lot of people yelling at me, telling me how bad I am or things like that, like I'm used to," Hansbrough said. "It's just a little different, but it's good, too."
Instead of riding a bus to the arena, Hansbrough and his teammates piled into a caravan of SUVs and vans. Hansbrough admitted to some butterflies before his debut, even if he did arrive at the gym in a Nissan Pathfinder. He totaled three points and four fouls in the first half, including back-to-back personals in which he mixed it up with Marreese Speights in the second quarter.
"I think he was just trying to get to my head, sometimes that happens," Hansbrough said. But Hansbrough picked it up in the second half, starting when he cut open in the lane and hit a jumper only 16 seconds after checking in. He fought hard for post position and flashed a nice move in the fourth quarter, backing down Rob Kurz before going up and under for a basket plus the foul.
With 4:32 left, Hansbrough called for the ball in the post and converted with the shot clock running out. "I was in a little foul trouble, so I was thinking more about not fouling than playing," said Hansbrough, apparently unaware of the Greg Oden rule, affording unlimited fouls in summer league games. "I think in the second half I just played basketball."
The Pacers went to Hansbrough on their final possession with 21.9 seconds left in regulation. He missed a runner in traffic that left Indiana coach Jim O'Brien still arguing for a foul call as his players headed back out for the start of overtime. (Instead of turning over summer duties to an assistant, O'Brien is coaching Hansbrough, Hibbert, McRoberts and Brandon Rush. "I was glad he was going to coach because we get a feel for how he likes to practice and what he likes to do," Hansbrough said.)
Hansbrough was called for an illegal screen -- his only foul of the second half -- and missed a jumper in overtime. Even with Indiana holding a five-point lead and committed to run out the clock in the final 30 seconds, Hansbrough still was sprinting down court.
As the Atlantic Coast Conference's all-time leading scorer and one of the most accomplished college players in recent history, Hansbrough was clear that summer league is not like flunking a grade in his case. "This is all new for me," Hansbrough said. "Trying to learn the offenses and things like that. Just getting familiar with the way we play."
He listed his only goal for his rookie season as helping the Pacers to the playoffs. He also issued yet another statement to the skeptics (perhaps watching the live Webcasts from Orlando) who wonder if his game will translate to the next level.
"I can probably score 30 points in an NBA game and someone would still question whether I can play in the league or not, so I don't care," Hansbrough said. "I'm not out to satisfy other people." He is not the highest-drafted rookie in Orlando this week -- that distinction belongs to Oklahoma City's James Harden -- but Hansbrough might be the featured attraction.
"The only pressure I'm receiving is to go win ball games," he said. "I don't really listen to outside sources."