March, 19, 2013
3/19/13
3:38
PM ET
August, 20, 2012
8/20/12
3:08
PM ET

By Beckley Mason
ESPN.com
Archive
March, 14, 2012
3/14/12
2:31
PM ET

Chicago Bulls
PG Derrick Rose SG Ronnie Brewer SF Luol Deng PF Carlos Boozer C Joakim Noah
Minutes Played
: 284
Offensive Rating
: 111.6 points per 100 possessions
Defensive Rating
: 91.8 points per 100 possessions
How it works offensively
In 2010-11, the Bulls were a middling offensive team that relied on one dominant mode of attack -- a dynamic Rose at the top of the floor. This season, Rose is still the prized asset in the Bulls' scheme, but he's orchestrating a deliberate, savvy offense that's expanded its breadth.
This unit plays at a plodding pace of 90.9 (which would rank them last in the NBA), but it's a tight, killing-you-slowly kind of assault. How many teams pressure you with a point guard like Rose, who collapses the defense anytime he works off the dribble, but can also feed the post and have three quality options from there? When you watch these Bulls move around the court with purpose, it's hard not to see hints of the best of the Deron Williams-Boozer era in Utah -- only better, because Noah's screens and ball skills are so exceptional for a big man.
This group also features two world-class athletes in Deng and Brewer who understand how to play off a penetrator, as well as a couple of big guys who know how to hit a cutter. Ever since Derrick Rose arrived on the scene in Chicago, we've been hearing about how the Bulls have a fatal hole at shooting guard. Bulls fans, you have your shooting guard. His name is Ronnie Brewer.
The rap on Brewer has always been that he can't space the floor. Fair enough, because Brewer is a subpar shooter from beyond 10 feet. But elite teams find workarounds for flawed players, and the Bulls have maximized Brewer's many strengths beautifully. Spacing is a nice attribute to have in an offense, but movement is woefully underrated in today's game. And you won't find a lot of players who move more intently off the ball than Brewer. He might not hit a shot for you from 24 feet, but he never stops moving. Feed, clear, cut and repeat.
Would there be more space for Rose to work if he had a couple of wings who were better conventional shooters than Brewer and Deng? Possibly, but there are more ways to bludgeon an opponent than a drive-and-kick. Putting bodies in motion and forcing opponents into bad decisions with endless actions has its virtues.
How it works defensively
The vaunted Tom Thibodeau defense is no longer an exotic mystery cooked up in some lab in Cambridge, Mass. It's simply standard operating procedure for several NBA defenses -- but few, if any, of the imitators run it with the precision this unit does.
On nearly every half-court possession, the Bulls' defense has one objective -- keep the ball out of the middle of the floor. Once they have you confined to the sideline and you try to, for example, run a pick-and-roll, the Bulls will strangle you like a python by trapping, then bringing a third defender to the ball side of the paint to add further pressure.
What makes this unit particularly deadly when they implement this defense? Let's start with Joakim Noah. Bringing three guys to the ball is all well and good, but it doesn't help if you don't have two defenders who can cover the rest of the floor in what's essentially a two-man zone. There isn't a big man who performs this task better than Noah. He instinctively knows where the offensive threat is coming from -- when the ball will be reversed out of that pressure, to whom it will go to and how to best help without compromising the system.
Throw in two lanky defenders like Brewer and Deng, whose length, agility and smarts allow them to both stifle defenders on the ball or work as Noah's partner in that backside zone, and you have the components for the most difficult defense to score against in the NBA.
---

Orlando Magic
PG Jameer Nelson SG J.J. Redick SF Hedo Turkoglu PF Ryan Anderson C Dwight Howard
Minutes Played
: 178
Offensive Rating
: 118.3 points per 100 possessions
Defensive Rating
: 98.4 points per 100 possessions
How it works offensively
How good has this group been with the ball? There isn't a five-man unit that's recorded a higher offensive rating or a larger point differential in its favor. This isn't Orlando's most-used unit -- that would be the starters with Jason Richardson at shooting guard instead of Redick (402 minutes on the floor versus 178). The starting five aren't chopped liver, but the Redick-at-the-2 unit blows them away.
In many respects, this unit evokes the halcyon days of the Magic, circa 2009. Stan Van Gundy is one of the great pragmatists in the league. He deftly appraises his personnel on the floor and always seems to find a way to maximize those players' strengths while minimizing their weaknesses. These are familiar schemes that leverage Howard's presence down low to open up the perimeter for the Magic's snipers along the perimeter -- specifically Redick and Anderson.
Many times it starts with a high pick-and-roll with Nelson and Howard. The Magic get penetration or a deep feed to Howard in the paint, which forces the defense to collapse. When that happens, you know the drill -- a kickout to Redick or to a lifted Anderson for a clean look at a 3-pointer. Nelson has also developed a nice pick-and-pop rhythm with Anderson to find him open shots.
Other times, they initiate offense through Turkoglu on the left side. Turkoglu's efficiency numbers have fallen off since 2009 (he's shooting poorly and turning the ball over too frequently), but he's still capable of putting the ball on the floor and finding shots for others, and getting Howard the ball where he likes it. Redick is in constant motion in the Magic's half-court sets, breezing around baseline screens, getting free via pin-downs and using his escape dribble along the perimeter to find space.
And that's how an NBA unit chalks up a gaudy true shooting percentage of 60.5 percent, even with a below-average free throw rate.
How it works defensively
This unit earns its money on the offensive end -- a 98.4 defensive rating isn't anything to be ashamed of, but doesn't qualify as elite. Still, these five are getting a sufficient number of stops.
Unlike their contemporaries up in Chicago, Orlando places more of a premium on chasing shooters off the 3-point line, and they have the luxury of staying at home because they have a very large man with very broad shoulders manning the basket area and cleaning up any blow-bys that might occur. How is that going? Opponents are shooting 24 percent from beyond the arc against this unit and converting only 4.8 3-pointers per game.
That
is what chopped liver tastes like.
As imposing as Howard is under the basket, altering shots and intimidating, his pick-and-roll defense is also a key ingredient to this unit's defensive success. The Magic don't need to rotate all that often and, when they do, Howard recovers promptly to the back line and those rotators can immediately dash back to the perimeter where they can contest long shots with a close out, or just stagnate the offense.
One-on-one defense can occasionally be problematic, but Redick's tenacity -- both on-the-ball and chasing rabbits like Ray Allen around screens -- is vastly underrated. Turkoglu is no Tony Allen, but his length and awareness of where Howard is lurking makes him an adequate defender, as well. Finally, Nelson is a sturdy fireplug who can use his strength to bother opposing point guards, though he does yield his share of blow-bys.
---

Miami Heat
PG Mario Chalmers SG Dwyane Wade SF LeBron James PF Chris Bosh C Joel Anthony
Minutes Played
: 389
Offensive Rating
: 109.9 points per 100 possessions
Defensive Rating
: 94.7 points per 100 possessions
How it works offensively

This past summer, Erik Spoelstra immersed himself in a single exercise:
Examine how he could make life easier for the Heat's offense
by diversifying their attack. In 2010-11, Spoelstra grappled with several strategies -- elements of the Rick Adelman's corner offense, "elbow sets" run through Bosh with multiple triggers and even some old Hubie Brown sets to free up shooters. The Heat finished the season as the NBA's third-ranked offense.
Spoelstra came to a realization, one that didn't necessarily conform to his natural instincts: The Heat could do better, and to achieve that improvement, it would require less conventional structure. He has freed up James and Wade, made transition opportunities and early offense priorities (Miami has gone from 21st in pace last season to 12th this season) and found new ways to space the floor.
So far as Wade and James, they have one imperative -- catch the ball and attack and don't allow the defense to set. No more dawdling at the top of the floor, waiting for stuff that never materializes. Off that, the Heat have found gold with Chalmers' vastly improved outside shot. The Heat were assembled with the idea that James and Wade would have quality shooters primed for kickouts, and with Chalmers, they have a teammate shooting 44.3 percent from 3-point-land.
Fewer sets are being run through Bosh at the high post with this unit, though he's still able to facilitate when the pace settles into a more deliberate, half-court game. Many of those sets that started with Bosh at the high post are now being initiated with James at the "Karl Malone" spot off the mid-post. Meanwhile, Bosh and Anthony screen with the best of them -- especially to lend space for Wade to attack -- and Bosh is still superb at lifting to a spot 18 feet away from the hoop for a no-dribble J.
How it works defensively
Spoelstra is still experimenting and tinkering with the Heat's schemes. Many a night, Miami is flirting with a Thibodeau-style strongside strategy, but one with a bit less structure and more freedom for James and Wade to rove. This isn't coming without costs: This unit is giving up 19.2 3-point attempts per 48 minutes, and opponents are shooting 40.4 percent from beyond the arc in the process.
The Heat are aware of the shortcoming and seem willing to tolerate a few gimmes on the perimeter in service of their larger defensive goal --
create chaos
. That means more ball pressure than ever from Chalmers, and Bosh and Anthony jumping out with impunity on every ball screen. When it comes to defending the pick-and-roll, Bosh and Anthony might be the best big man tandem in the business at showing hard and recovering to the right spot on the back line.
Most of all, Spoelstra is encouraging James and Wade to operate as free safeties in what can be described as a quasi-two-man zone. Spoelstra's nature favors order over chaos and he traditionally has discouraged gambling, but he's come to appreciate that doubling-down on his team's athleticism makes good sense.
The results are there. Opponents are turning the ball 16.8 times per 48 minutes against this group. More impressive, the unit generates 23.3 points per 48 minutes off these turnovers and 22.5 fast-break points per 48 minutes. There simply isn't a defense in the world that can stop James and Wade in the open floor and the Heat's newfound guerrilla defense has maximized these opportunities.
February, 1, 2012
2/01/12
10:38
AM ET
By Doug Clawson, ESPN Stats & Information
ESPN.com

Jesse D. Garrabrant/NBAE/Getty ImagesNot many hoops have come this easily for Dwight Howard and the Magic recently.
The
Orlando Magic
have lost five of their last six games, and their offensive woes include point totals of 56, 67 and 69 in three of those losses.
What has gone wrong for the Magic offensively? Let's take a closer look at two aspects of their game using our video review tools, ones similar to those used by NBA teams.
Inside Game
Orlando's offense has missed opportunities inside during the six-game stretch, shooting 49 percent from inside five feet.
This is something the Magic did very well last season. They made nearly 64 percent of their attempts from inside five feet, which ranked fifth in the NBA. They were hovering around 60 percent for this season prior to this slump.
This is something that has been an issue for
Ryan Anderson
,
Glen Davis
and even
Dwight Howard
. Anderson and Davis are making barely 50 percent of their shots from this close, putting them near the bottom of the league rankings.
Howard, who ranked sixth in the league last season making 72 percent of his shots from inside five feet, has hit just 60 percent this season.
Pick-and-Roll
The Magic are averaging more than 19 turnovers in their last six games, compared to 14.0 turnovers in their first 15 games. They also have gone cold on three-point attempts. Orlando's gone from shooting 40 percent from long range in their first 15 games to making around one-third of its attempts in this 1-5 stretch.
There is a connection between this ineffectiveness and the issues with the Orlando pick-and-roll offense, something on which the Magic rely heavily.
The performance difference can be seen in the chart on the right.
The Magic have run the seventh-most pick-and-roll plays this season (which includes shots resulting from passes off a pick-and-roll).
Orlando is shooting just 32 percent on three-point attempts off of pick-and-roll plays over the last six games, compared with 41 percent in its first 15. But the Magic now are committing turnovers on these plays nearly twice as often, not giving themselves the best chance to score.
Tonight the Magic host the
Washington Wizards
, who don't rate well at forcing turnovers on pick-and-roll plays (only one team generates them less often when defending the ballhandler), so the Magic should be able to get their shots off those plays. If those shots don't fall against a 4-17 opponent at home, it's a sign of just how far the Magic have fallen this season.
January, 17, 2012
1/17/12
4:18
AM ET
On Monday,
Ricky Rubio
had eight assists in a win over the
Sacramento Kings
. Rubio now has 108 assists in 13 games, tied for the sixth-most assists all-time in the first 13 games of a player's career, according to the Elias Sports Bureau.
Rubio doesn't always start, but he certainly does finish. He came off the bench the first 10 games but has started the last three games. Rubio is at his best down the stretch. Not only does he lead the NBA in 4th-quarter minutes but Rubio also leads the NBA in fourth-quarter assists this season (30).
John Wall had 38 points, eight assists, six rebounds and four steals for the
Washington Wizards
in a loss to the
New York Knicks
on Monday. According to the Elias Sports Bureau, Wall is only the second Wizards/Bullets player ever to put up those numbers in a game. The only other player with at least 38 points, eight assists, six rebounds and four steals in a game in the team's franchise history was
Gilbert Arenas
, who had 38 points, eight assists, eight rebounds and four steals in a win over the
Boston Celtics
in April 2006.
Ryan Anderson
had a career-high 30 points, including seven 3-pointers, and seven rebounds on Monday in a win over the Knicks. Anderson is the first
Orlando Magic
player since
Tracy McGrady
in March 2003 with at least 30 points, seven 3-pointers and seven rebounds in a game. McGrady had 37 points, including seven 3-pointers, and seven rebounds in a win over the Heat.
Anderson is one of the main reasons the Magic are 9-3 this season. Anderson, who averaged 10.6 points per game this season, is scoring 18.3 points per game this season. The Magic are 7-1 this season when Anderson scores at least 15 points, 5-1 when he shoots at least 50 percent from the field, 9-1 when he makes at least two 3-pointers, and 6-0 when he shoots better than 50 percent from 3-point range.

The
Philadelphia 76ers
are off to a remarkable 10-3 start this season and have a four-game lead in the Atlantic Division. Their average margin of victory in their 10 wins is 20.7 points. It's the Sixers' best start since the 2000-01 season, when they advanced to the NBA Finals.
What's the recipe for success for the Sixers? Defense. They have held their opponents to 93 or fewer points in each of their 10 wins. More specifically, it's their 3-point defense which has carried the Sixers. In each of their 10 wins, their opponent has made four or fewer 3-pointers and shot less than 31 percent from 3-point range. In each of their three losses, their opponent has made at least six 3-pointers.
The Sixers, who are 9-1 in their last 10 games, have held opponents to 31 percent or less from 3-point range in 10 straight games. Since 1988-89, only one team -- the 2003-04
Detroit Pistons
(12 games), who went on to win the NBA Championship -- has had a longer single-season streak of holding opponents to under 31 percent on 3-point attempts.
December, 28, 2010
12/28/10
11:52
PM ET
By ESPN Stats & Info
ESPN.com
Archive
Here's how well things are going for the
San Antonio Spurs
.

On a night in which veterans
Tim Duncan
and
Manu Ginobili
had games that would rank among the worst of their careers, they still beat the
Los Angeles Lakers
by 15 points, 97-82.
Duncan played 29 minutes and made just one shot, the most minutes he's played in any of the half-dozen games in which he's made just one basket or fewer. Ginobili was 3-for-12 from the field, his worst shooting night when taking that many shots in more than two years.
The Spurs shot 42.5 percent from the field, 28.1 percent from 3-point range, and 66.7 percent from the line. A quick check of
Basketball-Reference.com
shows they hadn't won a game with that sort of statistical combination since beating the
Phoenix Suns
in November, 2005.
How did they win? It took a great effort from
Tony Parker
(San Antonio is 21-1 when he scores at least 15 points) and their defense. Los Angeles shot 35.4 percent from the field, the third time they've shot that badly against the Spurs in the 49 regular season games that Kobe Bryant has played against them. Bryant missed 13 straight shots, which according to Elias, is the worst run of misses he's had in any game in his career.
The Lakers have dropped three straight games by at least 15 points, one shy of their longest stretch ever, done in November 2007.
Kobe Bryant
matched his worst shooting day of the season, but you can go 8-for-27 against the
Minnesota Timberwolves
(as he did on November 19) and still win. Not against these Spurs, who have won 11 straight home games.
Elsewhere in the NBA, the
Dallas Mavericks
84-76 home loss to the
Toronto Raptors
may add fuel to
Dirk Nowitzki
's early MVP candidacy. The Mavericks outscore opponents by 13.3 points per 48 minutes with him on the floor, and get outscored by almost 14 points per 48 minutes with him off the floor. According to Elias, his plus-minus differential of 27.0 is the best in the NBA among qualifying players.
The Celtics and center Shaquille O'Neal got a win over the
Indiana Pacers
, but he fouled out for the second straight game, this time in just 16 minutes. He's the first player to foul out of consecutive games, playing 16 minutes or fewer in each since
Dan Gadzuric
, in December 2008.

O'Neal
O'Neal's former team, the
Orlando Magic
, got strong production from its bench, though one player's value may have gone a bit unnoticed. On a night where
Gilbert Arenas
stole the headlines with 22 points and 11 assists,
Ryan Anderson
may have been the Magic's most valuable man.
In 23 minutes, Anderson netted only six points in a 110-95 win over the
Cleveland Cavaliers
, but Orlando outscored Cleveland by 27 points when he was on the floor. That's noteworthy considering that Orlando had three starters who posted a negative plus-minus rating in this contest.
Speaking of valuable players, the best of the best was the Miami Heat's
Dwyane Wade
, who scored 40 points in a win over the
New York Knicks
. Wade has 18 games with at least 40 points over the last three seasons, matching
LeBron James
for most in the NBA.
January, 19, 2010
1/19/10
1:48
AM ET
When a very good team drops seven of nine games – as the Orlando Magic have – those examining the tea leaves often arrive at a singular conclusion: It
must
be chemistry. It can't be the talent, because Orlando has an embarrassment of riches, a roster so deep that Brandon Bass routinely logs DNPs. They lost Hedo Turkoglu and Courtney Lee, but added Vince Carter, Ryan Anderson, Matt Barnes and Bass.
But what does good chemistry
mean
? Are we talking about
on-court fit
? Are we talking about a group of guys that goes to the movies together on road trips? Remember the
slew
of
articles
about the Cleveland's team chemistry last season? When the Cavs ultimately lost the Eastern Conference Finals last spring to Orlando was it because something upset that chemistry? Or was it because they ran up against a team that had a unique combination of size, speed and flexibility to offset the Cavs' strengths?
It's one of those classic chicken-and-egg questions: Does good chemistry produce winning, or does winning produce good chemistry? When you stop winning, is it because the chemistry has gone bad, or does the chemistry go bad
because
you've stopped winning?
Orlando coach Stan Van Gundy isn't a man with a lot of patience for abstractions. He deals in reality. Those blue cards that forever pop out of his inside jacket pocket? They're professional basketball sets, schemes designed to produce opportunities for his players to score two or three points. Van Gundy's initial answer to the "good chemistry vs. winning" riddle prior to Monday night's game against the Lakers was, "It's both." But then he elaborated, essentially saying that if you want chemistry, call a chemist:
We were 17-4 at one point. Your chemistry shouldn't get worse as you go along. We're just not playing well right now. People want to point to a lot of psychological reasons and all of these things. I've heard hangover from the Finals, but what, it came on late after the first 21 games? I've heard chemistry, and so I guess ... we had chemistry for 21 games...

When you've had as many people as we've had -- and it's all of us really -- not playing well, you're not going to look like you have great chemistry because you're not executing and the ball's not moving, and everything else. To me, call it what you want, it doesn't matter. We're just not playing well.
Matt Barnes has been the most publicly vocal Magician during the team's recent slump.
He called out the Magic for lacking heart following their lackluster effort at Portland Friday night
. When asked whether good chemistry produced winning or vice versa, he repeated the question to himself, then considered it for another instant before answering.
"You can probably get there both ways, but I'd say when you get on a winning streak, you have good chemistry," Barnes said. "You play consistent and hard, and
then
you have good chemistry."
Ryan Anderson had a similar response. "Honestly, if you win, your team is going to come together more," Anderson said. "You're going to have a better attitude. You're going to want to practice harder. You'll want to be the best possible team you can be. But when you see everybody struggling, or things just aren't going our way, that's when you sort of split apart. Then guys start talking about their own things. I mean, I think good chemistry
can
make a winning team, but you need to win to get that good chemistry."
The Magic have a lot of things going for them. By the time they're fully engaged in a second round series in early May, this bumpy stretch might be nothing more than a footnote, that rough patch in January before the All-Star break. The slump might even be instructive. If Orlando comes out of it okay and reasserts itself as one of the League's elite teams, will it be because they're able to cultivate better chemistry or because they remember how to perform tasks that produce winning basketball -- things like funneling penetrators to Dwight Howard, making defenses pay for overcommitting on Howard down low, spacing the floor effectively for their high screen-and-rolls, and coming off those screens like they mean it.
Chemistry might help the Magic accomplish some of that. Then again, chemistry might just be a euphemism for understanding how to execute your stuff.
July, 13, 2009
7/13/09
4:26
PM ET
Is Carlos Boozer the best thing that never happened to the Bulls? Is Brandon Bass redundant in Orlando? And will DeJuan Blair catch on in San Antonio?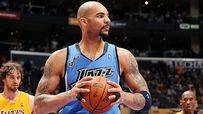 Matt McHale of By the Horns: "It's a bad sign when fans start longing for the halcyon days of the Michael Sweetney Era. And it's especially frustrating for Bulls fans, who had to deal with the loss of Ben Gordon while the league's rich got even richer: Boston got Rasheed Wallace, Cleveland got Shaq, L.A. got Ron Artest and San Antonio got Richard Jefferson ... It makes sense that the fans wanted to see a move. Something big, something juicy. But sometimes, staying the course might be the best plan of action. Or inaction, as the case may be. As things stand right now, the Bulls have a solid core of players -- a budding All-Star-in-the-making, a few savvy vets, some developing youngsters -- and enough expiring contracts to make a major move next summer or at the trade deadline. And Chicago will certainly be a much more attractive free agent destination if the Bulls can match last season's success than if they fell apart because [Carlos] Boozer took his usual 30-40 game vacation and our backcourt players broke down from playing too many minutes. Now, if the Jazz wanted to trade Boozer for some loose parts off the Bulls' scrap pile -- Tim Thomas, Jerome James, Anthony Roberson -- then let's get it done. And while we're dreaming, maybe they'll trade us Deron Williams for Brad Miller's expiring contract. But barring some mass hysteria and insanity in Utah, I guess Bulls fans will have to be satisfied with some incremental progress and hope for the future."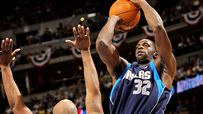 Zach McCann of Orlando Magic Daily: "The only real issue with signing Brandon Bass is that -- at least technically -- he plays the position where the Magic were the deepest before his arrival. Rashard Lewis and Ryan Anderson gave the Magic talent and depth at power forward, making it the only position with a legitimate starter and legitimate reserve (I'd count point guard as well, but that's arguable). When a team has eight players under contract, as the Magic did last week, an all-star and a promising rookie at one position feels like an overabundance of wealth. So, at the surface, bringing in another power forward doesn't make a whole lot of sense (especially a 6-foot-7 power forward who's seemingly too small to fill in as the team's primary backup center, even if the statistics say otherwise). But that doesn't mean it was a bad signing. I love the move - like most Magic fans do - especially for the relatively inexpensive price tag. For a 23-year-old who seeps potential and has already played meaningful minutes on an upper-echelon team, $18 million over four years is a great deal. Anytime you can attain a quality player for that kind of value, you do it."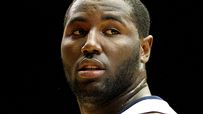 Graydon Gordian of 48 Minutes of Hell: "I love watching [DeJuan] Blair work under the boards. He has a mature sense of spacing and soft, accurate hands. His rebounding was particularly notable on the offensive end, where he consistently turned misses by his teammates into open layups and trips to the line (where he went 5-6). As will be the case with during the regular season, Blair was by no means the tallest player on the floor. But he was the only player on either team whose rebounding count reached double digits. Blair's offensive contributions weren't limited to put-backs; he showed promising signs that a well-rounded offensive game may be in his future. On the first play we ran specifically to him, Blair turned and hit a smooth 12-footer. On the next play, he received the ball at almost the exact same spot and used his defenders over-adjustment to take him off the dribble and draw the foul. Blair's mechanics are a little loose, but the origins of a reliable offensive arsenal are there."
THE FINAL WORD
Raptors Republic: Jarrett Jack, stop-gap?
Cowbell Kingdom: The cap and the Kings.
Valley of the Suns: What to expect from the Suns this week in Las Vegas.
(Photos by Andrew D. Bernstein, Doug Pensinger, Noah Graham, Bill Baptist/NBAE via Getty Images)
In his final installment from Orlando, The Salt Lake Tribune's Ross Siler checks in with the forgotten man in the big Magic-Nets trade:
As traumatic as the first trade of a young player's career is said to be, Ryan Anderson appears to be grieving about as much as a lottery winner after being sent to Orlando from New Jersey as part of the draft-day deal involving Vince Carter.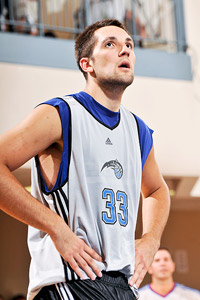 Ryan Anderson: "He's one of those guys ... It leaves his hands and you say, 'It's in." (Fernando Medina/NBA via Getty Images)
"The way that the trade went about, it wasn't a traumatic thing," Anderson said. "If it was a situation where New Jersey was like, 'We don't want this guy, let's put him in the deal with Vince, throw him
out of here....'
"That's definitely not what it was. I talked to the whole staff in New Jersey. It was a hard decision for them to make, but if I could go with anybody, I'm glad I came with Vince."
It took just five summer games for Anderson to make Orlando look like his personal Magic Kingdom. He finished with 33 points -- one shy of Travis Diener's league-record -- and 14 rebounds Tuesday against
Boston.
He followed with five 3-pointers and 26 points against Utah. At times, Anderson was the second-best player in Orlando after Russell Westbrook and showed just how much he could thrive playing behind
Rashard Lewis with the Magic.
"How many guys in the league, when the ball leaves their hands, do you feel like, 'It's in'?" Jazz assistant Scott Layden asked. "All of a sudden the basket looks like a hula hoop.
"He's one of those guys, really. It leaves his hands and you say, 'It's in,' right? He's that way. And what a team to play for. Wow. Think about that. You get looks on Orlando."
Anderson had one sequence Thursday during the second quarter against Utah in which he hit a 3-pointer, put the ball on the floor against Goran Suton -- spinning back for a layup -- and then buried another 3-pointer off a pick-and-pop.
Anderson averaged 7.4 points and 4.7 rebounds as a rookie in New Jersey, but played in only 66 games. The 21-year-old spoke about the importance of confidence, which he figures will be easier to maintain
with a defined role off the bench in Orlando.
"Rashard didn't really get too much of a break, so I'm there to relieve him," Anderson said. "You can play the same game with Rashard on and off the court."
Not even two weeks after the trade, Anderson crossed paths all week in Orlando with the Nets' Lawrence Frank, Rod Thorn and Kiki Vandeweghe, in town to watch their own summer-league team. Anderson said there was no awkwardness in the least.
"I think it's kind of nice," Anderson said. "I have that team family and now I have a brand-new family."
The vibe around the Magic couldn't have felt better this week. Dwight Howard was a regular -- even for Friday's 11 a.m. getaway game between the Jazz and Oklahoma City -- while Vince Carter stopped in a handful of times.
Even after signing an offer sheet with Dallas, Marcin Gortat watched games every day, evidence perhaps of how tough it is to leave Orlando right now ... or, in Anderson's case, how easy it is to arrive.
"It's a good fit for us because he fits into our style of play," Magic general manager Otis Smith said. "He's another tall forward that can shoot and you can't have enough of them."
Having traded up from the Nets to the Magic, from a 34-win lottery team to one that reached the Finals, from winter in the Meadowlands to year-round fun in the sun, Anderson clearly is enjoying the view from the penthouse.
"I think I've always been an underdog guy my whole career," Anderson said. "I'm finally in a spot where a team really wants me and needs me. Last year in New Jersey, I'm a rookie, so they don't know what to expect of me, really. But here they do, and it's exciting. This is a winning team. I'm really excited to be part of it."
February, 23, 2009
2/23/09
1:28
PM ET
The guy in the Chewbacca costume, in a firefight with some Storm Troopers, is the Nets' Ryan Anderson. The seven-foot speechless dude is Brook Lopez, starstruck at meeting one of his heroes, comic book artist, Jim Lee.
Some delightfully unusual NBA video
.