December, 5, 2012
12/05/12
11:44
AM ET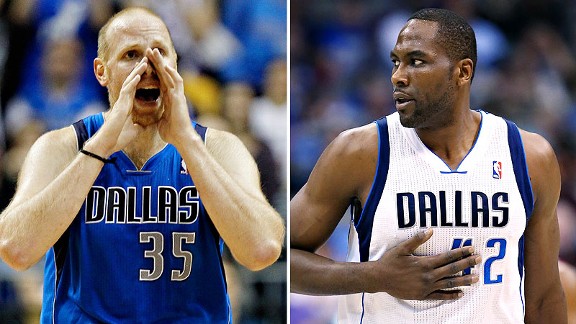 NBAE/Getty Images
These two guys once occupied the Clippers' frontcourt, and the hopes of Clippers fans.
When
Elton Brand
positions himself for a rebound, he's usually not the first guy to leave his feet.
Those are luxuries afforded to younger men, but not a 33-year-old who ruptured his left Achilles tendon back in 2007. These days, when Brand wants a rebound, he has to outwit opposing centers, which often means letting them sky toward the glass while Brand squeezes his way through the throng of bodies to a spot, then times his modest jump for the ball precisely.
Brand was never much of a leaper and during his prime with the
Los Angeles Clippers
he was often referred to as an undersized power forward with average athleticism. Back in 2006, he was
arguably one of the 10 best basketball players on the planet
, before that Achilles injury downgraded him to serviceable 'n' scrappy.
His partner in the Clippers' frontcourt was a young center named
Chris Kaman
, who looked like a Great Pyrenees after a bath, but had the footwork of Fred Astaire.
At 26 and 23 respectively, Brand and Kaman were penciled in as the Clippers' tentpoles up front for years to come. Reliable frontcourt tandems are a rare commodity in the NBA, but the Clippers had a solid one. Brand and Kaman bullied opponents on the glass, could both play the pick-and-pop, and were the stalwarts of an eighth-ranked defensive unit that carried a below-average offense to within one game of the 2006 Western Conference finals.
On Wednesday night at Staples Center, Brand and Kaman return together as
Dallas Mavericks
to face the Clippers. Both are essential cogs in Dallas' makeshift, but oddly effective, frontcourt rotation.
The effect will be surreal for longtime Clippers fans who remember that the current
Chris Paul
-
Blake Griffin
Administration wasn't the franchise's first foray into contention. The Brand Era Clippers showed all kinds of promise and were the kind of good Clippers fans pined for. While the Lakers were embroiled in high drama in 2006 with charges that
Kobe Bryant
tanked a Game 7 against Phoenix, the Clippers quietly went about their business.
At the time, I wrote
, "For Clipper fans, 2006 is Year Zero in Los Angeles basketball, and the long shadows of the Lakers championship banners are receding. In fact, the Clippers' success this year is a direct result of
not
emulating the Lakers. In the summer of 2004, Kobe Bryant passed up Clippers owner Donald Sterling's huge contract offer to re-sign with the purple and gold. At that moment, the Clips cemented their image as a team of relatively uncharismatic, unselfish role players. It's a perfect match for a fan base that sees itself as middle class and not so gullible about Hollywood stardom."
As it turns out, ditch-digging can get a team only so far without superstars. Brand lost his powers, Sam Cassell and
Cuttino Mobley
got old,
Corey Maggette
became disgruntled,
Shaun Livingston
went down and Kaman shuttled between the injury list and the court, where he faced stifling double-teams while Brand was on the mend. After their 2006 playoff run, the Clippers wouldn't finish a season above .500 until Paul arrived more than five years later.
Brand and Kaman occupy a curious place in the collective memory of Clipper Nación. You won't find a Clippers fan who isn't giddy about the current state of things, but a warm nostalgia exists for those mid-aught Clippers teams. Those fans saw something of themselves in Brand's anonymity and Kaman's imperfections.
Still, some residual resentment lingers over the way Brand skipped town in the middle of the night to sign with Philadelphia. Kaman was part of the deal for Paul, but his flakiness had started to wear a little thin. Clippers fans miss Kaman the way you'd miss an eccentric housemate who moved out. The behavior you can gladly live without, but there was comfort in the familiarity. Kaman was a big dufus, but he was
our
big dufus, many would say.
Brand and Kaman haven't shared the court together much for Dallas in recent games, but if they do find themselves on Wednesday night as a tandem patrolling the paint, taking turns on Griffin and working the side pick-and-roll with the Mavs' guards, it will be a trippy sight for Clippers fans who have grown accustomed to a new way of seeing the game, but for many years saw these two below-the-rim blue-collar stiffs as the embodiment of their identity.
January, 20, 2012
1/20/12
12:28
PM ET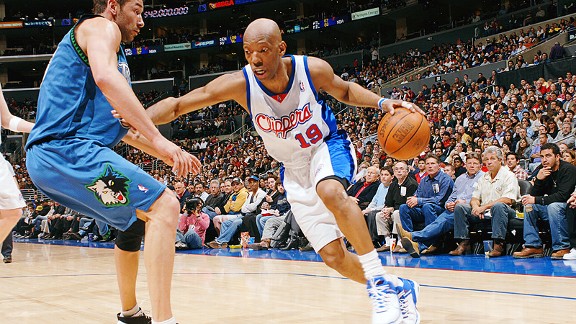 Noah Graham/NBAE via Getty Images
The Sam Cassell-for-Marko Jaric trade in 2005 set into motion a series of bizarre and historic events.
Almost seven years ago, the Minnesota Timberwolves and Los Angeles Clippers swung a trade on a sleepy August day.
The Clippers sent combo guard Marko Jaric and Lionel Chalmers to Minnesota in exchange for 35-year-old point guard Sam Cassell and a Timberwolves first-round draft pick that was lottery protected for the next six years.
And so began an odd relationship between two teams whose fortunes became inextricably linked. For the next several years, the Wolves and Clips mysteriously ran into each other everywhere and got trapped in the same elevator more than once. Cassell retired nearly three years ago and joined Flip Saunders' coaching staff in Washington. Jaric married model Adriana Lima and was last seen in a Montepaschi Siena uniform. Yet that trade still has enormous implications today, as the teams prepare for a Friday night matchup at Staples Center that will be
nationally televised
on ESPN -- something that would've been unthinkable even a year ago.
Cassell led the Clippers to their most successful season in history in 2005-06, when his mouthy leadership took the team within a Raja Bell 3-pointer of the Western Conference finals. The Timberwolves won 33, 32, 22, 24, 15 and 17 games respectively over the next six seasons and, for a stretch, somehow displaced the Clippers in the Crapola Sweepstakes as the NBA's most ridiculed franchise, even after the Clippers fell back to earth.
The Clippers had
historically stood as the team most likely to botch the NBA draft
, but the Timberwolves were nipping at their heels. For a while, the Brandon Roy-for-Randy Foye trade dogged the Wolves. Then, in the 2009 draft, the Timberwolves were mocked for choosing three point guards in the first round -- Jonny Flynn, Ricky Rubio and Ty Lawson -- Flynn and Rubio back-to-back at No. 5 and No. 6. Rubio's first reaction when Minnesota picked him? "
It's cold there
." The Timberwolves kept Flynn while trading Lawson, chosen at No. 18, to Denver (as instructed by the Nuggets as part of a trade). Today, Flynn rides the pine in Houston, while Lawson is running point for an impressive team in Denver.
How did the Timberwolves score the pick for Rubio? They fetched Mike Miller from Memphis in an eight-player deal featuring O.J. Mayo and Kevin Love, but included Jaric. The Timberwolves eventually sent Miller, along with Foye, to the Wizards for the pick that became Rubio. Foye, of course, is now in his second season with the Clippers.
Before the Timberwolves cornered the market on first-round point guards in 2009, the Clippers took Blake Griffin at No. 1. While Griffin was the obvious choice for the Clippers, it's easy to forget that Rubio was leading many draft boards during the winter and spring of 2009, and there was a reasonable minority that felt he was the finest prospect in the draft. Sacramento was the odds-on favorite to win the first pick before the lottery betrayed the Kings, and many observers had the Kings selecting Rubio if they landed atop the board. Had the Clippers not had Baron Davis locked into an extended deal, Rubio might be in L.A.
After the Clippers selected Griffin, they began the process of rebuilding. In the two seasons following the 2009 draft, they recruited half the Timberwolves' roster. Craig Smith, a former second-round pick of the Timberwolves, became a fan favorite in Los Angeles, while Ricky Davis became a fan unfavorite. Sebastian Telfair, who came over with Smith in a deal for Quentin Richardson, served as Davis' backup for 39 games (before landing back with the Timberwolves a season later). Needing to fill out their depth on the wing in the summer of 2010, the Clippers signed Foye and Ryan Gomes to modest multiyear deals.
Lingering above all this is what became known in Los Angeles as simply "The Minnesota Pick" -- the one the Clippers acquired along with Cassell in 2005. The worse things got for the Timberwolves, the more excited Clippers fans and execs became at the prospect that the misery in Minnesota would outlive the lottery protection on the pick. If the Timberwolves could continue to be awful for just a couple more seasons, the Clippers could conceivably have a top pick in 2012! When Rubio opted to remain in Europe for two seasons, that possibility went from remote to real.
"The Minnesota Pick" ultimately became a centerpiece of the most fateful trade in Clippers history just a few weeks ago, when the team reeled in Chris Paul from New Orleans. The pick was the one asset that set the Clippers apart from other suitors, and the Hornets were adamant about its inclusion in any deal.
On Friday night, Paul -- hamstring permitting -- will face off against Rubio in a contest between two of the most telegenic teams in the league. Individual matchups are often overrated, but Paul on Rubio -- and Rubio on Paul -- has a marquee quality to it. In a league dominated by point guards who earn their livings on the attack, Paul and Rubio are throwbacks to a time when vision trumped speed. Prefer a big-man brand of basketball? Keep your eyes on the low block, where Griffin and Love will wrestle for supremacy.
The Timberwolves have been rewarded for their patience, the Clippers for their craftiness. Now two teams that have been tethered together in the Western Conference dungeon for the better part of a decade will get to show off their shiny new toys.
November, 30, 2011
11/30/11
3:33
PM ET
Most hard-core travelers I know have at least one personal ritual they abide by, no matter where they are in the world. I like to be on the street between 8 and 9 in the morning because the best way to experience the kinetic energy of a place is to soak up the morning rush.
This morning, Kottke pointed readers to
a smart list of travel tips
from a blog called My Little Nomads. I liked this one:
Buy your own fruit. It sounds simple. It is simple. Just do it. You'll love it. And I don't mean, if there happens to be a fruit stand outside your hotel door you should buy some, because you need to have 9 servings a day. What I mean is, find fruit and buy it. Make it a daily task that you're going to track down a fruit stand, a farmers' market (they're not just in San Francisco) and get some good fresh fruit. The entire process will expose you to elements of daily life you would have otherwise ignored. Trust me: You'll have memories from your trips to buy fresh fruit.
When I was a kid, I liked to watch the middle of the second quarter of every Hawks game I attended from the very top row of the Omni. When Dominique Wilkins took a seat, I'd dash upstairs. When you're 11 years old, vertigo from the top of a 16,000-seat arena is intoxicating -- the place looks like an ant farm from above -- but looking back, the memories I have of getting up there are far more vivid.
Roaming an NBA arena unsupervised spoke to every sense. The Omni smelt like pizza and burned popcorn. The ushers wore bright red sateen jackets, some of them even smoked and most of them knew my face. The structure was made of weathering steel, so the acoustics were trippy -- a tinny refraction of horns, music and basketball. The final ascent the top row meant a trek over a steep swath of orange, gold and purple vinyl seats.
Last night, a friend asked me what I was looking forward to most now that the NBA was returning and, for some reason, I immediately plucked this from my catalog of memories. The Omni was demolished years ago and I don't spend much time buzzing around the upper concourses of arenas, but the live experience of going to an NBA game is the thing I enjoy most.
The league is back, and if you live in an NBA city, you'll have 33 chances to attend a live game. In most places, it's still an event -- the buzz outside the gate, the pageantry, the way the colors pop on the court.
Here are some tips for enhancing your game-night experience:
Get to the game early

If your schedule allows for some flexibility, plan on arriving 90 minutes before tip-off because there are few things more glorious than watching an arena come to life. It's like your own, personal time lapse video as the lower bowl fills up little by little. You'll get a glimpse of how a game production unfolds and, most of all, you can witness pregame rituals. Watch the biomechanical miracle of a 7-foot center being stretched out by a professional trainer. See shooters like Ray Allen or Steve Novak drain 19 consecutive 3-pointers -- and figure out how they do it. Beckley Mason of HoopSpeak likes to watch Steve Nash's pregame routine -- a barrage of elbow jumpers in quick succession. Get a glimpse of which guys yuk it up with opponents at center court and which guys look like they're about to mobilize for a major ground offensive.
Sit in a seat other than your own for 10 minutes
NBA arenas have gotten fussy about your moving around, but if you can finagle it, find a different vantage point from your assigned seat. If you're down low, head upstairs and study the choreography of the NBA from above. If your seat is out of earshot from the court, try to sneak your way to closer proximity and listen to the sound of the game -- the directives from the sidelines, trash-talk, the lobbying of officials. If you're at a Wizards game, just listen to Sam Cassell.
Take people who took you when you were a kid
This suggestion comes from my friend, Jeff, a Portland native and Trail Blazers fan. Invite your dad, mom or grandfather -- whoever used to haul you to a game. Maybe it was your father's friend when your parents worked late, or maybe it was your uncle who'd lecture you on the way home from the game about the virtues of three-to-make-two or the evil genius of Red Auerbach. Whoever it is, buying a ticket to a game for another person without the expectation of repayment is one of the cooler rites of passage as a grown-up.
Smuggle in healthy food
I've never met anyone over the age of 15 who has ever been satisfied with a meal purchased at the concession stands of an NBA arena. Even the stuff that's tasty requires a second mortgage and an angioplasty. Security at the gate has gotten stiff over the past decade, but a crafty smuggler can find enough room in the pocket of a winter coat for a couple of tangerines. If you're really creative, you can press your luck. Between 2001 and 2005, an estimated 150
onigiri rice balls
from a local Japanese market were smuggled into NBA arenas -- all of them by a single individual in Los Angeles.
Take rail or a bus
Sports is still a communal civic outing in many cities, but in a lot of places it's becoming less so. Hopping the subway in New York, BART in the bay, the T in Boston or light rail in Salt Lake will remind you that cities and the commonalities of the people who live in them matter. In an era when modern convenience has provided us with a lot more solitude, it's fun to reacquaint yourself with that idea, even if it adds a few minutes to your trip.
Parlor games
Before you leave the house, declare it -- best throwback jersey in the crowd, least tolerable song most likely to be played during a timeout, over-unders on number of blocked shots by players under 6-foot-5 and player on the floor most likely to win a gauntlet match. These diversions come in particularly handy if you're staring at a 24-point game midway through the third quarter.
Leave your phone behind
This isn't always a practical option, but if there's nothing in your life that's calling out for immediate attention, we dare you to attend a game phone-free. You won't have easy access to stats and you won't be able to confirm who got dealt for Joe Smith, but attending a game without the constant itch to check your inboxes is a liberating, unfiltered experience. It will bring you back to a time when going to an NBA game was an activity that completely captivated you -- almost like travel.
July, 17, 2010
7/17/10
11:17
AM ET
Summer league action can be a tough place for a skill-to-size big man to brandish the full breadth of his game. Much of the action consists of speedy guards buzzing through traffic or one-on-one isolations on the block for post players who need their reps. For a player like Detroit first-round pick
Greg Monroe
, whose finest moments often occur in the high post as a facilitator, the experience is like being a tenor in a death metal band.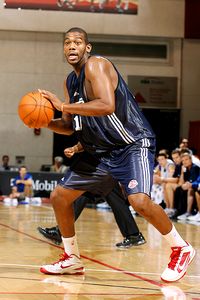 Jack Arent/NBAE/Getty Images
Greg Monroe: A full toolbox
True to form, Monroe had a shaky start in Las Vegas. In his first three summer league games, he converted only 11 of his 26 shots from the field. Many of those smart passes that were Monroe's hallmark at Georgetown were flubbed by unfamiliar teammates which, in turn, made Monroe a more tentative, less decisive player.
Monroe got on track in his fourth game against Miami on Wednesday. Rather than try to conform his deferential style to the ragtag play of summer league, he looked to score, and did so efficiently -- 20 points on 6-for-12 shooting from the field and 8-for-10 from the stripe.
On Friday against New York, Monroe unfurled his complete range of skills for his most complete performance of the week. He finished with 27 points (8-for-10 from the field) and 14 rebounds. Monroe was both playmaker and scorer, facilitator and dominator. He showcased some strong post-and-seal sequences, a nifty soft hook and threw an outlet pass the length of the floor to Marquez Hayes for an easy transition finish.
"As the week progressed, I got a lot more comfortable," Monroe said. "I got into a groove today."
No big man in the 2010 draft class has a more aesthetically pleasing offensive repertoire, something that was captured on a single play in the first half when he delivered a no-look interior pass in the paint, through traffic, to his baseline cutter. When the ball clanked out, Monroe -- a prolific collegiate rebounder -- grabbed it, then muscled his way to the rim through a scrum of Knick defenders for a basket-and-one. It was an assertive possession for a guy sometimes unfairly tagged with the soft label.
For young, versatile bigs, balancing the instincts to create opportunities for others with a need to establish yourself as a scorer can be an enormous burden. With the ball in your hands, it's often paralyzing to weigh all those choices as the defense swarms toward you. Encountering NBA double-teams is one of the hardest lessons for centers and power forwards, which makes Monroe's capacity to deal with defensive pressure vital to his success. On several occasions, Monroe eluded traps along the sideline by merely putting the ball on the deck, dribbling out of trouble, then making a sharp pass to a teammate up top to ignite a ball reversal.
"It's about accepting the double-team, but also attacking it," Monroe said. "I was very comfortable when they came with double-teams trying to make plays."
Monroe reads defenses inordinately well. Unlike so many young centers and power forwards, he's able to keep the ball moving. For a Detroit team that finished 21st in offensive efficiency and 23rd in assist rate, those gifts will help unclog the morass in the Pistons' half court.
Toney Douglas' evolution continues to progress nicely. At Florida State, Douglas was primarily a scoring, slashing guard who performed Ronnie Brewerish work off the ball and served as the Seminoles' lockdown defender. Under the tutelage of the Seminoles' staff, he began the process of refining his pure point skills. On Friday, Douglas was a willing and capable distributor. Early, he skidded a pass across the baseline from the right corner to the left to a diving Bill Walker. Douglas also ran some nice two-man sets with rookie Jerome Jordan. Douglas' development is ongoing, but he increasingly looks like a guard capable of running a competent offensive unit.
On Friday, John Wall has his best decision-making outing of summer league. He made it simple for himself in the half court. Start with a high pick-and-roll with JaVale McGee. If an opening materialized for either himself or his big man, Wall capitalized on it. If the defense contained the action, Wall swung it weak side. The streamlined approach paid off. After coughing the ball up 19 times over his first three games, Wall limited his turnovers to two.
Will Jonas Jerebko ever be more than the quintessential energy guy off the bench? The Detroit second-year forward moves with more resolve than anyone on the court, but his limited skill set away from the glass translates into more chaos than production. That's not to say Jerebko's activity doesn't have a place on the floor, but it's probably more useful in Detroit's less structured second unit.
Ed Davis showed off his big bag of tricks against Sacramento: 17 points, seven rebounds and five swats in 29 minutes. Comfort (or lack thereof) is a condition so often used to describe young big men in summer league, and Davis was as settled and poised as any of the lottery bigs on Friday. He exhibited timing, a soft touch and fluidness on both sides of the ball and, above all, patience. Davis rarely takes an ill-advised shot and stays grounded defensively until a shot-blocking opportunity presents itself.
There aren't two guys in Las Vegas who love playing together more than DeMar DeRozan and Sonny Weems. On every break, each knows what the other's intentions are. At times, they make beautiful music together.
The best descriptor for Larry Sanders? Grown-up. Sanders knows his way around a basketball court. He's a vocal, standout team defender who knows where and, more important, when his help is needed. Offensively, he sets up low on the block -- primed for the deep catch -- and wins every race to the rim in transition. When he steps out to 17 feet, Sanders launches a face-up jumper with an air-tight rotation on the ball. Sanders may never be a Top 5 power forward in the league, but his fundamentals suggest he's going to be a pretty effective player for a very long time.
Joe Borgia, vice president of referee operations and George Tolliver, the NBA director of D-League officials, sit courtside directly in front of press row where they evaluate game officials. A half hour prior to the Wizards-Hornets game, Washington summer league coach Sam Cassell came over to emphatically protest a call from the Wizards' last game. Cassell felt that the official who whistled the play was out of position. His monologue went on for a good three minutes, as Borgia and Tolliver politely listened, then offered an explanation. Cassell was only marginally satisfied as he walked away, after which Borgia, with a deadpan smile, said, "He has absolutely no idea what he's talking about."
David Thorpe on Donte Greene: "The good: He has all the spirit you want a player on your team to have. He cares about his teammates and it's obvious. He's selfless in his play and he competes hard -- he cares about winning. He's also capable of having good shooting and scoring games, like he had today (20 points). The bad: He had 40 points in his first ever summer league game two years ago for Houston. So we've always known he's capable of having big games. Most players develop naturally, meaning they improve incrementally as their bodies get stronger and they learn the game better. What we're looking for are players who need to make big jumps, but that hasn't happened for Donte. He's in his third year now. At what point are the Kings going to get tired of waiting? That's a fair question."
Aside from hitting the glass and the occasionally effective defensive stand one-on-one in the post, it's hard to find a sphere of the game where Joey Dorsey helps his team win basketball games. He's more likely to trap himself too far beneath the backboard than he is to get off a quality shot at close range.
The monstrous stylings of JaVale McGee were on full display. In the first quarter, McGee got loose on a dribble drive. As he romped into the paint and elevated toward the rim, McGee went behind his back while airborne, then dropped the ball through the hoop. Then in the fourth quarter, McGee ignited the crowd in Cox Pavilion with a transition posterization of fan favorite Kyle Hines.
Michael Schwartz of Valley of the Suns on Earl Clark: "In summer league Clark has yet to show bona-fide NBA skills. He settles for contested jumpers that he misses far too often (both in summer league and the NBA), he has been no better than a mediocre rebounder and even on a team in which he could be the star he hasn't exactly been a playmaker."
Summer league fan uni watch: A Timberwolves J.R. Rider jersey and a Bullets Gheorghe Muresan jersey.
July, 23, 2009
7/23/09
6:08
PM ET
Posted by Kevin Arnovitz
Mark Madsen logged only 116 minutes for Minnesota last season, but was the longest-tenured T-Wolf, a presence on the bench for six seasons. He's also one of the league's most expressive players.
In his blog today, he said goodbye to his fans in the Twin Cities:
I wanted to take a minute to tell the fans of the Minnesota Timberwolves a heart felt thank you for all of the support and enthusiasm for the team over the past few years. Even though the past couple of years had been tough from a wins and losses perspective, when I will think of my time in Minneapolis, I will always think about that 2004 team that almost made it to the NBA Finals. At that time, Kevin Garnett was the MVP of the entire league, Sam Cassell was an All-Star and Latrell Sprewell was one of our emotional leaders. I remember during the playoff run that year how driving to and from games was absolutely crazy with part of downtown shut down so that cars could get through. This was all possible because of you, the fans and your amazing support.

From a different standpoint, Minneapolis has come to feel like an absolute second home for me personally. Having grown up in Northern California, I never really knew much about Minnesota until Kevin McHale and Glen Taylor signed me to play for the Timberwolves. Needless to say, the past several years have been some of the best years of my life and I am grateful for the opportunity, the support from the community and the fact that you truly made me feel at home in new place. Thank you for your friendship and for the giving me the chance to play for the team. When friends from out of town came to visit Minnesota I would always take them to the stone arch bridge downtown, the state Capital, or the Mill City Museum. Exploring new parts of the Twin Cities became one of my passions while I was there.

After I learned of my trade to the LA Clippers, David Kahn left me a voicemail and it was great. To you, the fans, David Kahn is going to do a great job as the General Manager. He is going to tirelessly do everything in his power to return the team to the same form of that special 2004 season. And to Glen Taylor, I express my thanks for allowing me to contribute to a great team. I'm sure that you will get the team back to the high expectations that you and the community have for the team. It has been an honor to play for the team over the past number of years and to be part of your organization.

But above all, I want to thank you the fans. I wish all of you the best and I hope that I will see you down the road and perhaps at a Timberwolves vs. LA Clippers game in the future!
Bill Plaschke of the L.A. Times: "The Celtics won Game 1, 98-88, on the momentum of a recovery that smacked more of professional wrestling than professional basketball. When Pierce crumpled on the floor after being apparently faked out of his kneecap by Kobe Bryant with 6:52 left in the third quarter, the Lakers led by four points. When he returned after just 1:45 had ticked off the game clock, the Celtics led by one. The 'Rocky' theme played. The crowd roared. Pierce hobbled out with drama dripping from every step. He was so hurt, he immediately began sprinting around the stunned Lakers defenders. He was in such pain, he hit consecutive three pointers late in the period that gave the Celtics the lead for good. At which point, a Lakers season filled with colorful adjectives had been reduced to one word. C'mon! Afterward, Pierce played the part of the resurrected hero, shaking his head at the wonder of it all. 'You know, I think God sent this angel down and said, 'Hey, you're going to be all right, you need to get back out there, show them what you've got,'' he said. The Lakers, meanwhile, were just shaking their heads, period. 'You know, you don't know what happens,' Lakers Coach Phil Jackson said of Pierce. 'Guys can break a shoelace and go out, the pants break down, a drawstring falls apart.'"
A theory that Kobe Bryant pressed extra-hard down the stretch in an attempt to win back some of the glory that Paul Pierce gained with his trip to the locker room.
If the Celtics have a big lead late in Game 2, Boston fans will get to see Gino. They loooooove Gino. Here's a YouTube video that makes clear that no one moves like Gino.
On ESPN the Magazine's website, Baron Davis does a nice job interviewing Tony Parker, Chauncey Billups, and Kobe Bryant about what it takes to win a title. Bryant's response includes this: "When I was young, I was like, 'Take it or leave it. Train's gotta keep moving.' If you want to win a championship, if you're slacking, I'm going to let you know. And that went from Shaq down to Rick Fox. But when you have that togetherness, you don't get into finger-pointing. If a guy makes a mistake, loses a game, everyone plays the next game to redeem him. That attitude was critical to our getting the No. 1 seed this year."
TrueHoop reader Zach speaks for many who have e-mailed: "So, it is quite obvious that the ref blew two different backcourt calls. (Pau Gasol throwing the ball to Kobe Bryant was NOT a backcourt violation, as he had not established both feet and the ball in the frontcourt, yet it was called). Fast forward to KG running and jumping into the backcourt to save the ball, which led to Sam Cassell having a wide open J that he drained. He clearly stepped on the backcourt line before saving it, yet it wasn't called. The same ref was involved in both plays, and ordinarily I would just chalk it up to his incompetence ... but, with that hideous Larry O'Brien trophy engulfing halfcourt, it is hard to tell where the backcourt line is."
Basketbawful: "For a few glorious minutes last night, Sam-I-Am was every bit the spark plug that Danny Ainge and Doc Rivers prayed he'd be. But here's the problem with Sam: When he hits his first couple shots -- as he did last night -- he starts gunnin'. And that's not a good thing. Not by a long shot."
Chris Bosh as correspondent for Jay Leno.