July, 16, 2010
7/16/10
1:11
AM ET

By Kevin Arnovitz
ESPN.com
Archive
"Go get him, 'Nique!" was the call from the Dallas bench as John Wall revved up to make his move against Mavericks' rookie Dominique Jones. A naturally dogged competitor, Jones stayed light on his feet and locked in against Wall. The top overall pick unleashed his crossover, but Jones defended him in both directions. Wall then elevated for a jump shot, but the ball never got past Jones' outstretched arm and was swatted away.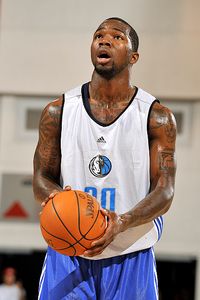 Garrett Ellwood/NBAE/Getty Images
Dominique Jones: "The plan is to get into open space."
"I like playing against people like [Wall], because they compete," Jones said. "All I try to do is make it hard for the defender. I try to predict what they're going to do and I try to reach. I've got a 6-10 wingspan so I'm trying to get lucky too."
Add that wingspan with Jones' quickness and anticipation and the Mavericks have a stifling perimeter defender. Jones spent most of the afternoon blanketing Wall, who finished with 21 points on 4-for-19 shooting from the field and 13-for-15 from the line.
On the other side of the ball, Jones was the most creative guy in the gym (Jeremy Lin's ridiculous 270 aerial spin move notwithstanding). Jones, chosen 25th overall by Memphis then dealt to Dallas on draft night, is yet another dynamic combo guard to the Mavericks' stable. His advanced ball skills give him limitless options, primarily as a scorer but also as a playmaker. The trick for Jones is seeing the court, then exploding from the top of the floor.
"The plan is to get into open space," Jones said. "Pull up in the paint, get to the rim or make things happen for my team."
For a high-volume shooter, Jones works efficiently -- his hallmark at South Florida where he led the Big East in scoring. On Thursday, he scored 28 points, converting nine of 17 from the floor and 10 of 12 from the stripe. Summer league rosters are loaded with wings clinically addicted to straight-line dribble-drives. Not Jones, who has a far more sophisticated approach with the ball than the average scoring guard.
"I just look at angles," Jones said. "It's basically reading your defender and knowing where you are on the court."
Jones' propensity for drawing contact and getting to the line isn't accidental -- it's a staple of his aggressive, but methodical game.
"I look at my defender when I'm in the lane," Jones said. If he's coming to me at full speed, then I'll make that contact. Once I get that contact, I have a chance for an and-1."
Jones played the point at South Florida and can distribute the ball in traffic, or make use of himself off the ball. He recorded four assists on Thursday and turned the ball over twice, which is a minor miracle for an active, high usage guard in summer league action.
"I love the point guard position, as people can probably tell the way I work with the ball," Jones said. "But whatever the Mavericks need me to do, that's what I'm going to do. I'm going to try to prepare myself and learn from Jason Terry and Jason Kidd so that when the time comes at either position that I play, I won't be a liability."
For an aging Dallas squad, the time might come sooner than later -- and Jones seems far more of an asset than a liability.
Jeremy Lin stole the show late in the stellar Dallas-Washington game. With the Mavs down a couple of possessions, Wall and JaVale McGee trapped Lin off a high ball screen. Lin split the defenders, darting left through the opening. Against the collapsing Washington defense, Lin then propelled 270 degrees in the air to get off a right-handed jumper against contact. The acrobatics roused the Cox Pavilion crowd, who almost rioted when Lin was whistled for a charge.
Scoring is easy in summer league for guys who are naturally inclined to do it. They can be tempted to put the blinders on and head to the hole without any regard for what's materializing on the floor. Alonzo Gee doesn't suffer from this epidemic. With the Lakers paying him a lot of attention on Friday, Gee was more than happy to work on the weak side and keep the ball moving around the perimeter until it found the open shooter. Outside of the handful of sure-thing lottery picks, there are few players who look more destined for a full-time NBA gig than Gee.
Need to grab a table for ten at a popular joint during the dinner rush? Gani Lawal is the guy to send ahead. When the shot goes up on the defensive end of the floor, Lawal has two thoughts. First, can he use his reach to grab the miss? If yes, he lurches to the ball with his lanky frame and gobbles up the ball. If a teammate controls the rebound, then Lawal races downcourt, beating every defender to the rim. Any big man who wants to log minutes for the Phoenix Suns has to be able to run the floor, and Lawal has that event covered.
An NBA scout on Derrick Caracter: "He's really skilled offensively, comfortable and 15 feet and moves well. He's playing with chip on shoulder and has an edge to him. If the mental aspects and work ethic are solid, he should be okay. But I'm not sure what [the Lakers] are going to do with him. I don't see him playing on that team and they don't have a D-League team anymore."
Vinny Del Negro laced into the Clippers' summer league team at their morning practice. The Clips looked awful in their first two games, and Del Negro emphatically told the young squad that it didn't matter whether they were first-rounders who'd been paid or guys just trying to break into the league, losing two games by a combined 54 points was disgraceful. By all accounts, Del Negro's tirade was provocative and impressive. On Thursday night, the Clippers eked out a win over the Trail Blazers. Marqus Blakely brought the Clippers a badly-needed dose of defense, smarts and stability. He led the Clips with 14 points on 6-for-9 shooting from the floor.
Zach Harper of Hardwood Paroxysm on the John Wall-Jeremy Lin fourth quarter battle: "Funny thing happened on the way to the Bellagio … Jeremy Lin and John Wall faced off in the fourth quarter of the Wizards-Mavericks game in Vegas and pretty much played each other to a standstill. That's right. An undrafted Harvard, SMAHRT kid, point guard went toe-to-toe with the number-one pick in the NBA draft and sort-of held his own. The final box score will show John Wall with an impressive 21 points (let's just forget about the 4/19 shooting), 10 assists and seven rebounds. But it won't show that the majority of the Lin's 11 fourth quarter points were the result of him getting the better of the 'best player in the draft' for times than Wall will care to remember. Lin and Wall played the equivalent of an iso chess match on the hardwood game board. The kid from the Ivy League refused to back down from the YouTube sensation and while Wall walked away with the highlight reel, Lin walked away as the fan favorite."
D.J. Foster of ClipperBlog and ESPN Los Angeles on the Spurs' guards: "You'll see a lot of guys provide token full-court pressure in summer league, but the Spurs' players aren't ones to take a task lightly. All game long guards Curtis Jerrells and Dwayne Mitchell stayed in the hip pocket of the Lakers' ball-handlers and made them work for every inch on the court. The result of the inspired perimeter defense showed up in the box score – the Lakers' guards went a combined 0-for-13 from beyond the arc, turned the ball over ten times, and shot just 40.5 percent from the field."
Jeremy Schmidt of Bucksketball on Deron Washington: "In terms of pure athleticism, Washington can match anyone in summer league. He showed that on Thursday when he called dibs on blocking a Hawks player on a fast break (a questionable foul was called). But over the past three games, for the first time, he's been showing there's more to his game. Washington has been the Bucks biggest 3-point threat, hitting six of his ten 3-point attempts, while averaging 14.0 points and 5.3 rebounds per game."
Jeremy Schmidt on Sam Young, who lit up the Thomas & Mack Center: "The rims at the Thomas & Mack Center are surely glad to see Sam Young leave ... The second-year Grizzlies forward did a number on them Thursday night, dunking early and often on his way to 35 points on 12-for-17 shooting against the NBA D-League Select team. A known athlete, Young was able to get out in transition early and often and if there's one thing that Sam Young has always been able to do, it's finish in transition."
July, 13, 2009
7/13/09
3:35
AM ET
Posted by Kevin Arnovitz
One of my favorite matchups of the day was Darren Collison-George Hill. As David Thorpe pointed out in his twitter thread, Hill is a brutal guy for Collison to have to deal with on the first day of class. Hill was able to shoot over Collison, shake him off the dribble, and beat him in transition with his combination of handle and speed. But Collison put together a few nice sequences of his own, including one in the third quarter on a screen-and-roll with Earl Barron: Collison was able to penetrate off the screen, then lob a pretty floating pass to Barron, who slammed it home. In general, Collison marshaled the floor with confidence. The most notable feature of his halfcourt game as a point guard: Patience (hello, UCLA). He attacked only when he had an invitation, rarely forced a pass, and executed high-percentage feeds to the right guys on numerous occasions.
DeJuan Blair: As advertised -- intuitive, beastly rebounder (10 in 23 minutes), goes up with force on the putback, great at drawing contact inside, but occasionally lacks a plan of attack in the post. He finished with 13 points on 4-of-7 shooting from the field, and 5-for-6 from the strip in his very Millsapian effort.
Jonny Flynn communicates to his team on every offensive possession. He choreographs, directs, goads, and encourages. When teammates need to move from the weak to the strong side for an entry pass, Flynn barks out an order -- and he's almost always right. Flynn coughed the ball up seven times on Sunday against seven assists, but his management skills are there.
Is two Summer League sessions one too many? The Thunder, the only team playing in both Summer Leagues, just came off five games in five days in Orlando, with most of their primary names logging big minutes. The team looked exhausted Sunday in its 86-57 loss to Memphis. The Thunder recorded 22 turnovers, but only 20 field goals.
Marcus Williams managed the game perfectly for the Grizzlies. He worked the ball to the right guys at the right spots, picking up 17 assists in 28 minutes. It helps when Sam Young is nailing jumpers and Darrell Arthur is finishing with authority, but Williams simply controlled the game. "He did a great job getting into the paint," Memphis assistant Dave Joerger said. "We ran different pick-and-roll looks and he picked the defense apart." Williams is a frustrating player to figure out. His pure point skills are apparent almost every time he takes the floor. His court vision is otherworldly. But as selective as he is as a playmaker getting other guys nice looks, he takes a lot of iffy shots himself -- to say nothing of his defense, where he doesn't seem to care all that much.
If you're the Grizzlies, Hasheem Thabeet's debut was encouraging. The Grizzlies haven't had a banger like Thabeet beneath the basket ... ever, really. He intimidated Serge Ibaka and anyone else on the Thunder who stepped foot into the paint. Will Thabeet be able to have that effect against a legitimate, veteran NBA center? If the answer is yes, Memphis will be an improved defensive squad in 2009-10, if nothing else.
Brandon Jennings has some good instincts, but sometimes he misreads the game. A perfect example came in the second quarter against the Cavs. He drew big man Jawad Williams on the switch out on the perimeter. With the floor spread, Jennings had the opportunity to use his quicks to blow by Williams. What does he do instead? A cutesy crossover, then a step-back jumper from beyond 20 feet that wasn't close.

Fast forward to the second half, when Jennings came out of the locker room (it's really just a curtained-off alcove in the far corner of the gym) and hit three consecutive long-distance shots. His stroke still lacked a follow-through and his balance was tipsy, but the shots fell through. David Thorpe: "The guys with good form shooting the ball, but don't have great numbers? They worry me. The guys who don't look good shooting the ball like Jennings and Ricky Rubio, but somehow find a way to make shots? Those guys will learn to shoot better. They already have the talent to hit shots now -- even with bad form. As you clean up their form, they'll put up better and better numbers." Jennings scored 23 points and dished out eight assists against only three turnovers in the Bucks' win over the Cavaliers. He went 4-for-8 beyond the arc, and worked his way to the line for six attempts -- all of it a big improvement over his first game.